Comments by the Supreme Leader on nuclear talks and his praise for Iran's nuclear team dominated the front pages of most Iranian dailies on Saturday. News about military advances by the Iraqi army in and around Tikrit was also in the headlines.
Abrar: A number of ethnic Assyrians have gathered outside the UN office in Tehran to condemn the savagery committed by IS.
---
Abrar-e Eghtesadi: [Ukrainian plane] Antonov has re-secured permit to take off from Iranian airports.
---
Arman-e Emrooz: Is there a link between dirty money and the attack on [Tehran MP Ali] Motahari?
The interior minister has ordered an investigation into the incident in Shiraz [which forced the cancellation of a planned speech by Motahari in the southern city].
Ali Motahari has filed a complaint against those who attacked him in Shiraz.
---
Asr-e Iranian: A ceremony in Tehran praised those who have made endeavors in the areas of culture and art.
---
Asr-e Rasaneh: "Exploitation of forests in northern Iran has stopped," said the deputy head of the Forests, Range and Watershed Management Organization.
---
Asrar: "The provincial governor of Fras should either deal with those who have attacked [Ali Motahari] or resign," said an advisor to President Rouhani.
---
Ebtekar: Removal of sanctions on the table at the UN Security Council
There are speculations on the details of a comprehensive nuclear deal between Iran and P5+1.
---
Emtiaz: There are as many as 8 million uninsured employees across the country.
"Some 600 thousand jobs have been created in the country," said Ali Rabiei, the labor minister.
---
Etemad: Latest polls in Israel show that Netanyahu is on the verge of being voted out of office.
Etemad: "Promotion of Iran's status is my most important goal," said Foreign Minister Mohammad Javad Zarif.
---
Ettela'at: An Israeli officer was killed in a Syrian Air Force attack on terrorists linked to the Free Syrian Army.
---
Farhikhtegan: The governor general of Fars Province has offered apologies to Ali Motahari.
It came after the governor general was asked to either resign or offer an apology following an attack by unidentified individuals on Tehran MP.
---
Financial Tribune: Iraqi forces pound besieged Tikrit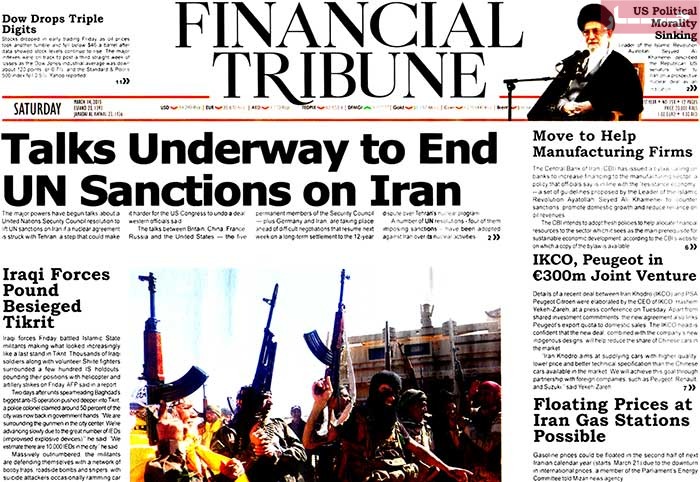 ---
Iran Daily: Major nations seek to end UN sanctions on Iran
---
Javan: "Iran supports the territorial integrity of Iraq," said Tehran Friday prayer leader.
---
Kaenat: Today directed by Iranian filmmaker Reza Mirkarimi will be shown at the 29th Washington DC International Film Festival (DCIFF).
---
Kayhan: A man who owes [several Iranian] banks more than $2 billion in debts has been arrested.
Kayhan: Ansarullah and the Yemeni Army are to hold joint war games near the Saudi border.
---
Kayhan International: $7.8 billion in Iran oil money stranded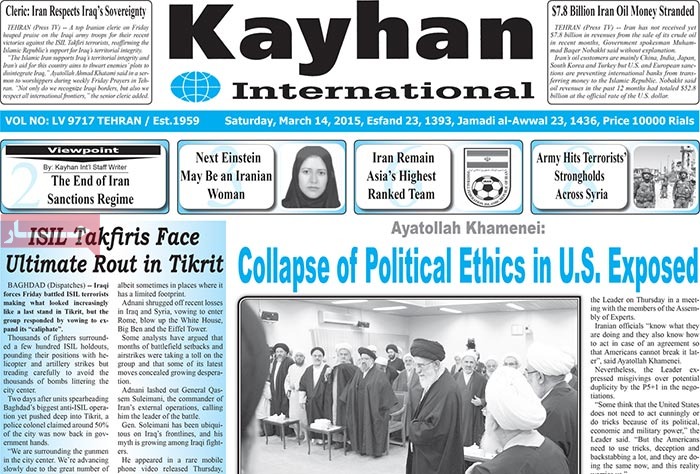 ---
Mardomsalari: "Planning is underway to export some 20 million tons of oil derivatives next year," said the Iranian oil minister.
---
Resalat: "Extension of sanctions [against Iran] by Obama is a sign of lack of confidence," said Tehran Friday prayer leader Ayatollah Seyyed Ahmad Khatami.
---
Rooyesh-e Mellat: "Iran's [foreign] policy calls for maintaining regional security," said Speaker of the Islamic Consultative Assembly Ali Larijani.
---
Sayeh: "The country's nuclear team is comprised of trustworthy and conscientious people," said the Supreme Leader in a meeting with members of the Assembly of Experts.
---
Shahrvand: Floodwaters have taken three Iranian provinces off-guard in the final days of Iranian year.
The Iranian Crescent Society has sent 47 rescue teams to Hormozgan, Kerman and Sistan and Baluchestan provinces.
---
Sharq: The head of the Coordination Council of the Reformist Front has said that reformists are likely to forge a coalition with [Ali Akbar] Nateq Nouri [a one-time principlist presidential candidate].
---
Tehran Times: Iran pitted against US in FIBA under-19 World Championship
---
Tejarat: Germany and Italy are Iran's biggest trading partners.