Abrar:
ISIL, Tunisia continue fierce border clashes
UN reaction to recent Iran missile test
Araqchi: No miracles expected by JCPOA
American figure expounds on Kerry-Zarif phone conversation
UK eyes bolstered trade ties with Iran
ISIL on the path to dissolution
Japanese banks coming to Iran
---
Afkar:
 Saudi Arabia needs to share regions with Iran: Obama
Nation did great; now its officials' turn: Leader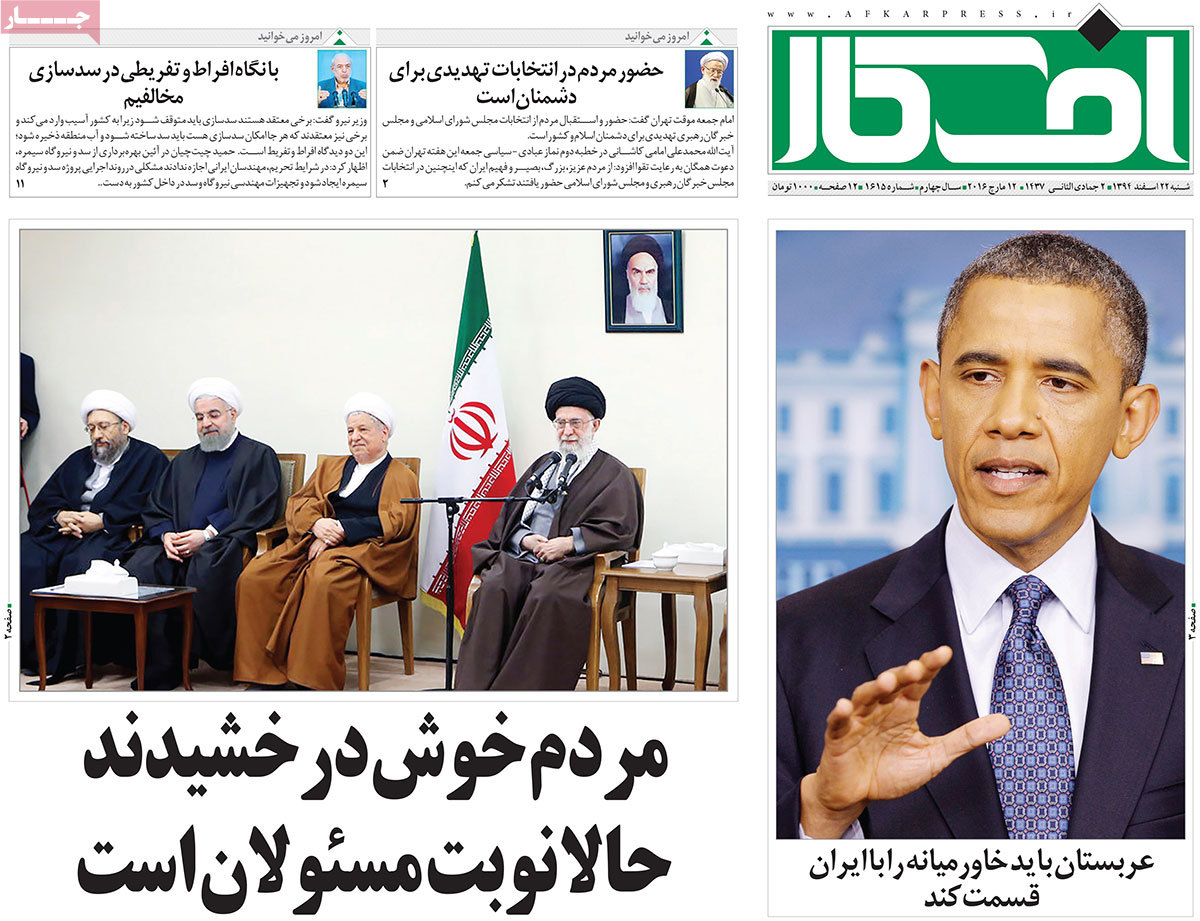 ---
Arman-e Emrouz:
Ex-President readies for presidential campaign
Mahmoud Ahmadinejad is said to be preparing for the upcoming presidential election in 2017 in Iran.
Cleric: Last admin left bad [economi] legacy
Three captured for oil rig case
Leader hail's nation for election turnout, calls on officials to take turns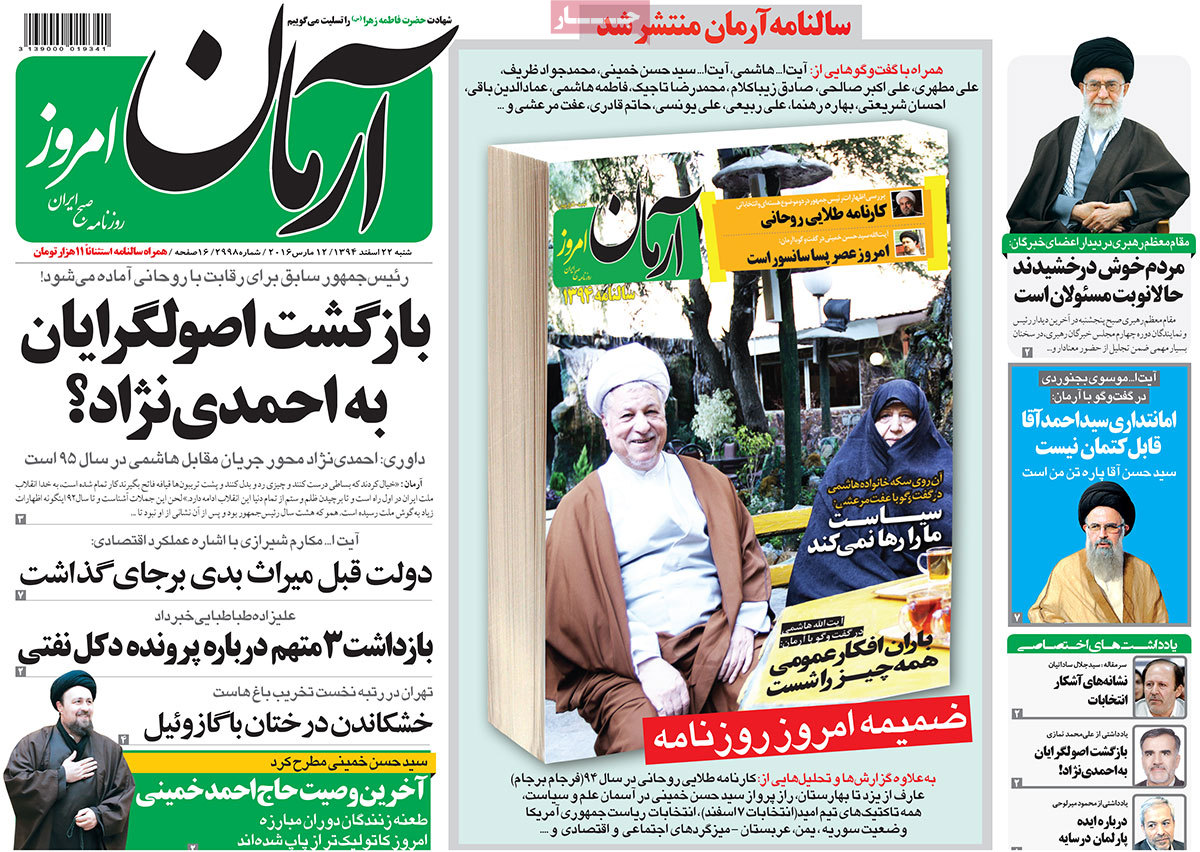 ---
Ebtekar:
All options on reformists' table
A report about plans considered by the reformist front in the next Iranian parliament
Leader offers advice for selecting next leader
No miracles expected in JCPOA: Araqchi
---
Ettela'at:
Saudi Arabia must learn to share Mideast with Iran
Nation displayed their trust to establishment through high election turnout: Leader
Saudi stance against Hezbollah stems from Iran nuclear talks: Hezbollah figure
Iran adds 180 modern ambulances to road relief fleet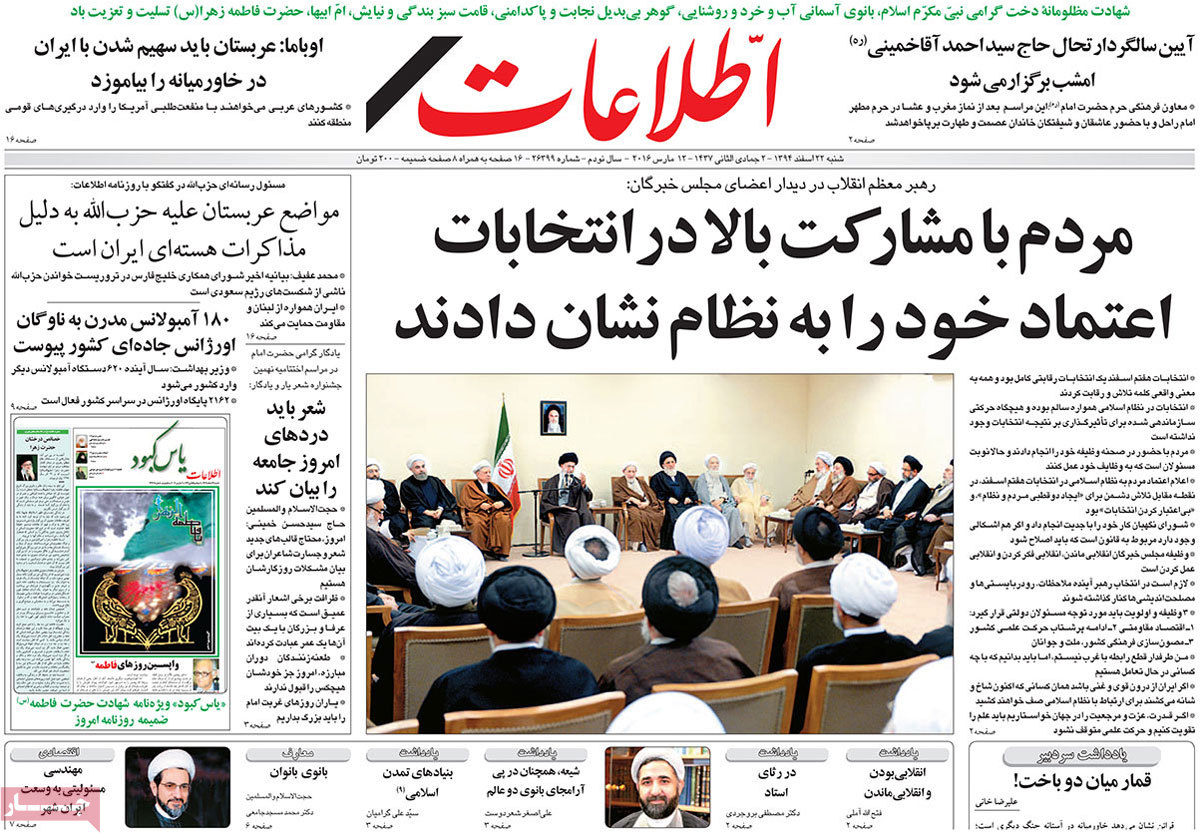 ---
Iran:
Iran launches two dams to address water shortage in western regions
Iran adopts fresh strategy in foreign trade
Iran eyes 5.8% economic growth next year
Obama calls on Saudi Arabia to recognize Iran's role in Mideast
Iran missile test no violation of UNSC resolution
New horizons before Lake Urmia
---
Payam Zaman:
Zarif: Terrorism, global threat; Iranian people oppose aggression
Three priorities in cooperation with Lufthansa
Plans to reopen idle industrial units [in Iran]
Iran monitors alien activities in Persian Gulf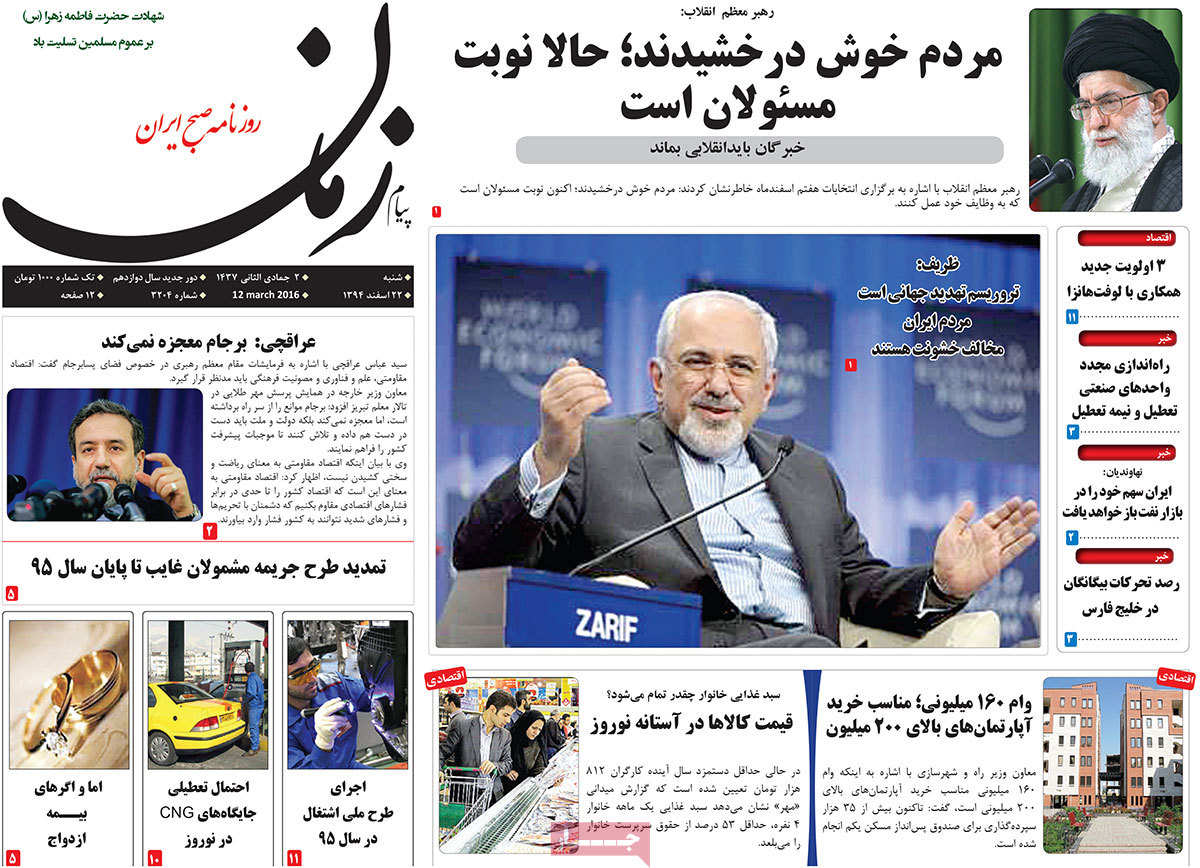 ---
Jomhouri Islami:
Int'l bodies expect economic growth in Iran next year
UN condemns human rights violation in Saudi Arabia
New Arab League Sec. Gen. Israeli
Iran launches biggest dam, power plant in western regions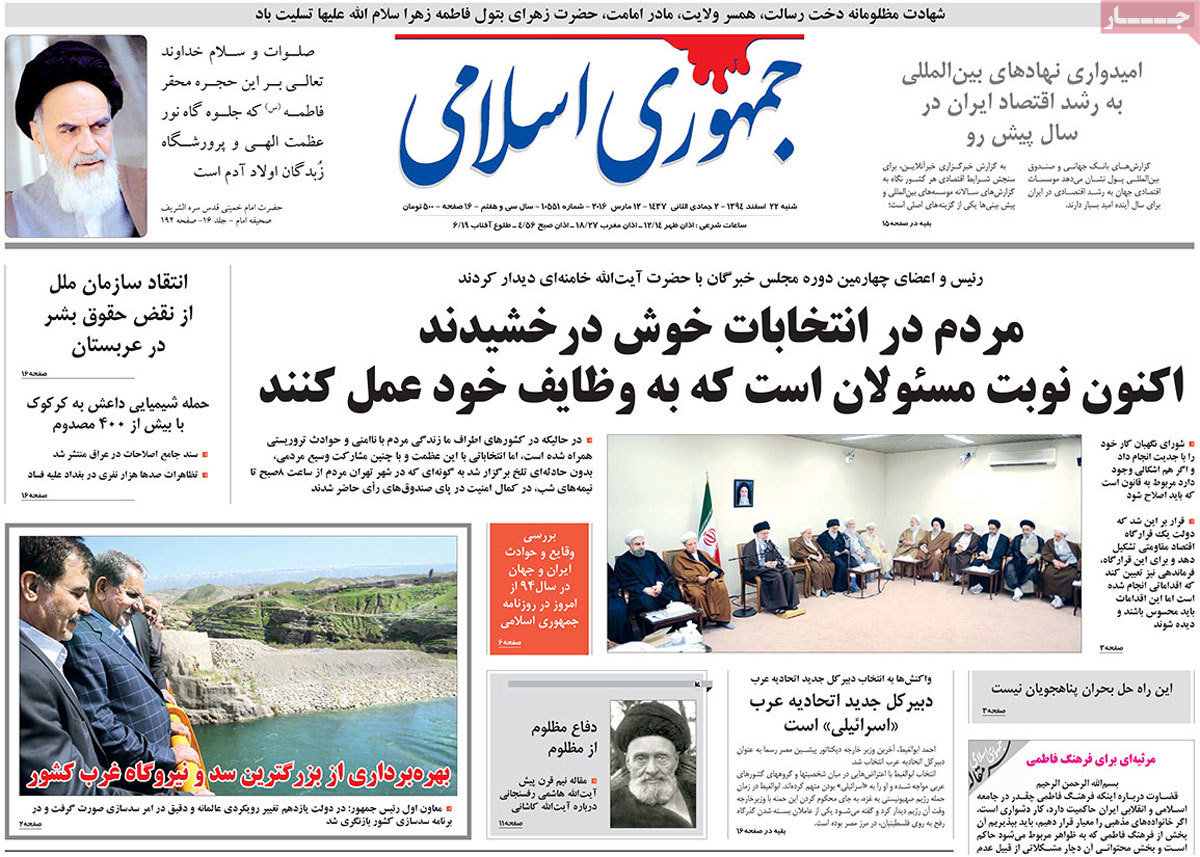 ---
Javan:
Nothing gained from foreign delegations yet: Leader
Enemy has located 10 ways to influence Iran: Leader
Leader hails modest reaction of election losers and compares it with the post-presidential election unrest in Iran in 2009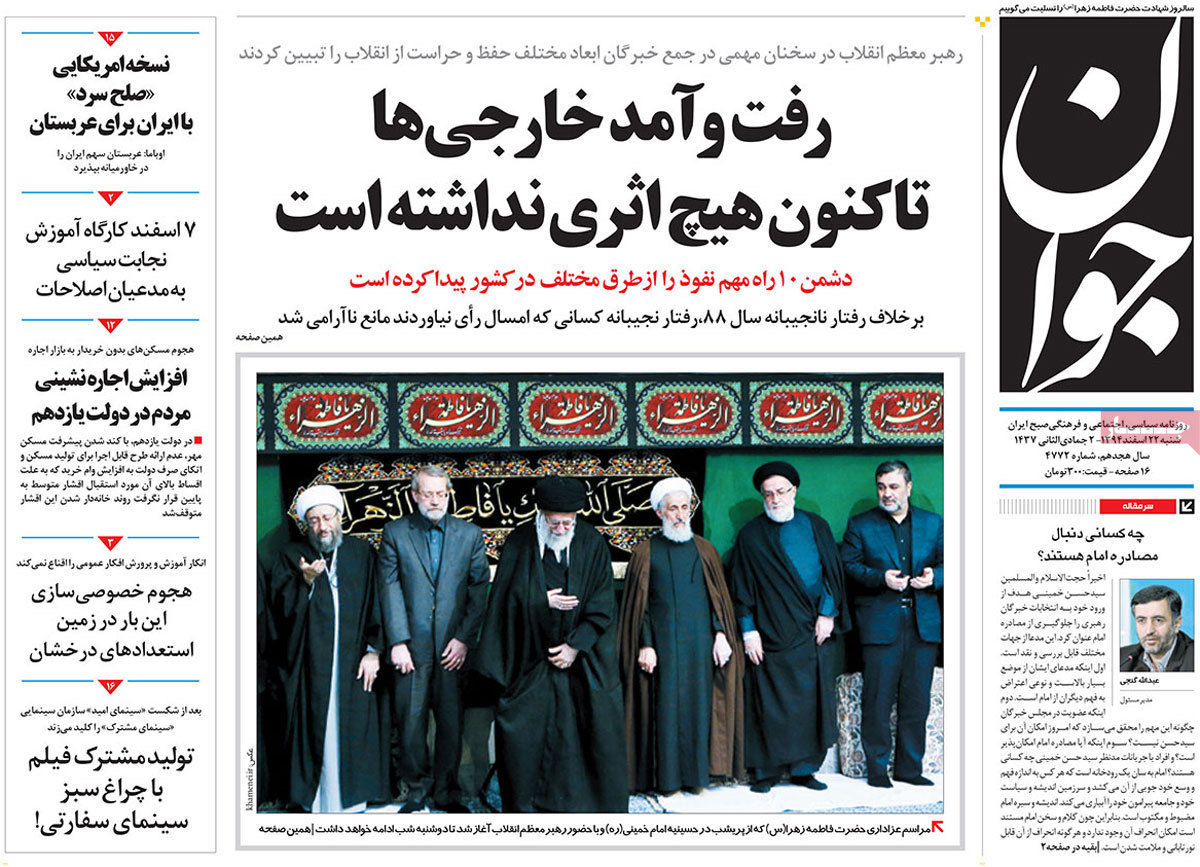 ---
Hemayat:
Leader calls on Assembly of Experts to remain revolutionary
Obama accuses Iran of involvement in state terrorism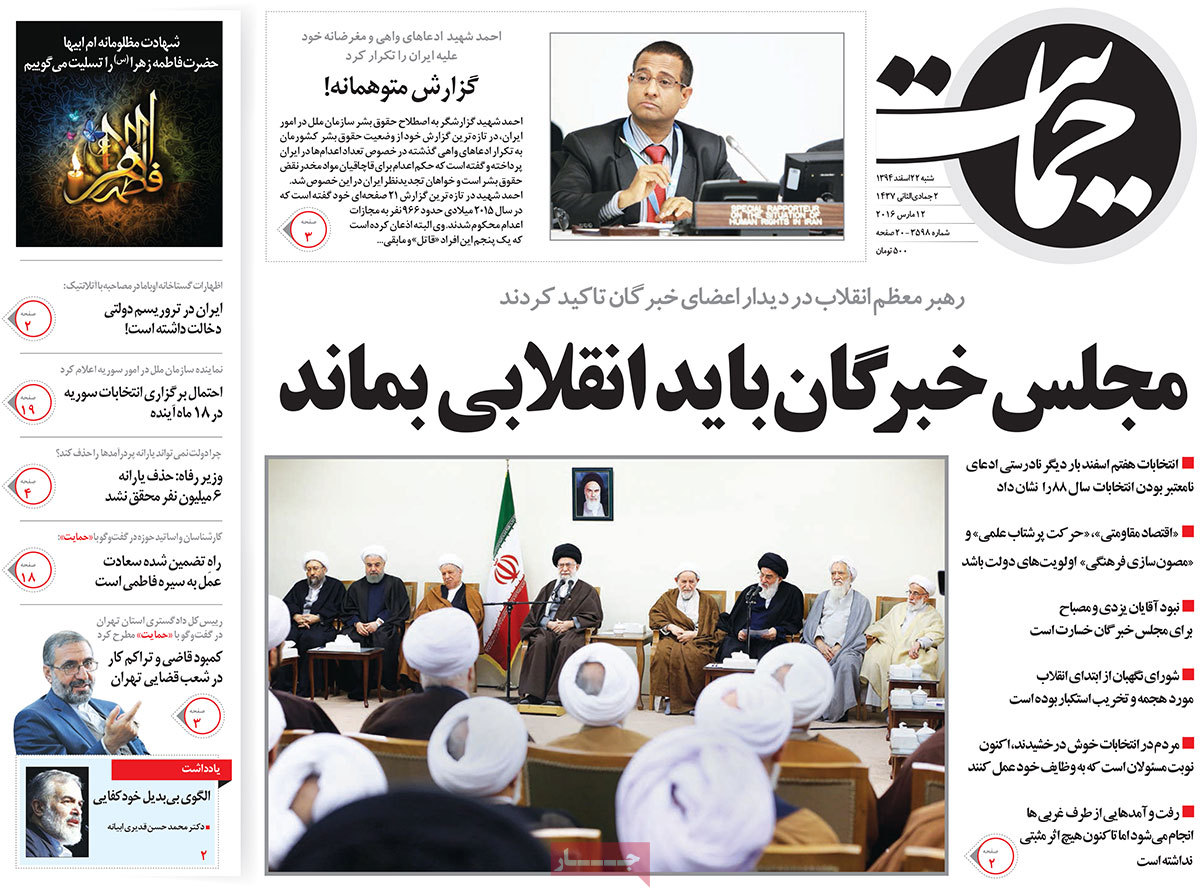 ---
Rah-e Mardom:
Experts outline economic prosperity for next year
Bank Pasargad supports knowledge, arts, sciences, thinking and culture: Cleric
---
Roozan:
Ahmadinejad's uproarious return to politics
Attack on Rouhani aimed at presidential office
Reformists' promise for women's share in parliament fulfilled: Woman activist
Leader calls for refraining from formalities while selecting next leader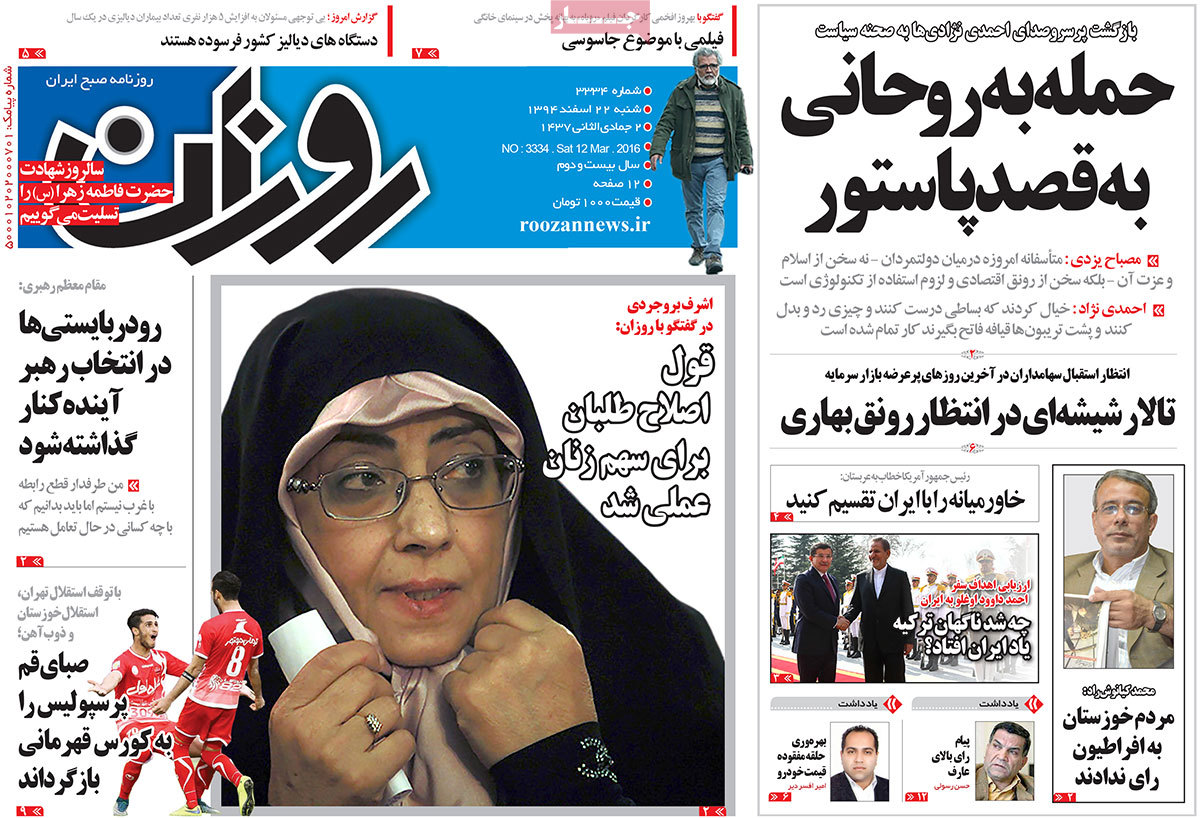 ---
Rooyesh Mellat:
Election turnout, threat to enemies of Islam: Friday prayer imam
Araqchi: No miracles expected by JCPOA
---
Shargh:
They thought by looking like a winner at podium does everything: Ahmadinejad
Analyst: Saudi Arabia committing political suicide
Russians re-renege on S300 delivery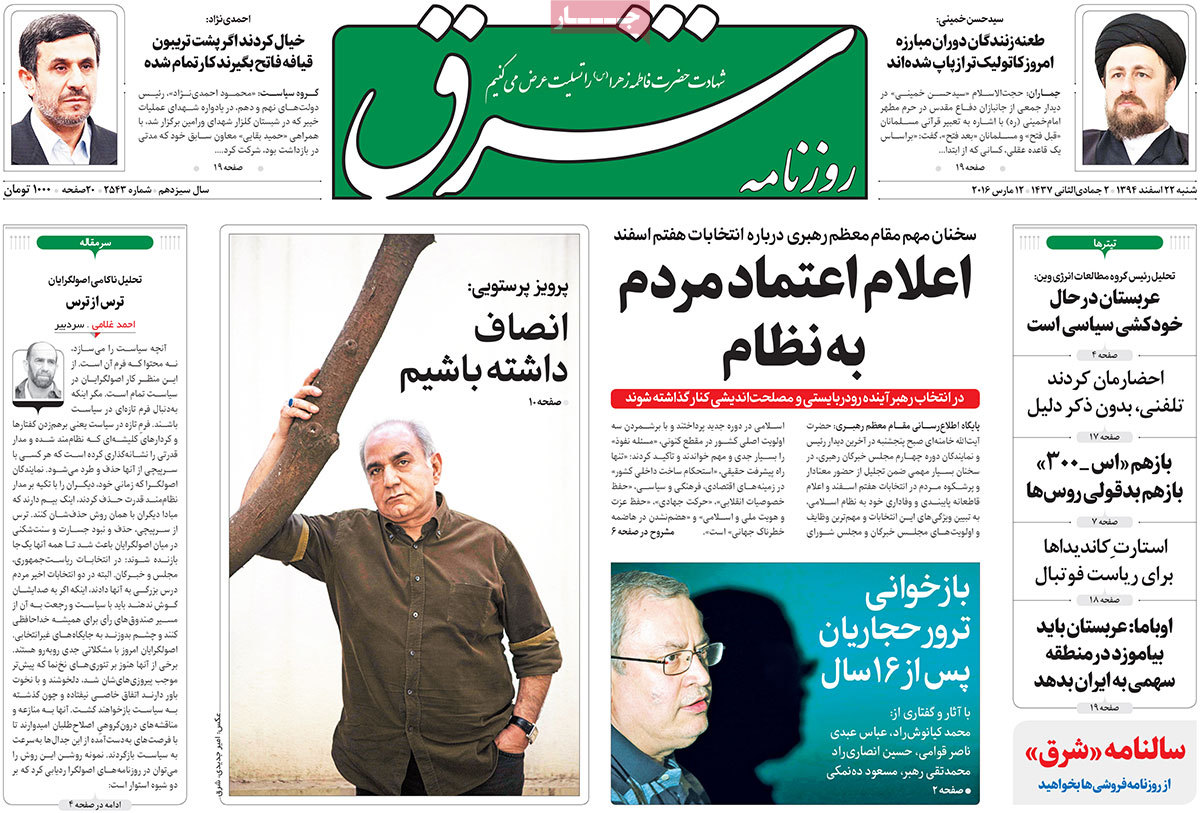 ---
Shahrvand:
Nahavandian: Leader, nation seek practical materialization of agreements' outcome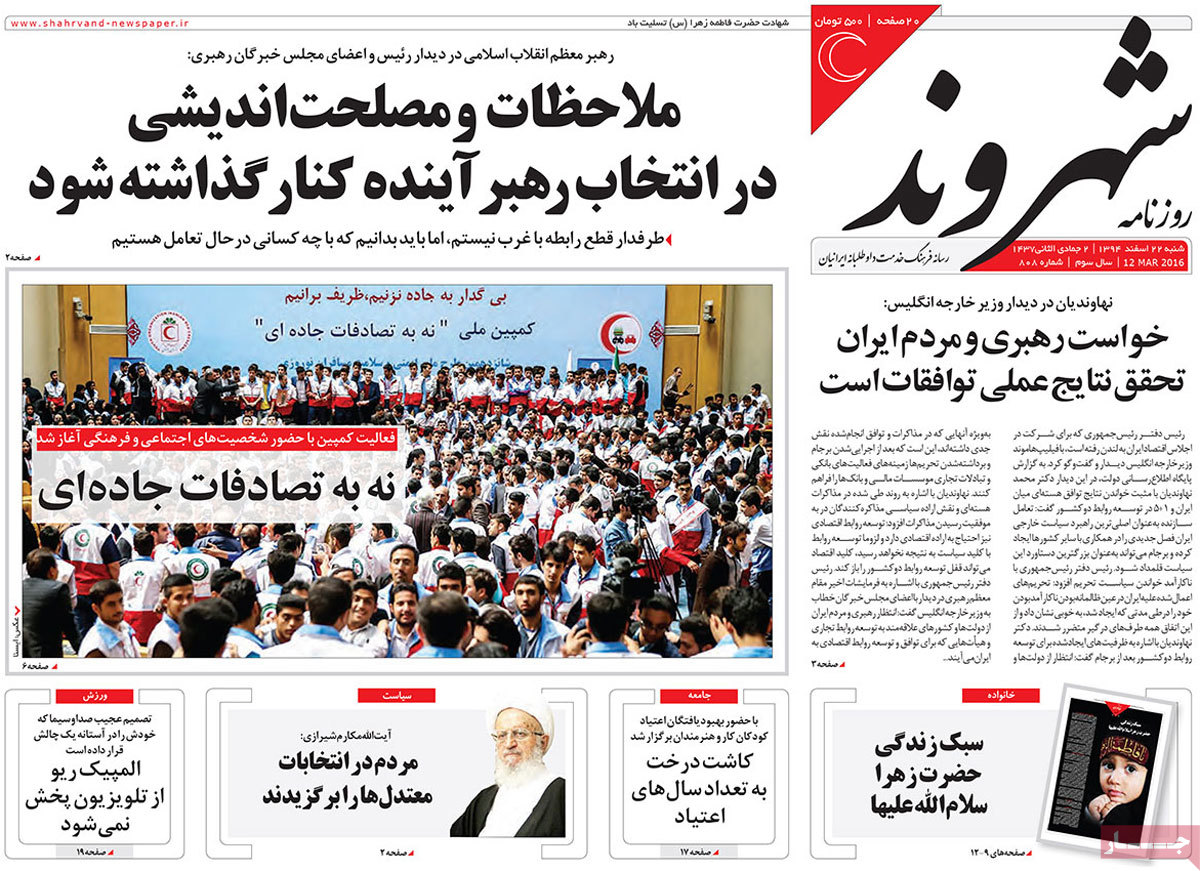 ---
Kayhan:
Leader: Result of talks, business delegations must be seen on ground on paper
Iran ordered to pay $10.5 billion for 9/11 by US judge
A US judge ordered Iran to pay over $10 billion in damages to families of victims who died on September 11, 2001 – even though there is no evidence of Tehran's direct connection to the attack. The same judge earlier cleared Saudi Arabia from culpability.
Analysis: How CIA agent planned academic infiltration in Iran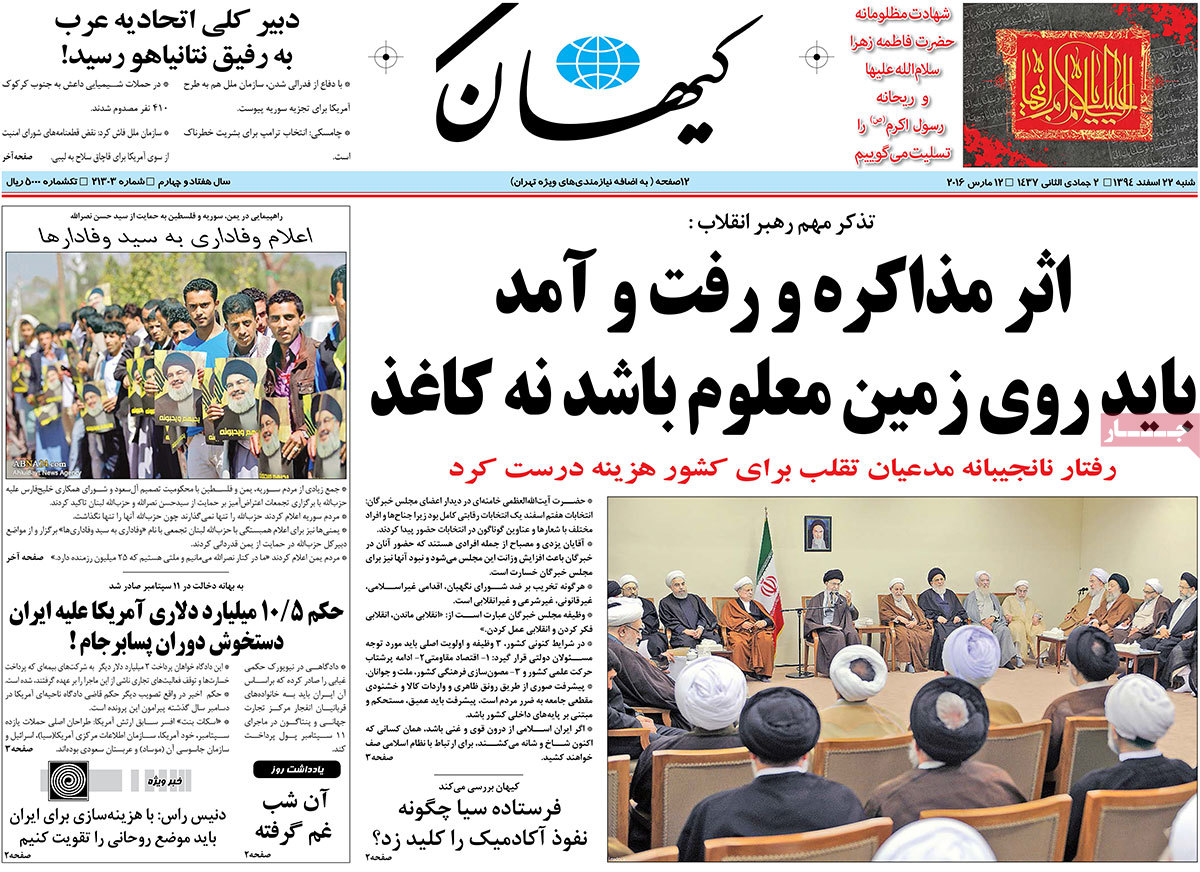 ---
Asia:
All frozen assets unblocked
GE seeks oil, gas trade with Iran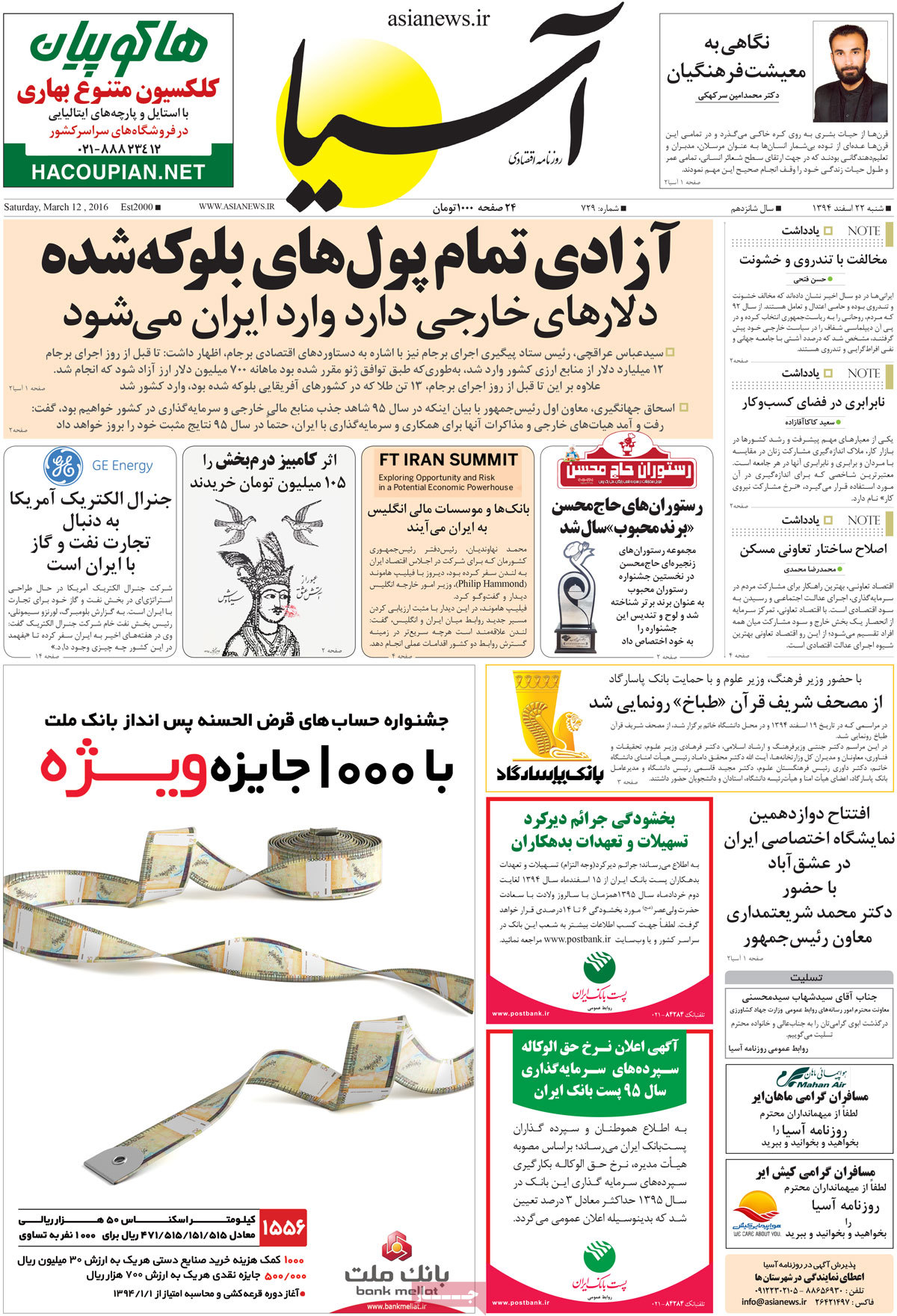 ---
Abrar Eqtesadi:
EU seeks trade pact with Iran
World Bank estimates raise Iran economic growth 3.8%