As it has been the case in the past few weeks, the nuclear case continued to dominate the front pages of Iranian newspapers on Sunday. The comments of Foreign Minister Mohammad Javad Zarif and US Under-Secretary of State Wendy Sherman were under the spotlight this time. Reformist-leaning newspapers also put on their covers the week-long furlough of Mohammad Reza Rahimi, first vice-president under Mahmoud Ahmadinejad, only less than two weeks after he was imprisoned.
Abrar: A member of parliament's Agriculture Committee has called for termination of wood import tariffs to protect forests at home.
Abrar: The Italian foreign minister has expressed hope that nuclear talks between Iran and P5+1 will be successful.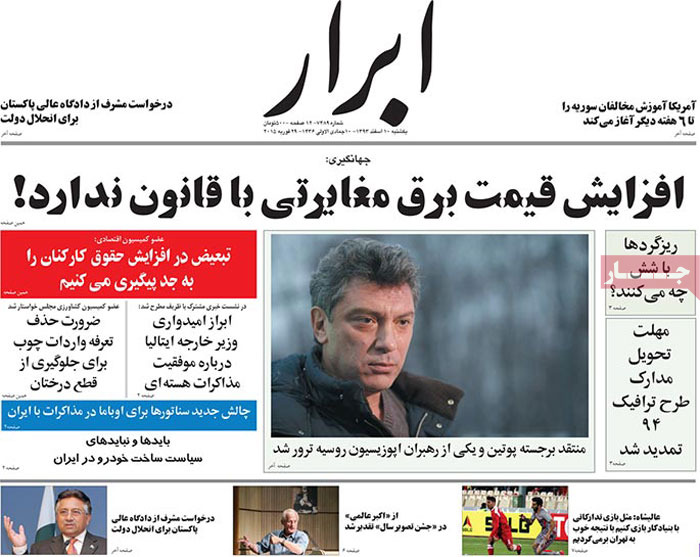 ---
Aftab-e Yazd: [Former Vice-President Mohammad Reza] Rahimi, who is serving time for corruption, has been furloughed for a week.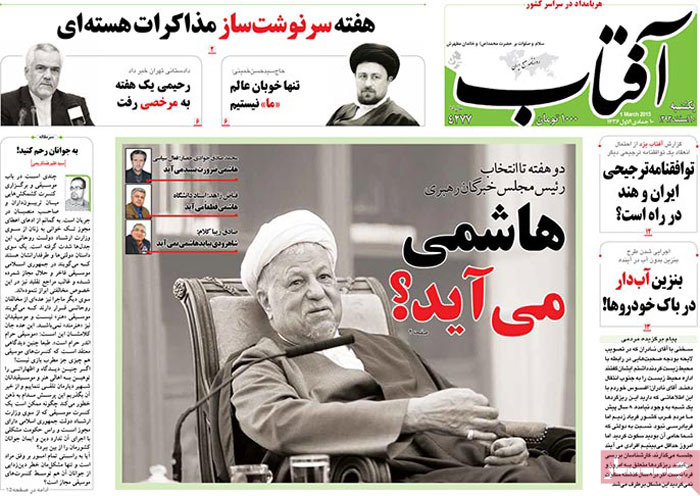 ---
Arman-e Emrooz: "[Former nuclear negotiator Saeed] Jalili was admonished by the Supreme Leader twice," said Sadegh Kharrazi [a former diplomat].
---
Asrar: "If MPs are mad at me, they should not make hasty decisions as far as the environment is concerned," said the director of the Environment Protection Organization.
Asrar: Qom said a big No to hardliners.
It came after senior clerics based in the holy city threw their weight behind President Rouhani's administration during his recent visit to the central city.
Asrar: Dental care is conspicuous by its absence in the Health Transformation Plan.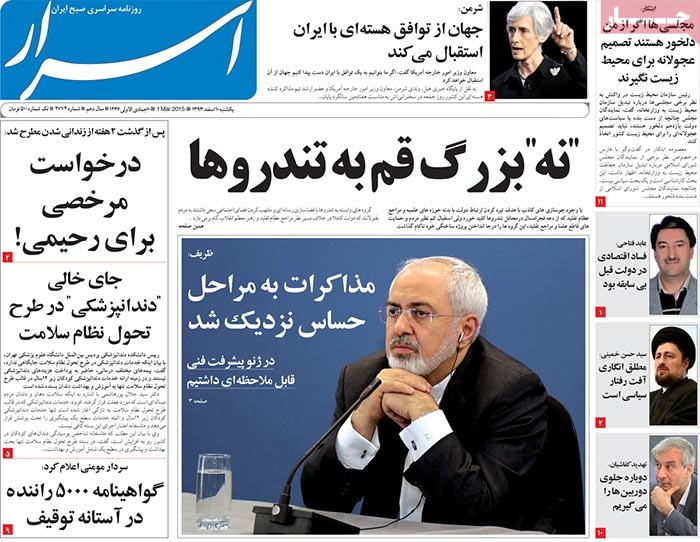 ---
Ebtekar: With nuclear talks ongoing, the value of the standard gold coin and foreign currencies [against the rial] continues to plunge.
---
Etemad: The Expediency Council has slapped a ban on any changes to the election laws for 10 years.
Etemad: Iran has expressed readiness to take over Iraqi ancient artifacts which are in danger [of being destroyed by IS terrorists].
Etemad: Completion of [unfinished] development projects takes ages.
Parliament Speaker Ali Larijani made the comment as he took a swipe at the previous government for launching development projects without ever finishing them.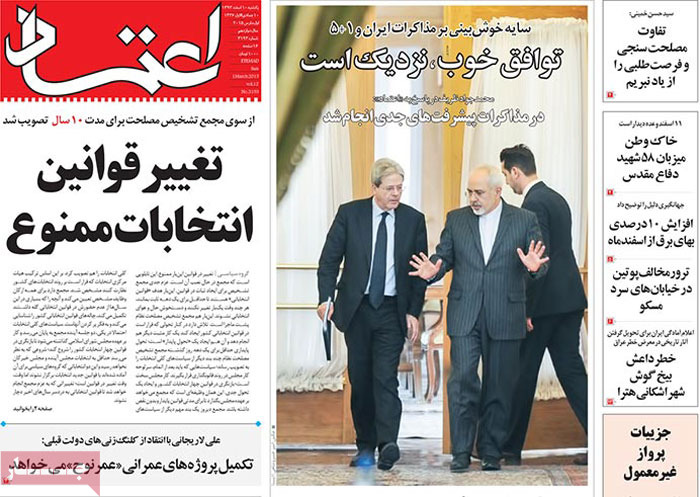 ---
Ettela'at: Some 27,000 Iraqi soldiers are to take part in a major offensive to wrest control of Tikrit [from IS militants].
Ettela'at: The Iranian environment chief has blamed excessive dam-building for the environment problems the country is faced with.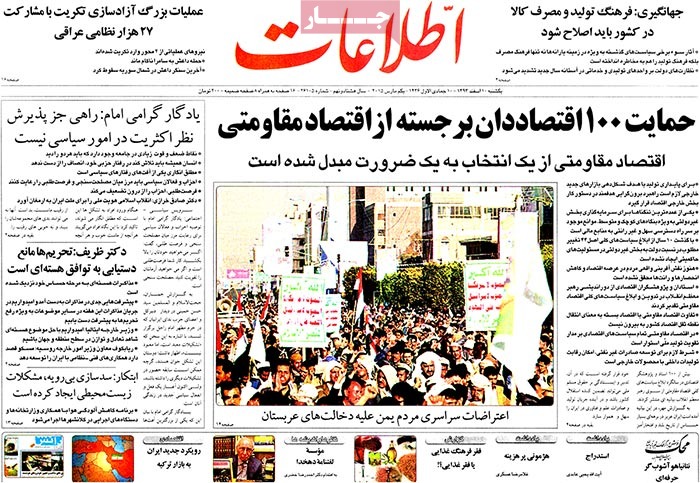 ---
Hemayat: The US throws a wrench into the works.
Wendy Sherman has once again said that anti-Iran sanctions would remain in place.
---
Iran: The Iranian foreign minister has said that removal of sanctions will be on the table of talks next week.
---
Kaenat: Iran's presence in the Venice Biennial increases 20 percent.
---
Kar va Kargar: "Government welcomes competitive production to boost quality," said First Vice-President Eshagh Jahangiri.
---
Kayhan: Millions of Yemenis have poured onto the streets in support of their revolution.
Kayhan: A motion to launch an investigation into the workings of the Environment Protection Organization has been submitted to parliament's presiding board.
Kayhan: Iraqi news sources say that Abu Bakr al-Baghdadi has been taken to Israel for treatment.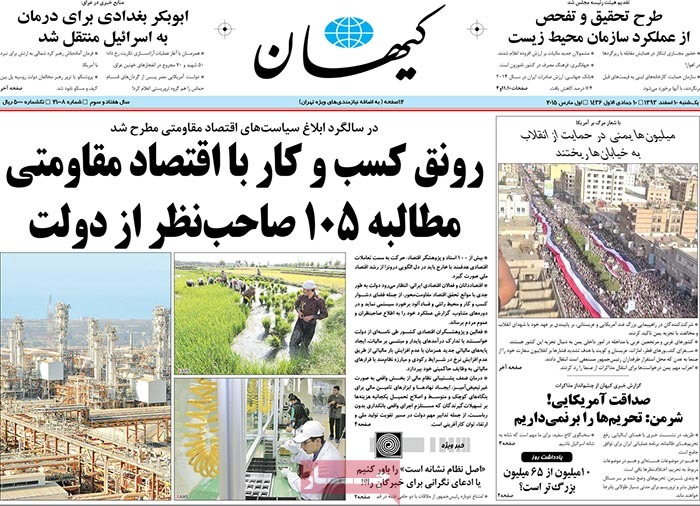 ---
Khorasan: The US nuclear negotiator has said that terrorism and human rights sanctions against Iran would remain in place for a long time.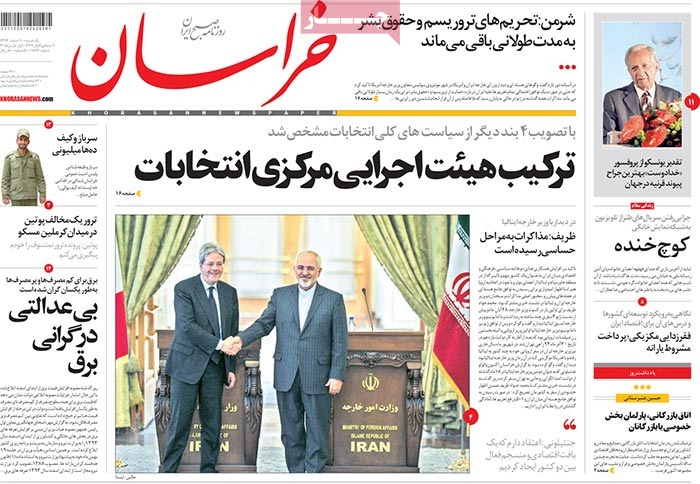 ---
Payam-e Zaman: An Iranian cyclist who is on an overseas tour says he pedals for the cause of peace.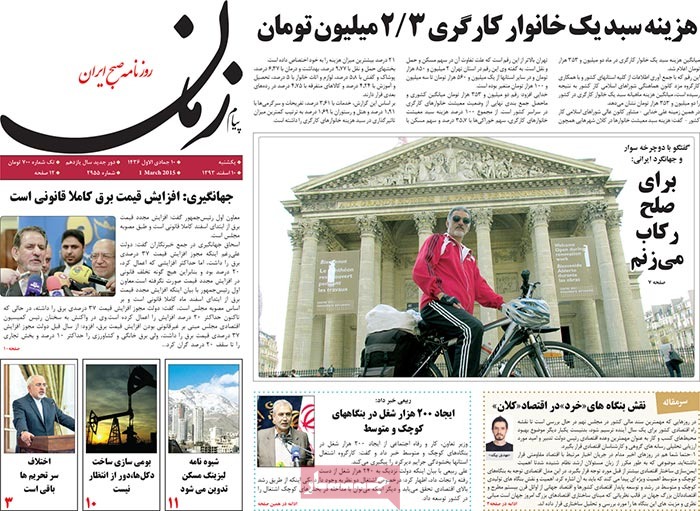 ---
Resalat: "Differences over termination of sanctions remain," said Foreign Minister Zarif.
---
Rooyesh-e Mellat: A former Mossad chief has admitted that Israel has been involved in assassinations and sabotage in Iran.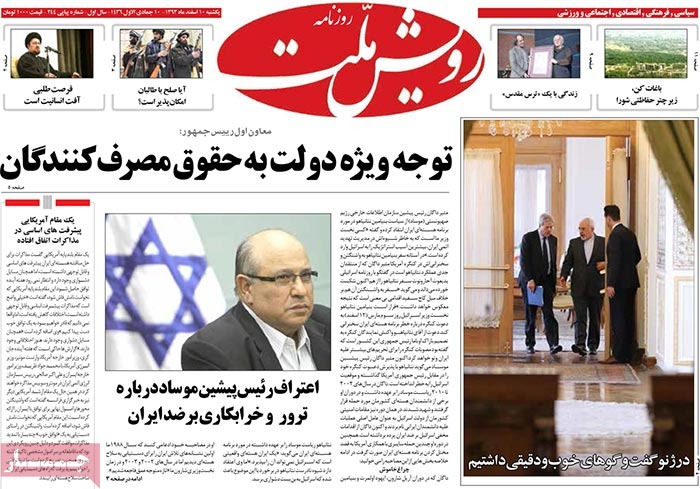 ---
Shahrvand: Over 5,000 hectares of garden has been destroyed within Tehran city limits over the past 20 years.
---
Sharq: "In administering political affairs, there is no other way than accepting the opinion of the majority," said the grandson of the late Imam Khomeini.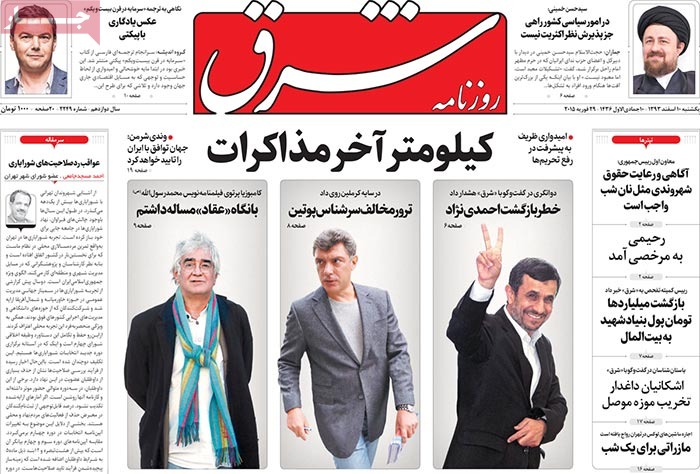 ---
Taadol: The Iranian foreign minister has said that drafting a nuclear deal is likely to start in the first week of March.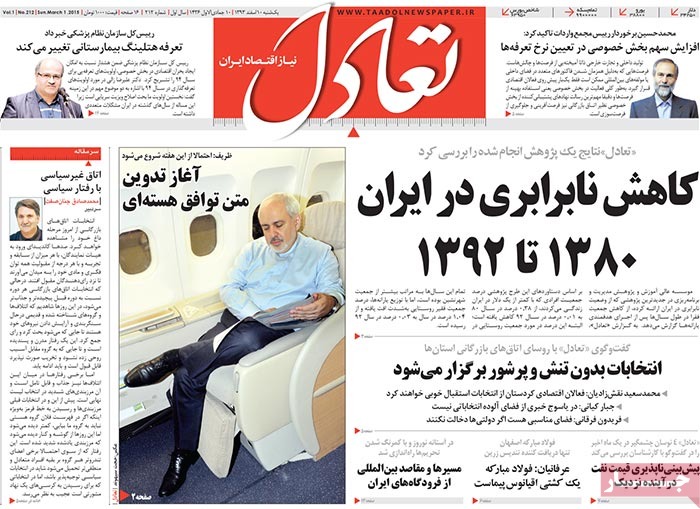 ---
Tejarat: US Under-Secretary of State Wendy Sherman has said that if we get an Iran deal, the world will judge it as a good thing.