The arrest of Hamid Baghaei, President Ahmadinejad's deputy, dominated the front pages of Iranian newspapers on Tuesday. The fatal poisoning of four Saudi pilgrims in Mashhad and the historic setback President Erdogan's party suffered in Turkey's parliamentary elections were also under the front-page spotlight of the dailies.
Afarinesh: "We won't allow inspections of our military sites," said Ali Akbar Velayati, a former foreign minister and an advisor to the Supreme Leader.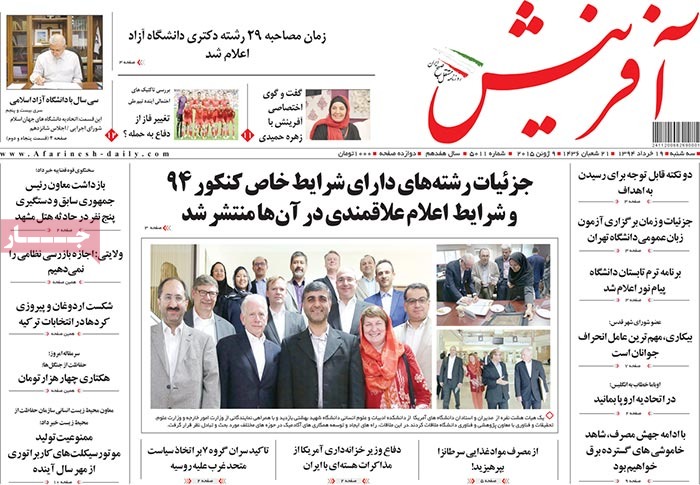 ---
Afkar: IS has set its sights on Iranian land!!
The terrorist grouping has recently released a map of its self-proclaimed caliphate that covers part of Iranian territory.
Claims by the terrorist grouping that it seeks to expand its territory from North Africa all the way to the Indian Subcontinent comes despite the fact that it is suffering back-to-back defeats in Iraq.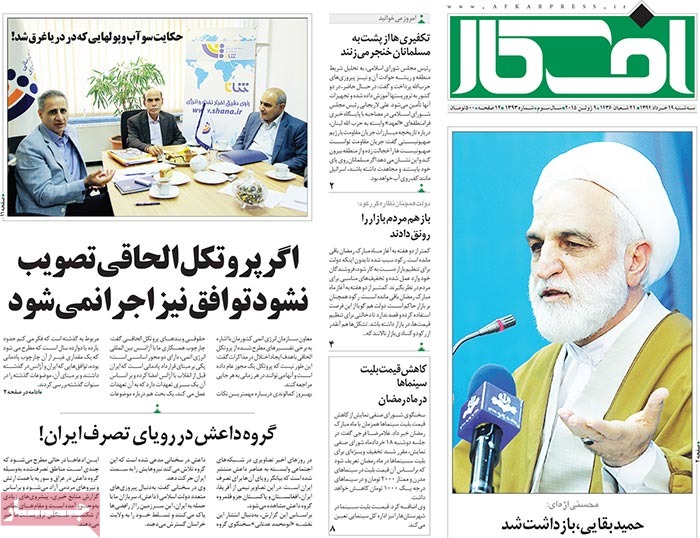 ---
Amin: "Iran is determined in the fight against money laundering," said President Rouhani.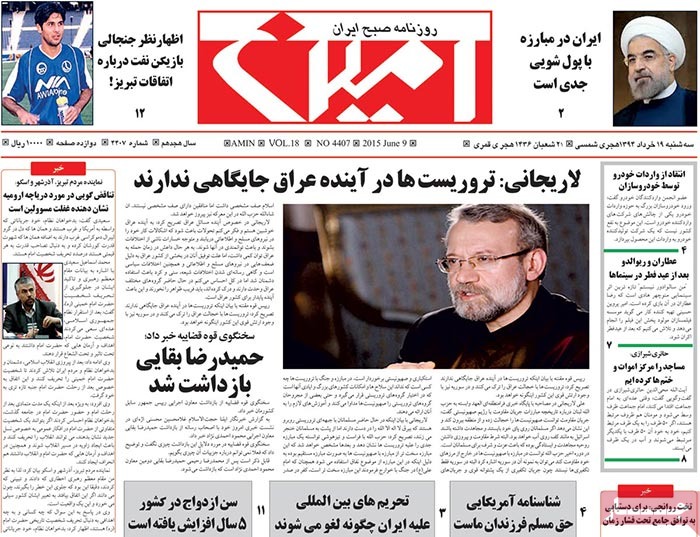 ---
Arman-e Emrooz: Hamid Baghaei [a vice-president under Ahmadinejad] has been arrested.
The inner circle of Ahmadinejad has begun to distance itself from Baghaei.
Abdolreza Davari [a close associate of Ahmadinejad] has said that the last time Baghaei visited the office of the former president was long ago.
Arman-e Emrooz: Death with banned poison
The aftershocks of the deaths of four Saudi nationals: Towhid Hotel has been shut down and five people have been arrested.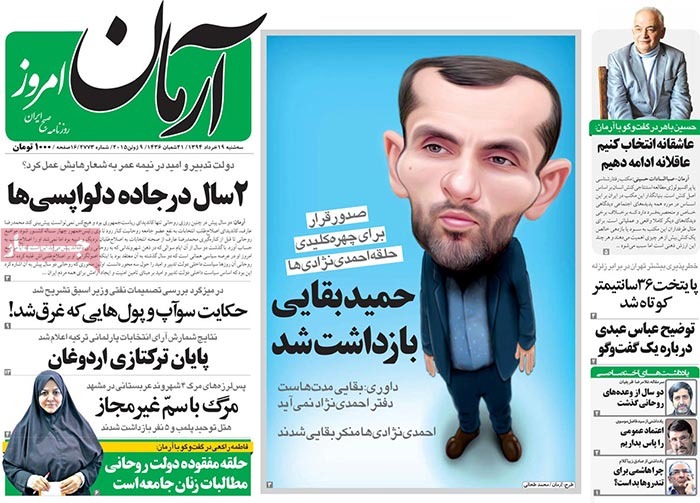 ---
Asrar: "Some 520 towns and cities across the nation are grappling with water shortage," said the director of the Crisis Management Organization.
Asrar: "At a time when oil revenues were at their highest levels, the worst policies were adopted," said Vice-President Eshagh Jahangiri [in reference to Ahmadinejad presidency].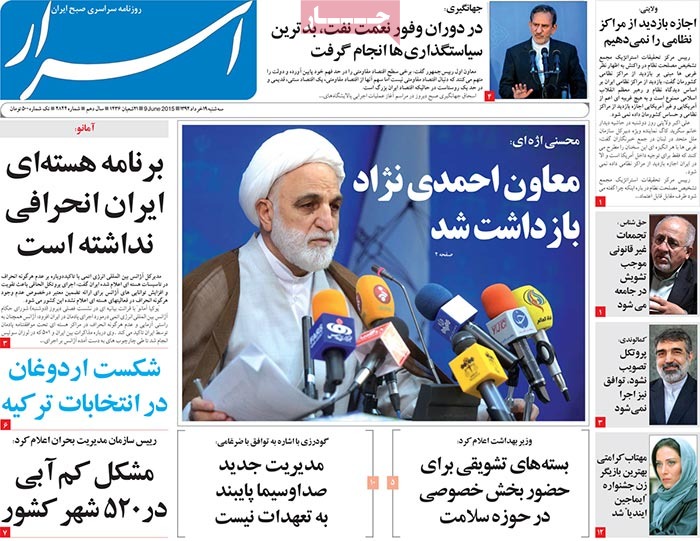 ---
Ettela'at: "Tax evasion adds up to $43-plus million each year," said an official with the National Tax Administration.
---
Haft-e Sobh: Instagram has officially apologized for shutting down an Imam Khomeini account.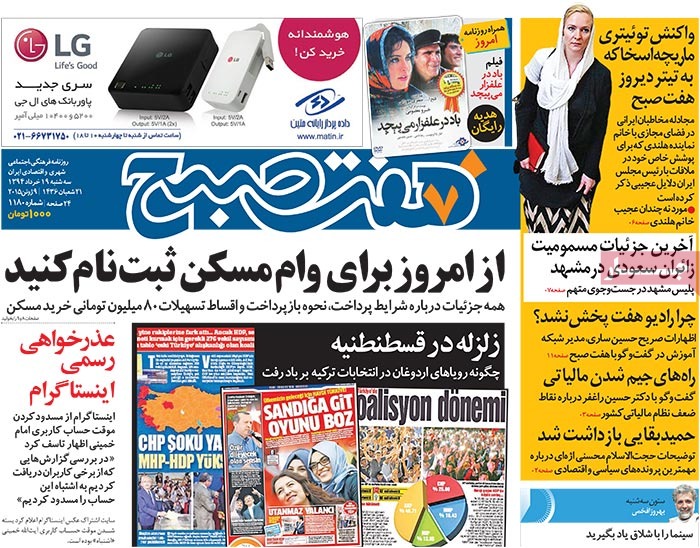 ---
Hambastegi: Foreign Minister Mohammad Javad Zarif paid a very brief visit to Oman Monday.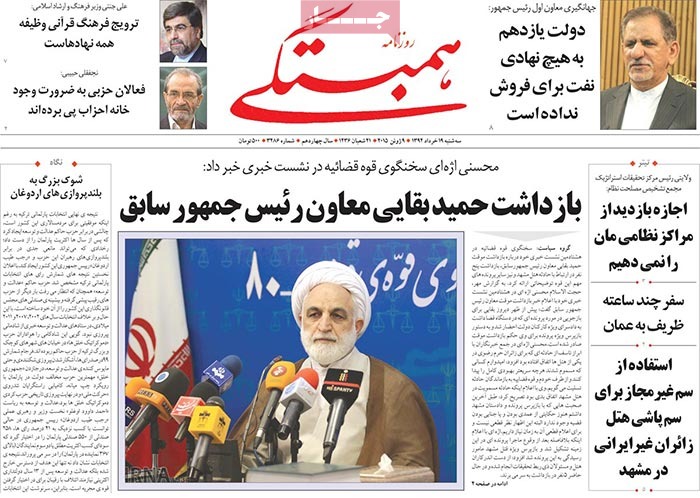 ---
Iran: Turkey in shock over the defeat of Erdogan.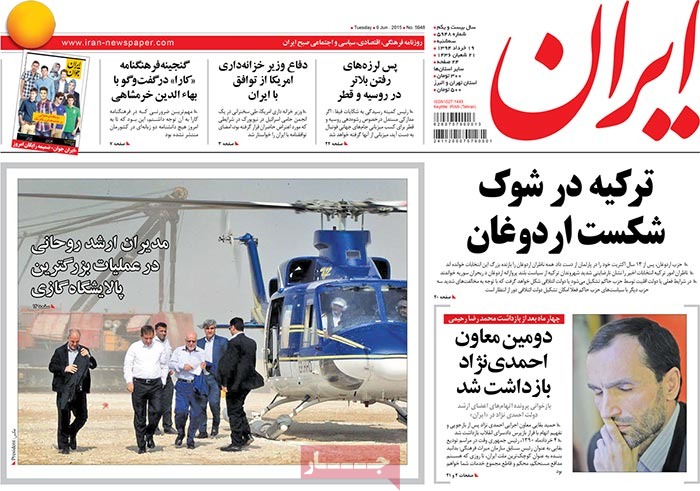 ---
Jomhouri Islami: Construction of the country's largest refinery got underway with the first vice-president in attendance.
---
Kayhan: An end to the dreams of Sultan Recep Tayyip Erdogan!
Turkey's ruling party suffered a historic defeat in the country's parliamentary elections.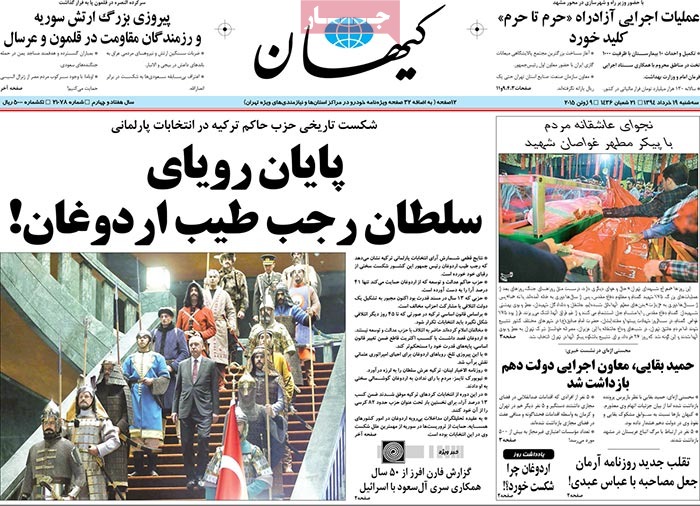 ---
Resalat: "Iran is at the forefront of the global war against drug trafficking," said Mohammad Javad Larijani, who leads the Human Rights Council of the Iranian Judiciary.
Resalat: "Linking the country's problems to sanctions is a strategic blunder," said Ahmad Tavakoli [a principlist MP].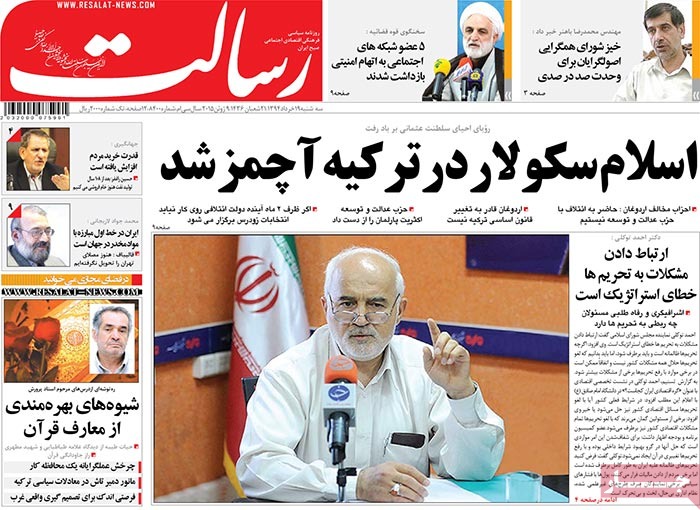 ---
Sayeh: "Measures are underway to make it possible for Tehran's Imam Khomeini Airport to handle 30 million passengers a year," said the minister of roads and urban development.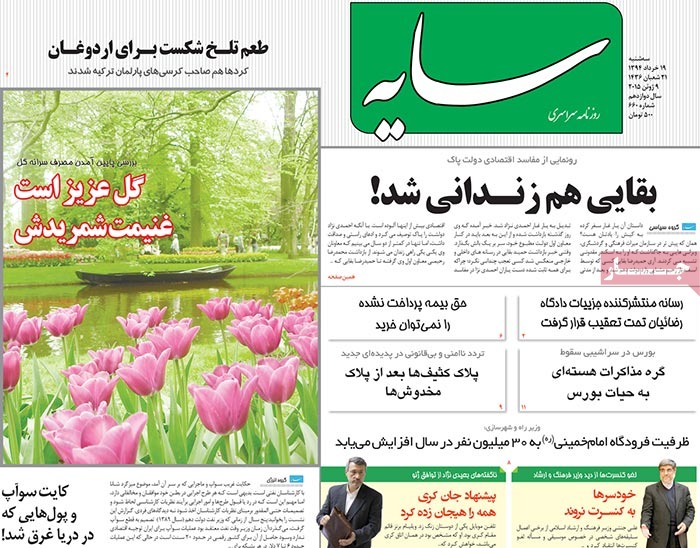 ---
Setare Sobh: A second deputy of the former president has been arrested.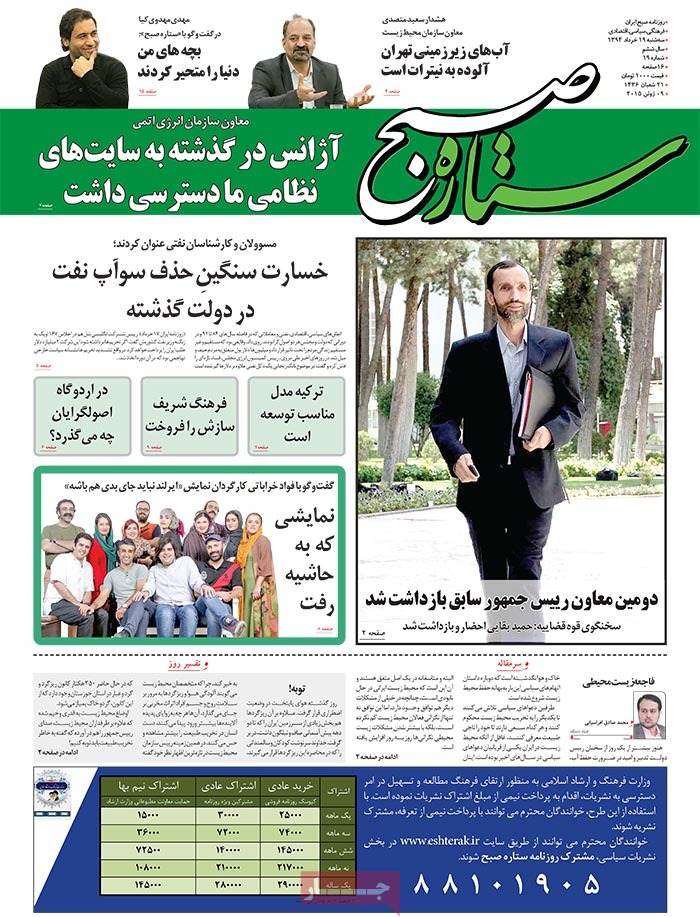 ---
Shahrvand: "It is not clear what has become of the $100 billion the former government earned from the privatization of state companies," said First Vice-President Eshagh Jahangiri.