After six days of vacation in Iran, newspapers on Saturday covered the remarks made by the Leader of Iran's Islamic Revolution Ayatollah Seyyed Ali Khamenei in a Monday address to the huge crowd of people attending a ceremony to mark the death anniversary of Imam Khomeini, the founder of the Islamic Republic.
Also a top story today was the ongoing visit of Iranian President Hassan Rouhani to China. Rouhani is there to attend a meeting of the Shanghai Cooperation Organisation (SCO) and meet with his counterparts.
Several papers also covered the International Quds Day rallies held on the last Friday of the holy month of Ramadan to express solidarity with the Palestinian nation, and condemning the Israeli regime's atrocities and occupation.
The above issues, as well as many more, are highlighted in the following headlines and top stories:
19 Dey:
1- Fasting Iranians Pour into Streets to Support Holy Quds
2- Rouhani's Anti-American Visit to China
---
Abrar:
1- French FM: Iranian Officials' Remarks Approaching "Red Line"
2- Method Adopted by US Dangerous: Rouhani
---
Aftab-e Yazd:
1- Still Hopeful about Iran Nuclear Deal
Iran to Increase Its Enrichment Capacity within JCPOA Framework
Europe Accelerating Efforts to Preserve Nuclear Deal
2- Final Statement of Quds Day Rallies: Referendum Needed to Resolve Issue of Palestine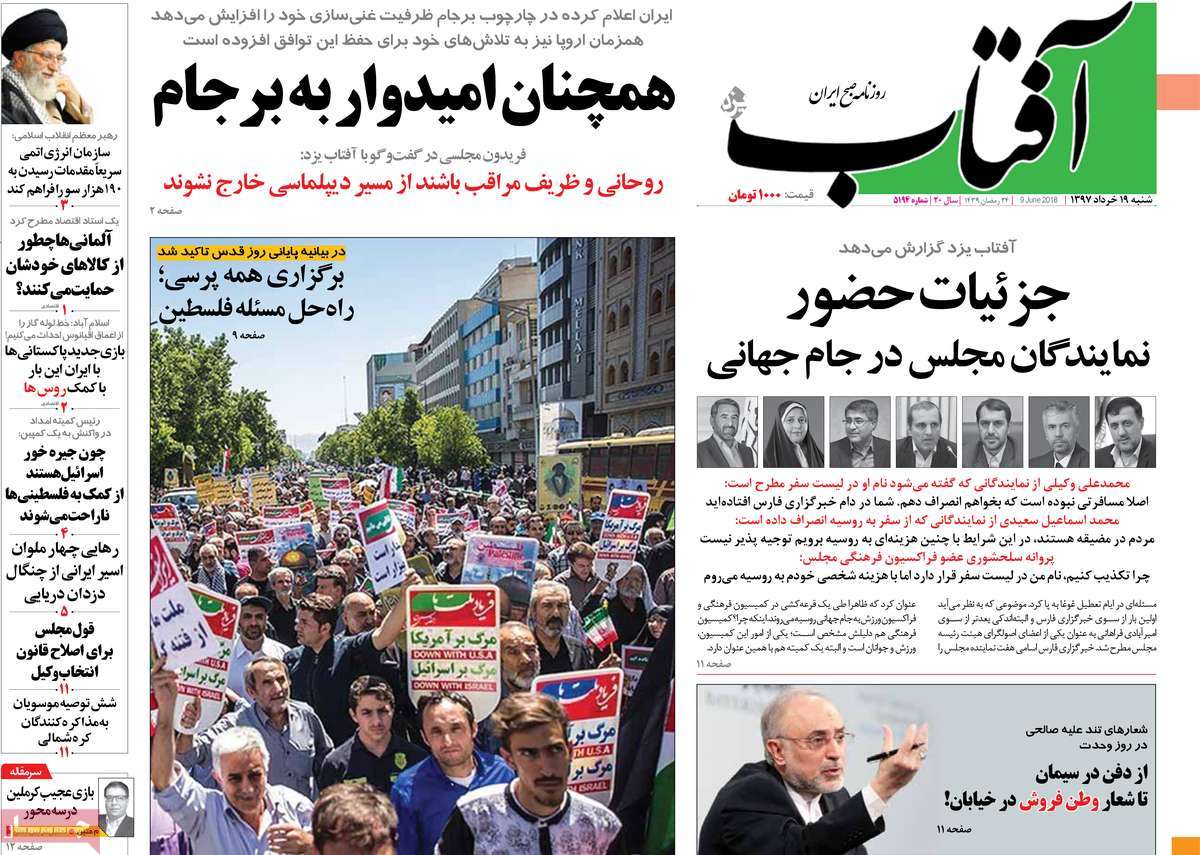 ---
Arman-e Emrooz:
1- Iran's First Nuclear Step Widely Covered by World Media
2- Nationwide Support for Palestine
Glorious Quds Day Rallies Held in Iran, Other Countries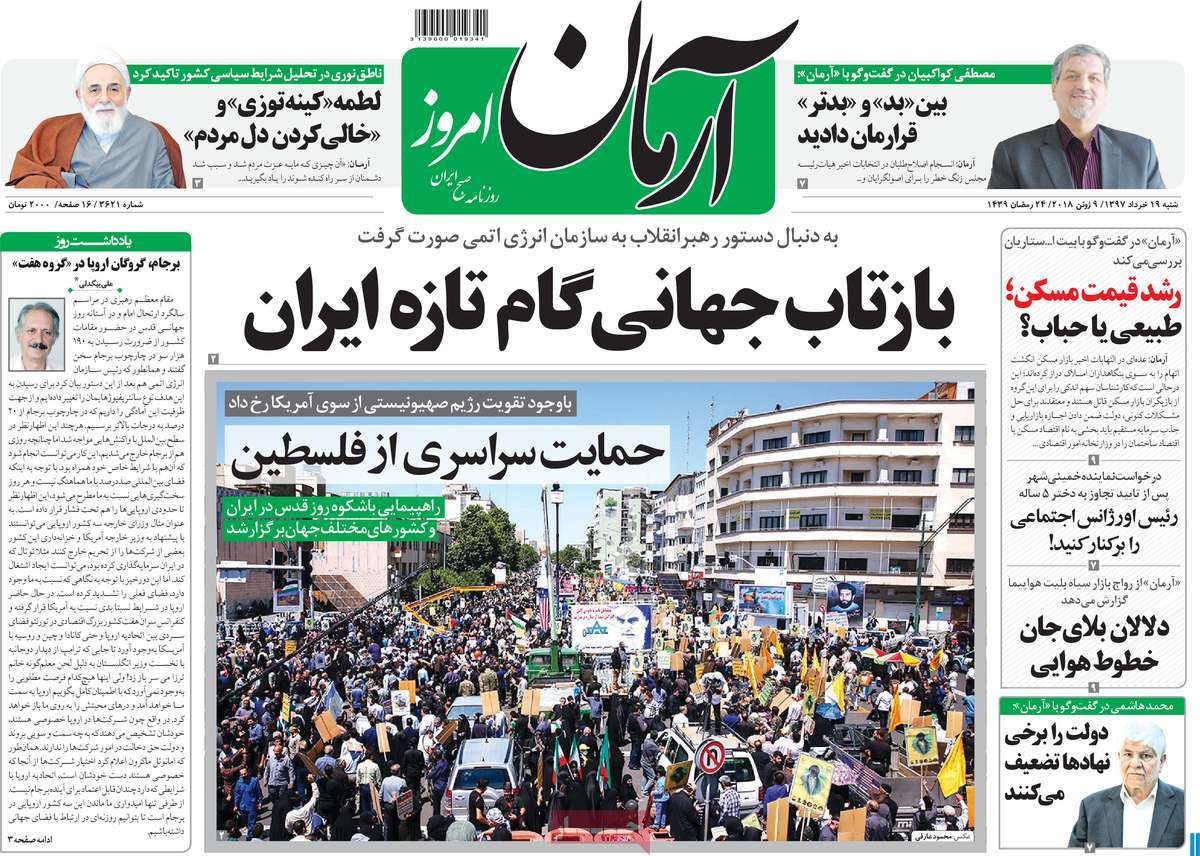 ---
Donya-ye Eqtesad:
1- Prospect of Economy in Post-Withdrawal Era
World Bank Increases Its Estimate of Iran's Economic Growth
---
Etemad:
1- Sacred Unity
A Report on Quds Day Rallies
2- Everyone against Israel [Editorial]
---
Ettela'at:
1- Iran Leader: Enemy Plotting to Create Chaos by Abusing Public Demands
2- Zarif: Int'l Community Must Stand against US' Evasion of Law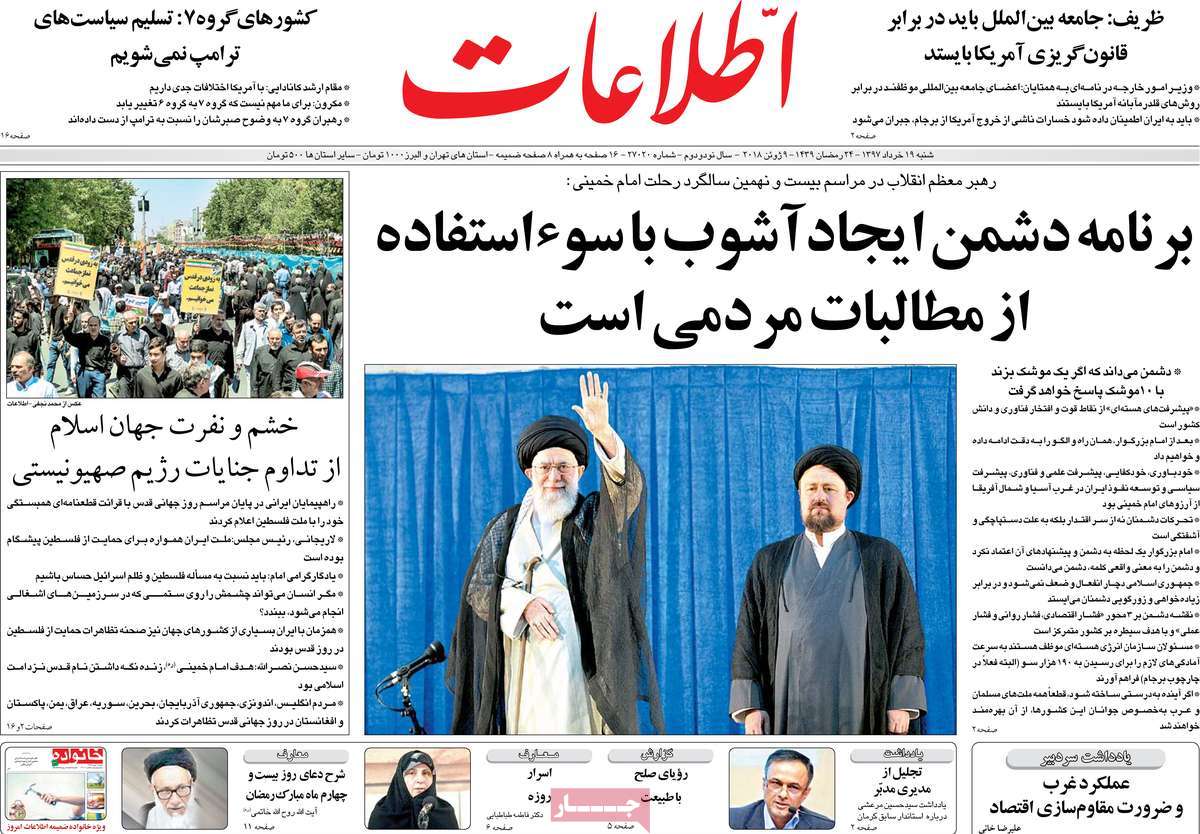 ---
Iran:
1- Imminent Cold War between Western Countries
European Officials Say US Isolated in G7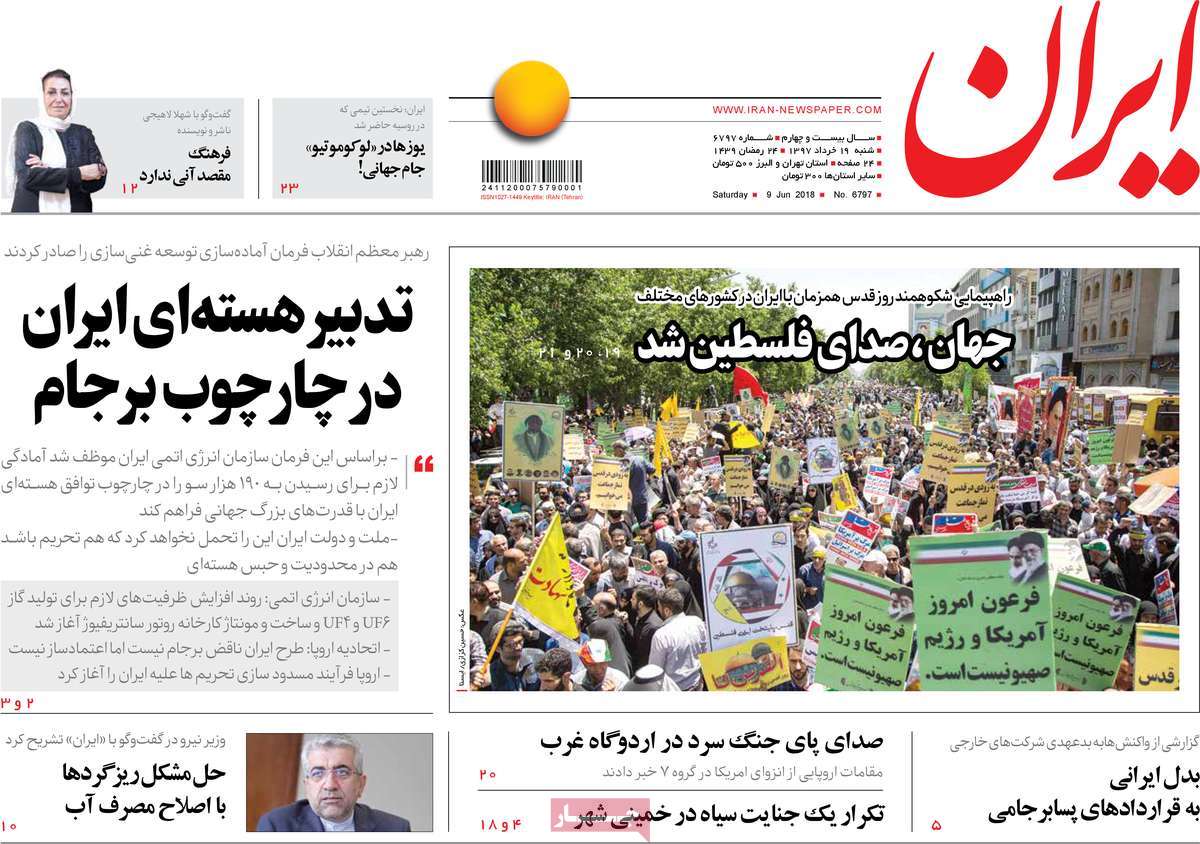 ---
Javan:
1- Iran Leader: Europe's Disturbed Dream of Imposing Deficient JCPOA Not to Come True
2- People around the World Say No to 'Deal of the Century'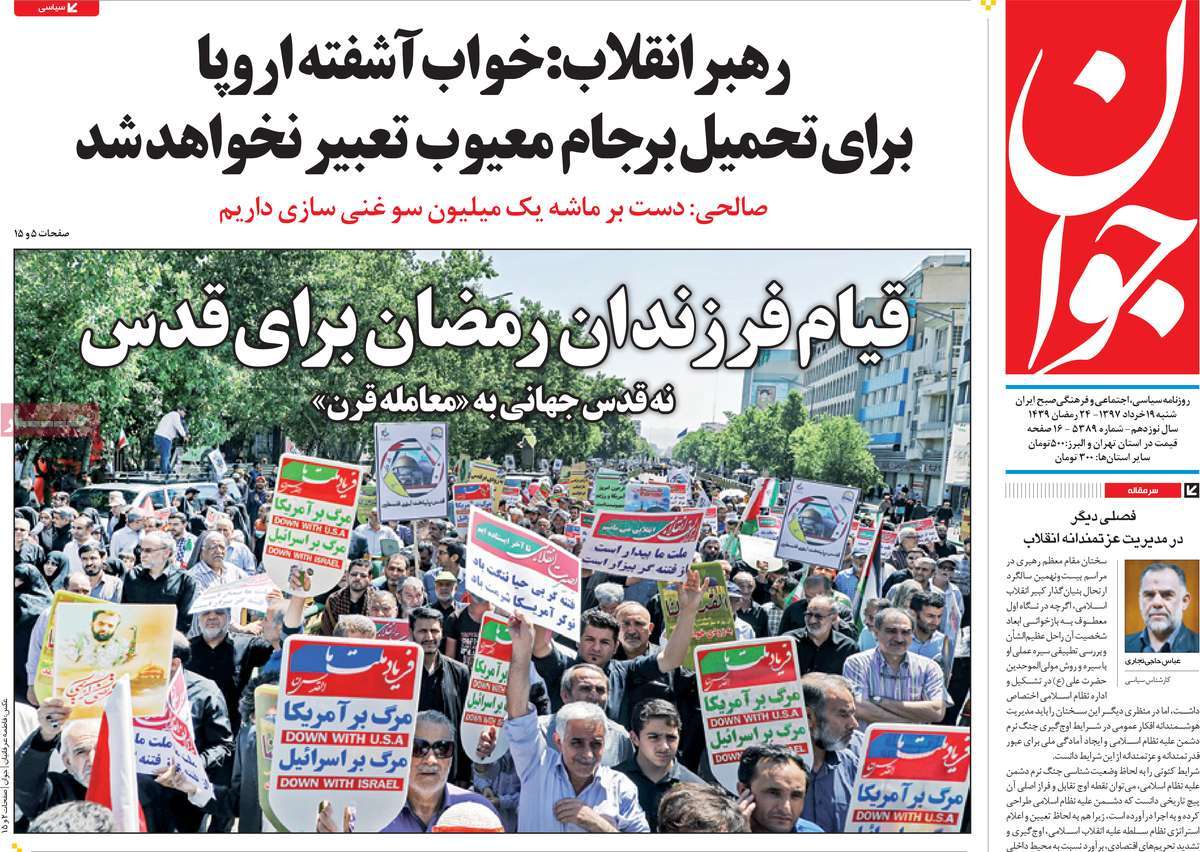 ---
Jomhouri Eslami:
1- Iran Leader: US to Be Defeated by Iranian Nation in Its New Plot
2- Iran to Remain Fourth Biggest Oil Producer in World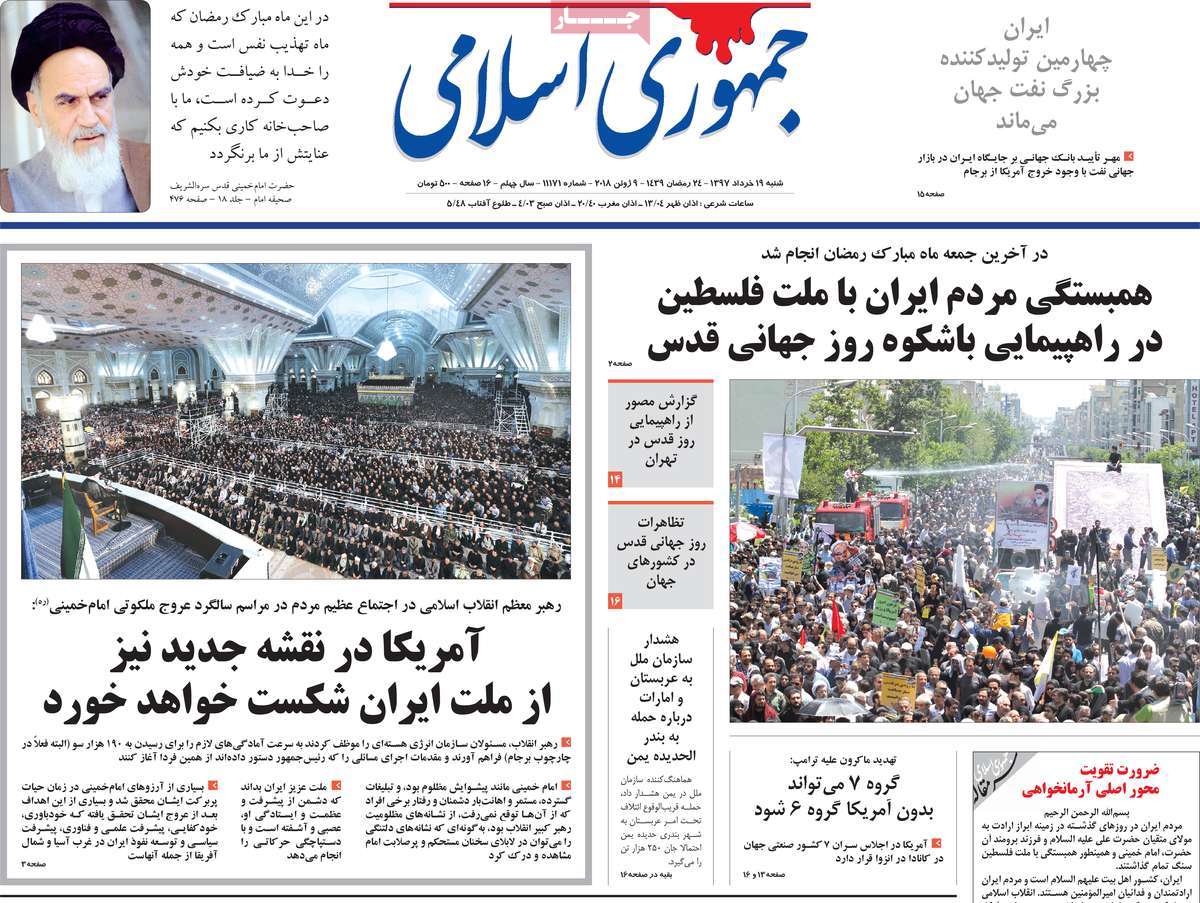 ---
Kayhan:
1- Kayhan Chief: Europe Wants to Deceive Iran into Accepting US Demands
2- For Second Time, Peugeot Easily Violates Deal with Iran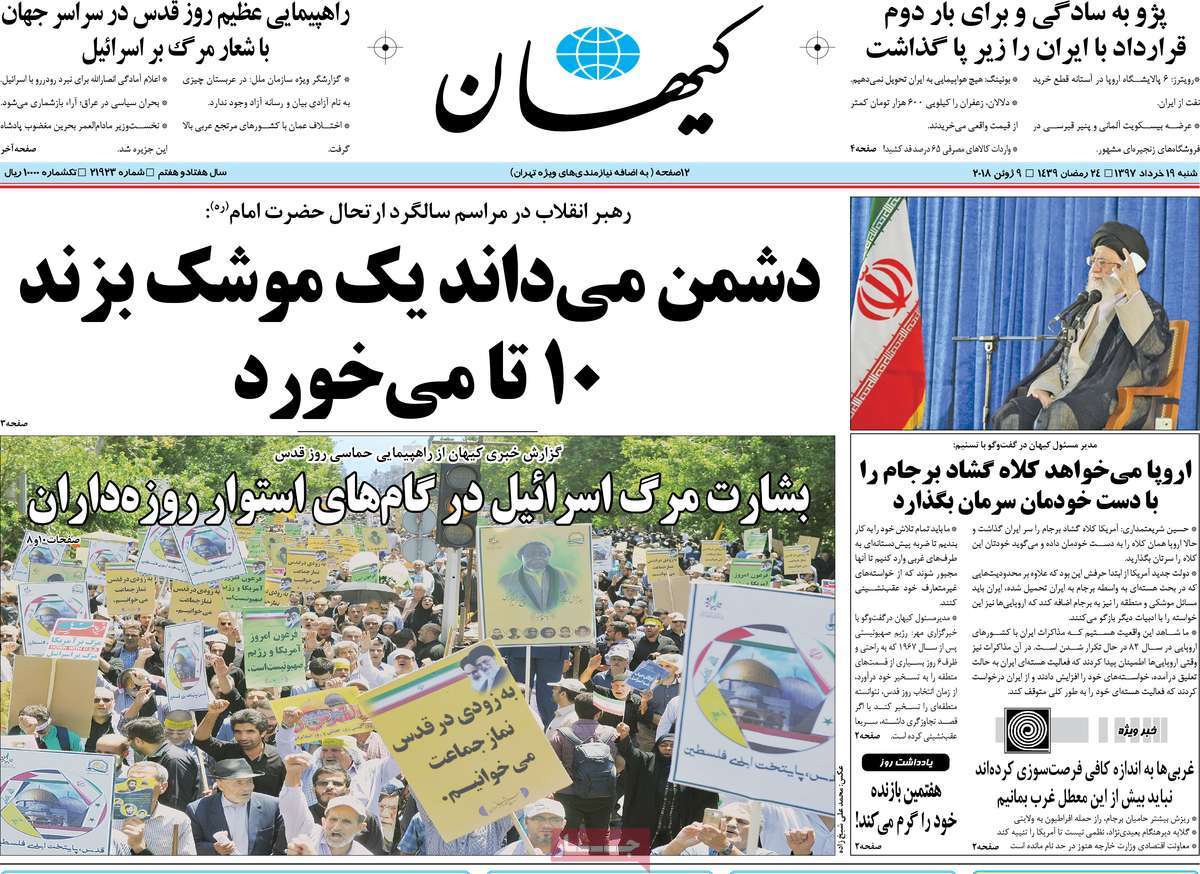 ---
Resalat:
1- Iran Leader: Enemy to Be Hit 10 Times If It Hits Iran Once
---
Sazandegi:
1- Return to the East?
A Review of Purposes behind Rouhani's Visit to China
2- Parliament Opposed to Seven Lawmakers' Trip to Russia for FIFA World Cup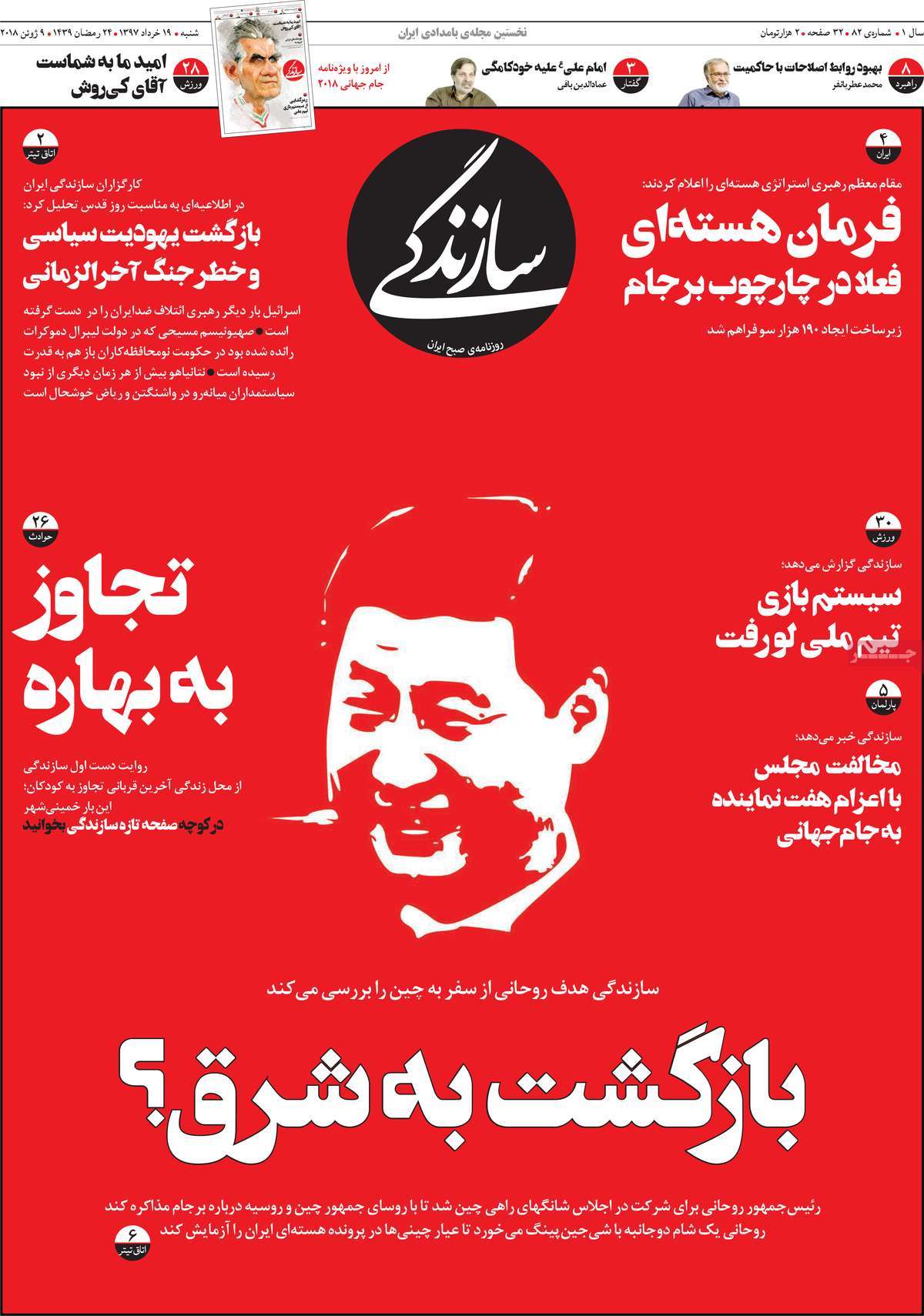 ---
Setareh Sobh:
1- G7 Summit Overshadowed by Trade War
2- Rouhani's Consultations in China to Preserve JCPOA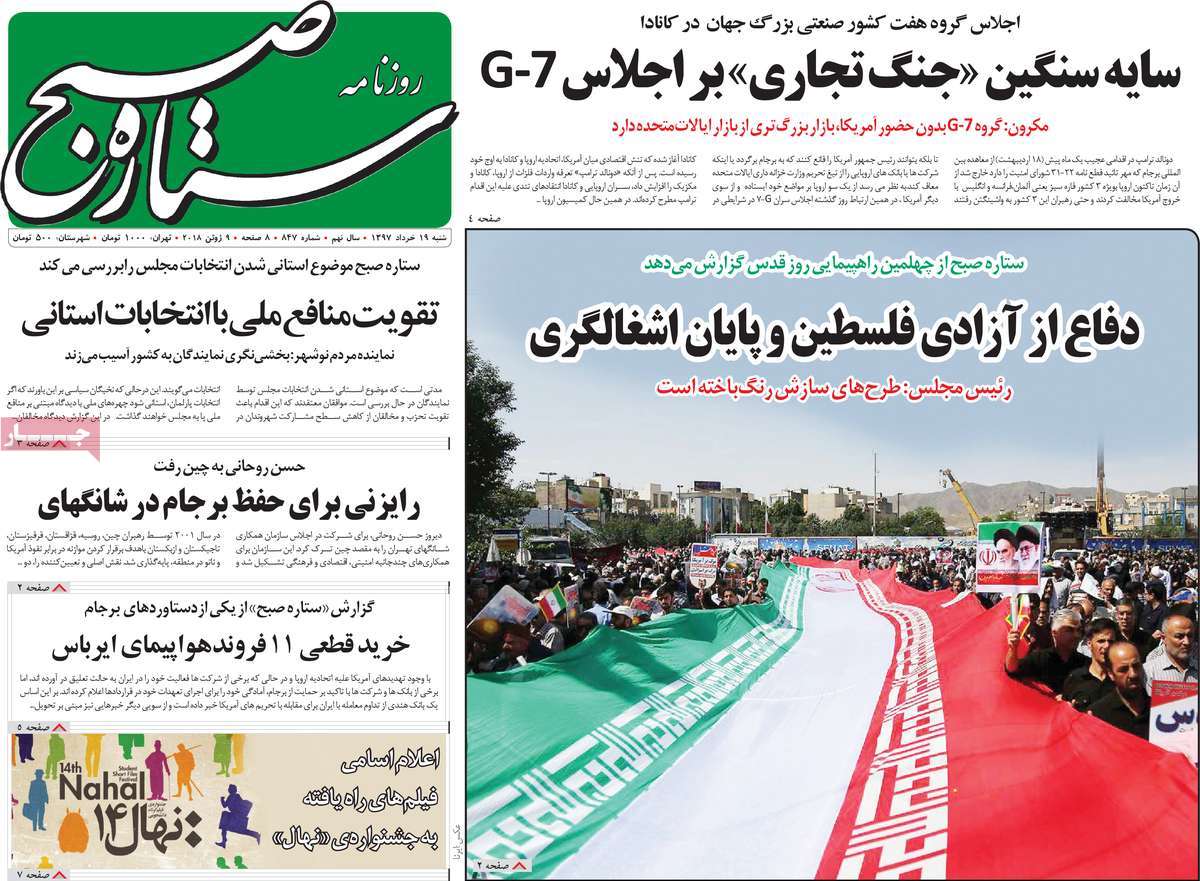 ---
Shargh:
1- We Keep Supporting Liberation of Quds
2- Nuclear Order
Iran Leader Orders AEOI to Prepare Grounds for Industrial Enrichment within JCPOA
3- Secrets behind Peugeot's Withdrawal from Iran
---
Sobh-e Now:
1- NSA Stealing Netizens' Data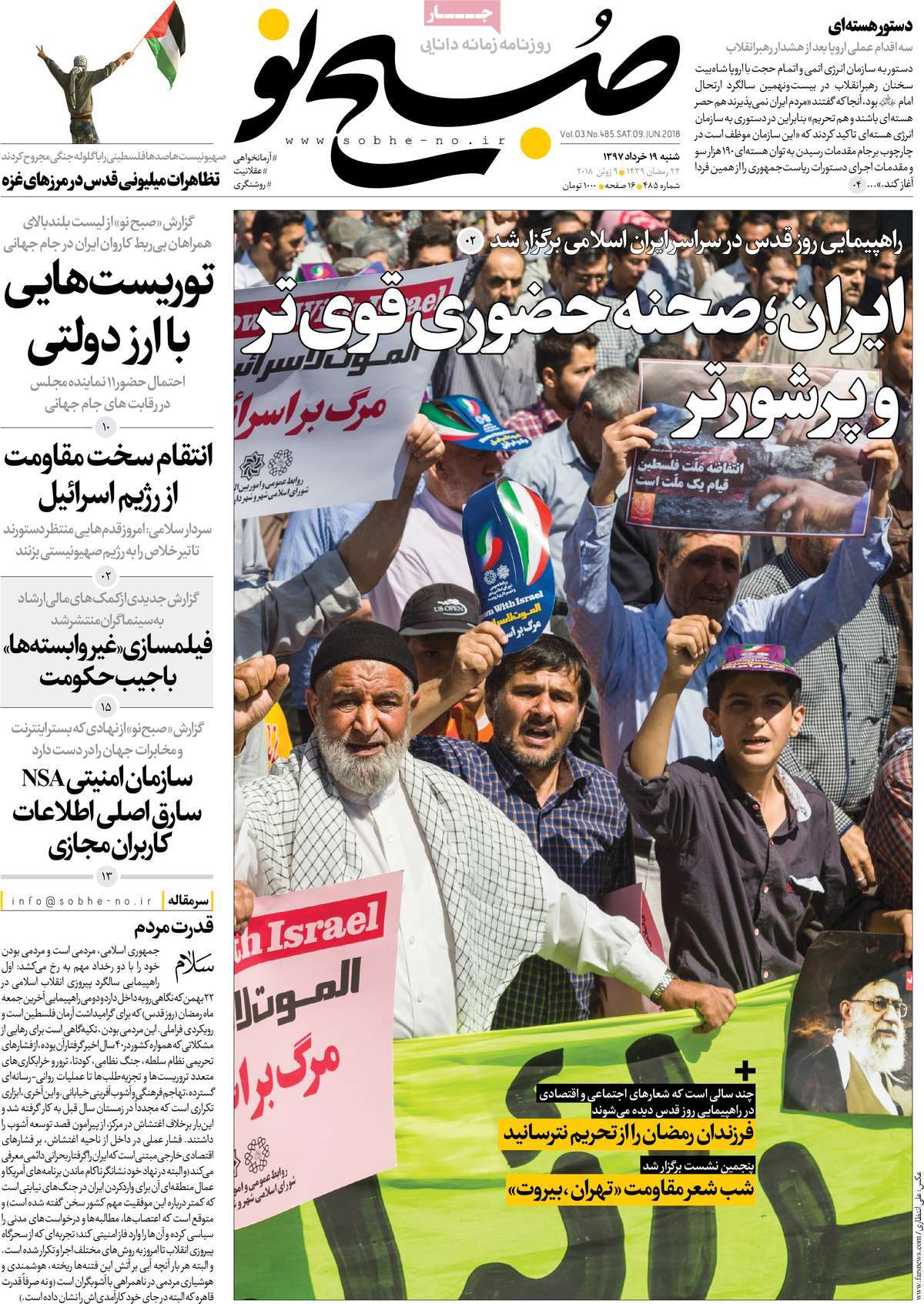 ---
Vatan-e Emrooz:
1- Iran's Transport Ministry Files Lawsuit against Boeing over Annulment of Plane Sale Deal