Comments by President Rouhani on measures to protect the environment dominated the front pages of Iranian newspapers on Monday.
Abrar: "Women's entry into sporting arenas remains illegal," said the spokesman of the law enforcement force.
Abrar: IS has slapped a ban on the sale of Iranian products.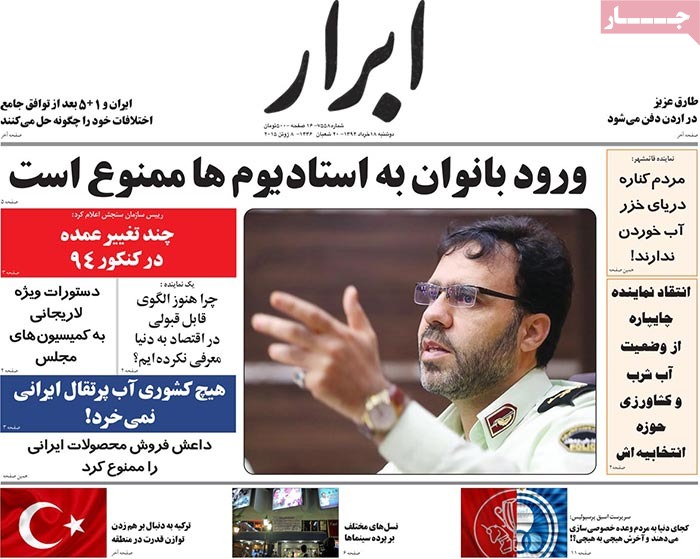 ---
Afarinesh: "Continued war in Yemen won't earn Saudi Arabia regional dominance," said the Iranian parliament speaker.
---
Arman-e Emrooz: Are the so-called Worriers at the finish line?
A number of individuals who shouted down senior officials [including the president] when they were making speeches at Imam Khomeini Mausoleum have been arrested.
Arman-e Emrooz: Those who served as Cabinet ministers under Ahmadinejad have formed their own party.
---
Asr-e Rasaneh: "Gasoline prices won't go up again," said the oil minister.
---
Etemad: "Former President Mahmoud Ahmadinejad would present wrong figures," said a former Central Bank Governor Tahmasb Mazaheri.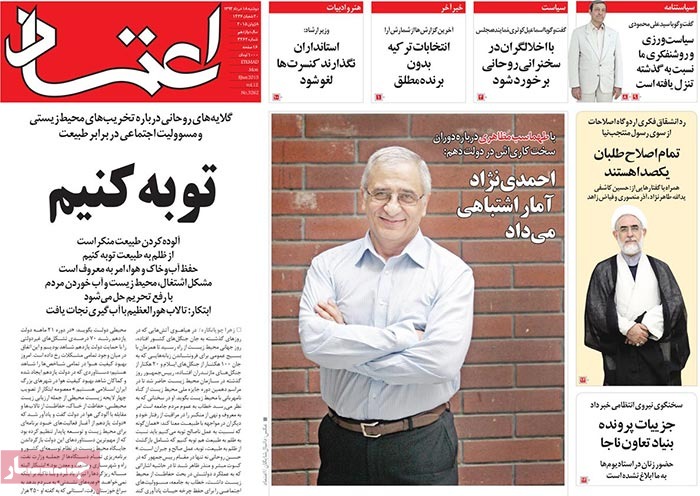 ---
Ettela'at: The Iraqi town of Baiji has been liberated by the Popular Mobilization Force.
Ettela'at: "Those who are louder in the fight against terrorism are assisting IS," said Iranian Foreign Minister Mohammad Javad Zarif.
Ettela'at: "We need to repent of the harm we have done to the environment," said President Rouhani in a speech to mark Environment Week.
Ettela'at: University graduates account for some 40 percent of the country's unemployed.
---
Hemayat: The oil minister has said that exports of 500,000 barrels of oil to Russia will get underway later this week.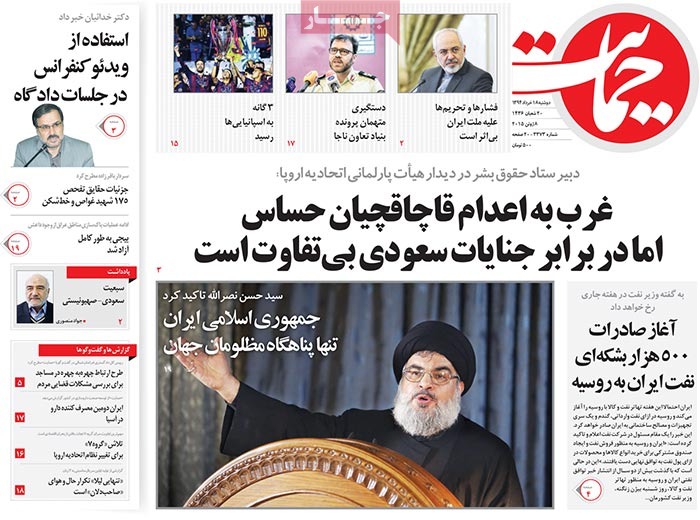 ---
Mardomsalari: The minister of culture and Islamic guidance has urged provincial governors not to allow rogue elements to disrupt concerts.