Comments by the secretary of the Expediency Council on upcoming parliamentary elections and the conviction of a Tehran MP for insulting senior officials, past and present, dominated the front pages of Iranian newspapers on Sunday.
Abrar: A travel ban is to be slapped on 57 Iranian coaches and players due to tax problems.
---
Afkar: Tehran MP Ahmad Tavakoli has been sentenced to a six-month suspended jail term [for insulting the former president and the judiciary chief.]
---
Aftab-e Yazd: "Hurling insults at the president is actionable," said Tehran MP Ali Motahari.
[His comments came after hecklers shouted down the president as he made a speech at Imam Khomeini Mausoleum during a ceremony to mark the 26th anniversary of the demise of the founding father of the Islamic Republic.]
Aftab-e Yazd: "Signing the Additional Protocol of the NPT does not constitute a red line," said Iranian Foreign Minister Mohammad Javad Zarif.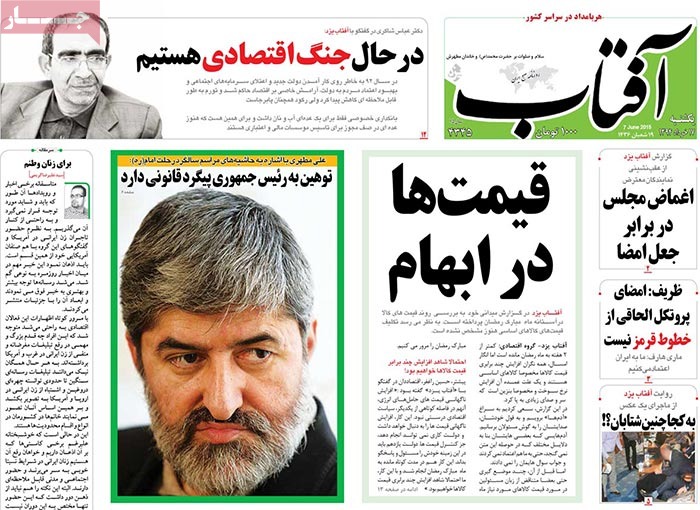 ---
Arman-e Emrooz: Iran is one step away from becoming a [full] member of Shanghai Cooperation Organization.
The Iranian interior minister has attended a ministerial meeting of the regional grouping in Dushanbe, Tajikistan.
---
Asrar: Authorities have uncovered a tax evasion case involving some $300 million.
Asrar: "The plan to make parliamentary elections provincial is no longer on the agenda of the Expediency Council," said the secretary of the council.
Asrar: A member of parliament has advised the public not to purchase low-quality Chinese cars.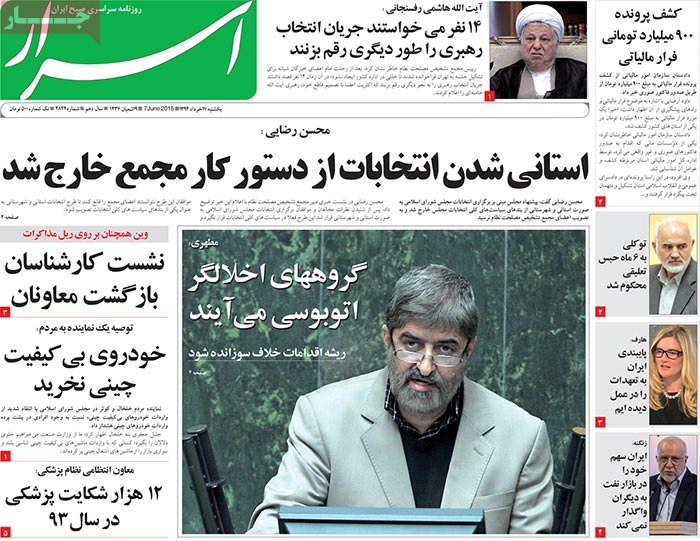 ---
Ettela'at: Iran has warned 5+1 that it won't accept demands that go beyond what has been envisioned in the Lausanne statement.
Ettela'at: The United Nations has accepted an Iranian proposal to explore ways of tackling dust storms.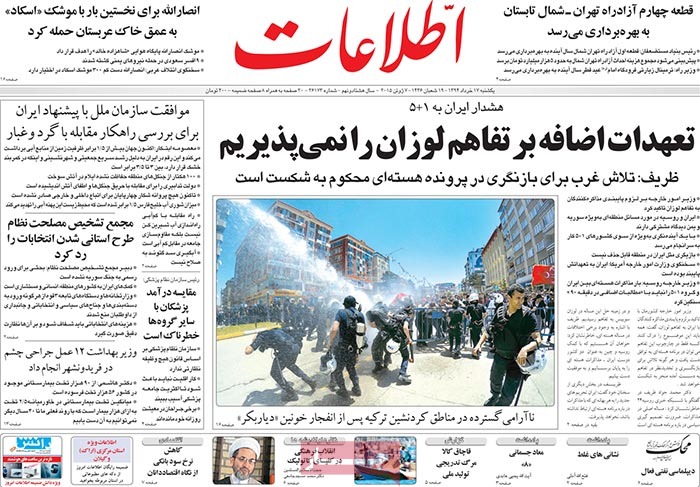 ---
Hemayat: Iranian security forces have successfully conducted three major anti-terrorist operations.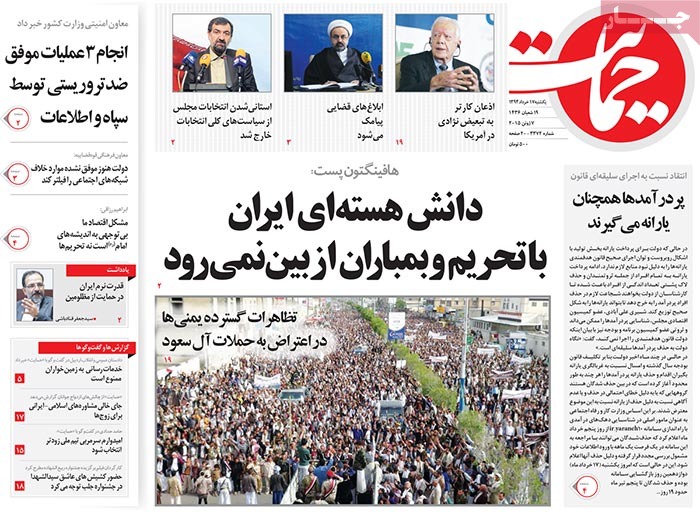 ---
Jomhouri Islami: Four new phases of South Pars Gas Field will become operational by yearend [March 21, 2016].
---
Kaenat: The Health Ministry is worried about a change in HIV transmission mode.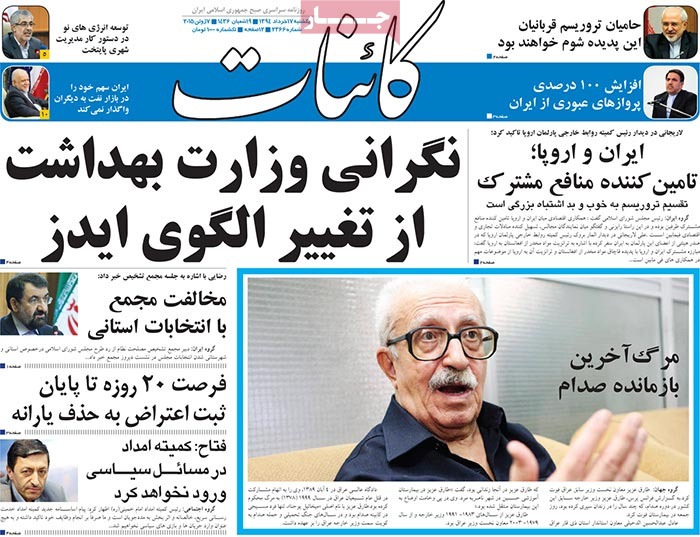 ---
Khorasan: Some 100 hectares of forests in Ilam has been burned.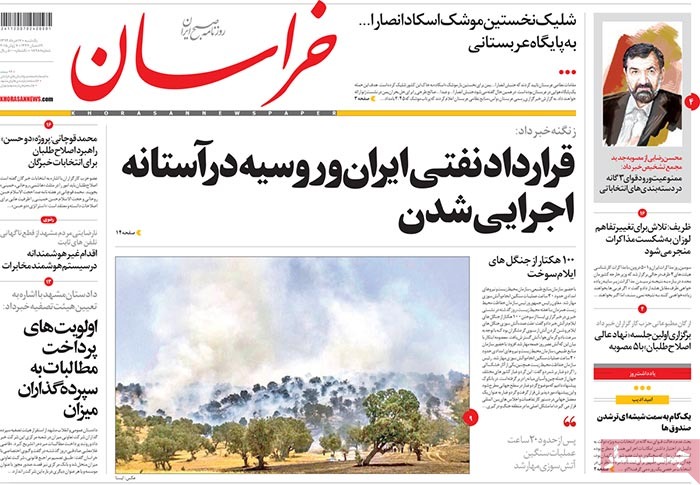 ---
Resalat: "Secularists are shouting into the bullhorns of reforms," said Mohammad Javad Larijani, the secretary of the Iranian Judiciary's Human Rights Council.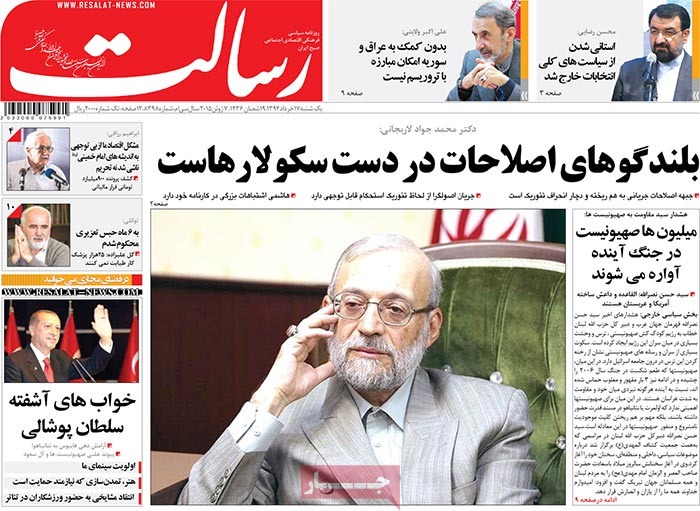 ---
Sharq: Efforts are underway to open an EU mission in Tehran.
The issue was raised at a meeting between Iranian Parliament Speaker Ali Larijani and an EU parliamentary delegation in Tehran.