Newspapers today widely covered the US' decision to stop Iran's oil exports by dissuading its clients, and Tehran's reaction to the ambitious plan.
President Hassan Rouhani's inauguration of the second phase of the Persian Gulf Star Refinery in Hormozgan province, which will make the country self-sufficient in petroleum, also received great coverage.
Also a top story was the ongoing water crisis, particularly in the south-western province of Khuzestan.
The above issues, as well as many more, are highlighted in the following headlines and top stories:
Abrar:
1- Iran to Stop Fulfilling Commitments If US Sanctions Re-Imposed
---
Aftab-e Yazd:
1- Will Moscow Turn Its Back on Iran?
Putin, Trump to Meet in Finland Soon
There Are Rumours They Will Reach Consensus on Syria
---
Arman-e Emrooz:
1- Clerics Unanimously Call for National Unity: Rouhani's Chief of Staff
2- Star of Self-Sufficiency in Petroleum Shining
Rouhani Inaugurates Persian Gulf Star Refinery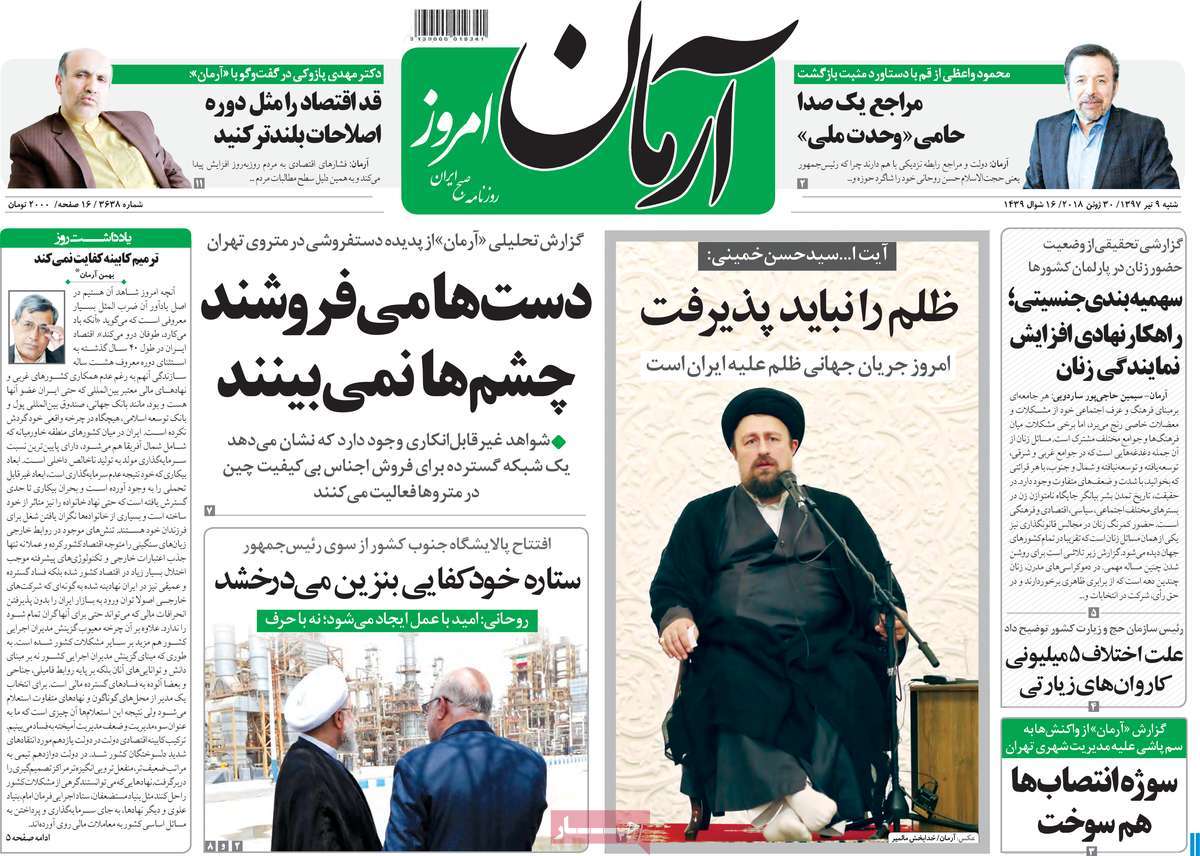 ---
Asrar:
1- Oil Minister: We're Not Concerned about Sanctions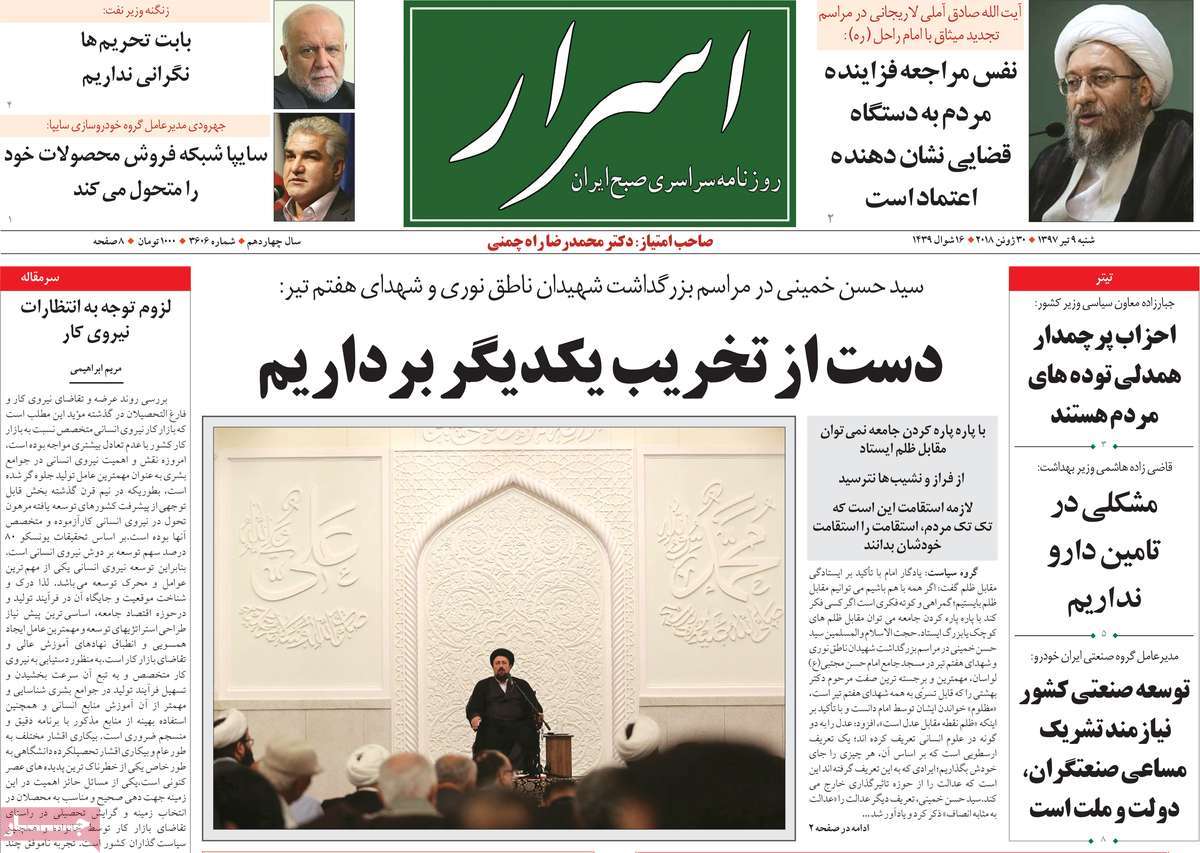 ---
Ebtekar:
1- Zarif to Pompeo: Those Living in House Made of Glass Shouldn't Throw Stones
2- US May Show Flexibility after Trump's Impractical Promise
Is It Possible for US to Totally Stop Iran's Oil Exports?
---
Etemad:
1- Oil Bluff: Saudis Renege on Their Promise after OPEC Agreement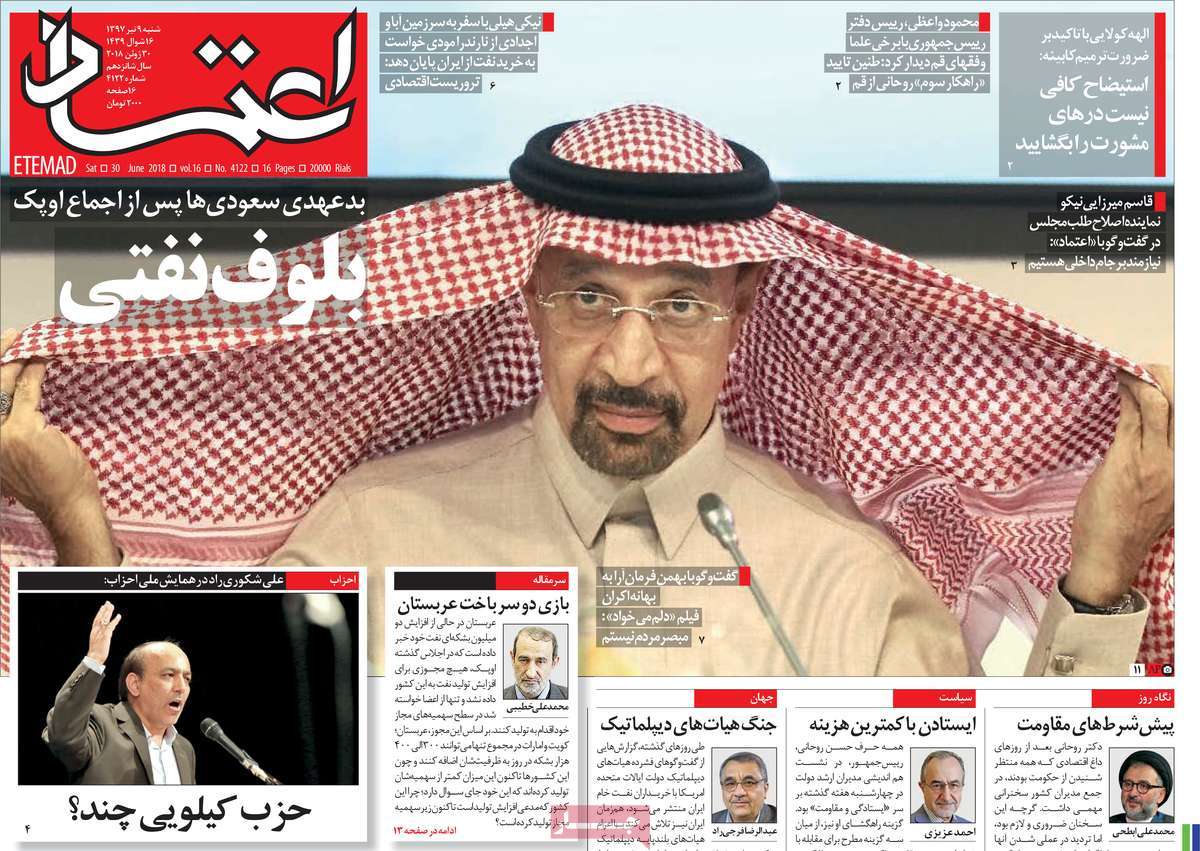 ---
Ettela'at:
1- Saudi-led Coalition on Verge of Collapse: Malaysia Withdraws from Yemen War
---
Iran:
1- Tankers Used to Distribute Water among People of Abadan, Khorramshahr in SW Iran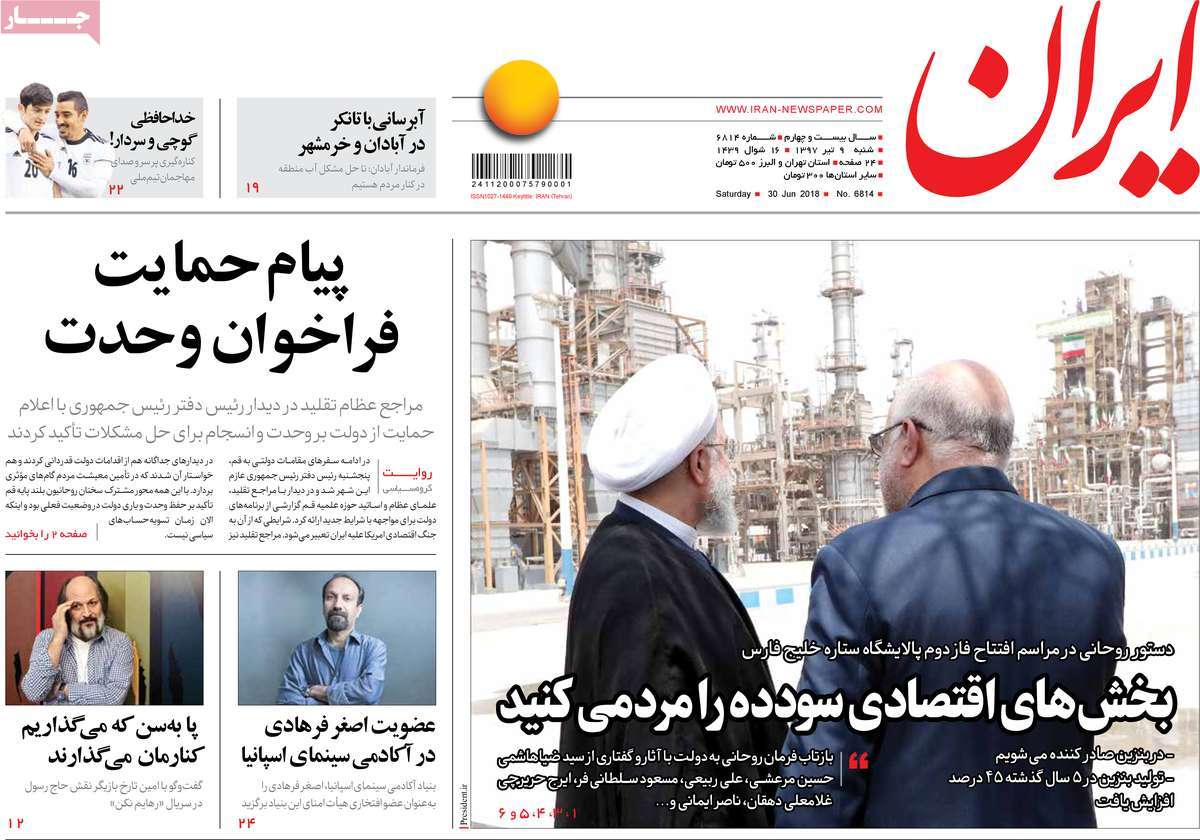 ---
Jame Jam:
1- Iran's Response to US' Oil Threat
Second Phase of Persian Gulf Star Refinery Launched to Make Iran Self-Sufficient in Petrol
---
Javan:
1- Secretary of American Human Rights Festival: We're Turning into Reputable Brand
---
Jomhouri Eslami:
1- US Backs Out of Earlier Decision to Stop Crude Oil Exports of Iran
---
Kayhan:
1- Secrets behind FATF: Financial Institution or Political Leverage?
2- Conservative MP: Revolutionaries Not after Impeachment or Resignation of Rouhani
---
Khorasan:
1- All Political Movement Back Government
---
Payam-e Zaman:
1- Iranian People's Lives Have Always Been Gripped with Drought
Energy Minister: Adaptation with Water Crisis Is Government's Policy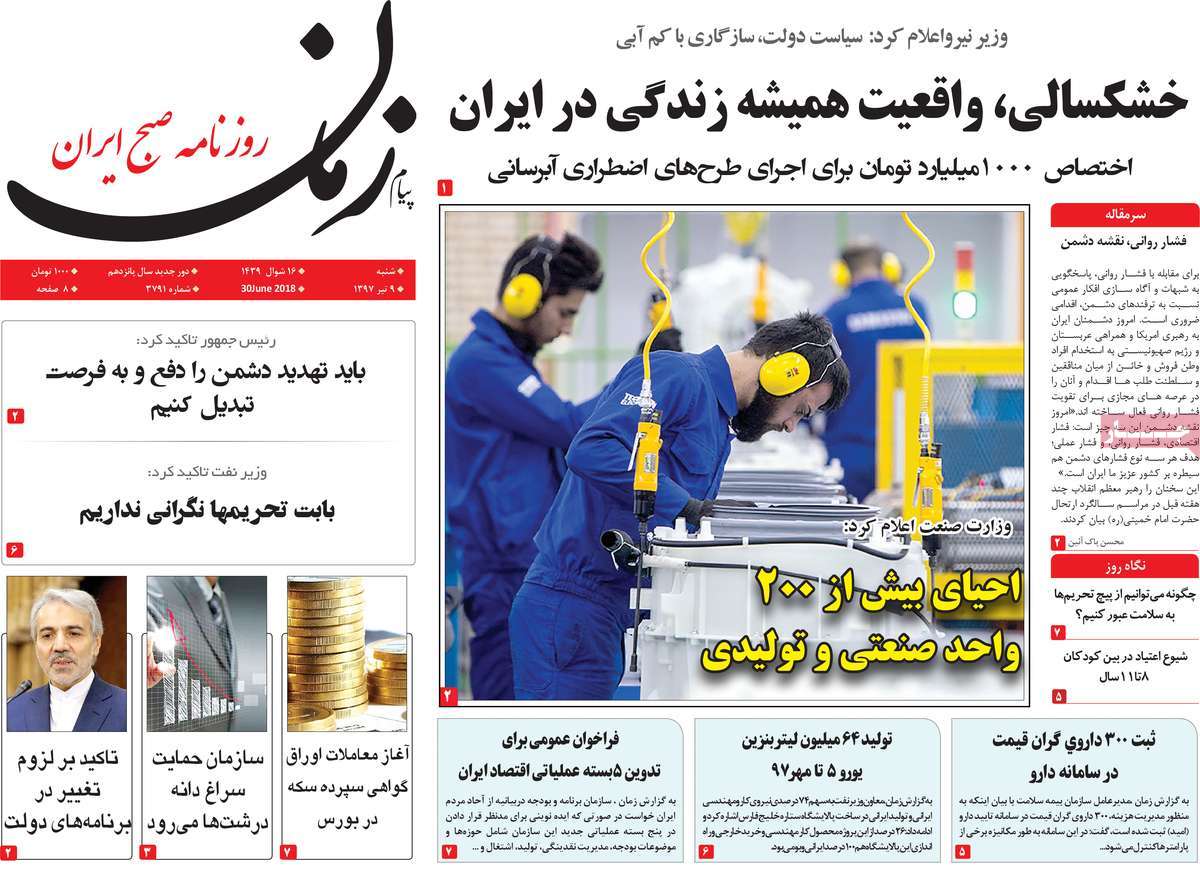 ---
Resalat:
1- Rouhani: We'll Stand against US, Forcing It to Surrender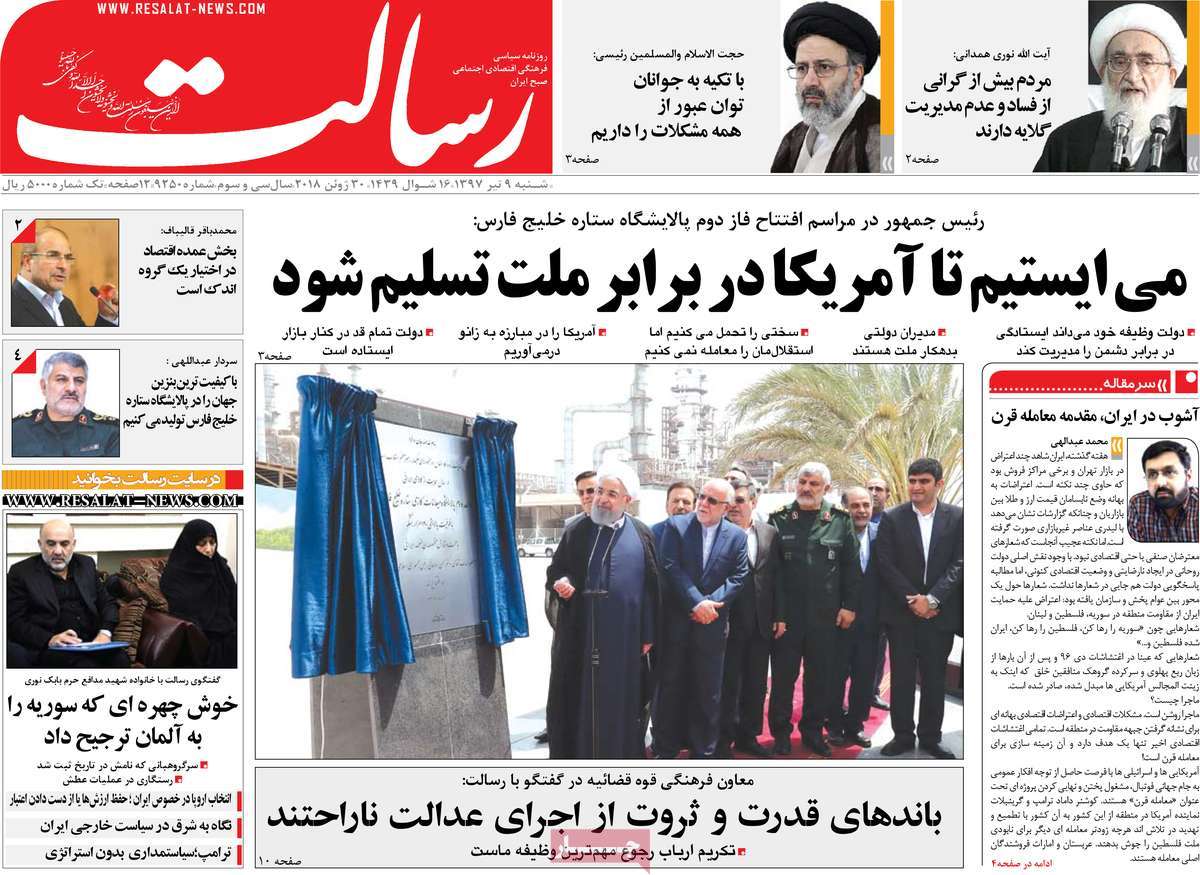 ---
Sazandegi:
1- Rouhani: I Won't Resign
What Politicians Think about Government's Resistance Strategy
---
Setareh Sobh:
1- Iran's Production of Euro IV, Euro V Petrol 13 Times Higher in 5 Years
---
Shargh:
1- MPs Waiting for Cabinet Reshuffle
2- Iran Gaining Concessions from US
US Cooperating with Iran's Oil Clients in Particular Cases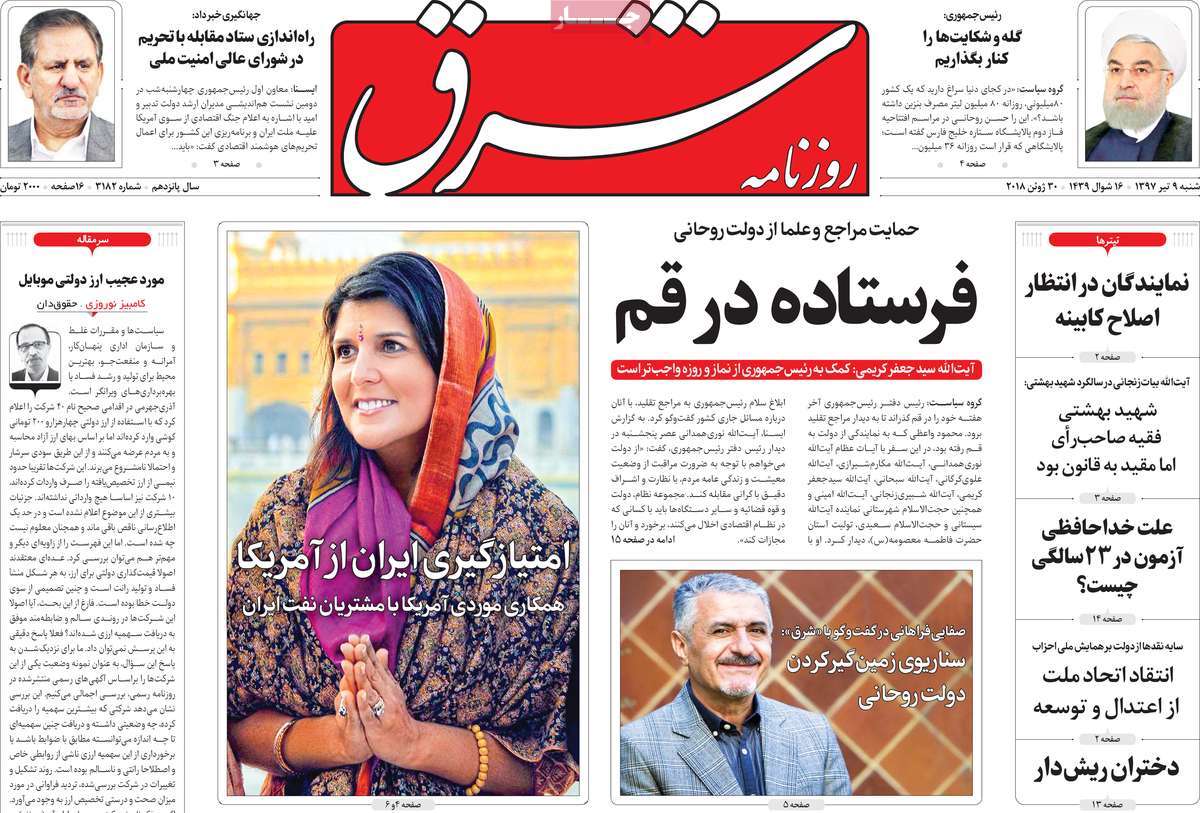 ---
Tejarat:
1- ATR in Talks with US to Deliver Planes to Iran
---