The comments of the Supreme Leader at a meeting with senior judicial officials on the necessity of efforts to stand up for judicial independence dominated the front pages of Iranian newspapers on Monday. Also on the covers of the dailies were the return home of Foreign Minister Zarif from nuclear talks in Vienna and a call by the president on judicial officials to define political crimes.
Ettela'at: "Those who spoil the independence of the Judiciary should be confronted," said the Supreme Leader at a meeting with senior judicial officials.
At the meeting, Ayatollah Khamenei further said, "Corruption in the Judiciary would set the stage for massive corruption in society.
"Organized efforts are needed to prevent criminal activities. Otherwise, criminal acts grow and grow and their management would become impossible."
---
Aftab-e Yazd: Iran's missing oil derrick has ended up in the Gulf of Mexico.
It came after the oil minister confirmed reports that a derrick Iran had purchased when the previous government was in office had disappeared without a trace.
Aftab-e Yazd: Mr. Seif, have guts and release the names of [financial] institutes that operate without permit.
[The statement was addressed to the governor of the Central Bank of Iran.]
---
Arman-e Emrooz: Anti-addiction vaccines hit a snag.
The heroine and morphine vaccines do not have the necessary permits to hit the market.
Arman-e Emrooz: Another legacy of the previous government; a $460 million corruption case in the Islamic Azad University.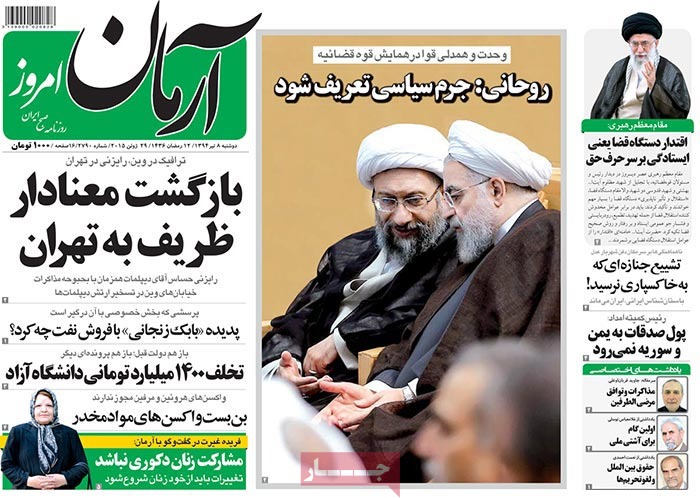 ---
Asrar: "We won't allow individuals' private lives to be probed," said the intelligence minister of the screening of potential candidates in upcoming elections.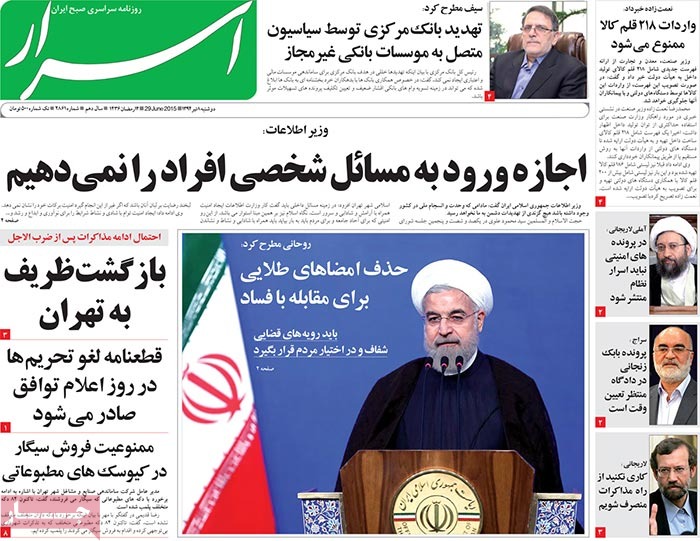 ---
Ebtekar: One step away from a nuclear deal
Foreign Minister Zarif took back to Tehran the case of nuclear talks; it came as the director of the Atomic Energy Organization said a deal is within reach.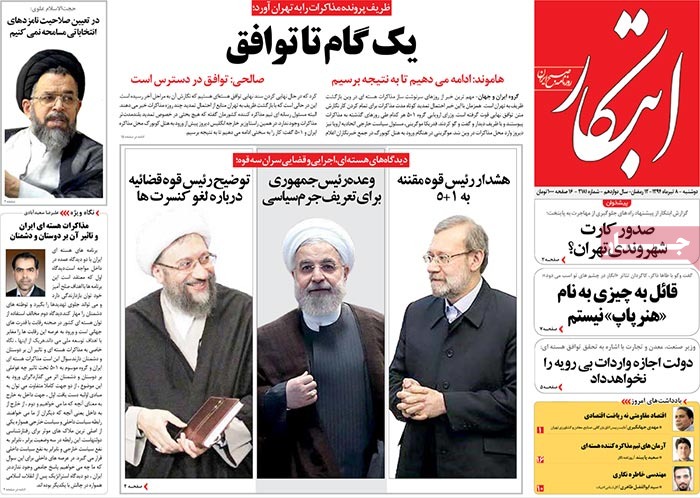 ---
Emtiaz: A rare species of crane has laid eggs in Lavizan Bird Garden.
---
Iran: Car imports have dropped 50 percent.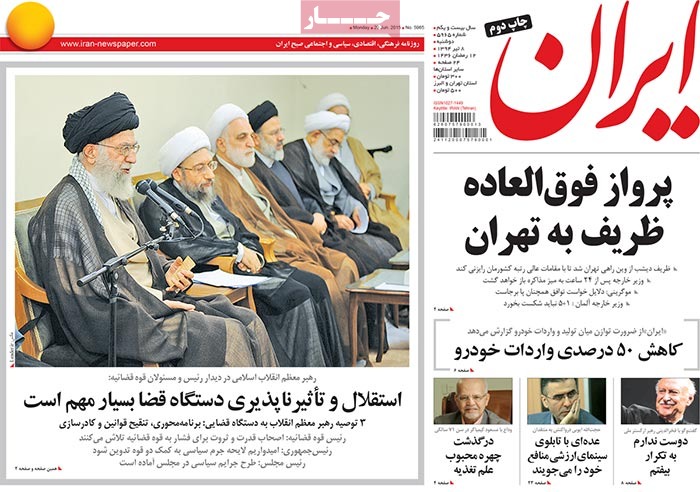 ---
Kayhan: "We won't allow those who promote sedition to become active again," said the judiciary chief.
---
Mardomsalari: President Rouhani has called for distinction between political and security crimes.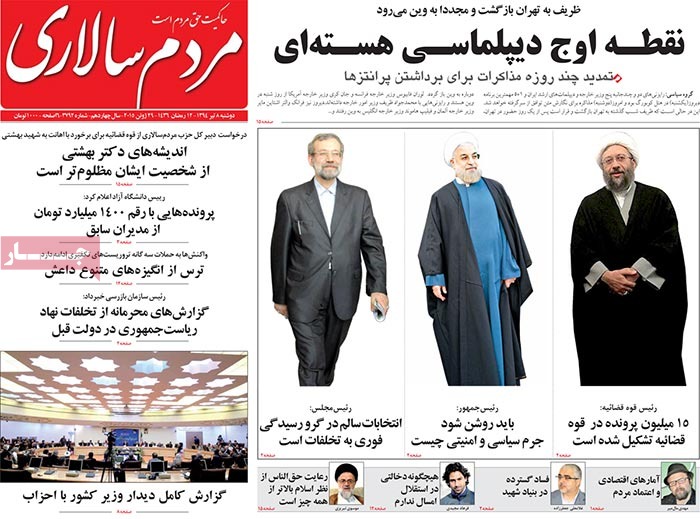 ---
Resalat: "Imports of 218 products are to be banned," said the minister of trade.
---
Rooyesh-e Mellat: Foreign Minister Mohammad Javad Zarif and US Secretary of State John Kerry have held a third meeting in Vienna.