The comments of the Supreme Leader at a meeting with the families of the martyrs of June 28, 1981 terrorist bombing dominated the front pages of Iranian dailies on Sunday.  Nuclear talks between Zarif and his counterparts also appeared on the covers of newspapers.
Ettela'at: "The blood of those who fell martyr on June 28, 1981[during the bombing of the headquarters of the Islamic Republic Party in Tehran] helped reveal the true colors of Arrogant Powers. That was a boon to the nation," said the Supreme Leader at a meeting with the families of the martyrs.
"After that incident the nation united and the revolution was placed on the right track," said Ayatollah Ali Khamenei.
---
Abrar: Prominent Iraqi Shiite cleric Grand Ayatollah Sistani has issued a message of condolences following the massacre of Shiite worshippers at a mosque in Kuwait.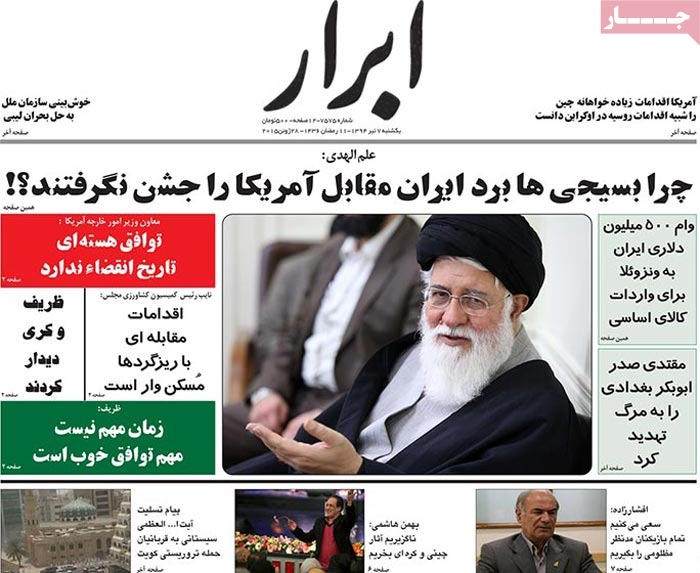 ---
Afarinesh: "The fight against terrorism requires international resolve," said the chairman of the Expediency Council.
Afarinesh: Iran's crude production is to rise by 120,000 barrels a day after a nuclear deal is struck.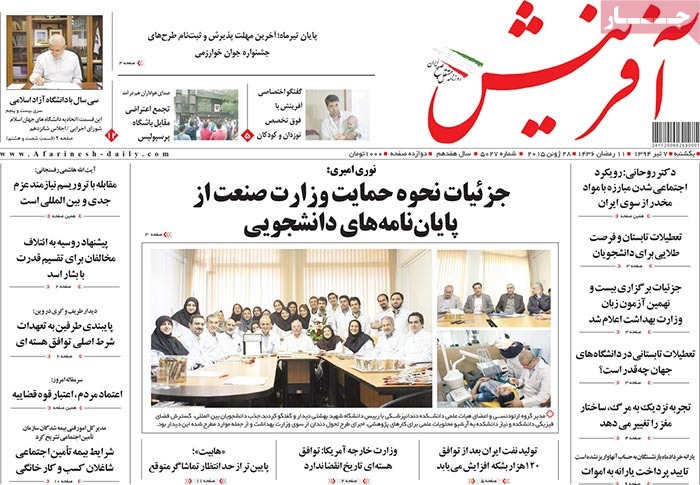 ---
Aftab-e Yazd: "The country needs steely determination and preparedness to take on the enemy," said the Supreme Leader.
Aftab-e Yazd: The inspector general has denied reports of a new $36 million corruption case.
---
Arman-e Emrooz: New accounts on the Iran visit of an American delegation; Who met who?
Arman-e Emrooz:  The symphony of diplomacy; Zarif and Kerry sounded the bell at the final round of talks; the meaningful frowns and smiles of diplomats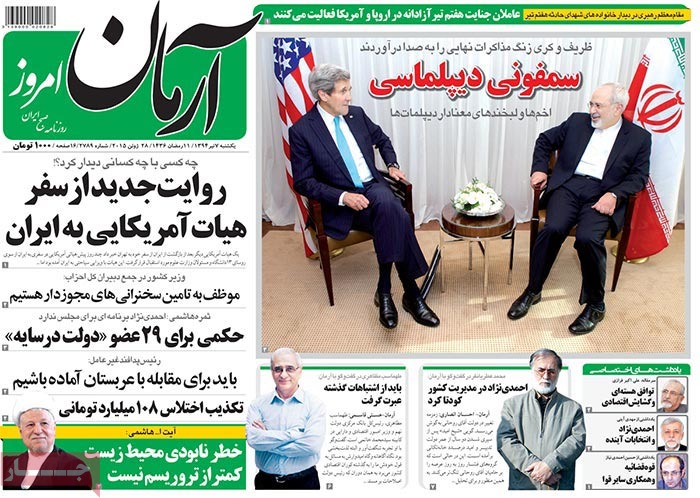 ---
Ebtekar: "Iran is the biggest victim of terrorism in the world," said Ayatollah Akbar Hashemi Rafsanjani.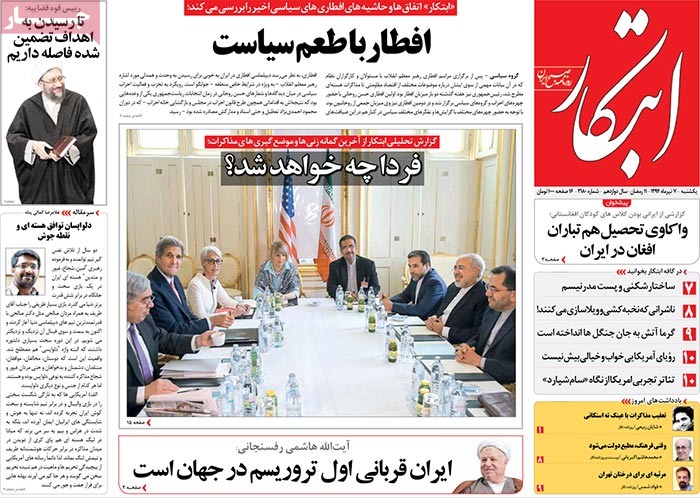 ---
Hemayat: "Oversight has been intensified in the Judiciary," said the Judiciary chief.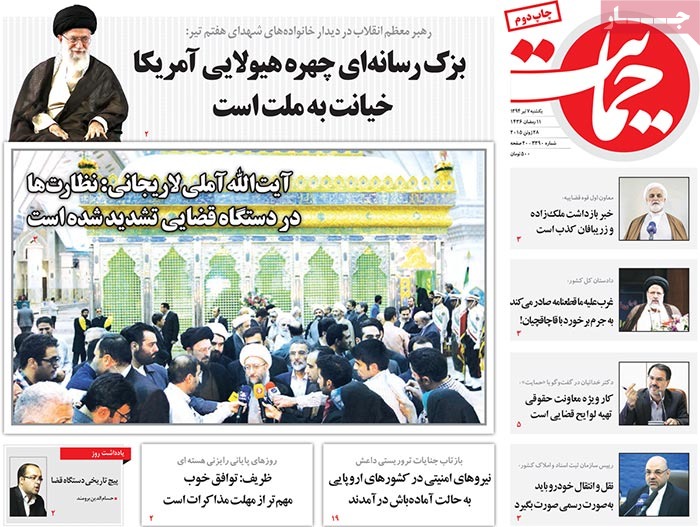 ---
Iran: Tehran's Mehrabad will remain an airport for another 20 years.
[The announcement came after noise pollution sparked speculations about the future of the facility.]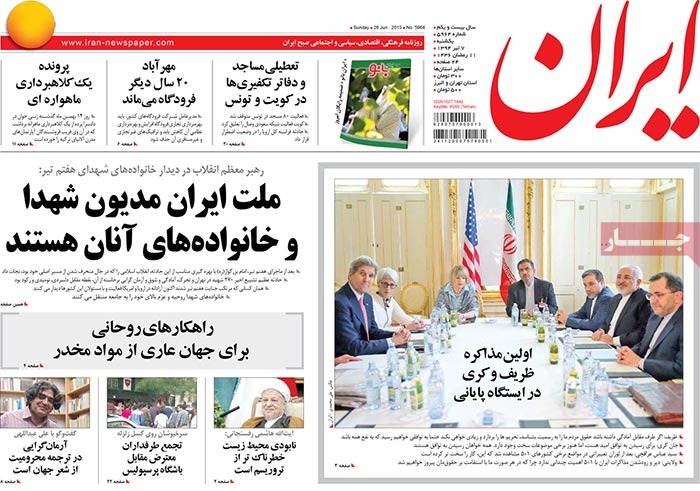 ---
Kayhan: Temperatures across the nation will go up by up to 6º Celsius on Monday.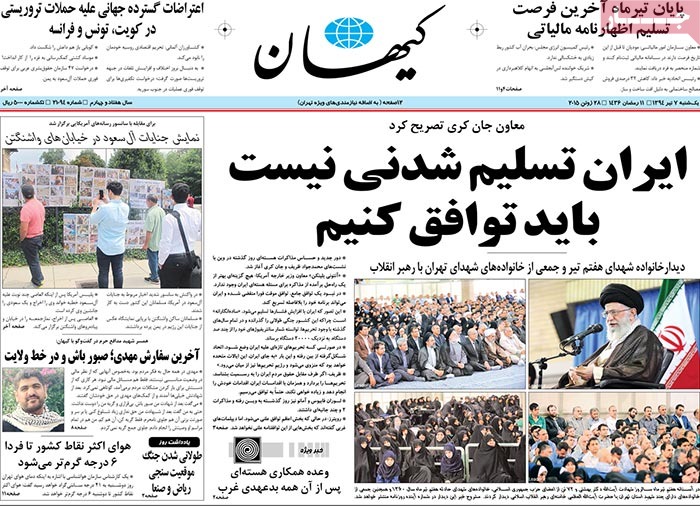 ---
Khorasan: A poll conducted by Khorasan daily shows that 80 percent of people are opposed to a deal that comes with inspections of military sites.
Khorasan: The footprint of a Los Angeles-based Iranian singer in a house scam.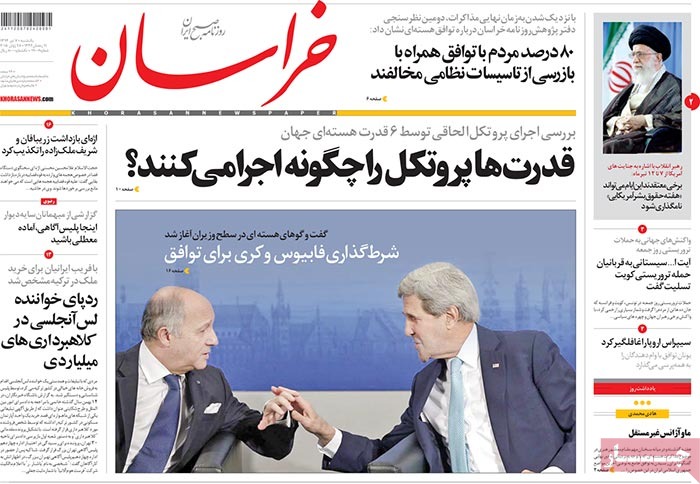 ---
Payam-e Zaman: Foreign investment in Iran has registered a 300 percent growth.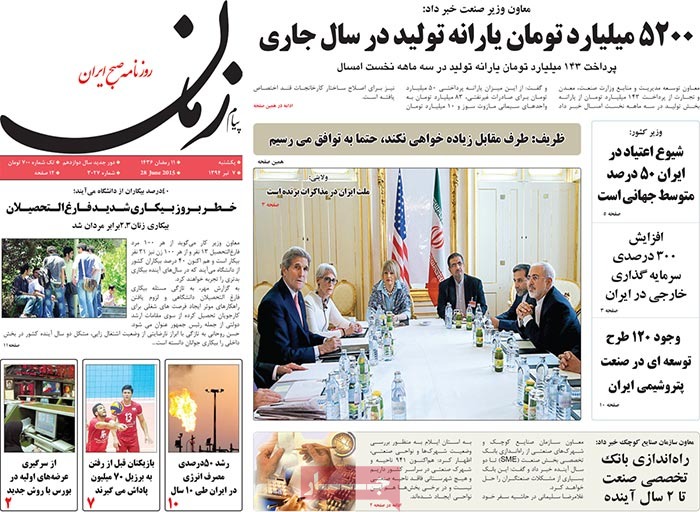 ---
Resalat: "Drug production [in Afghanistan] has the support of the US and NATO," said Attorney General Ebrahim Raeesi.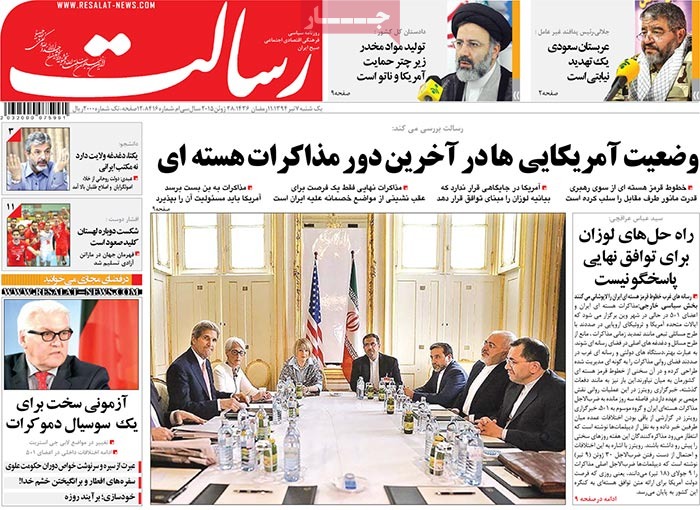 ---
Saheb Ghalam: The country's first specialized industrial bank will be launched within two years.
Saheb Ghalam: Electricity consumption by Iranian households is three times the global average.