All newspapers today covered the remarks by the Leader of Iran's Islamic Revolution Ayatollah Seyyed Ali Khamenei in a meeting with the country's top judges and Judiciary officials. During the meeting, Ayatollah Khamenei urged the Judiciary to help the government tackle the ongoing economic problems in Iran.
Also a top story was comments by President Hassan Rouhani who said he won't resign and give up, and will stay to resist the US pressures and sanctions.
The above issues, as well as many more, are highlighted in the following headlines and top stories:
Afarinesh:
1- Leader Urges Decisive, Serious Fight against Corruption
2- Ukraine's Medical Universities Not Recognized by Iran's Health Ministry Anymore
---
Aftab-e Yazd:
1- Rouhani: Government Is Standing Firmly
We Won't Resign, We Won't Give Up
2- Glorious Return of Iranian Cheetahs to Homeland
---
Arman-e Emrooz:
1- Rouhani Gives Ultimatum to Government Executives
Only Courageous Managers Can Continue Working for Gov't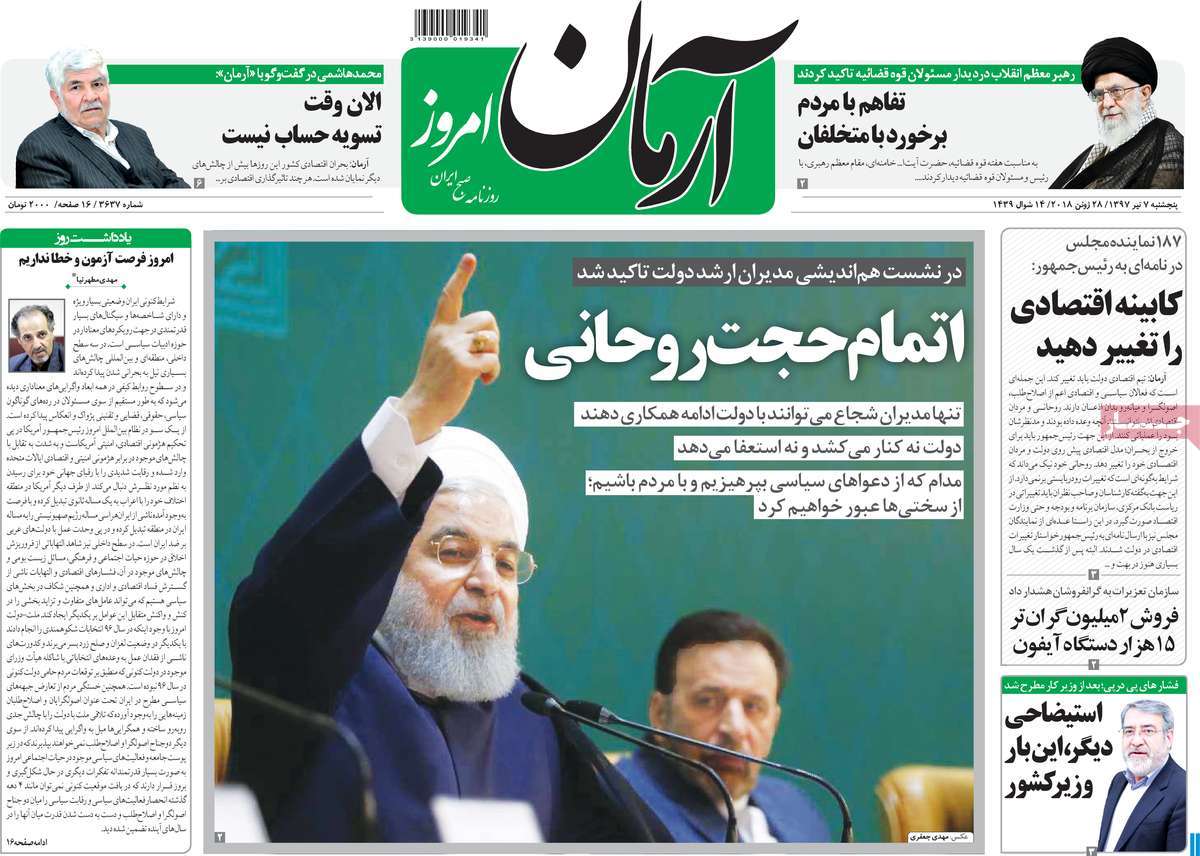 ---
Ebtekar:
1- Leader Urges Judiciary to Cooperate with Gov't in Resolving Economic Woes
2- Iran and Policy of Being Surprised by Trump Every Day
How Will US Surprise Iran?
---
Etemad:
1- In Attempt to Make Economic Reforms, Parliament Calls for Cabinet Reshuffle
2- Efforts to Change Governor of Iran's Central Bank
---
Ettela'at:
1- Judiciary Must Be People's Shelter: Leader
2- 17 US States Sue Trump over His Anti-Immigration Policies
3- 31-Year-Old Man Pre-Purchases 38,000 Gold Coins
4- People of Abadan to Regain Access to Fresh Drinking Water Soon
---
Iran:
1- Rouhani's Order: Stand Firmly, Work Hard, Be Accountable
2- Shops in Tehran Bazaar Reopened
---
Jame Jam:
1- Make People's Business Environment Safe: Iran Leader
2- Netanyahu in Offside!
Why Israeli PM Likes to Talk to Iranians on Any Pretext These Days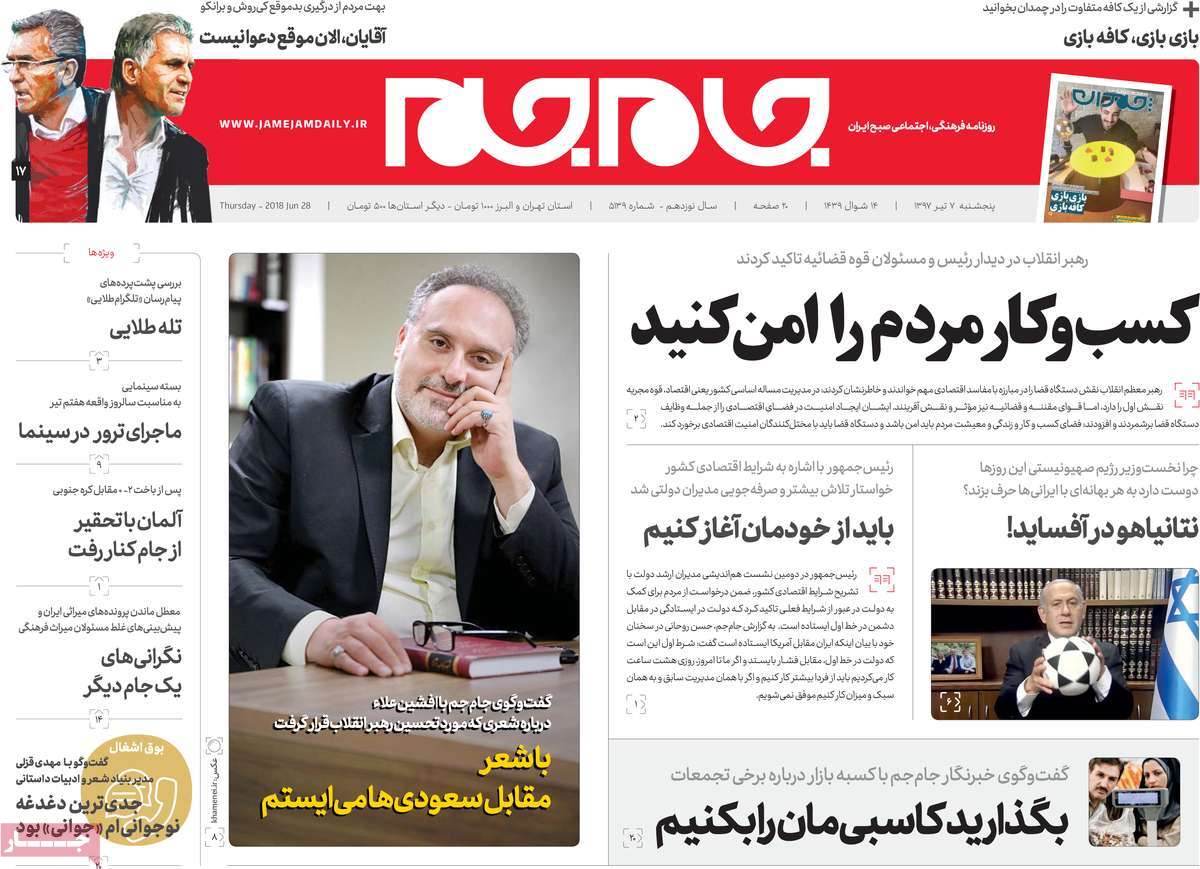 ---
Javan:
1- We'll Bring US to Its Knees in War of Wills: Rouhani
---
Jomhouri Eslami:
1- Rouhani: We Maintain Our Historical Dignity and Defeat US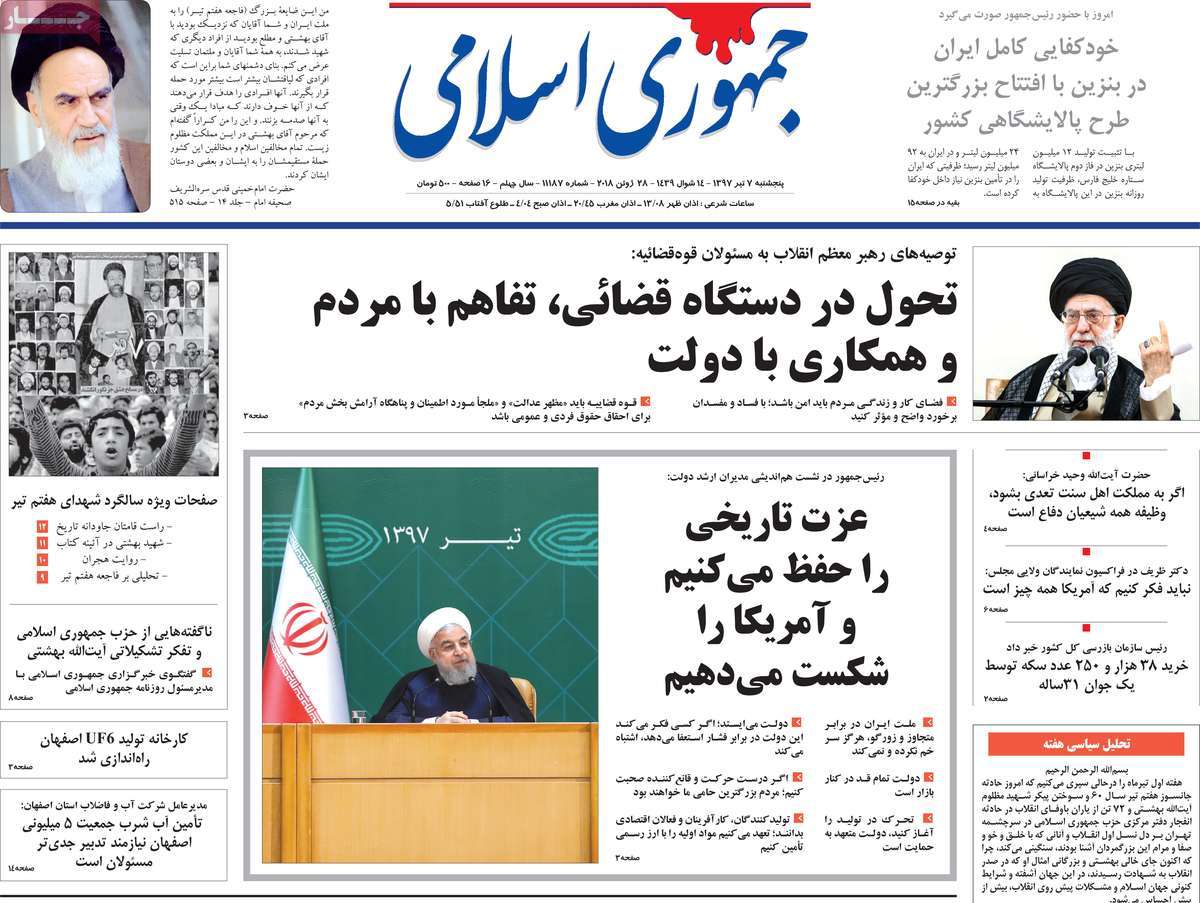 ---
Kayhan:
1- Tehran Bazaar Gives Crushing Response to Netanyahu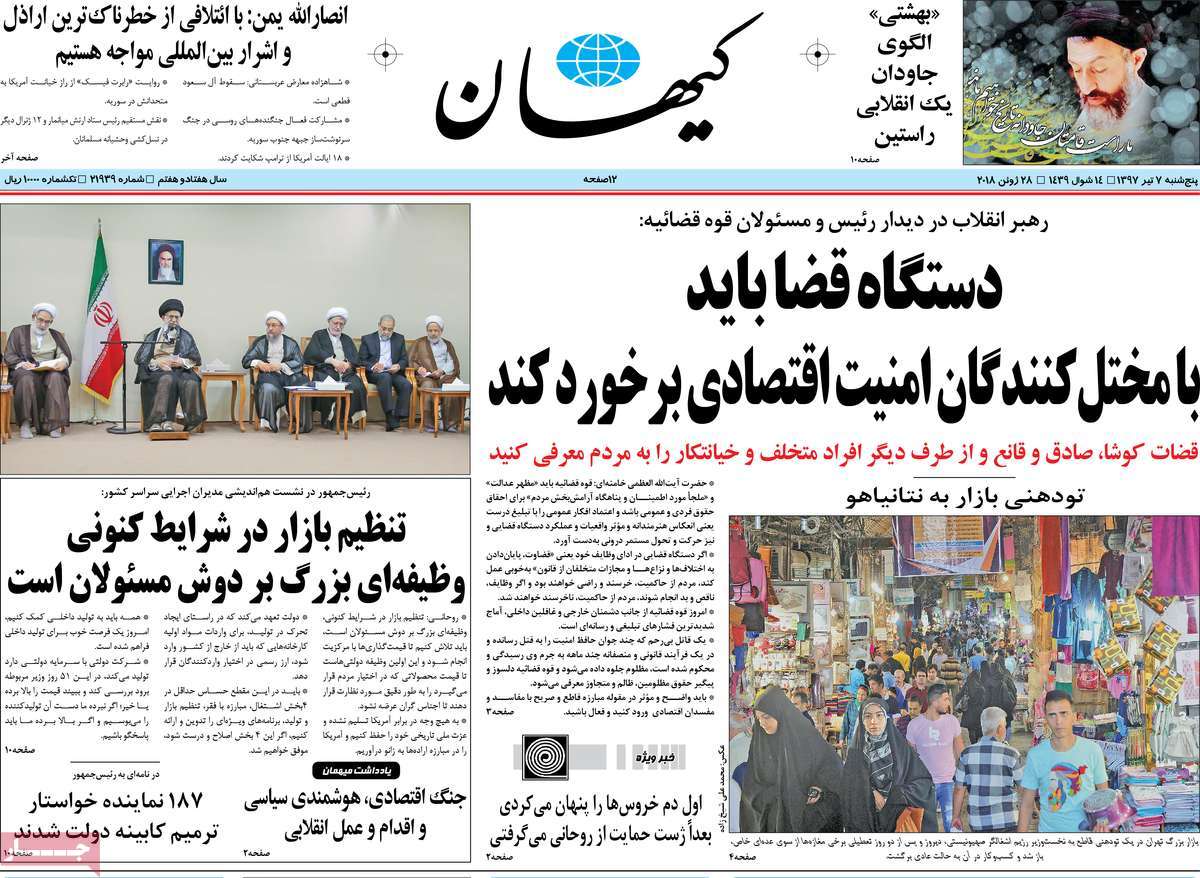 ---
Khorasan:
1- Rouhani's Prescription for Overcoming Problems
Unity, Saving, Selling State-Owned Profitable Shares, Transparency, Efficiency
2- Iran's Winning Cards against Oil Sanctions; Iran-Trump Oil Chess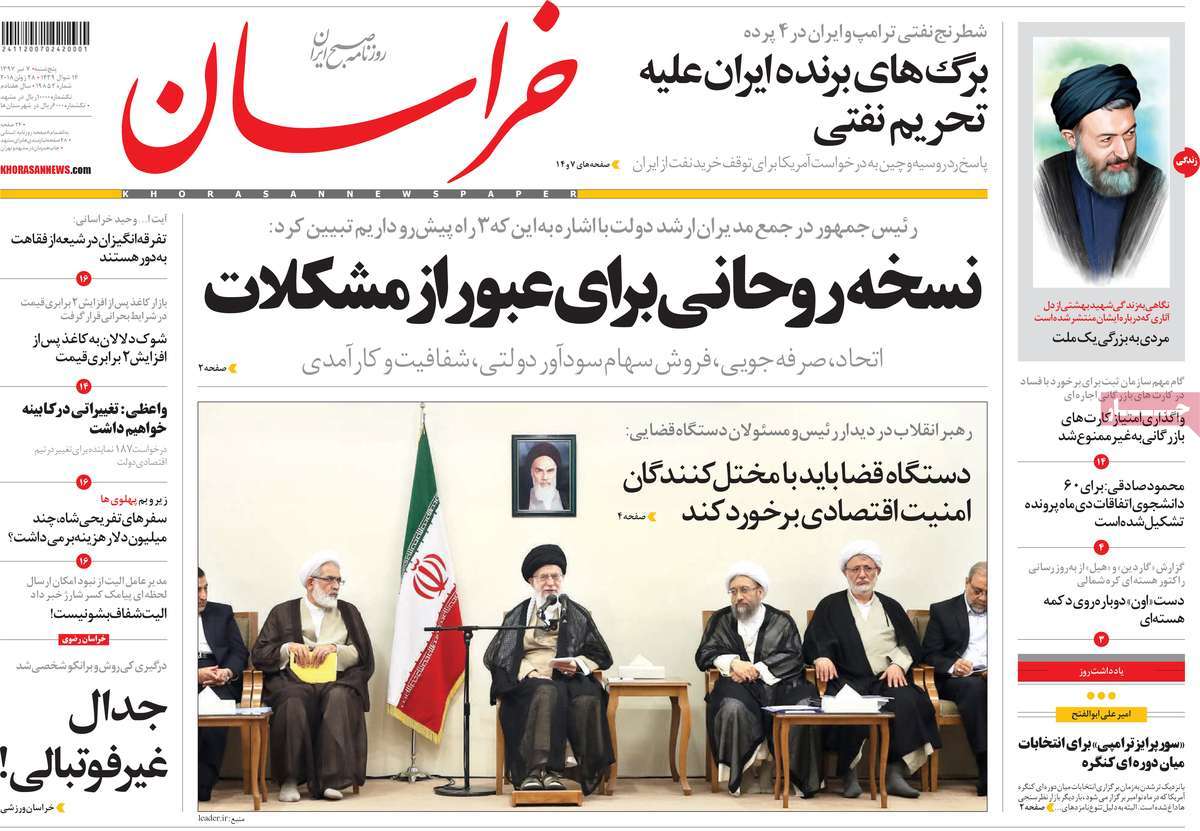 ---
Shargh:
1- Government under Parliament's Pressure: 187 MPs Write to Rouhani
Change Your Economic Team
2- Government Won't Resign, Won't Give Up: Rouhani