Terrorist attacks in Kuwait, Tunisia and France which claimed scores of lives dominated the front pages of Iranian newspapers on Saturday. The comments of Foreign Minister Mohammad Javad Zarif about the home stretch of nuclear talks also appeared on the covers of dailies.
Ettela'at: The massacre of Kurds in Syria and Shiites in Kuwait
A terrorist attack on Imam al-Sadeq Shiite mosque in Kuwait has left 25 worshippers martyred and 202 others wounded, 25 of them critically.
IS terrorist grouping has claimed responsibility for the deadly attack.
---
Abrar: "In some cases, the judiciary is exposed to extra pressure," said Judiciary Spokesman Gholamhossein Mohseni Ejei.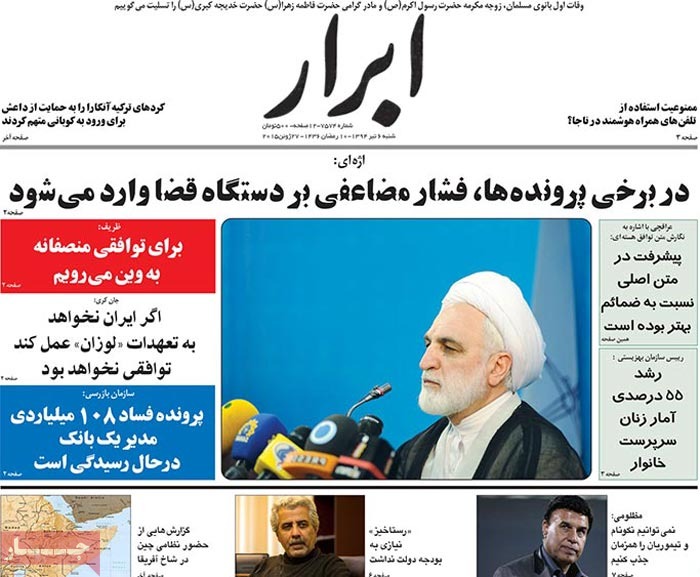 ---
Afkar: "Nuclear sanctions have to be terminated not suspended," said Tehran Friday Prayer Leader Ayatollah Kazem Sedighi.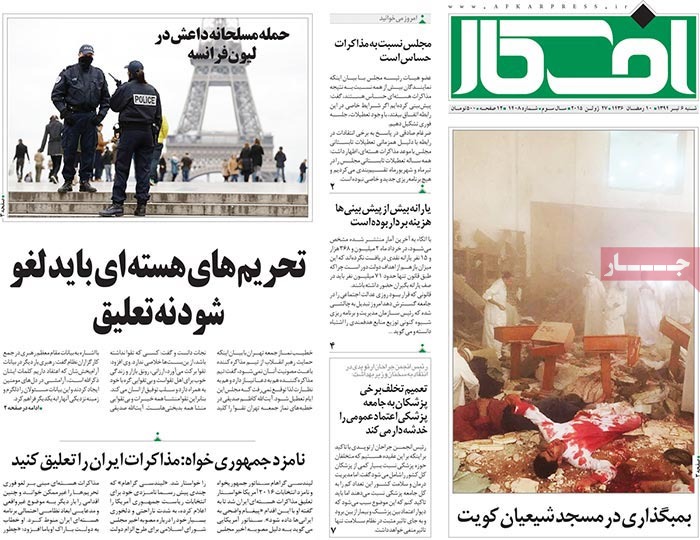 ---
Arman-e Emrooz: "Elimination [of opponents] and monopoly are destructive in politics," said President Rouhani.
Government threw Iftar banquets attended by politicians from the left and right.
Arman-e Emrooz: "Some 1,000 unauthorized leasing companies are operating across the country," said the deputy judiciary chief.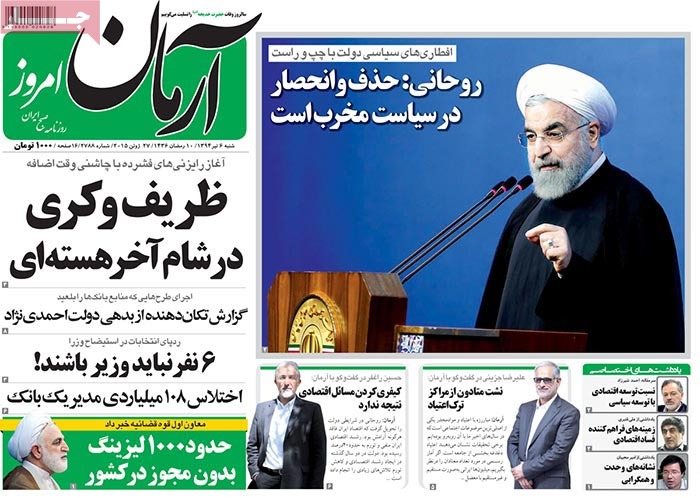 ---
Asrar: The inspector general has revealed a new corruption case: $36 million fraud by the managing director of a bank.
Asrar: "Today, we need more moderation at home than ever before," said the President.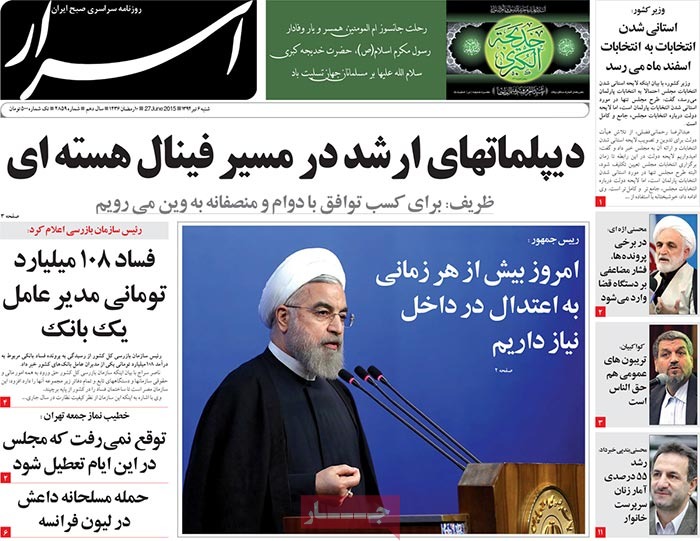 ---
Emtiaz: The director of the State Welfare Organization has warned about a rising trend of social harms.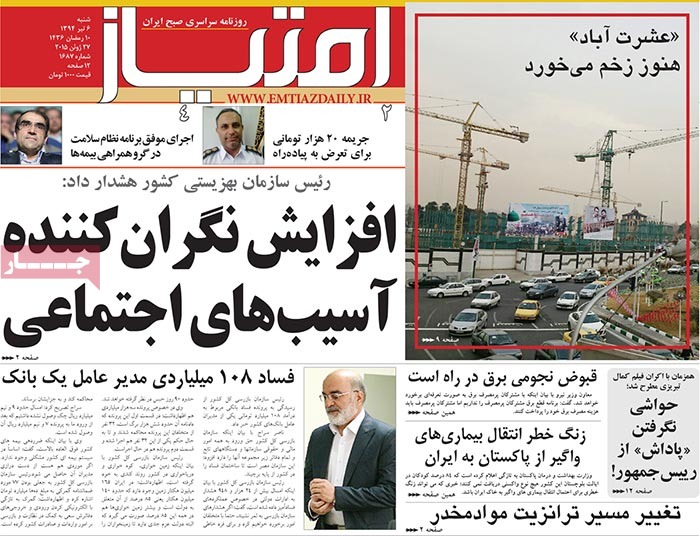 ---
Etemad: "We are going to Vienna for a lasting fair deal," said Iranian Foreign Minister Mohammad Javad Zarif.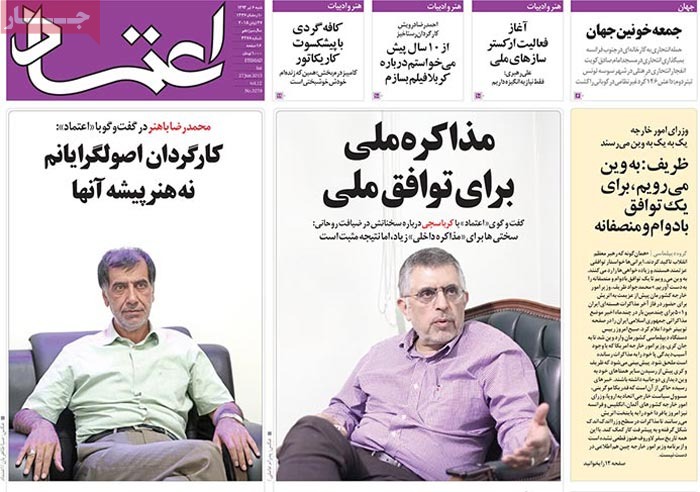 ---
Iran: The Iranian national volleyball team's hopes of advancing to the next round of FIVB World Leagues got a boost in Tehran Friday after Iran defeated Poland 3-2.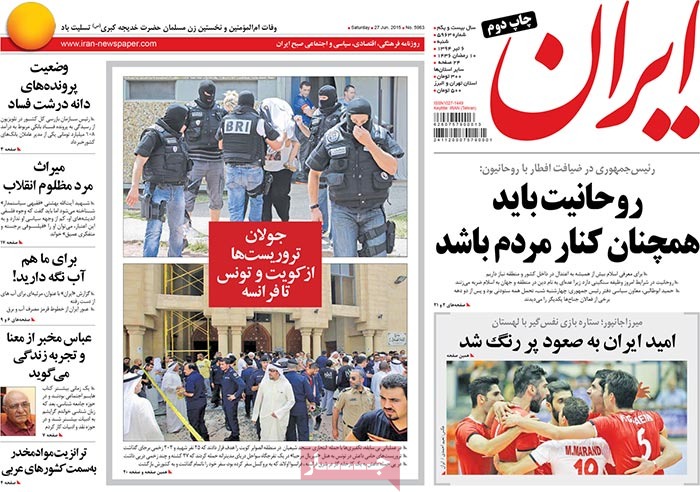 ---
Jomhouri Islami: IS terrorists have massacred 150 civilians in Kobani in cooperation with Turkey.
Jomhouri Islami: Countdown is on for drafting a final nuclear deal between Iran and P5+1.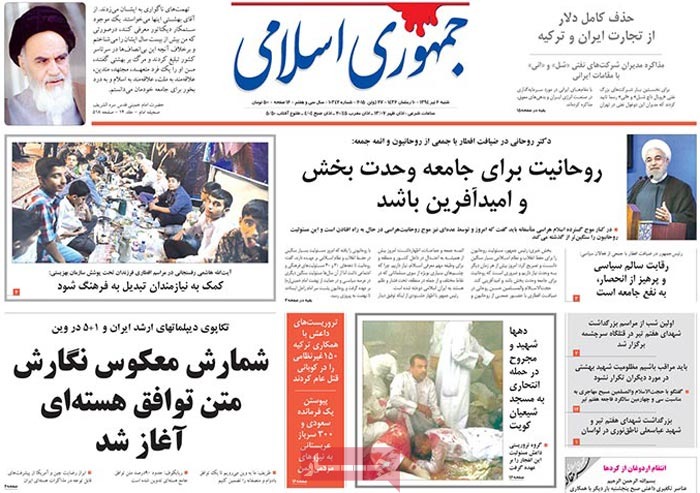 ---
Kaenat: President Rouhani has hailed the Supreme Leader's guidance as an asset to his government.
---
Kayhan: A 100 percent increase in rice imports despite a one-year ban on imports.
Kayhan: The final stop of the nuclear talks; who gets off the train; Iran or the US?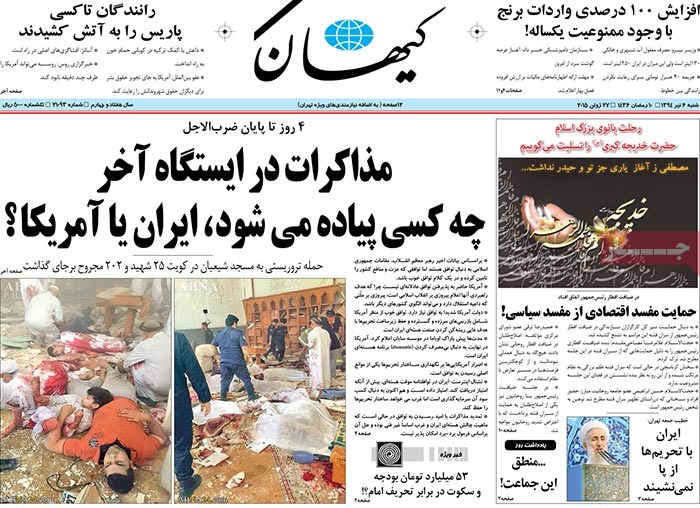 ---
Khorasan: Three deadly terrorist attacks in Kuwait, Tunisia and France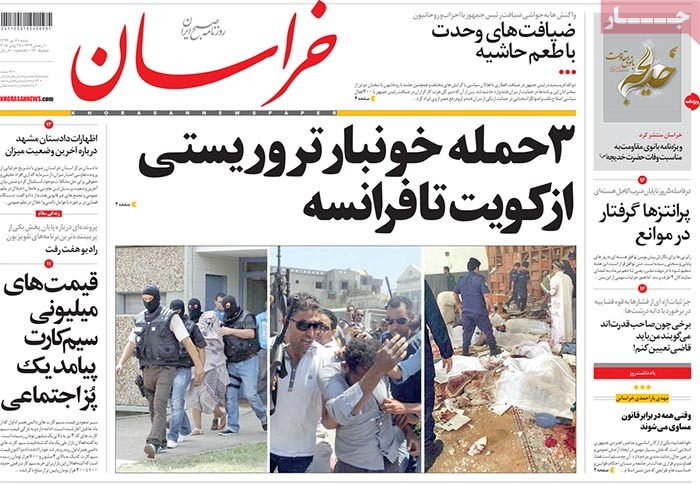 ---
Sharq: A third lieutenant of Ahmadinejad is close to being summoned to court.
It comes after an investigation into corruption in the Martyrs Foundation reportedly implicated Masoud Zaribafan.