Newspapers today widely covered the government's decision to control the foreign currency market and fight against those who disrupt the country's economy.
Also a top story was the remarks made by President Hassan Rouhani about the need for unity among all bodies of the Establishment and the entire nation at the current sensitive juncture.
The Parliament's call on Rouhani to reshuffle his cabinet and change his economic team also received great coverage.
The above issues, as well as many more, are highlighted in the following headlines and top stories:
19 Dey:
1- Rouhani: We Have Enough Foreign Currencies to Meet Our Basic Needs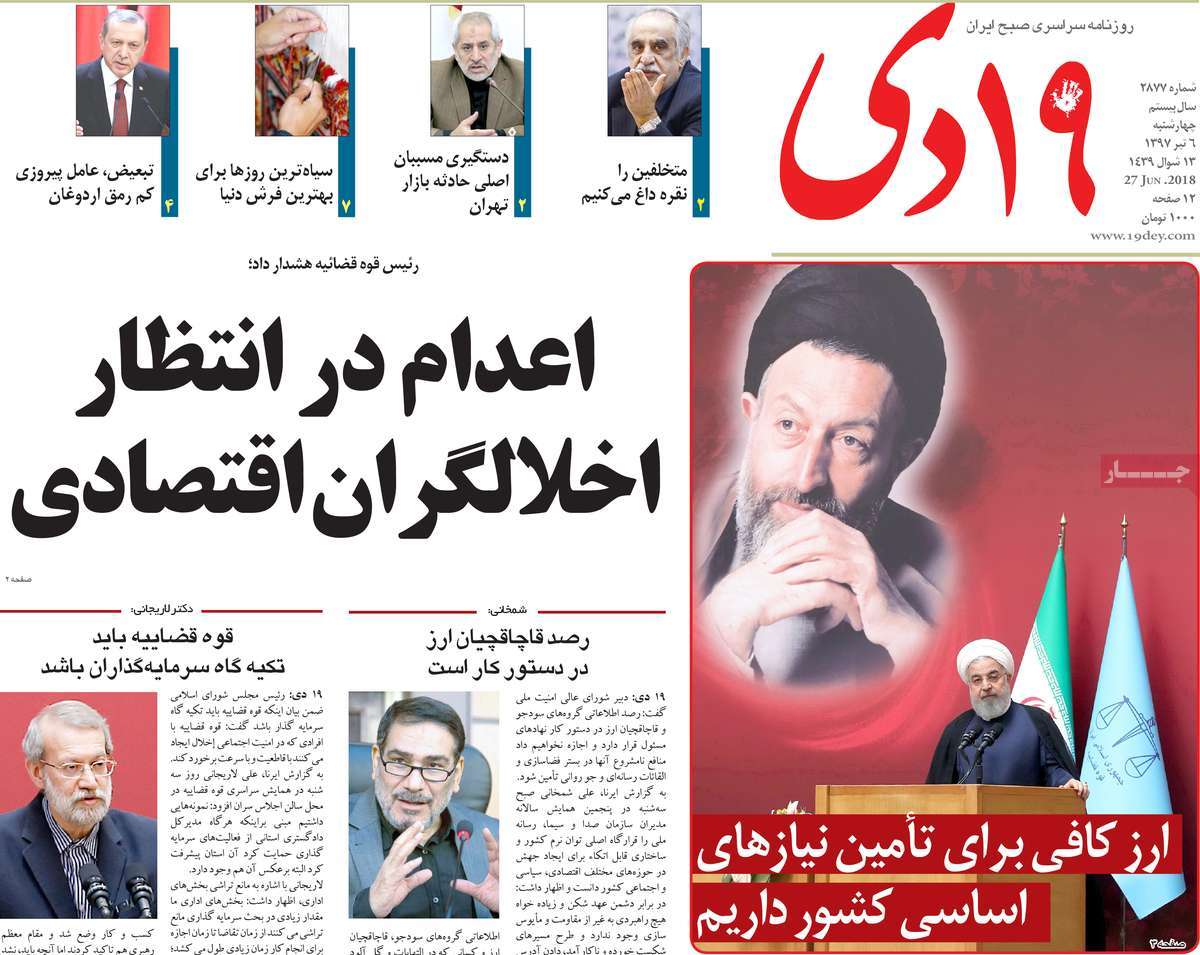 ---
Abrar:
1- UN: 45,000 Syrians Have Fled to Jordan Borders
2- Government: Those Who Have Gold Coins, Forex at Home Must Help Us!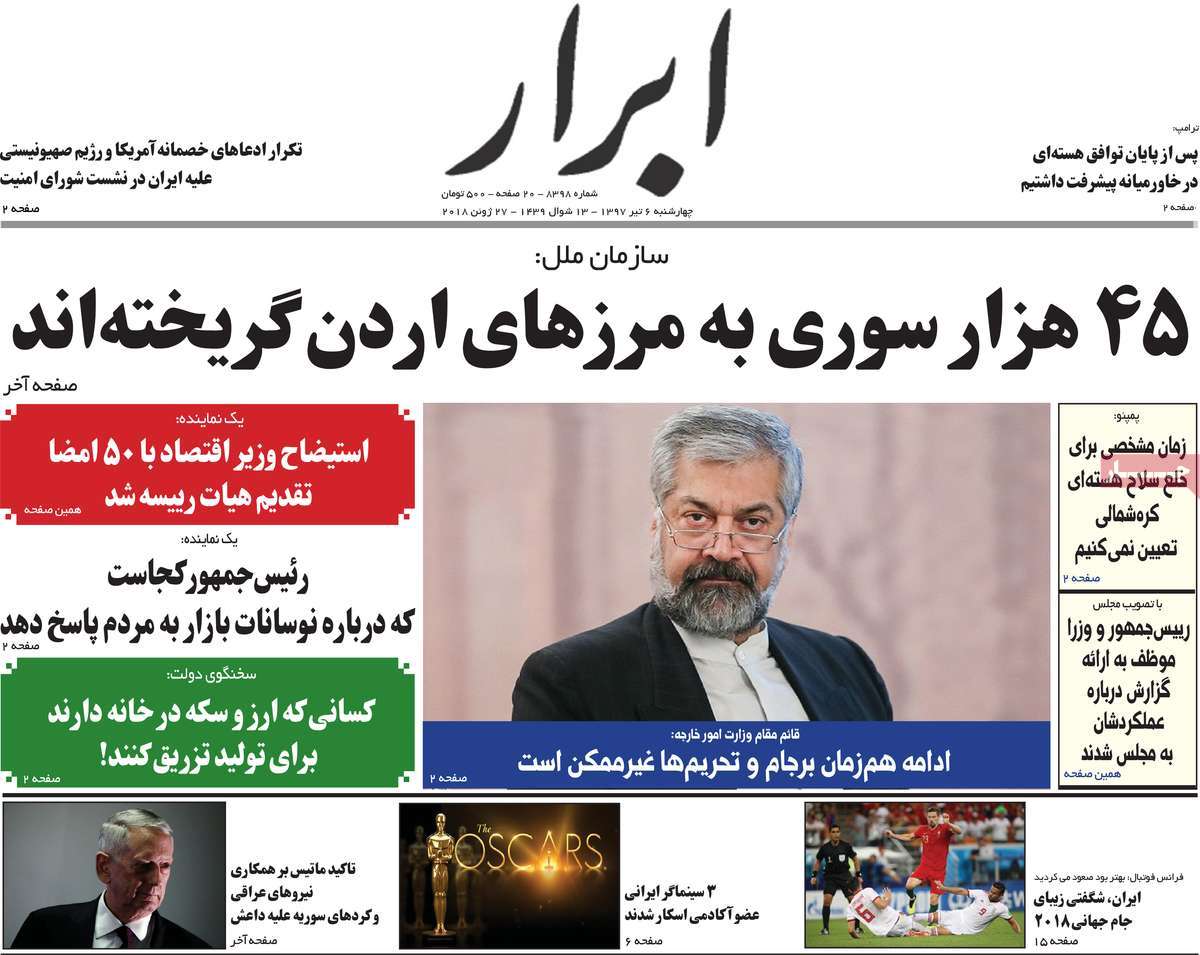 ---
Afkar:
1- Shamkhani: US' Dream about Iran Will Never Come True
2- Spokesman: Government Not Source of Instability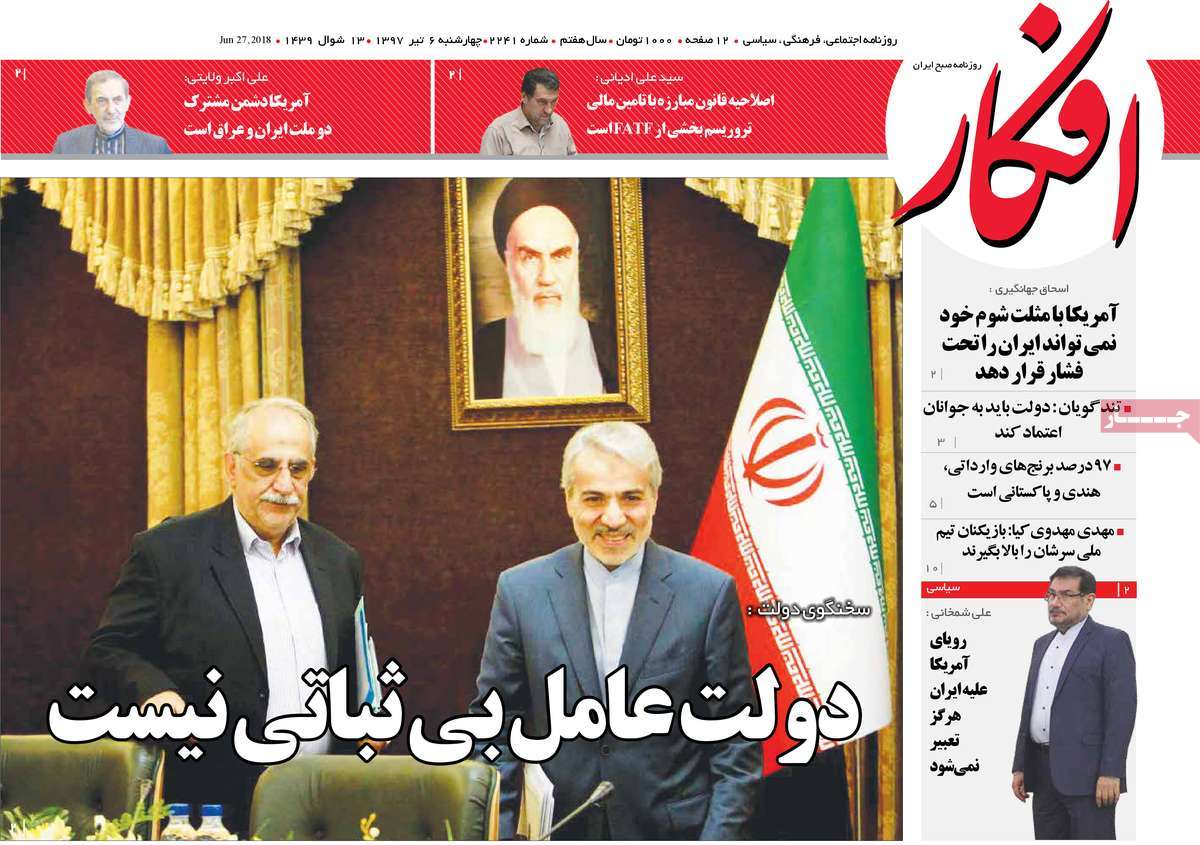 ---
Aftab-e Yazd:
1- Grey Circle: Rouhani Must Get Rid of His Close Allies as First Step
MPs Write Letter to Rouhani Asking Him to Change His Economic Team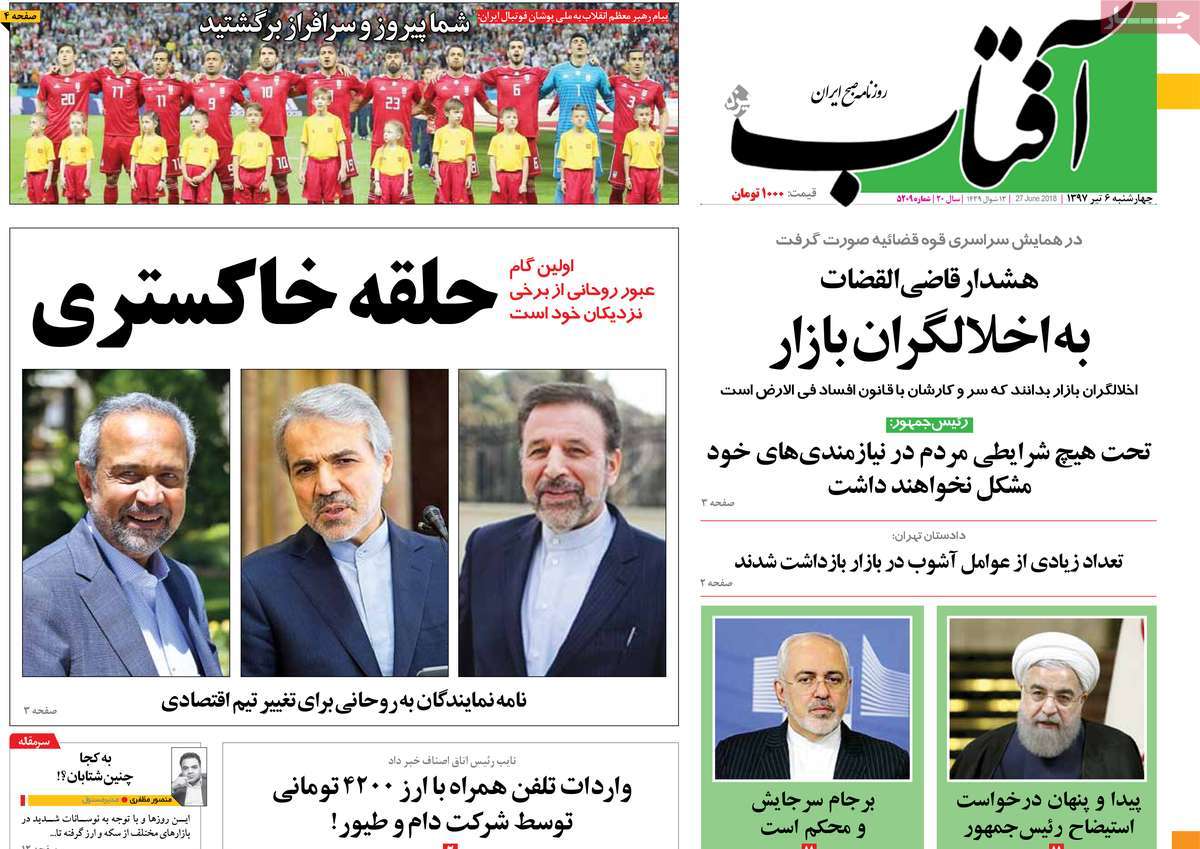 ---
Arman-e Emrooz:
1- A Report on Top Iranian Officials' View of How to Resolve Issues
United, Serious against Crises
---
Bahar:
1- Judiciary Chief Urges Judges to Respect People
---
Ebtekar:
1- Taliban Rejects Ceasefire Proposal amid US Defence Secretary's Unexpected Visit to Afghanistan
---
Emtiaz:
1- Government Identifies Those Disrupting Gold, Forex Markets
Secondary Market to Be Established for Foreign Currency Exchange: Minister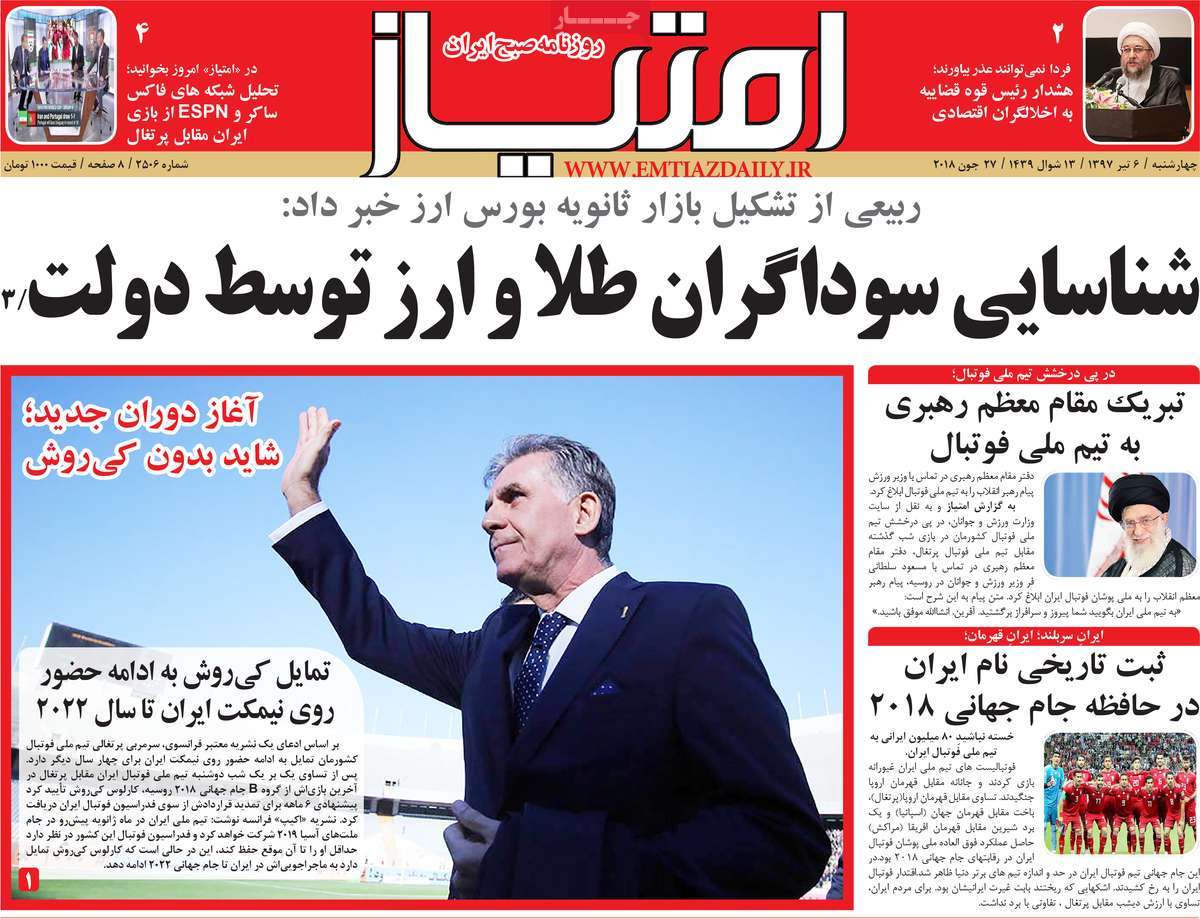 ---
Etemad:
1- No Need to Worry: Rouhani Assures Iranians There's No Shortage of Goods, Forex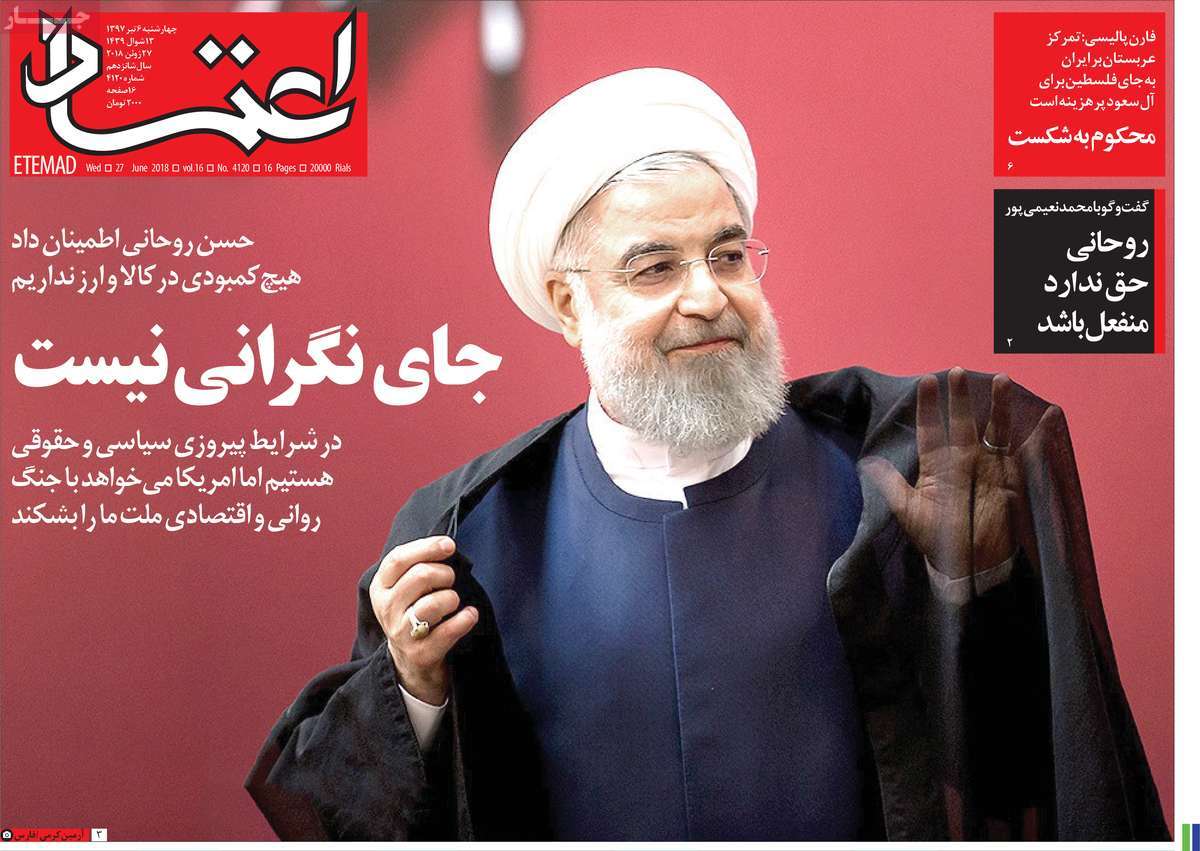 ---
Ettela'at:
1- Foreign Policy: Bin Salman Has Betrayed Palestinian Cause
2- Rouhani: Those Who Make People Frustrated Doing What Enemies Want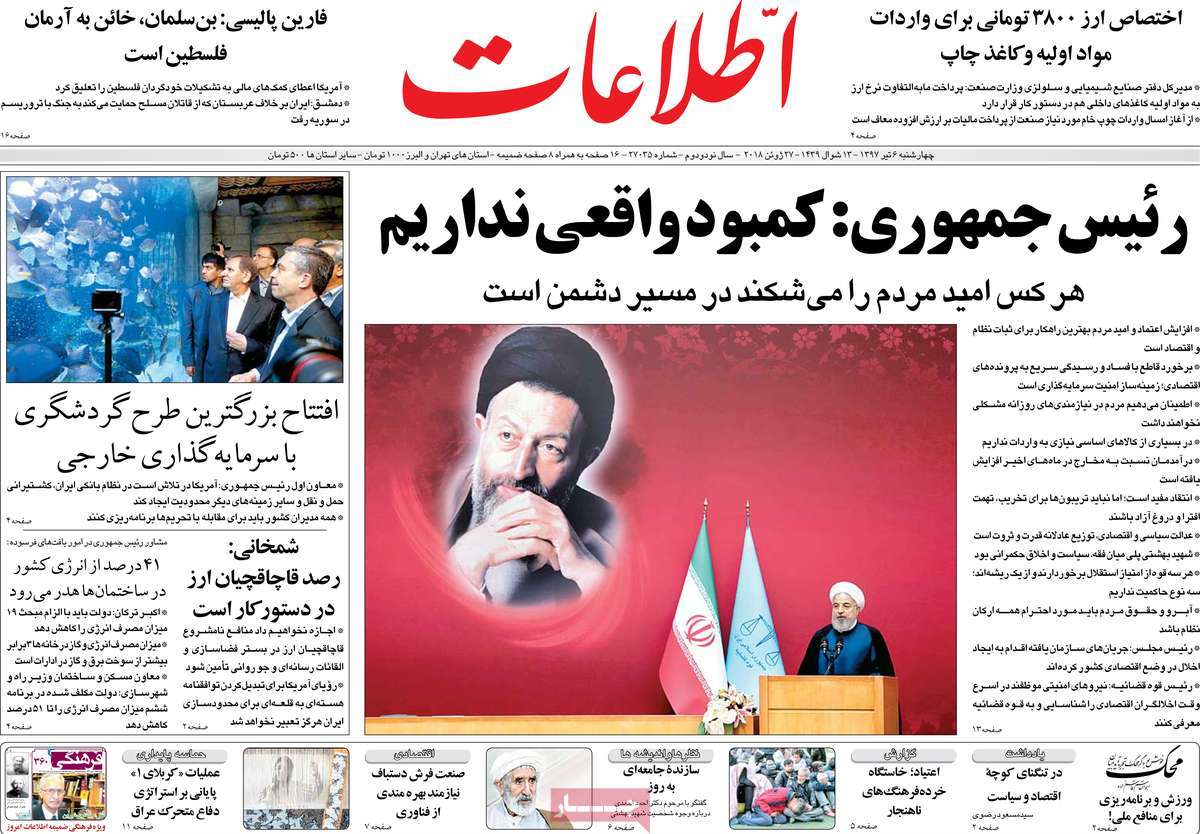 ---
Ghanoon:
1- 50 MPs Call for Impeachment of Economy Minister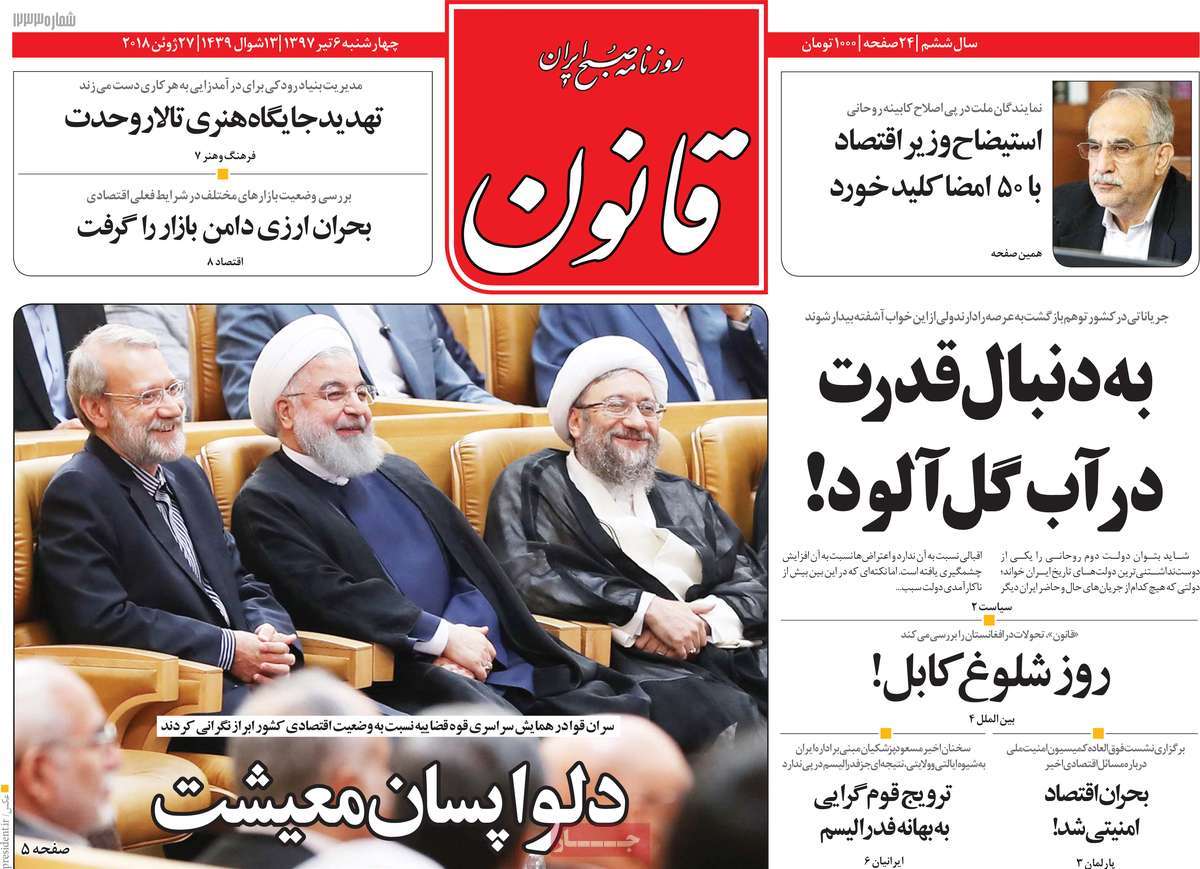 ---
Iran:
1- Rouhani: Some Trying to Portray Dark Image of Future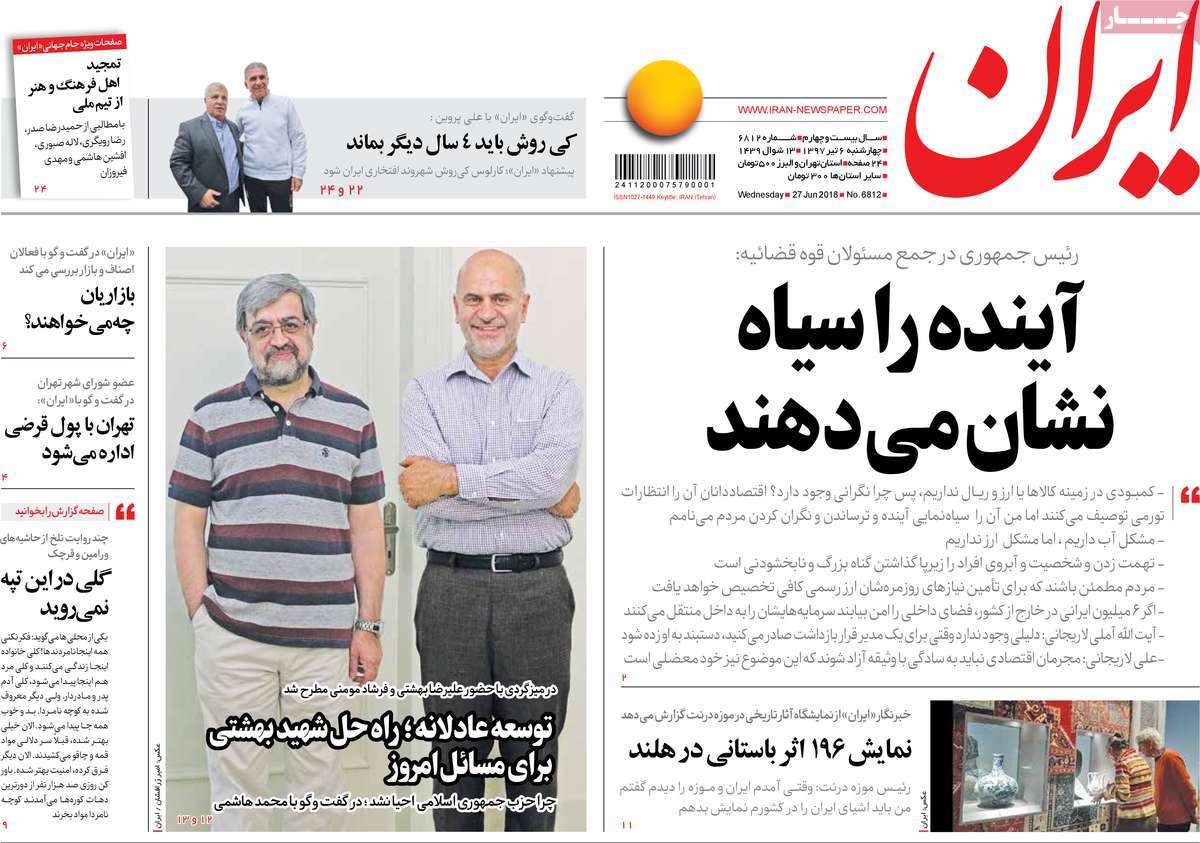 ---
Jame Jam:
1- Beiranvand: The Ball Ronaldo Wanted to Shoot Had Turned into My Entire World
---
Javan:
1- Iran Leader's Message to Team Melli: You've Returned Victorious with Heads Held High
Ezatollahi: Ayatollah Khamenei's Message Gave Us Confidence, Motivation
---
Kayhan:
1- Judiciary Chief: Those Disrupting Economy to Face Execution, Confiscation of Assets
2- Faisal Mekdad: We Owe Our Victory over Takfiri Terrorists to Iran, Hezbollah
3- Tehran Bazaar's Shopkeepers: Those behind Bazaar Unrest Not Shopkeepers
---
Kelid:
1- Tourism Chief: Foreign Tourists Feel Safe in Any Part of Iran
---
Khorasan:
1- 17 Million Iranians in Red Water Condition
---
Rah-e Mardom:
1- Rouhani: Iranian People Won't Be Broken by US' Psychological, Economic War
---
Resalat:
1- Mousavian: Europe Cannot Give Iran Economic Benefits of JCPOA
Iran Can Withdraw from NPT Even Tomorrow
---
Rooyesh-e Mellat:
1- Rouhani: Today We Need Unity among All Bodies of Establishment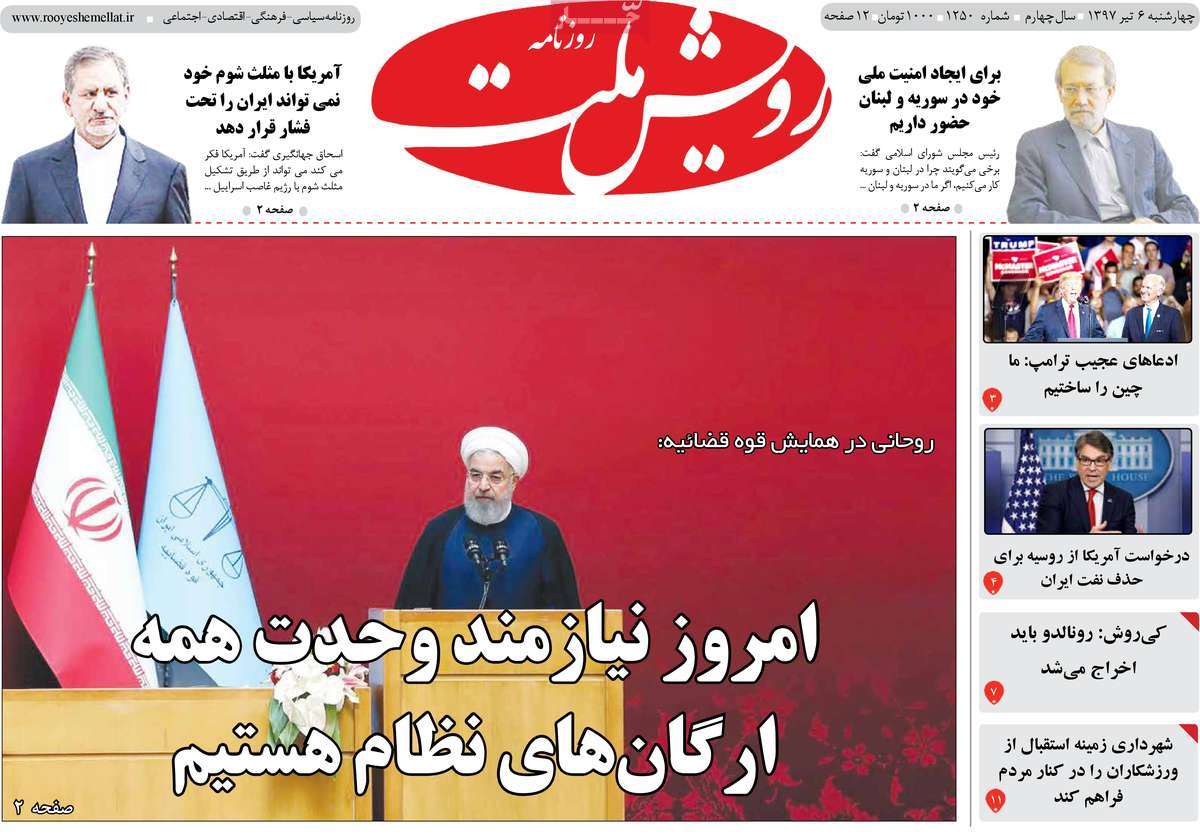 ---
Sayeh:
1- Labour Minister: We Support Lives of Poor Iranians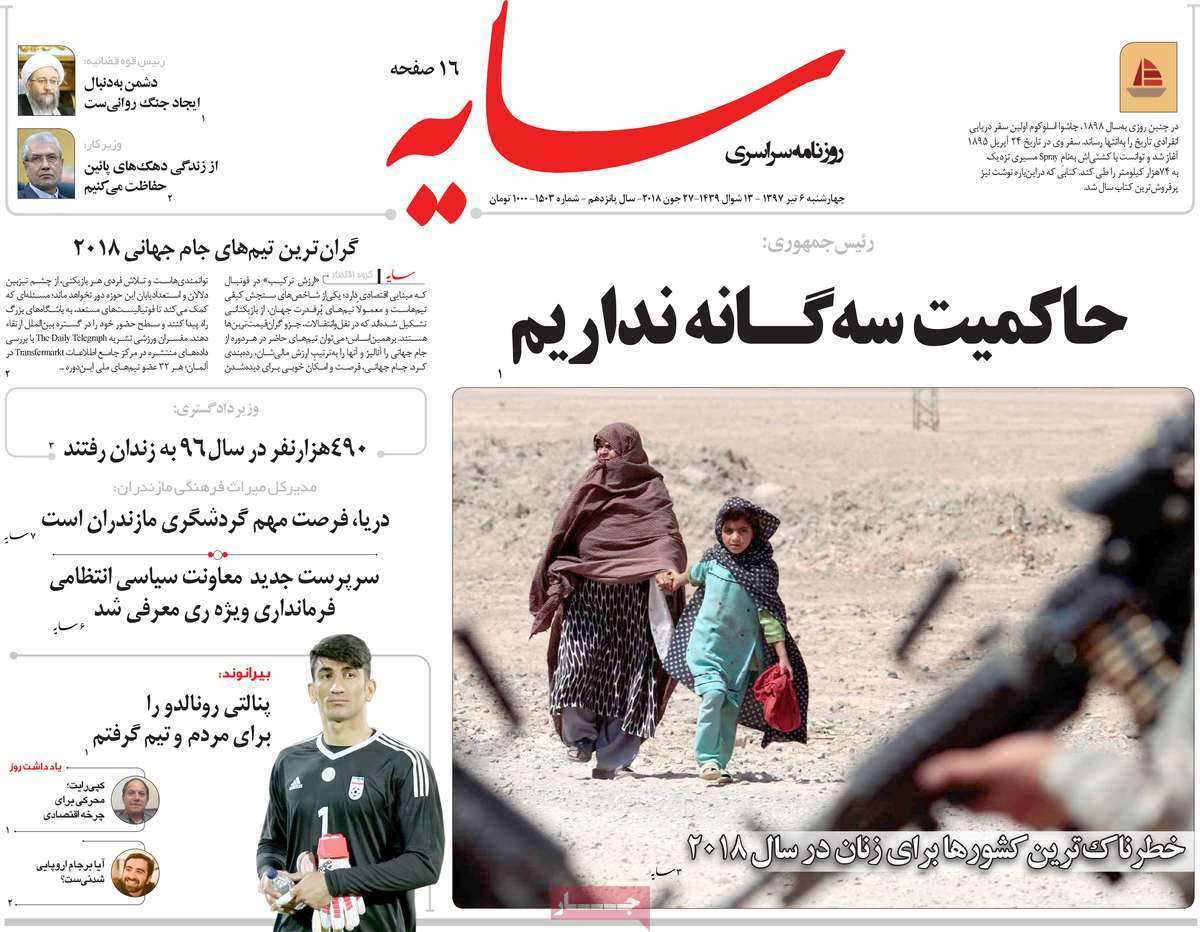 ---
Shargh:
1- Economic Corruption Must Be Seriously Fought