The top story in all newspapers today was the recent unrest in Tehran, where a group of shopkeepers in the Grand Bazaar of Tehran went on strike and held gatherings in protest against the ongoing economic crisis.
Also a top story was the tragic draw of the Iranian national football team against Portugal, which kept the Team Melli from advancing to the next stage of FIFA World Cup 2018.
The re-election of Turkish President Recep Tayyip Erdogan and the victory of his party AKP in Turkey's presidential and parliamentary elections.
The above issues, as well as many more, are highlighted in the following headlines and top stories:
19 Dey:
1- Dollar Rates to Go Down: Government's Important Decision on Forex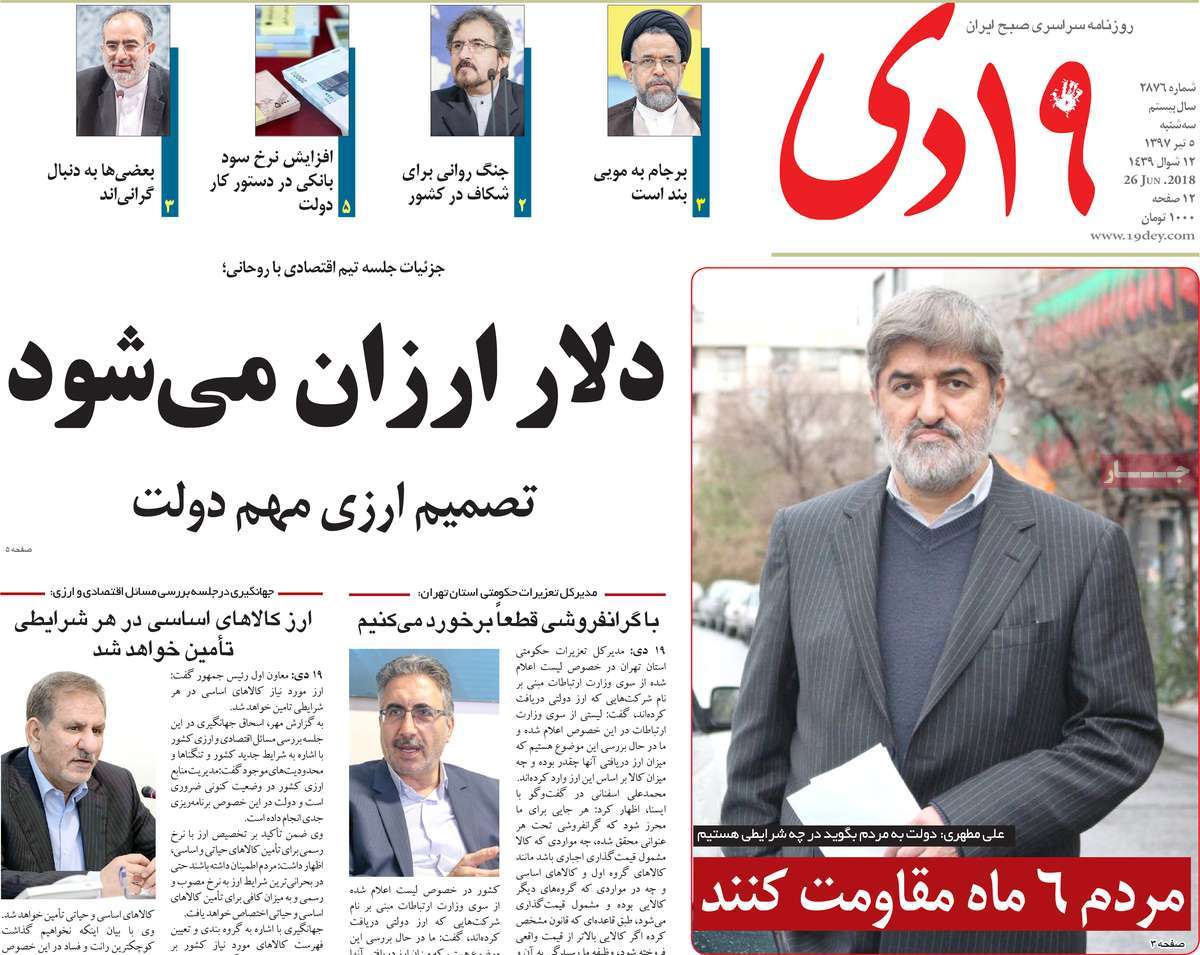 ---
Aftab-e Yazd:
1- Kayhan's Solution to Economic Woes: Execute Those Who Disrupt Economy!
Prescription Written by Conservatives for Government's Fight against Corruption
2- Farewell with Honour
Team Melli Held by Euro Champions, Says Goodbye to World Cup, Admired by Everyone
---
Arman-e Emrooz:
1- Unrest in Iranian Markets after Fluctuations in Forex Rates
2- Rouhani Makes Decision to Control Forex Market
3- Thank You Guys! We Made History in Group of Death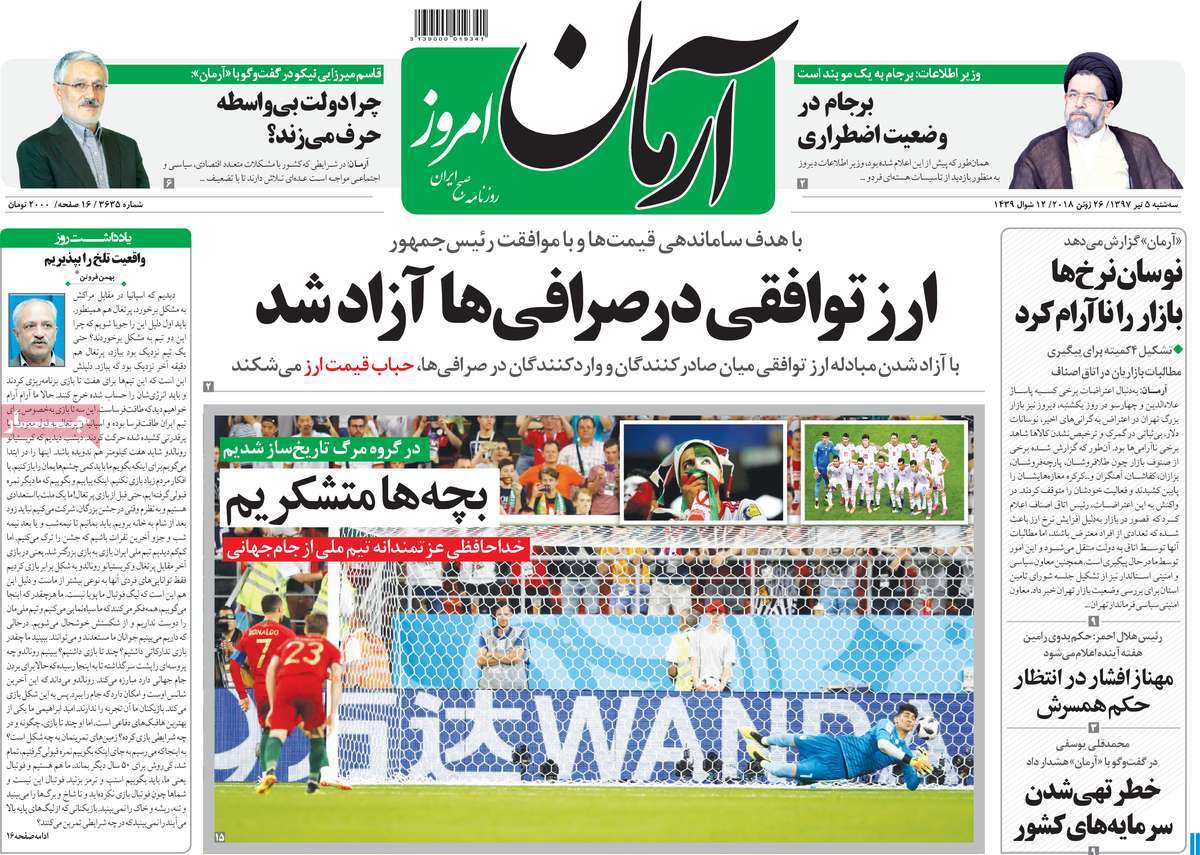 ---
Ebtekar:
1- Tehran's Grand Bazaar Shut Down after 40 Years
2- With Erdogan until 2023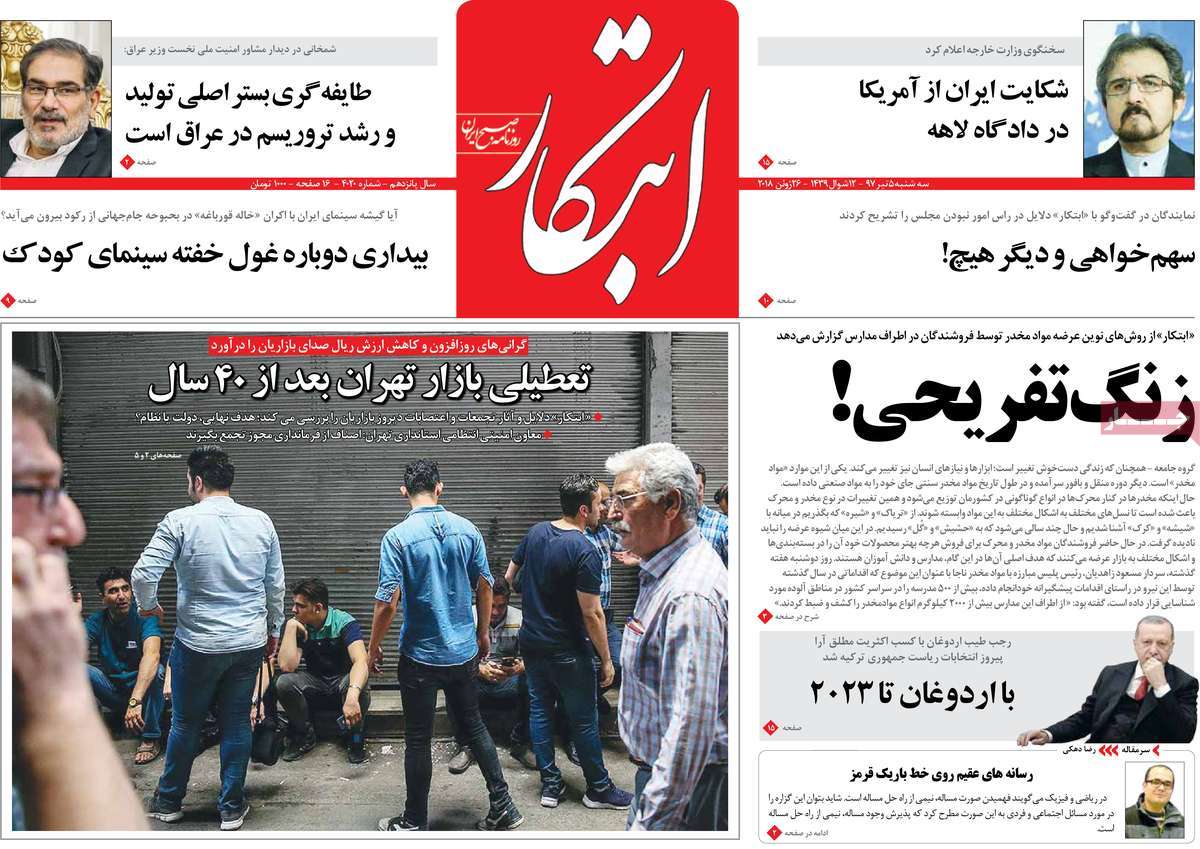 ---
Etemad:
1- Heads Held High
---
Ettela'at:
1- Iran Files Lawsuit against US at The Hague
2- Yemeni Missiles Roaring in Riyadh Skies
---
Ghanoon:
1- World Cup Loses Iran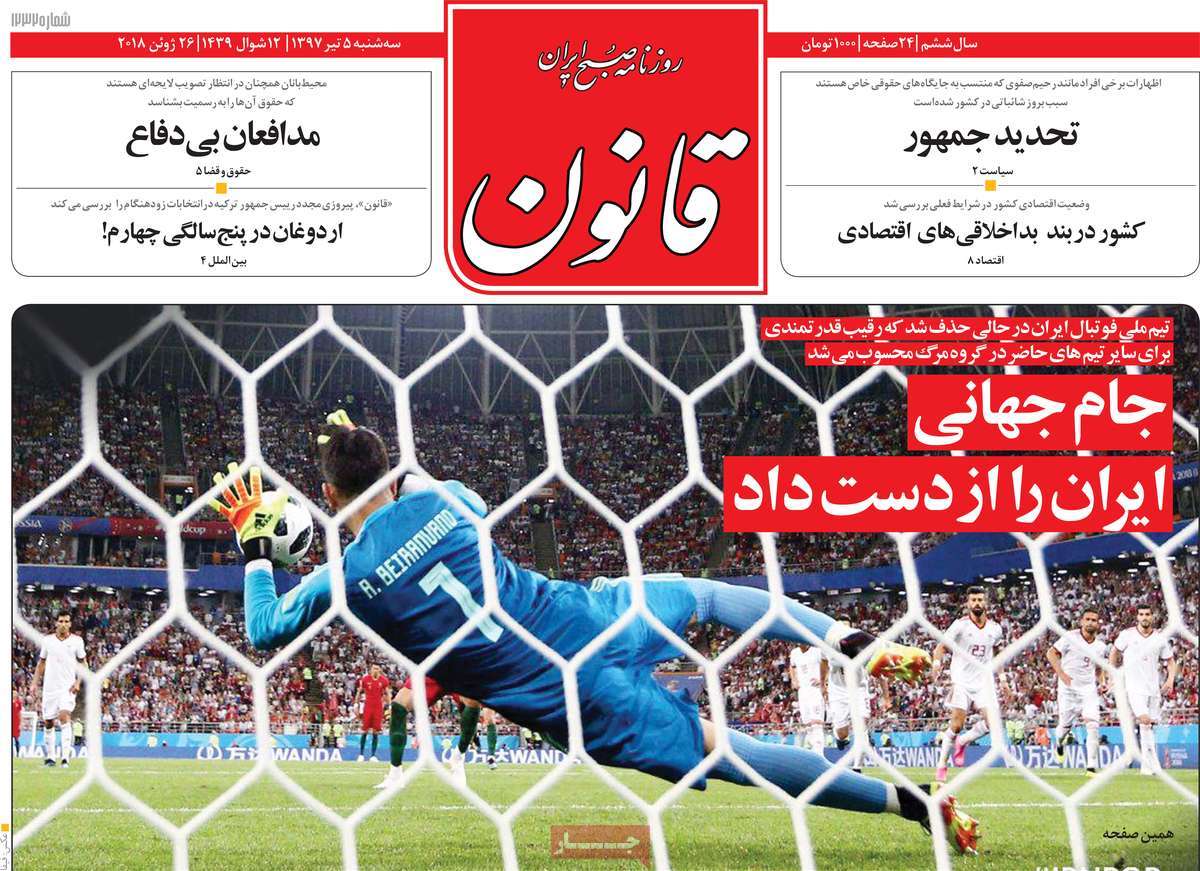 ---
Haft-e Sobh:
1- Ronaldo's Hellish Night
Iran's Amazing Match against Euro Champions Not Enough to Keep Us in World Cup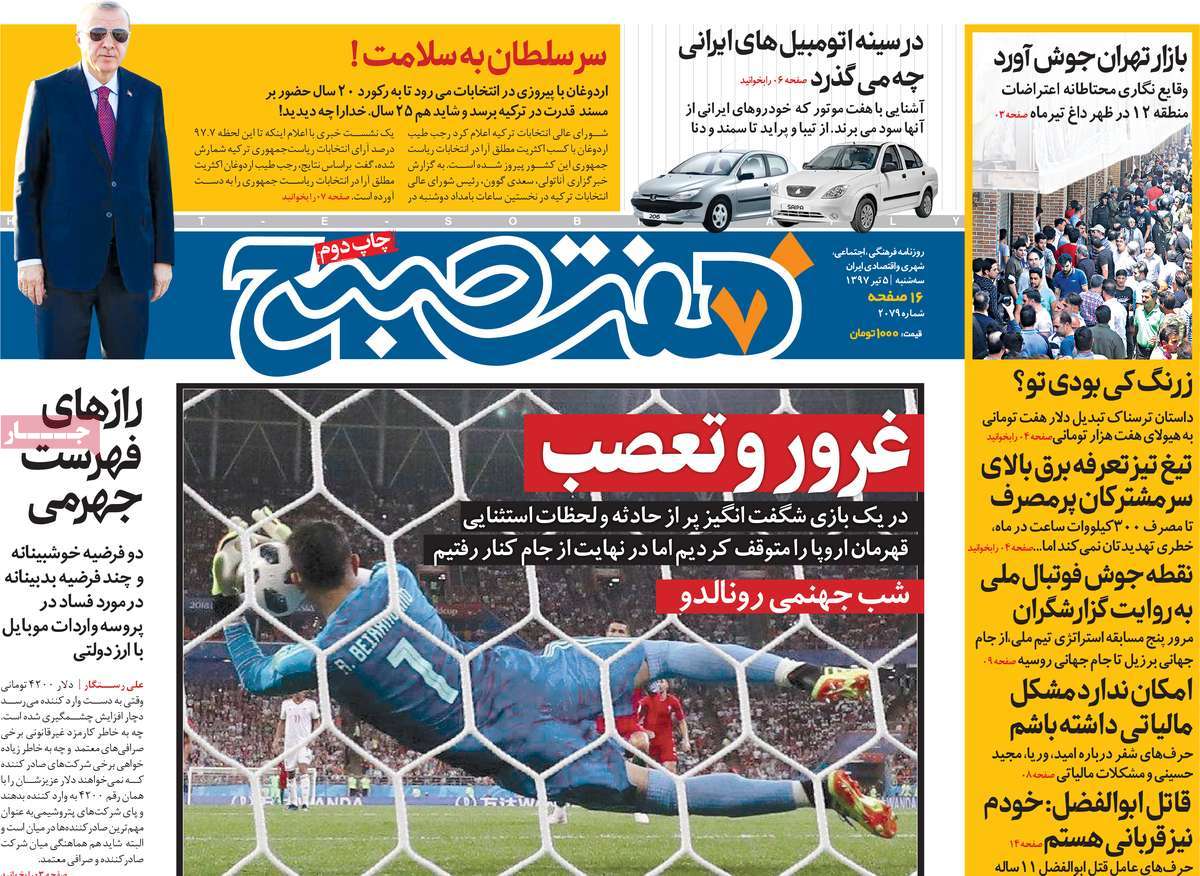 ---
Hamshahri:
1- End of Pride: Team Melli, in Most Brilliant Performance Ever, Was Inches from Victory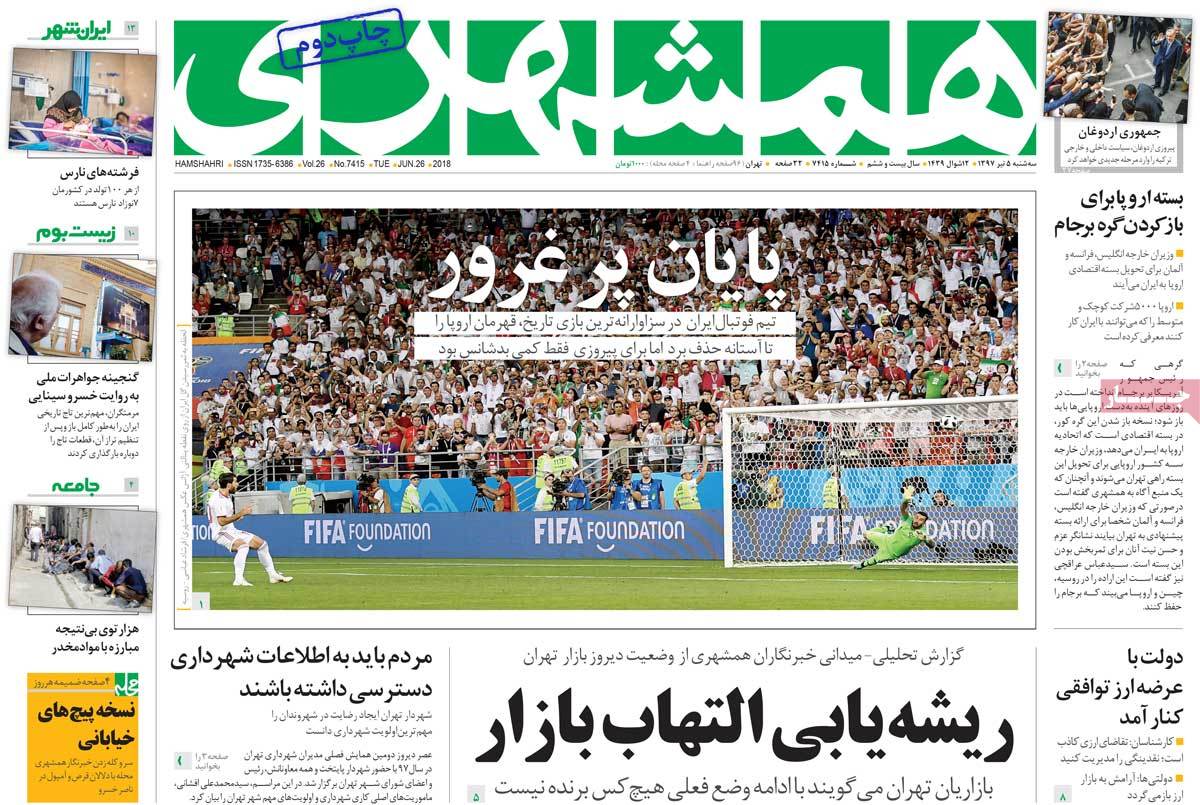 ---
Iran:
1- Standing with Pride
2- Rouhani's Message to Team Melli: You Dears Fought to Realize Dreams of a Great Nation
---
Jame Jam:
1- Advancing to Hearts of a Nation: A Few Centimetres from Making History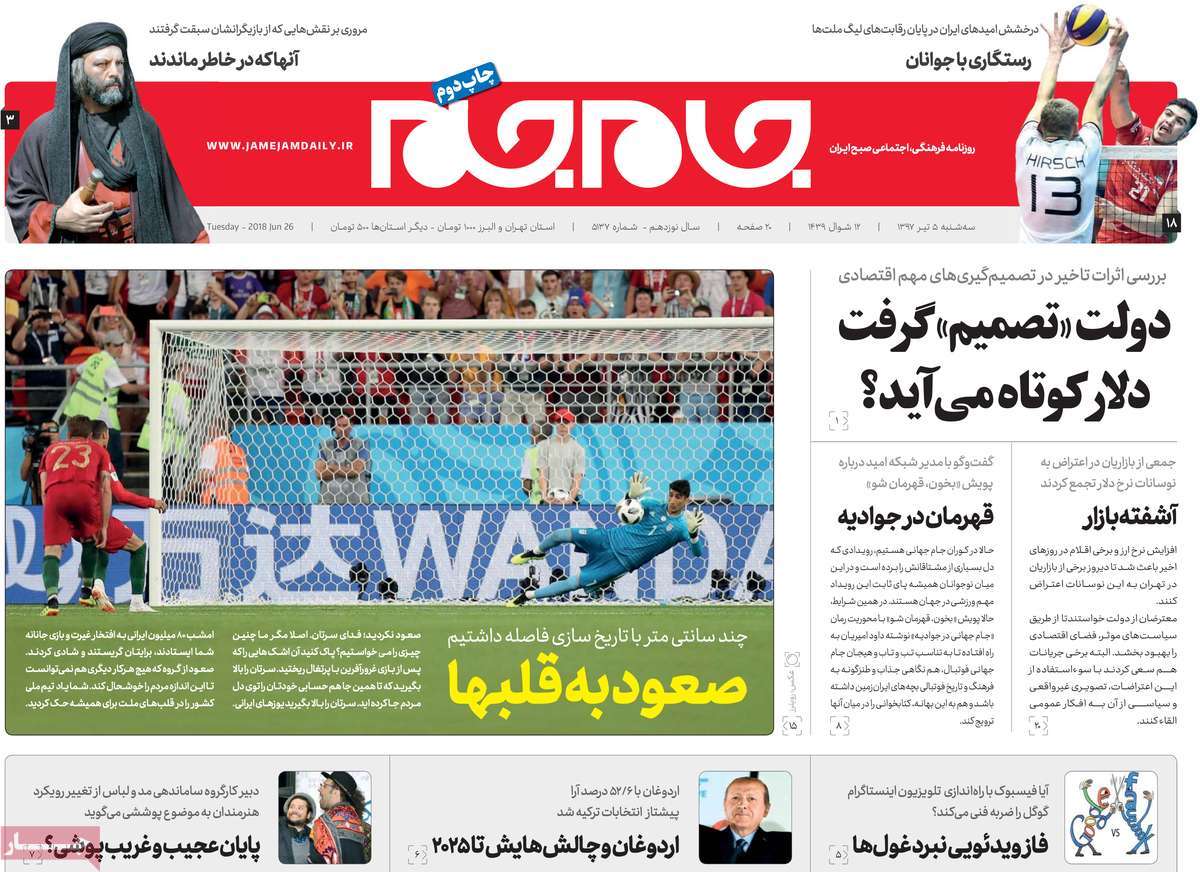 ---
Javan:
1- Well Done: Iran 1-1 Portugal
2- Promising Measures to Control Forex Market Fluctuations
3- Intelligence Minister: JCPOA on Verge of Collapse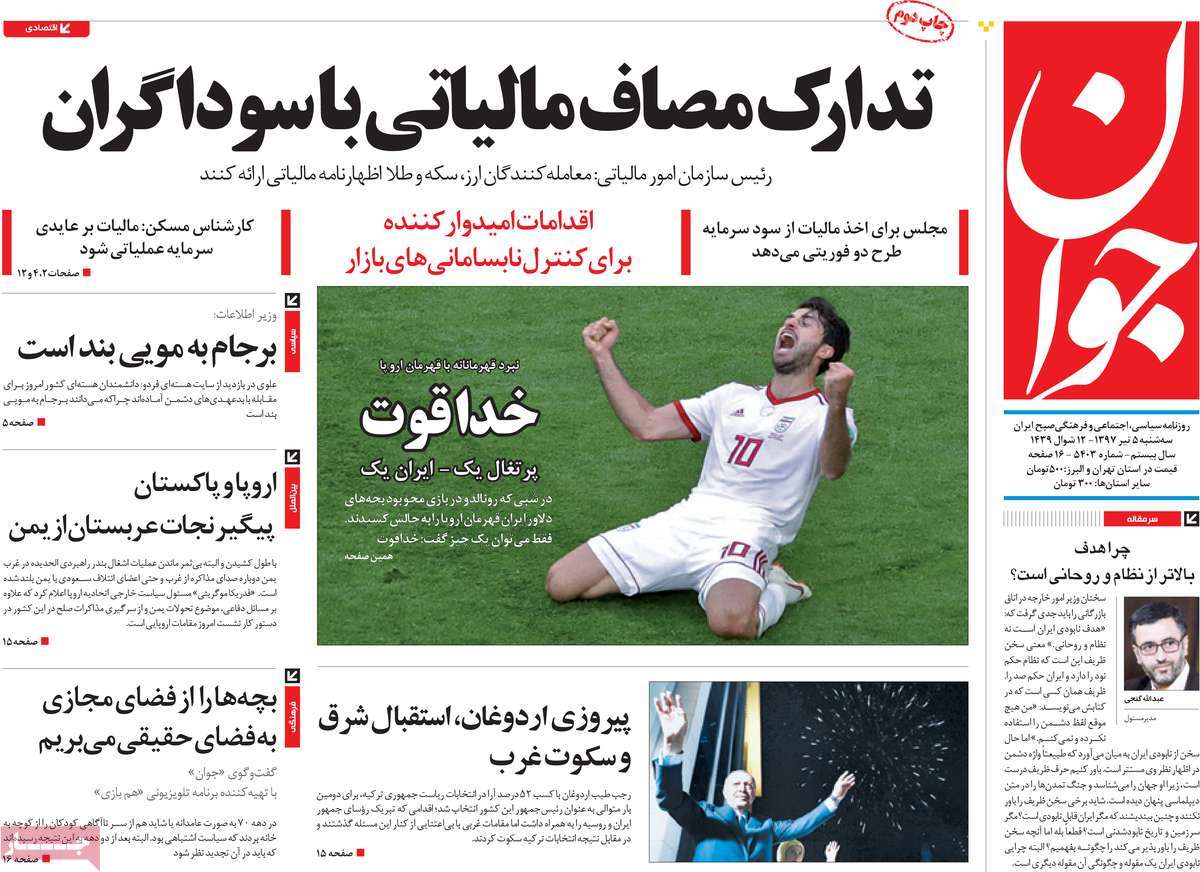 ---
Jomhouri Eslami:
1- Tehran Market's Unrest Organized by Certain Elements: Official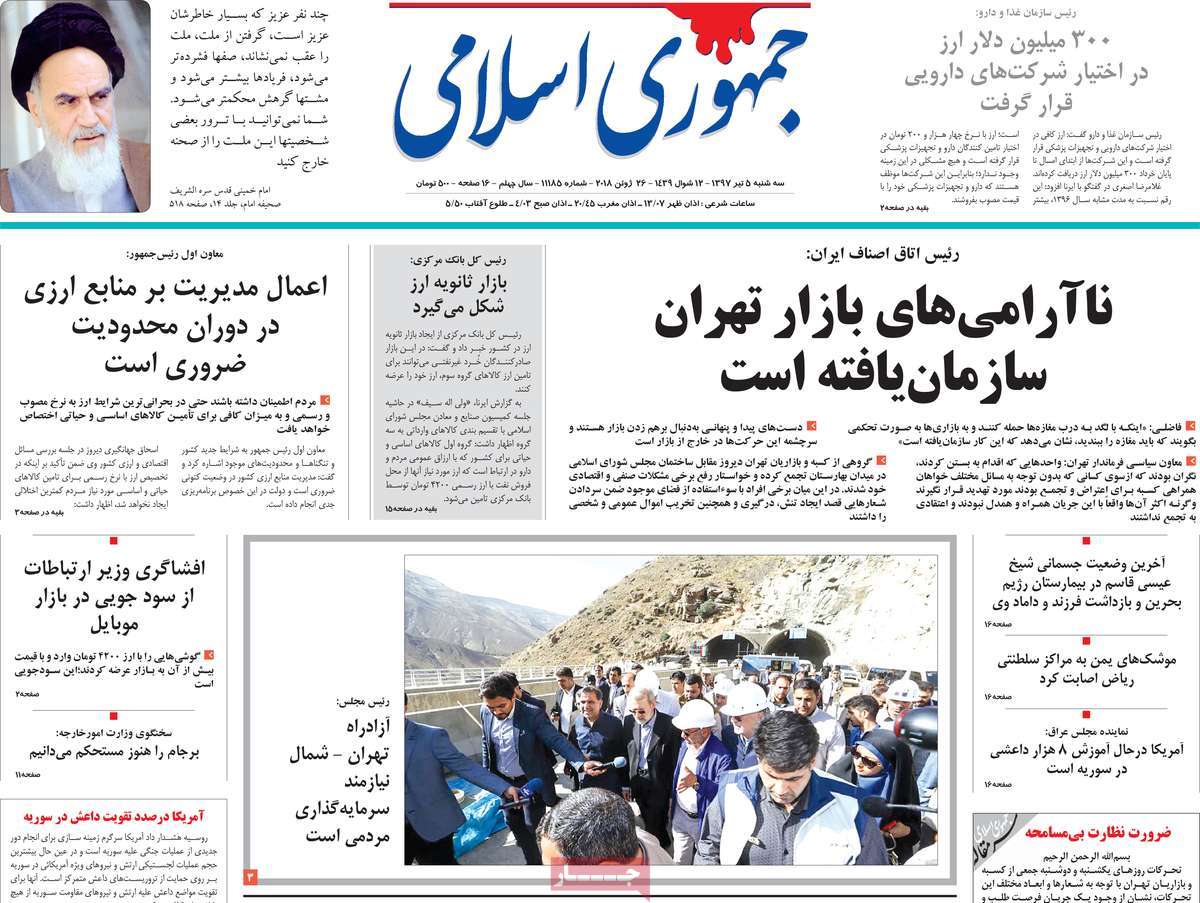 ---
Ka'enat:
1- Iran to Launch Secondary Forex Market! Wait Until Next Week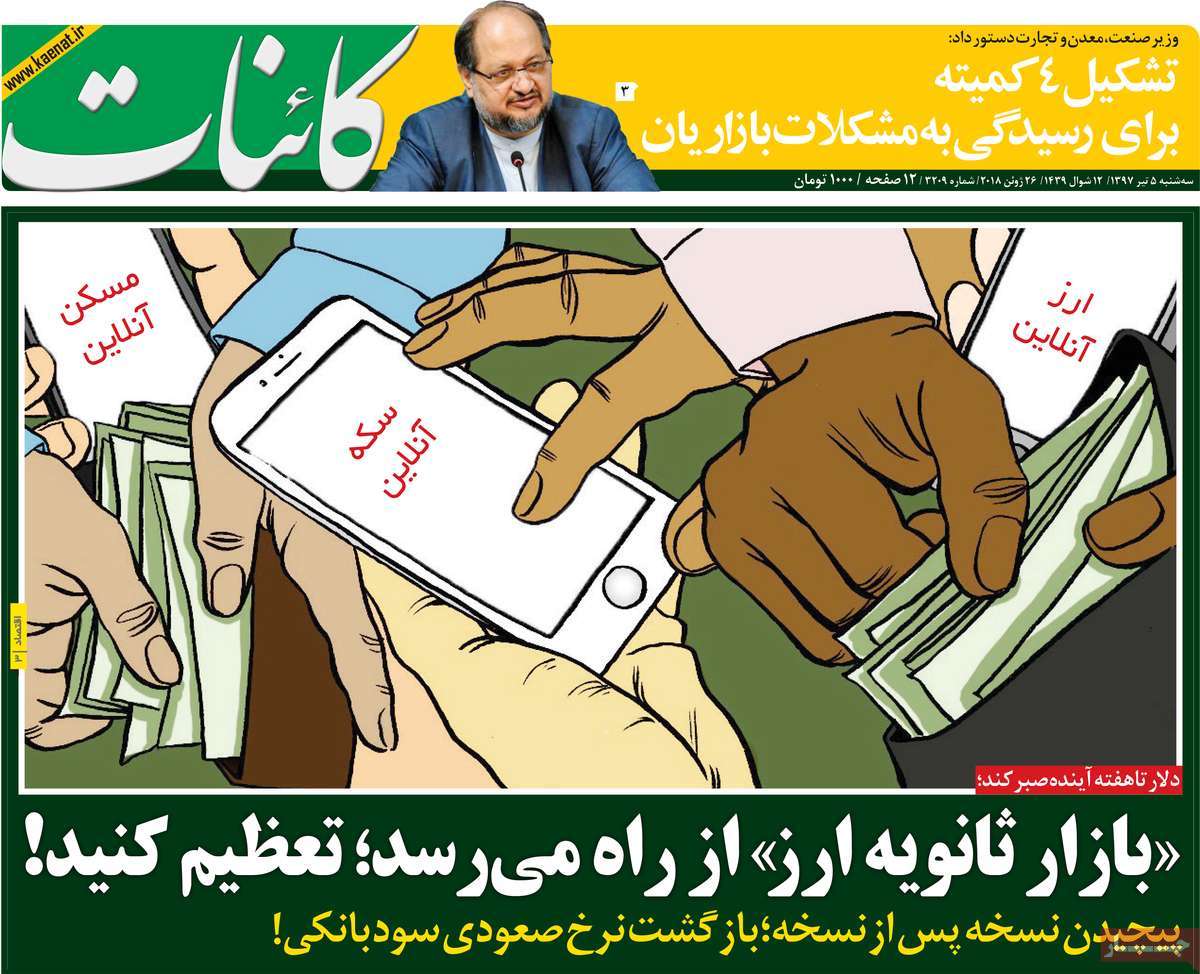 ---
Kayhan:
1- Economic Terrorists Taking Advantage of Bazaar Shopkeepers' Complaints
2- 15,000 Conservative, Reformist Elites Write Letter to Condemn Call for Talks with US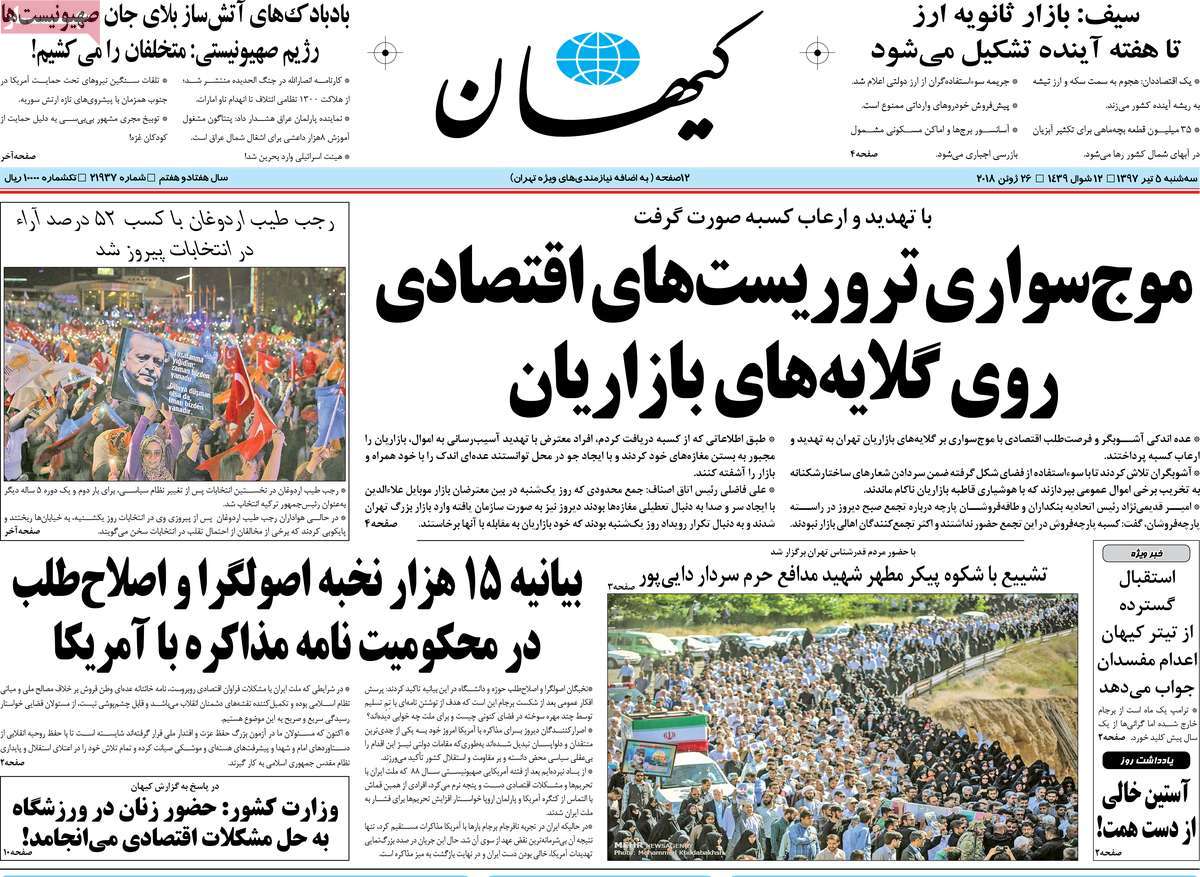 ---
Rooyesh-e Mellat:
1- US Not a Government You Can Hold Talks with: Iran
2- Wrong Trust: Shamkhani Says Some Countries Reinforcing Terrorism by Trusting US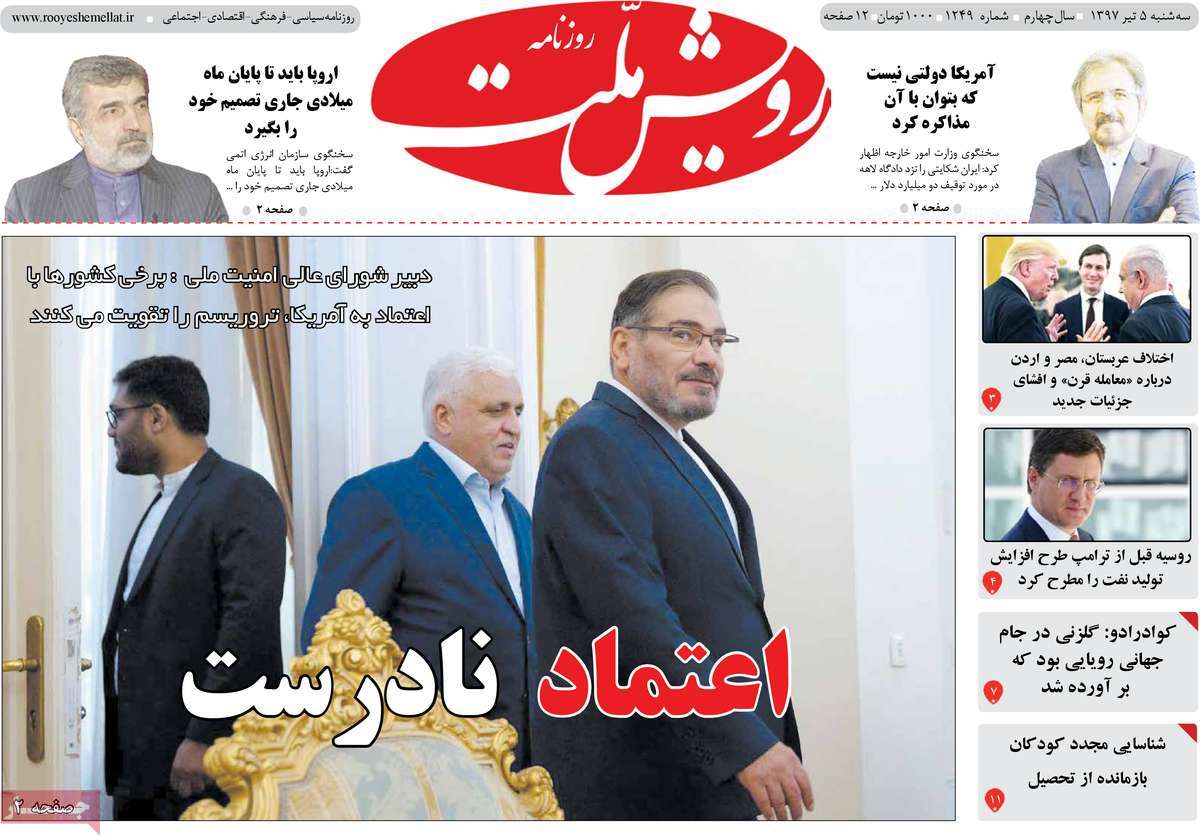 ---
Sazandegi:
1- Elected King: Erdogan Once Again Takes Control of Turkey Government, Parliament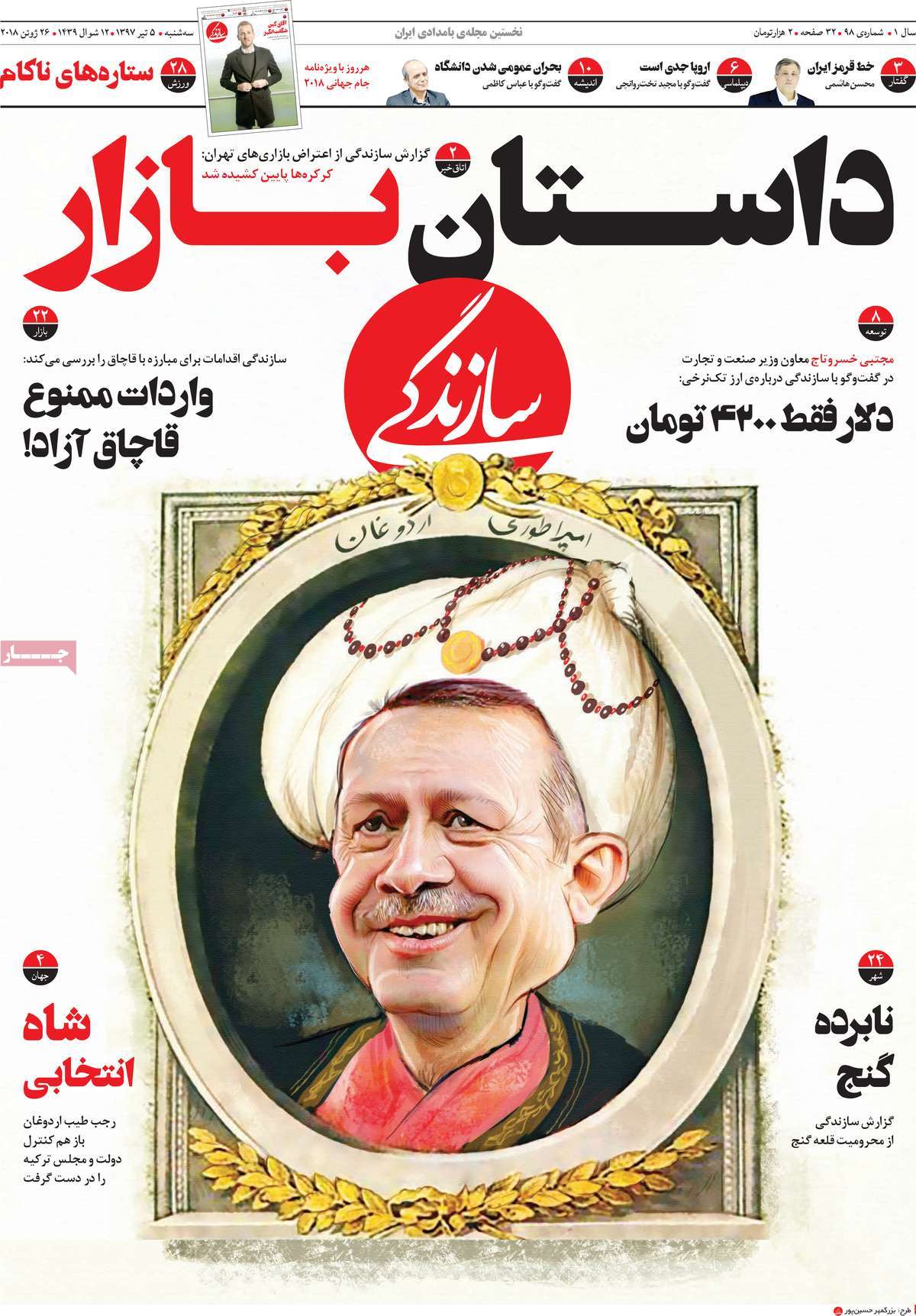 ---
Sepid:
1- MS Society's Chief: 75% of MS Pharmaceuticals Produced Inside Iran
---
Setareh Sobh:
1- Vice-Speaker of Parliament Asks People to Show Resistance for Six Months
2- Anti-US Rallies Cancelled on Anniversary of Korean War for First Time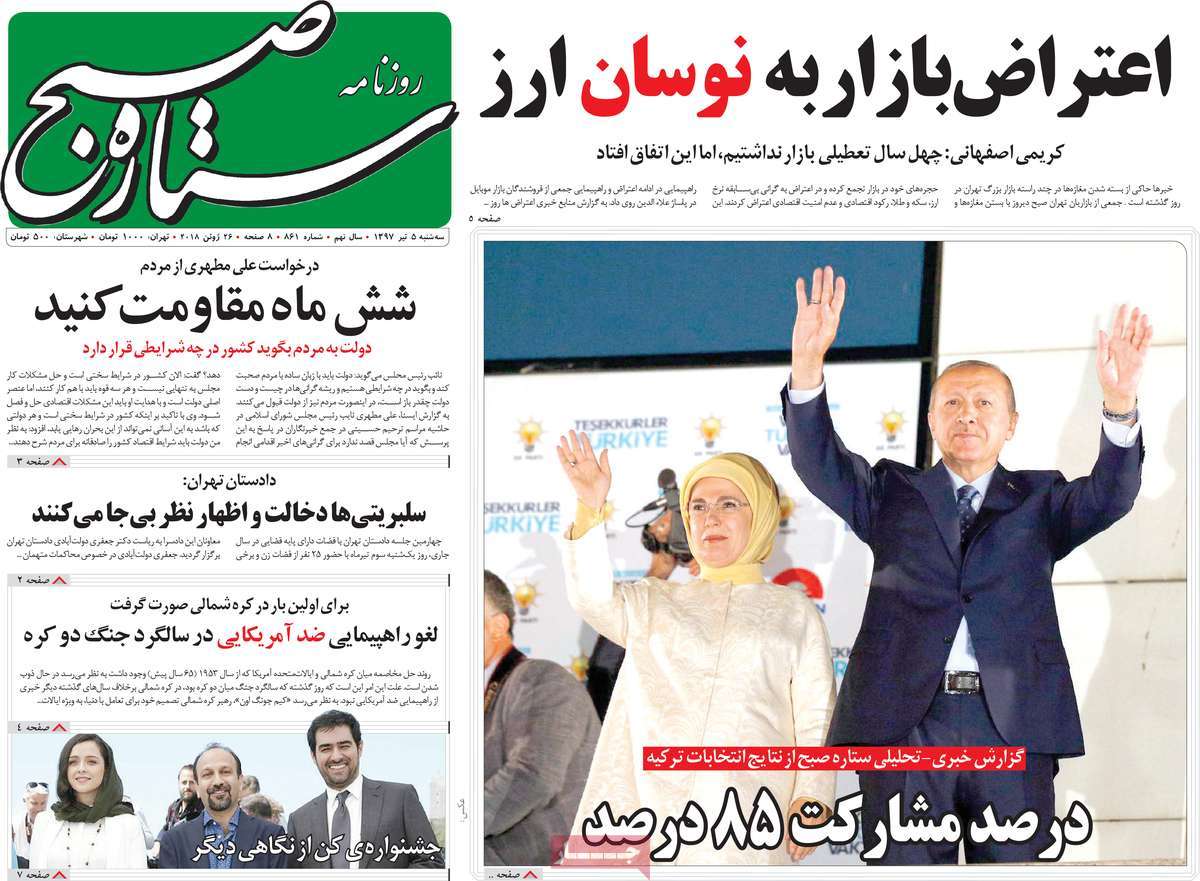 ---
Shargh:
1- Tears and Pride: Iran Leaves FIFA World Cup with Admirable Performance
---
Tejarat:
1- We're Ready for Enrichment: Intelligence Minister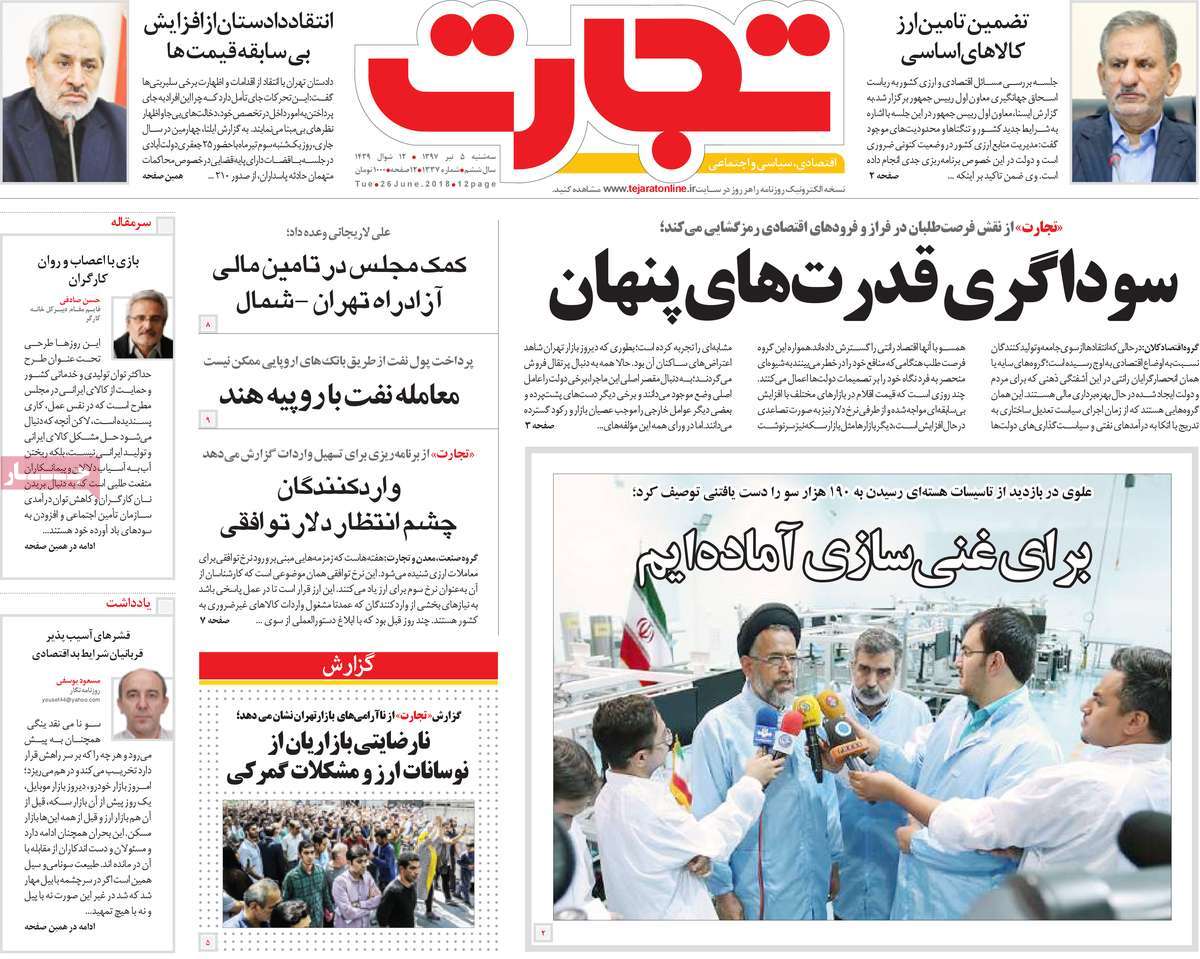 ---
Vatan-e Emrooz:
1- Epic and Regret: Team Melli Needed Just One Point to Advance to Next Stage