Another vote of confidence by the Islamic Consultative Assembly to Education Minister Ali Asghar Fani at the close of his impeachment hearing dominated the front pages of Iranian newspapers on Thursday. Also in the news were the comments of Foreign Ministry Spokeswoman Marzieh Afkham on the home stretch of the nuclear talks between Iran and P5+1.
Ettela'at: "To reach a [nuclear] deal, we don't face time constraint," Iranian Foreign Ministry Spokeswoman Marzieh Afkham said.
She further said that the support of the Supreme Leader is an asset to the country's foreign policy.
---
Abrar: A billionaire international drug trafficker has been arrested in Karaj.
---
Afkar: "Extension of nuclear talks is not on the table yet," said the Iranian Foreign Ministry spokeswoman.
---
Aftab-e Yazd: "Interviews with nuclear scientists started in 2005," said the spokesman of the Atomic Energy Organization of Iran.
Aftab-e Yazd: "We are at a difficult stage of nuclear talks," said Foreign Ministry Spokeswoman Marzieh Afkham.
Aftab-e Yazd: Tension in the Iftar banquet of the president.
A number of principlists walked out when [former Tehran Mayor Gholamhossein] Karbaschi made comments.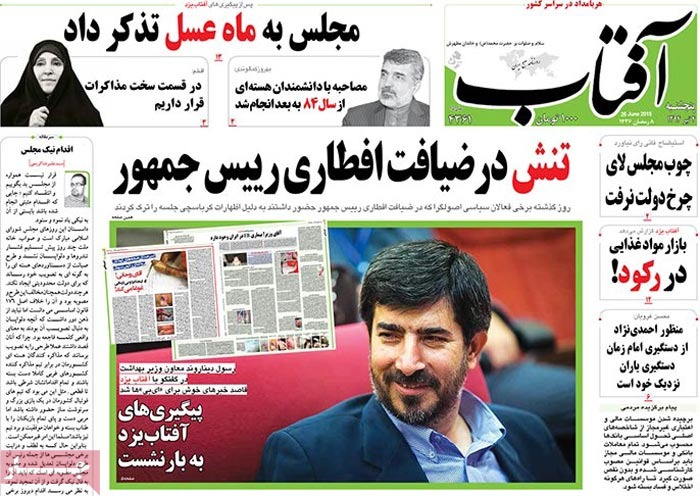 ---
Arman-e Emrooz: Nuclear talks are in home stretch; the opponents of the nuclear team have been overwhelmed.
Arman-e Emrooz: The impeachment of the education minister failed.
That the previous government hired 116,000 new personnel has placed a burden on the shoulders of the ministry.
---
Asrar: The Guardian Council has approved the parliamentary act that calls for protection of the nuclear achievements of the nation.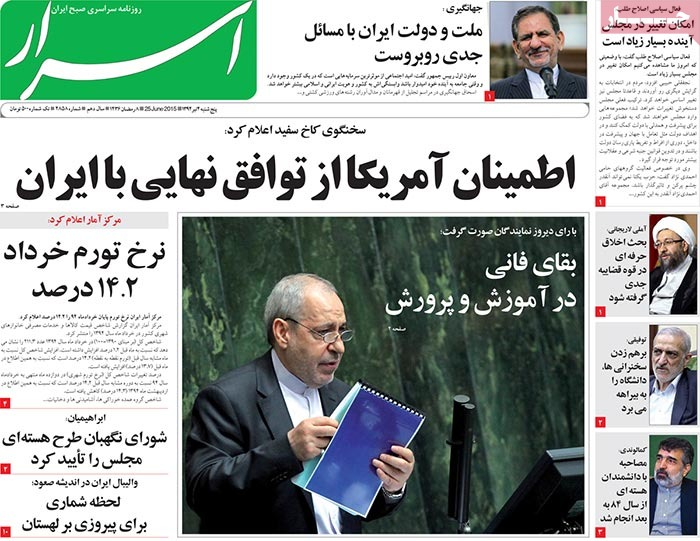 ---
Ebtekar: Tehran and Ankara have agreed on an increase in Iran's exports of natural gas to Turkey.
Ebtekar: Hand-to-hand combat to advance to the next round [of the FIVB World League]
Iran will line up against Poland at Tehran's Azadi Arena on Friday.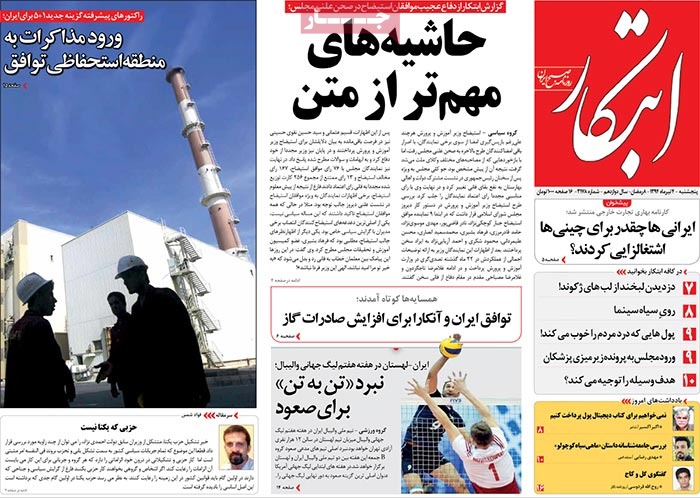 ---
Etemad: President Rouhani listened to the voices of political factions at an Iftar banquet he hosted.
In the ceremony, the president called for the upcoming parliamentary elections to be very competitive.
Etemad: The spokesman of the Atomic Energy Organization of Iran and a member of parliament's National Security and Foreign Policy Committee have taken part in a nuclear roundtable.
Kamalvandi: The Additional Protocol is nothing to be afraid of.
Mansouri Arani: I wish the previous government had prevented the release of [anti-Iran] resolutions.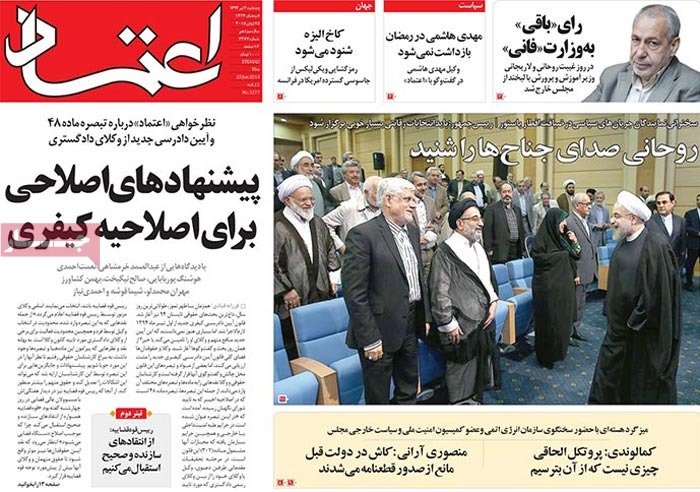 ---
Hemayat: Ayatollah Ahmad Jannati has been named as chairman of the Election Supervision Board.
Hemayat: "Some 150 land-grabbers are in jail," said the head of Tehran Justice Department.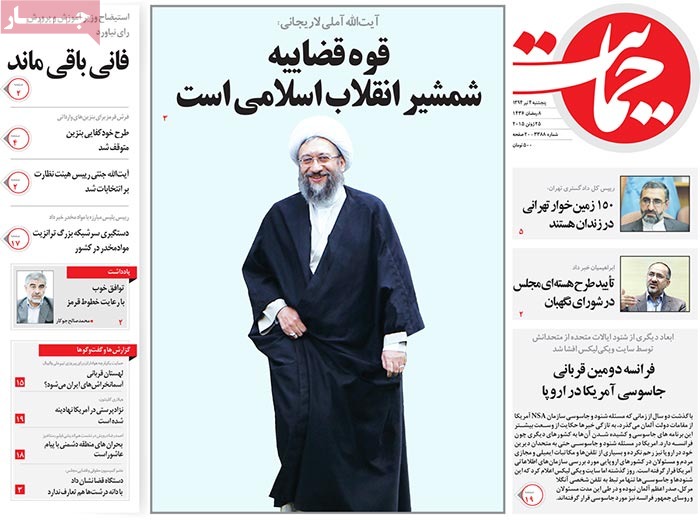 ---
Iran: An international Koranic Exhibition has opened in Tehran, with the minister of culture and Islamic guidance delivering a keynote speech.
---
Kaenat: Police have seized more than 135 tons of narcotics in the three months to June 21.
---
Kayhan: Foreign investment in Iran has dropped 31 percent since the Geneva Agreement.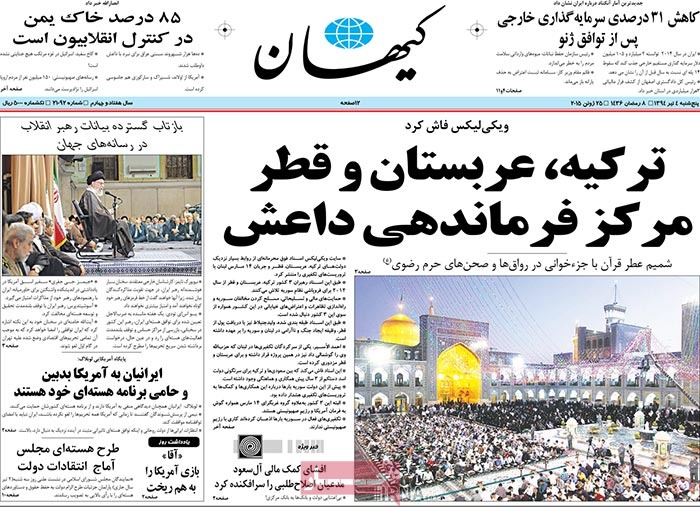 ---
Roozan: Fani has been reinstated as education minister; it is now [minister of roads and urban development Abbas] Akhoundi's turn to be impeached by parliament.