The top story in all newspapers today was the remarks by Iranian Deputy Foreign Minister Seyyed Abbas Araqchi about the critical conditions of the Iran nuclear deal. Araqchi says the JCPOA is in the ICU and there is no positive prospect for ongoing talks with Europe.
Also a major story today was an article by Foreign Minister Mohammad Javad Zarif, in which he has responded to his American counterpart's 12 demands from Iran.
The agreement of Organisation of Petroleum Exporting Countries (OPEC) on a one-million bpd increase in their oil outputs also received great coverage today.
The above issues, as well as many more, are highlighted in the following headlines and top stories:
19 Dey:
1- Zarif-Pompeo's Duel in Twitter
---
Abrar:
1- Araqchi: Iran May Withdraw from JCPOA in Coming Week
2- Japanese PM May Visit Iran for First Time in 40 Years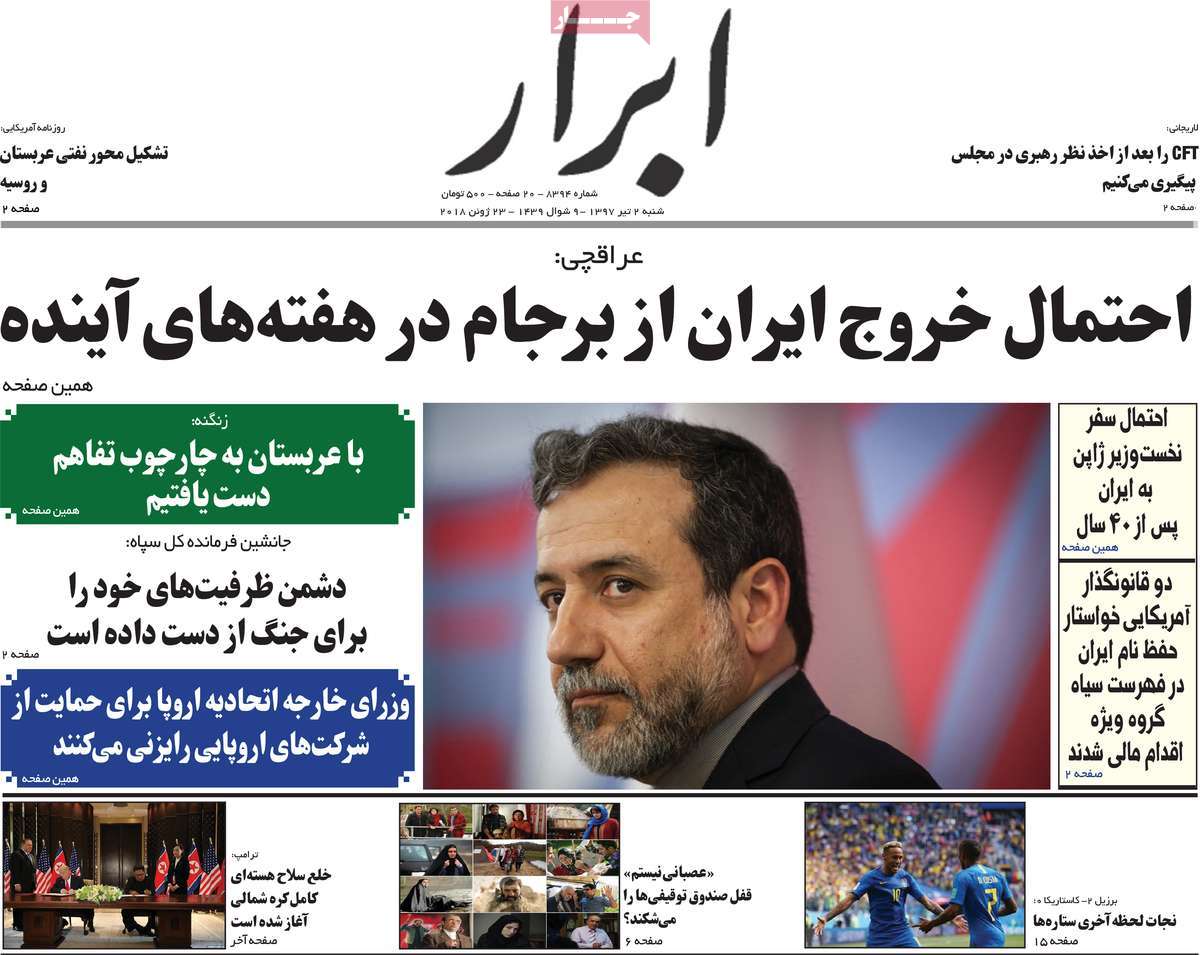 ---
Aftab-e Yazd:
1- Iran's Win-Win Game in OPEC
2- We Need a Man like Carlos Queiroz for Our Politics, Economy
Social Media Users Comparing Team Melli's Head Coach with That of Certain Officials
3- Pleasant Breaking of Taboos
After President Rouhani's Direct Order, Doors of Azadi Stadium Opened to Women
4- Vahid Amiri: I May Nutmeg Ronaldo as Well!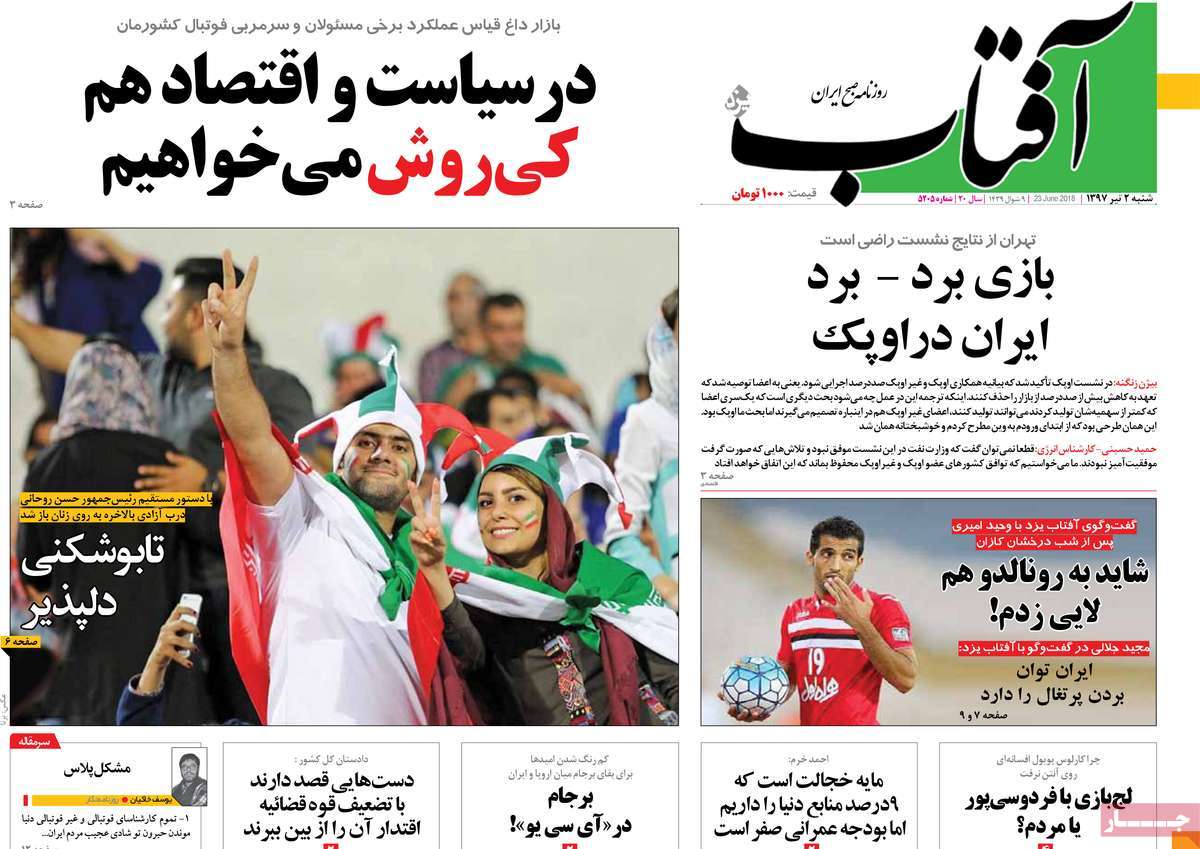 ---
Arman-e Emrooz:
1- OPEC Arrives at Deal in Injury Time
2- 150,000 Elites Leaving Iran Annually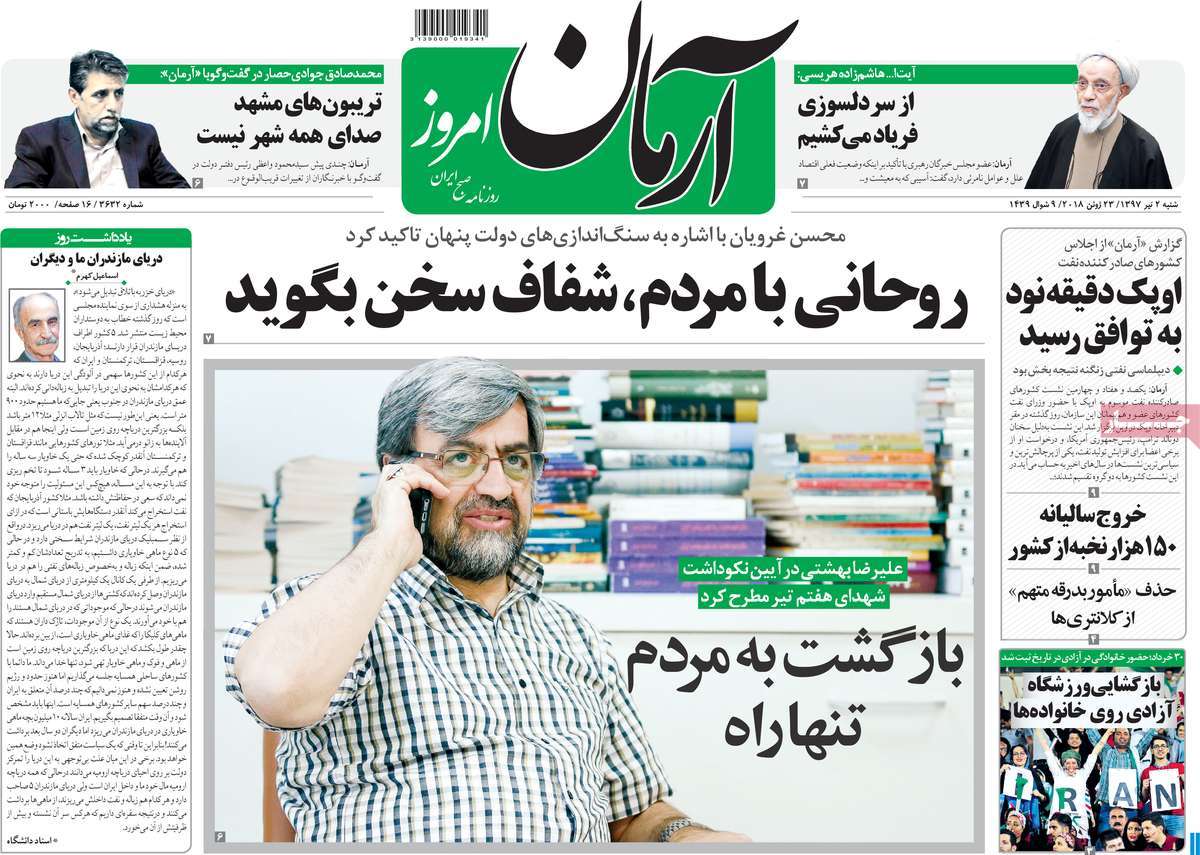 ---
Asrar:
1- Araqchi: Europe Must Make More Sacrifices to Save JCPOA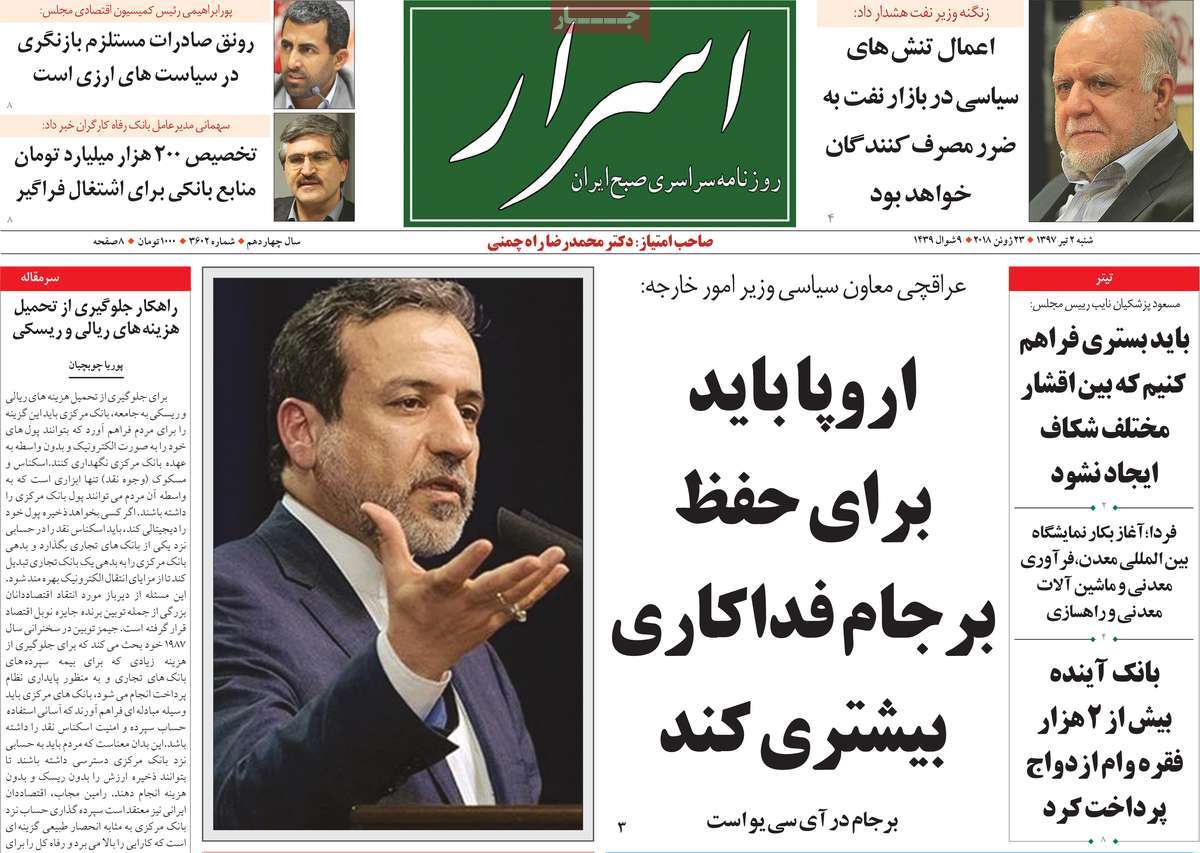 ---
Ebtekar:
1- Oil Peace: A Report on Division among OPEC Members, Its Impacts on Energy Market
2- Europe's First Step in Trade War against Trump: EU Sets Tariffs for Certain American Goods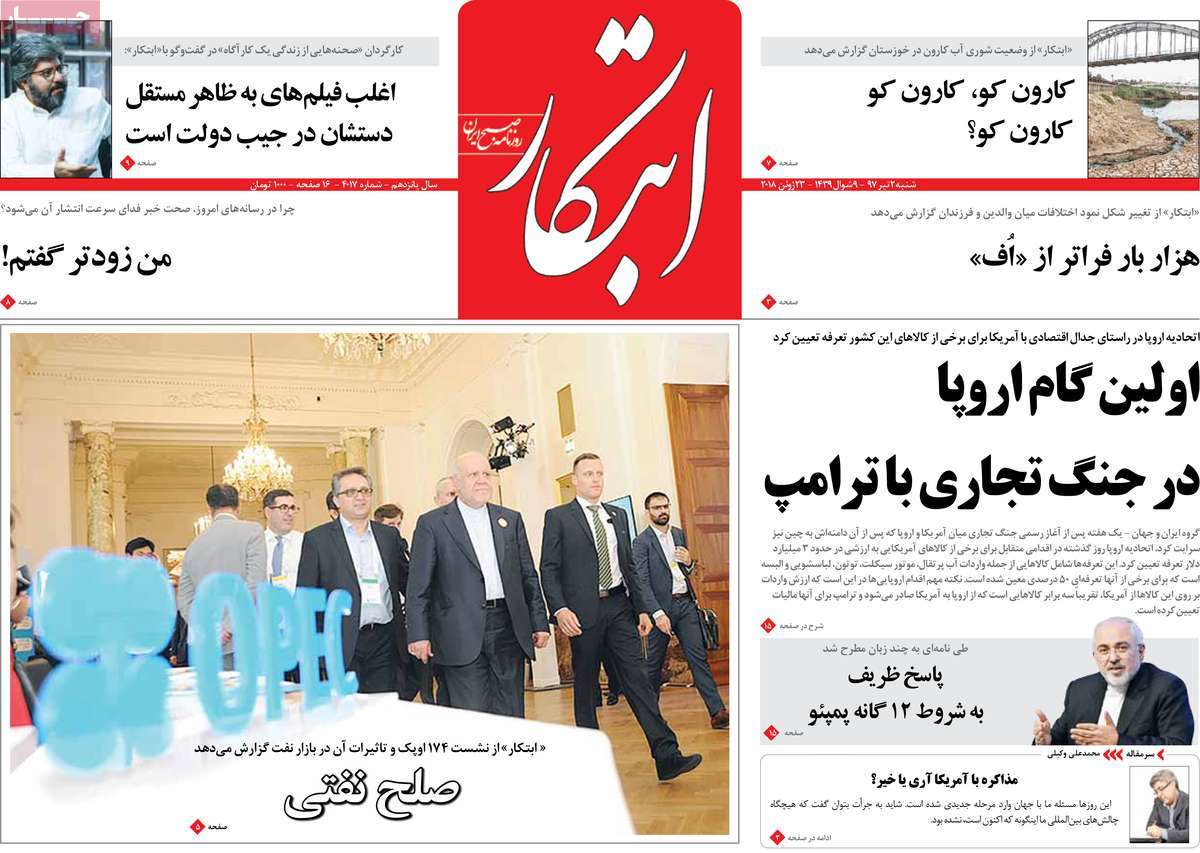 ---
Etemad:
1- Iran Leader's Message to Team Melli: You Did a Great Job against Spain
2- Erdogan to Be Tested Again: Turkey Elections Due to Be Held Sunday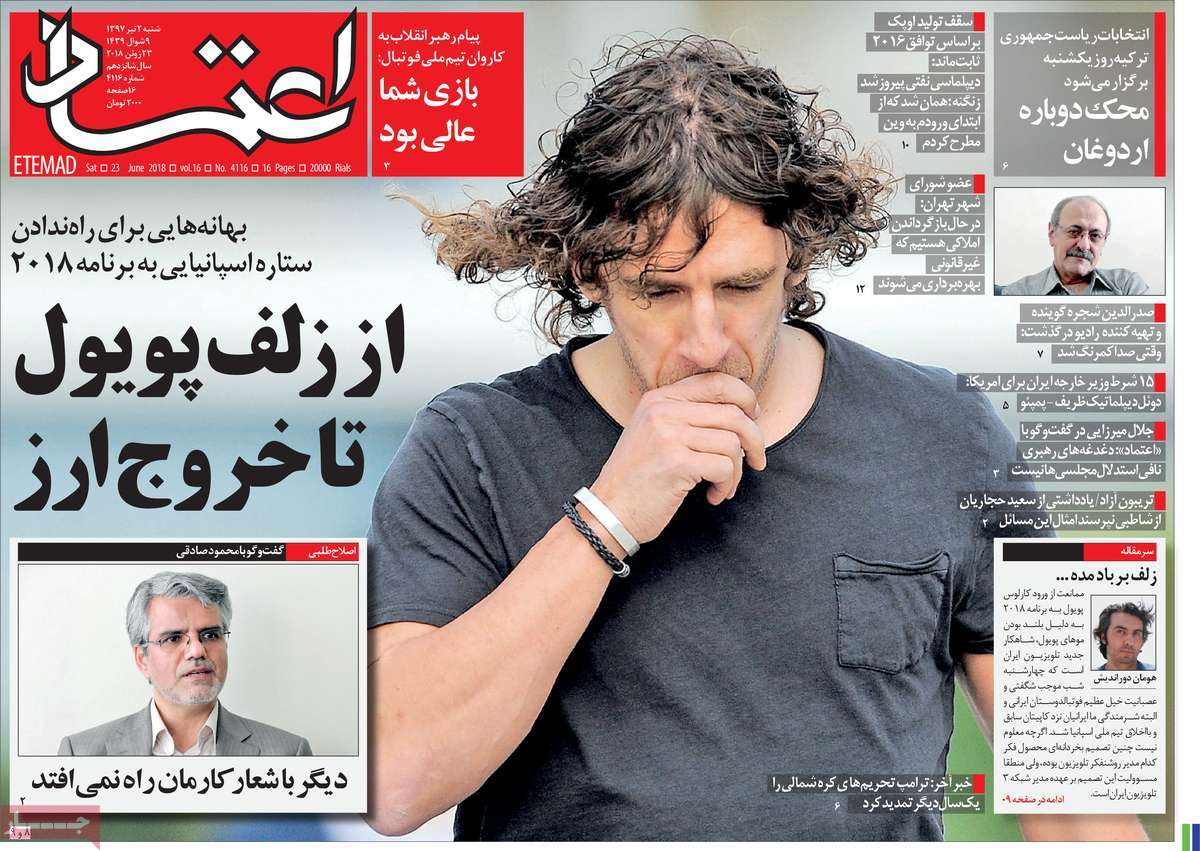 ---
Ettela'at:
1- Iran First VP: Water Crisis, Environment Threatening Iran's Development
2- Larijani: Parliament to Do as the Leader Says on Accession to FATF
---
Hamshahri:
1- Energy Minister: Water Crisis Is Always with Us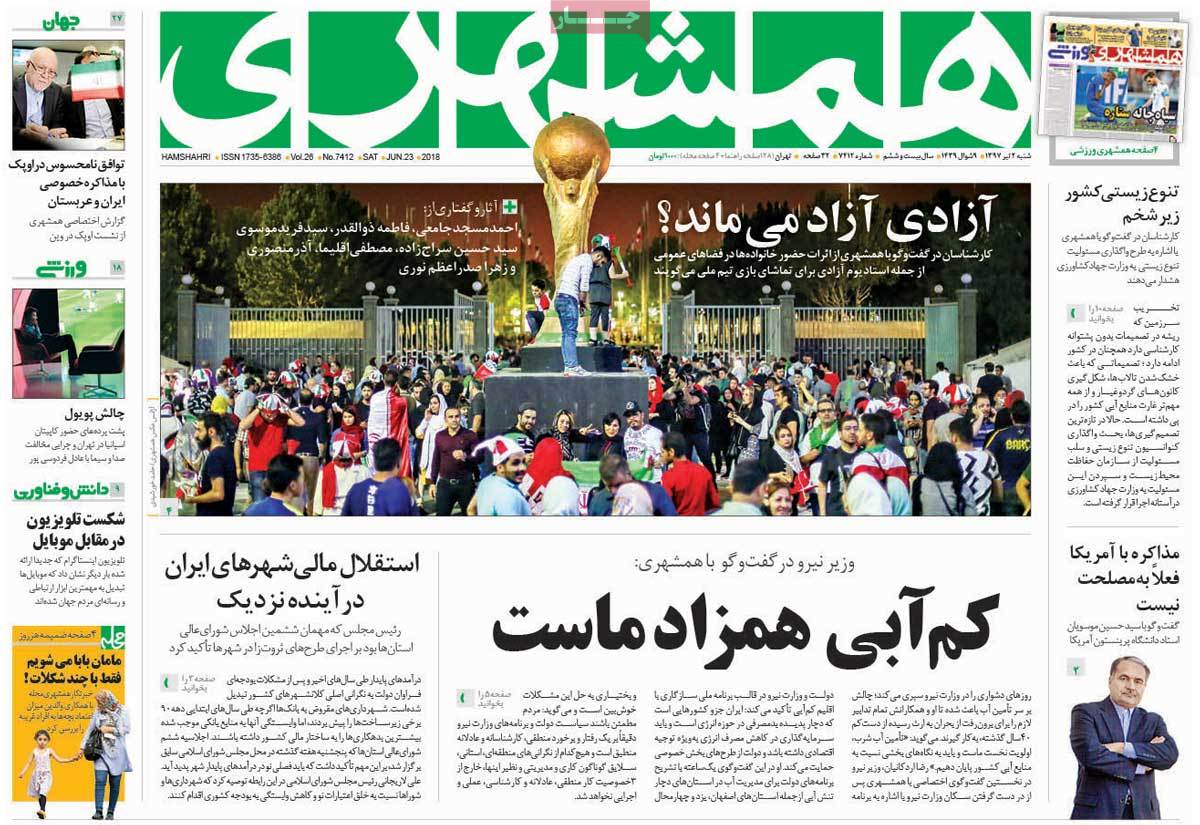 ---
Jame Jam:
1- JCPOA in ICU: Araqchi Says Talks with Europeans Not Satisfactory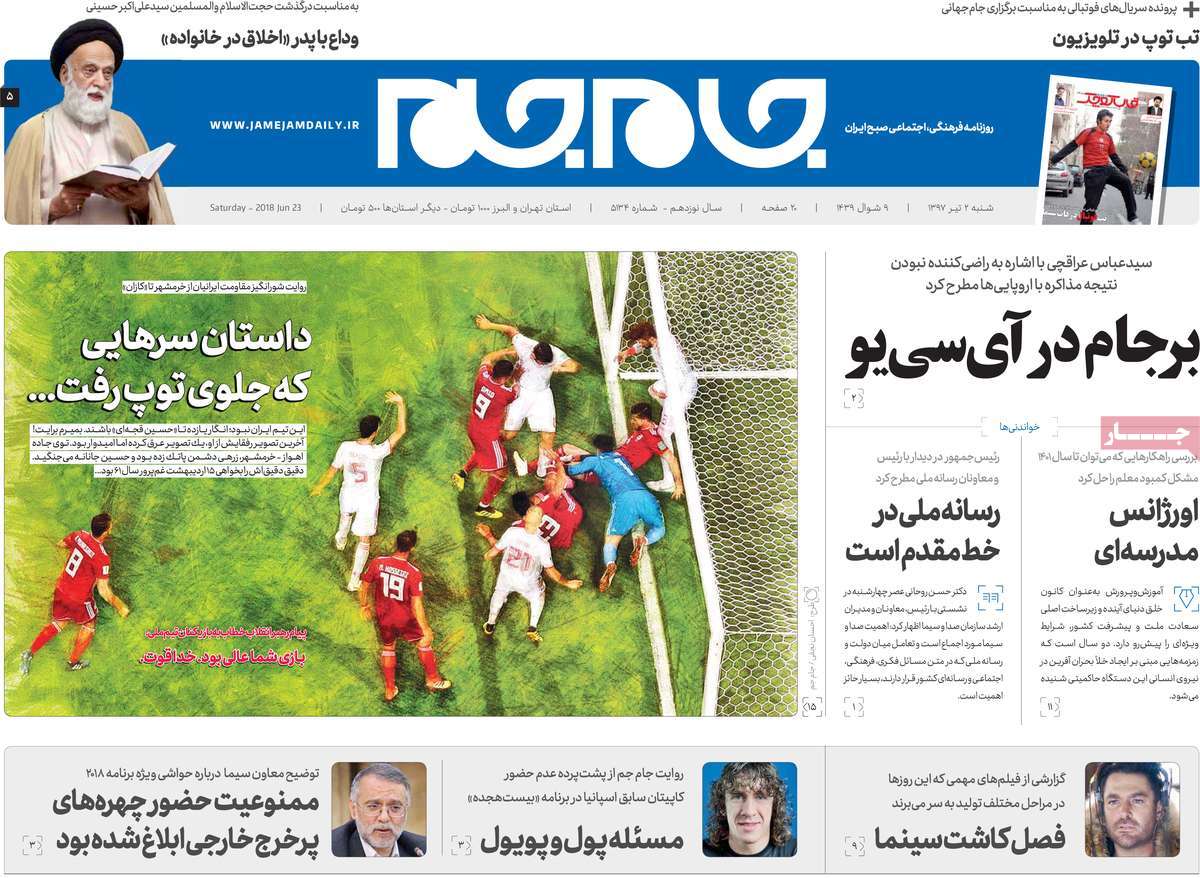 ---
Javan:
1- Araqchi Says Nuclear Deal in Intensive Care Unit (ICU)
2- Dark Days of Human Rights in US
UN Rapporteur: Immigrants Shouldn't Be Treated Like Criminals in US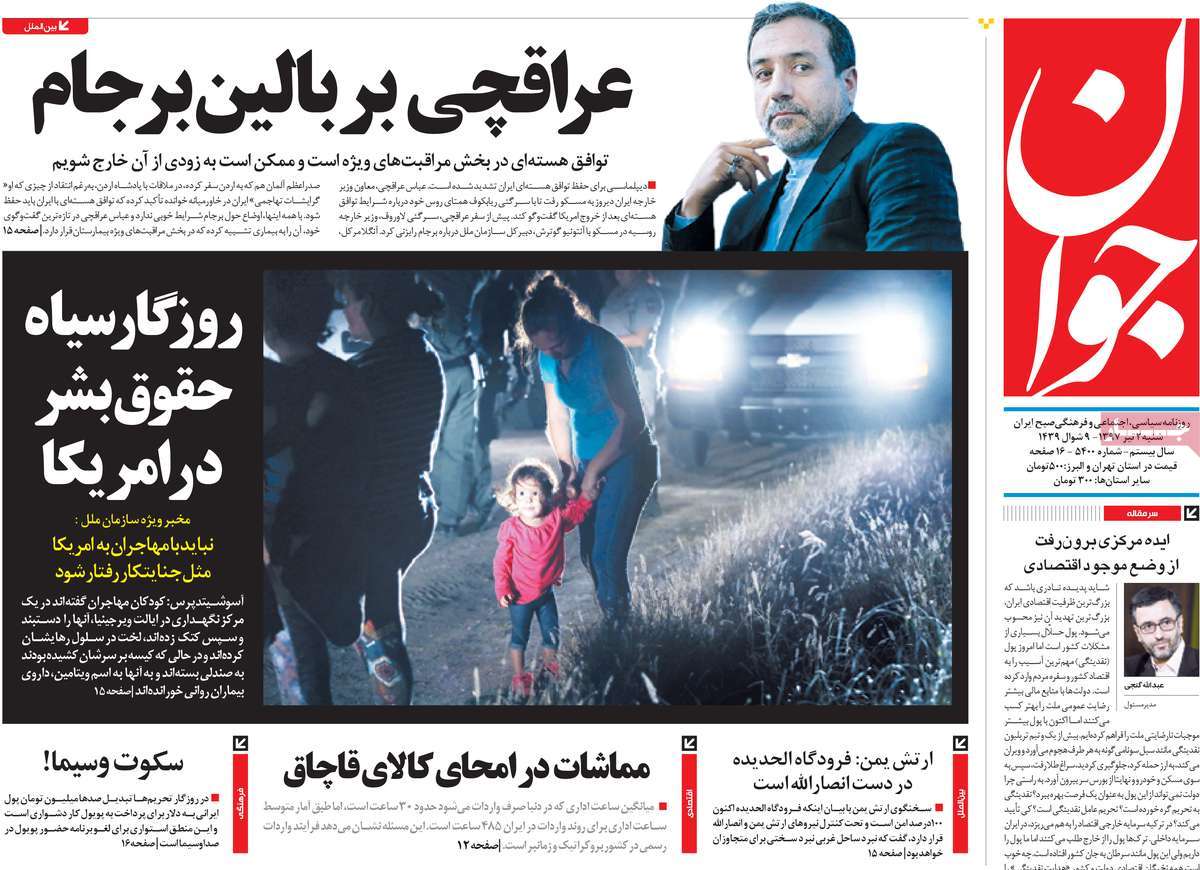 ---
Jomhouri Eslami:
1- OPEC Accepts Iran's Plan to Stabilize Oil Output Quota
---
Kayhan:
1- Syrian Army Fighting American Troopers in Homs on the Ground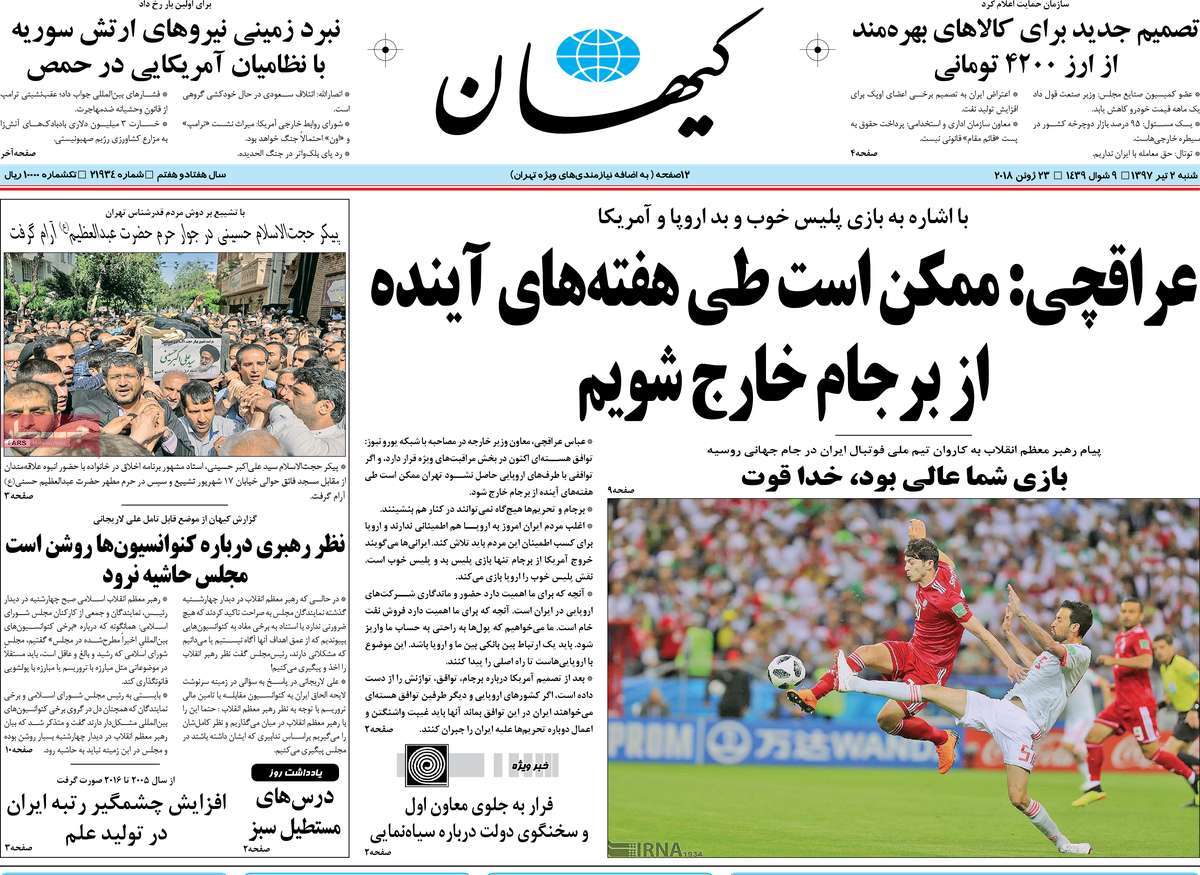 ---
Rooyesh-e Mellat:
1- Tehran Friday Prayers Leader: Negotiation with US Not to Solve Any Problem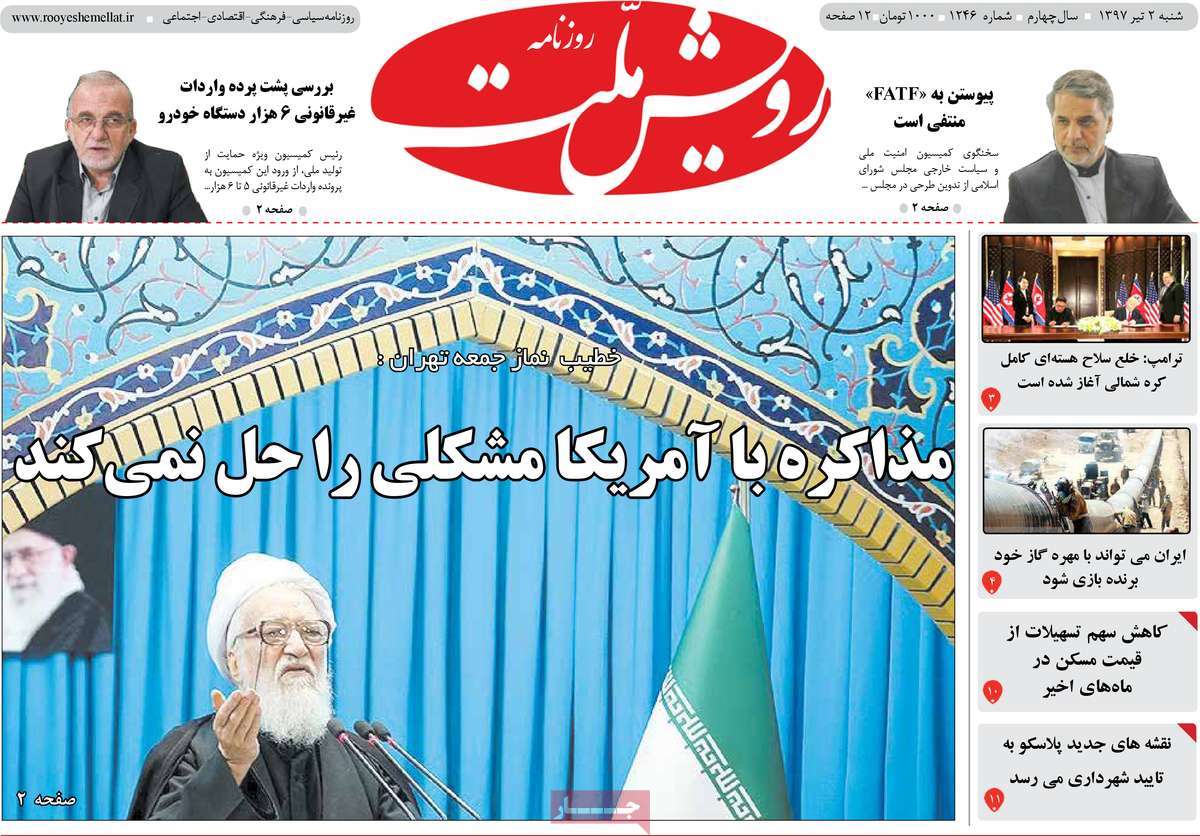 ---
Shargh:
1- Zarif's Response to Pompeo
Iran FM Writes Article to Respond to US Secretary of State's 12 Demands from Iran
2- Ezzatollahi: We'll Sacrifice Our Lives to Defeat Portugal
---
Sobh-e Now:
1- Araqchi: No Positive Prospect for Continuation of Talks with Europe
---
Vatan-e Emrooz:
1- Waiting for Team Melli's Match against Portugal, and Miracle of Iran