Several papers today discussed the re-election of Ali Larijani as the Speaker of Iran's Parliament for the 11th consecutive time, and the fewer votes he secured compared with previous times. Some analysts believe the votes showed Larijani won't have a great chance in the 2021 presidential elections.
Also a top story today was US President Donald Trump's decision to impose heavy tariffs on the import of steel from Europe and the EU's reaction to the move, which is widely described as the beginning of a trade war.
Europe's ongoing efforts to save the Iran nuclear deal and resist against the US sanctions also received great coverage.
The above issues, as well as many more, are highlighted in the following headlines and top stories:
19 Dey:
1- Larijani: Iran Needs Deep Political Bonds
---
Aftab-e Yazd:
1- The Instable Politician
JCPOA Can Serve as Yardstick against Which to Identify Officials Not Influenced by Emotions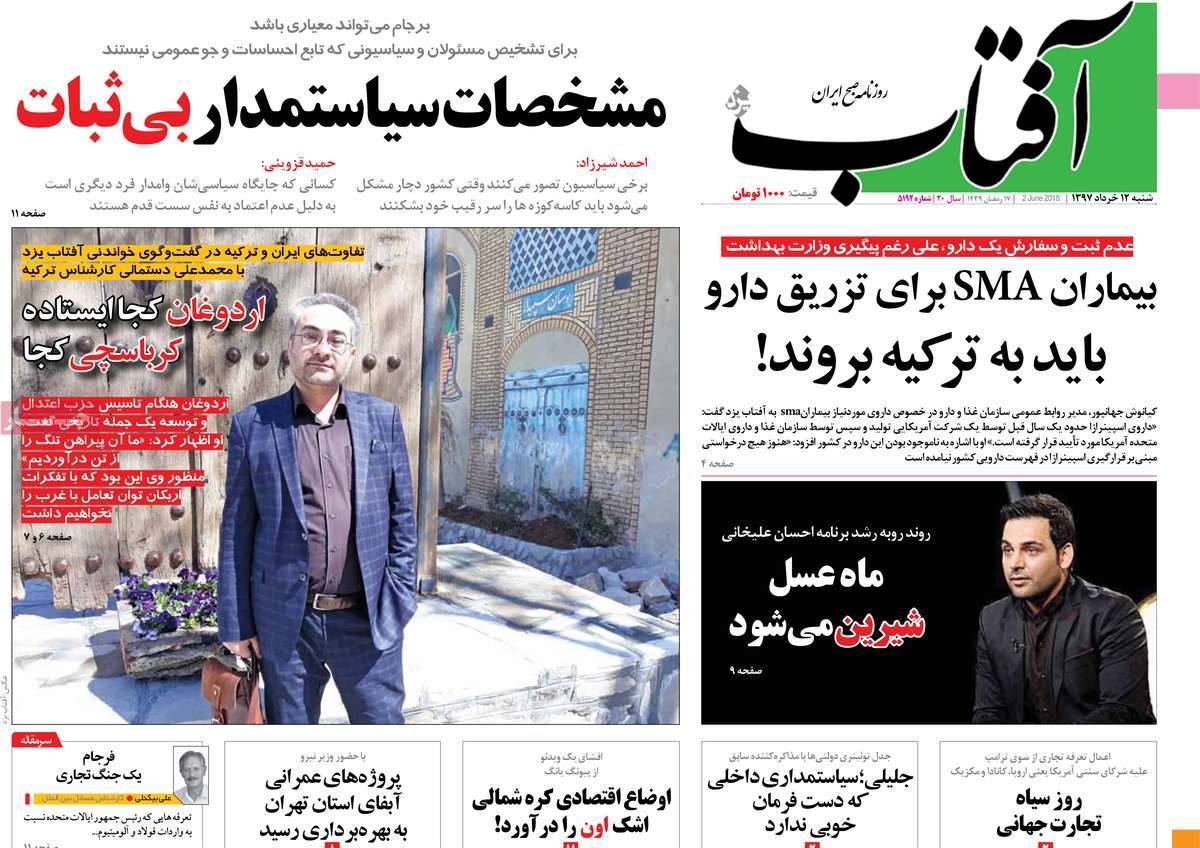 ---
Arman-e Emrooz:
1- Larijani No Longer an Option Endorsed by Both Factions for Presidency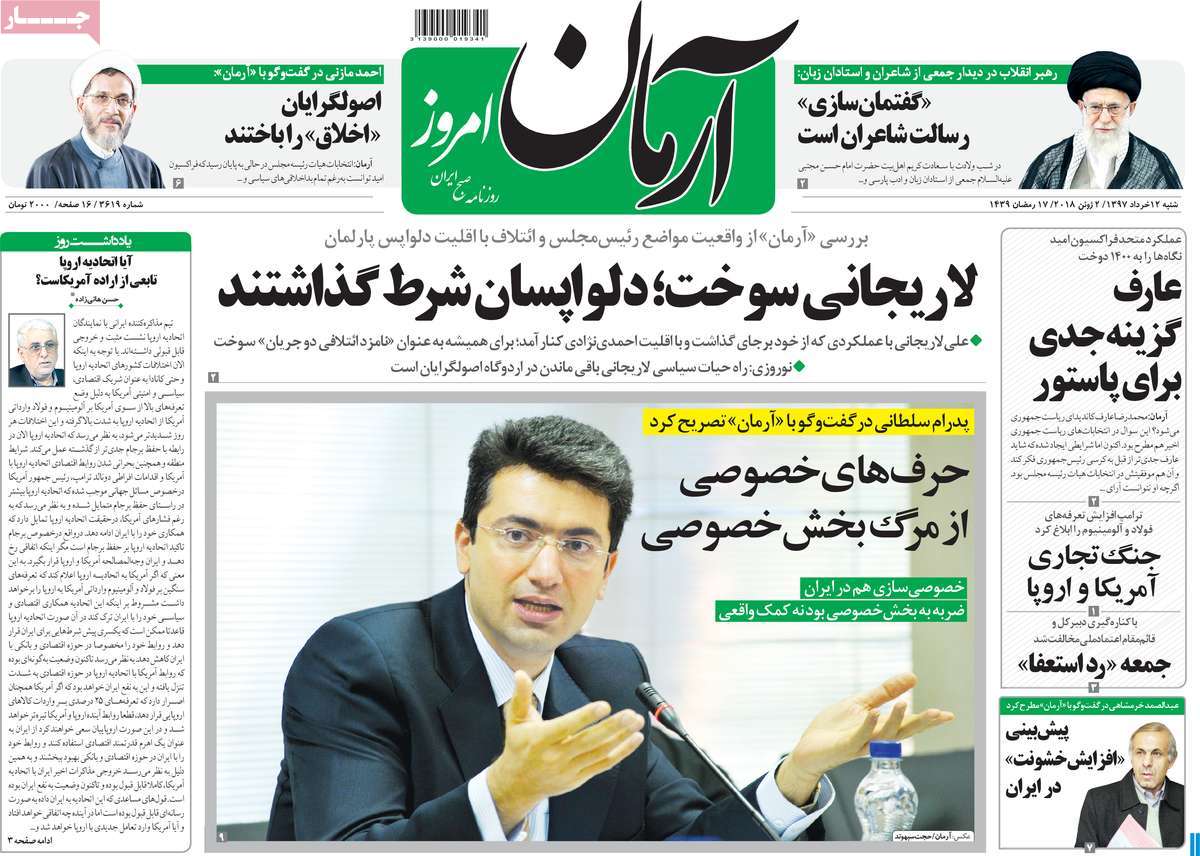 ---
Donya-ye Eqtesad:
1- Friday of Terror in Europe
Italian President Backs Off against Populists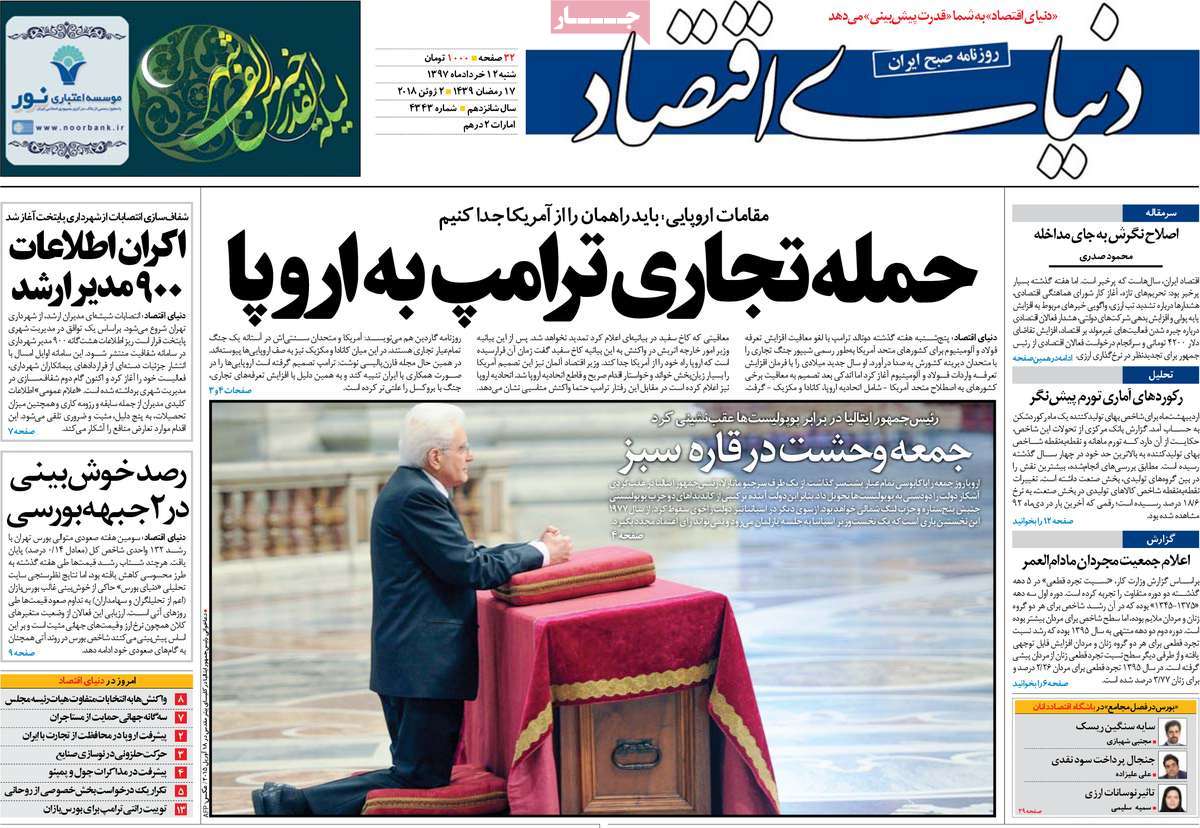 ---
Ebtekar:
1- Trump's Rebellion against Free Trade
2- Pyongyang's Second Man in New York! N. Korean Leader's Letter Delivered to Trump
---
Etemad:
1- Analyst: Europe Not Capable Enough to Meet Our Demands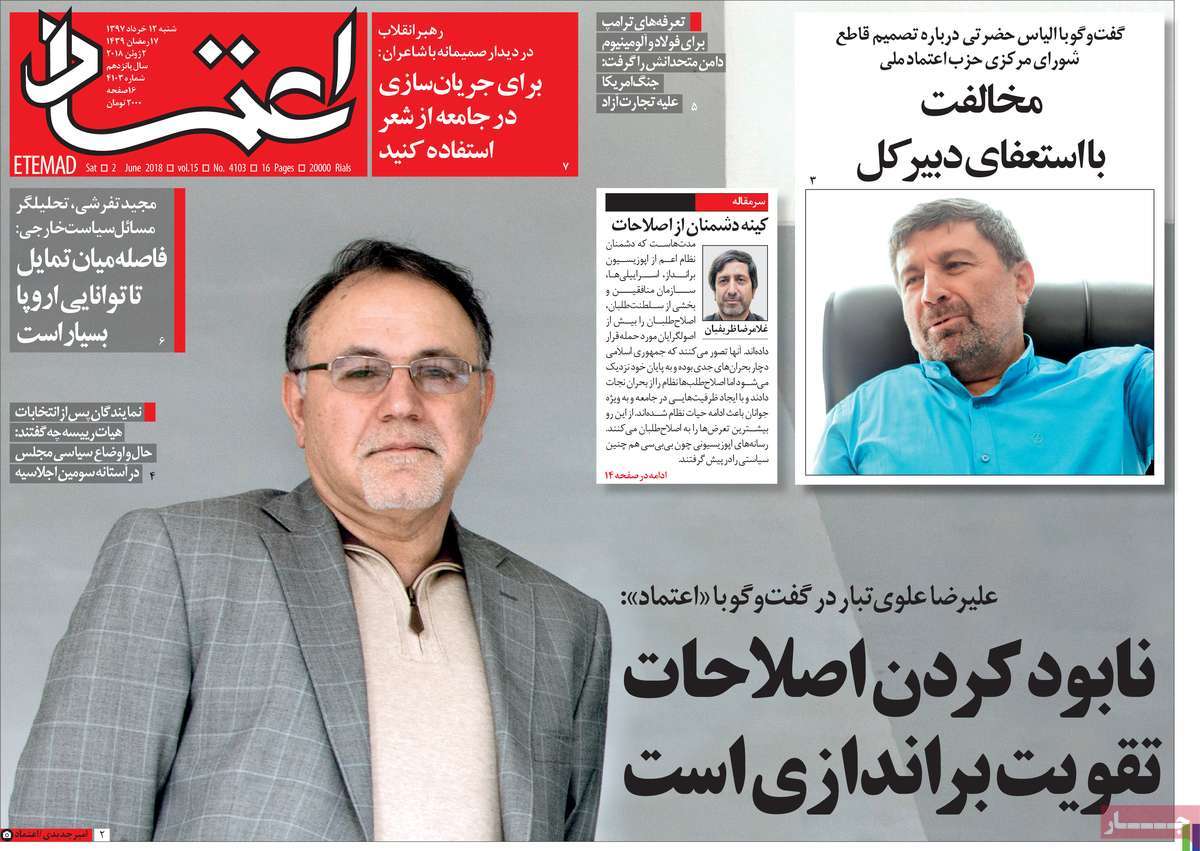 ---
Ettela'at:
1- P4+1 Warns US about Opposite Effect of Sanctions on Iran's Nuclear Activities
2- Assad: Iran Has No Military Forces in Syria unlike Israel's Claim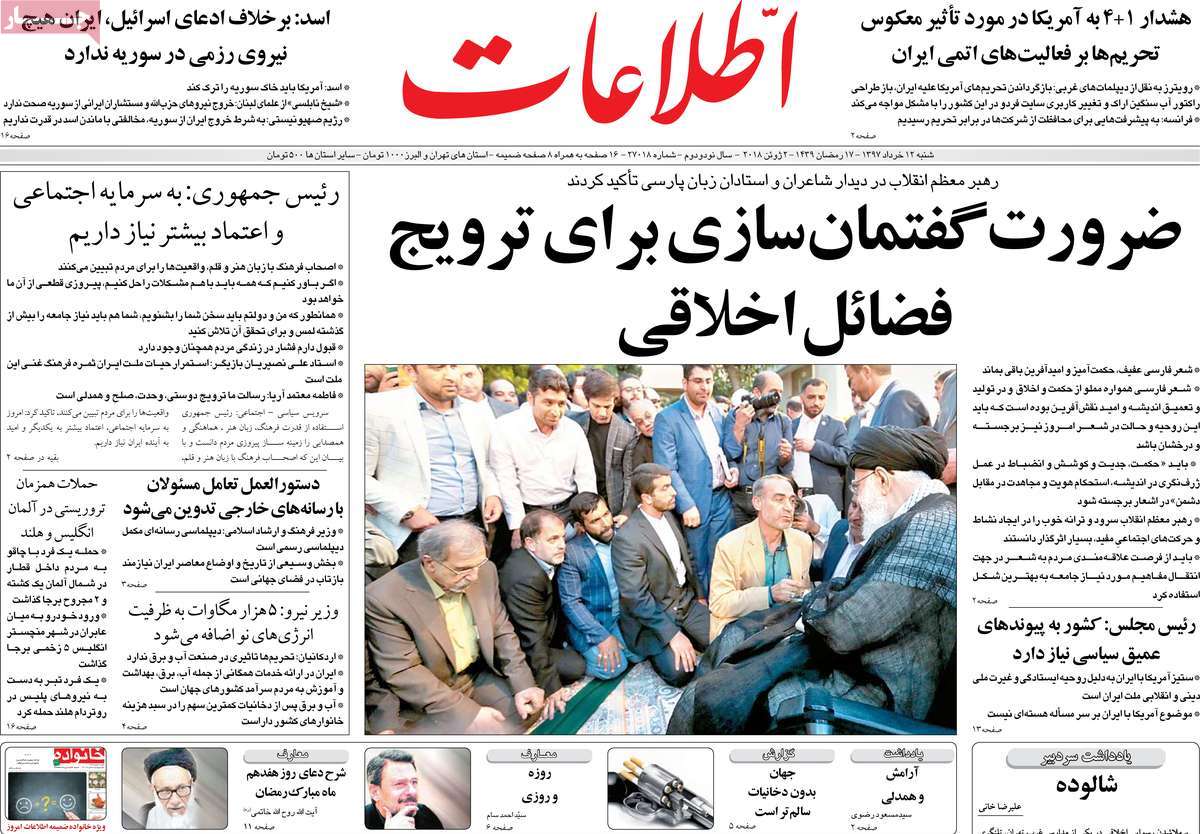 ---
Farhikhtegan:
1- Iran Holds Only 2% of Neighbour's $1,000-Billion Market
Officials Concerned about Future of Business Ties with US, Europe, While Missing Abundant Opportunities in Neighbouring Countries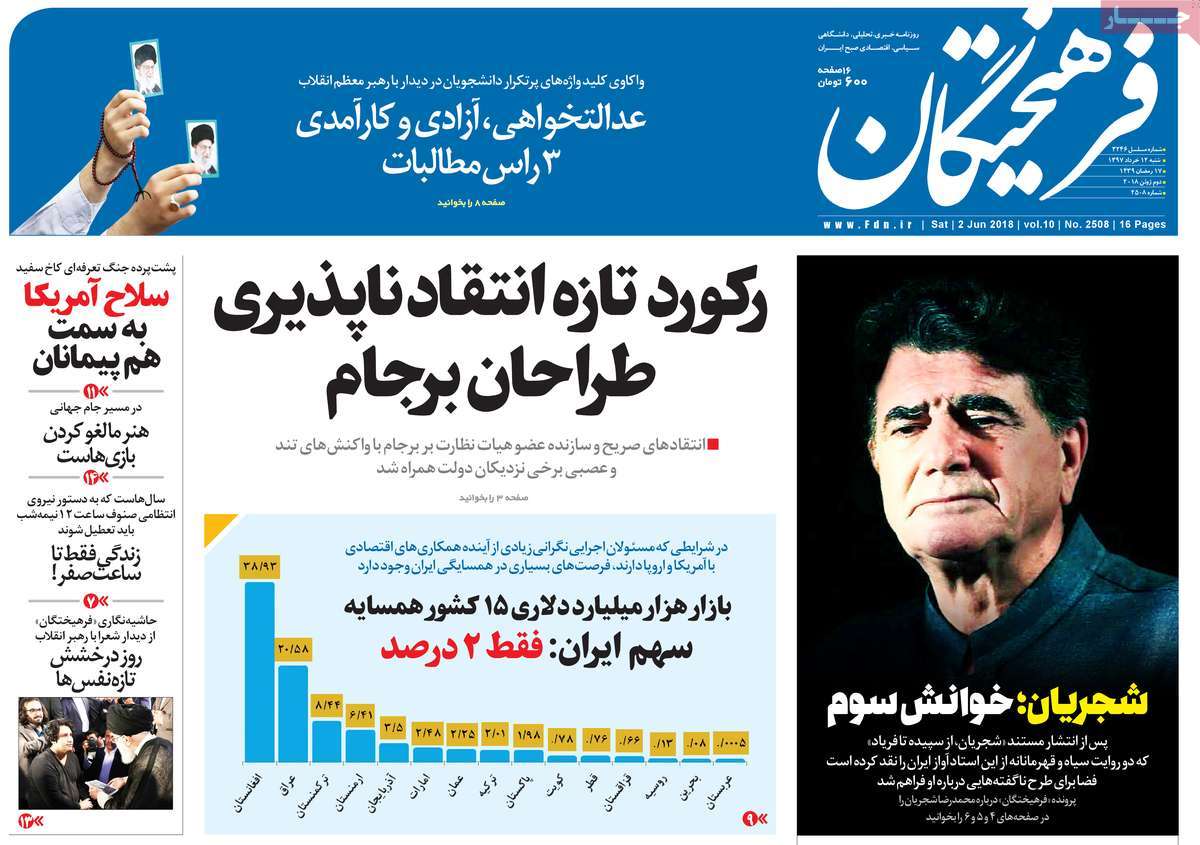 ---
Haft-e Sobh:
1- Iran Target of US-Europe Economic Conflict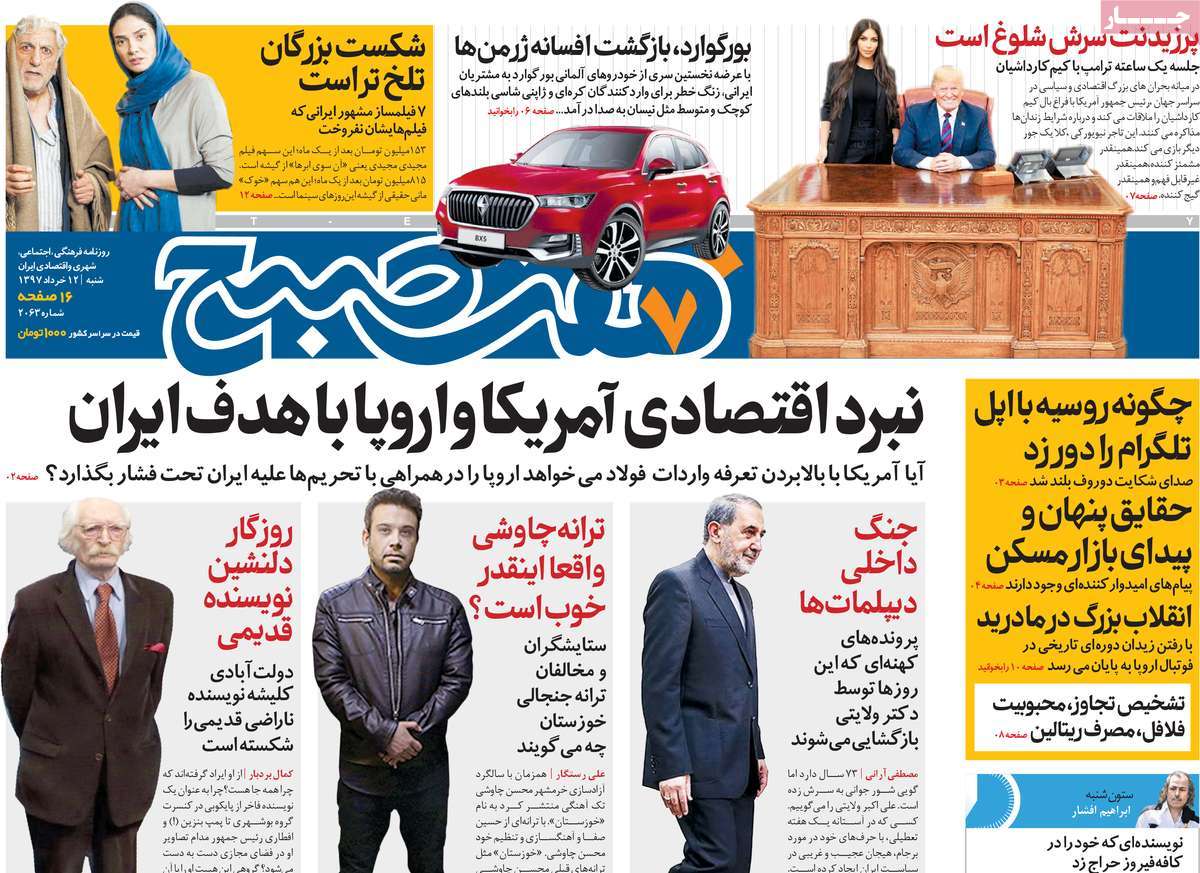 ---
Iran:
1- Black Day of World Trade: Unprecedented Development in History of Global Trade Ties
---
Jame Jam:
1- Trump Pushes Button of Trade War by Imposing Heavy Tariffs on Steel Imports from EU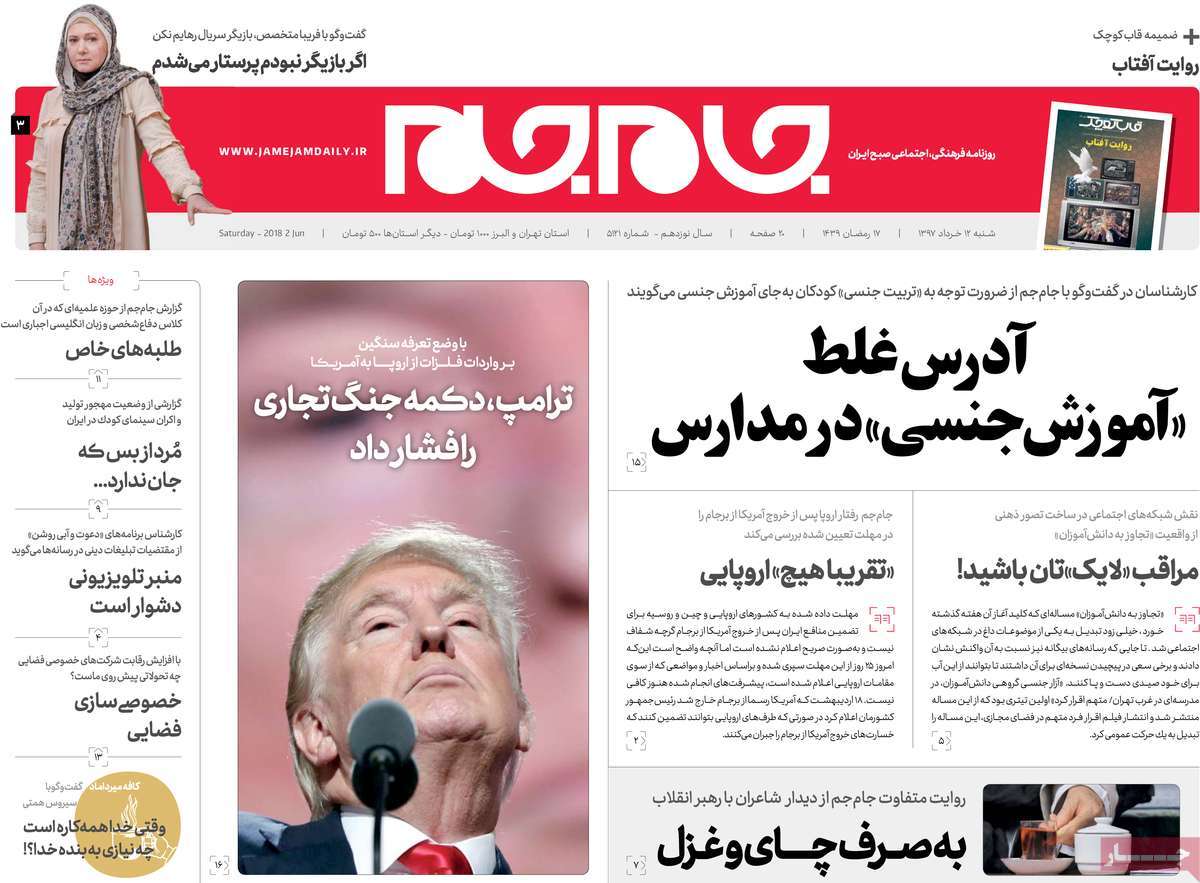 ---
Javan:
1- European Frustration
French FM: Europe's Efforts Not Enough to Save JCPOA
Europeans Feeling They Cannot Resist US despite Inclination to Save JCPOA
Mogherini Looking for Partners to Save JCPOA from Beijing to Tokyo, Moscow
2- Europe Pulls Trigger of Steel War against US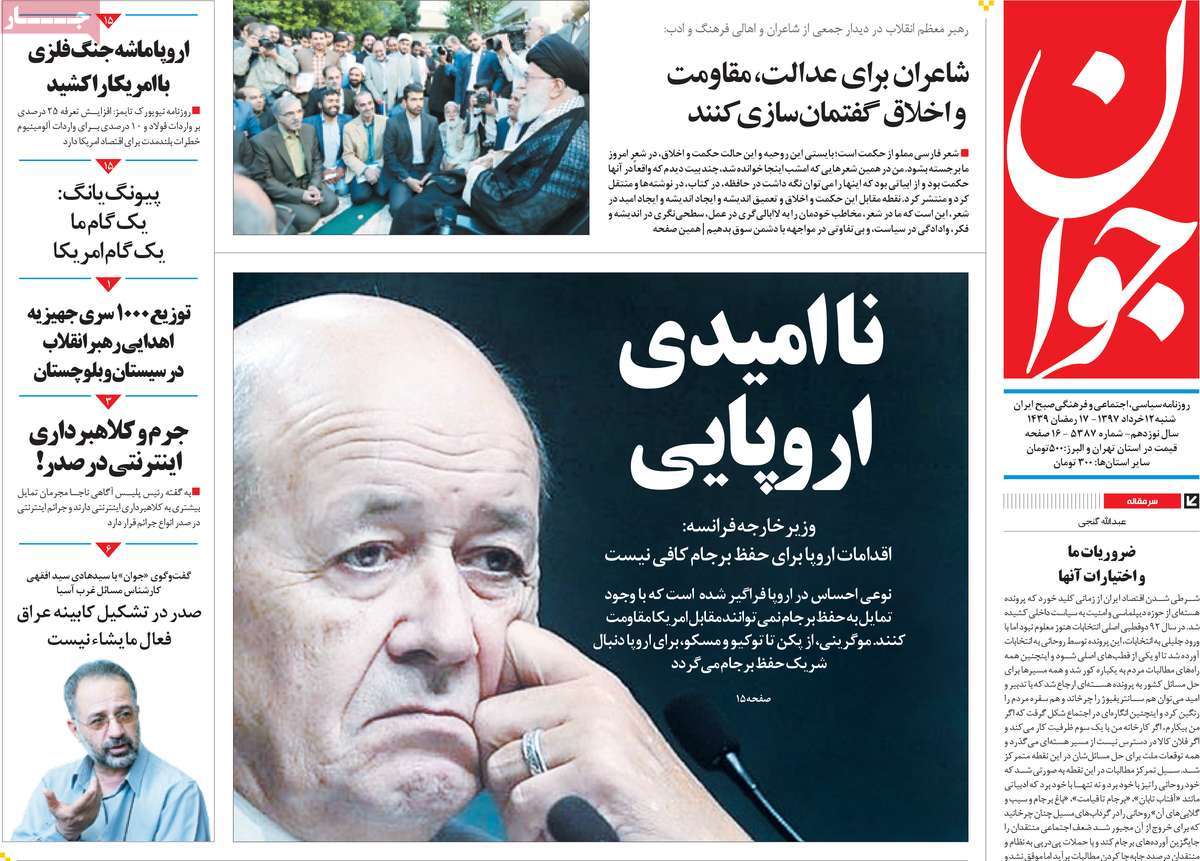 ---
Jomhouri Eslami:
1- Palestinian People Preparing for Glorious Day of Quds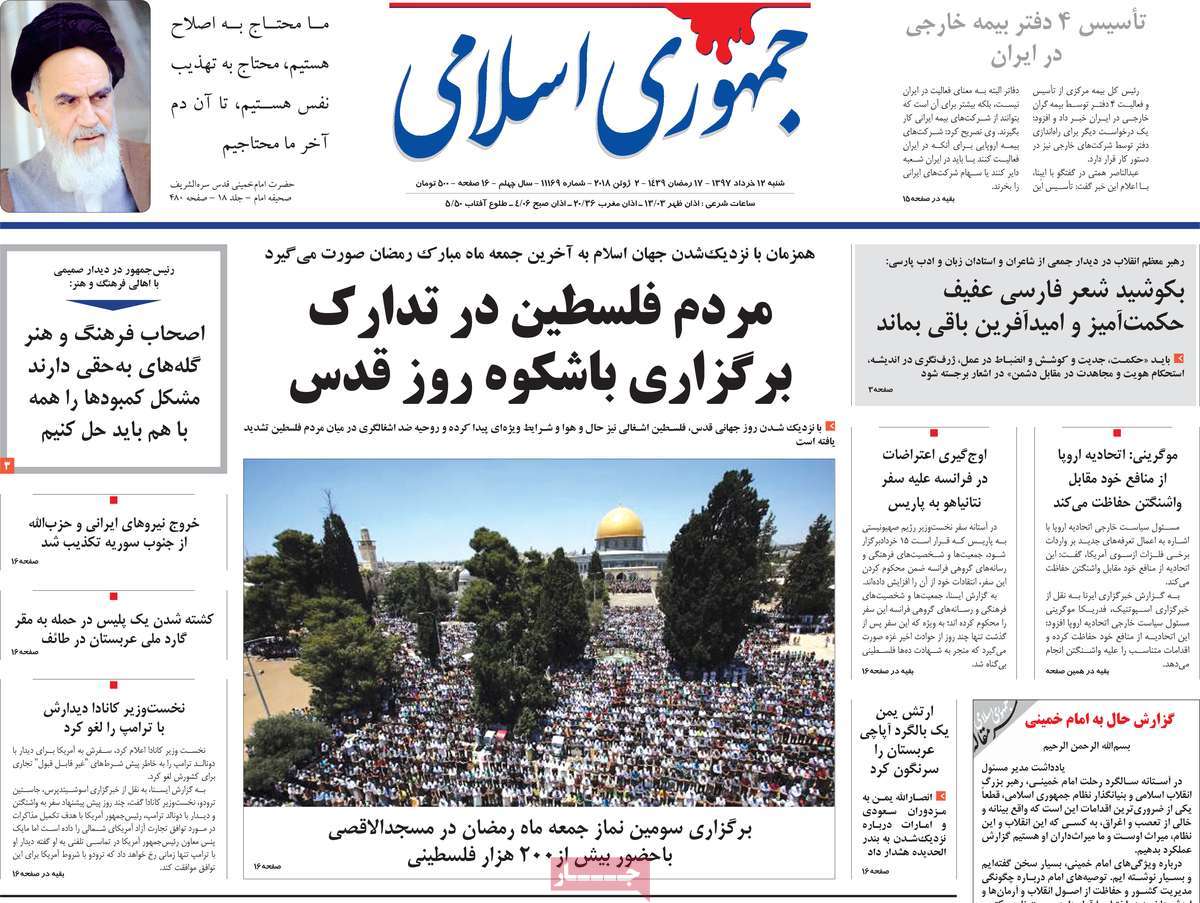 ---
Kayhan:
1- Iran's Apparel Market to Be Fully Seized by Turkey!
2- North Korea Stresses Step-by-Step Exchange of Concessions in Talks with US
3- Assad: We'll Liberate Areas Occupied by US by any Means Possible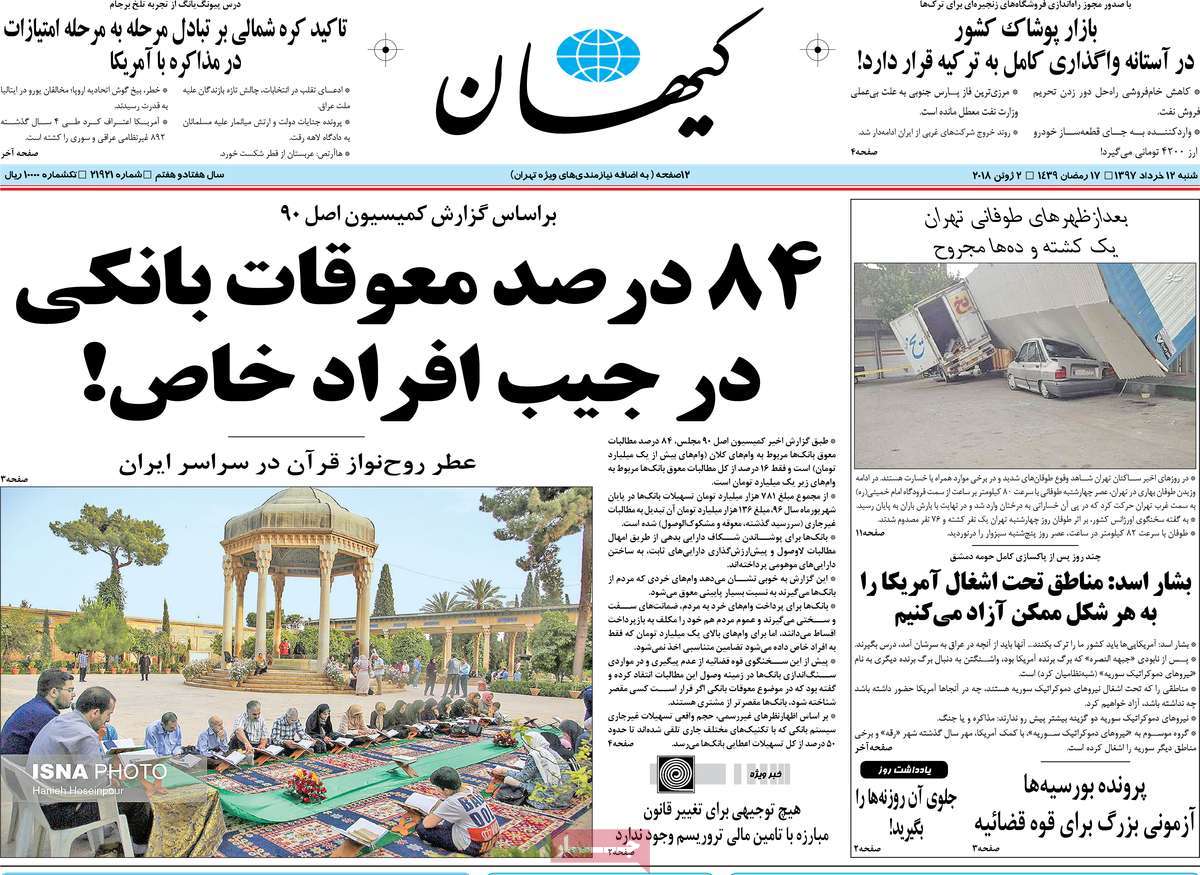 ---
Resalat:
1- Ayatollah Makarem Shirazi: Big Governments Selling Weapons at Expense of People's Blood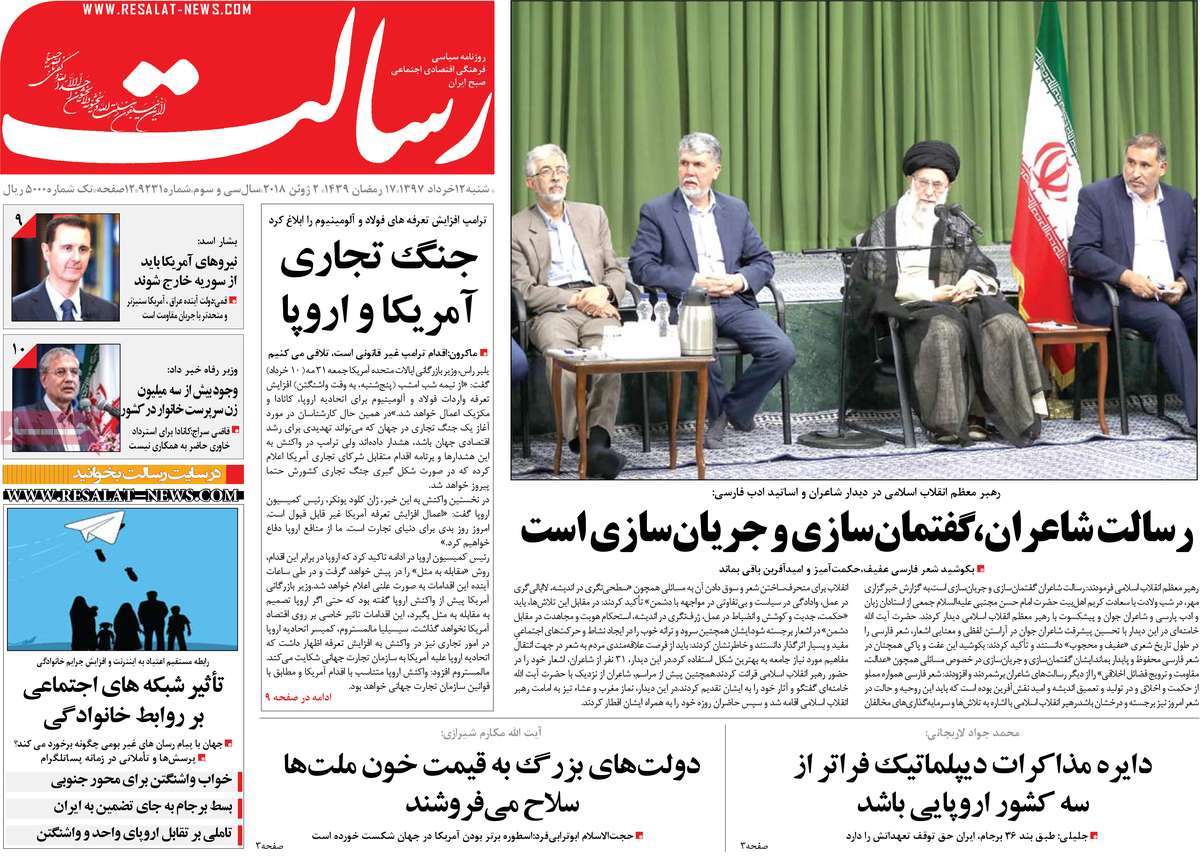 ---
Rooyesh-e Mellat:
1- We'll Retaliate!
Macron Calls Trump's New US Decision a Mistake
2- Larijani: We Have Plans to Prevent US Measures from Putting People under Pressure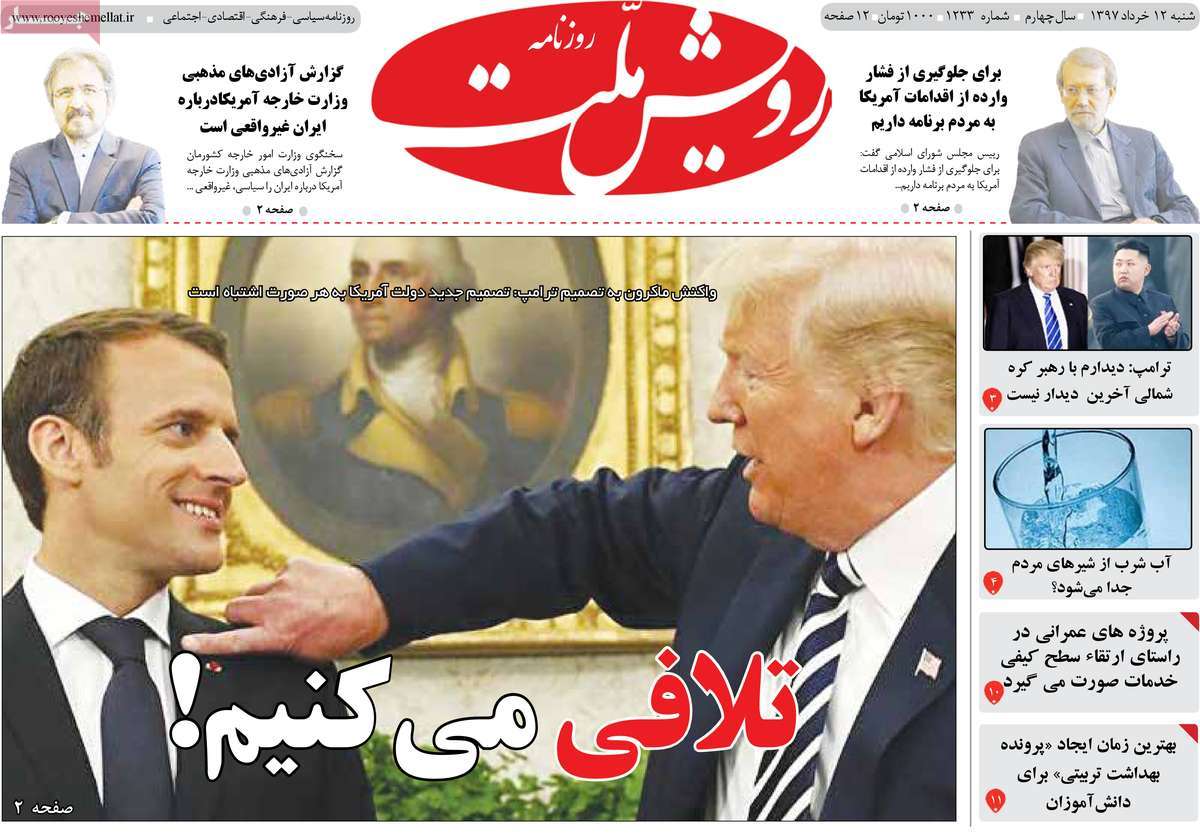 ---
Saheb Qalam:
1- Mogherini: EU Protects Its Interests against Washington
---
Setareh Sobh:
1- Kim Jong-un: We're Ready for Gradual Nuclear Disarmament
---
Shargh:
1- Conflict over Nuclear Car
Jalili: JCPOA Was Like Buying a Car for $1bn While Its Real Value Is $1m
Rouhani's Aide: You Committed So Many Offences with This Car that Its Fines Exceeded Its Value
2- Trump against Buddies
3- Iran's Top Security Official: Syria's Security Equal to Our Own Security
---
Tejarat:
1- Iran Leader: Songs, Lyrics Effective in Creative Social Happiness