Several papers today covered the remarks made by Iranian President Hassan Rouhani about the government's resolve to counter those disrupting the country's economy.
Also a top story was a letter by 100 political figures, mostly reformists, to call for Tehran's direct and unconditional negotiations with US President Donald Trump, and the reactions to the controversial letter.
The latest developments in Yemen's port city of Hudaydah, and the Saudi-led coalition's ongoing operation to seize the city also received great coverage.
The above issues, as well as many more, are highlighted in the following headlines and top stories:
Abrar:
1- EU's Sanctions against Russia Extended
---
Aftab-e Yazd:
1- Alireza Jahanbakhsh: We'll Once Again Take People to Streets
2- Rouhani to Visit Switzerland, Austria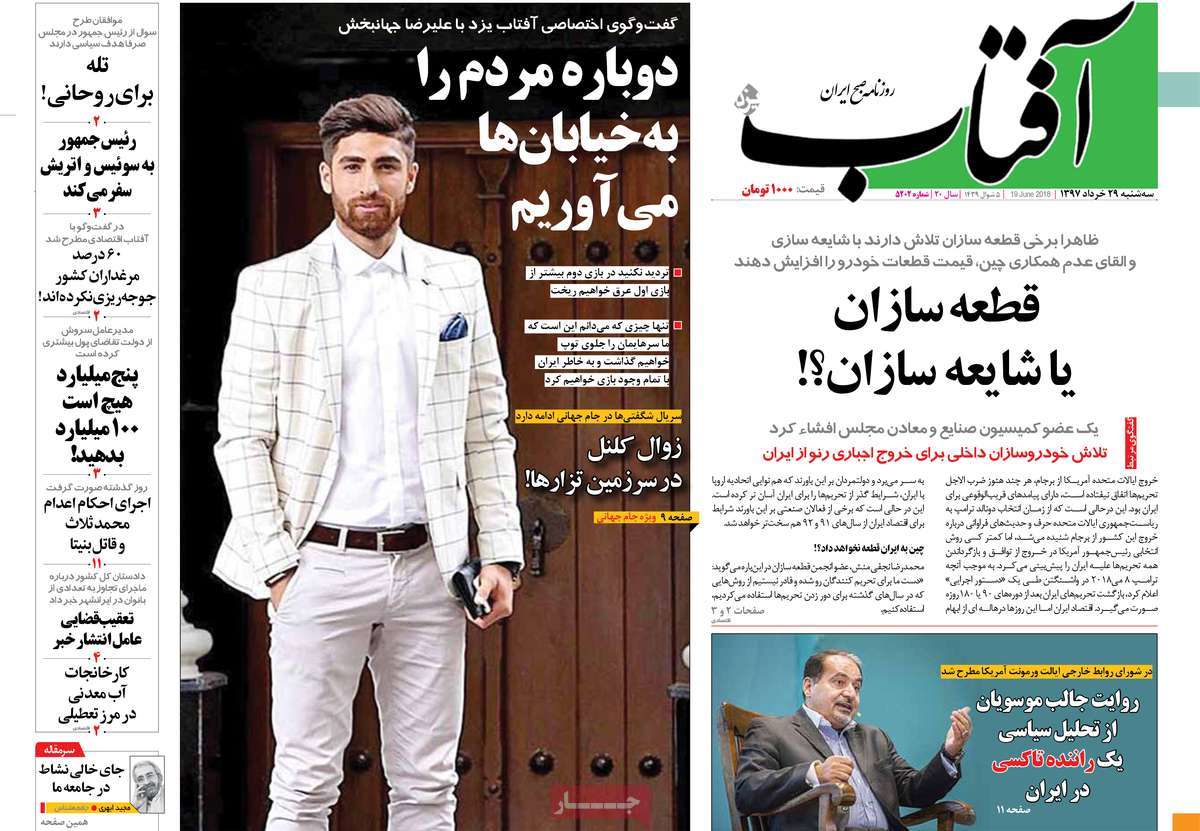 ---
Arman-e Emrooz:
1- Nike Admits It Wasn't Its Choice to Deprive Team Melli of Its Shoes
2- America's Inappropriate Behaviour towards Iranian Volleyball Players
Players Interrogated by FBI upon Arrival at US Airport
---
Besharat-e Now:
1- A Group of Reformists Call for Transparent Negotiation with US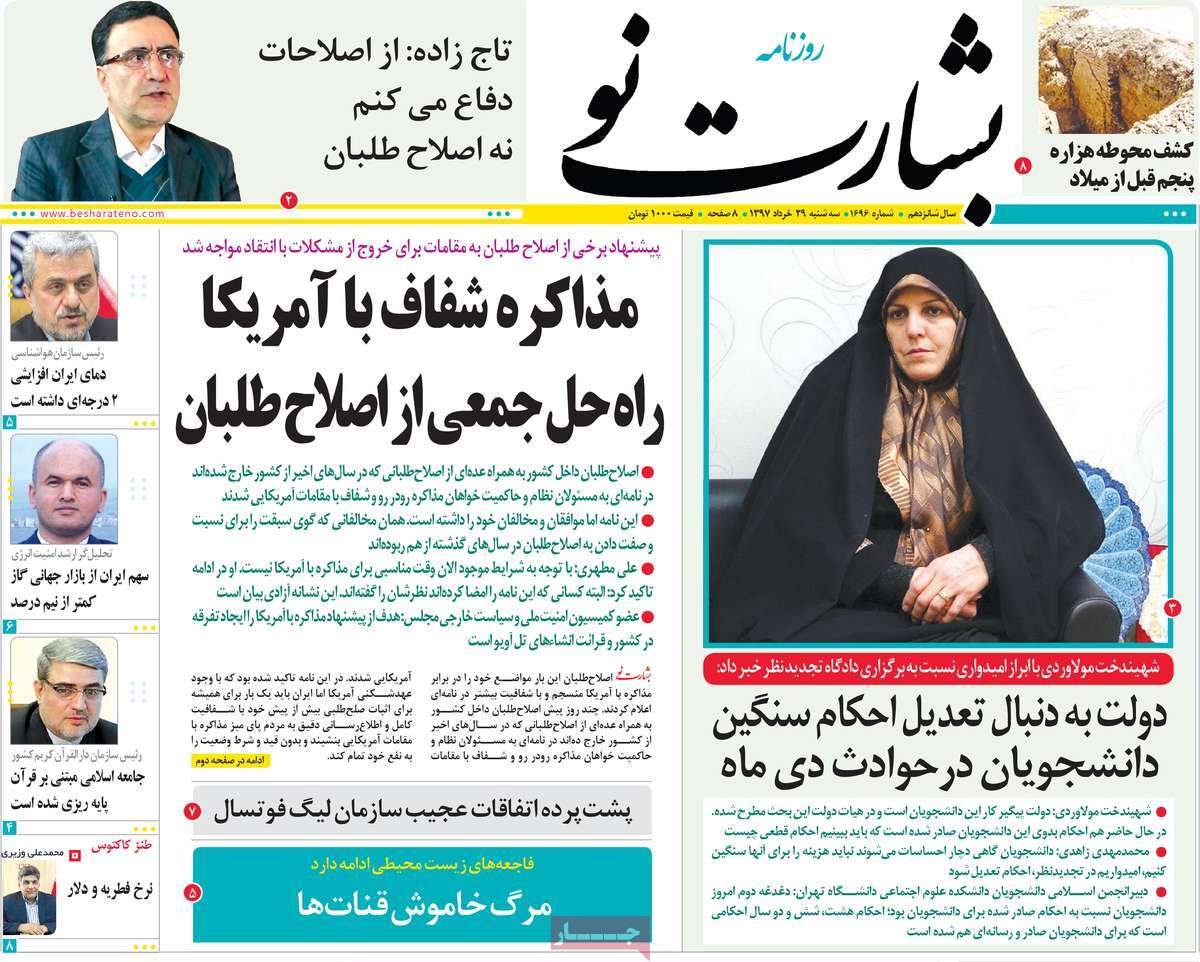 ---
Donya-ye Eqtesad:
1- Melania's Rebellion against President Trump
US First Lady Criticises the Way Trump Implementing Immigration Law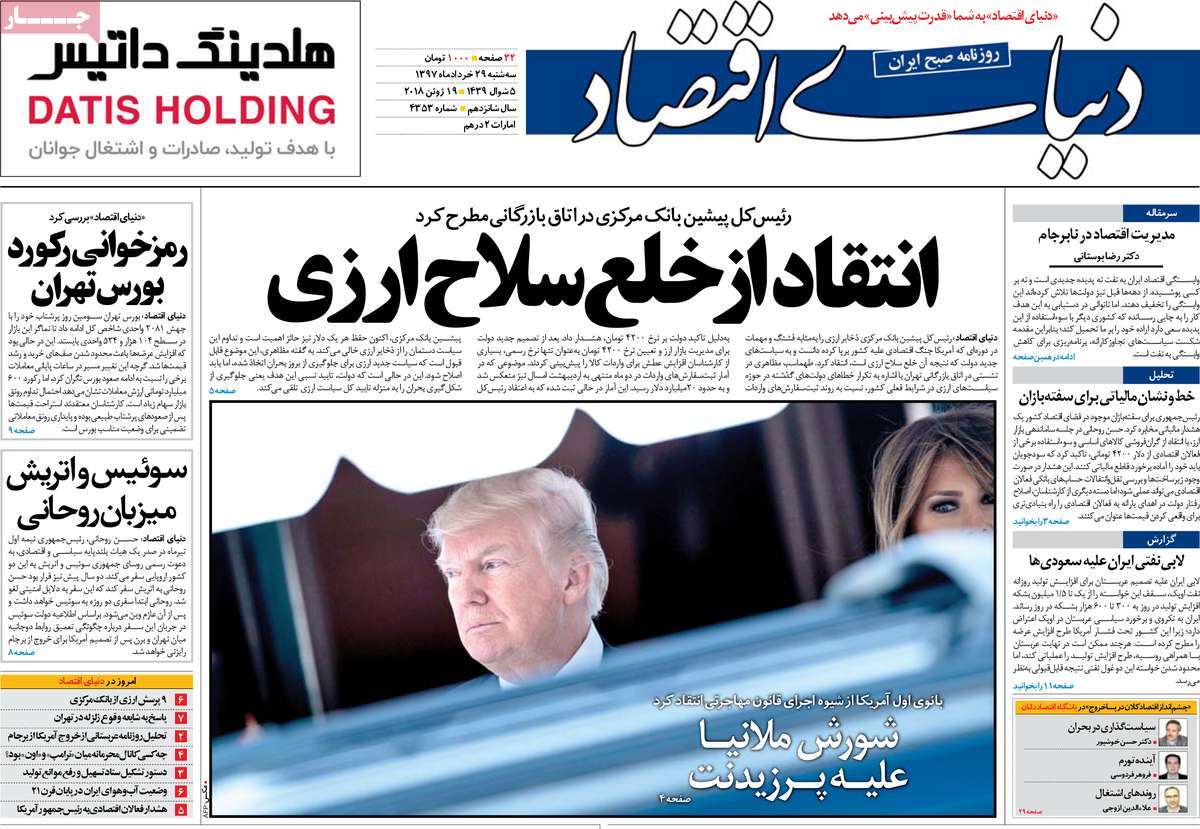 ---
Ebtekar:
1- Rouhani: Those Disrupting Economy Must Await Decisive Punishment on Tax Payment
2- Israeli Media Claims Former Israeli Energy Ministry Arrested on Charge of Spying for Iran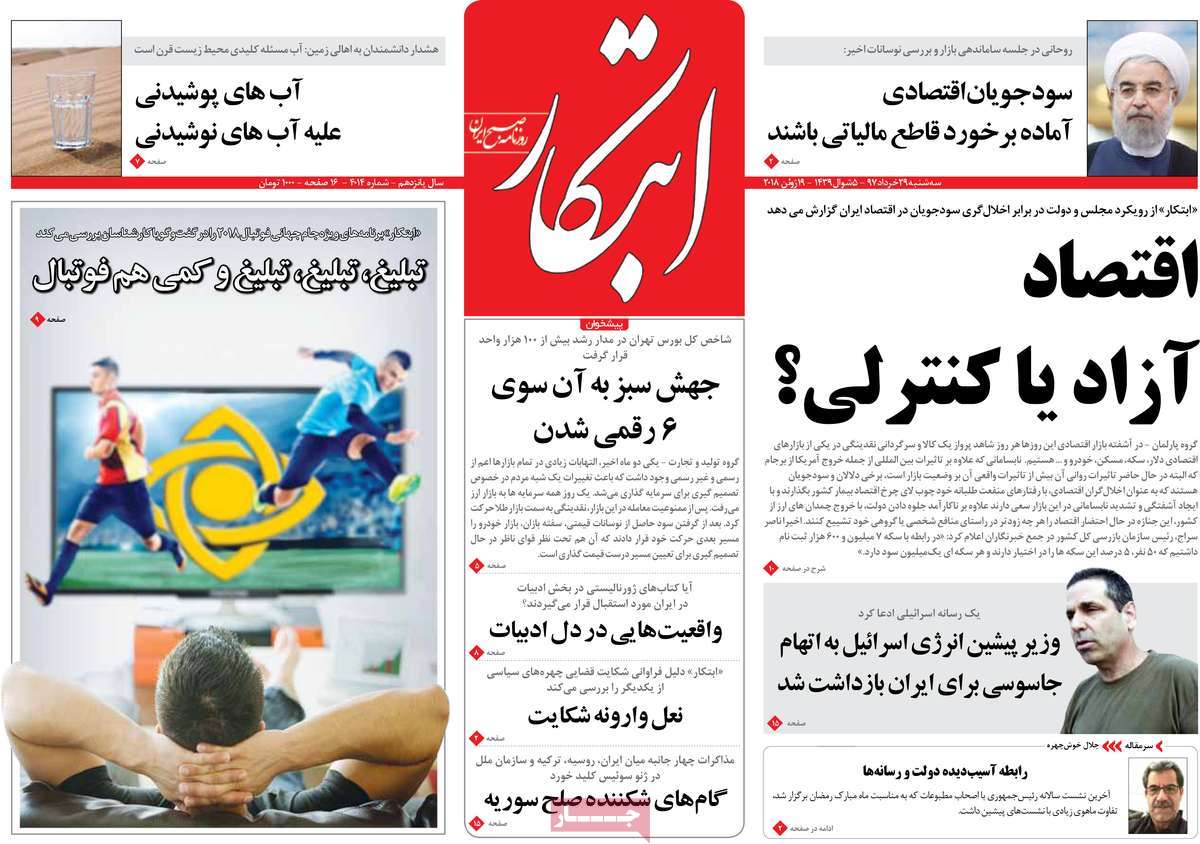 ---
Etemad:
1- Game with Four Players
What Direction Will OPEC Meeting Take Market to?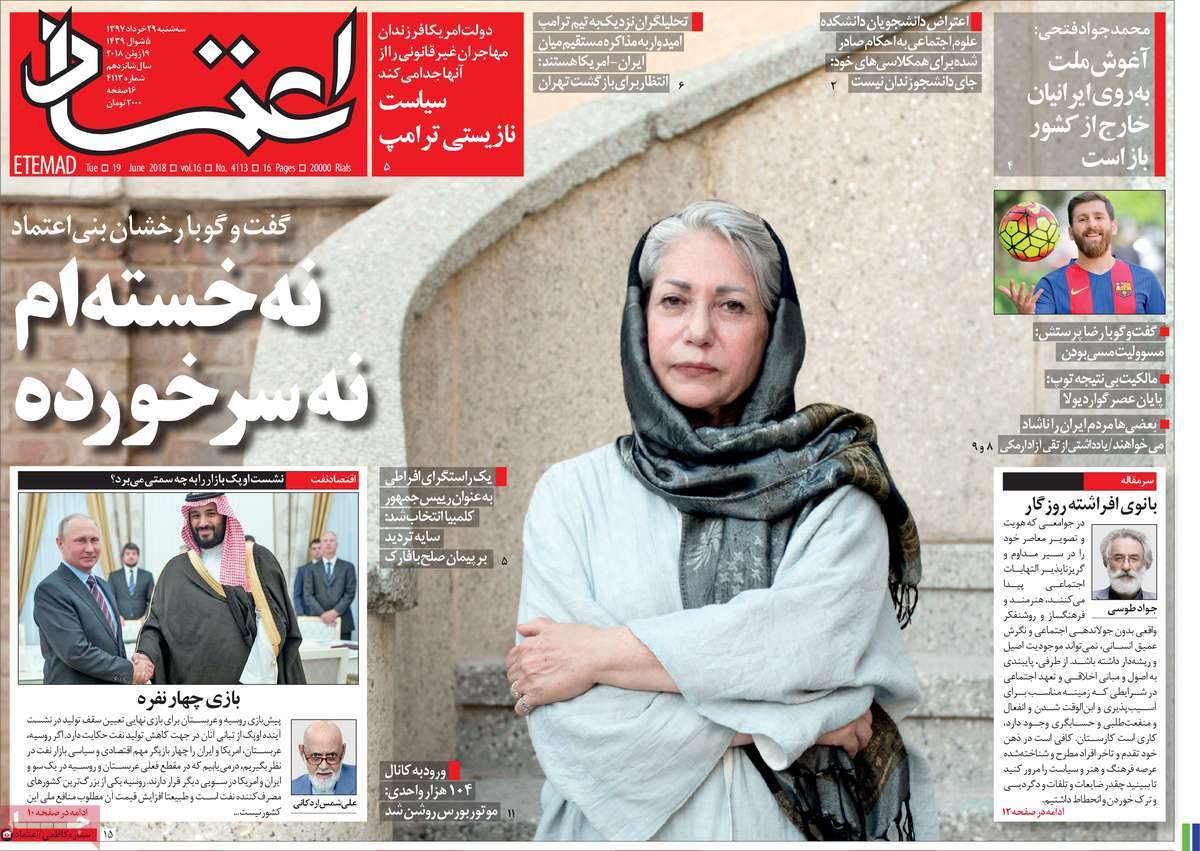 ---
Ettela'at:
1- Warning about Exacerbation of Climate Change in Iran
2- Iran to Veto Saudi Arabia's Plan to Increase Oil Output
3- Arab Coalition in Hudaydah Quagmire: 123 Killed, 160 Captured
---
Iran:
1- Negotiation with US: Never, or Some Other Time
Critical Reactions to Plan by 100 Political Activists to Start Talks with Trump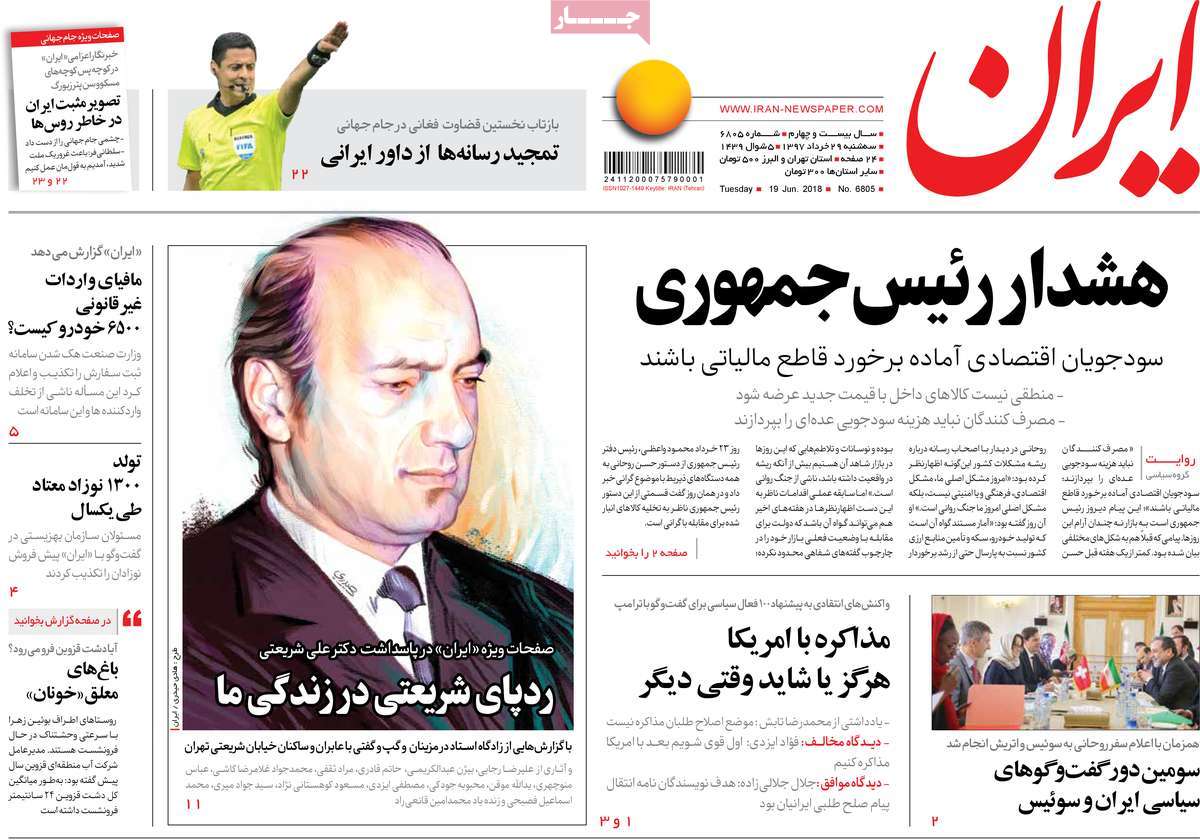 ---
Javan:
1- Head of Government against His Own Government
Rouhani Threatens to Impose Heavy Taxes on Those Disrupting Economy
President Seems to Be Addressing His Fellow Government Executives, Bodies
2- US' Stupidity in Interrogating Iranian Volleyball Players
---
Kayhan:
1- Identifying, Punishing Biggest Disruptors First Step to Resolve Economic Woes
---
Khorasan:
1- National Document of Sex Education Waiting for Government's Approval
---
Payam-e Zaman:
1- MP: Proposal to Start Talks with US Is a Divisive Plot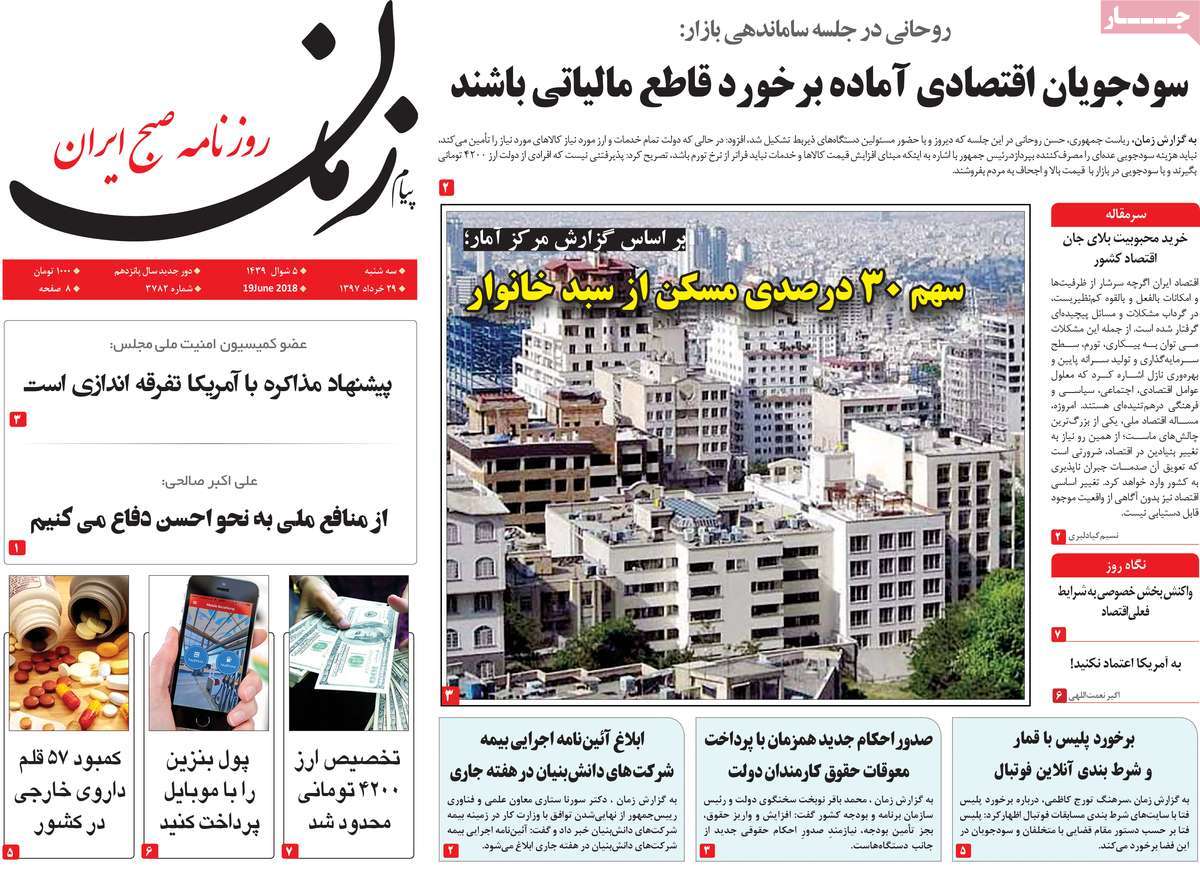 ---
Rooyesh-e Mellat:
1- Saudis Outraged by Coalition among Iraq's Resistance Groups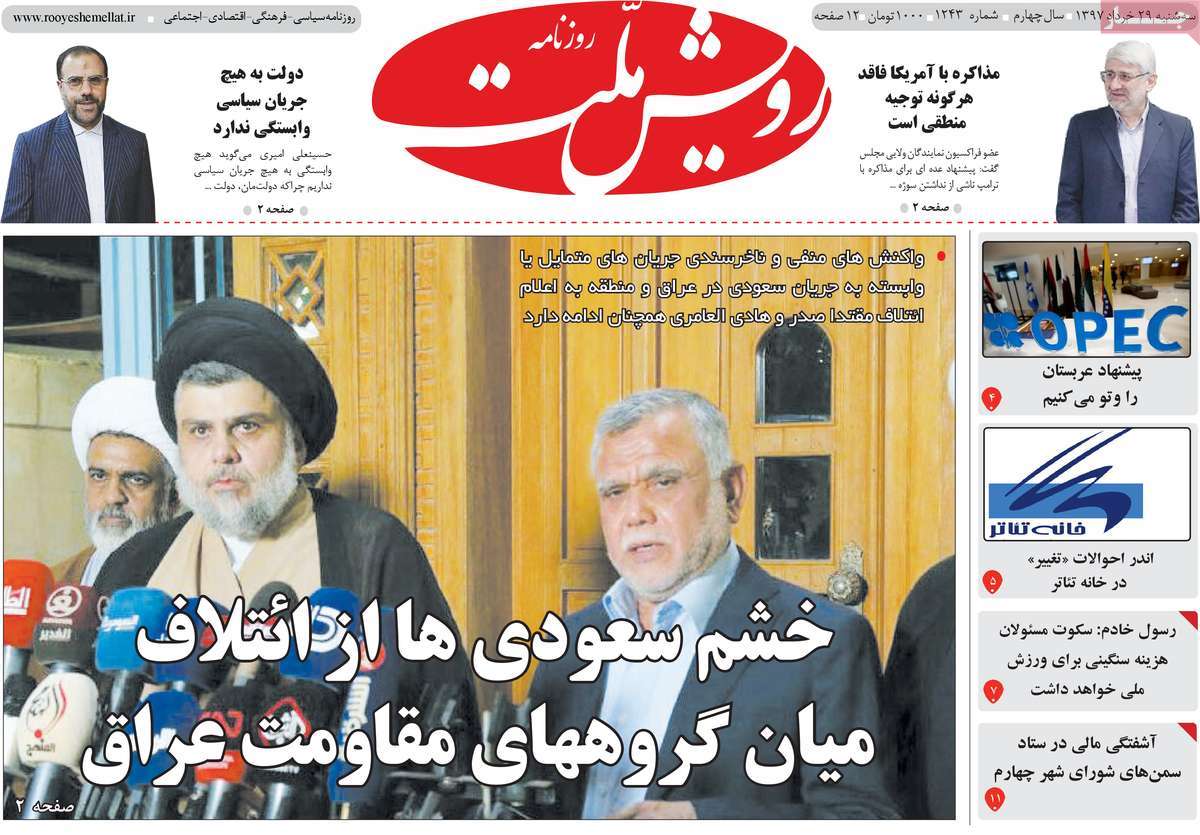 ---
Sazandegi:
1- Who Will Benefit from Popular Campaign "I Won't Buy Anything Expensive"?
Will It Help Iran's Economy, National Production?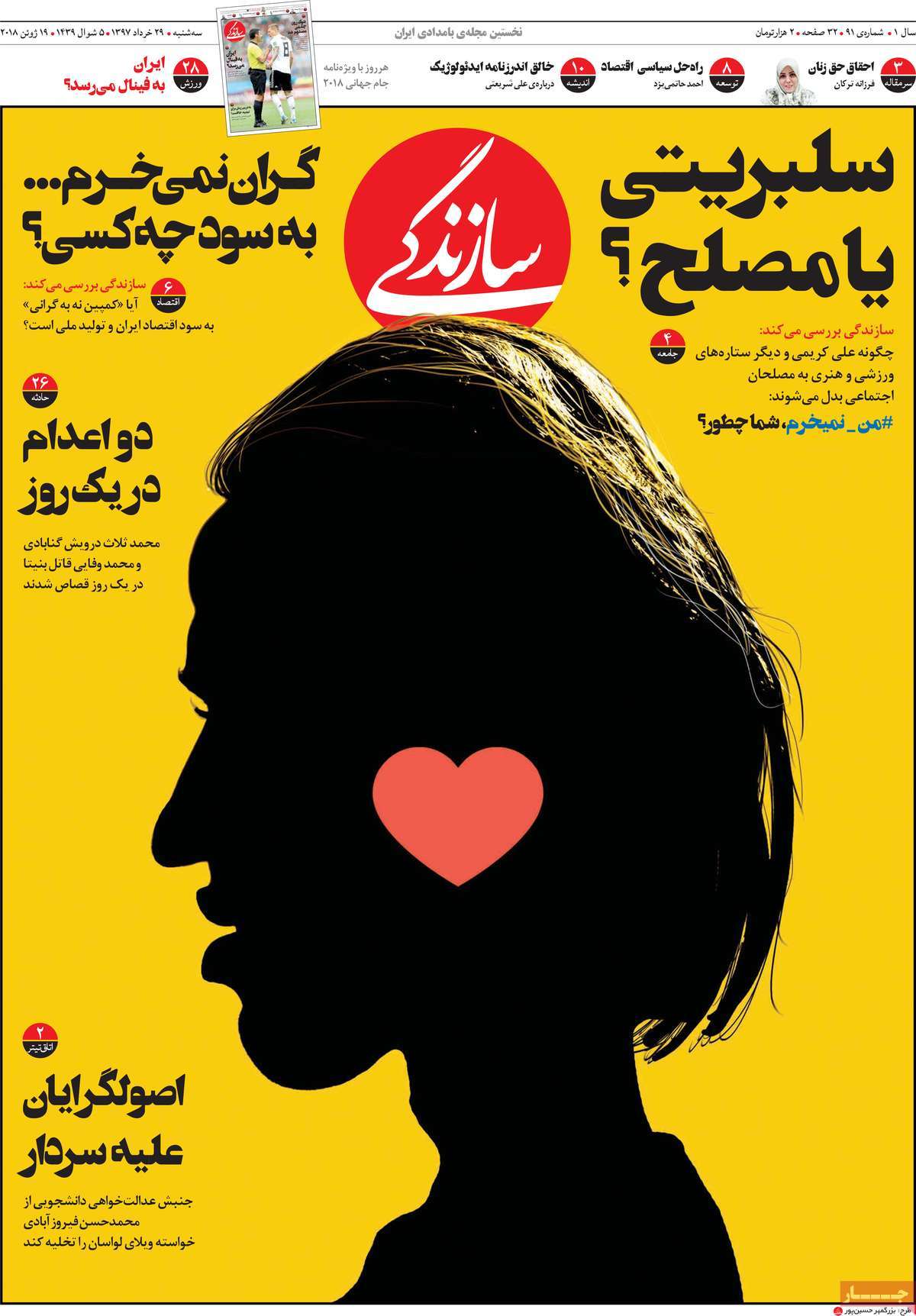 ---
Sepid:
1- $15 Million Worth of Pharmaceuticals Imported from US: Customs Statistics
---
Shahrvand:
1- Iran's Abadan Saddened by Brazil's Draw against Switzerland
A Report on Iranian City Whose People Are All Fans of Brazil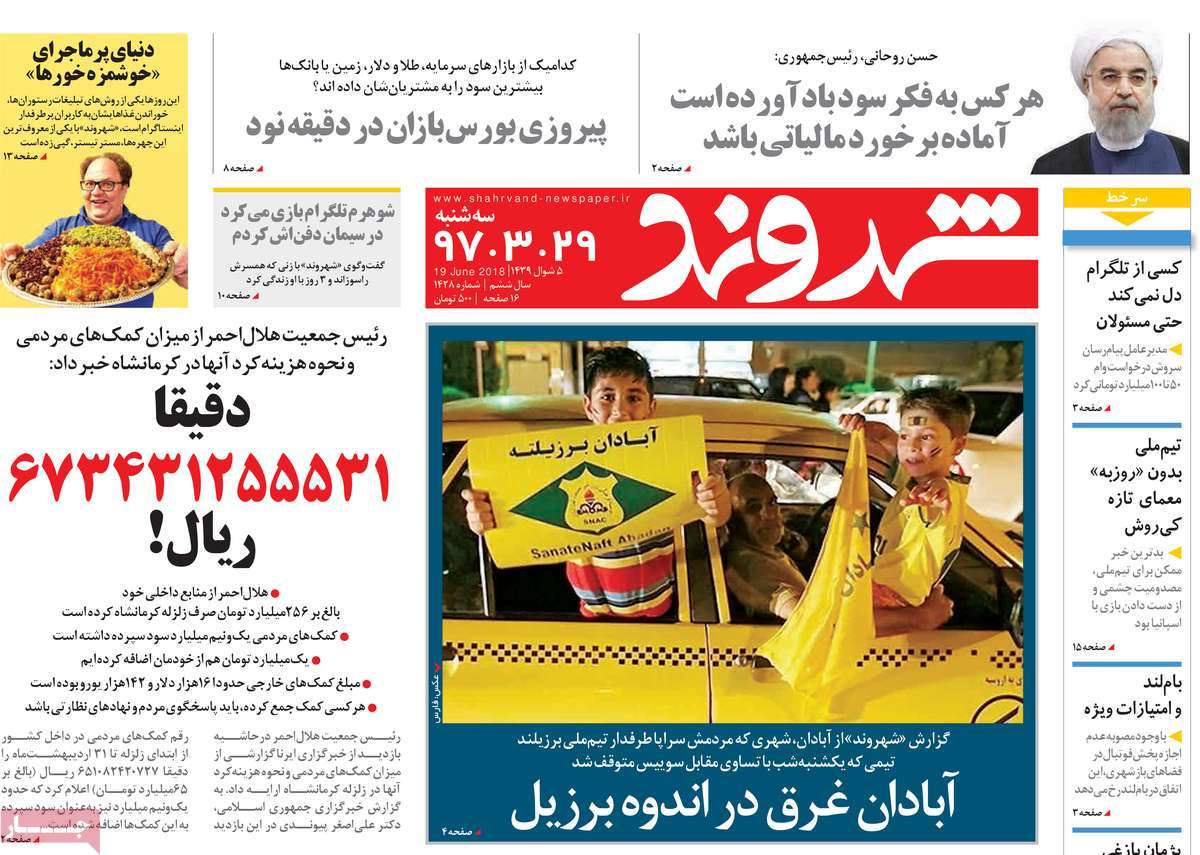 ---
Shargh:
1- Iran Prosecutor General Dismisses Reports on Rape of 41 Girls in Iranshahr
We'll Prosecute the Person Who Disseminated the Fake News
2- A Weak Iran Is What China, Russia Want (Editorial)
3- Afghans Losing Interest in Iran's Market, Immigrating to Find Better Job Opportunities
---
Sobh-e Now:
1- No Foreign Currency with Official Rate to Be Allocated to Import of Cosmetics