Newspapers today widely covered a campaign launched by former football player Ali Karimi, a popular celebrity, to ask people not to buy cars, gold coins, foreign currencies, and any other commodity whose price has soured for the next 30 days.
Also a top story was the abduction and rape of 41 girls in the city of Iranshahr in south-eastern Iran, whose news was recently declared by the Friday prayers Imam of the Sunni-majority city. Officials have vowed to seriously and immediately pursue the shocking case.
The latest developments in Yemen, particularly the defeats of the Saudi-led coalition in its attempt to seize the port city of Hudaydah, also received great coverage.
The above issues, as well as many more, are highlighted in the following headlines and top stories:
19 Dey:
1- Mashhad, Command Centre of Government's Opponents
2- 50-Year Record of Iran's Stock Exchange Market
---
Abrar:
1- EU Hails Historic Ceasefire in Afghanistan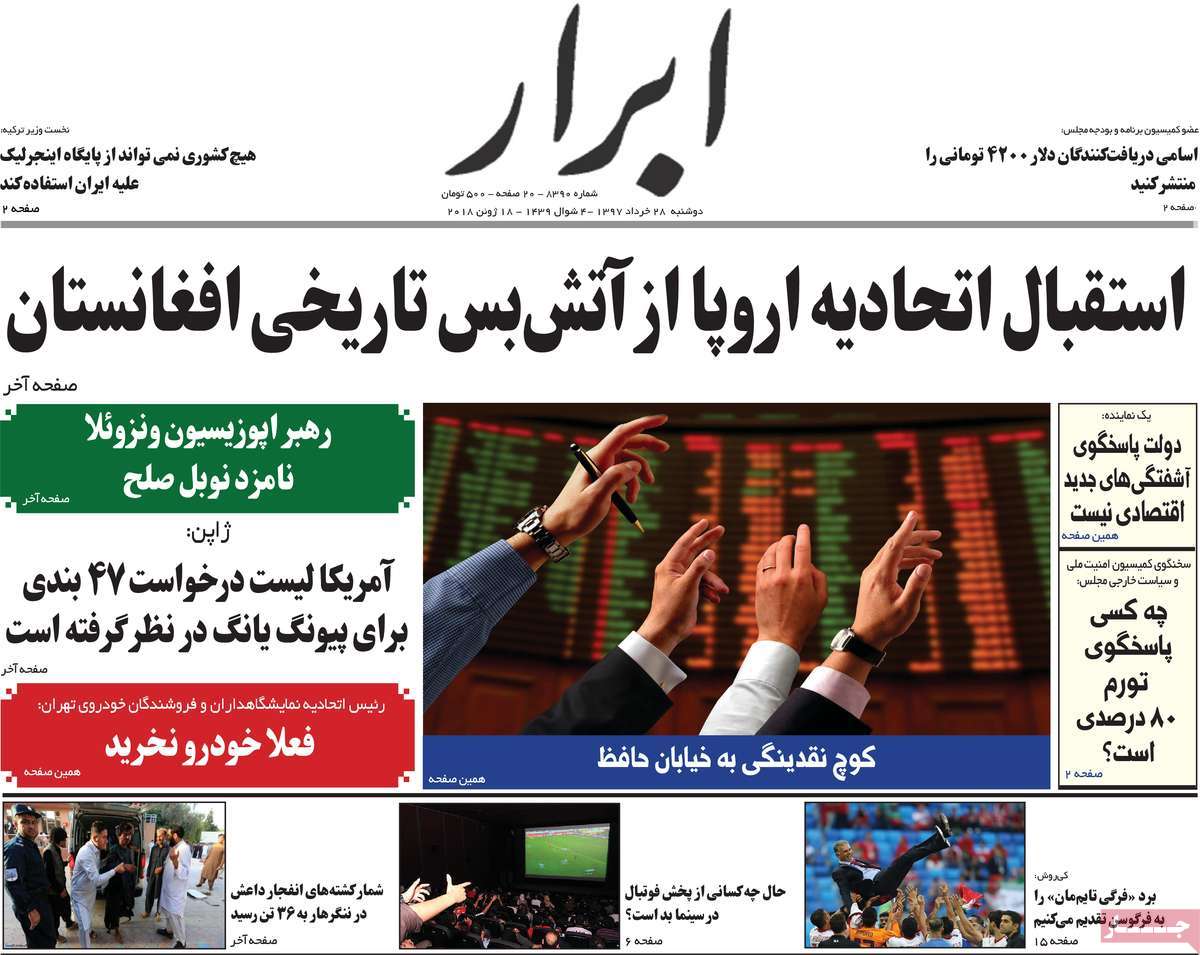 ---
Aftab-e Yazd:
1- Officials Still Refusing to Resign over Economic Woes, Other Issues
2- Jordan Following Saudi Arabia's Footsteps, Even in Choosing Female Minister!
---
Arman-e Emrooz:
1- Possible Return of Premiership to Iran
A Report on the Need for Increasing Authority of Top Officials
2- Issue of "Raping Young Girls": Disaster Repeated, This Time in Iranshahr
---
Ebtekar:
1- Economic Cold War: Industrial Countries to Join Hands against US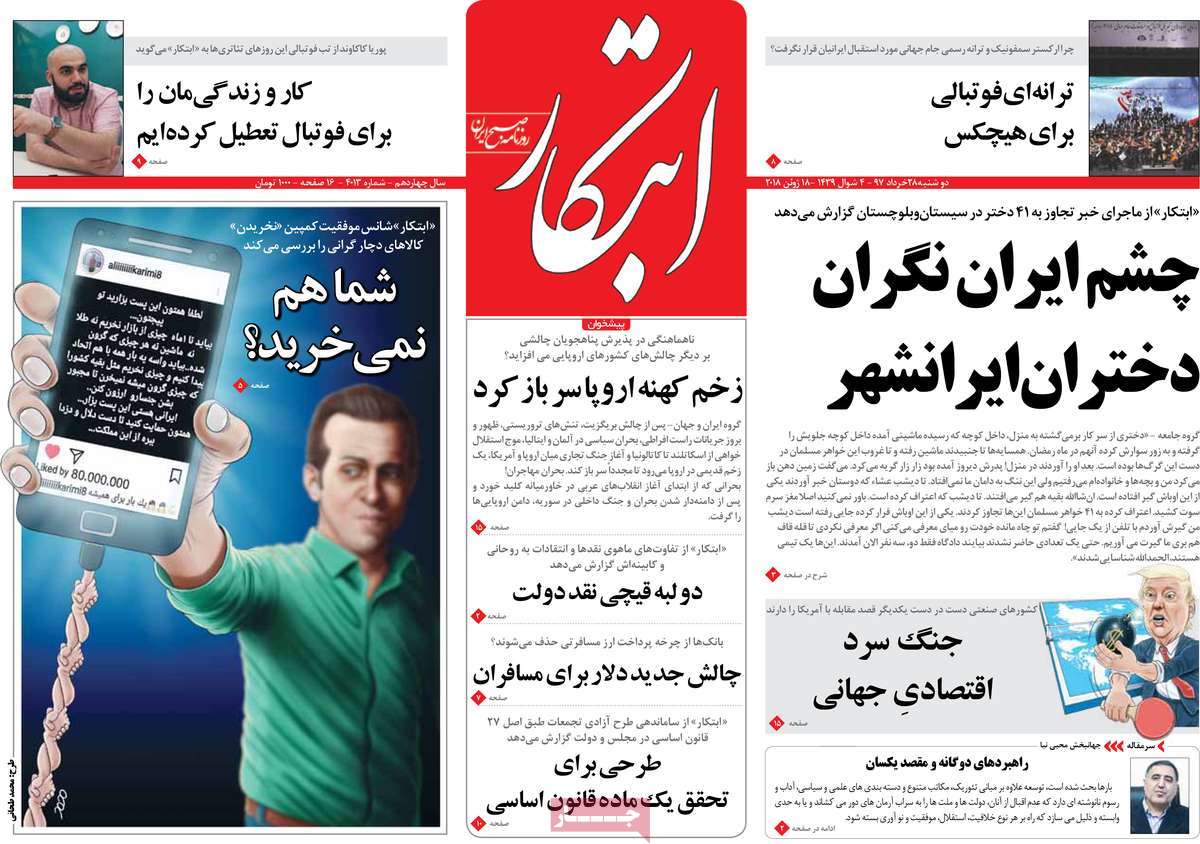 ---
Etemad:
1- Turning to People Instead of Officials
Popular Football Celebrity Ali Karimi Invites People Not to Buy Anything Expensive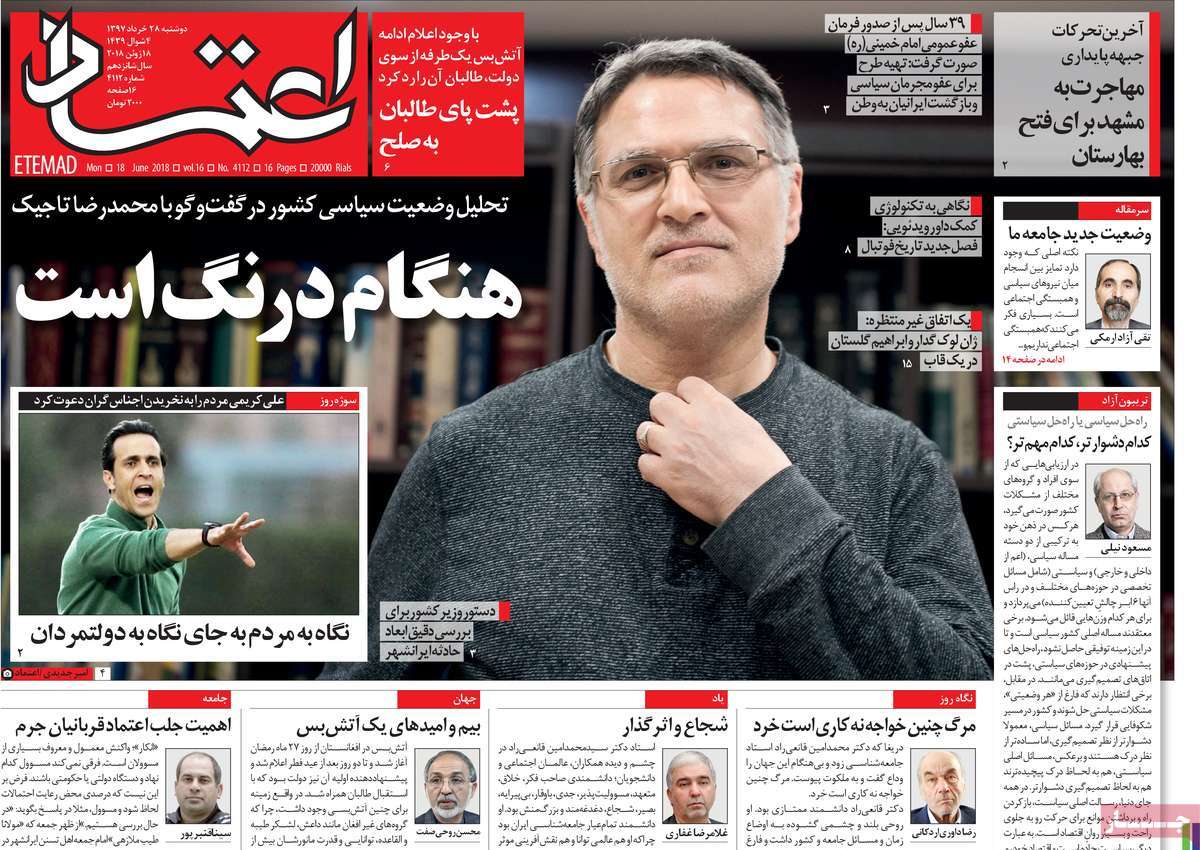 ---
Ettela'at:
1- Embarrassing Defeat: Saudi-led Coalition Bogged Down in Hudaydah
2- Turkey PM: Israel Is a Criminal Regime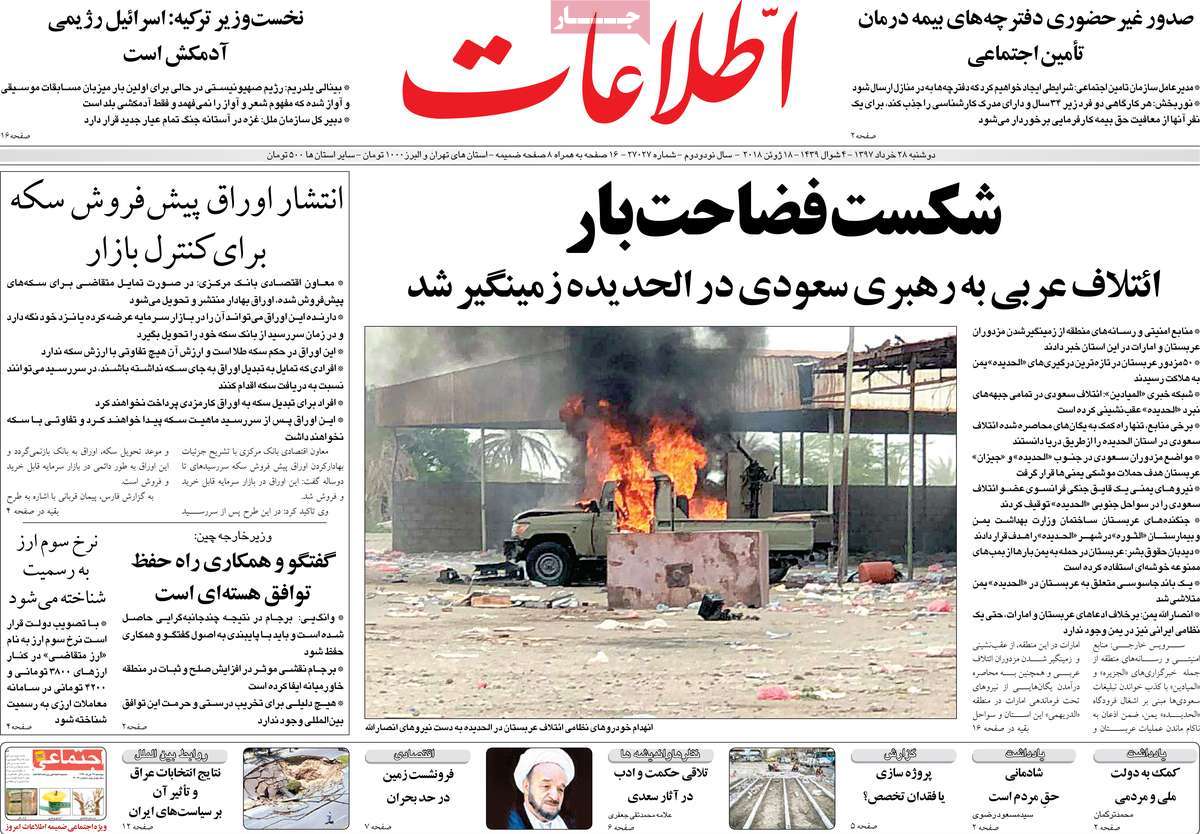 ---
Iran:
1- Story of 41 Girls Kidnapped in Iranshahr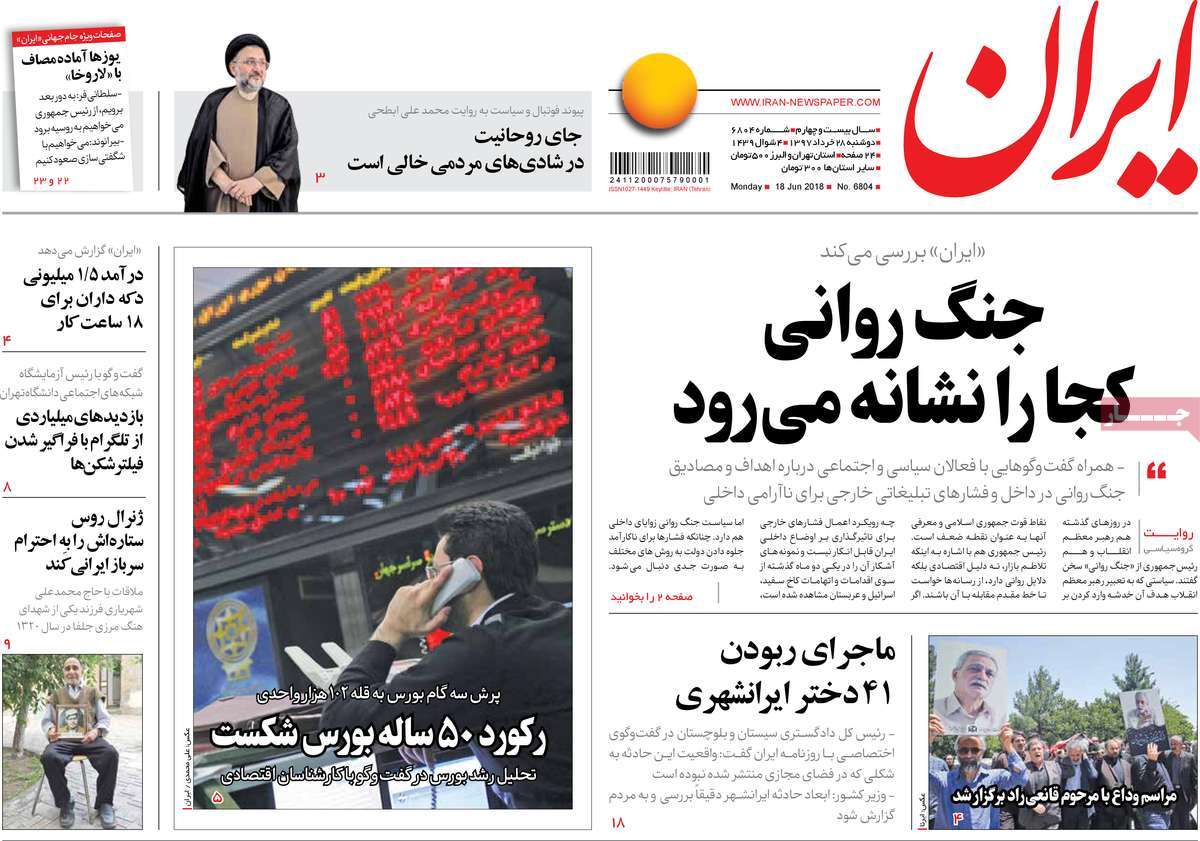 ---
Jame Jam:
1- Queiroz: Spain Cannot Be a Winner Just Because of Its Name
---
Javan:
1- Poor Yemenis Paralyze Western Troopers
2- Money Spent by Iranians on Vacations Abroad More than Profit Gained from FIFA World Cup!
Last Year, Iranians Spent $14 Billion Abroad
---
Jomhouri Eslami:
1- WHO: 2.5 Million Lives in Yemen's Hudaydah Port in Danger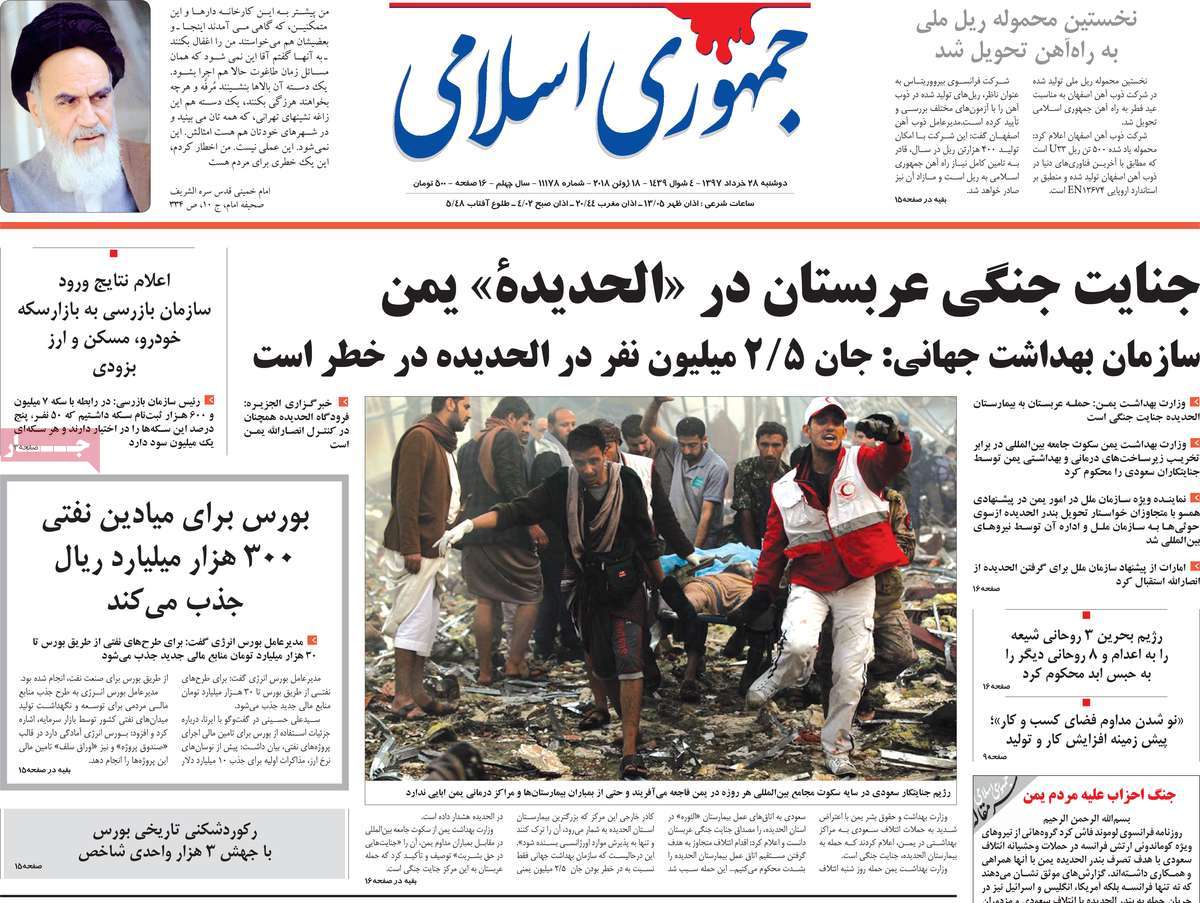 ---
Kayhan:
1- Government Shouldn't Wait for Our Opponents' Own Goal!
Ending Unemployment, Inflation Can Maintain People's Happiness
2- Iran Has Middle East's Biggest Missile Arsenal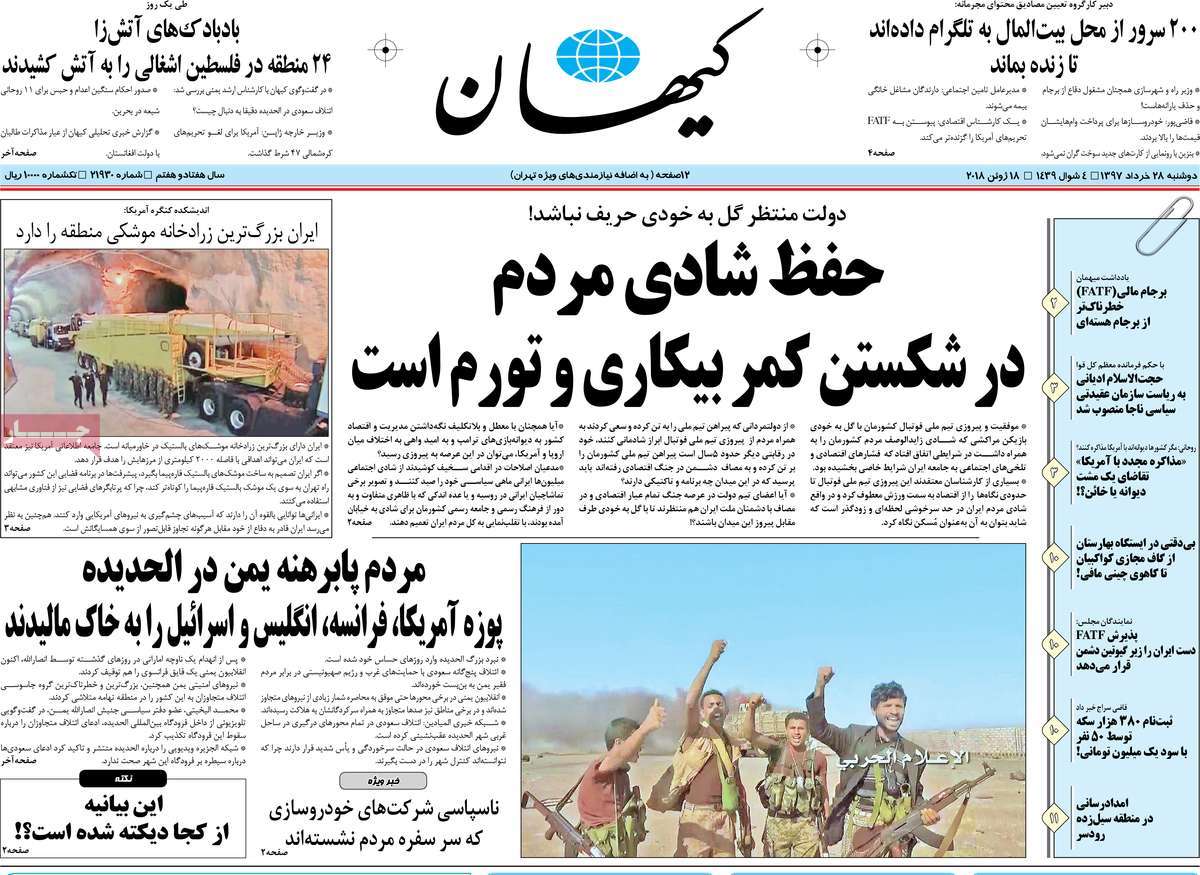 ---
Setareh Sobh:
1- "No to Price Hikes" Campaign
Famous football celebrity Ali Karimi: Don't buy gold, car, any other expensive commodity for one month to cut middlemen's hands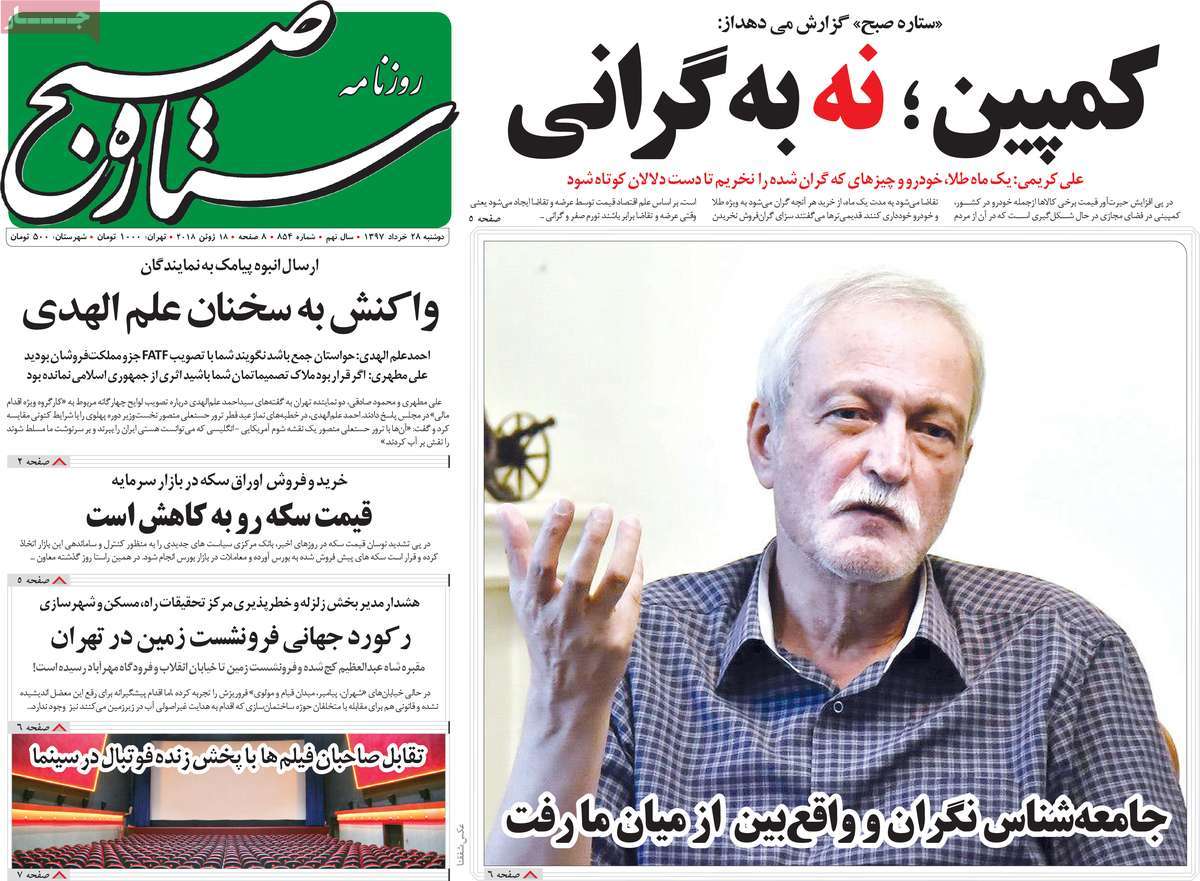 ---
Shargh:
1- Erdogan: Turkey in Talks with Iran on Attacking PKK
2- Negotiation with FATF without US
---
Sobh-e Now:
1- Mystery of 5,000 Luxury Cars Imported to Iran
Judiciary Official Claims Industry Ministry's Website Hacked, Cars Released from Customs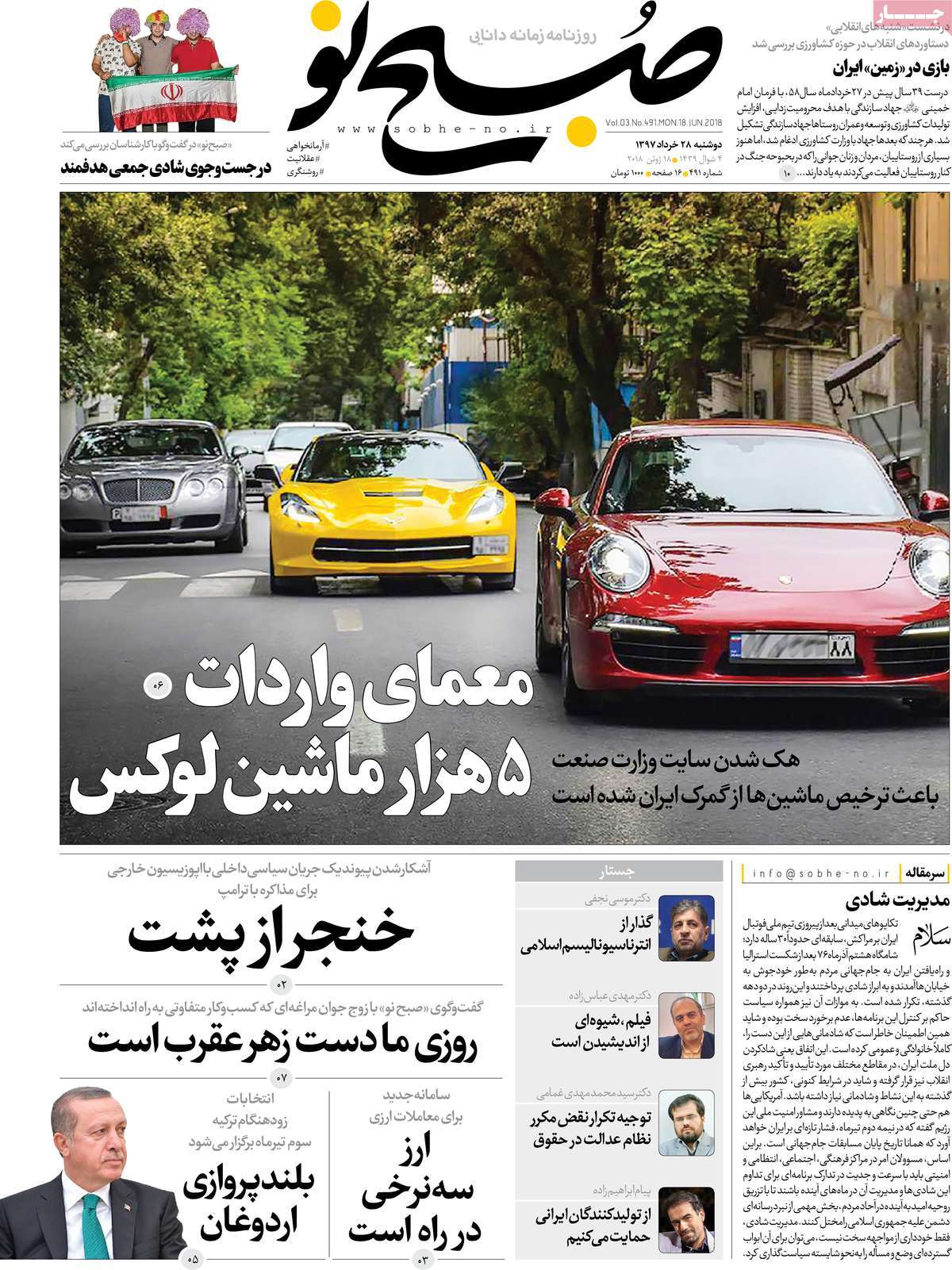 ---
Vatan-e Emrooz:
1- Yankees in Nishapur
MPs express concern over American hunters' presence in "No-Hunting Zones" of Khorasan Razavi Province