All newspapers today covered the remarks made by the Leader of Iran's Islamic Revolution Ayatollah Seyyed Ali Khamenei during the sermons that followed Eid-ul-Fitr prayers in Tehran.
The top story, however, was the historic victory of the Iranian national team against Morocco in its first match in the FIFA World Cup 2018 in Russia. Now the Team Melli is at the top position of the Group B, where the favourites Spain and Portugal are expected to advance to the next stage.
The ongoing operation by the Saudi-led coalition, backed by American, French, and Israeli forces, to capture the Yemeni port city of Hudaydah also received great coverage.
The above issues, as well as many more, are highlighted in the following headlines and top stories:
19 Dey:
1- Iran Leader Calls for National, Social Unity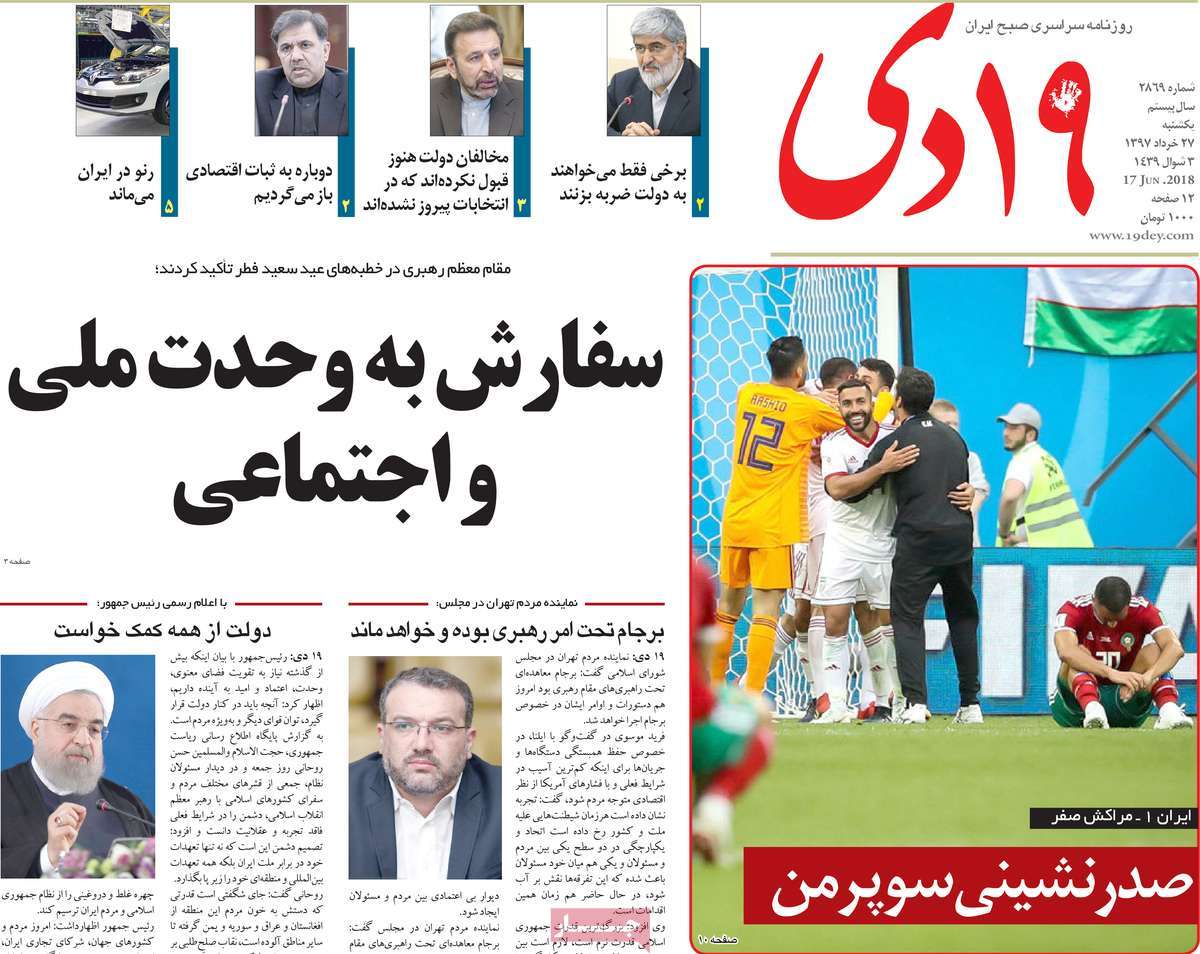 ---
Abrar:
1- Iran Leader: Officials Must Take Decisive Decisions to Resolve Economic Woes
2- South Korea Decreases Oil Imports from Iran
---
Afkar:
1- MP: Parliament's Decision to Postpone Decision on CFT Accession Is Diplomatic Leverage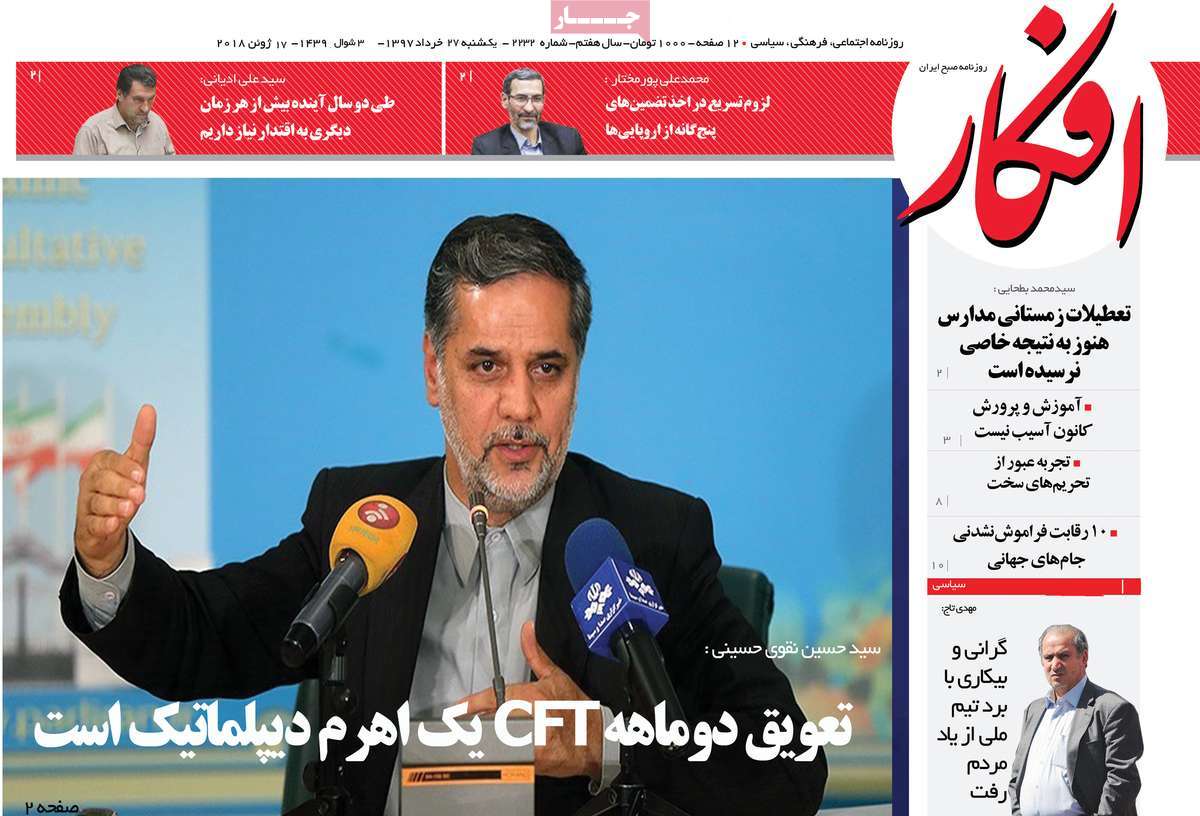 ---
Aftab-e Yazd:
1- Another Opportunity for Opening EU Office in Iran
EP Member Calls for Establishment of Office in Tehran to Boost Cooperation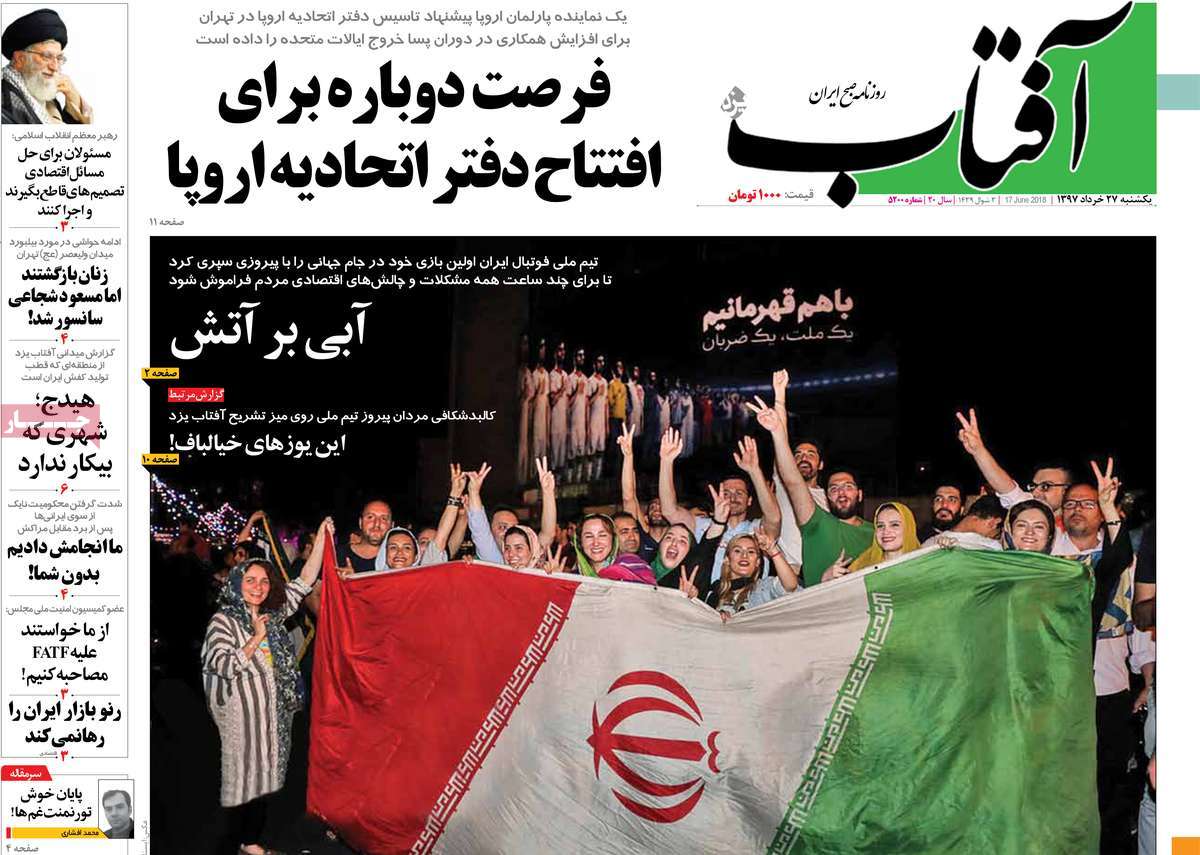 ---
Amin:
1- Iran Filled with Happiness: Team Melli Ranks First in World Cup Group B
---
Arman-e Emrooz:
1- Renault to Stay in Iran despite US Sanctions
---
Arman-e Melli:
1- Rouhani: We Need Unity More than Ever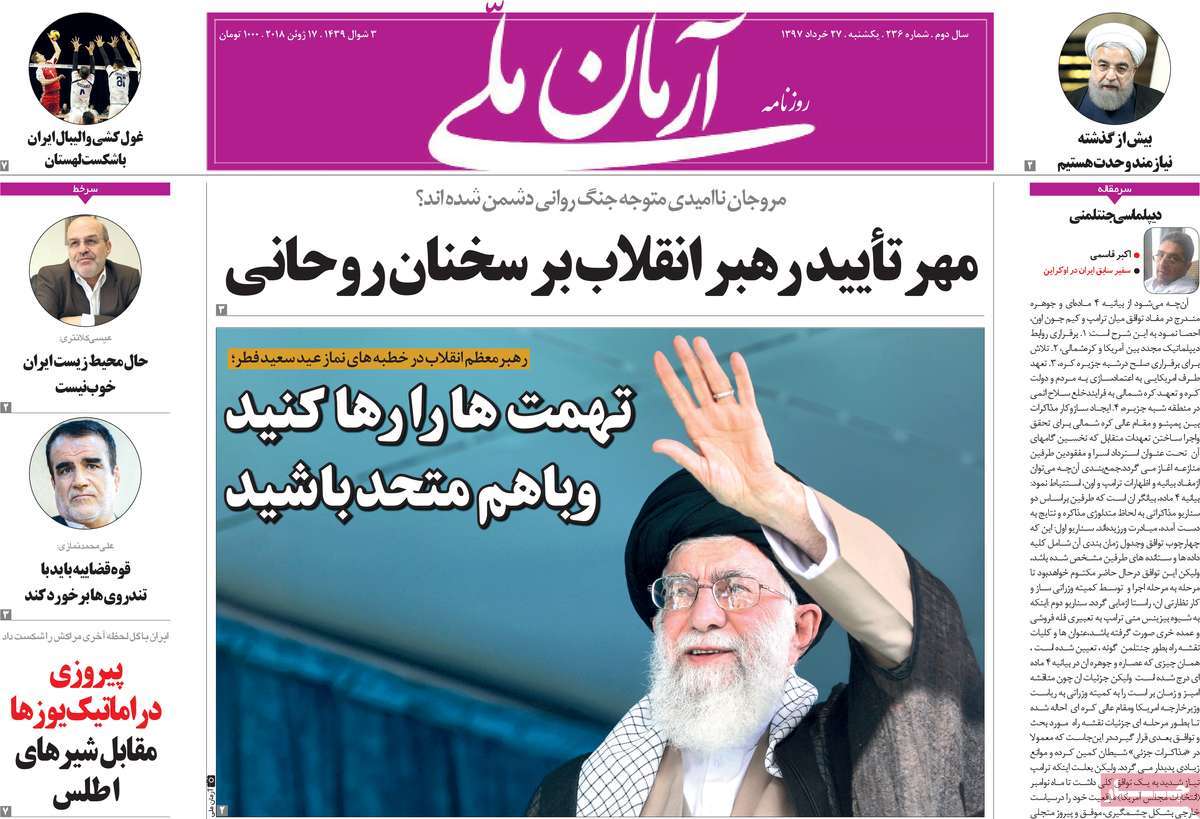 ---
Bahar:
1- Rouhani Urges People, Other Bodies to Use Their Capacities to Help Government
---
Ebtekar:
1- Iran on Top of "Death Group"
Iran's Second Win in World Cup History Secured with Late Own Goal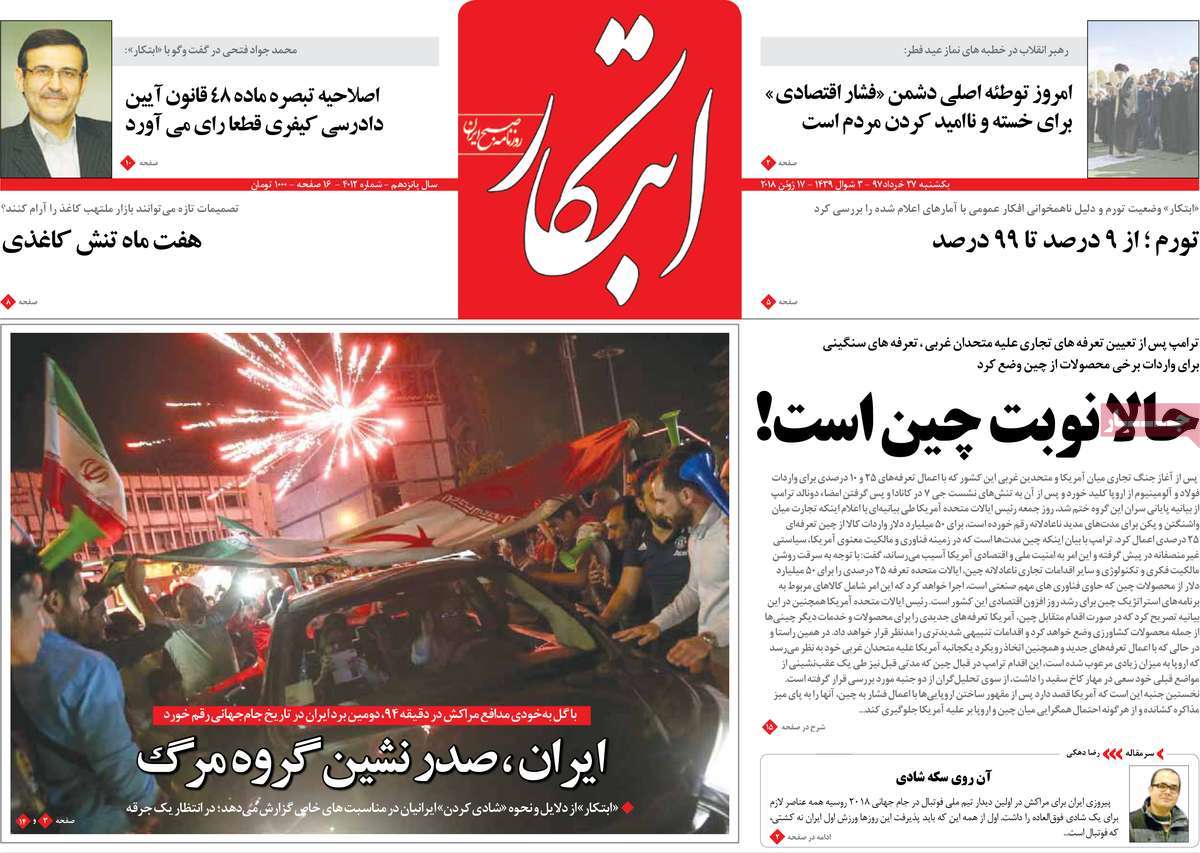 ---
Emtiaz:
1- Iran's Populating Ageing; Over 7 Million Old People Living in Iran
---
Etemad:
1- Siege Getting Tighter: Member of Trump's Presidential Campaign Arrested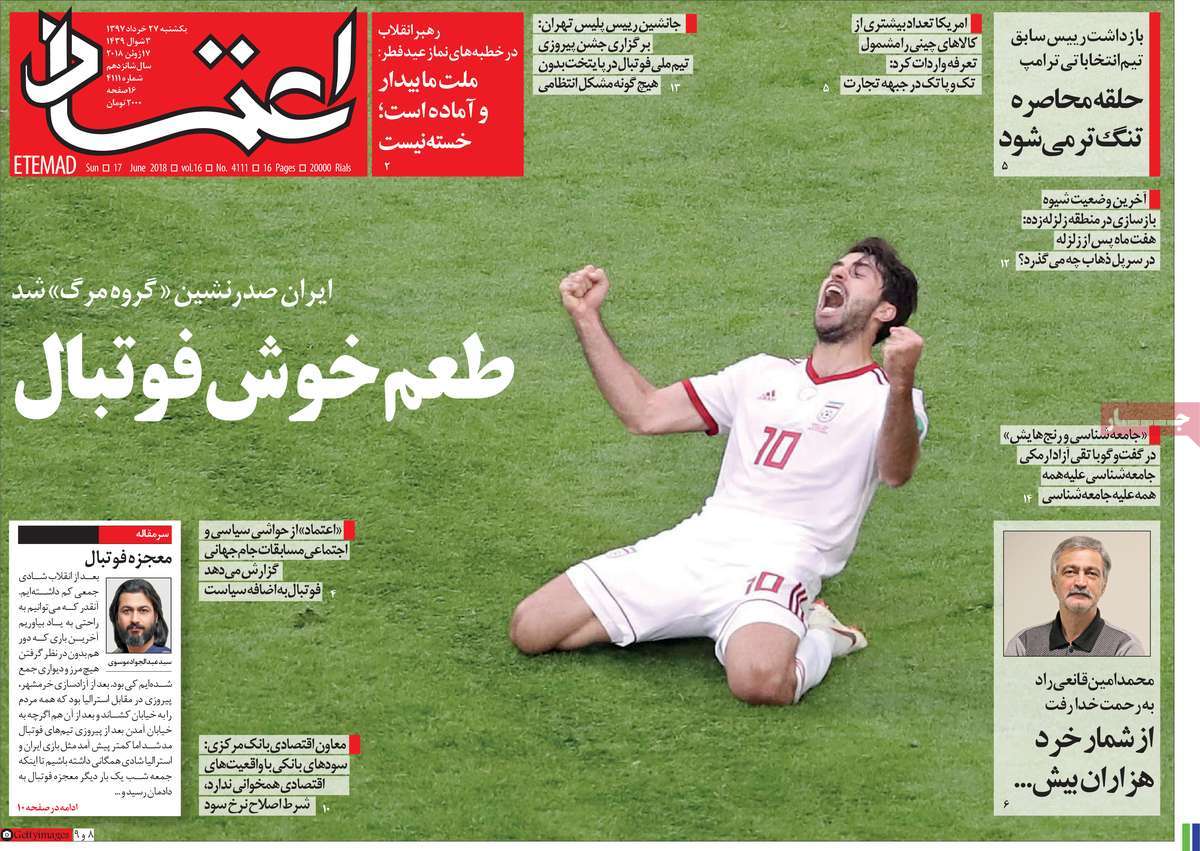 ---
Ettela'at:
1- Rouhani: Washington's Unilateralism against International Law
2- Assad: We Don't Compromise on Ties with Iran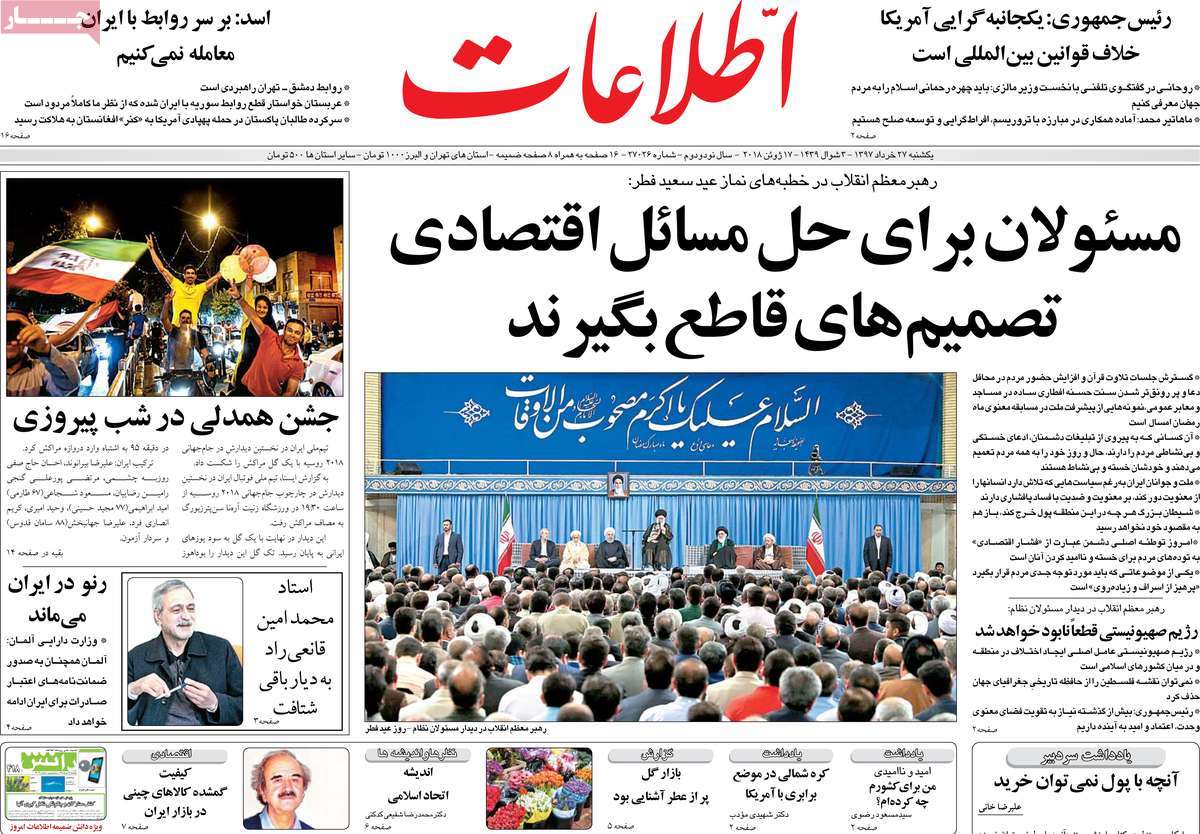 ---
Ghanoon:
1- Iran Leader: Palestine's Map Cannot Be Removed from Historical Memory of World Geography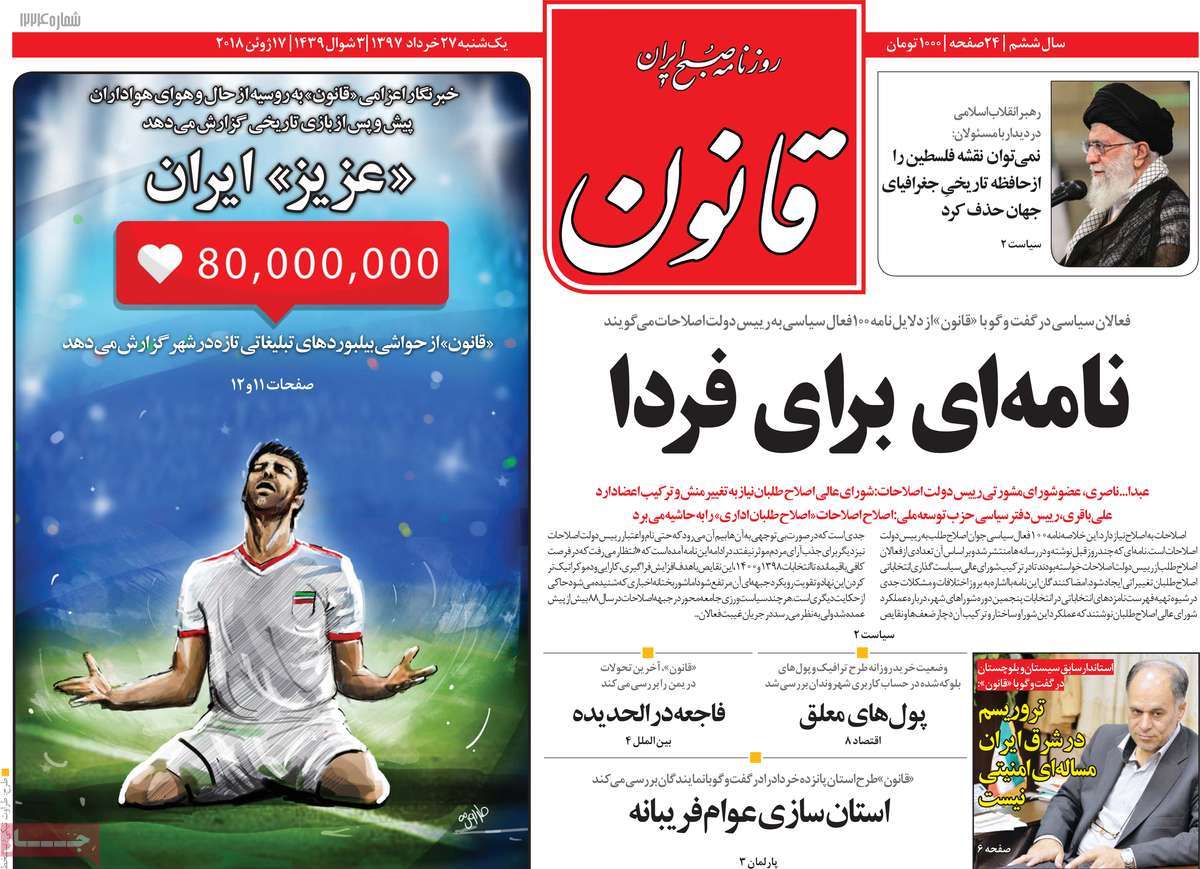 ---
Iran:
1- Once Again Iran, Once Again Passion
Iran's Victory over Morocco Make Entire Nation Happy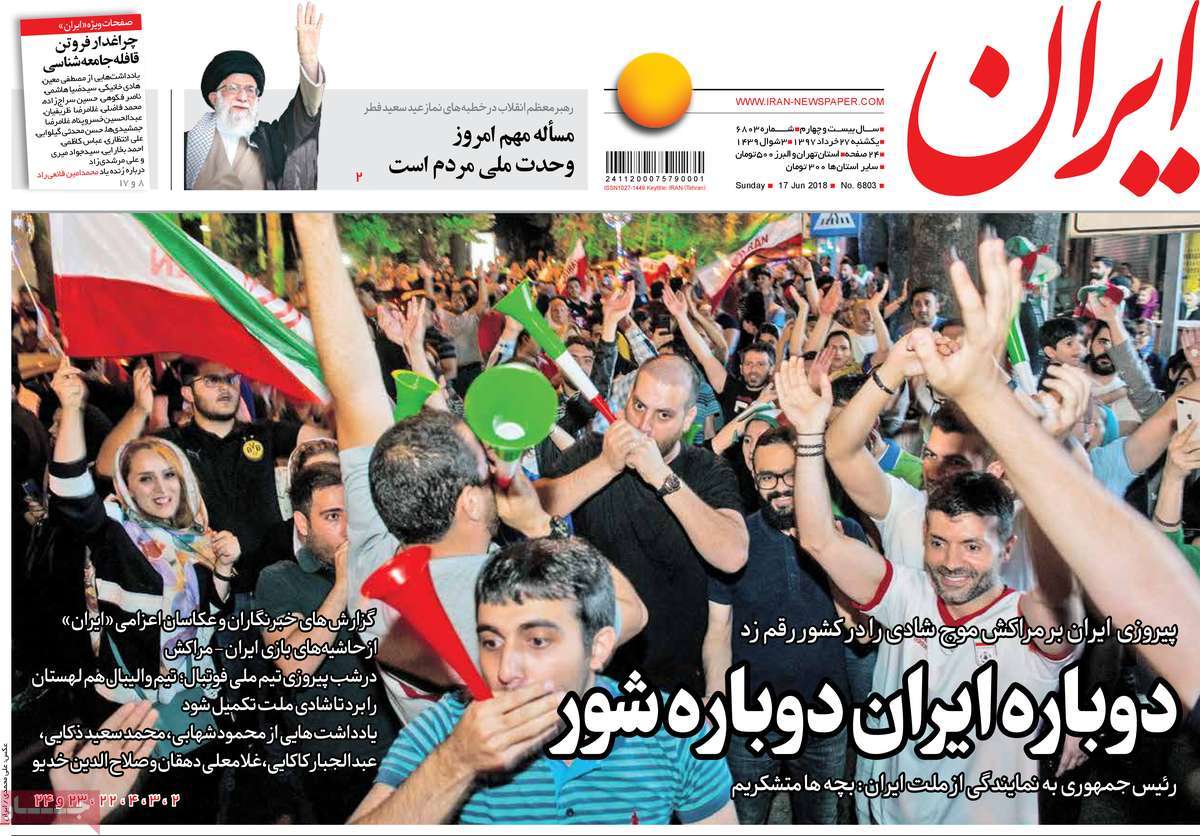 ---
Javan:
1- Western Countries Deploy Forces to Capture Yemen's Hudaydah Port
American, French, Israeli Forces Fighting with Sudanese, Emirati, Saudi Mercenaries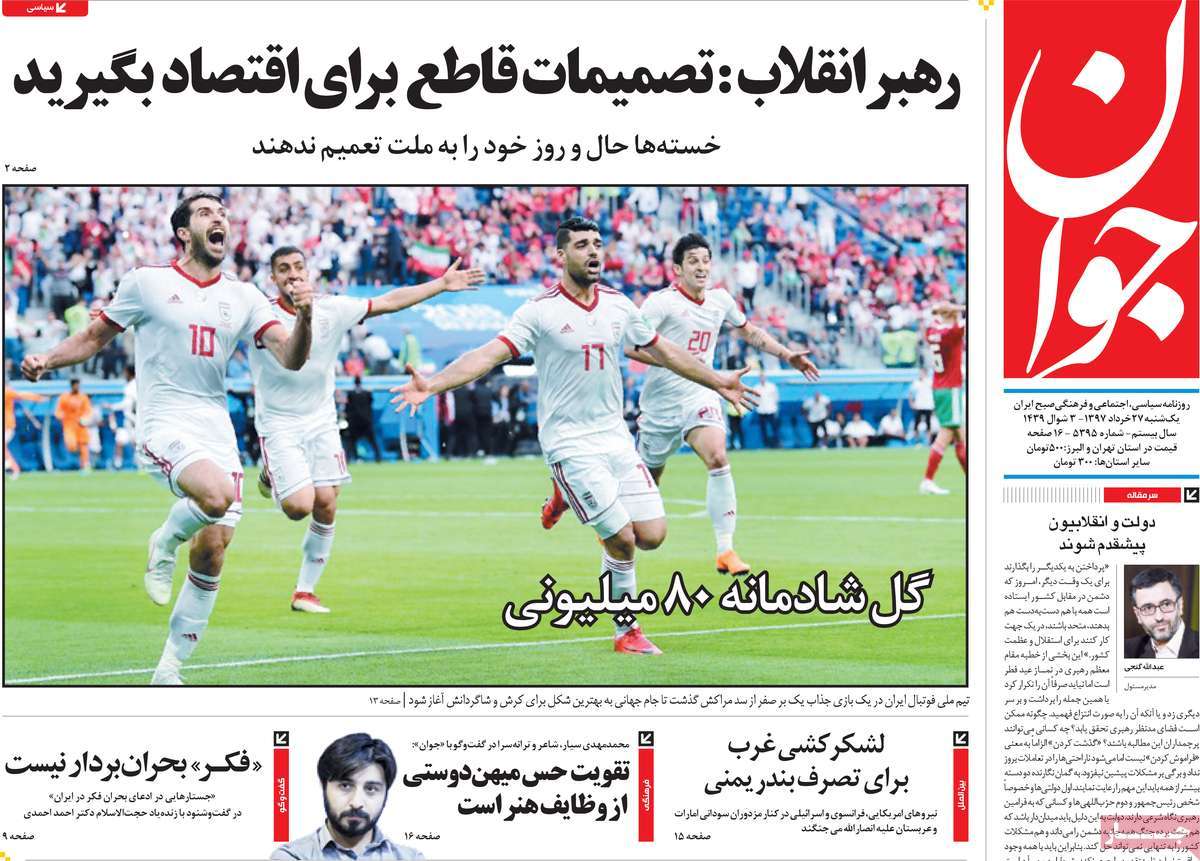 ---
Jomhouri Eslami:
1- Iran Leader: Unity, Settlement of Problems among Most Important Factors of Islamic Dignity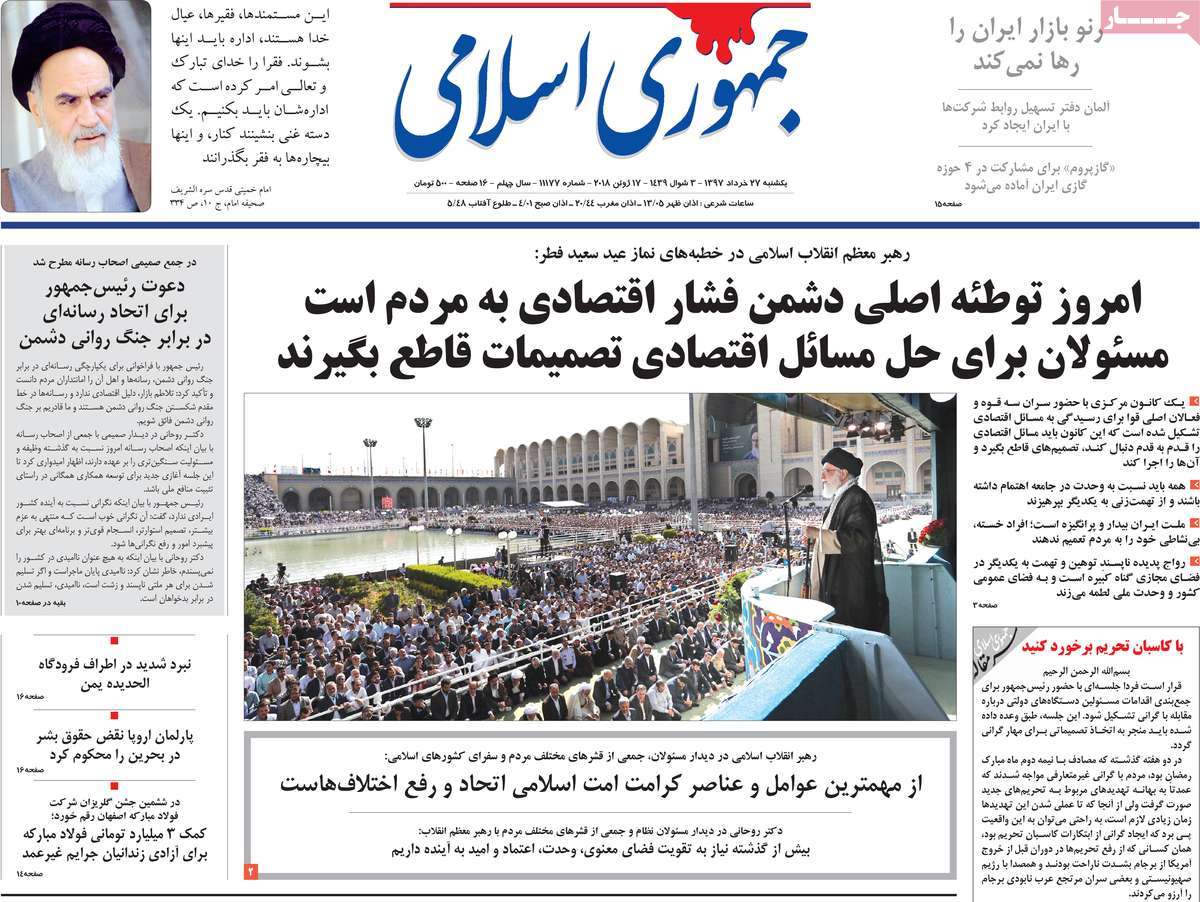 ---
Kayhan:
1- Iran Leader: People Not Tired, Frustrated
Some [Officials] Are Feeling So, Trying to Show Everyone Share Their Feelings
2- US Gives Verbal Pledges to North Korea, Asks for Immediate Concessions!
Pompeo: First Full Nuclear Disarmament, Then Removal of Sanctions
---
Kelid:
1- FIFA World Cup 2018: Iranian Cheetahs Claim Victory after 20 Years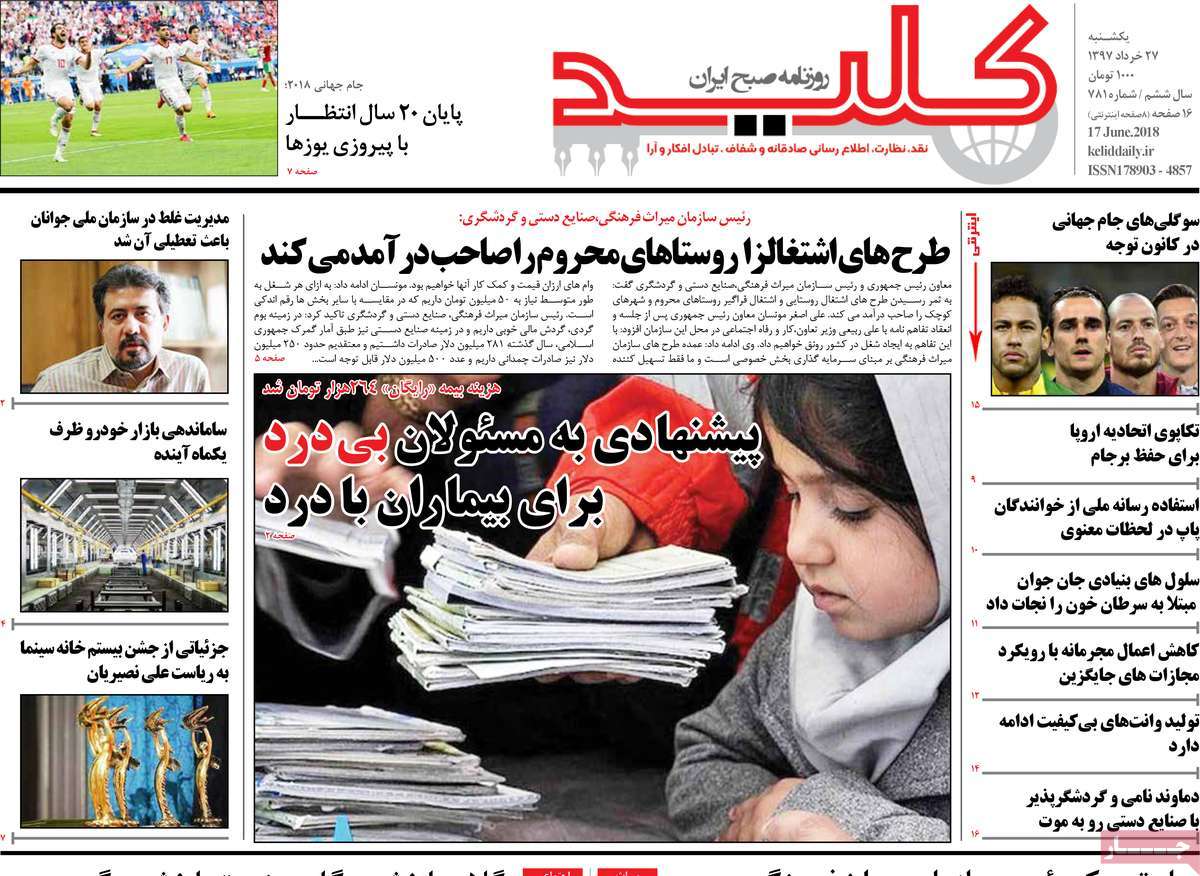 ---
Khorasan:
1- Reforms in Forex Policies, New Plan on Gold Coin
Central Bank Officials Make New Promises to Decrease Prices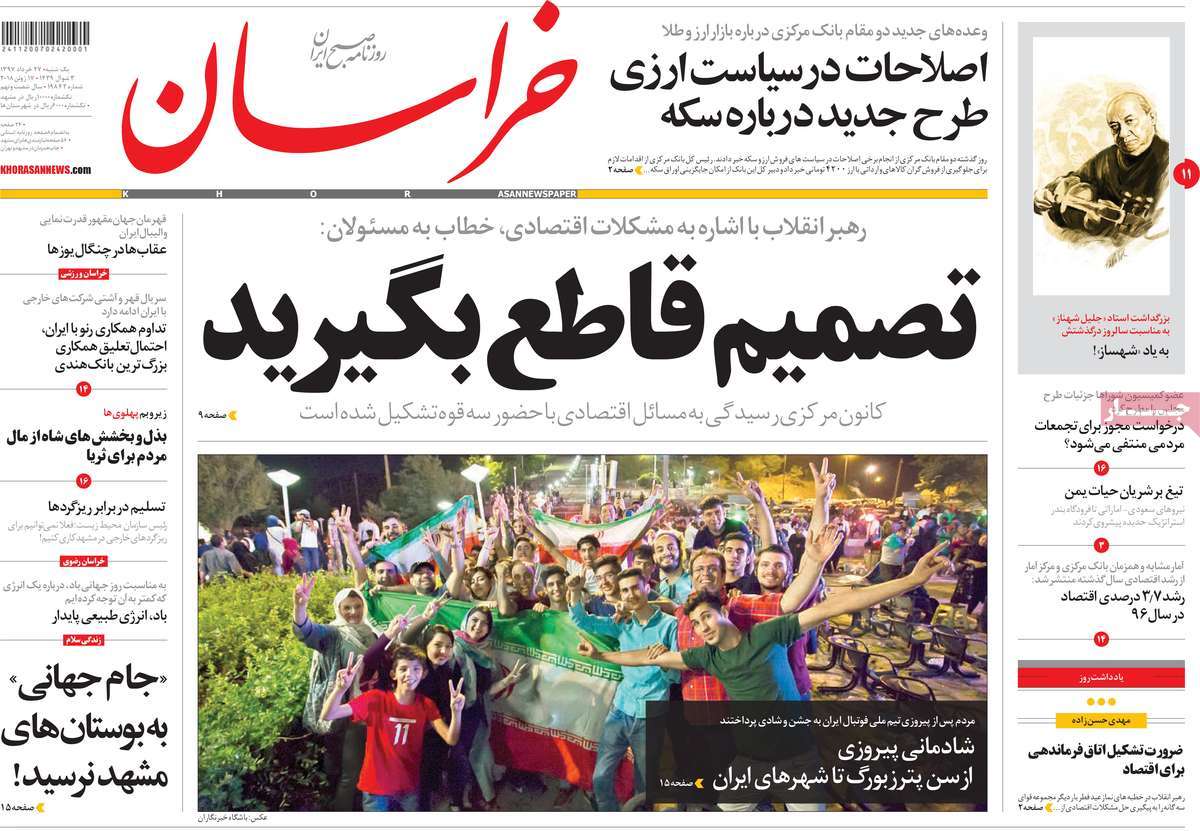 ---
Rah-e Mardom:
1- Iran Leader: Collapse of Zionist Regime Certain
---
Resalat:
1- Netanyahu's Consultations with Europeans on JCPOA
What Deal Is Tel Aviv Accelerating?
2- Assad: We Won't Stop Responding to Israeli Attacks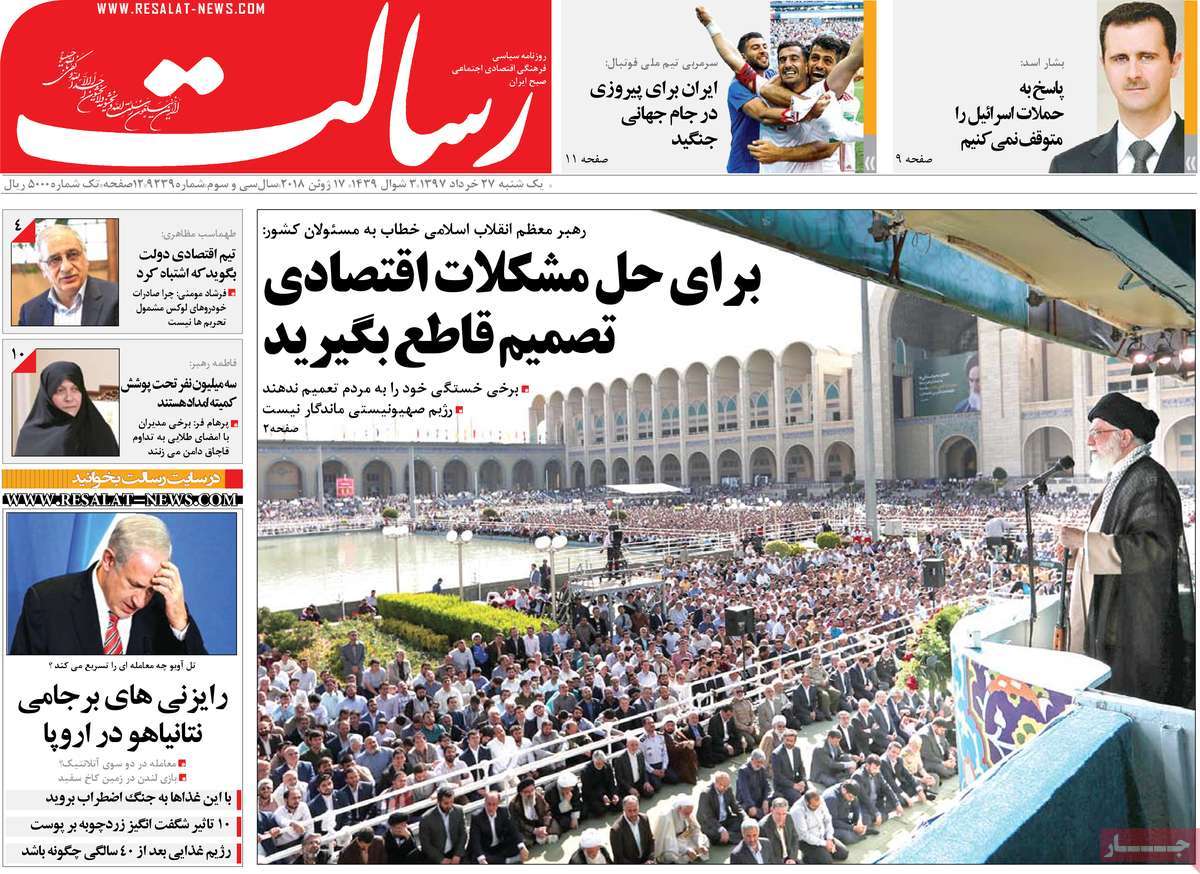 ---
Rooyesh-e Mellat:
1- Beginning of US-China Trade War
2- Amir-Abdollahian: Saudis Trying to Force Yemenis to Surrender by Cutting Water, Food Supplies
---
Sayeh:
1- 27% Growth in Iran's Steel Production
2- Most Canadians Support Boycott of American Products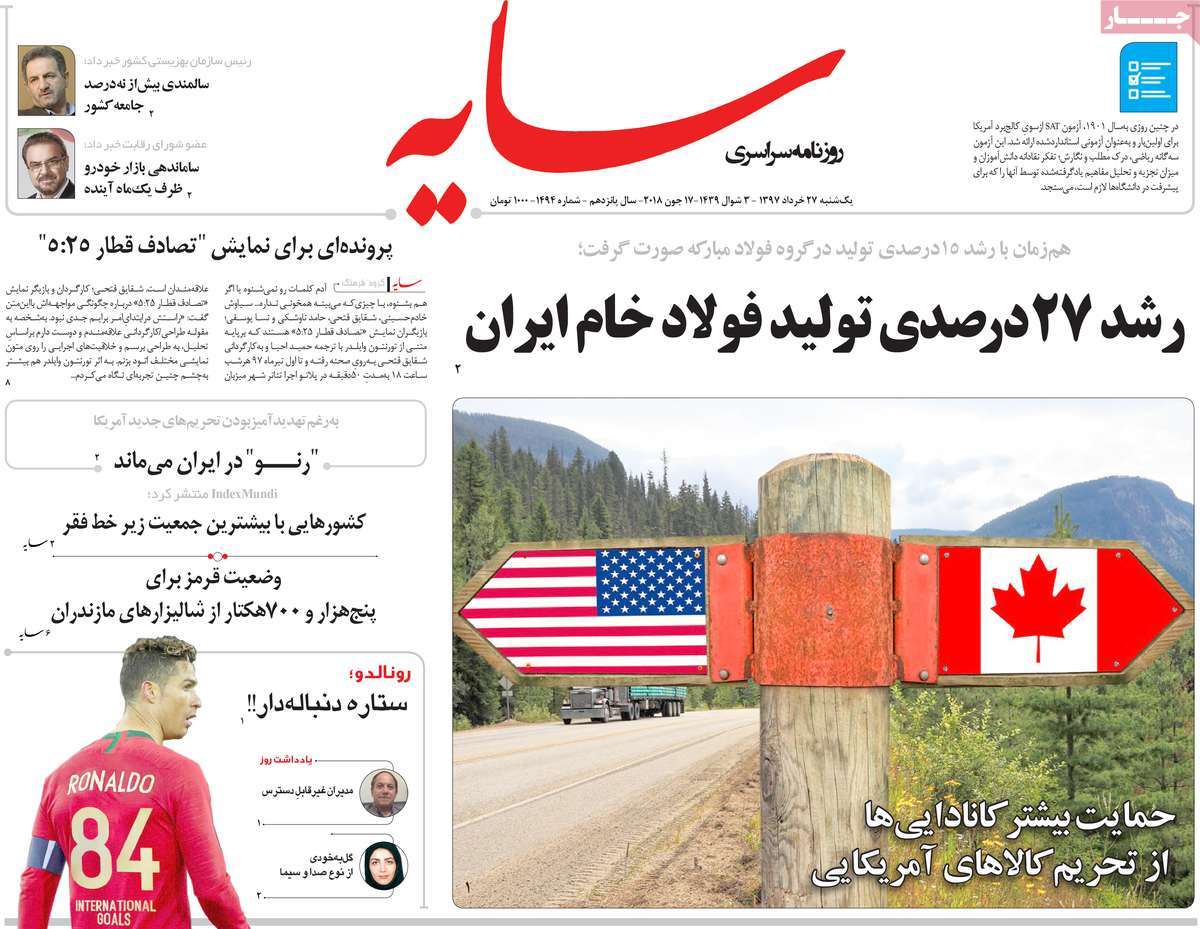 ---
Shargh:
1- Queiroz: We'll Make Spain Respect Iranian Boys
2- Rouhani, Malaysian PM Hold Phone Conversation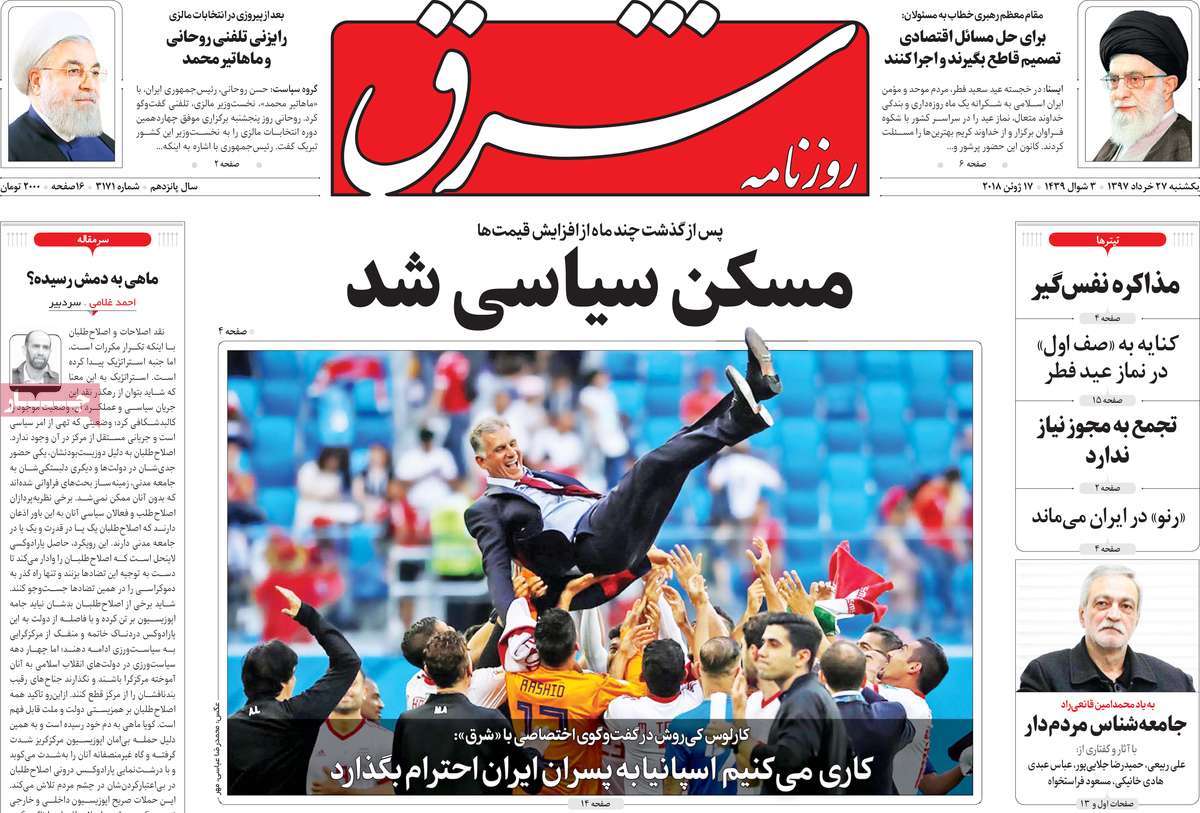 ---
Ta'adol:
1- Iran Leader: Enemy Exerting Pressure to Disappoint Iranian People
---
Vatan-e Emrooz:
1- Iran Leader: Iranian People Awake, Full of Motivation
2- US Secretary of State: No Sanction to Be Lifted against N. Korea
3- Assad Urges Iran to Remain in Syria