President Rouhani's pledge to have the sanctions lifted and his comments in defense of the performance of his government dominated the front pages of Iranians newspapers on Monday.
Abrar: The illegal appointments and dismissals in universities by [Science Minister Mohammad] Farhadi prompted parliament to summon the science chief.
Abrar: The allegations made by [former police chief] Brig. Gen. Esmail Ahmadi-Moghadam will be looked into by the judiciary.
[The former police chief earlier said that he had been threatened when he looked into allegations of misconduct in the law enforcement force.]
---
Afkar: Russia has issued the green-light for a coup against Bashar al-Assad.
---
Aftab-e Yazd: A single family has a 60 percent monopoly on imports of foreign cars.
Aftab-e Yazd: Government carries on with secret efforts to secure the entry of women into sporting arenas.
[It comes after the police chief said that law enforcement has a moral duty to prevent women from attending sporting events.]
Aftab-e Yazd: "The ban on the publication of the image [of former President Mohammad Khatami] has not been slapped by the Supreme National Security Council," said the Judiciary spokesman.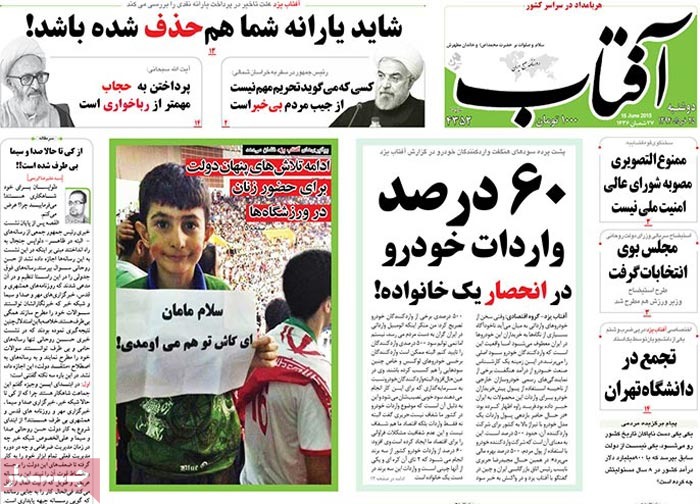 ---
Arman-e Emrooz: "Those who deny the [adverse] impact of sanctions are out of touch and unaware of pocketbook issues," said President Rouhani.
[The president made the comment while addressing a large crowd of locals in Bojnurd, North Khorasan Province.]
Arman-e Emrooz: "Today's Worriers [supporters of the former president who find fault with everything the Rouhani administration does] are the same people who kept mum yesterday [when Ahmadinejad was in power]," said the director of the Environment Protection Organization.
---
Asr-e Rasaneh: The gas industry needs some $100 billion to rebuild.
---
Asrar: "A factional attitude toward the upcoming elections for the Assembly of Experts would amount to disloyalty to the Revolution," said the chairman of the Expediency Council.
Ayatollah Hashemi Rafsanjani further said that he supports no one in the upcoming vote, but that he would speak about the criteria [to pick the best candidates].
Asrar: Three Cabinet ministers have been summoned to parliament.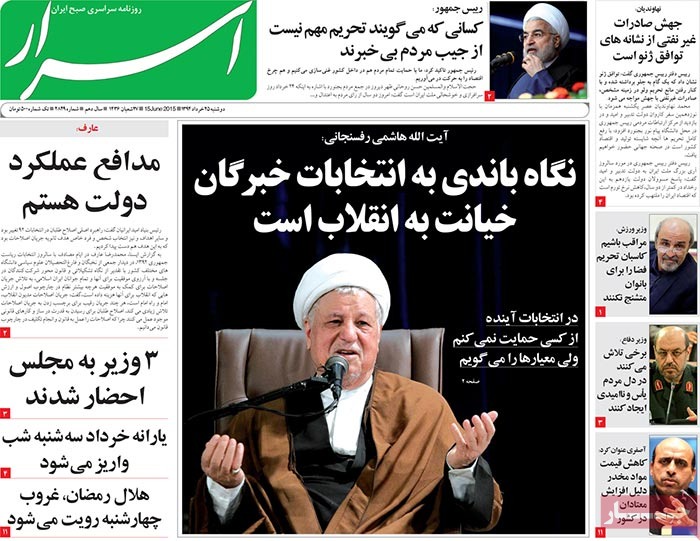 ---
Emtiaz: An online Iran Civilization Museum has been launched.
Emtiaz: Foreign investors have been invited to invest in the development of Iranian airports.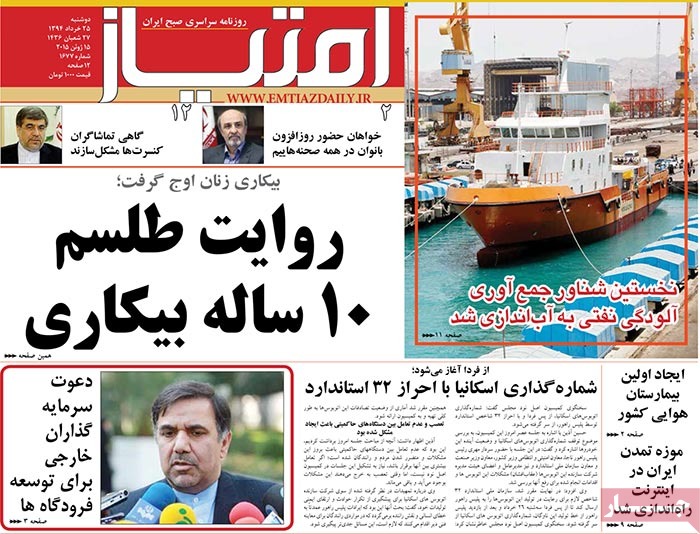 ---
Ettela'at: "We favor faith, joy and welfare all at the same time," said President Hassan Rouhani.
Ettela'at: The Iranian national volleyball team has scored a historic win, defeating the Russian team in three sets.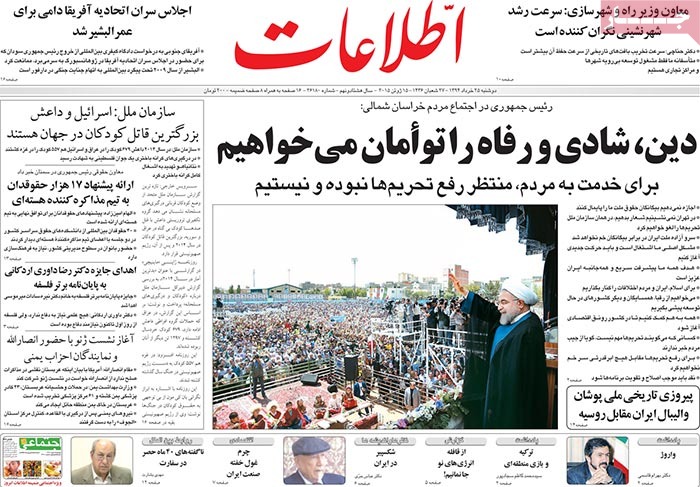 ---
Iran: A sandstorm with 115 kph winds has ripped through the southeastern Iranian city of Zabol.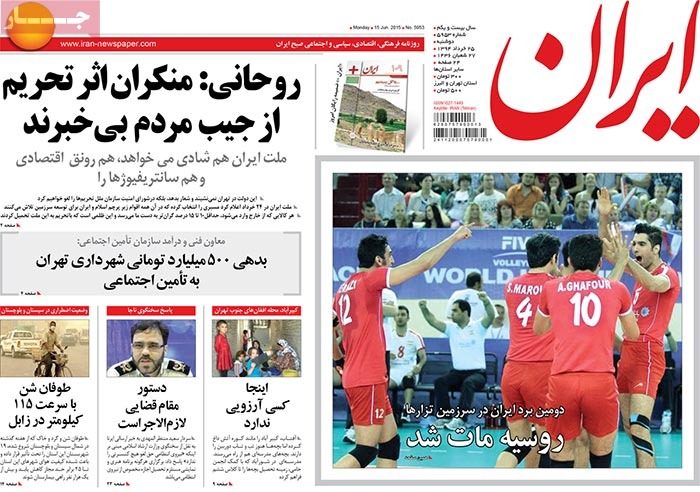 ---
Kar va Kargar: [Former First Vice-President Mohammad Reza] Aref has said that he supports the performance of President Rouhani.
---
Kayhan: The latest case in American failure to remain committed to the provisions of the Lausanne statement: 2 percent enrichment.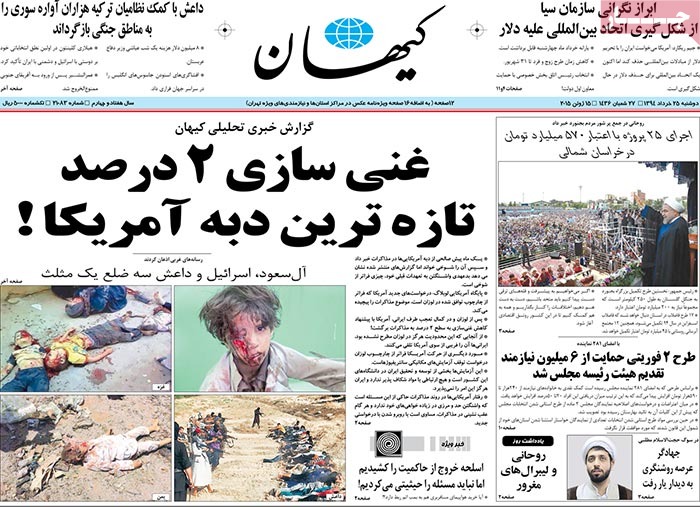 ---
Rooyesh-e Mellat: "We will have the sanctions lifted through the UN," said President Rouhani.