President Hassan Rouhani's comments covering a wide range of issues at a news conference marking the 2-year anniversary of his electoral victory dominated the front pages of Iranian newspapers on Sunday. The victory of the Iranian national volleyball team over Russia in the FIVB World League was on the front pages of several dailies.
Abrar: "Global powers have no doubts that the doors of Natanz and Fordo [nuclear facilities] will remain open," President Rouhani told a news conference.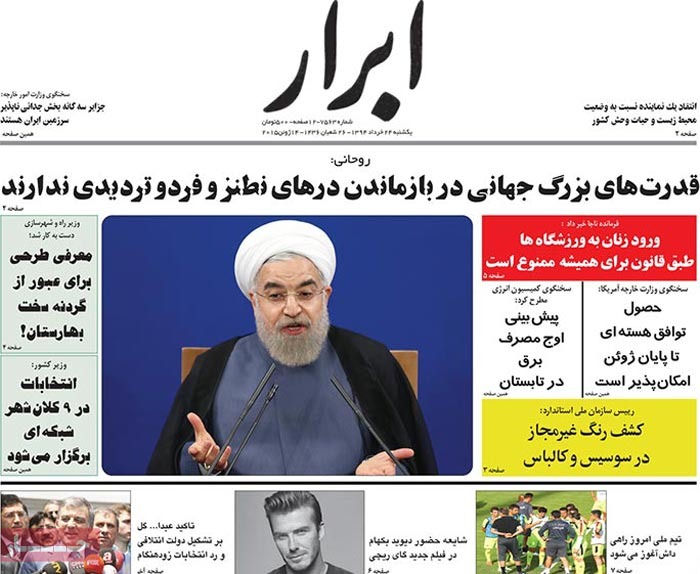 ---
Afarinesh: "The new election law will bring about positive results for the country," said Chairman of the Expediency Council Ayatollah Akbar Hashemi Rafsanjani.
Afarinesh: "We have to clench our fists for the enemy, not for the negotiating team," said Intelligence Minister Seyyed Mahmoud Alavi.
---
Aftab-e Yazd: Iran's national volleyball team has finally shattered the invincibility of Russia on a historic day.
Iran defeated Russia 3-1 in the FIVB World League on Saturday. The two teams are to line up against each other again later on Sunday.
Aftab-e Yazd: Alcohol consumption among students is not alarming.
Aftab-e Yazd: "We have a difficult year ahead, because oil revenues have dropped," said President Rouhani.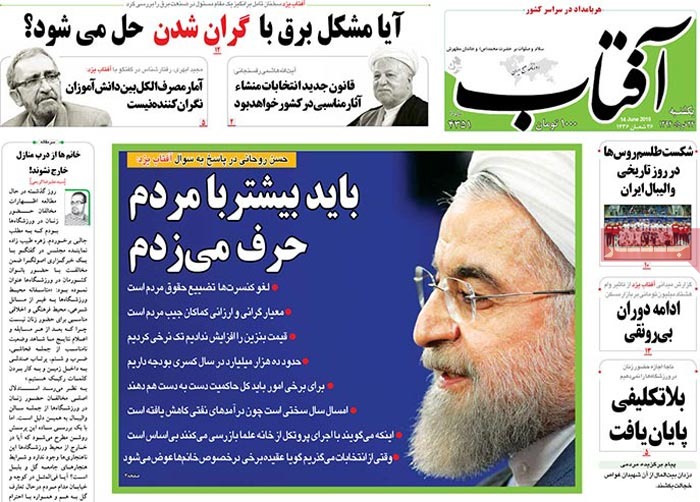 ---
Arman-e Emrooz: "The          Supreme National Security Council has not banned the broadcast and/or publication of the images of anyone," said President Rouhani in a press conference.
The president also said: "Keeping injustice under wraps is improper. Calling off concerts amounts to trampling on public rights. Introducing a single price for gasoline was meant to prevent corruption. I am not worried; rather, I am always hopeful. There are some who don't want the talks to produce results. We are trying to honor our promises."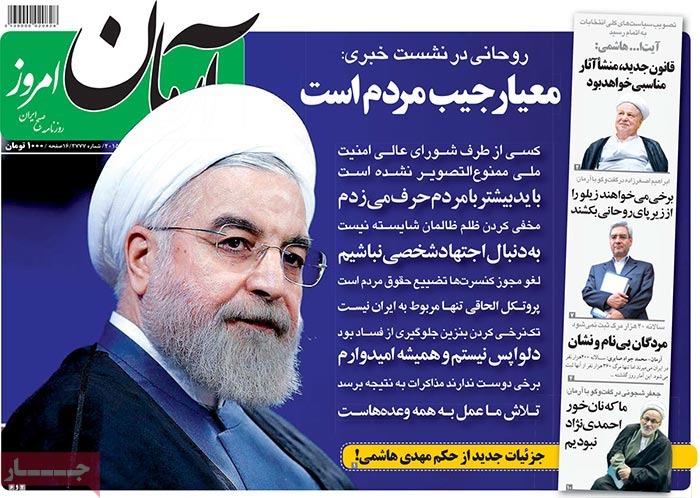 ---
Asrar: The total assets of Iranian expatriates are estimated to be around $2 trillion.
---
Etemad: The organs of an Iranian engineer [killed by thieves in a hit and run in Calgary] have been donated to six Canadian nationals.
---
Ettela'at: Grand Ayatollah Nasser Makarem Shirazi has urged the police to politely deal with members of the public.
He further said, "Under the circumstances, we should not do things that might create division in our ranks".
Ettela'at: "Nuclear talks should not be used as leverage in political rivalries," warned the interior minister.
Abdolreza Rahmani Fazli further said that in the absence of security, economy and investment would be non-starters.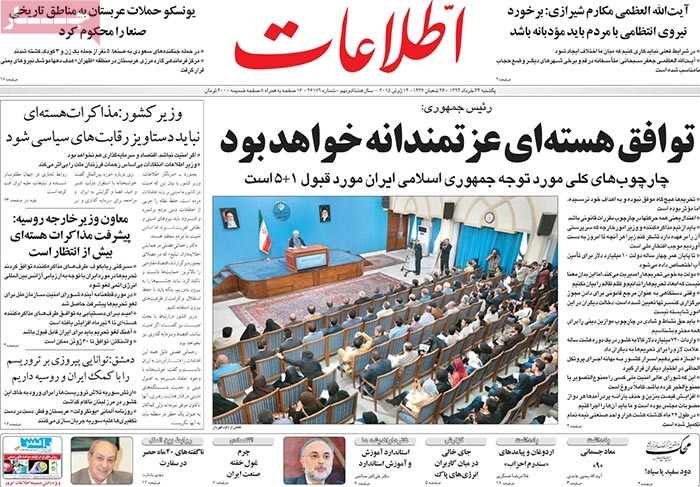 ---
Hamshahri: "As many as 200,000 families in Tehran do not have enough to eat," said Tehran Mayor Mohammad Bagher Ghalibaf.
---
Hemayat: "Some power-thirsty individuals seek to undermine the Guardian Council," said secretary of the council Ayatollah Ahmad Jannati.
Hemayat: A ban has been slapped on the use of smartphones by some officials [with access to sensitive information].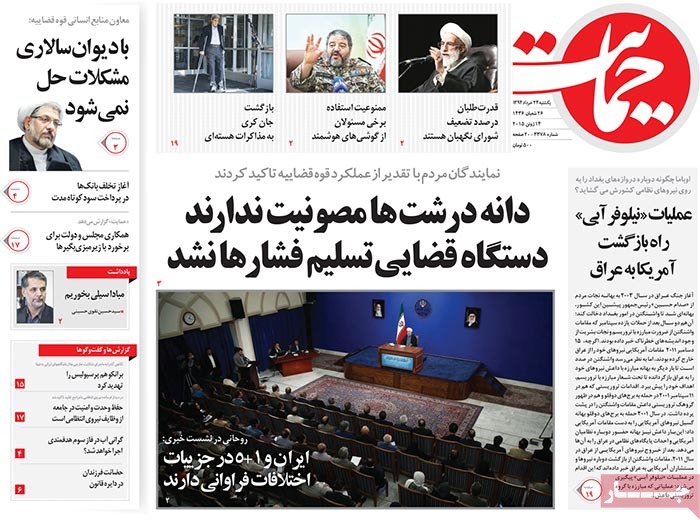 ---
Kaenat: The police chief has said that under the law women are not allowed to enter sporting arenas.
---
Kayhan: "I check out the prices of [consumer goods] twice a week; fluctuations are not remarkable!" said President Rouhani in a press conference.
---
Rooyesh-e Mellat: Iran has lodged an official protest about the cyber security of the venues of nuclear talks [in Switzerland and Austria].