Newspapers today widely covered the historic meeting between US President Donald Trump and North Korean Leader Kim Jong-un on Tuesday, which was to be held in an island in Singapore.
Also a top story was the remarks by IRGC Quds Force Commander Major General Qassem Soleimani about Saudi Arabia's interference in the Lebanese elections.
Also a top story was the new crisis emerging in Iraq after calls for recounting of votes and a fire in a warehouse where ballot boxes were kept.
The above issues, as well as many more, are highlighted in the following headlines and top stories:
19 Dey:
1- Gen. Soleimani Calls Recent Lebanon Elections a Referendum
---
Abrar:
1- Zarif: Shanghai Cooperation Organisation Underlines All-Out Support for JCPOA
2- Muqtada al-Sadr: Iraq in Danger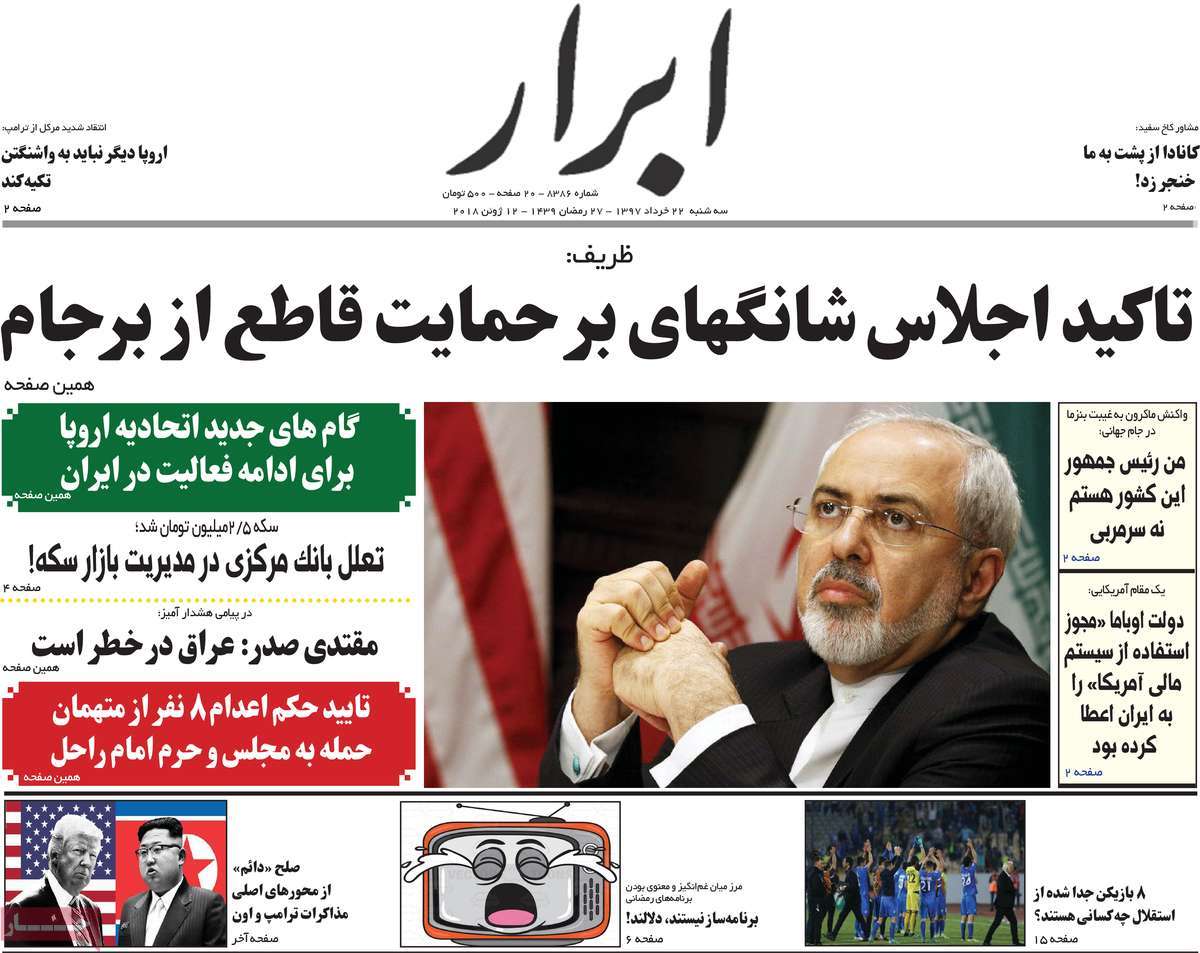 ---
Aftab-e Yazd:
1- Russian Mischief: Certain Russian Media Depict Iranians as Angry, Grumpy People
2- Europe's New Steps to Protect Iran against Sanctions
---
Arman-e Emrooz:
1- General Soleimani's Account of Saudi Petrodollars Used on Lebanon Elections
---
Donya-ye Eqtesad:
1- Bin Salman's Disturbed Dream for Saudi Arabia in 2030
World Bank Evaluates Saudi Vision 2030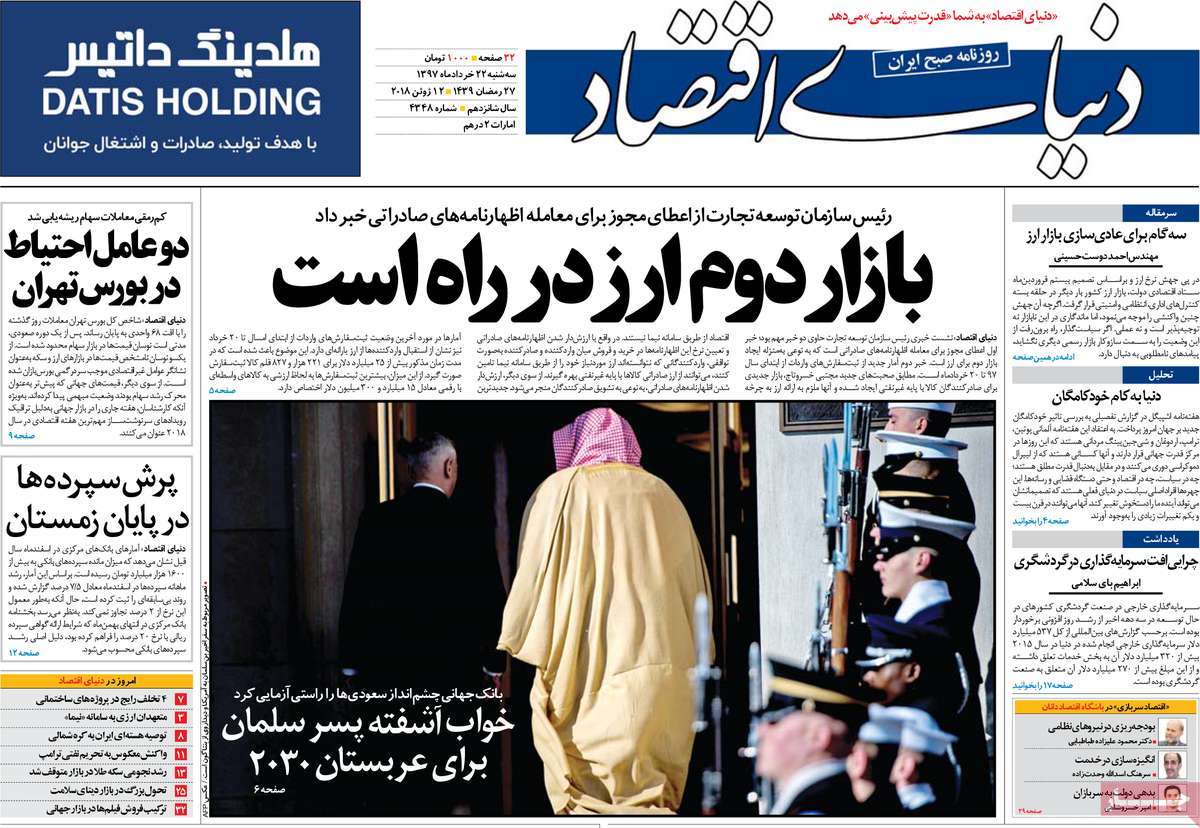 ---
Ebtekar:
1- Iraq on Verge of New Crisis
2- Why Arab Countries' Alliance against Qatar Wasn't Successful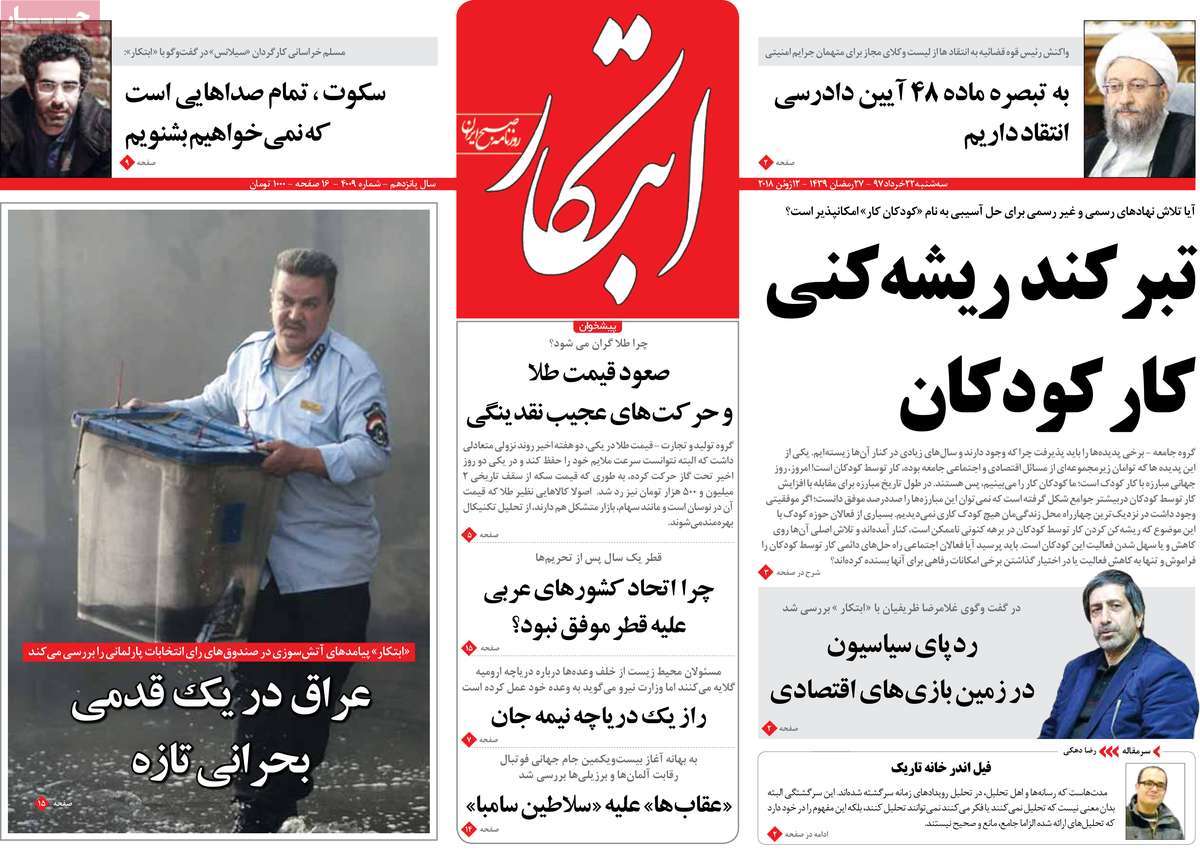 ---
Etemad:
1- Immigrants Wandering in Mediterranean Sea: Italy Refuses to Accept Refugees' Ship
2- Turn to Unity: A Review of Conservatives' Stances towards Rouhani's Gov't
---
Ettela'at:
1- Iran First VP: We'll Overcome Sanctions
2- West Bank Rises to Help Gaza Strip
3- Qassemi: We're Not Optimistic about Trump-Kim Talks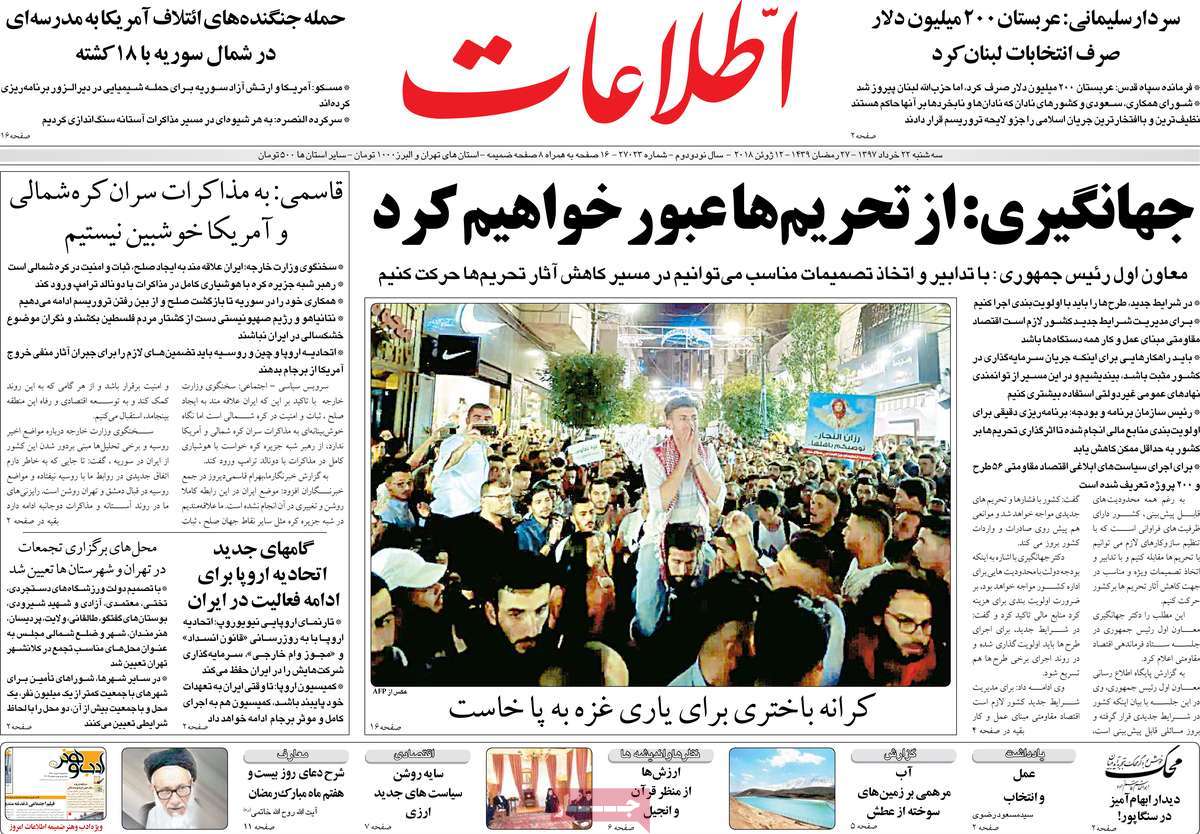 ---
Iran:
1- Displaced People of Karachi in Tehran's Shahr-e Rey
A Report on Hard Days of Pakistani Immigrants in Iran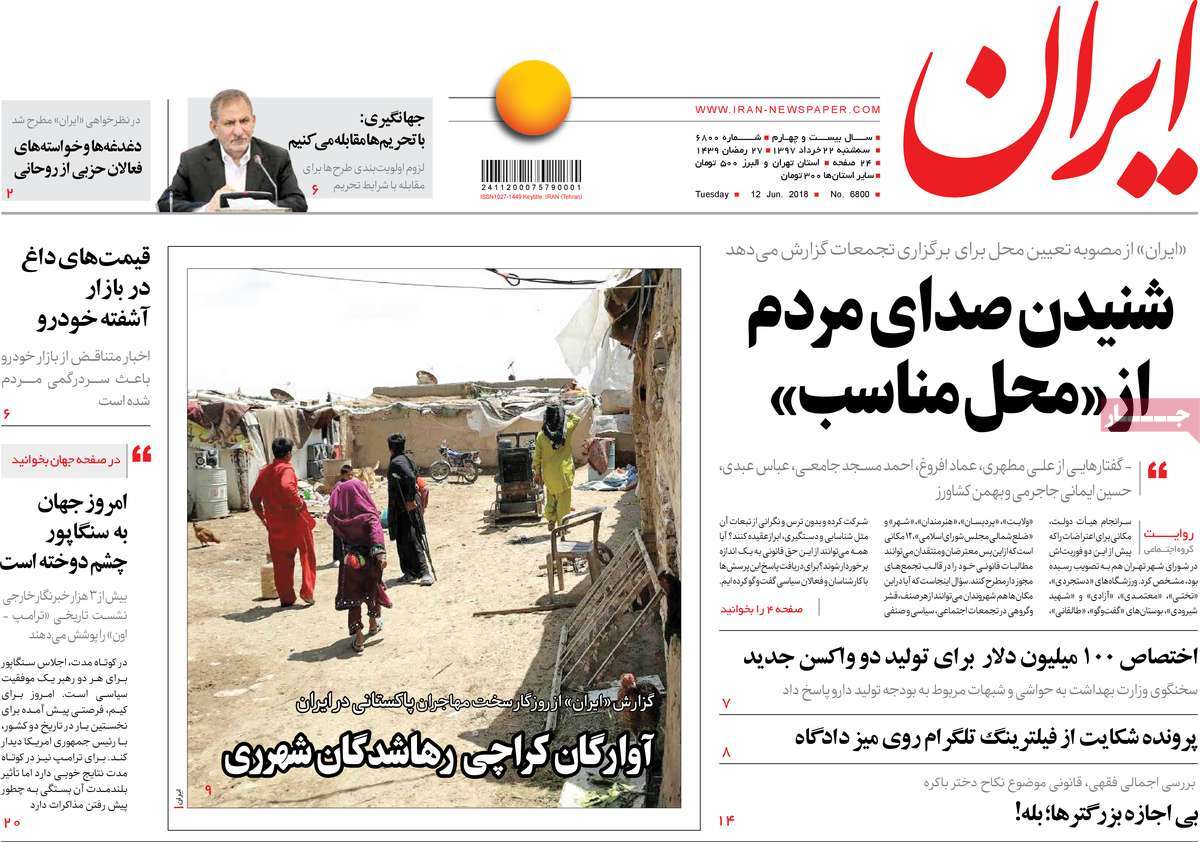 ---
Javan:
1- Gen. Soleimani: Saudi Arabia Spent $200 Million in Lebanon, but Failed
2- Tehran Warns Pyongyang: Be Careful Not to Repeat Fate of Iran Nuclear Deal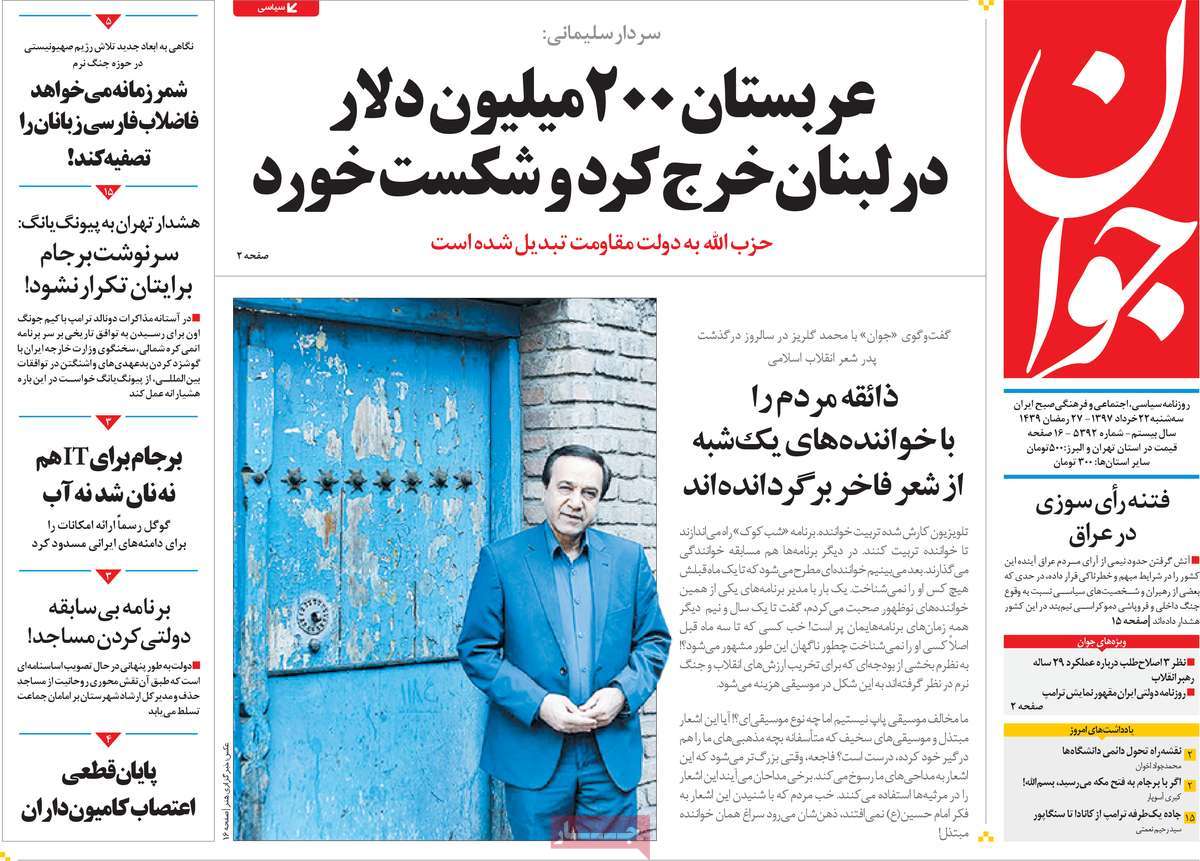 ---
Ka'enat:
1- Is US Looking for Deal with North Korea Because of Iran?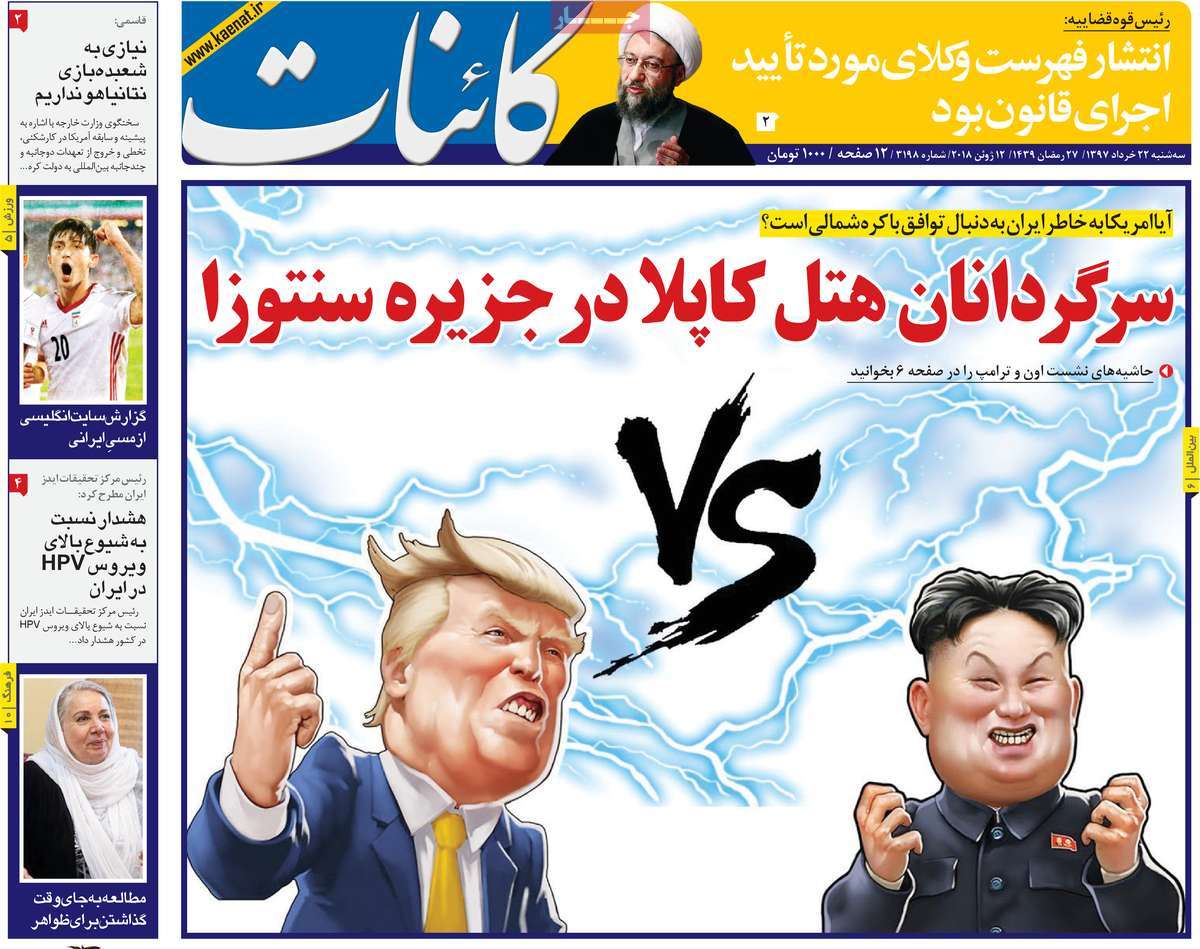 ---
Kayhan:
1- Government's Duty Is to Resolve People's Problems, Not to Allocate Place to Protests!
2- Can Europe Get Rid of US Domination?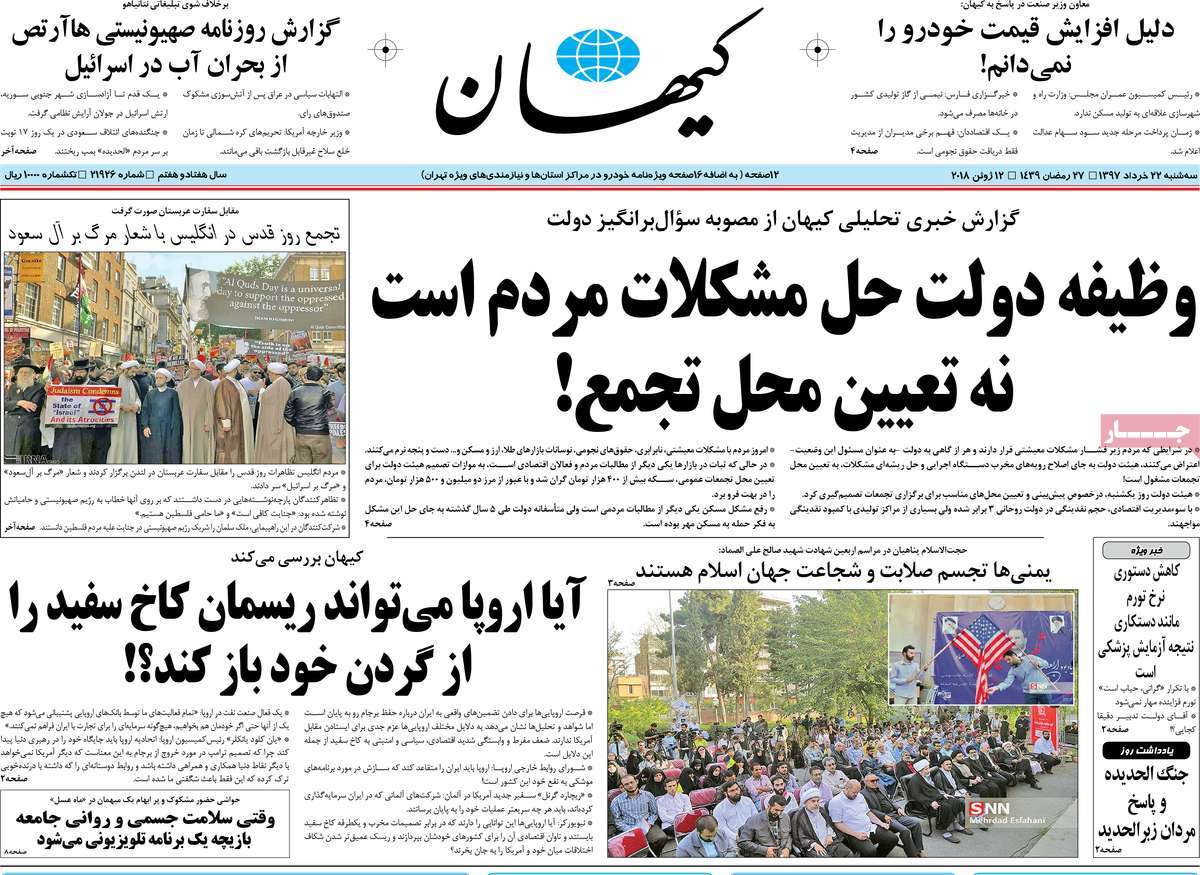 ---
Resalat:
1- Gen. Soleimani: Hezbollah Has Turned from Resistance Party into Resistance Gov't of Lebanon
2- Europe Gives US Economic Warning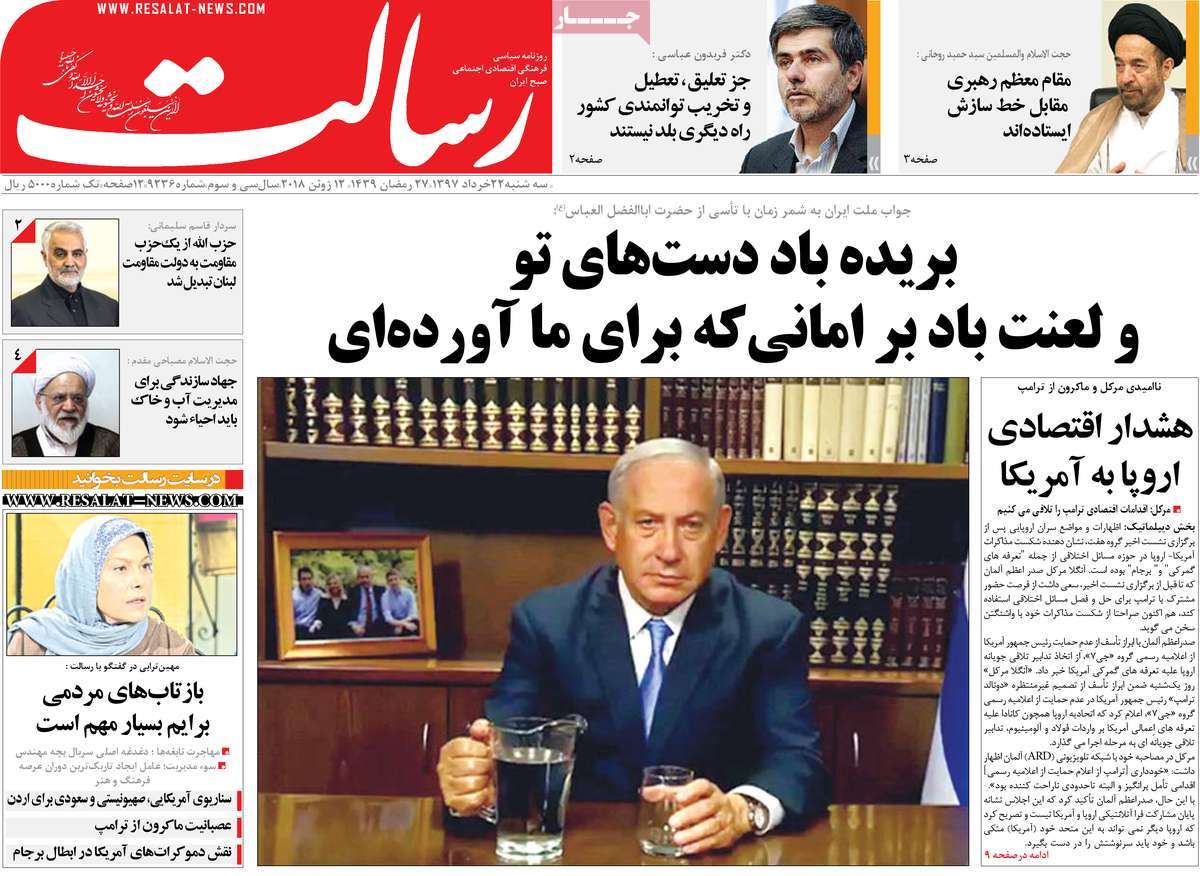 ---
Roozan:
1- Storm of Diplomacy in Sentosa Island: US, North Korean Leaders to Hold Historic Meeting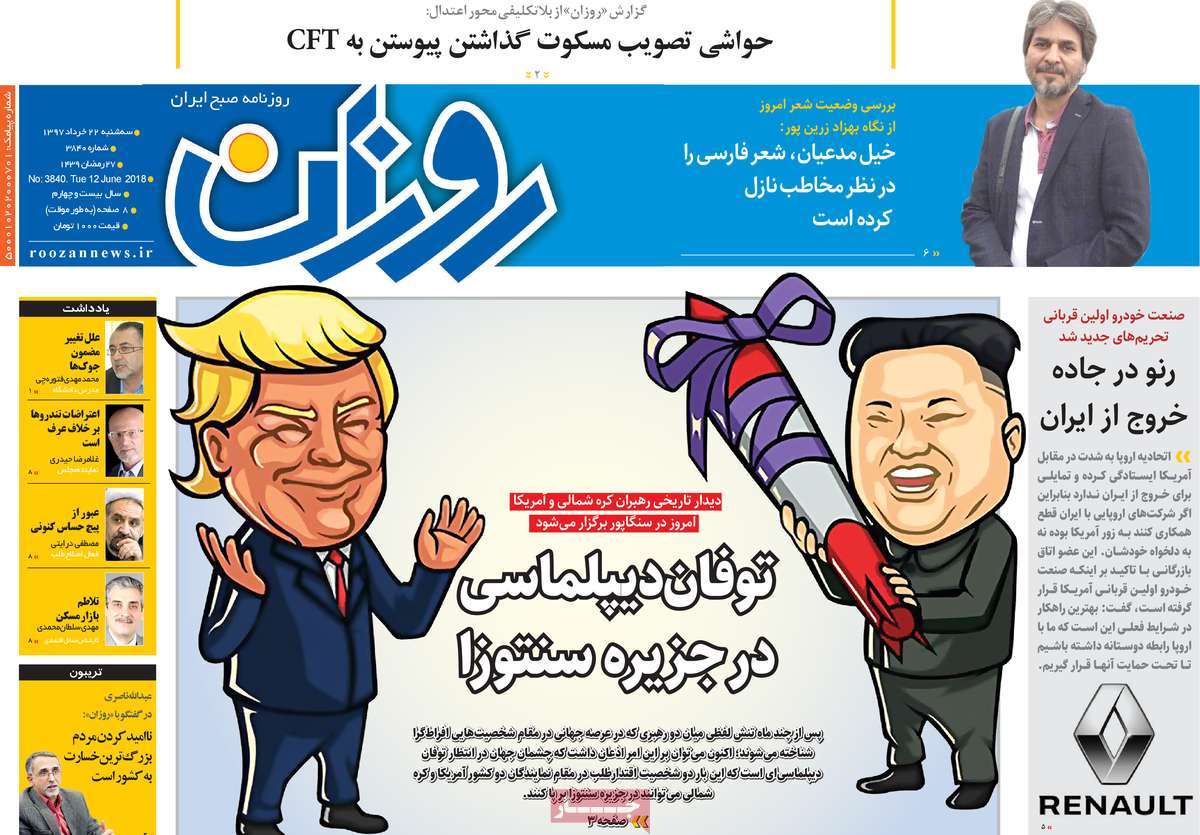 ---
Sazandegi:
1- Iraqi Democracy on Fire: Warehouse Where Ballot Boxes Were Kept Burns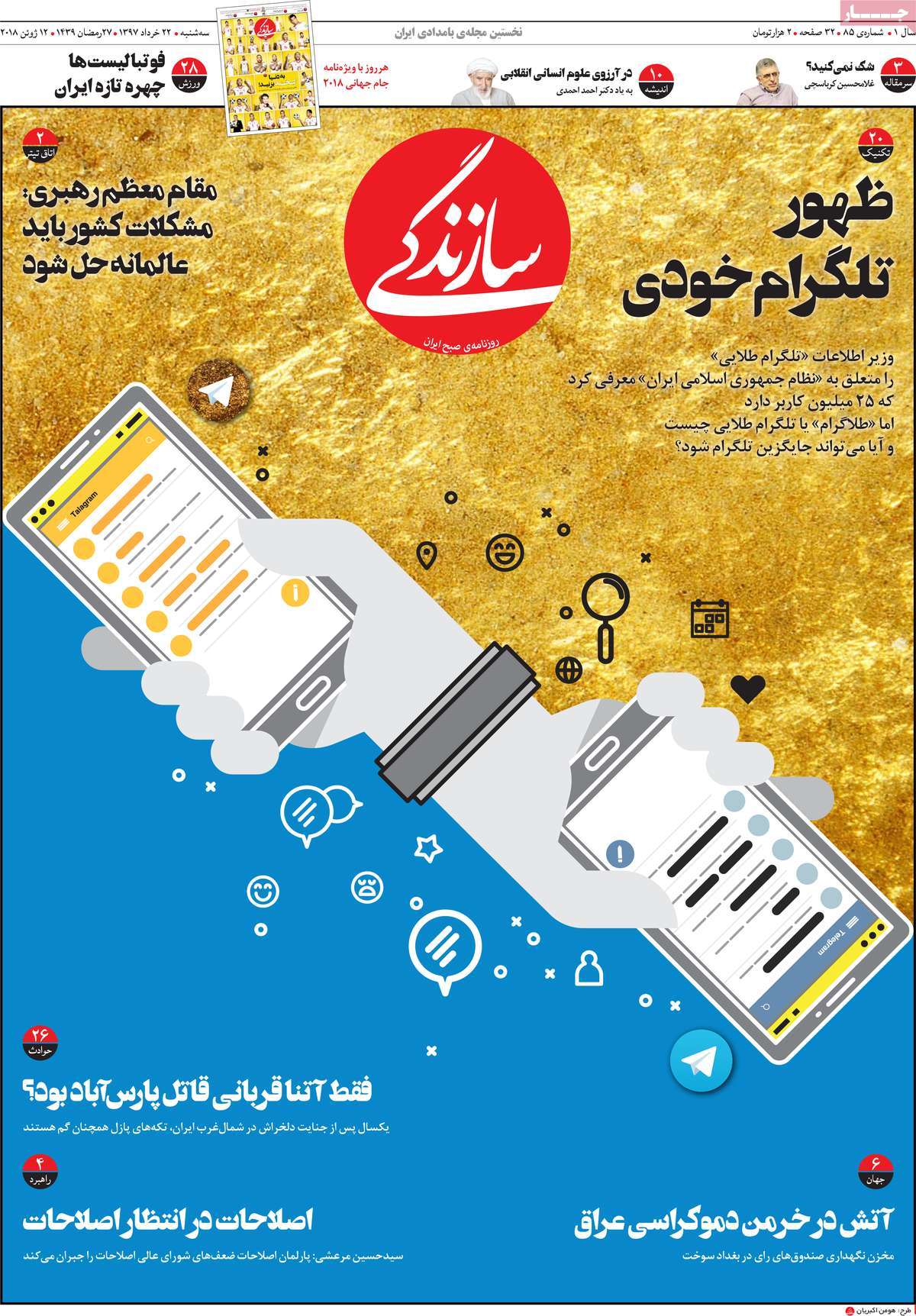 ---
Sepid:
1- Drug Precursors Produced for Six Recombinant Medicine Used in Curing Cancer, MS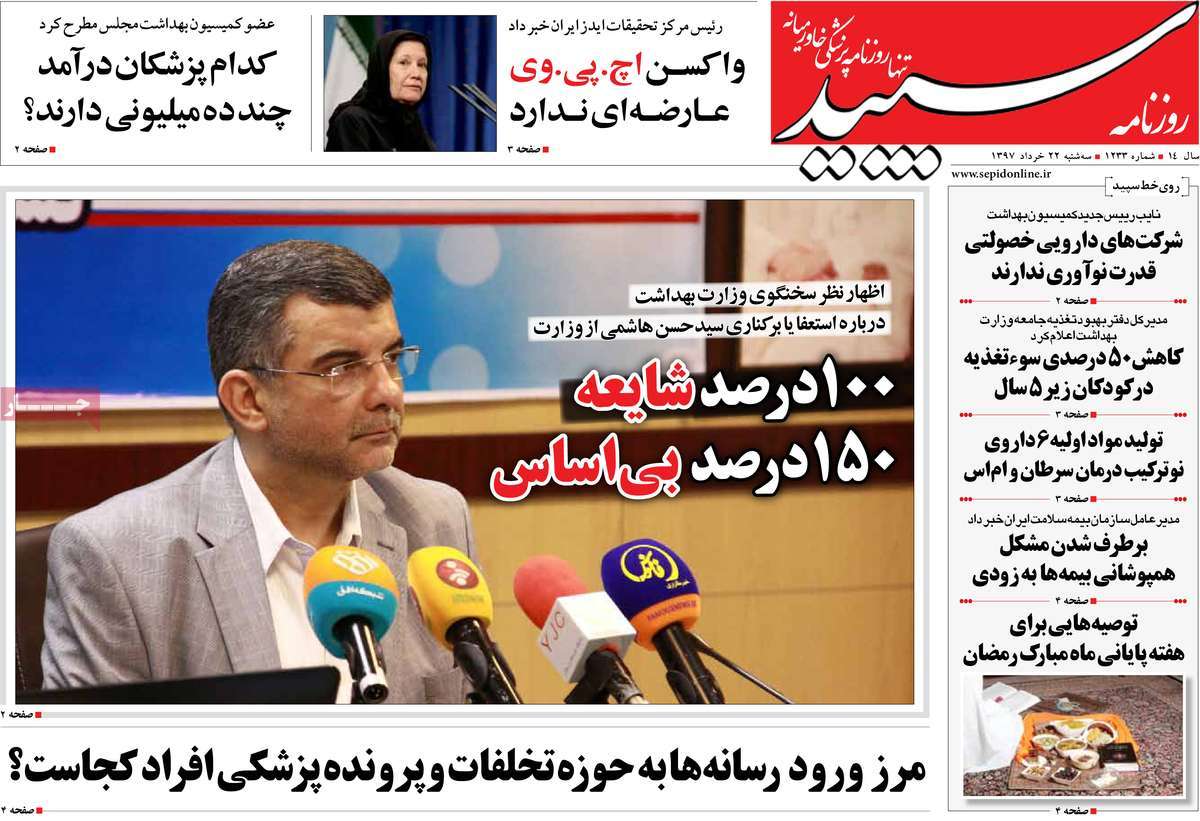 ---
Setareh Sobh:
1- Iran's Oil Clients Refuse to Obey Sanctions
2- $15-Million Meeting in Sentosa Hotel
---
Shargh:
1- Iranian Hyde Parks: Gov't Dedicates Places to Protest Gatherings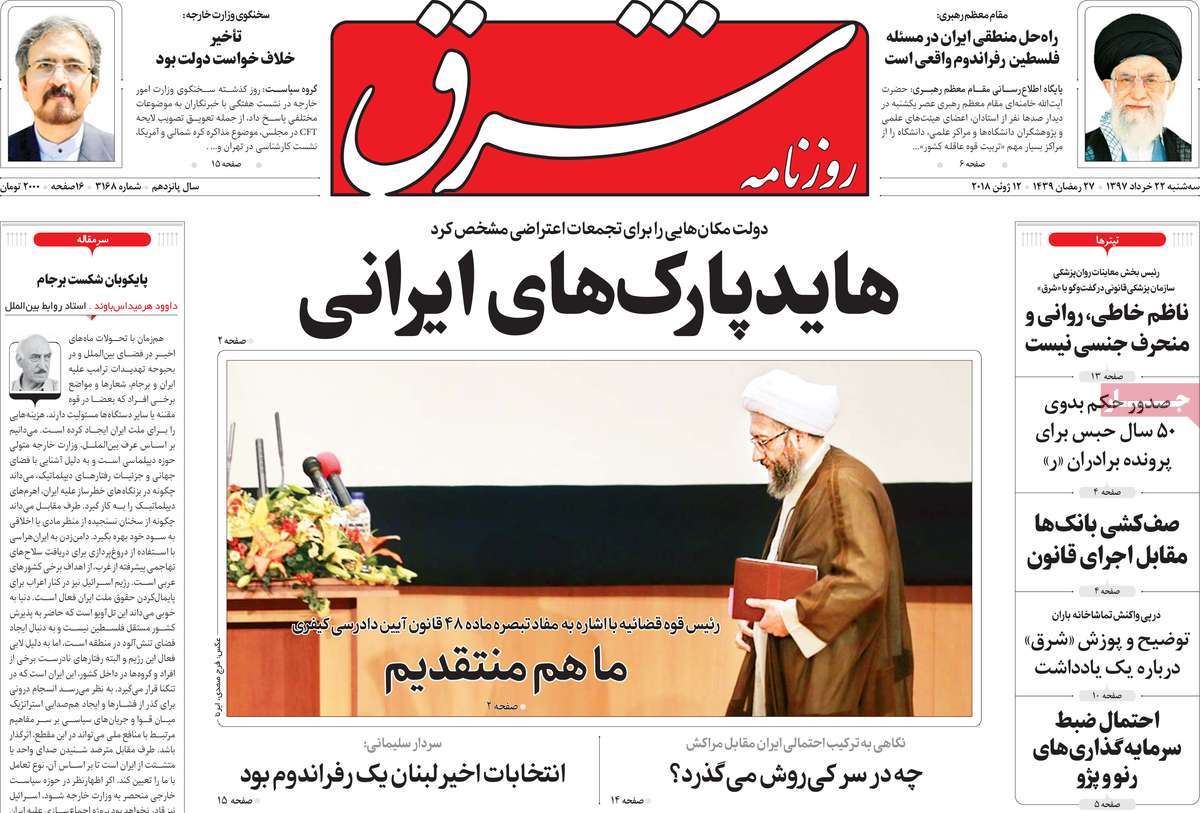 ---
Sobh-e Now:
1- Zionist Thieves of Iran's Waters: A Report on Israel's Role in Death of Iranian Qanats