Reformist dailies focused their front-page attention on the reverberations of the arrest of Hamid Baghaei, a deputy of the former president; while principlist dailies mostly led on criticism by the Judiciary chief of President Hassan Rouhani for blaming sanctions for every problem the country is faced with.
Abrar: A new round of nuclear talks between the deputies of [Iranian Foreign Minister Mohammad Javad] Zarif and [EU foreign policy chief] Federica Mogherini has opened in Vienna.
Abrar: "Some are tying every problem the country is facing to sanctions and nuclear talks," said Judiciary Chief Ayatollah Sadegh Amoli Larijani.
His comments came as Attorney General Ebrahim Raeesi said that tying the country's problems, including water shortage, to nuclear talks is a strategic mistake.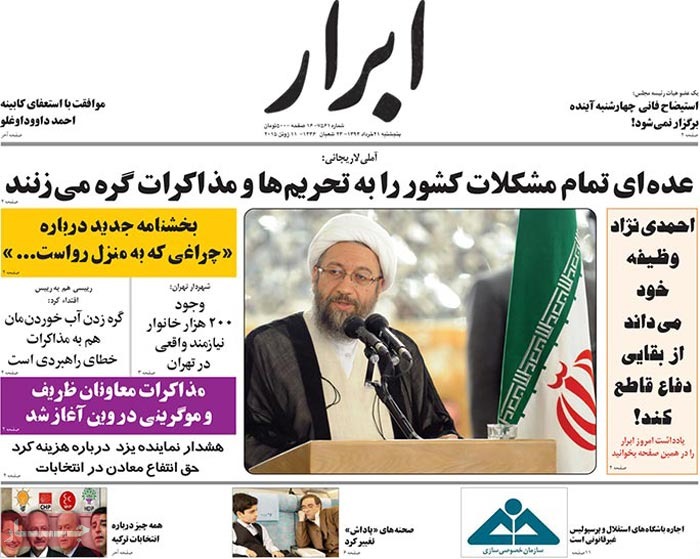 ---
Abrar-e Eghtesadi: Eight European firms seek to make investment in the Iranian refinery projects.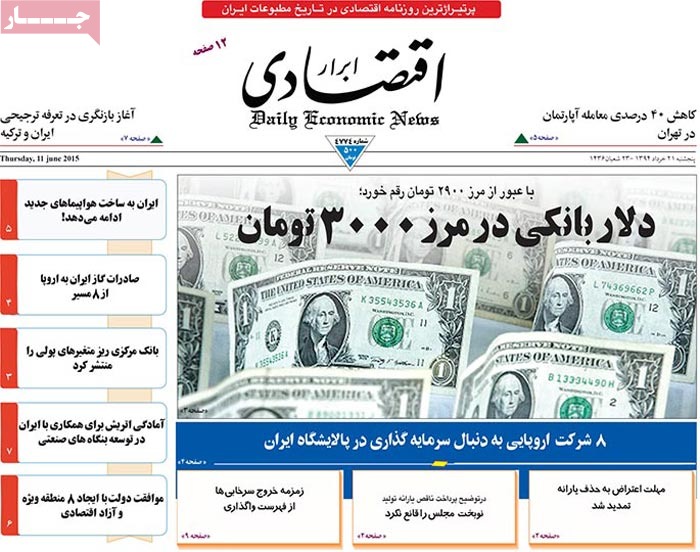 ---
Afkar: Iran is the largest exporter of cement in the world.
Afkar: "It is too soon to talk about the extension of the deadline for nuclear talks between Iran and P5+1," said Foreign Ministry Spokeswoman Marzieh Afkham.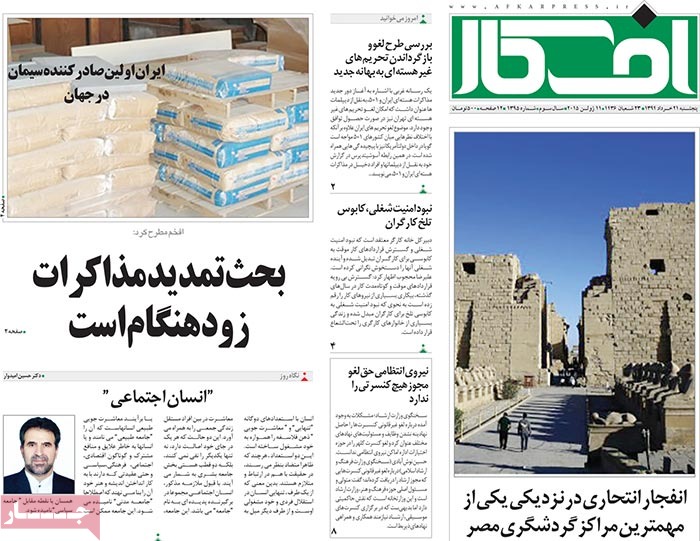 ---
Aftab-e Yazd: Two Saudi officers have been sentenced to four years in jail and 1,000 lashes each.
It came after they were found guilty of sexually abusing two Iranian teens at the Jeddah Airport.
Aftab-e Yazd: Unity among reformists has frightened principlists.
---
Arman-e Emrooz: Ahmadinejad: "[Hamid] Baghaei is impeccable. I will defend him."
[The comments by the former president came after his deputy was arrested on yet to be known charges.]
Arman-e Emrooz: "Neither my son, nor myself has been arrested," former Police Chief Brigadier General Esmail Ahmadi Moghadam said.
"I was threatened not to take them on, otherwise they would take me down with them," he said.
[His comments came after rumors swirled that the former top law enforcer had been arrested in connection with fraud before being replaced.]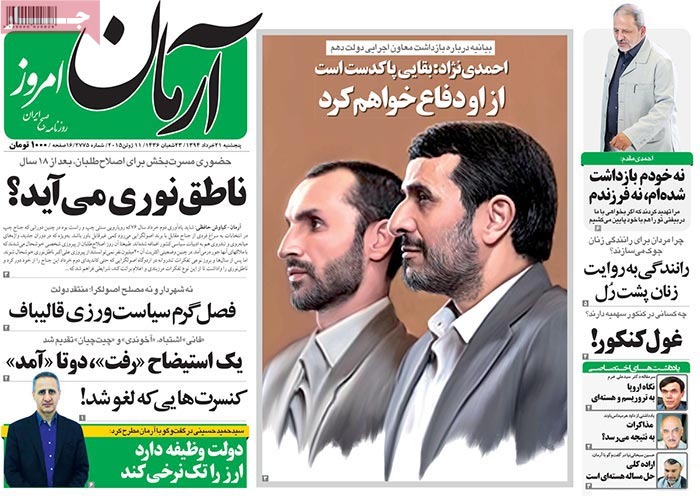 ---
Ebtekar: What happened in Isfahan had nothing to do with the Islamic Revolution Guards Corps.
The spokesman of the corps has denied reports that revolution guards have fired two live artillery rounds within the city limits.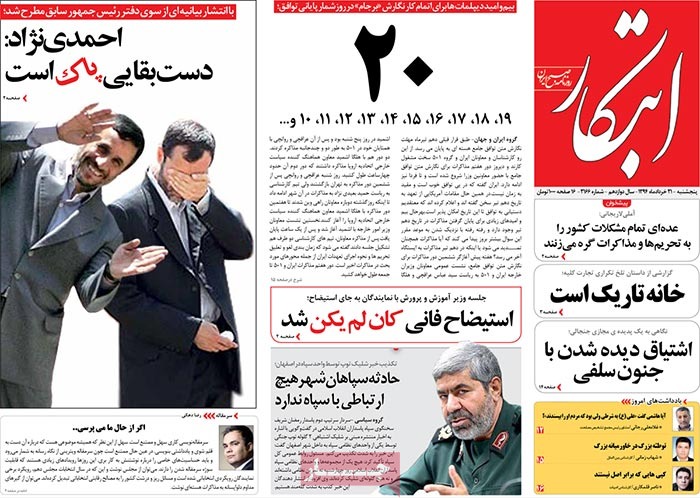 ---
Etemad: Two concerts were called off in one day.
[It came a few days after the minister of culture and Islamic guidance said that rogue elements should not be allowed to disrupt music concerts.]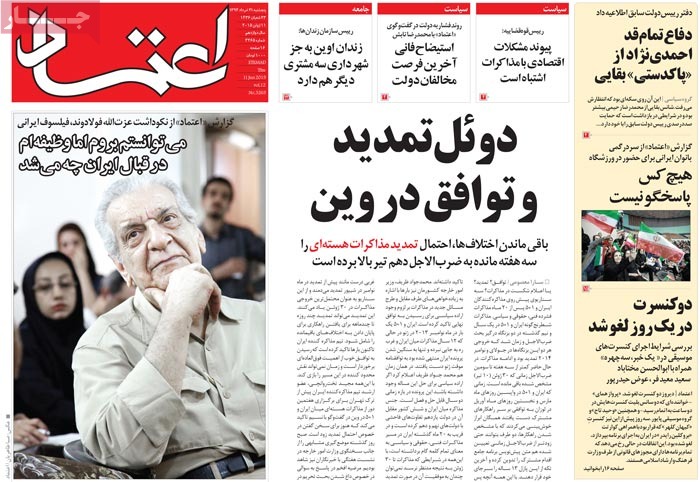 ---
Ettela'at: The Environment Protection Organization has drawn up plans to protect 30 endangered species.
Ettela'at: "Nuclear talks and [upcoming] elections should not become a source of division [in the country]," said Grand Ayatollah Nasser Makarem Shirazi, a senior cleric.
---
Hemayat: "Imam Khamenei has turned Iran into a regional power," said Secretary of the Lebanese Hezbollah Movement Seyyed Hassan Nasrallah.
---
Iran: Opponents of moderation are now targeting the Supreme Cultural Revolution Council.
Iran: Machine-made and Chinese products have taken a heavy toll on handicrafts.
Iran: Those who played a role in the incidents of Tabriz Stadium have been sacked and banned from holding office.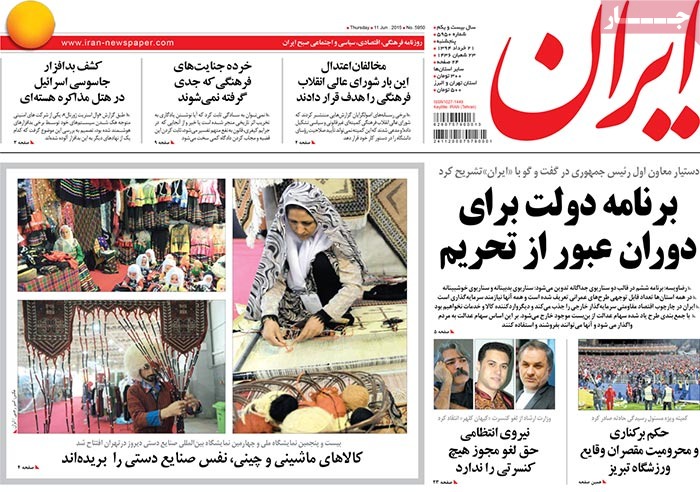 ---
Jomhouri Islami: An international handicrafts exhibition has opened in Tehran.
---
Kayhan: A gathering dubbed "We Won't Bow to Western Pressures" has been held in Karaj.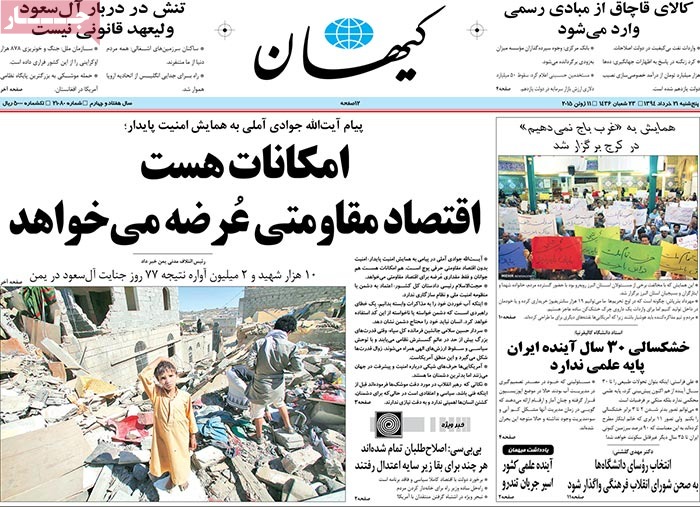 ---
Khorasan: The scientific and religious services of Ayatollah Abdullah Javadi Amoli have been praised at a gathering.
---
Qods: The Wall Street Journal has revealed that Israel has been spying on nuclear negotiations.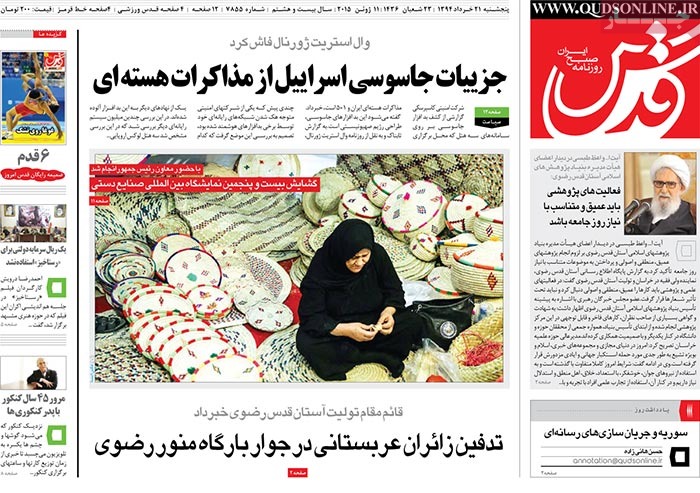 ---
Resalat: "Parliament will make the final decision on [whether Iran signs] the Additional Protocol of the NPT," said Foreign Ministry Spokeswoman Marzieh Afkham.
Resalat: Tehran Mayor Mohammad Bagher Ghalibaf has said that the culture of threatening your opponents with revealing their secrets [a reference to former President Ahmadinejad] should not be replaced with one in which every problem is blamed on those who were previously in office [an apparent reference to the Rouhani administration].
Resalat: [Principlist MP] Gholamali Haddad Adel has warned that the enemies of the revolution have plans for upcoming elections.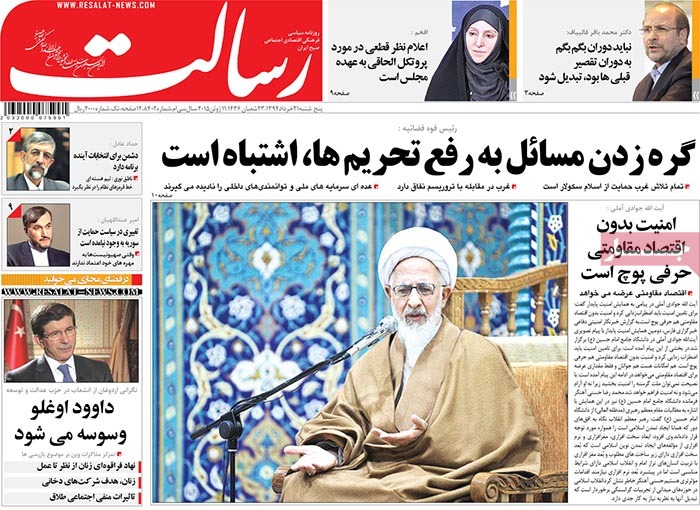 ---
Sharq: The verdict in the case involving Mehdi Hashemi [a son of Ayatollah Akbar Hashemi Rafsanjani] has been upheld.