The comments in parliament of the minister of culture and Islamic guidance in defense of the freedom of speech dominated the front pages of many Iranian dailies on Wednesday.
Abrar: A member of the Presiding Board of the Islamic Consultative Assembly has said that the education minister's impeachment hearing will be held next Wednesday.
---
Afarinesh: Mahmoud Nili Ahmadabadi has been appointed by the science minister as chancellor of Tehran University.
[Dr. Nili Ahmadabadi was once President Rouhani's pick for the minister of science, research and technology, but the Islamic Consultative Assembly would not confirm him.]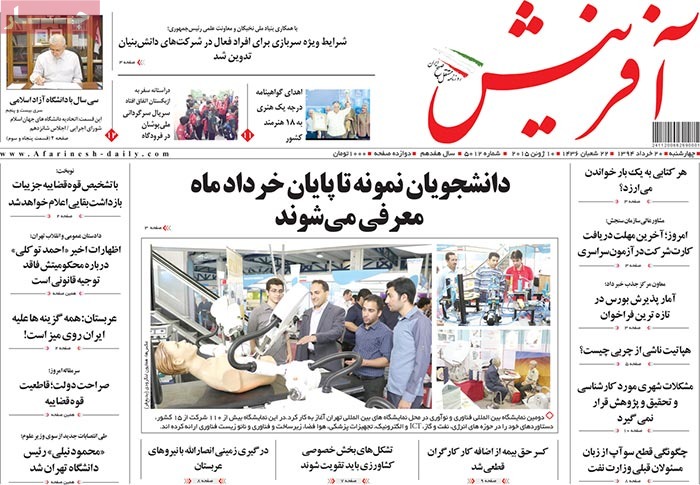 ---
Arman-e Emrooz: [Minister of Culture and Islamic Guidance Ali] Jannati was booked for a second time.
The culture chief, who was in parliament to answer the questions of MPs about the performance of his ministry, fervently supported the freedom of speech and offered blunt answers to the questions of Mir-Kazemi, an MP.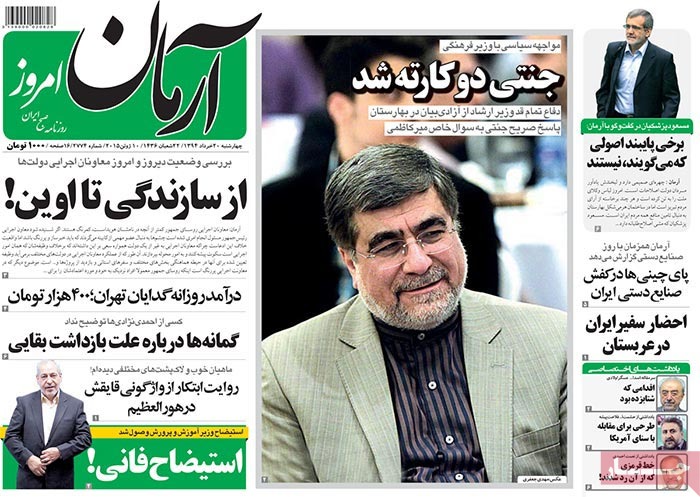 ---
Asrar: The boat carrying the director of the Environment Protection Organization and her colleagues capsized as they were on an inspection tour of Hour-al-Azim Lagoon.
Asrar: Keyhan Kalhor, a famous kamancheh player and composer, won't go on stage in Iran anymore.
The announcement by the master of classical Kurdish and Persian music came after his concert was called off by the police.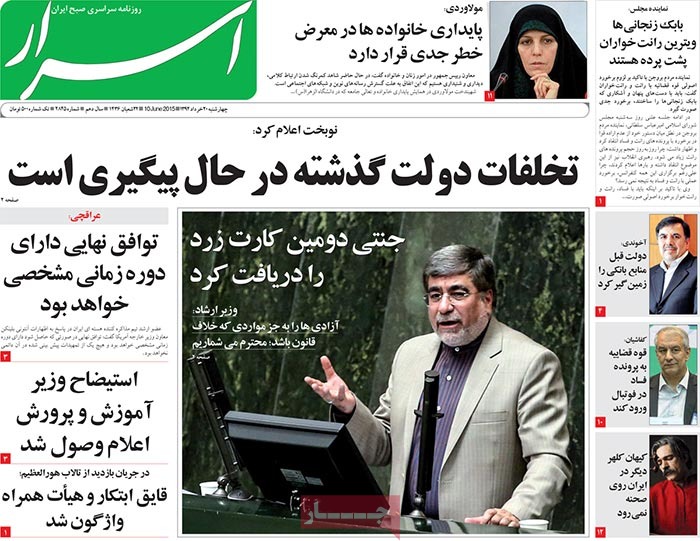 ---
Etemad: "For now, I can't talk about the charges [Hamid] Baghaei is facing," said the government spokesman.
His comments came a day after Baghaei, who served as vice-president under Ahmadinejad, was arrested.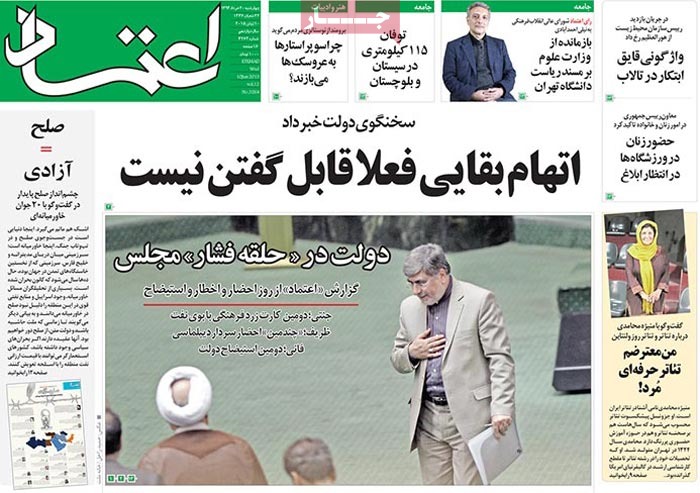 ---
Ettela'at: A dust storm in Sistan and Baluchestan Province sent 600 residents to hospital emergency rooms.
Ettela'at: "We have presented to the judiciary evidence on the offenses the previous government committed," said the government spokesman.
Ettela'at: The minister of science has named the new presidents of 21 universities across the country.
---
Kaenat: Reports that the President of the Kurdistan Region of Iraq has passed away have been denied.
Kaenat: Those behind the destruction of historical houses in Shiraz will be prosecuted.
---
Kayhan: Matchmaking websites have no official permission for their activities, a senior police official said.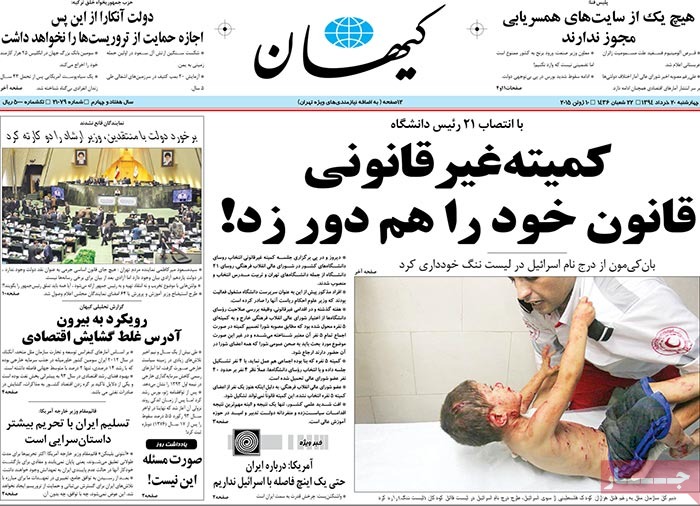 ---
Mardomsalari: Police have arrested 108 thieves in the capital.
Mardomsalari: "Although our Constitution has recognized freedom of expression for the media, some are saying we [at the culture ministry] are giving too much freedom to the press," said the minister of culture and Islamic Guidance in parliament.