Several papers today covered the ongoing visit to President Hassan Rouhani to China, where he held several meetings with his Russia, Pakistani, Afghan, Belarusian, and Mongolian counterparts, and addressed a meeting of Shanghai Cooperation Organisation (SCO).
Also a top story was the isolation of US President Donald Trump in a recent meeting of the G-7 group of industrial countries.
The Iranian Parliament's Sunday meeting to vote for or against the country's controversial accession to the Financial Action Task Force (FATF) also received great coverage.
The above issues, as well as many more, are highlighted in the following headlines and top stories:
19 Dey:
1- Kerry: Trump Proved All Concerns Raised by Iran Leader Were Right
2- Trump's Isolation in G7 Summit
---
Abrar:
1- Muqtada al-Sadr Calls for Disarmament of Iraqi Groups
2- Rouhani: Tehran Welcomes Russian Firms' Investment in Iran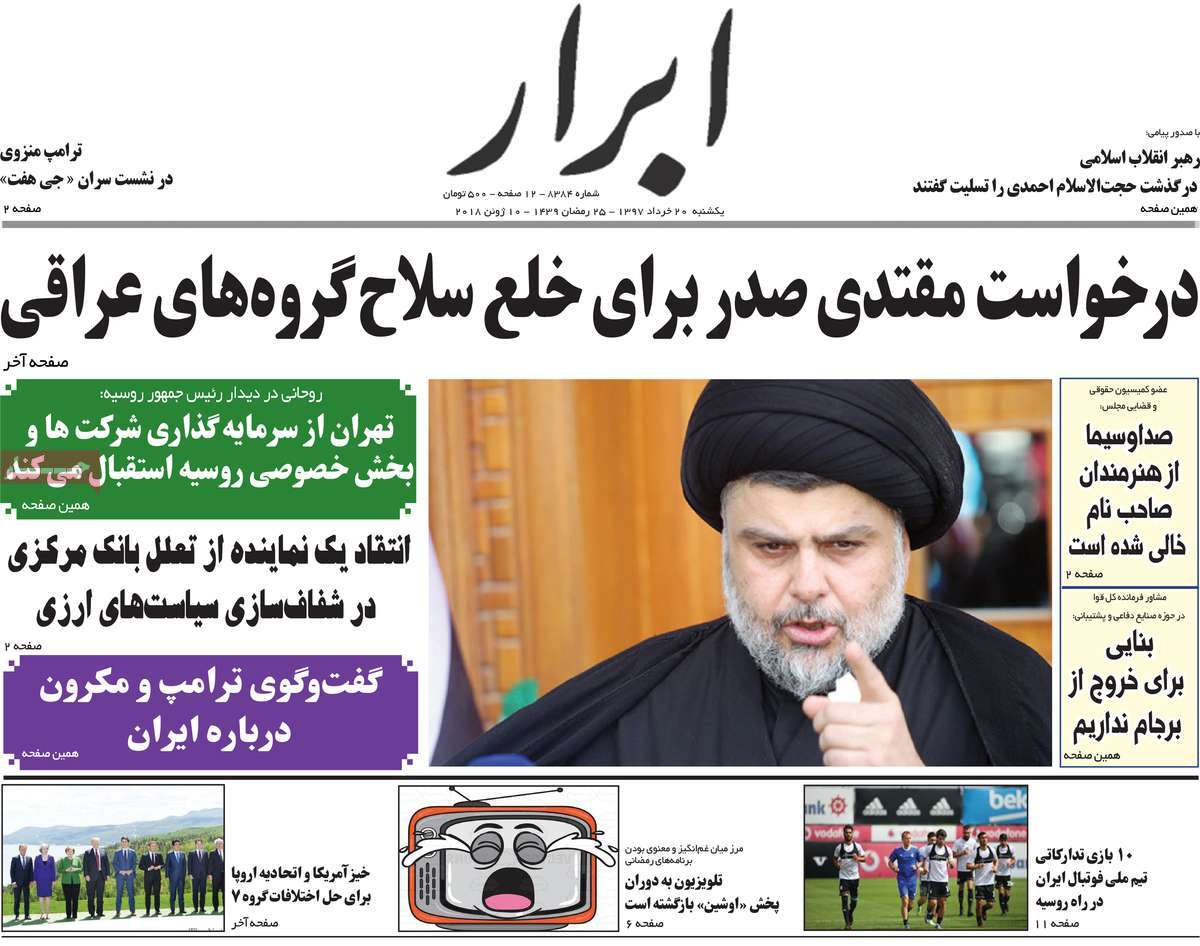 ---
Afkar:
1- Former DM Dehqan: We're Not Going to Pull Out of JCPOA
---
Aftab-e Yazd:
1- Tehran's Traffic Jam Decreases by 20% Thanks to New Plan by City Council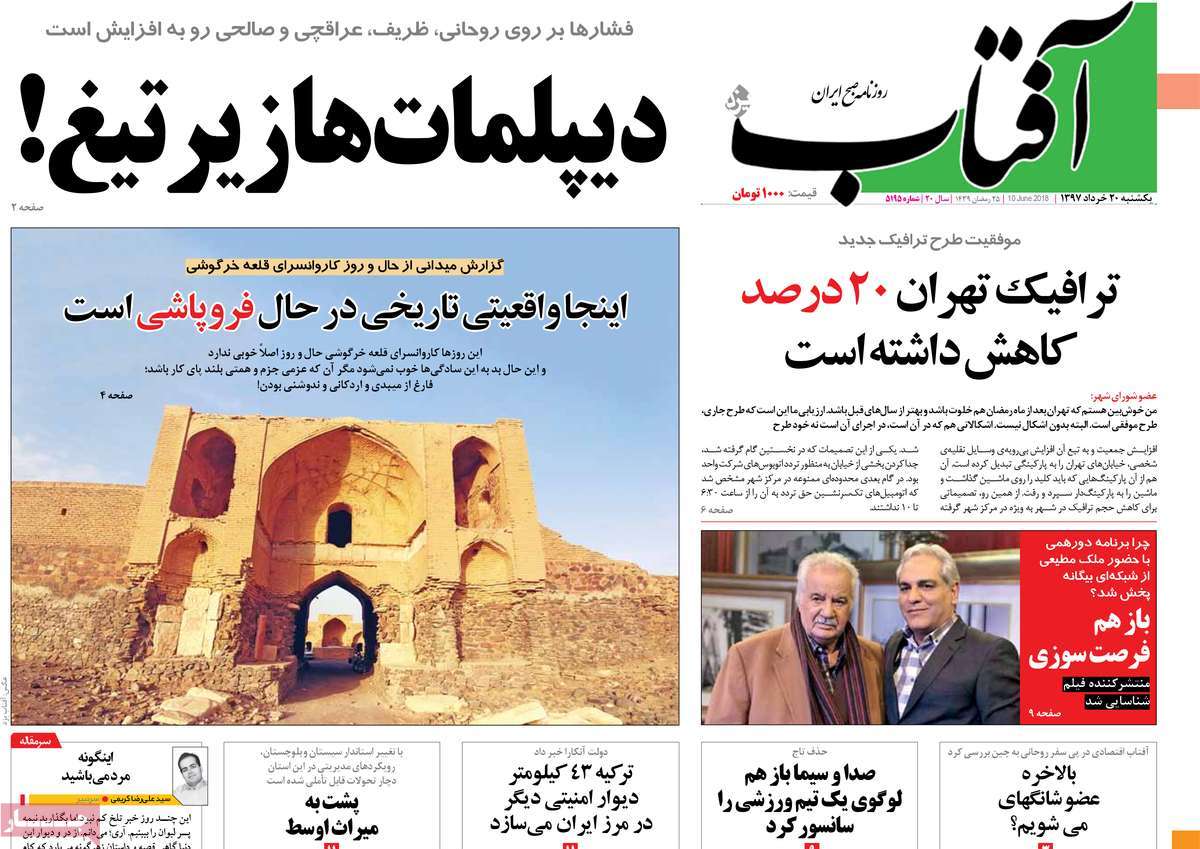 ---
Arman-e Emrooz:
1- Rouhani Meets Russian, Chinese Counterparts
Development of Ties with Eastern Bloc While Preserving JCPOA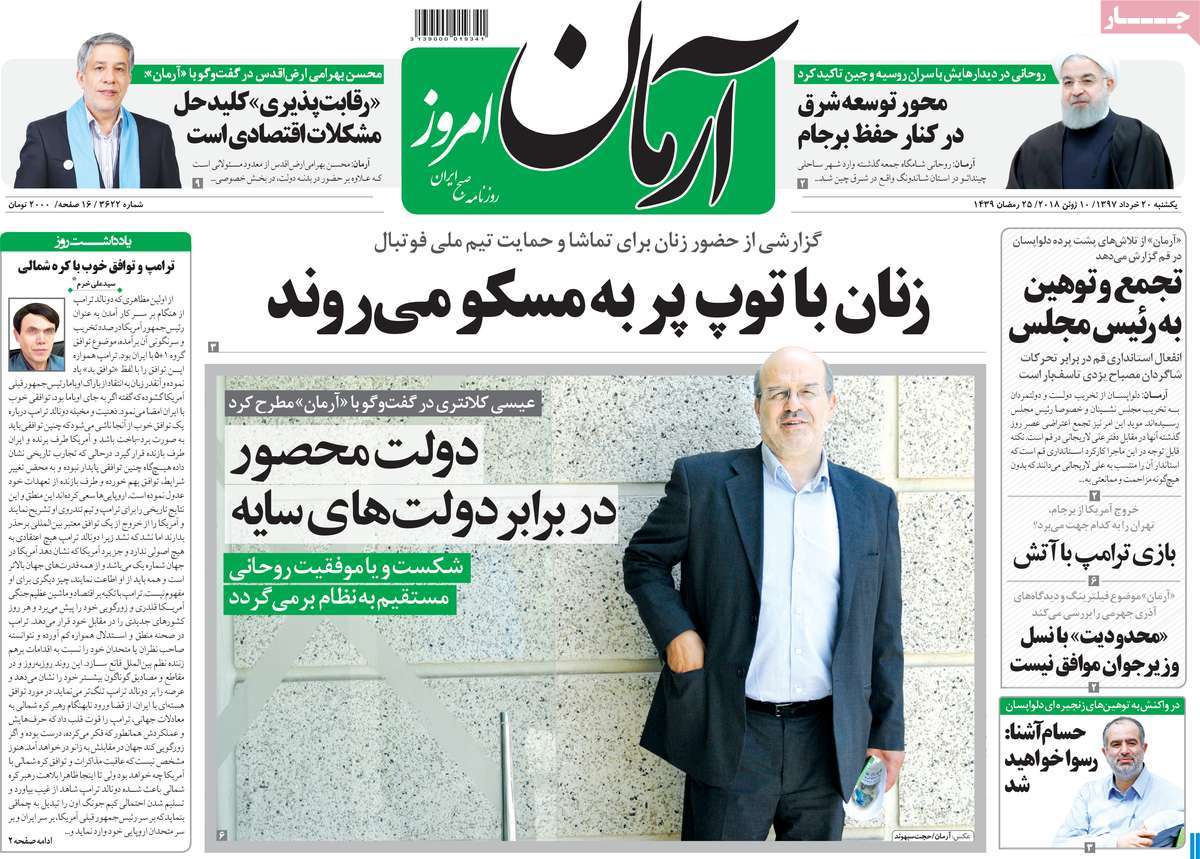 ---
Asrar:
1- Rouhani: Moscow Will Play Important Role in Preserving JCPOA after US Exit
Putin: Moscow to Continue Holding Talks with Other Parties to Support JCPOA
---
Ebtekar:
1- Diplomatic Consultations with SCO Member States
Rouhani Meets Russian, Afghan, Pakistani Counterparts in Visit to China
---
Etemad:
1- Exclusive Interview with Helga Schmid: Europe after Doing Legal Business with Iran
---
Ettela'at:
1- Russia: Remnants of ISIS in Syria Supported by US
2- European Council Chief: Trump Challenges Global World Order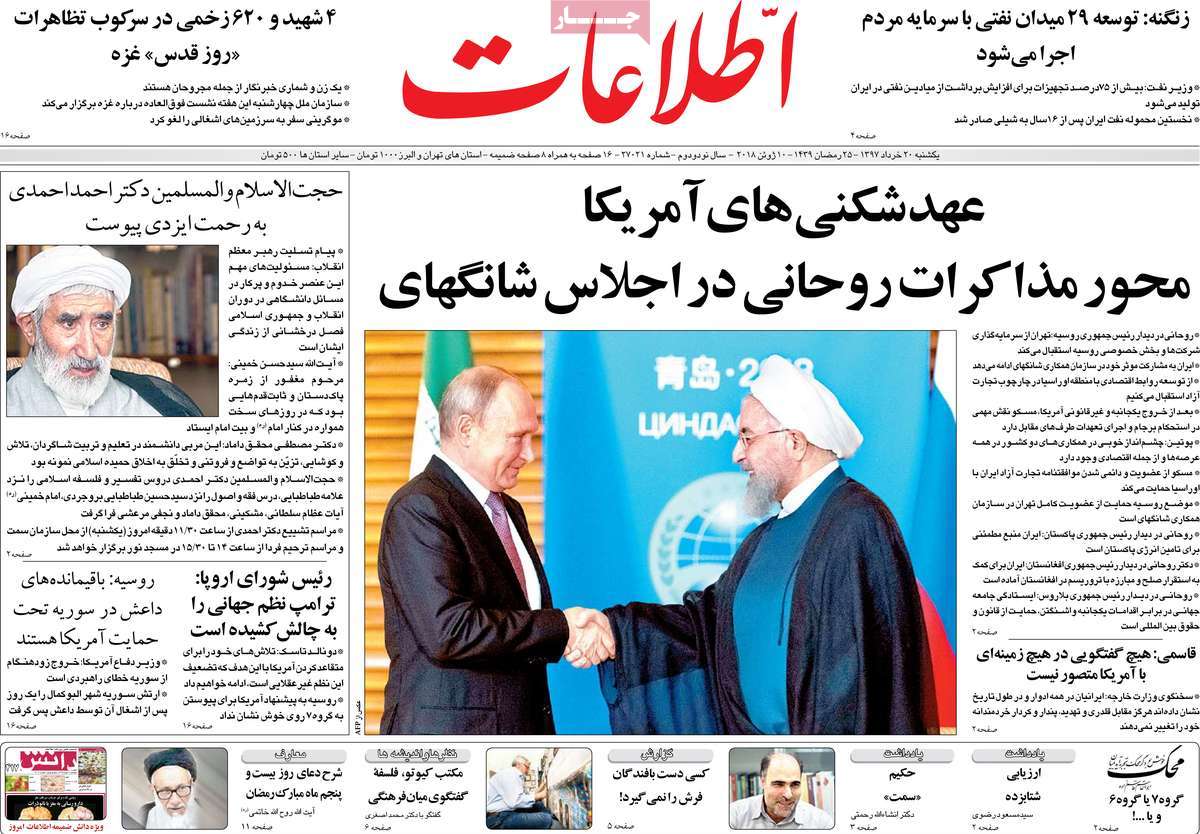 ---
Ghanoon:
1- Trump Looking for Domination over Global Energy Market
Trump Wants to Return Russia to G8
---
Iran:
1- Oil Minister: People to Become Investors of Iranian Oilfields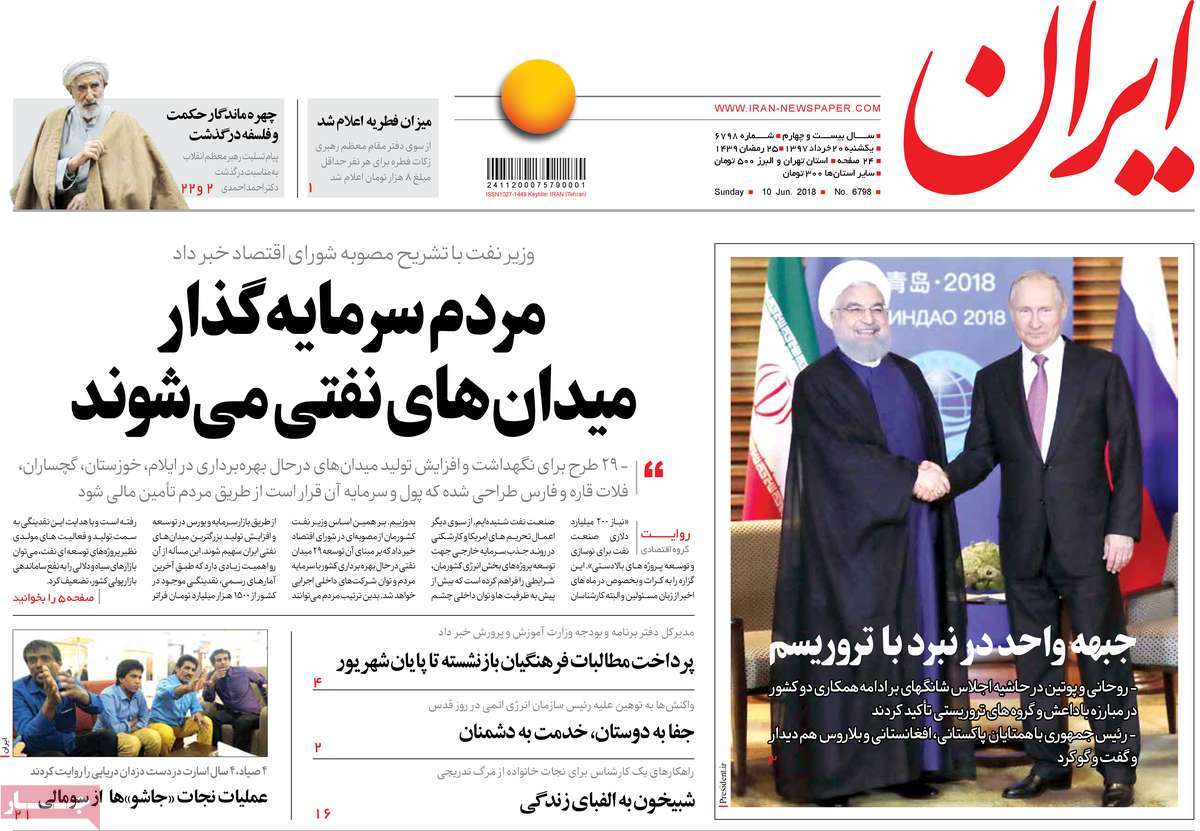 ---
Javan:
1- Merkel: We Must Do Anything to Preserve JCPOA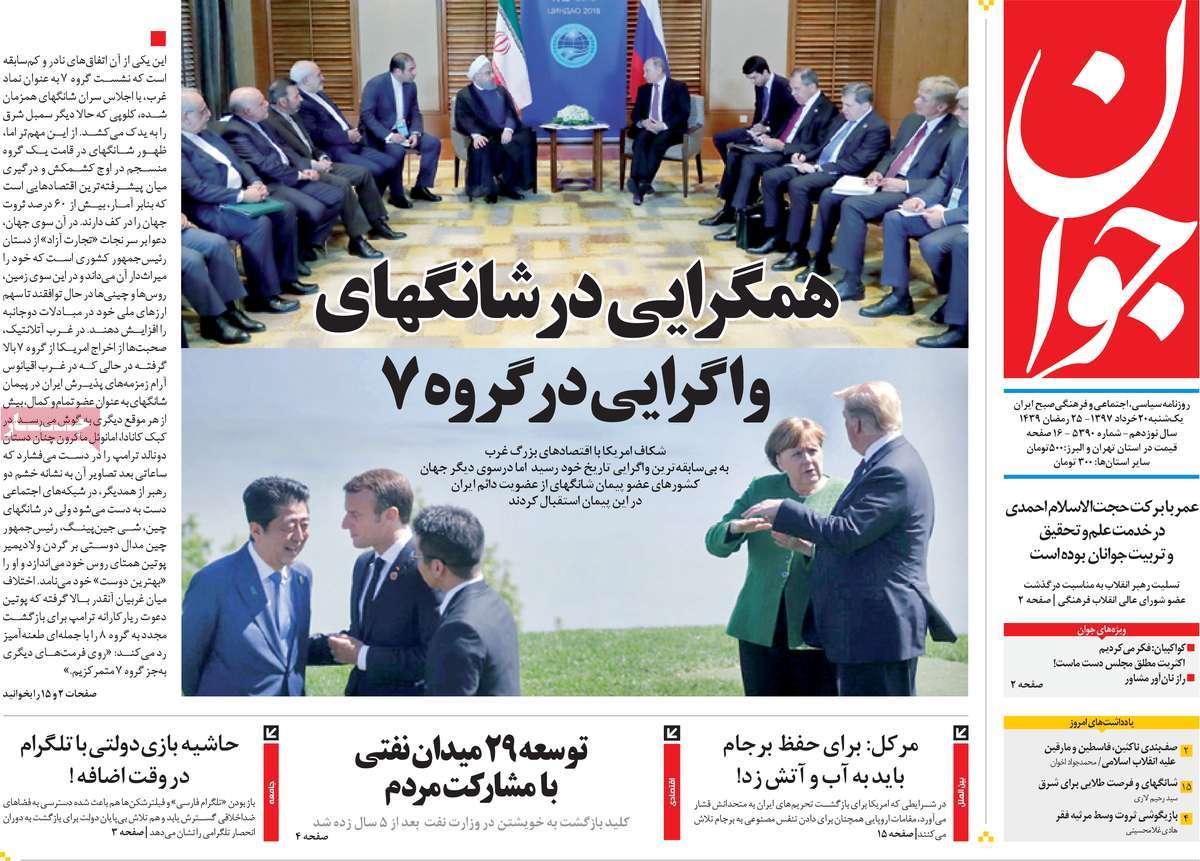 ---
Jomhouri Eslami:
1- Shanghai Cooperation Organisation, G7 vs. Trump
2- Four Killed, 620 Wounded in Quds Day Rallies of Palestinians
---
Kayhan:
1- Parliament's Ratification of FATF to Bring ISIS to Iran
2- European Countries Leave Iran before Even Arriving
Isn't It Time to Trust Domestic Producers?
3- Nasrallah: Reactionary Arab Rulers Won't Survive More than One Week without US Support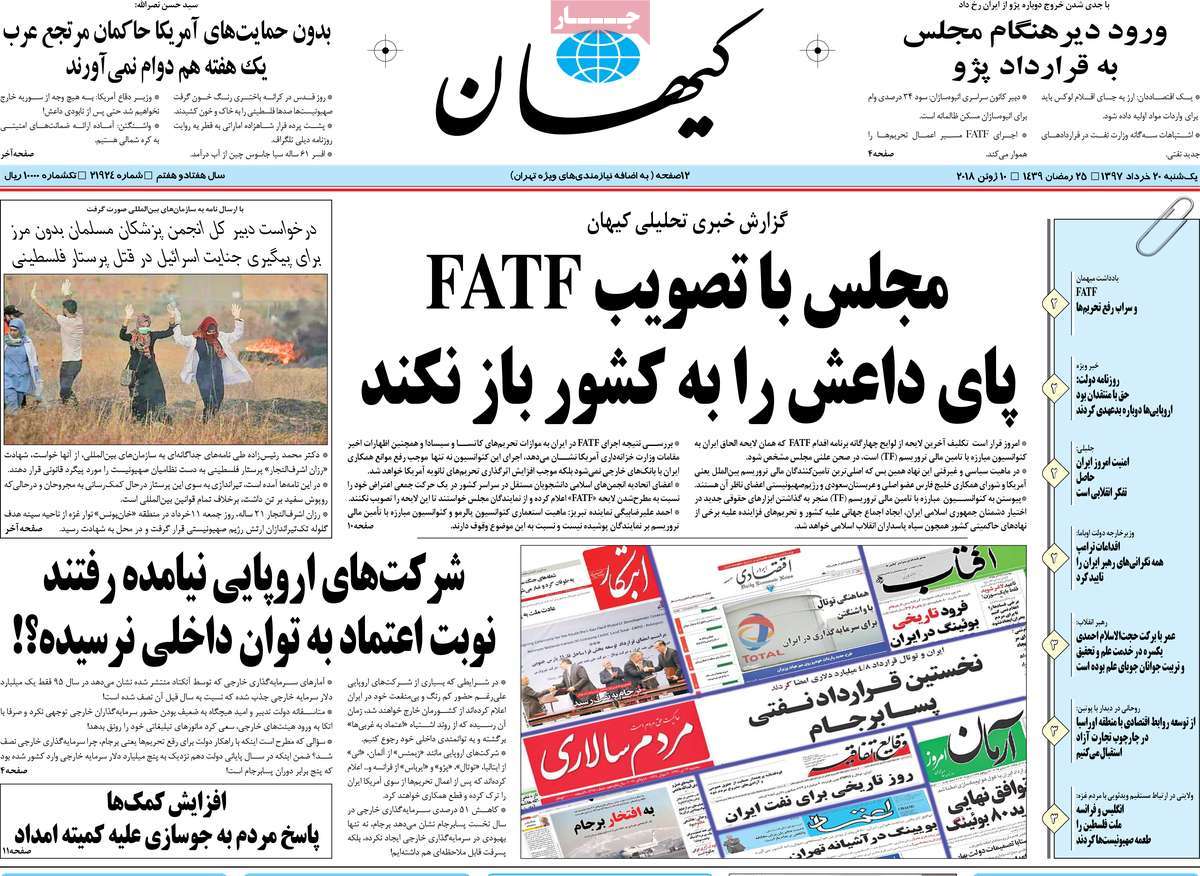 ---
Khorasan:
1- Roadmap for 190,000 SWU Enrichment
A Report on Iran's Technical Capabilities to Achieve Such Power
---
Rah-e Mardom:
1- Queiroz: We Can Surprise Morocco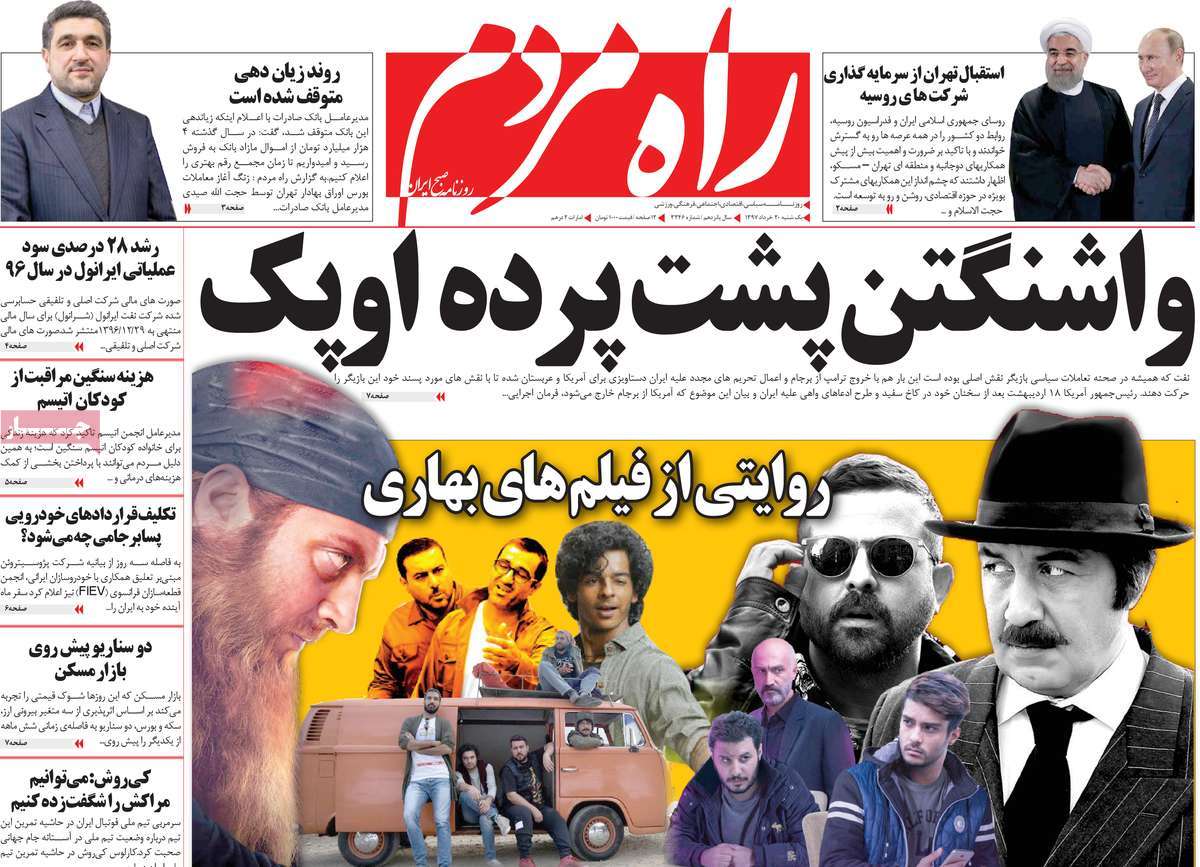 ---
Resalat:
1- No Reason to Remain in JCPOA If Europe Doesn't Give Us Guarantee: Ex-FM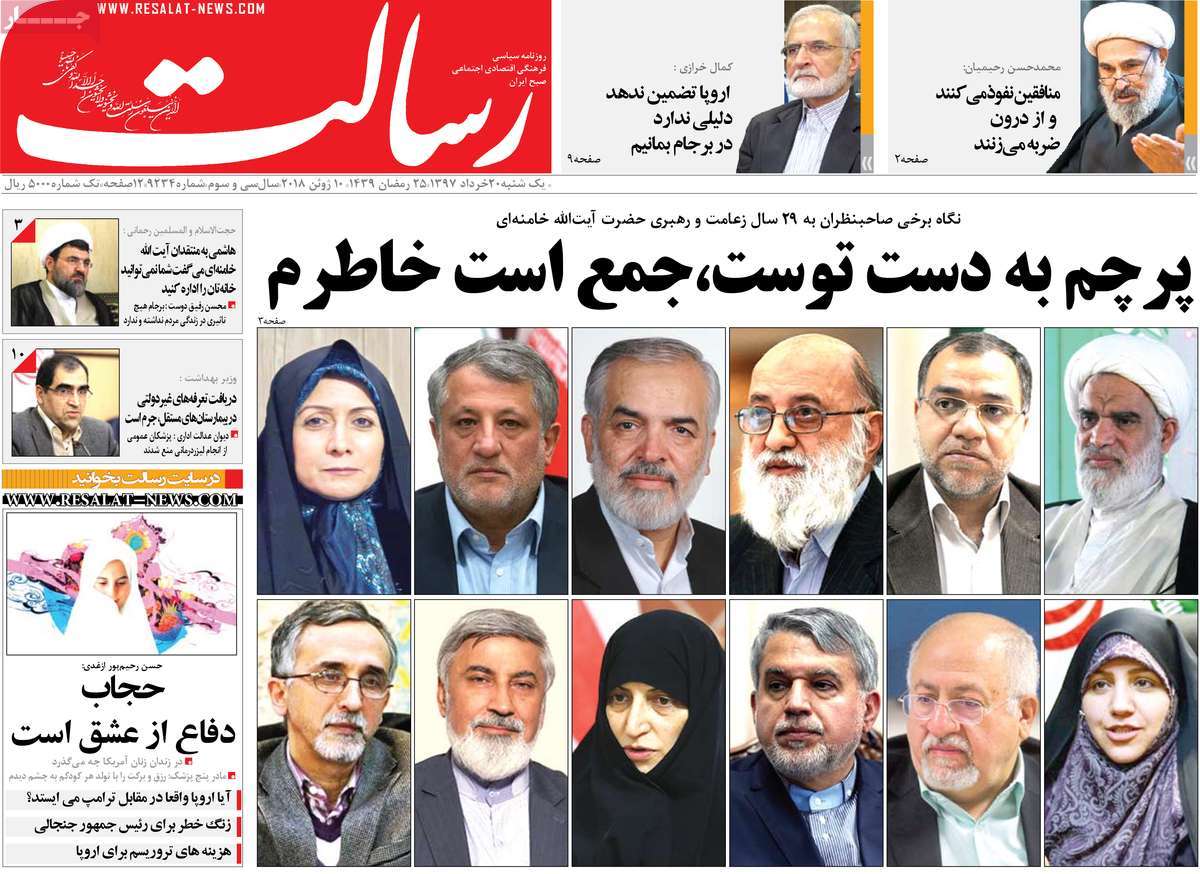 ---
Rooyesh-e Mellat:
1- Kamalvandi: Other Sides Must Know Iran Speaking Seriously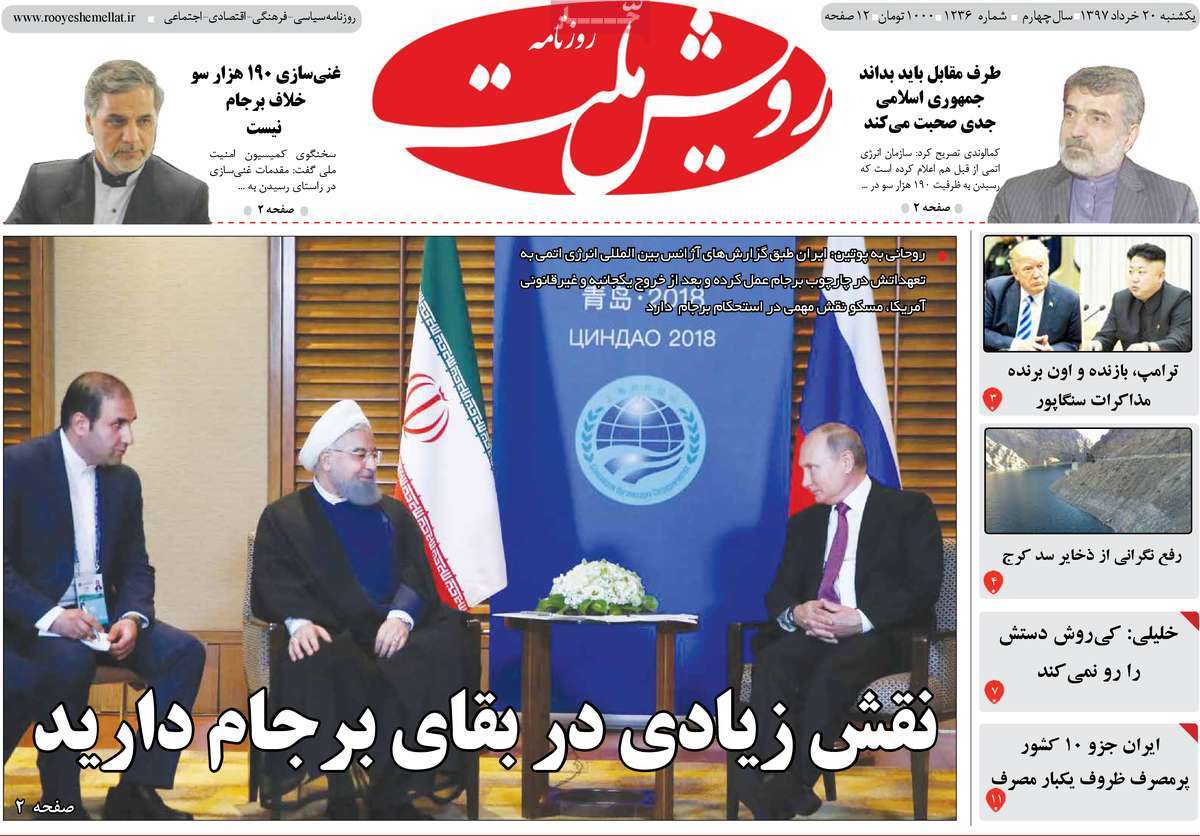 ---
Shargh:
1- Reconciliation with Enemies, Distance from Allies
Trump Changing US Strategy after Many Years
---
Siasat-e Rooz:
1- 190,000 SWU Enrichment Not against JCPOA: MP
---
Vatan-e Emrooz:
1- Great Confession
Deputy Economy Minister: Some FATF Rules to Create Problems for Iran's Banking System
Westerners May Consider as Terrorist Certain Organizations Endorsed by Iran