Reformist dailies on Monday focused on comments by the daughter of the late Imam Khomeini and those of the Expediency Council chairman on their front pages. Principlist newspapers put under the spotlight the comments of the economy minister that the Central Bank is unable to keep liquidity in check.
Afarinesh: A warning by a Health Ministry official to those who smoke hookah: "Hepatitis and tuberculosis are lurking."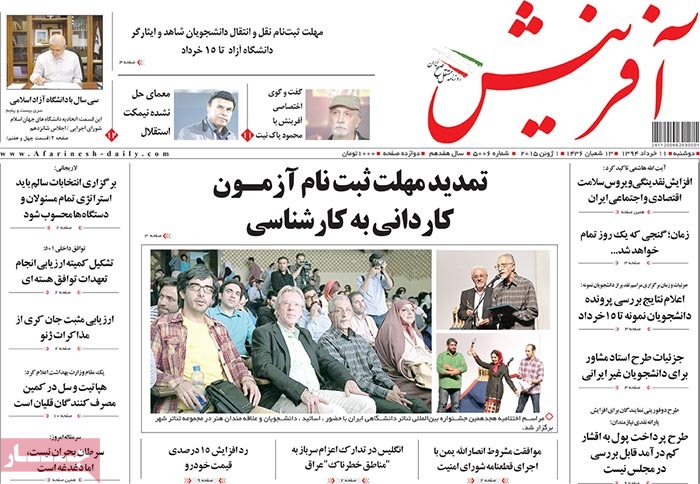 ---
Afkar: Between 75,000 and 80,000 Iranians are suffering from multiple sclerosis.
Afkar: Iraqi Prime Minister Haider al-Abadi has supported his country's cooperation with Iran in the fight against IS.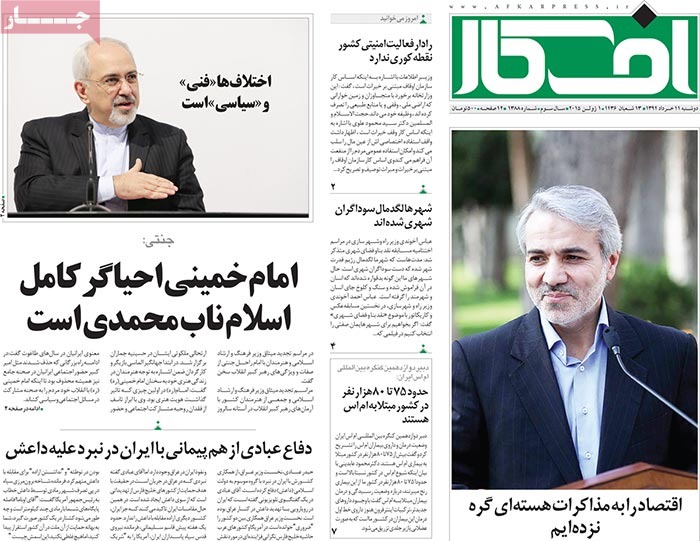 ---
Aftab-e Yazd: The role Ahmadinejad's mismanagement played in today's water scarcity.
A report by the daily takes a closer look at the unauthorized wells in operation across the country and their adverse impact on the country's water resources.
---
Arman-e Emrooz: Tehran MP Ali Motahari has sent an open letter to President Rouhani in which he has threatened to join hands with fellow deputies to impeach the interior minister in case any more authorized speeches are cancelled.
Arman-e Emrooz: The controversial recollection of Ayatollah Hashemi Rafsanjani was confirmed by none other than the daughter of the late Imam Khomeini.
"My mother told him, 'I gather you are not going to run for president. Imam handed the revolution to the likes of you and now you are shirking your responsibility?'" said Zahra Mostafavi.
[Hardliners lashed out at Rafsanjani a while ago when he quoted the wife of the architect of the Islamic Republic as making the same comments to him. "Why is it that Rafsanjani always quotes the dead as saying this and that," they growled.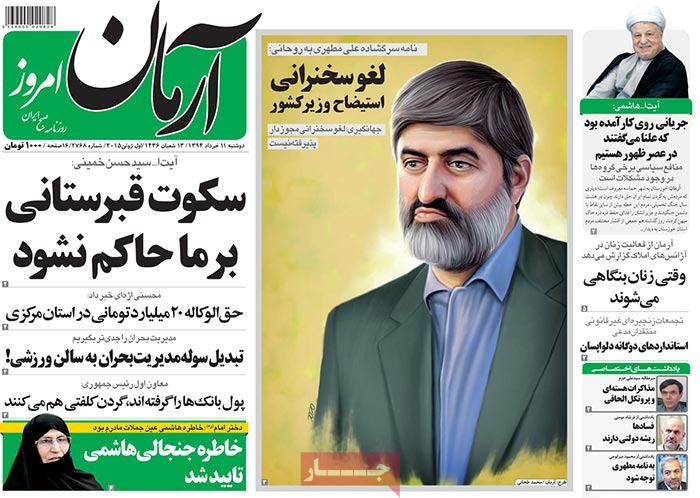 ---
Ebtekar: "Iran is determined to carry on with nuclear talks," said Ali Akbar Velayati, an advisor to the Supreme Leader for international affairs.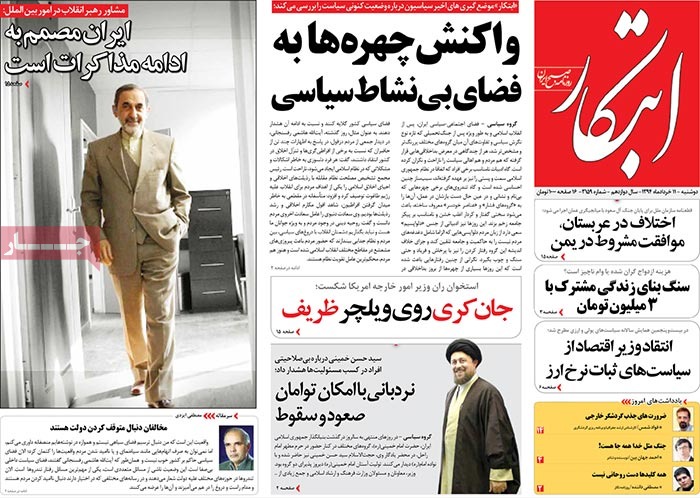 ---
Ettela'at: "Differences between parties to the nuclear talks are political and technical in nature," said Iranian Foreign Minister Mohammad Javad Zarif.
Ettela'at: Iran's economic growth hit 3.6 percent.
Ettela'at: "Government is walking down the right path; calm has returned to the country; we need to set the stage for maximal turnout of the public in elections," said Parliament Speaker Ali Larijani.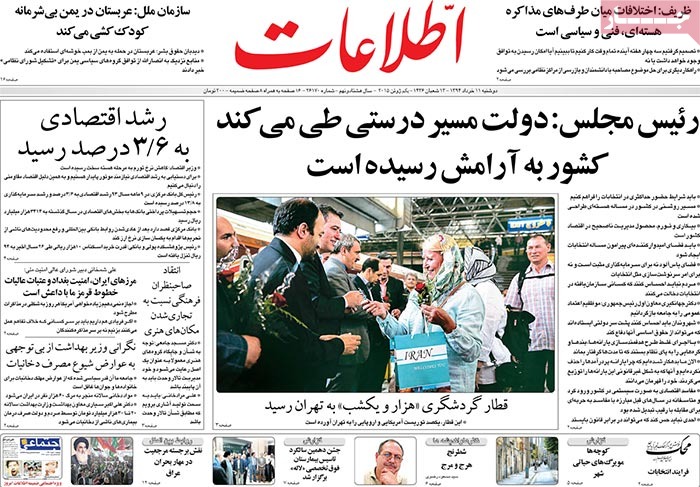 ---
Iran: "We should not allow a small bunch to defy laws," said First Vice-President Eshagh Jahangiri in comments aimed at governors from across the country.
Iran: "Potential candidates should not be threatened with disqualification," said Parliament Speaker Ali Larijani.
Iran: "Governors should take every care in their choices and appointments," said the grandson of the late Imam Khomeini.
---
Jomhouri Islami: "We will work full time in the next 3-4 weeks," said Foreign Minister Mohammad Javad Zarif as Iran and P5+1 work against the clock to finalize a nuclear deal before an end-of-June deadline.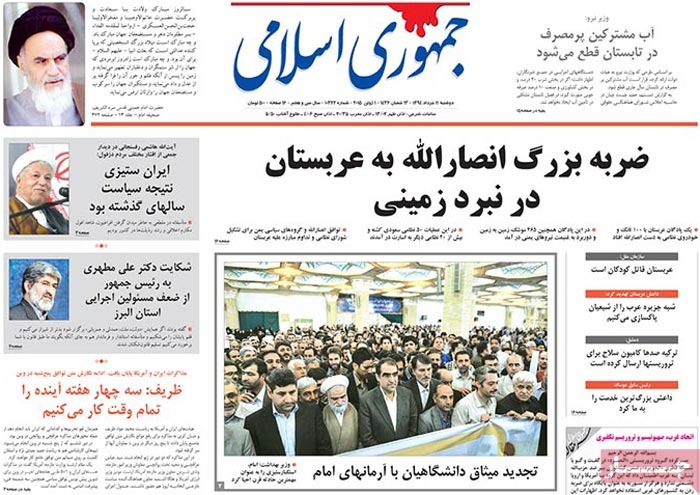 ---
Kayhan: "The Central Bank is no longer able to keep liquidity in check," admitted the economy minister.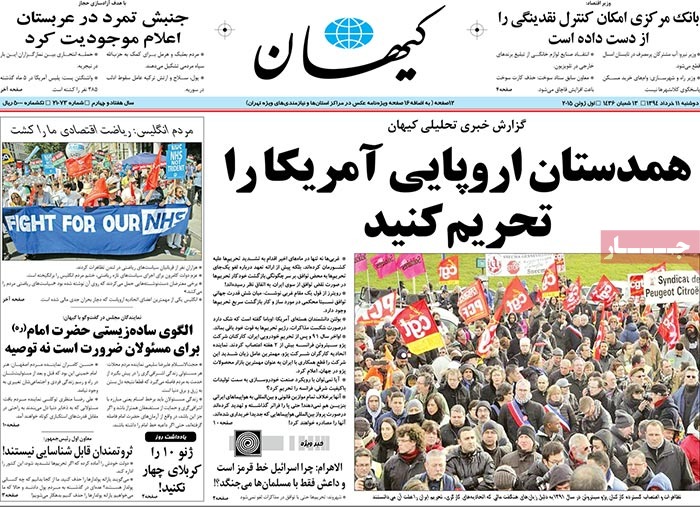 ---
Shahrvand: American and European tourists have arrived in Tehran on board a luxury train.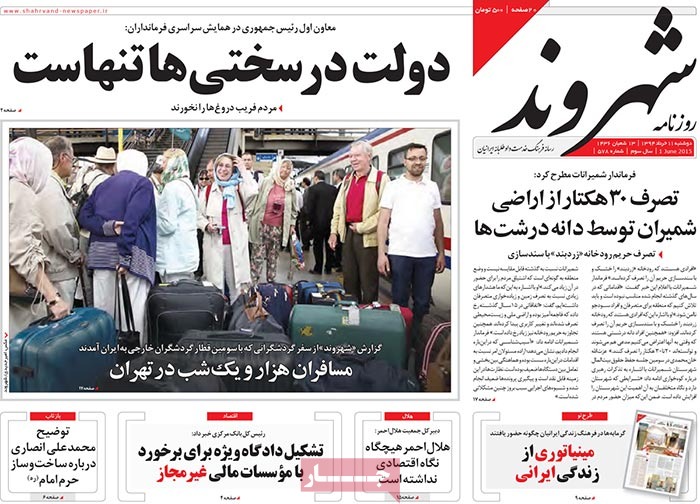 ---
Sharq: "The document that allows women to go to sporting arenas has been signed," said a vice-president in an interview with Sharq daily.