Nuclear talks between Iran and P5+1 and the results of the Greek referendum on austerity measures dominated the front pages of Iranian newspapers on Tuesday.
Ettela'at: A final push by Iran and P5+1 to clinch a deal.
A source close to the Iranian nuclear negotiating team has said that in certain areas serious differences remain to be settled.
None of Iran's nuclear activities will come to a halt when the Joint Comprehensive Plan of Action produces the intended result.
---
Abrar: The minister of roads and urban development is now more likely to be impeached.
It came after the Ministry of Roads and Urban Development failed to deliver a report to MPs on the crash of an Iran 140 plane.
Abrar: In Britain, the Sunday Times has reported that President Barack Obama will pay a visit to Iran.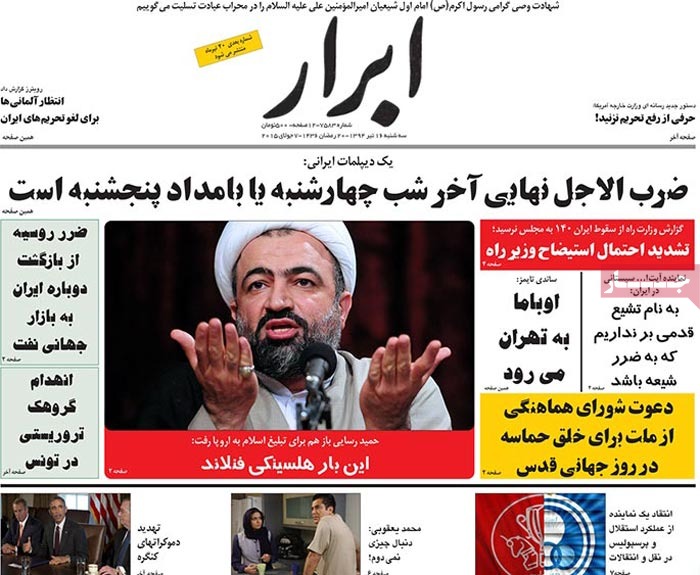 ---
Afkar: A senior German trade delegation is about to visit Iran.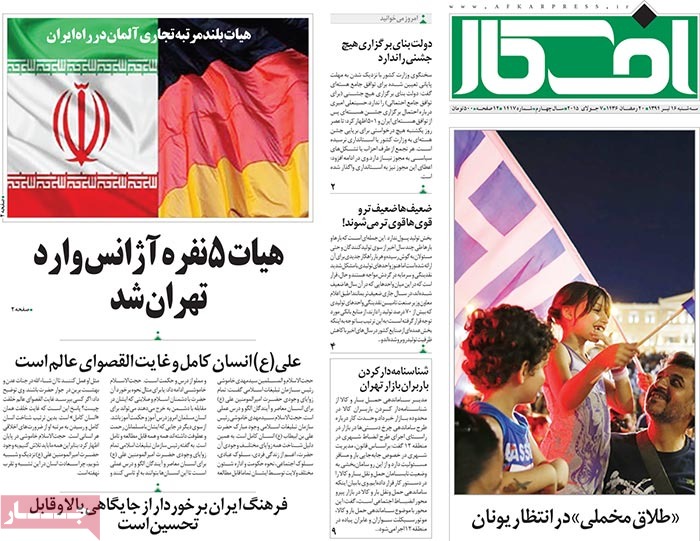 ---
Aftab-e Yazd: Hamid Rasaei [a hardline MP who is very critical of President Rouhani and his policies, both domestic and foreign] has once again traveled to Europe to promote Islam.
Aftab-e Yazd: "Ahmadinejad won't be successful on the political front," said Mohammad Khoshchehreh [a onetime confidant of the former president].
"In a tactical move not to be questioned, the former president acted as if he was active and progressive," Khoshchehreh said in an interview with the daily.
---
Arman-e Emrooz: Countdown is on; very crucial 48 hours lie ahead.
The foreign ministers of P5+1 are all in Vienna [for nuclear talks with the Iranian delegation].
Arman-e Emrooz: "An unsigned deal won't be binding," said Heshmatollah Falahatpisheh, a former MP.
"Termination of sanctions at the UN Security Council will be binding, though," he further said.
---
Asr-e Rasaneh: French investors will travel to Iran; the French seek to modernize the airports of Tehran and Mashhad.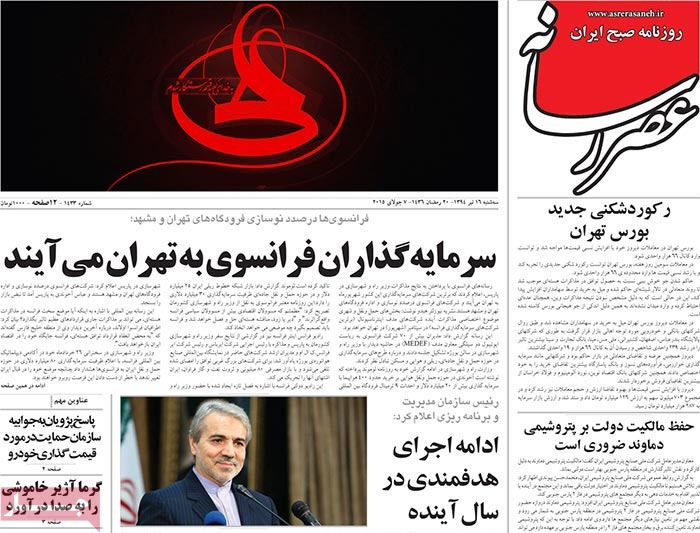 ---
Asrar: "Saudi Arabia is propping up terrorist movements in the region," said Vice-President for Parliamentary Affairs Majid Ansari.
Asrar: "The government has no plans to organize festivities [after signing a nuclear deal]," said the spokesman of the Interior Ministry.
Asrar: Shahindokht Molaverdi, vice-president for women and family affairs, says there has been correspondence with the chairman of the Expediency Council to increase the number of female MPs in the Islamic Consultative Assembly.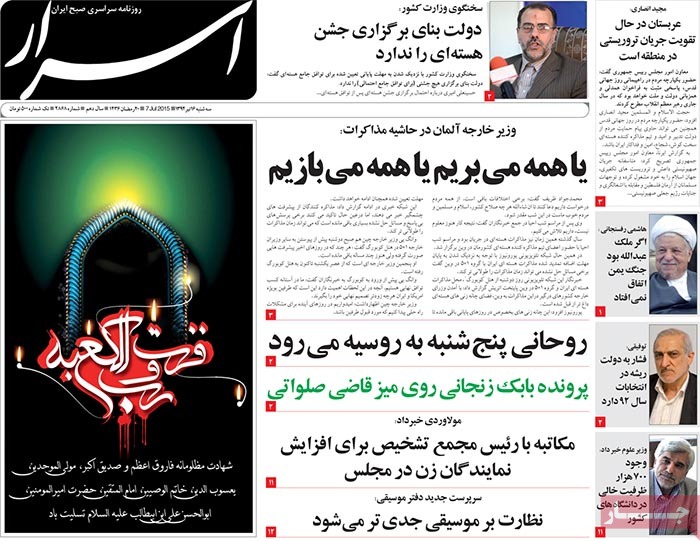 ---
Emtiaz: Archeologists have unearthed 7,000-year-old graves in the southwestern province of Khuzestan.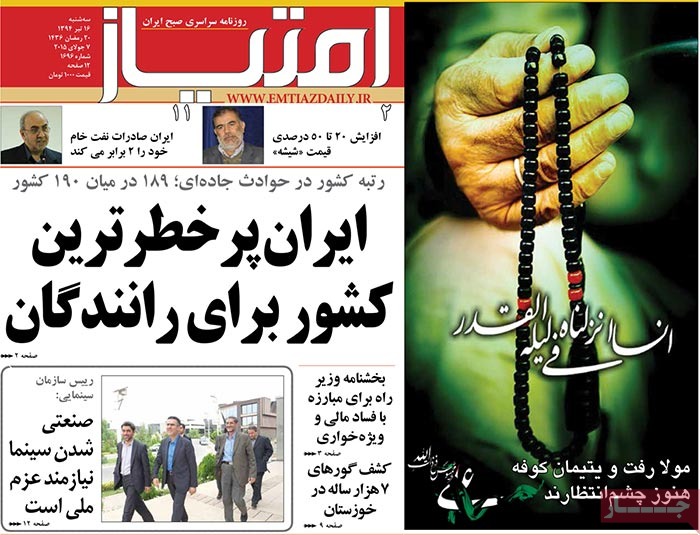 ---
Hosban: "Iran is to double its crude exports," said a deputy oil minister.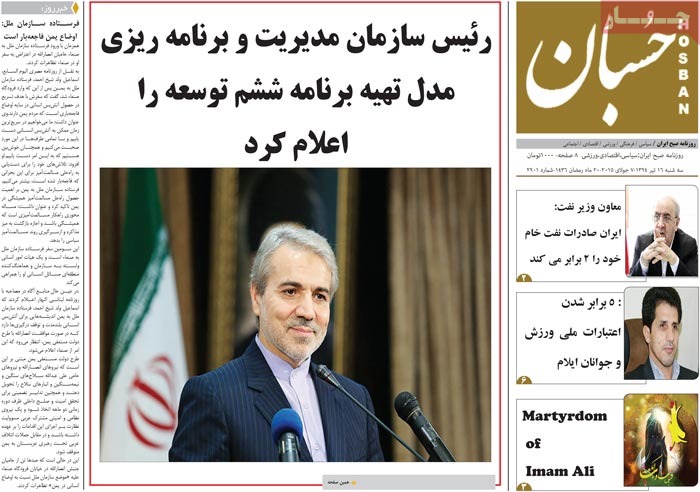 ---
Iran: The value of gold and foreign currencies against the rial is on the decline.
The stock exchange, which has barely been in positive territory this year, is gaining momentum, hopeful that a nuclear deal will be struck soon.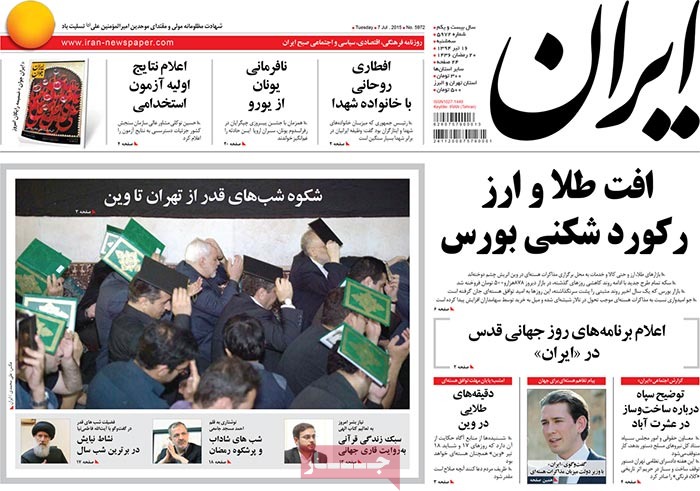 ---
Kayhan: Greece took revenge on the European Union; the Eurozone was rattled.
---
Payam-e Zaman: Iran's oil production in the Persian Gulf has increased.
---
Qods: "Iran won't accept a tentative lifting of sanctions," said the chairman of parliament's National Security and Foreign Policy Committee.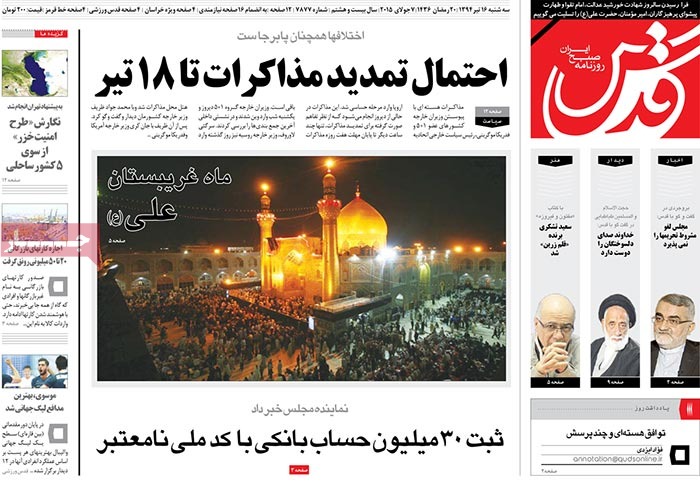 ---
Setareh Sobh: Populism has triumphed over wisdom and farsightedness in Greece.
In a referendum, more than 61 percent of Greeks have said no to European austerity programs.