Newspapers today widely covered the remarks made by President Hassan Rouhani during his visit to Switzerland, which were interpreted as a threat to close the Strait of Hormuz if the US tries to stop Iran's oil exports.
Rouhani's comments about Iran's refusal to recognize the Israeli regime in reaction to a call by the Swiss president also received great coverage.
The latest developments in the Iranian market and economy as well as the ongoing pressure on the Rouhani administration to reshuffle his cabinet also remained top stories today.
The above issues, as well as many more, are highlighted in the following headlines and top stories:
19 Dey:
1- Ali Larijani: Official-Rate US Dollar Allocated to Import of Basic Needs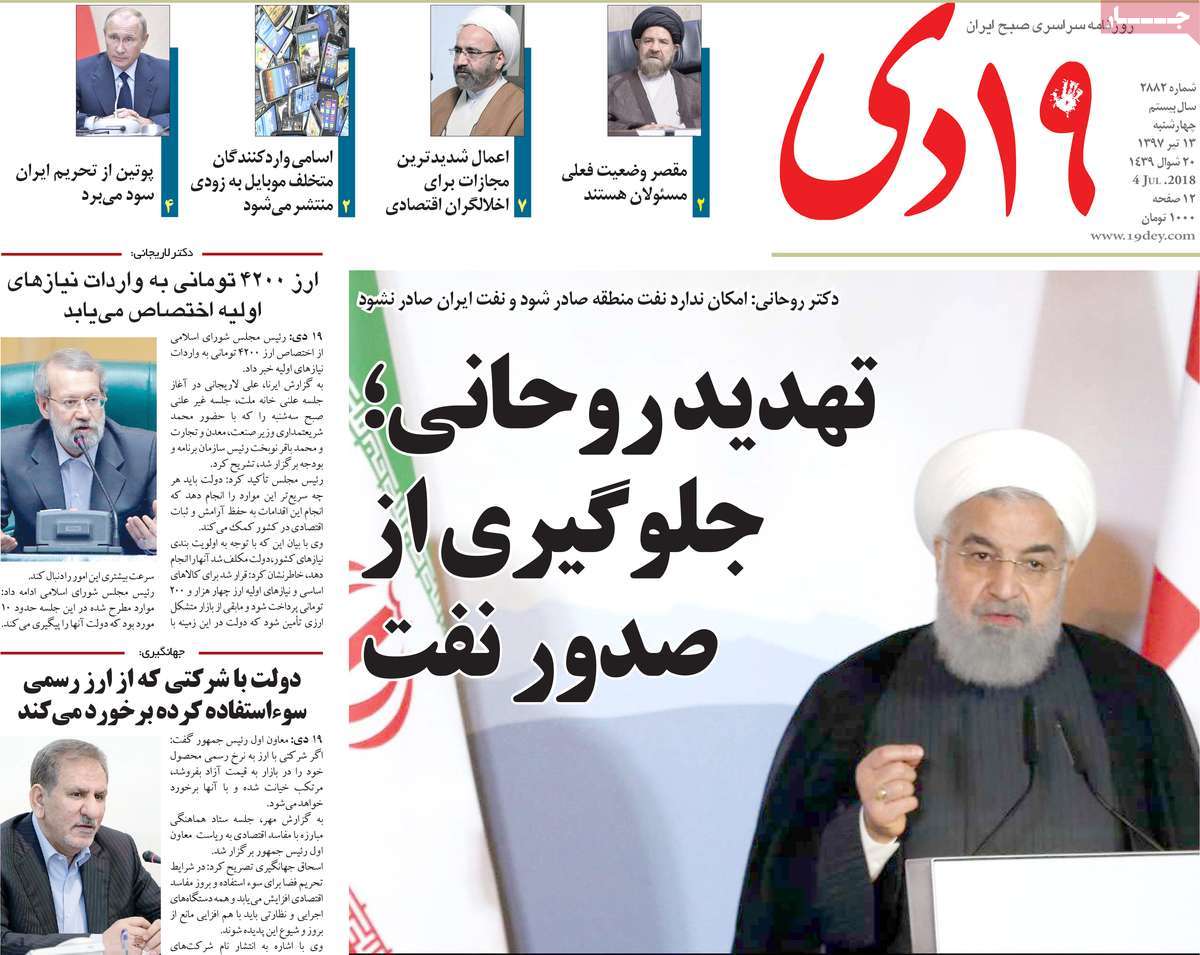 ---
Abrar:
1- Rouhani: It's Not Possible that Regional Countries Can Export Their Oil, but Iran Can't
2- Zarif, Lavrov Hold Talks on Syria, Caspian Sea
---
Afkar:
1- Differences Hidden behind the Curtain of Diplomacy
Putin, Trump to Meet in Finland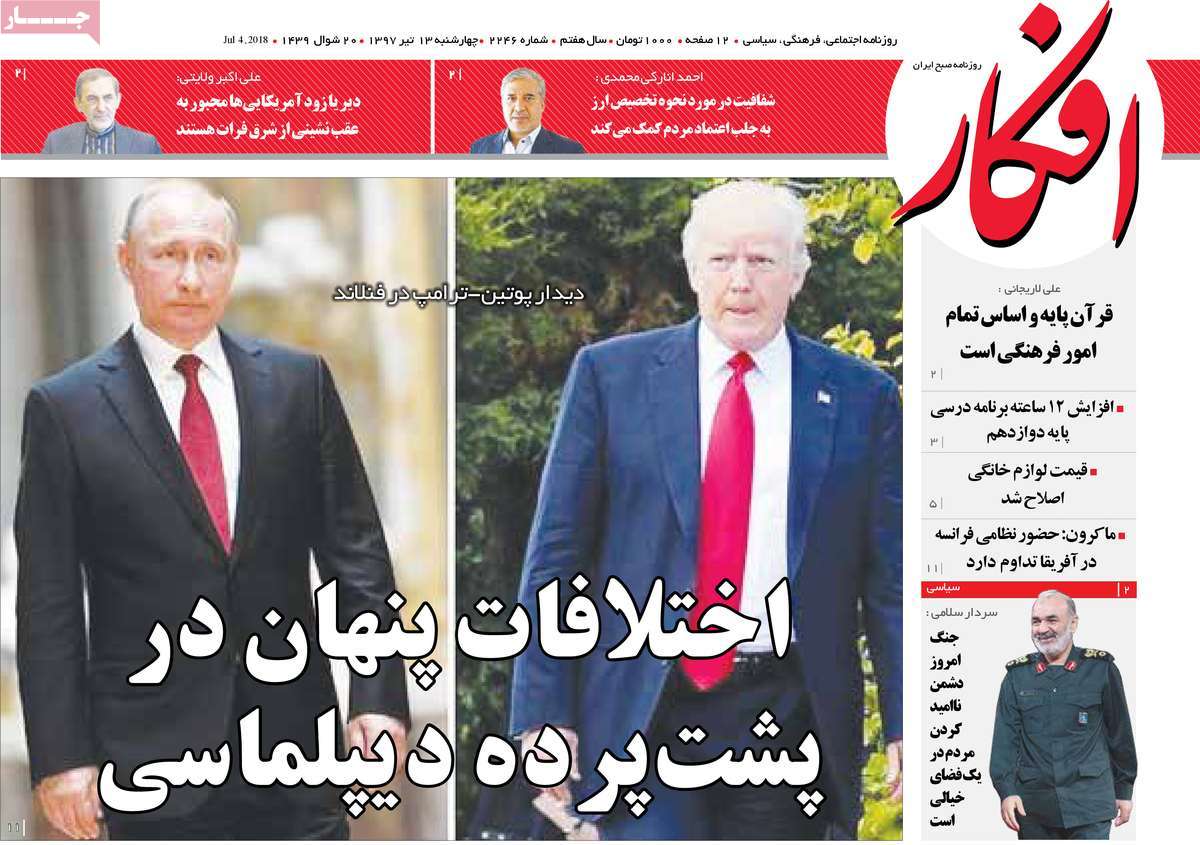 ---
Aftab-e Yazd:
1- People Were Not the Ones Who Bought Gold Coins from Government
Don't Insult People: Analyst
---
Arman-e Emrooz:
1- Deciphering EU's Economic Package
JCPOA to Remain in Place with Practical Support of EU, China, Russia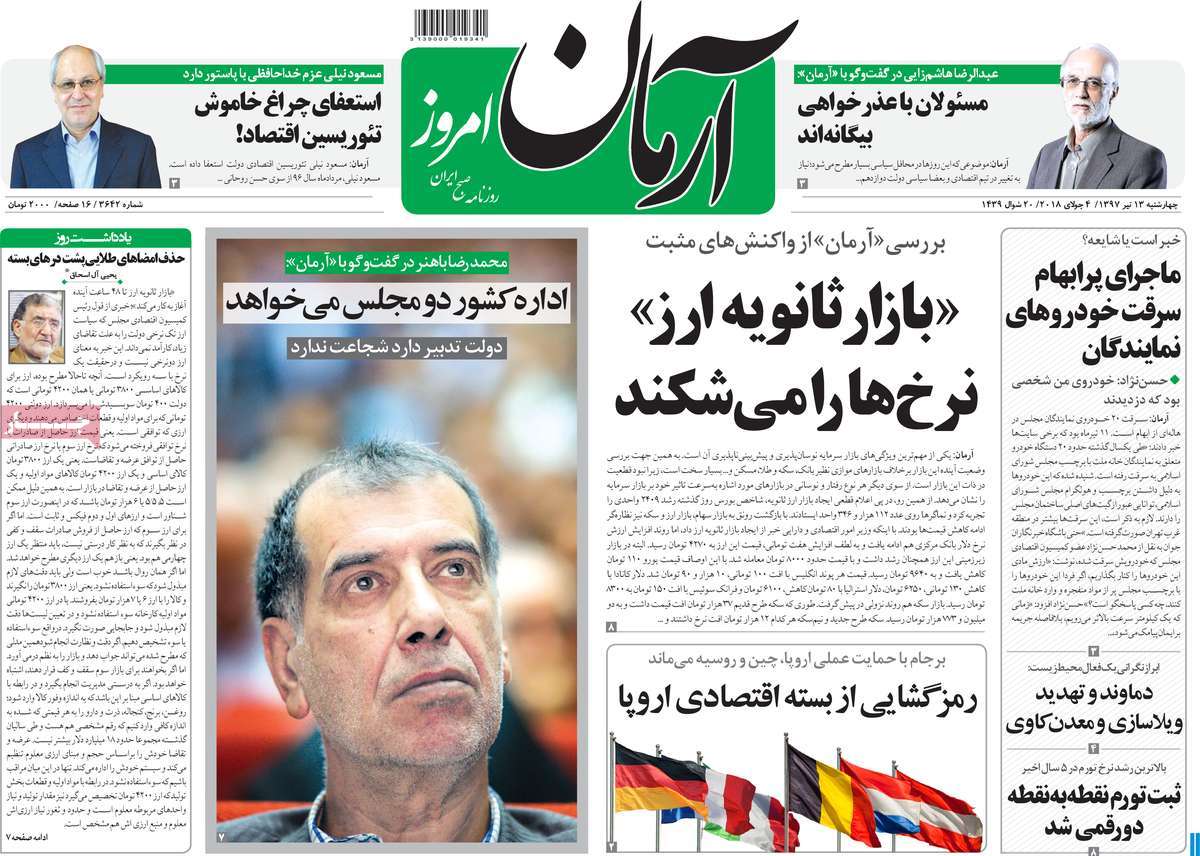 ---
Asrar:
1- Rouhani Downplays US' Threat to Cut Iran's Oil Exports as "Overstatement"
---
Bahar:
1- Will Rouhani Finally Reshuffle His Cabinet?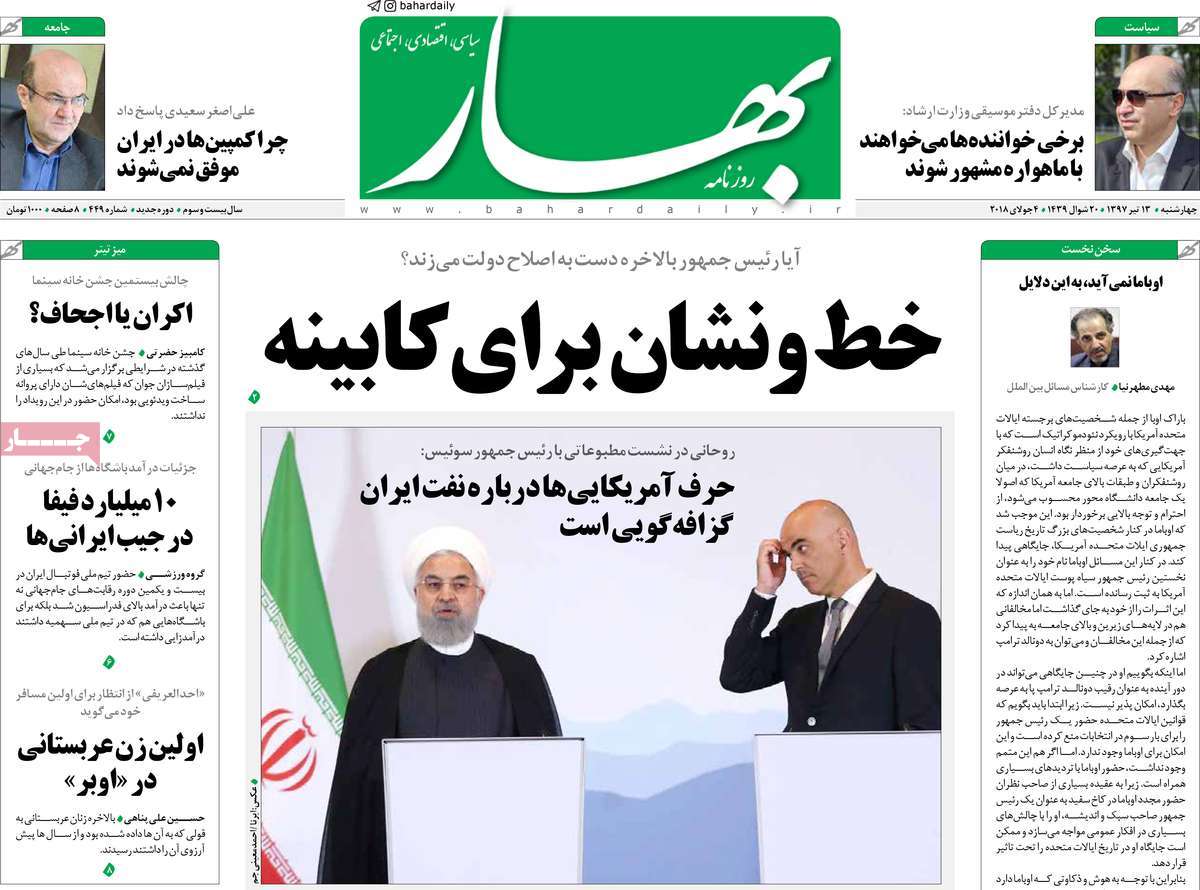 ---
Ebtekar:
1- Trump Threatens to Withdraw from World Trade Organisation
Will US Violate another Global Commitment?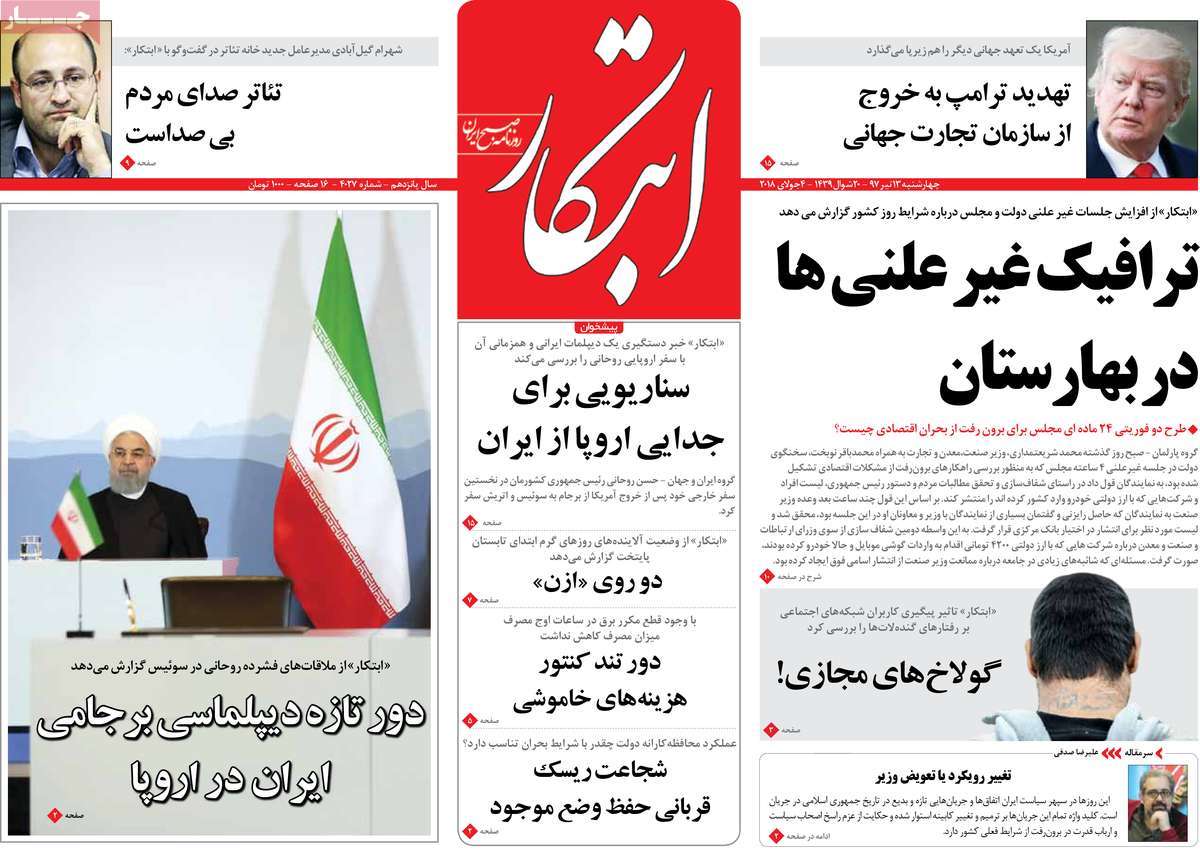 ---
Etemad:
1- Swiss President: We'll Continue Our Cooperation, Interaction with Iran despite Threats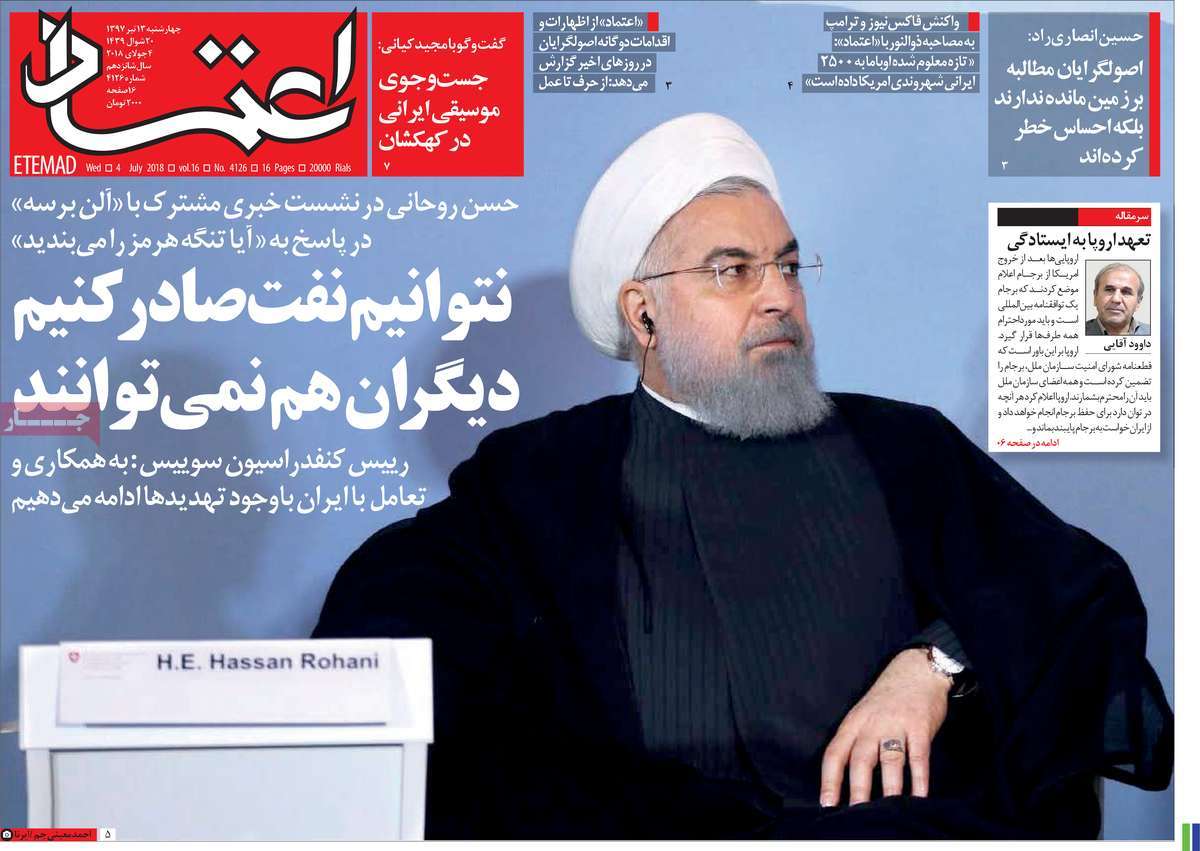 ---
Ettela'at:
1- 11 People Martyred in Saudi Arabia's Brutal Attack on Wedding Ceremony in Sa'ada
---
Ghanoon:
1- Diplomacy Coupled with Anger: A Report on Rouhani's Visit to Switzerland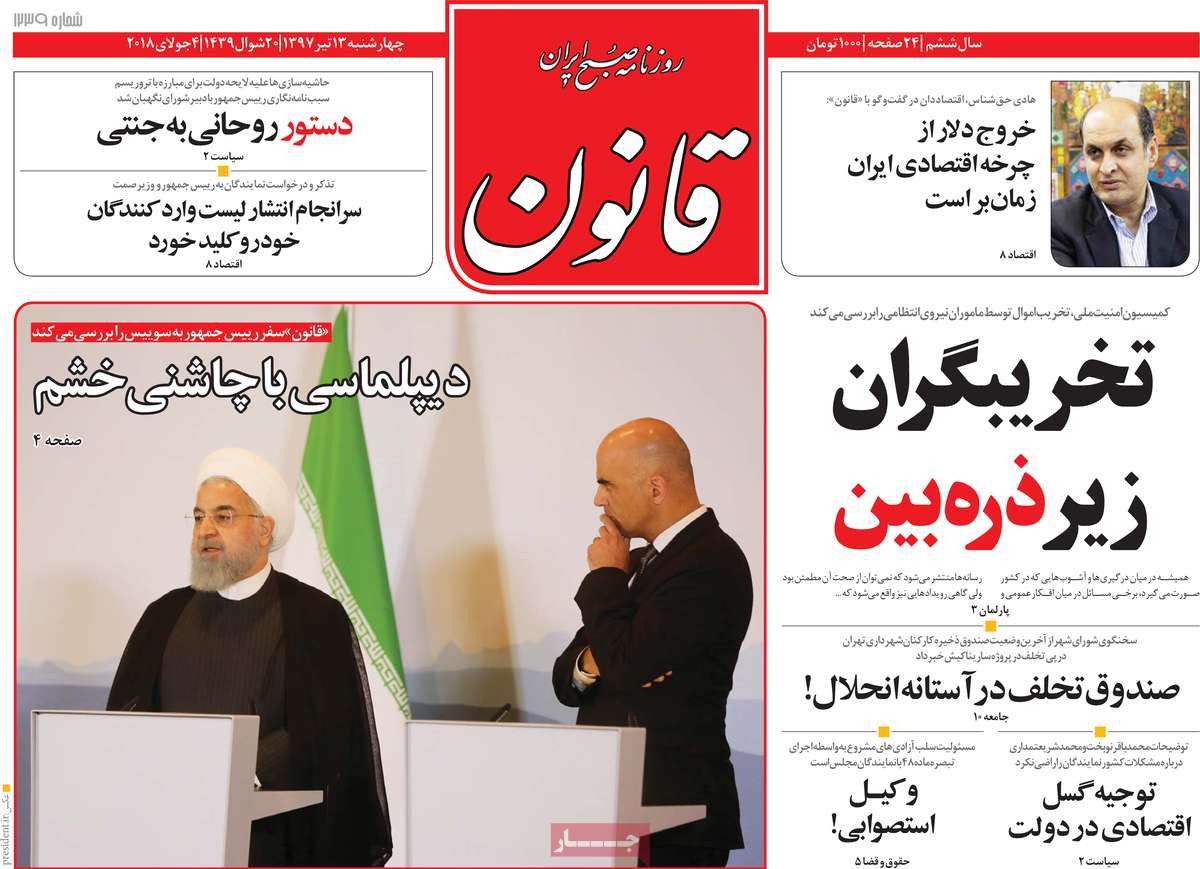 ---
Iran:
1- Iranian People Break Record of Using Electricity on Monday: 56,000 MW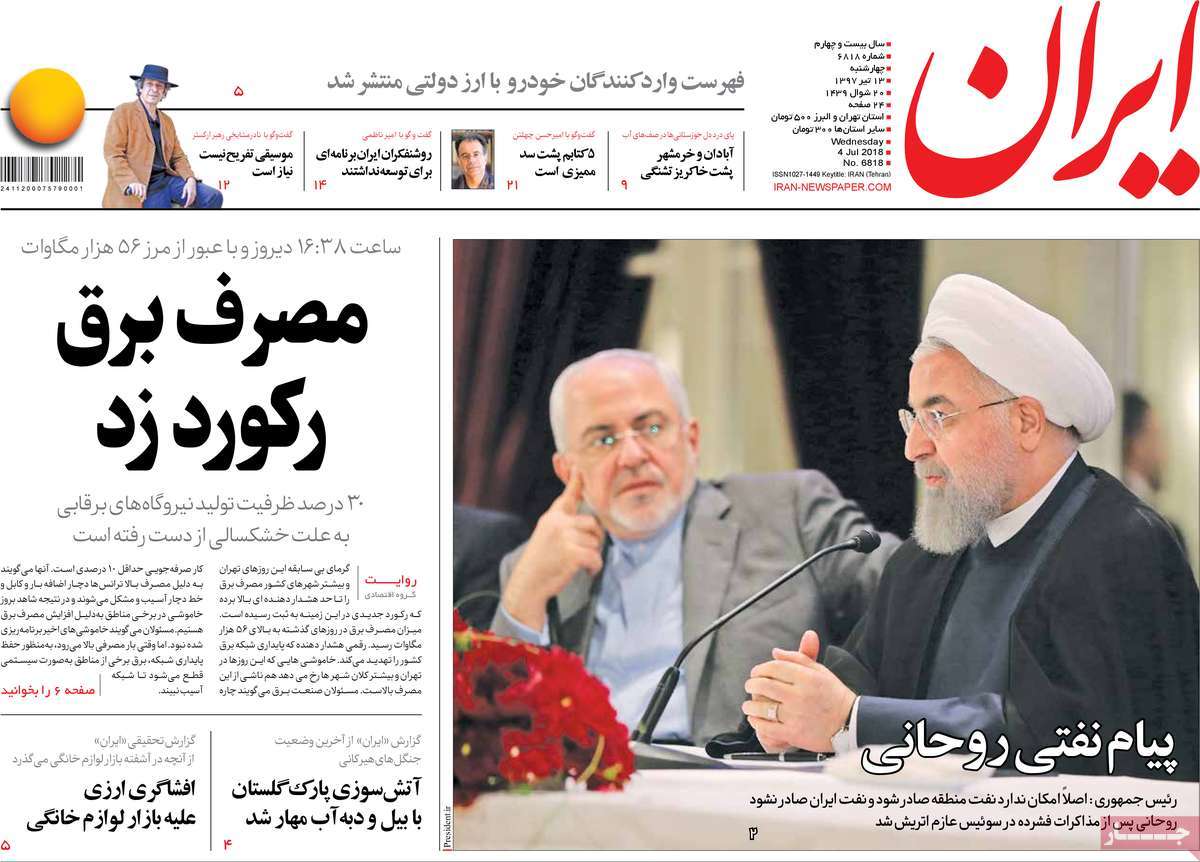 ---
Jame Jam:
1- Rouhani's Oil Threat: Iran President Warns US about Its New Hostile Efforts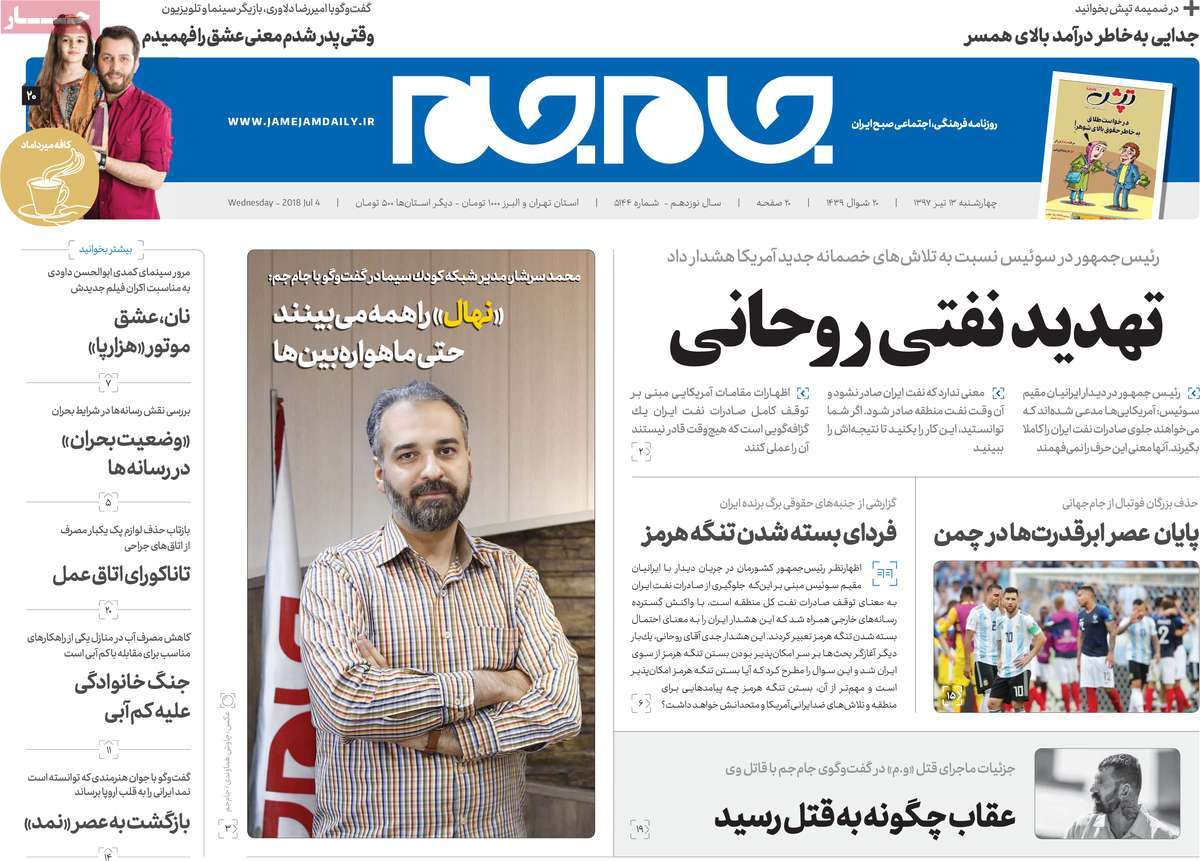 ---
Javan:
1- Rouhani Rejects Switzerland's Call for Recognition of Israeli Regime
Iran Considers Zionist Regime as Illegitimate, Aggressor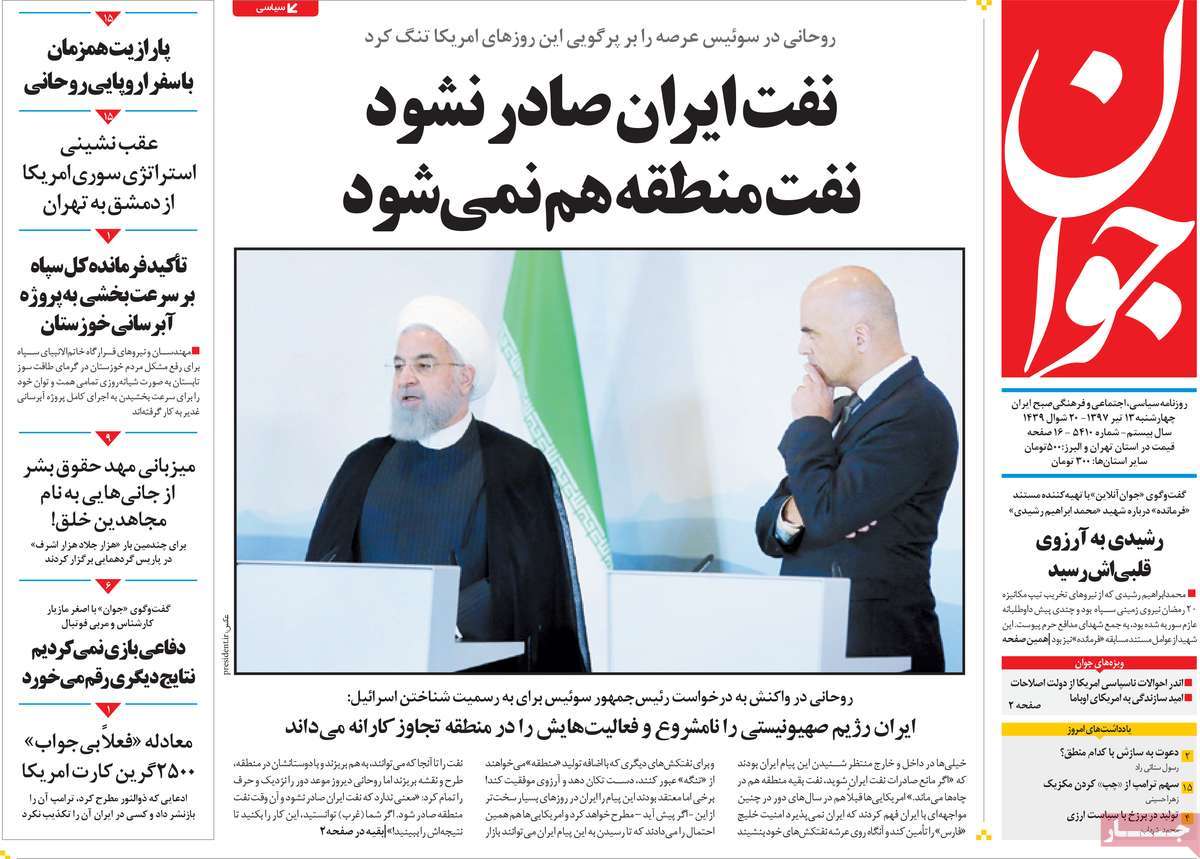 ---
Jomhouri Eslami:
1- EU to Unveil Package to Save Iran Nuclear Deal Friday
2- Former US Diplomat Admits He Was Commissioned to Topple Nouri al-Maliki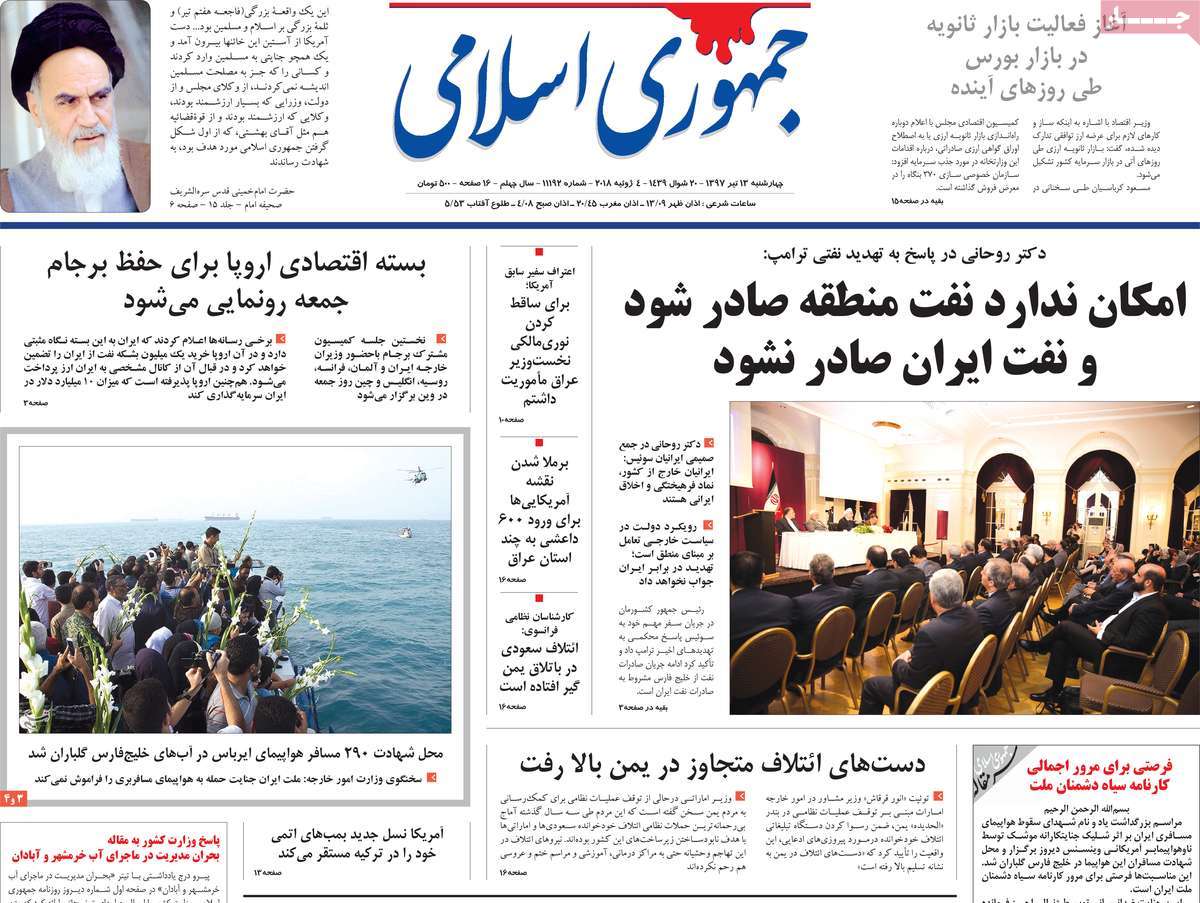 ---
Kayhan:
1- Advocates of Reformism Tasked with Preventing Rouhani from Getting Back on Right Track
---
Khorasan:
1- Gradual Decrease of Prices: A Report from Local Markets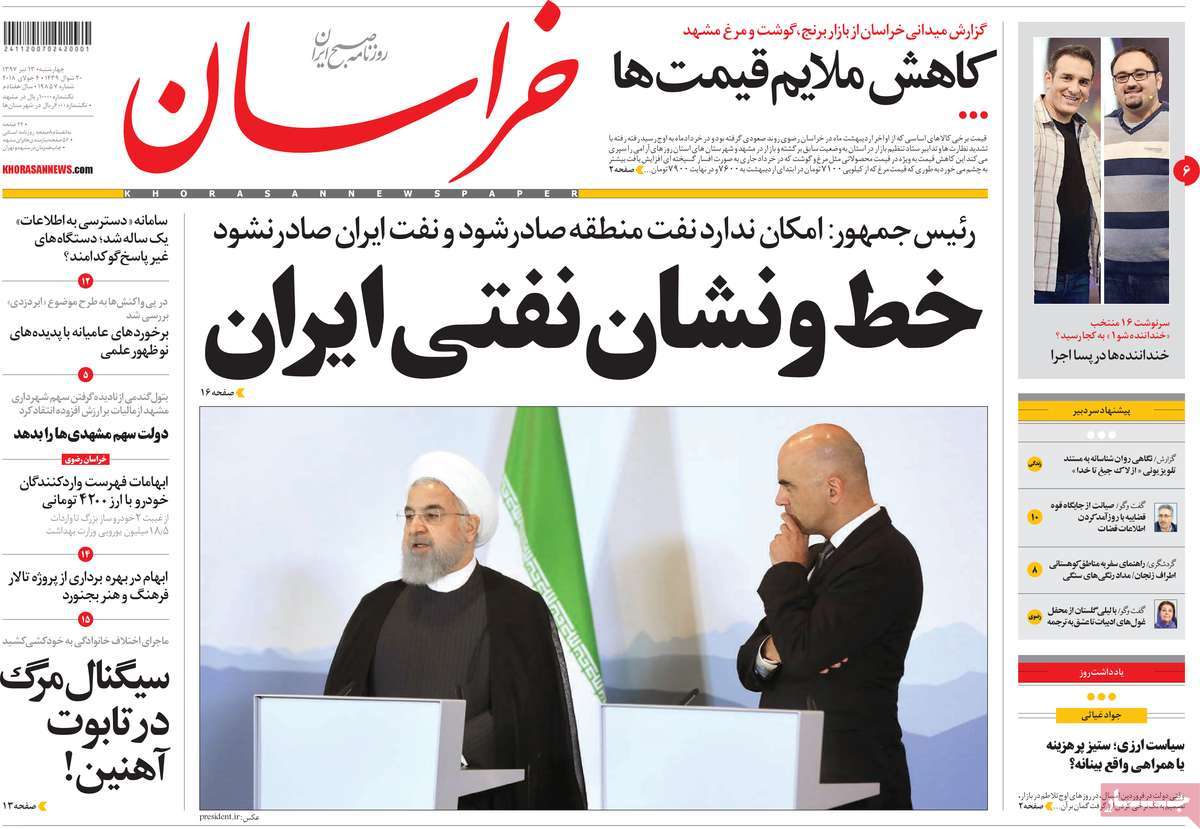 ---
Rah-e Mardom:
1- Qassemi: MKO Terrorist Cult Trying to Harm Iran-EU Ties
---
Resalat:
1- Javad Larijani: American Human Rights Stinks
2- Velayati: US Will Soon Withdraw from Eastern Euphrates
---
Rooyesh-e Mellat:
1- Chief-Commander: IRGC Has Great Intelligence, Military Power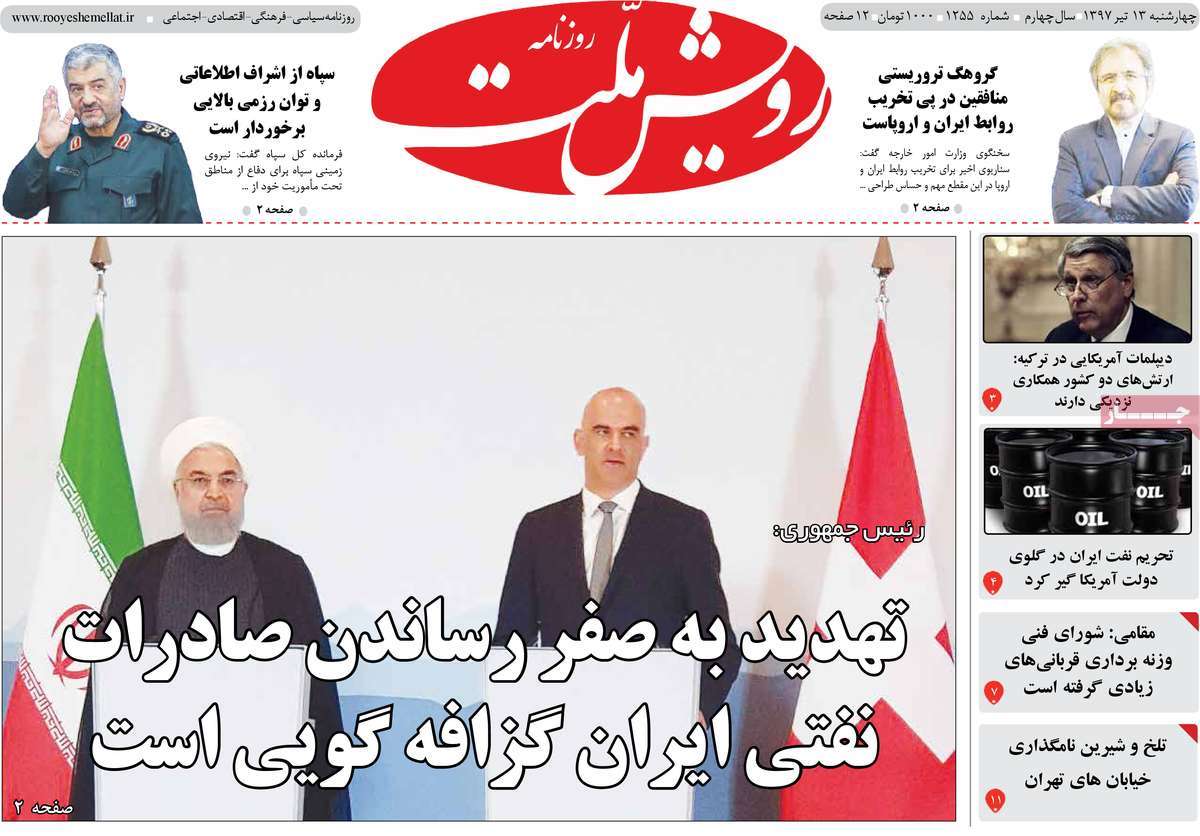 ---
Sayeh:
1- Rouhani: We'll Remain Committed to Our International Commitments
---
Shargh:
1- Bodies Receiving Greatest Budgets: A Review of Budget Paid by Treasury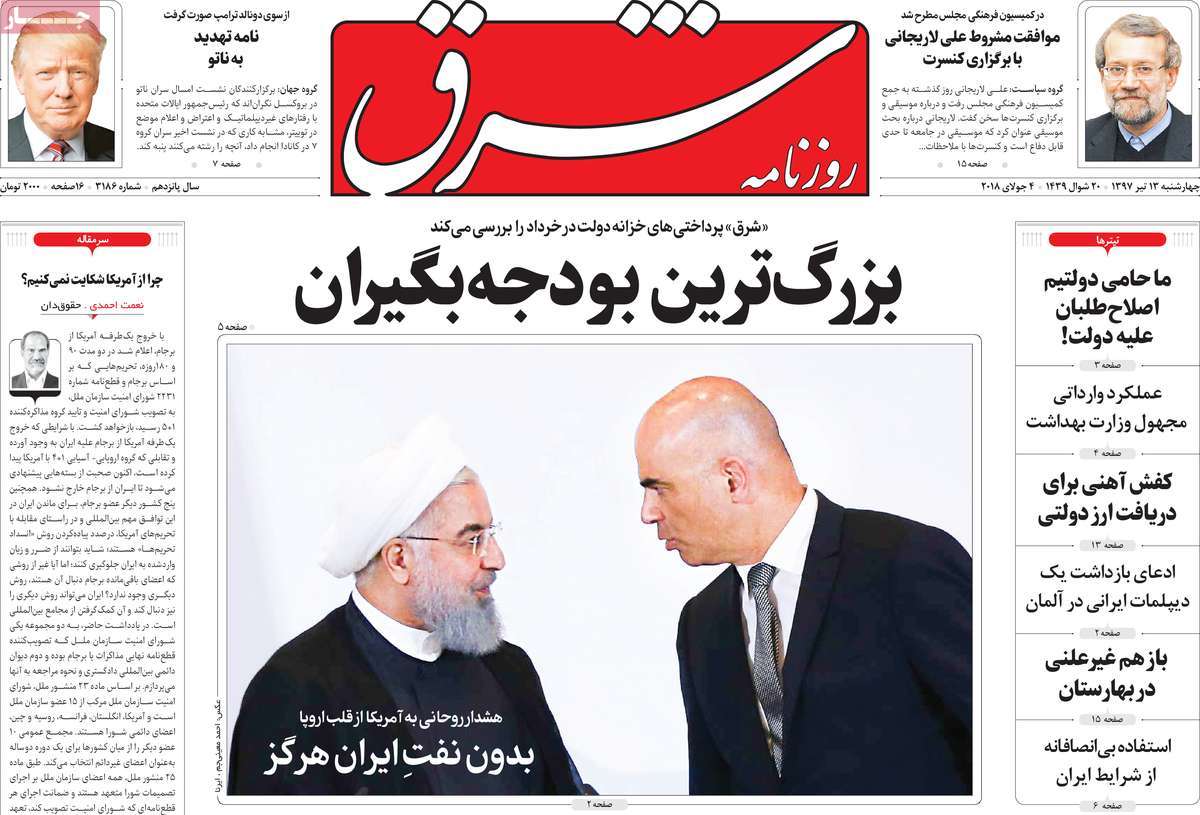 ---
Vatan-e Emrooz:
1- Environment Department Admits It's Issued Hunting Licences for Americans
No More Licences to Be Issued for Americans