Calls for more regional cooperation in the face of the threat posed by terrorism made in meetings between visiting Iranian Foreign Minister Mohammad Javad Zarif and Iraqi officials and the expected arrival in Tehran of senior European diplomats dominated the front pages of Iranian newspapers on Tuesday.
Ettela'at: "A mighty Iran serves as a guarantor of regional stability and security," said President Rouhani.
He further said his administration favors moderation, equality, stability, security and peace.
---
Abrar: Turkish fighter jets have continued to pound PKK and IS targets [in Iraq and Syria].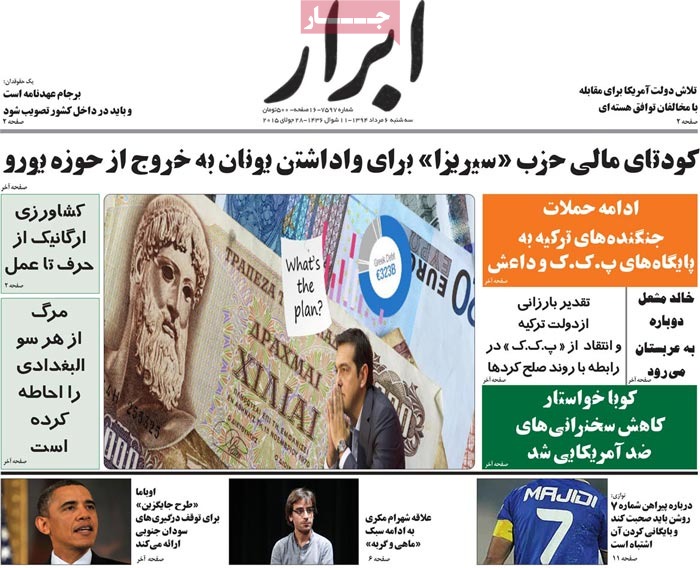 ---
Afkar: "Extremism and terrorism pose a threat to all," Foreign Minister Zarif said.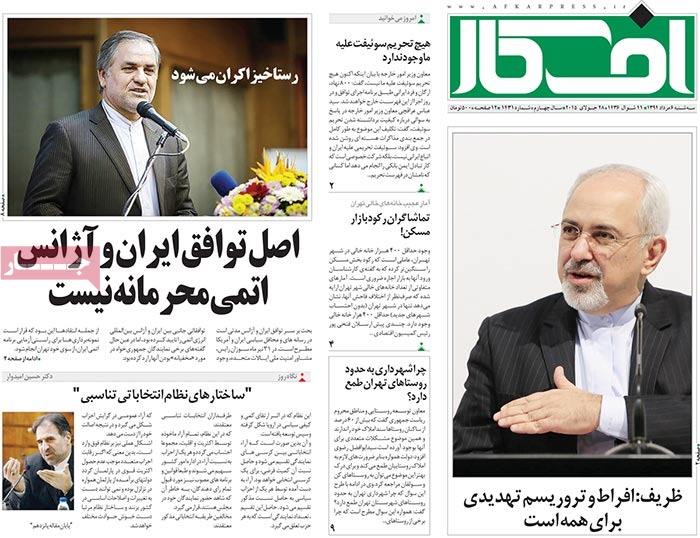 ---
Aftab-e Yazd: "Do not politicize the case involving imports of tainted blood from France," the Iranian health minister said.
Hassan Hashemi was reacting to criticism [by some principlists and hardliners] of the upcoming Iran visit by French Foreign Minister Laurent Fabius.
Aftab-e Yazd: The president of Islamic Republic of Iran Broadcasting [state broadcaster] has mounted an unprecedented attack on the executive branch.
Aftab-e Yazd: "My father got happy when he was not elected into the presiding board of the Assembly of Experts," said Fatemeh Hashemi Rafsanjani, a daughter of the chairman of the Expediency Council Ayatollah Rafsanjani.
In an exclusive interview with the daily, she said women should have their own ticket for upcoming parliamentary elections.
---
Arman-e Emrooz: The smiling female diplomat pursues diplomacy in Tehran.
Federica Mogherini's visit will be the first by a P5+1 negotiator to Iran following the July 14 nuclear deal in Vienna.
Arman-e Emrooz: "Eight-hundred Iranian individuals and entities have been taken off the sanctions list," Iranian nuclear negotiator Abbas Araghchi said.
Arman-e Emrooz: Prosecutors have said the officials who failed to fulfill their responsibility before and during last week's deadly flooding in the north will be dealt with.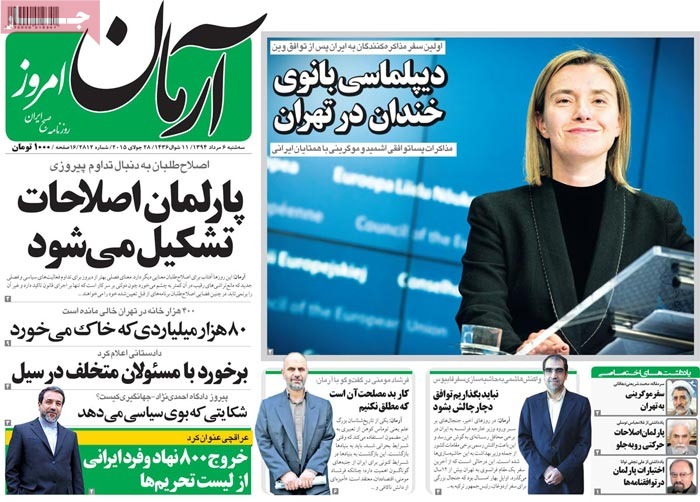 ---
Emtiaz: The education minister has said all teachers who were arrested in a guild gathering have been freed.
Emtiaz: Iran has held talks with 30 European firms.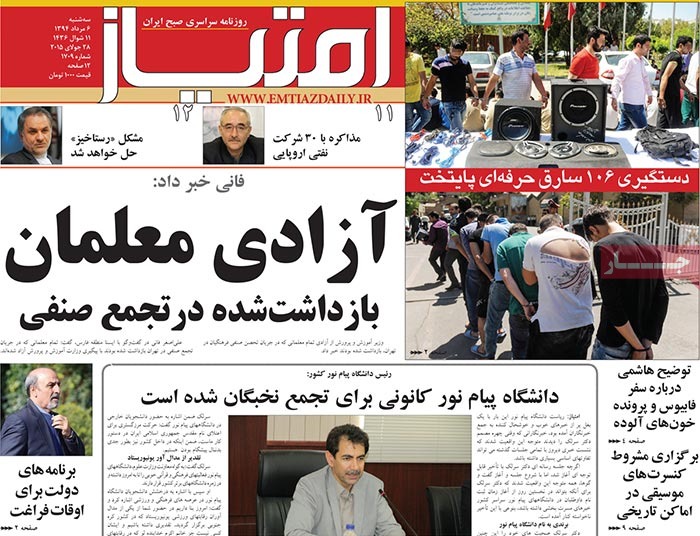 ---
Etemad: A convoy of European officials in Tehran
The back-to-back arrival in Iran of European officials marks the beginning of a new era.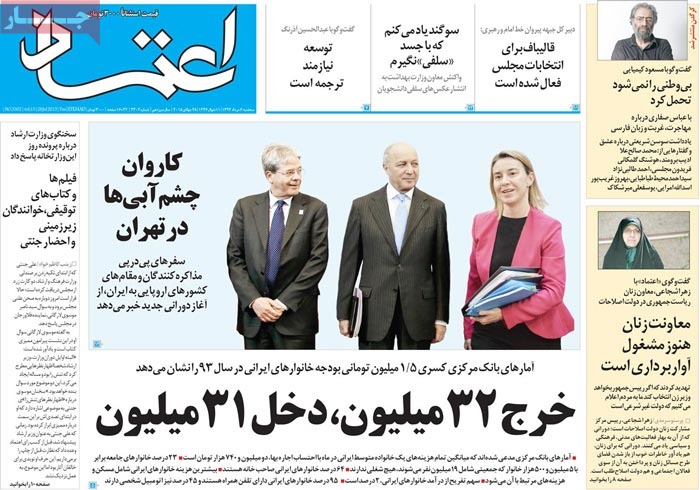 ---
Iran: The nuclear deal [Iran has signed with P5+1] has raised hopes of settling regional conflicts.
The issue came up in meetings between Iranian Foreign Minister Zarif and senior diplomats from Persian Gulf countries.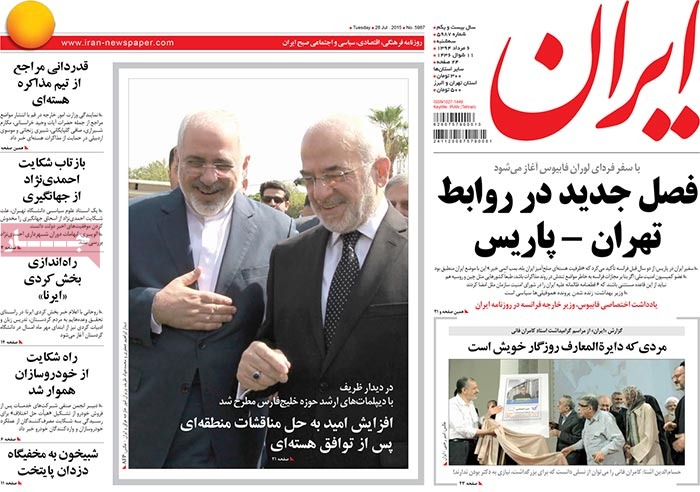 ---
Jomhouri Islami: "Iran always stands by the Iraqi people and government in the fight against terrorism," Iranian Foreign Minister Mohammad Javad Zarif after a meeting with senior Iraqi Shiite cleric Ayatollah Al-Sistani.
Jomhouri Islami: "Thirty-one development projects worth around $290 million will be implemented in Kurdistan," the president said at the close of a visit to the western province.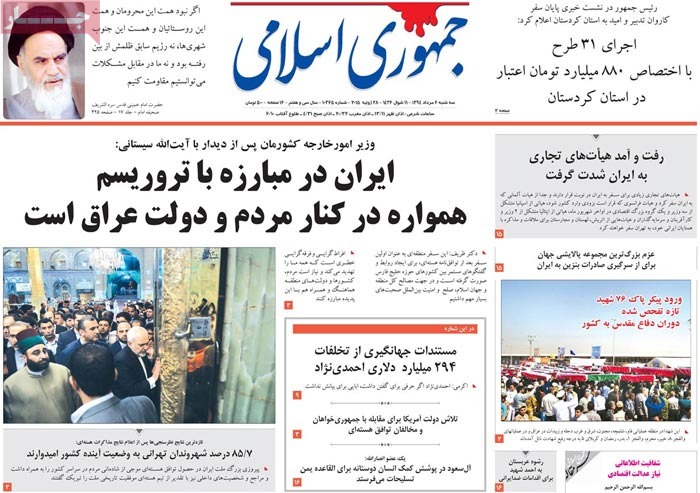 ---
Kaenat: "The enemies will never see Iran surrender, not even in their dreams," said the chief of staff of the Supreme Leader.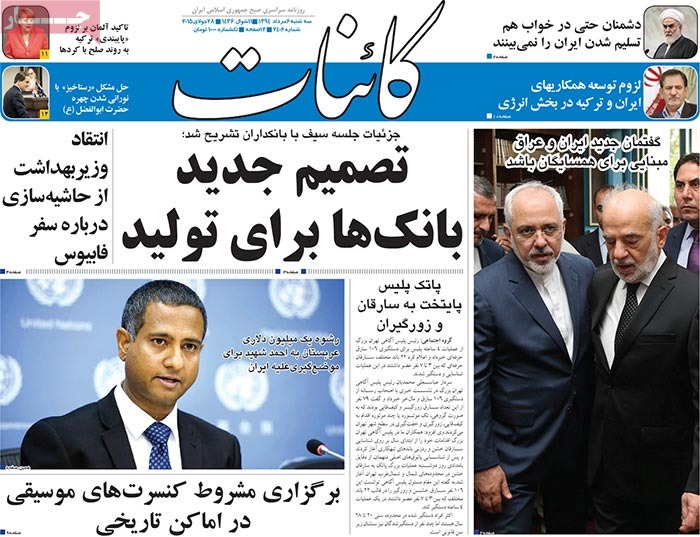 ---
Kayhan: The remains of 76 Iranian combatants who were martyred during the Iran-Iraq war have returned home.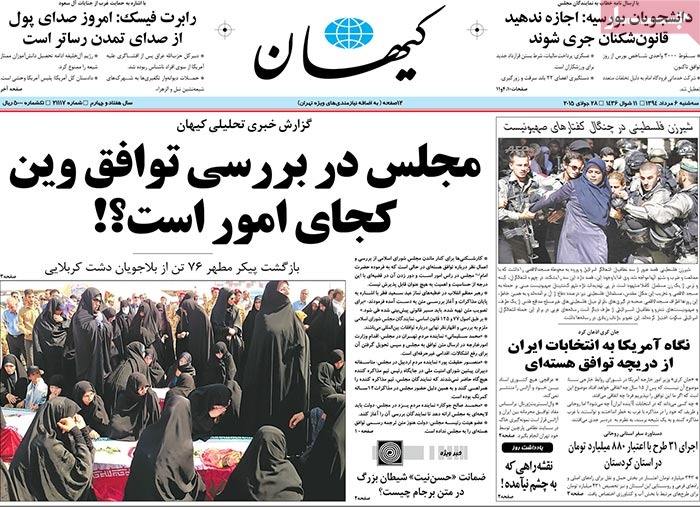 ---
Khorasan: EU foreign policy chief Mogherini arrives in Tehran today; French Foreign Minister Fabius is due in the capital tomorrow.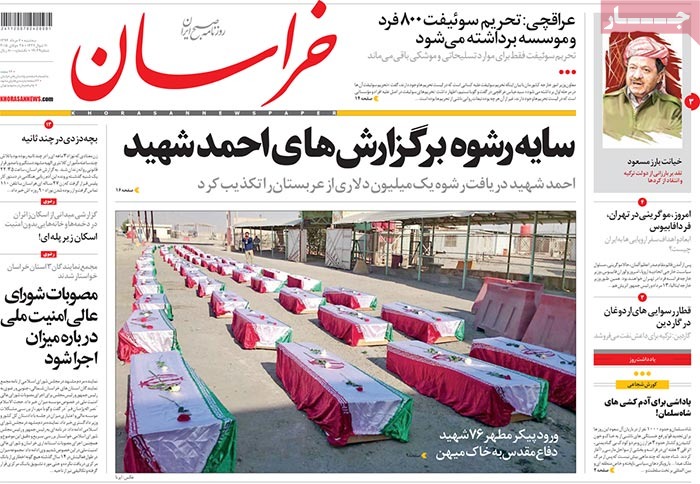 ---
Resalat: "Twenty-two gangs of thieves and muggers have been busted," said the head of the Tehran Criminal Investigation Department.