President Rouhani's comments in Kurdistan on a wide range of issues, including the nuclear deal his administration has struck with six world powers and the priorities of his government, as well as photos of the Supreme Leader meeting with Basiji Olympian medal winners dominated the front pages of Iranian newspapers on Monday.
Ettela'at: "The world bowed its head in the face of Iranian glory," President Rouhani told locals in Kurdistan Province.
"Creating jobs for the youth and the educated is the top priority of the country…. We are after creating an atmosphere of friendship and fraternity in the region," the president further said.
---
Abrar: "Iran's missile tests are not a violation of the Vienna deal," said Iranian nuclear negotiator Abbas Araghchi.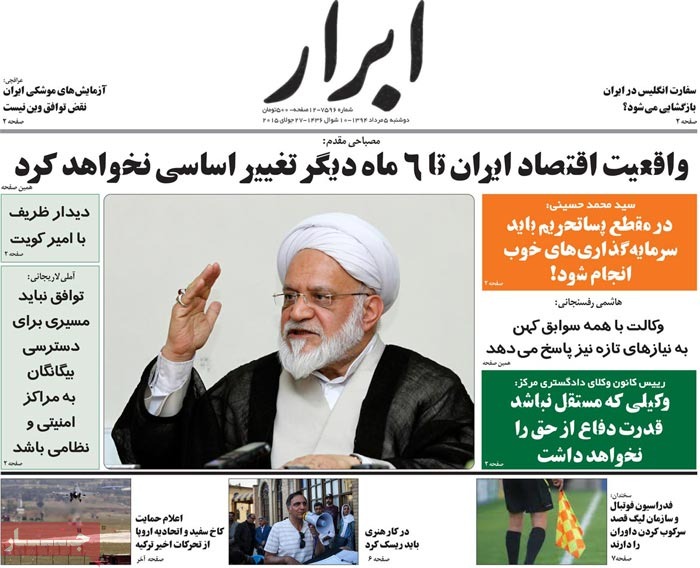 ---
Aftab-e Yazd: Iran is technically ready to launch direct flights to and from the US.
---
Arman-e Emrooz: "European investors can't wait to return to Iranian markets," Fereydun Majlesi, a political analyst, said an in exclusive interview with Arman-e Emrooz.
He further said Saudi Arabia cannot blame its problems on Iran.
---
Asrar: "Some with extremist beliefs [a reference to the former president and his hardline supporters] poured our national interests down the drain," said Chairman of the Expediency Council Akbar Hashemi Rafsanjani.
Asrar: "Those who committed embezzlement, and not reformists, should be barred [from running for parliament]," said Mohsen Rahami, a reformist leader.
Asrar: The deputy health minister has said that all Iranians will have electronic health files.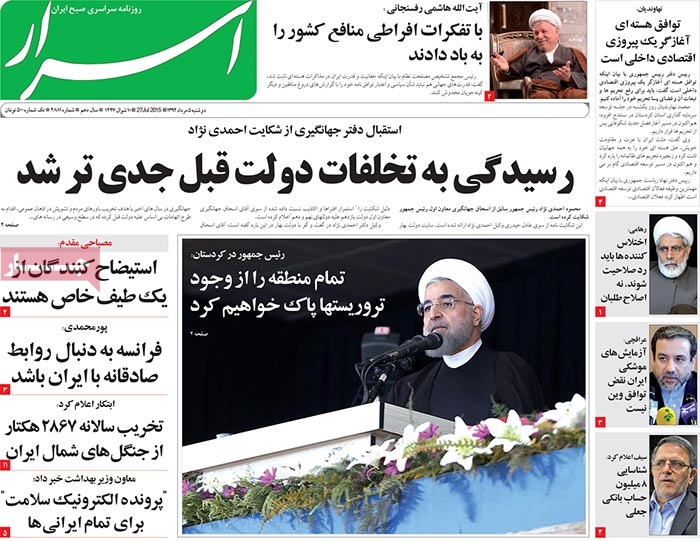 ---
Ebtekar: The governor of the Central Bank has said that some 8 million fraudulent bank accounts have been identified.
---
Emtiaz: A secretariat has been set up in Tehran to handle the case of street children.
Emtiaz: "A third wave of HIV/AIDS epidemics is on its way," said the Iranian Health Ministry.
---
Etemad: "Scientific progress boosts the country's authority," said the Supreme Leader at a meeting with Basij members who have won medals in international scientific Olympiads.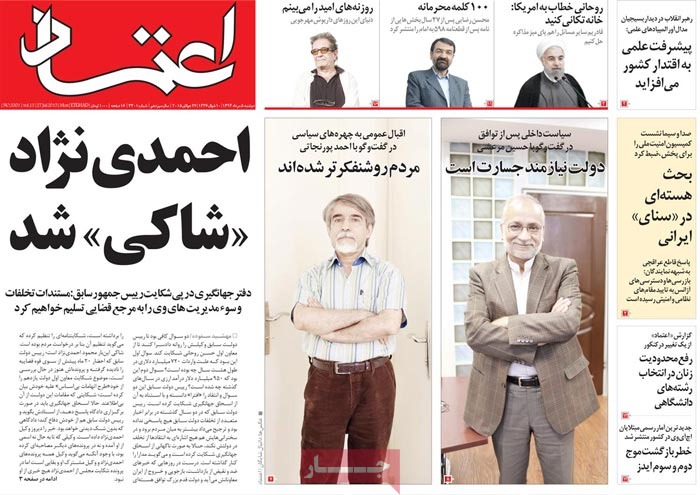 ---
Ghanoon: "French Foreign Minister Laurent Fabius comes to Iran on a state visit, not as a suspect [in the case involving exports of tainted blood to Iran]," said Justice Minister Mostafa Pourmohammadi.
Ghanoon: Ahmadinejad has begun to file lawsuits against government officials.
Oil Minister Zanganeh, presidential advisor Akbar Torkan and Ashrafi Esfahani, who looks into administrative offenses within the government, have been threatened with lawsuit by the former president.
---
Kaenat: "Security in neighboring countries and the wider region is what Iran has always wanted," Foreign Minister Zarif said.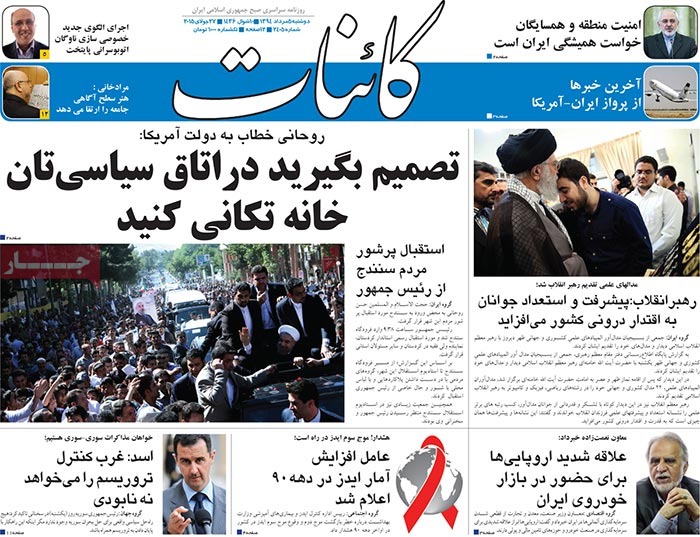 ---
Kayhan: Fabius, sanctions, HIV/AIDS and now the rollout of red carpet!
The daily says government's decision to welcome the French foreign minister amounts to thumbing its nose at the public.
---
Rooyesh-e Mellat: President Rouhani has vowed to rid Iraq and the wider region of the scourge of terrorism.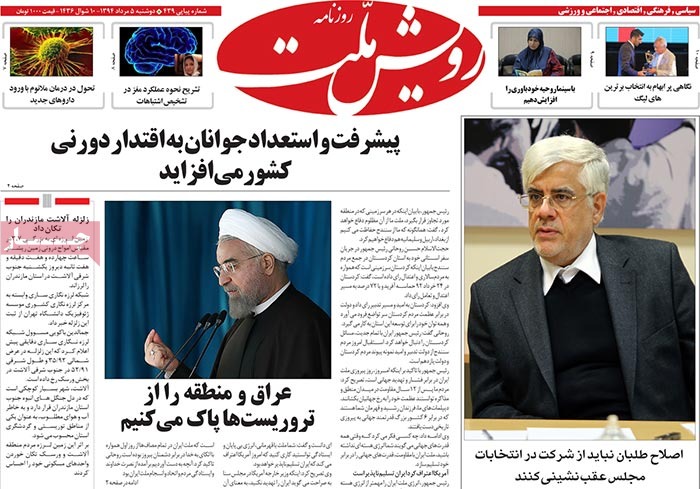 ---
Setareh Sobh: "Had it not been for the assistance of Iran, Erbil and Baghdad would have fallen [to IS terrorists]," said President Rouhani.