Comments of Ali Akbar Velayati, an advisor to the Supreme Leader for international affairs, on nuclear talks and inspections as well as on relations with Saudi Arabia and Turkey's decision to attack IS targets in Syria dominated the front pages of Iranian newspapers on Sunday.
Ettela'at: Public figures in 22 European countries have issued statements in support of the Vienna deal [between Iran and P5+1].
In separate statements, the political and military officials called on all European countries and the international community to throw their weight behind the deal.
---
Afarinesh: "The case involving a second Babak Zanjani is under investigation," said Oil Minister Bijan Namdar Zanganeh.
[Babak Zanjani is a young billionaire who stands accused of massive corruption and embezzlement when Ahmadinejad was president.]
---
Afkar: "The plan to move the capital from Tehran defies logic," said the deputy minister of roads and urban development.
---
Aftab-e Yazd: "Differences between Iran and Saudi Arabia should be ironed out at the negotiating table," said Ali Akbar Velayati, an advisor to the Supreme Leader.
Aftab-e Yazd: A source close to former President Ahmadinejad has told Aftab-e Yazd that Esfandiar Rahim-Mashaei [Ahmadinejad's chief of staff] has been summoned to court.
The fact that Ali Saeedloo [Ahmadinejad's deputy for executive affairs] has left the country has nothing to do with the former president, the same source said.
---
Arman-e Emrooz: The director of Imam Khomeini Relief Committee has slapped a ban on any involvement in elections by the staff of the charity organization.
Arman-e Emrooz: Minister of Cooperatives, Labor and Social Welfare Ali Rabiei has been summoned by a court hearing fraud charges against the former director of the Social Security Organization Saeed Mortazavi.
---
Asr-e Rasaneh: Iran stands ready to export 5 million cubic meters of natural gas to Iraq on a daily basis.
---
Ebtekar: President Rouhani has underlined efforts to promote national production and sustain resistance-based economy.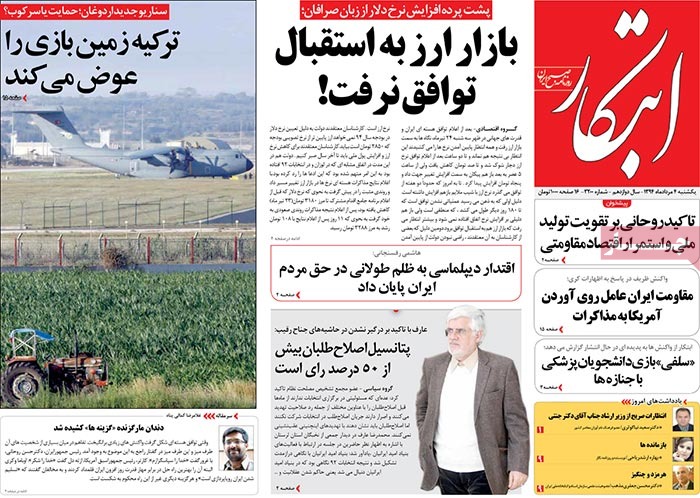 ---
Esfahan Emrooz: Three gazelles have been seized from a poacher at the heart of Isfahan.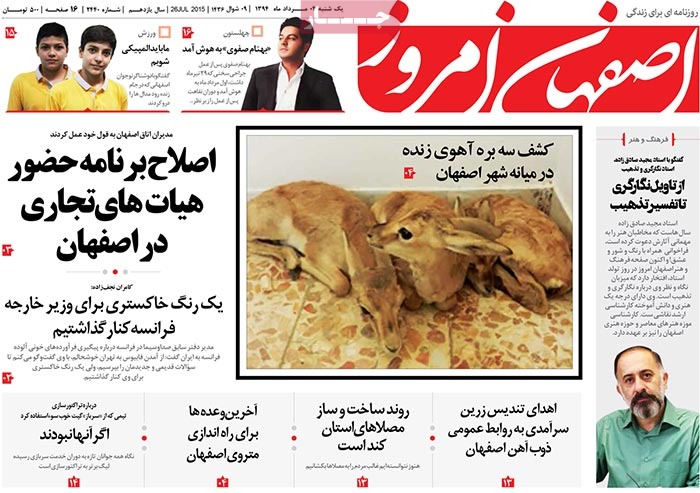 ---
Etemad: Unfrozen dollars were frozen again
President Rouhani has banned Iran's unfrozen foreign exchange from entering the market, saying instead they should be spent on manufacturing and infrastructure projects.
---
Iran: A golden age for Iran's tourism
The daily features a report on a tourism boom in the wake of the nuclear deal.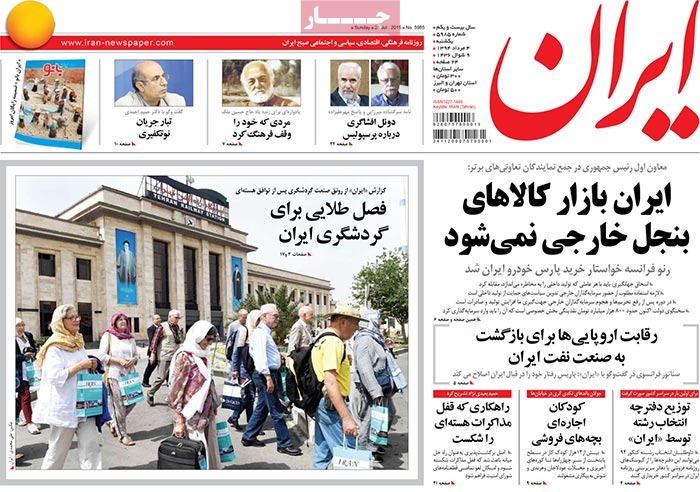 ---
Jamejam: Is the attack on IS [by Turkey] a real turnaround or mere theatrics?
President Erdogan is paying a price for his wrong policies in the past.
---
Jomhouri Islami: "Iran will join Society for Worldwide Interbank Financial Telecommunication (SWIFT) three months after sanctions have been lifted," said the trade minister.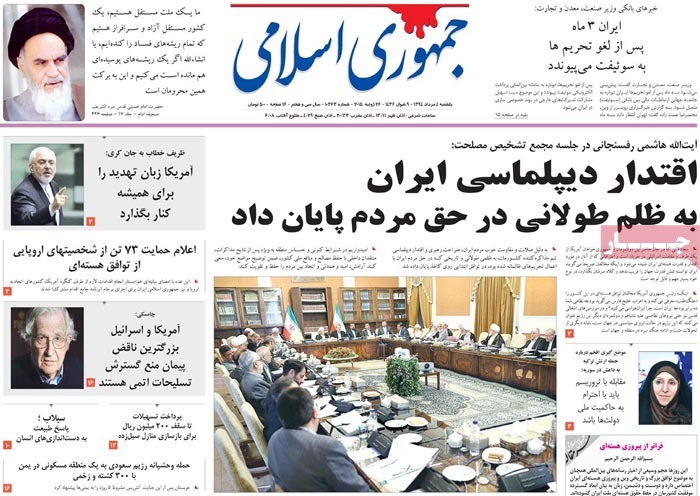 ---
Kaenat: "We won't allow our military sites to be inspected," said Ali Akbar Velayati, the Supreme Leader's advisor.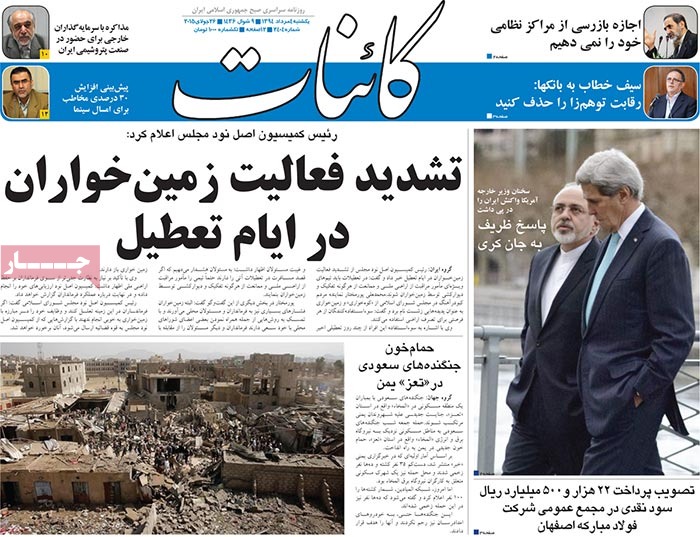 ---
Kayhan: The referee of the Vienna deal betrayed us even before blowing the opening whistle.
The International Atomic Energy Agency has revealed the text of a confidential deal to the other side [a reference to P5+1].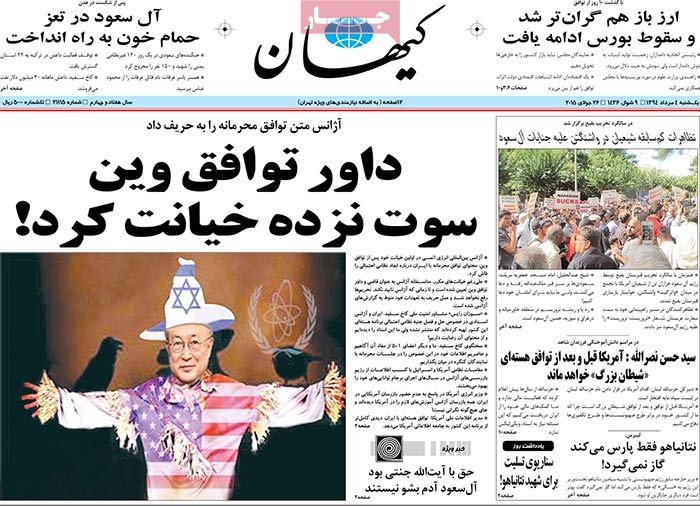 ---
Shahrvand: Rehabilitation centers will be launched for juvenile addicts in four cities.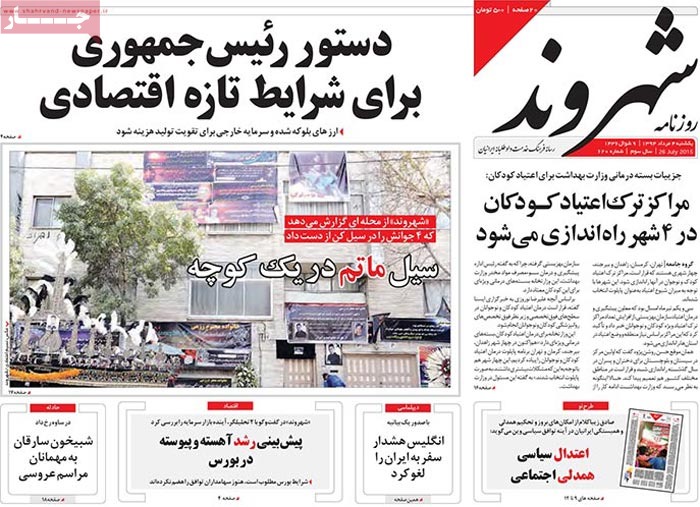 ---
Sharq: Those who attacked Tehran MP Ali Motahari when he visited the southern city of Shiraz for a planned speech in 2014 will go on trial on August 4.