Several papers today covered the remarks made by Iranian Foreign Minister Mohammad Javad Zarif in a recent interview with euronews, in which he said the package offered by the EU to save the Iran nuclear deal was not satisfactory.
The Guardian Council's decision to reject the bills ratified by the Parliament on Iran's implementation of Financial Action Task Force (FATF) standards also remained a top story today.
Also a top story was the Israeli Parliament's ratification of a controversial and racist bill that recognizes a "Jewish Nation-State" and discriminates against Palestinians and Arabs living in the occupied territories.
The above issues, as well as many more, are highlighted in the following headlines and top stories:
19 Dey:
1- Europe's Last Chance to Save Iran Nuclear Deal
2- Zarif: EU's Package to Save JCPOA Not Satisfactory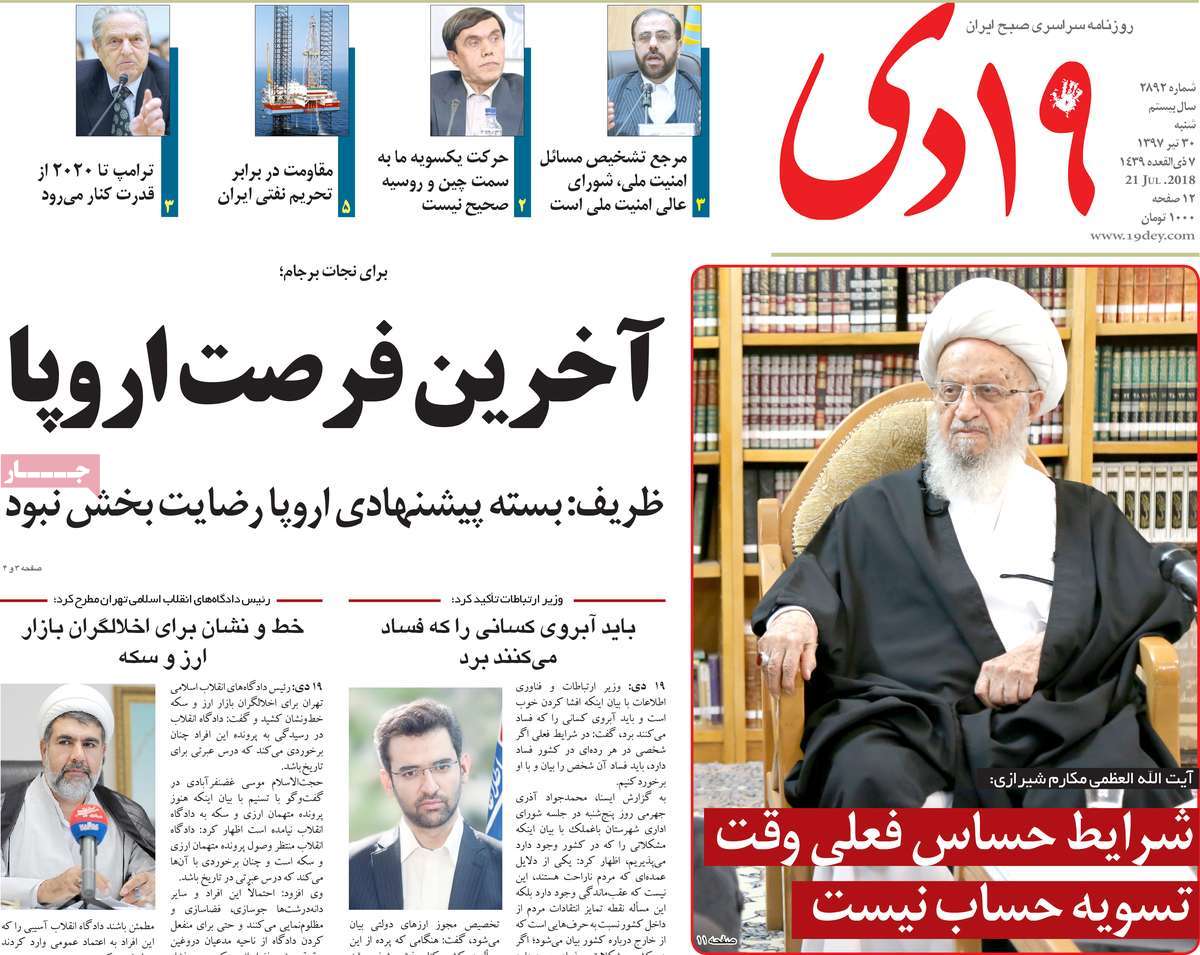 ---
Abrar:
1- North Korea Has Highest Index of Modern Slavery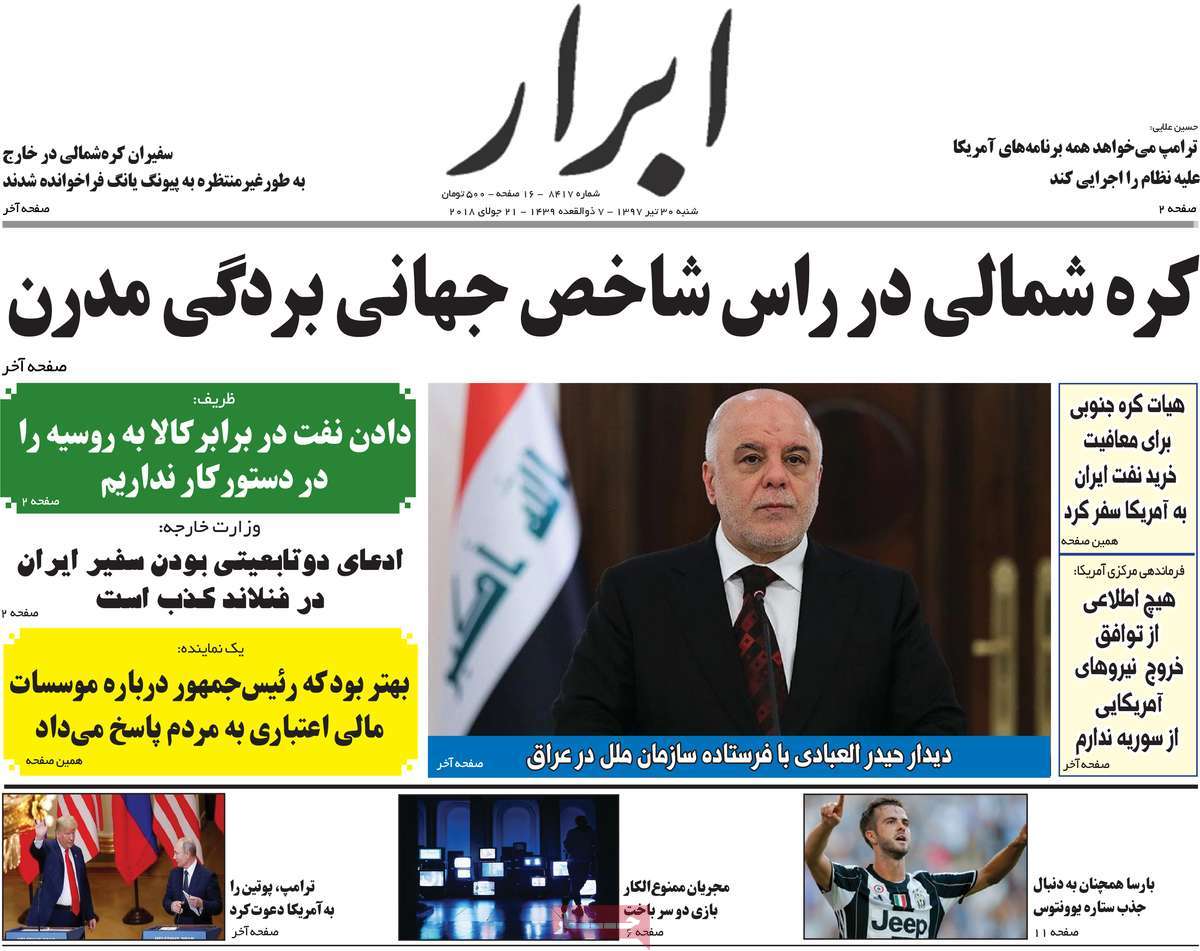 ---
Aftab-e Yazd:
1- A Woman's Controversial Presence at Iranian Foreign Ministry
2- Aref: Reformists' Parliamentary Faction Supports Four FATF Bills
3- US Trying to Convince Turkey to Cooperate on Iran Bans
---
Donya-ye Eqtesad:
1- Diplomacy of Partners after US Withdrawal
Ambassadors, Economic Attaches of Four Countries Discuss Iran's Remaining in JCPOA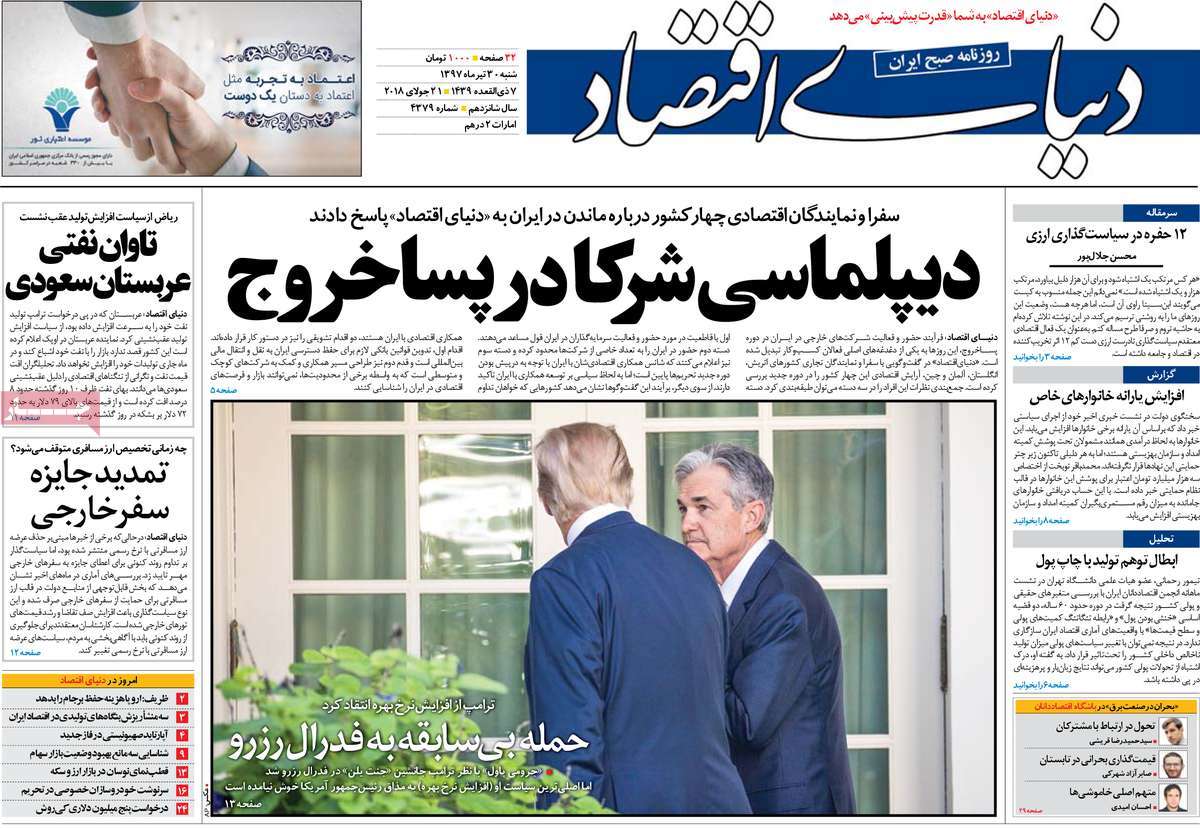 ---
Ebtekar:
1- Israel Continues Trend of Creating Tensions
"Jewish Nation-States" Bill Sparks Controversy
2- Turkey's Extraordinary Situation Finally Cancelled Two Years after Coup
3- Iran Leader to Government: Your Performance Should Be as Well as Team Melli's!
---
Etemad:
1- Iran's Top Sunni Cleric: We Won't Betray Our Own Territory [Iran]
2- One Iran, One Voice [Editorial]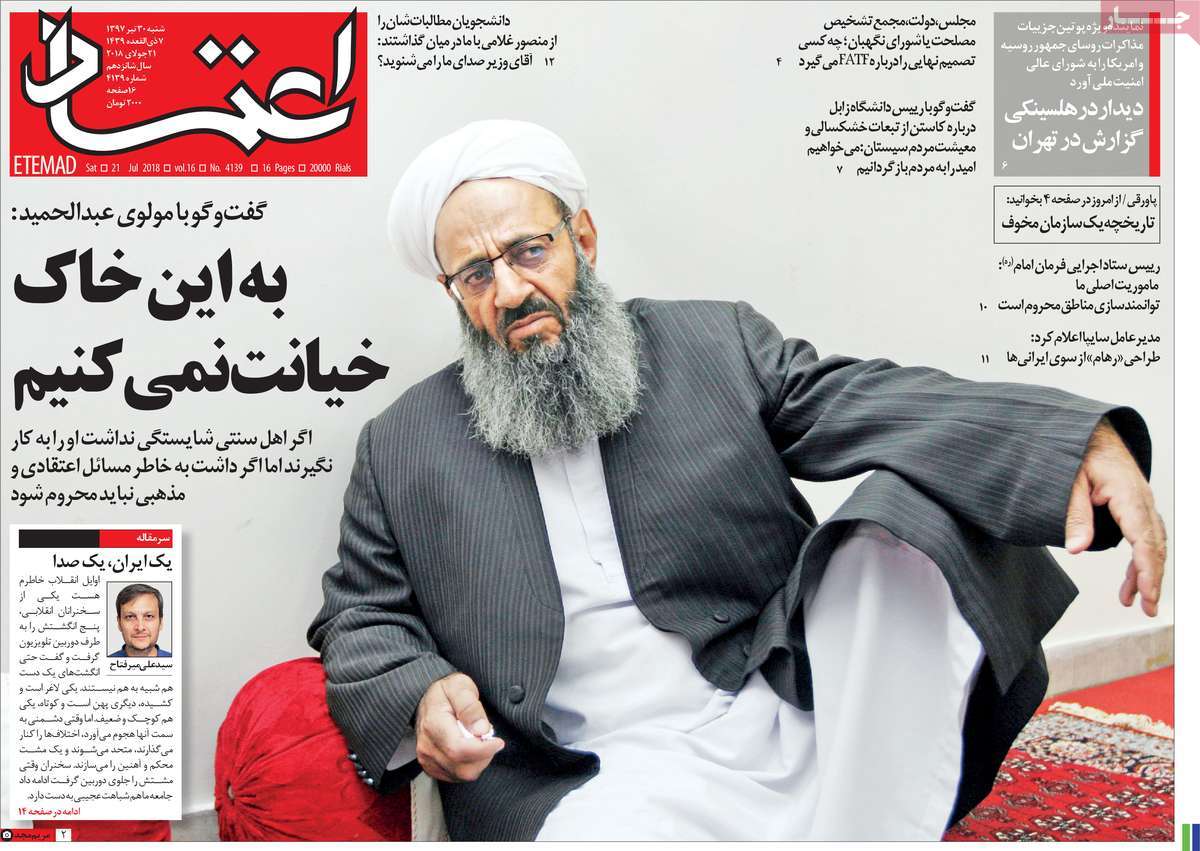 ---
Ettela'at:
1- Zionist Regime's "Jewish Nation-State" Law Globally Condemned
2- Rouhani's Chief of Staff: Velayati's Visit to Moscow Based on Government's Decision
3- Nasrallah Personally Claims Responsibility for Mediation in Syrian Refugees' Case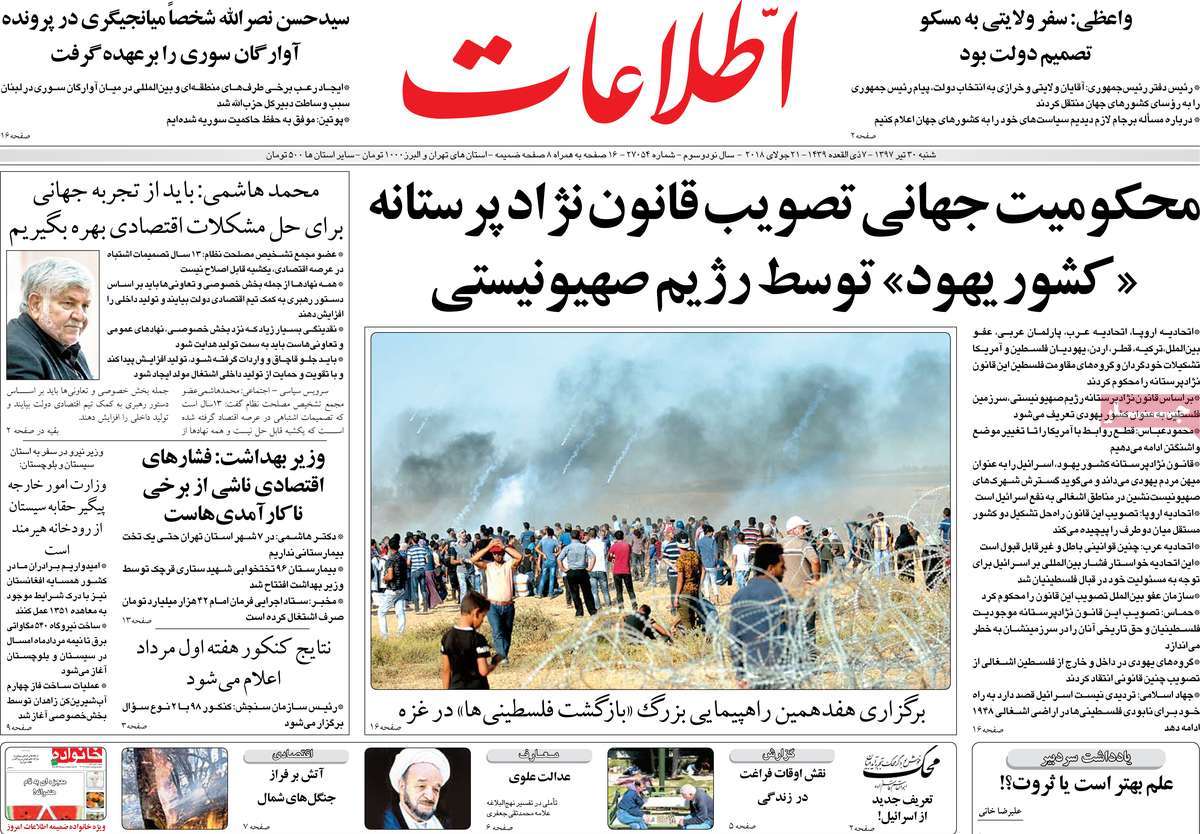 ---
Hemayat:
1- Zionists' Apartheid in Occupied Territories
Knesset Ratifies Law of Forming "Jewish Nation-State"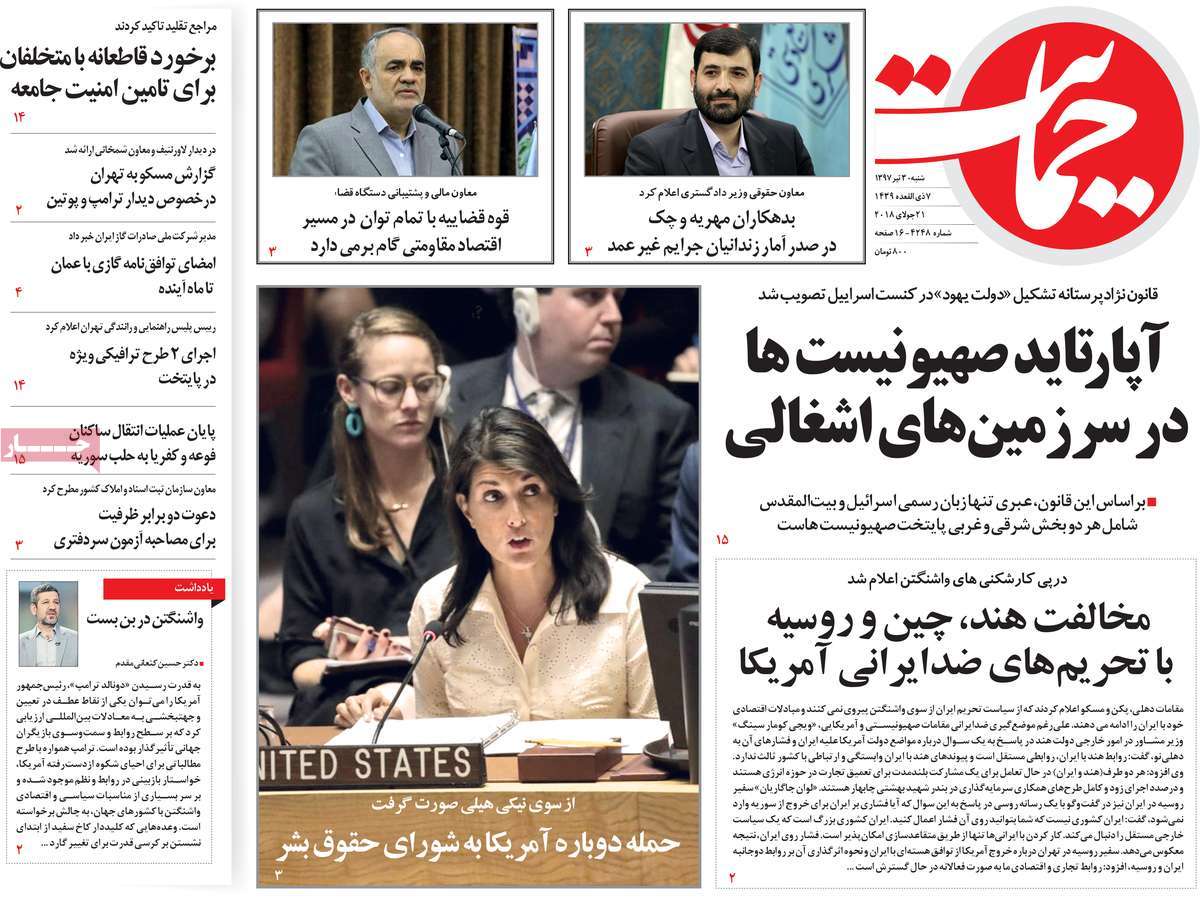 ---
Iran:
1- Iranians Warmly Welcome French Artists' "Time Labyrinth" in Tehran's Azadi Tower
---
Javan:
1- End of 39 Months of Shiites' Pains in al-Foua and Kafraya
2- Beijing: We'll Stand against US Sanctions
---
Jomhouri Eslami:
1- Zarif to Euronews: Doing Oil-for-Good Trade with Russia Not on Agenda of Iran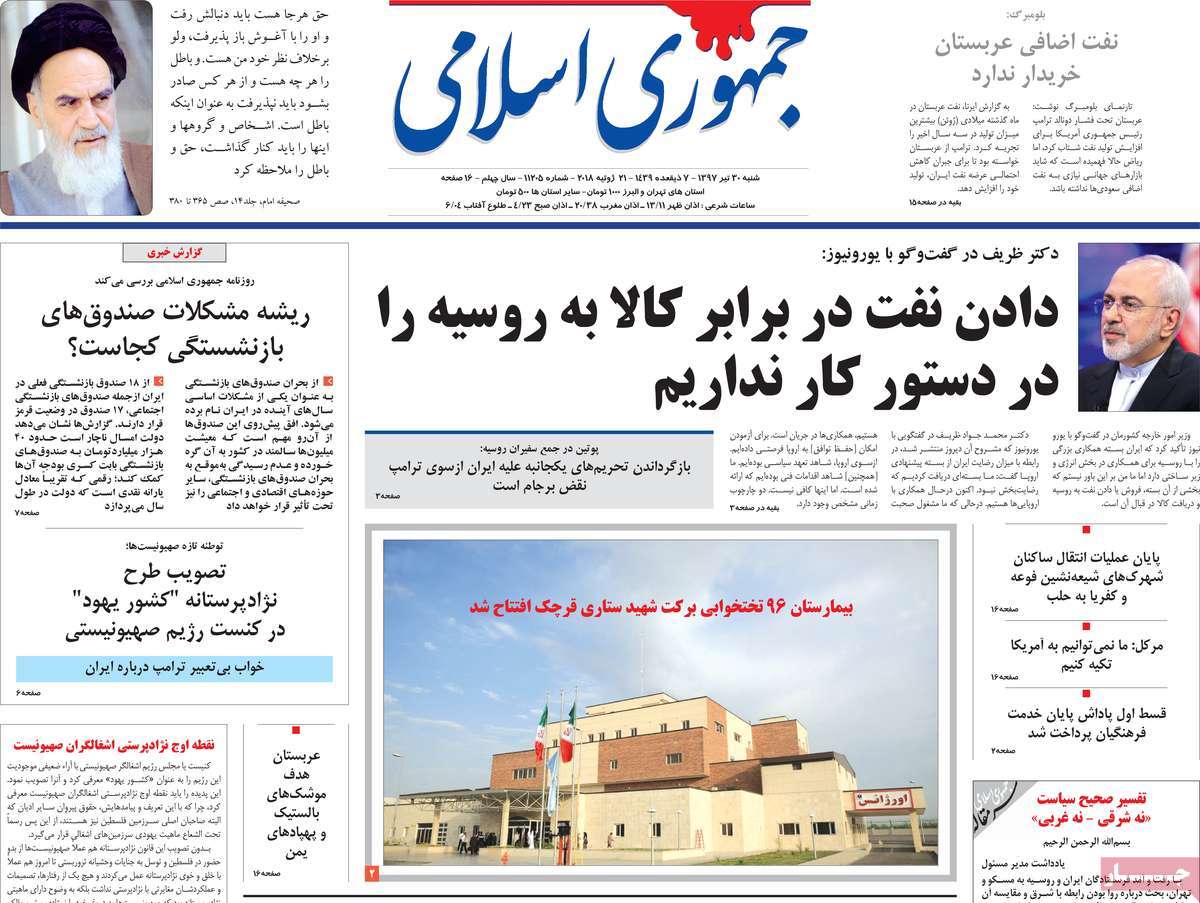 ---
Kayhan:
1- Shiites of al-Foua and Kefraya See Result of 3 Years of Resistance
2- People Must Feel Government Is Doing Its Best: Iran Leader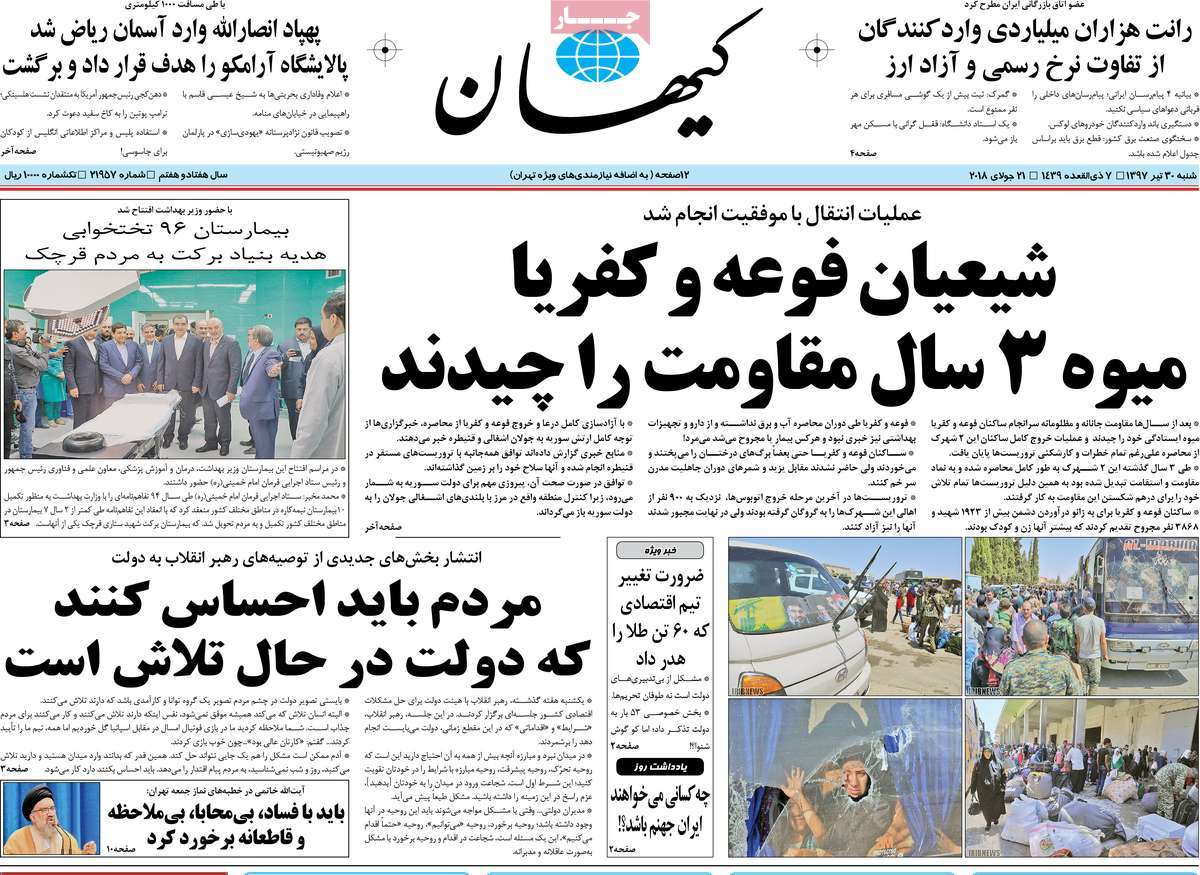 ---
Khorasan:
1- Yemeni Drones Give Shock to Riyadh Refinery
---
Rooyesh-e Mellat:
1- Zarif Calls on Europe to Stop Being under US' Influence
---
Sazandegi:
1- Solidarity to Rebuild Iran: Rouhani Holds Meeting with Mayors of 7 Megacities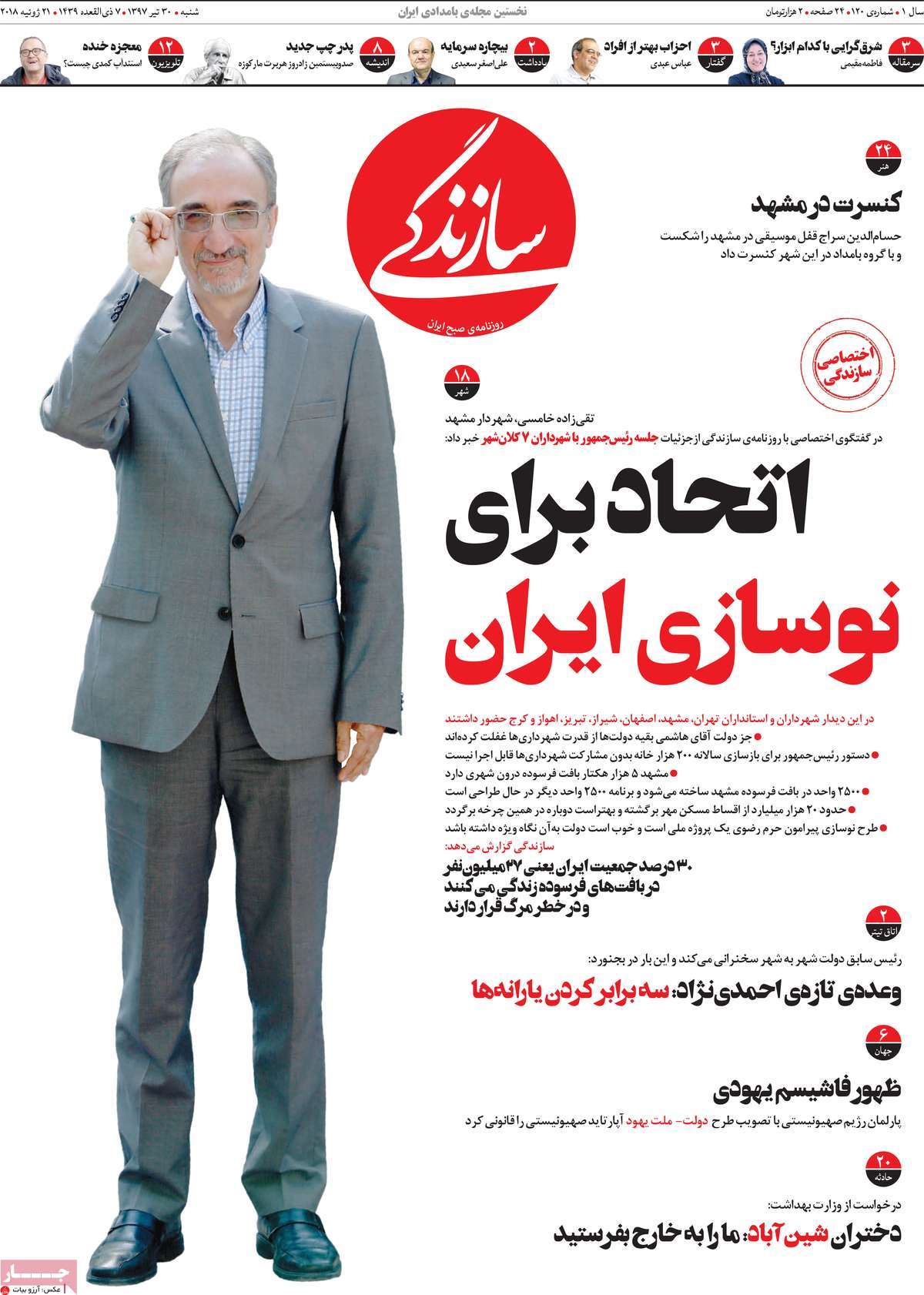 ---
Setareh Sobh:
1- FATF Bills in Coma
Supreme National Security Council or Expediency Council: Which One to Make Final Decision?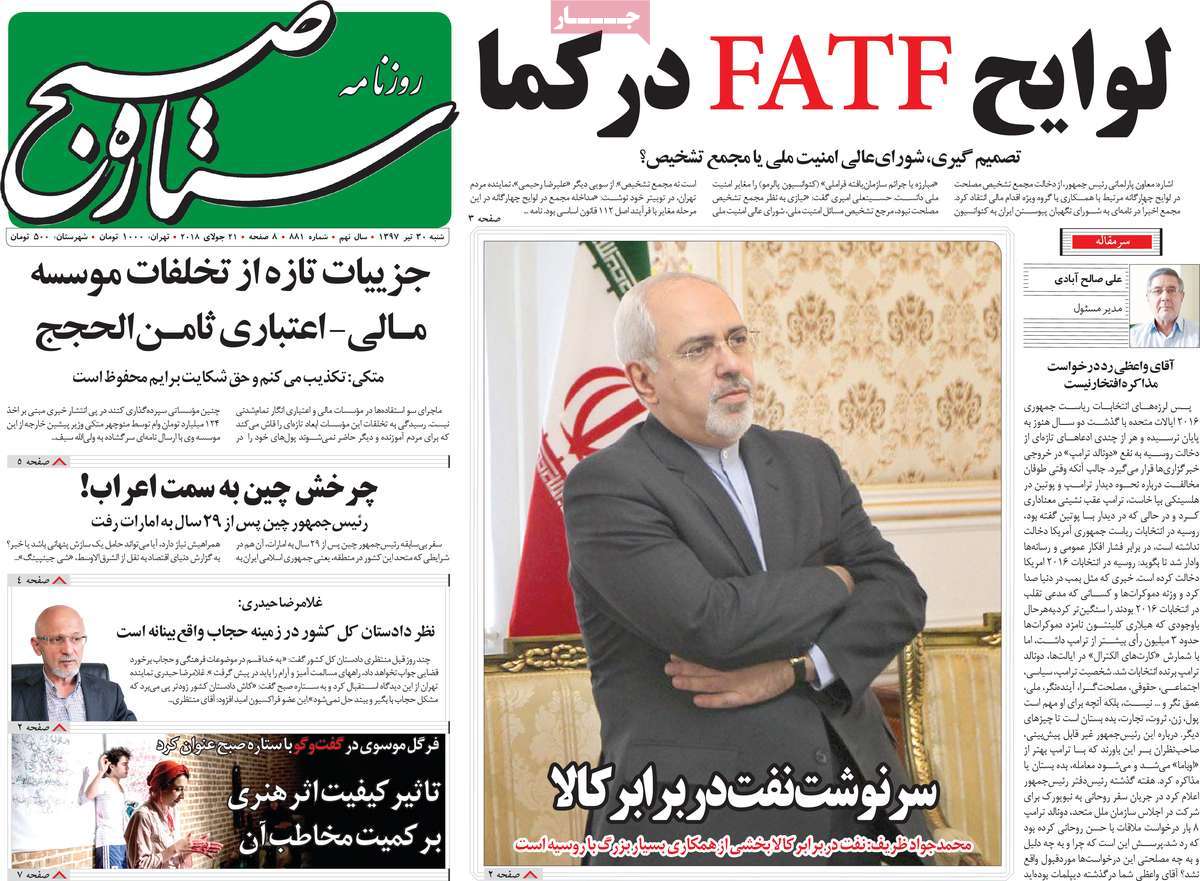 ---
Shargh:
1- Trump Invites Putin to Visit Washington
2- Russian President's Special Envoy Briefs Iran on Results of Helsinki Summit