The comments of the Supreme Leader that the nuclear issue should not create division among the Iranian people dominated the front pages of Iranian newspapers on Monday.  
Ettela'at: "Unity is the only remedy for the world of Islam," said the Supreme Leader at a meeting with state officials and Islamic ambassadors based in Tehran.
Ayatollah Khamenei also said that the nuclear issue should not divide the nation.
---
Abrar: "We are in favor of expansion of ties based on mutual interests and respect," President Hassan Rouhani told the British prime minister on the phone.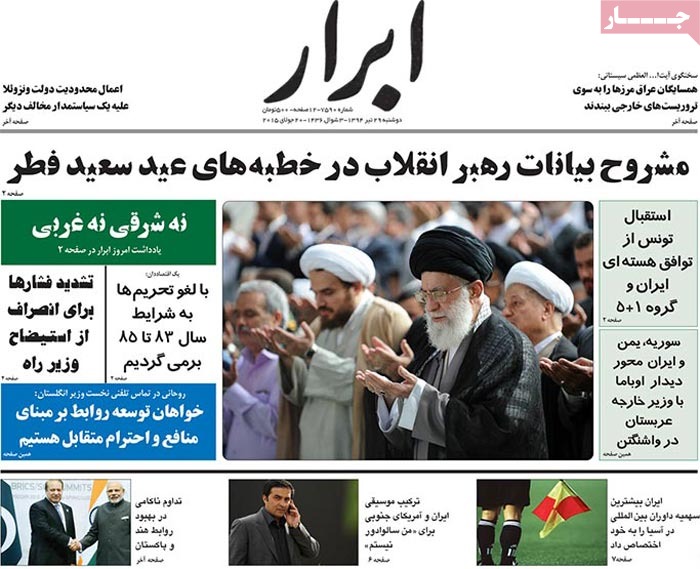 ---
Afarinesh: Saudi Arabia has arrested more than 400 IS terrorists.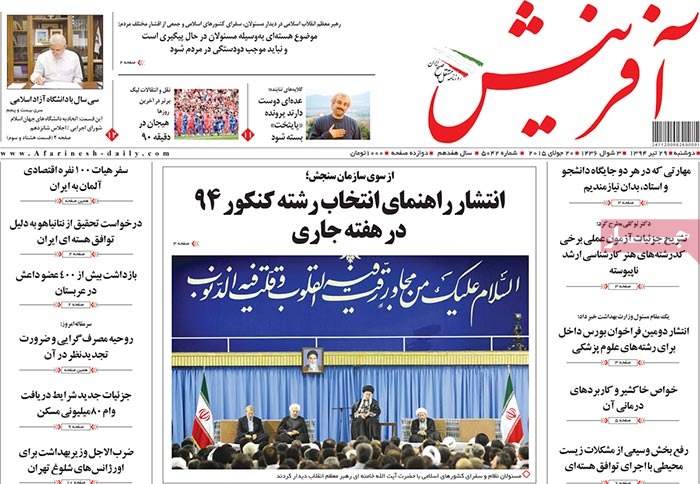 ---
Afkar: "The country's defense and security capabilities will be maintained," said the Supreme Leader.
Afkar: Zarif and Salehi will be in Baharestan [a Tehran street where parliament is located] to present a nuclear report to MPs.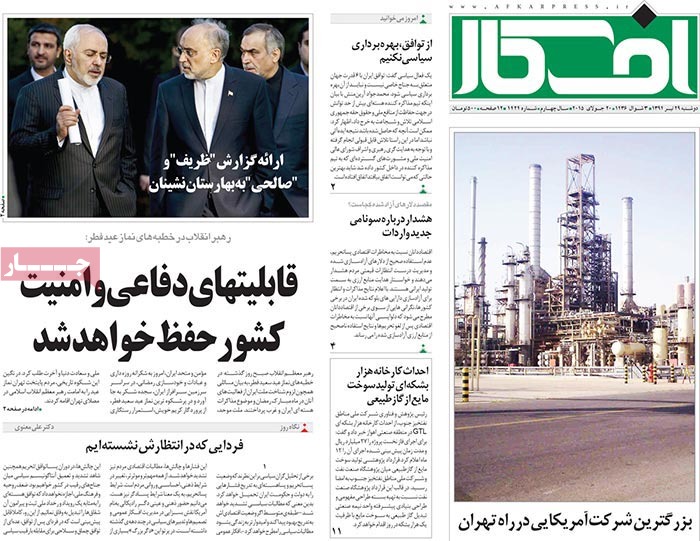 ---
Aftab-e Yazd: "The oil-related offenses of the previous government are not limited to [the disappearance of] an oil derrick," said a member of parliament's Industries Committee.
Aftab-e Yazd: German carmakers make an Iran comeback.
Representatives of German automakers arrive in Tehran as part of a first Western delegation visiting Tehran in the wake of the nuclear deal.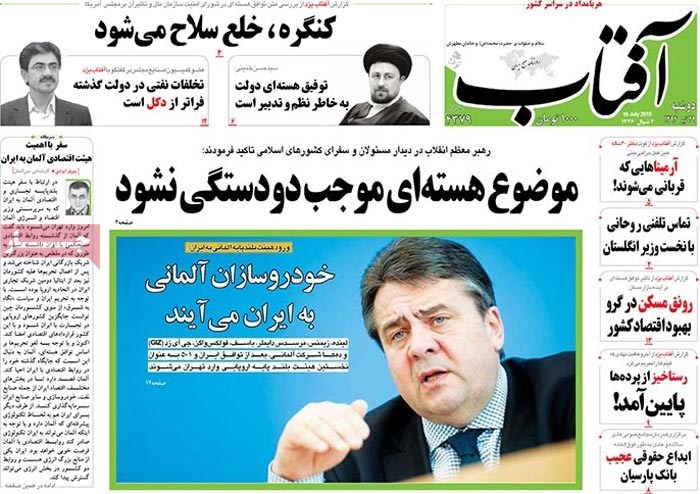 ---
Arman-e Emrooz: "The nuclear deal will spell an end to populism," said Fayyaz Zahed, a university professor and reformist activist.
Arman-e Emrooz: The post-deal era requires major changes in the Cabinet lineup.
"Failure to introduce a shakeup would be a big mistake," said economist Saeed Laylaz.
Arman-e Emrooz: A storm with gusts of 80 kph ripped through Tehran.
Arman-e Emrooz: McDonald's is to set up an outlet in Tehran!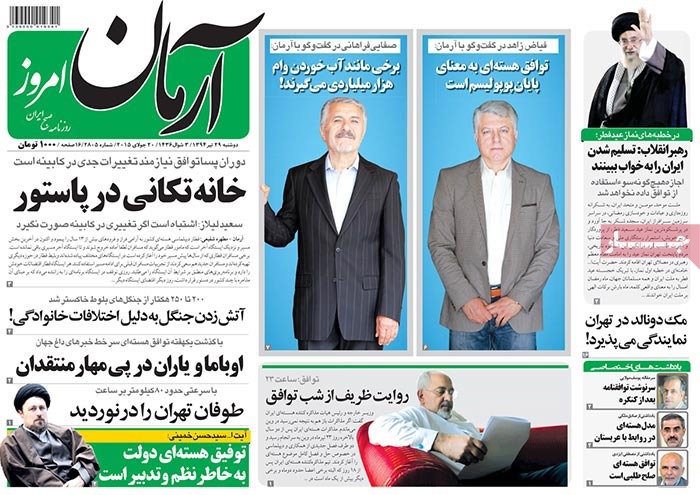 ---
Asr-e Rasaneh: The biggest American company on its way to Tehran to purchase Iranian oil in the post-sanctions era.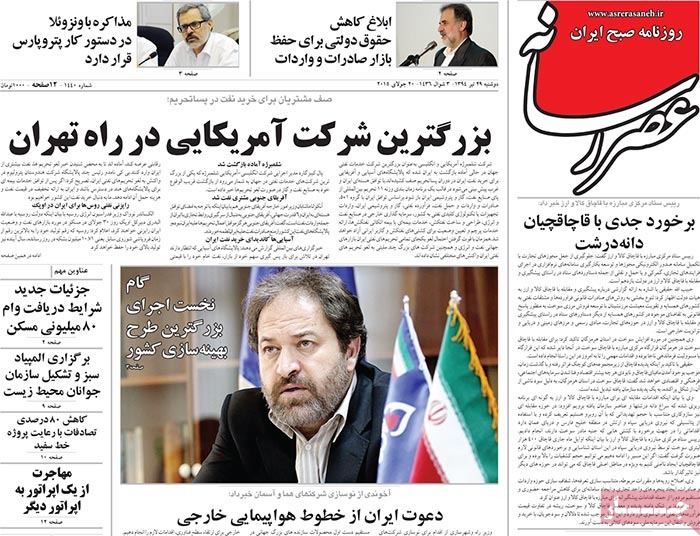 ---
Asrar: "We have a massive development plan to implement when our assets are unfrozen," said Foreign Minister Zarif.
Asrar: The Iraqi interior minister has said that those behind the deadly bombing in Diyala have been arrested.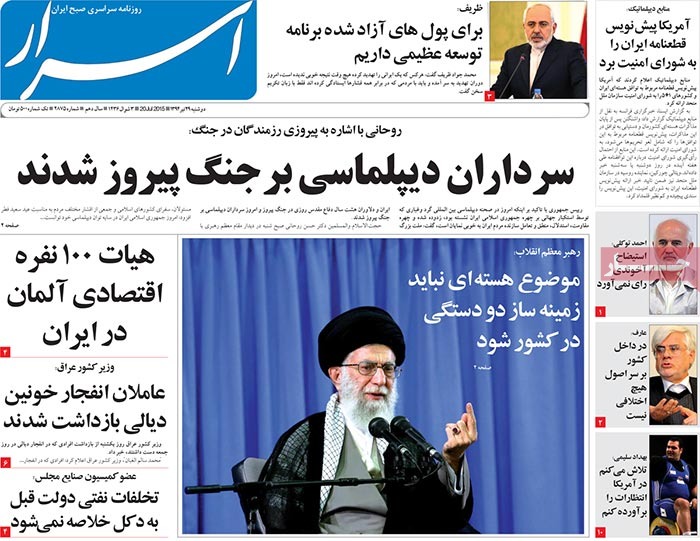 ---
Ebtekar: The race is on for presence in Iran's market.
Ebtekar: "The nuclear issue should not spark division in the country," said the Supreme Leader.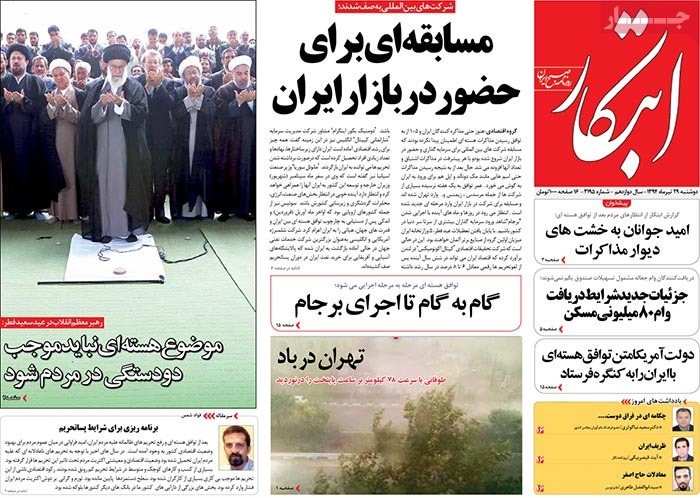 ---
Jomhouri Islami: "The Iranian nation has reclaimed its right," Chairman of the Expediency Council Ayatollah Akbar Hashemi Rafsanjani said.
---
Kayhan: "Whether or not the Vienna deal is approved, Iran's stance vis-à-vis the US won't change," said the Supreme Leader.
"Only in their dreams will the Americans see Iran capitulate," Ayatollah Khamenei said.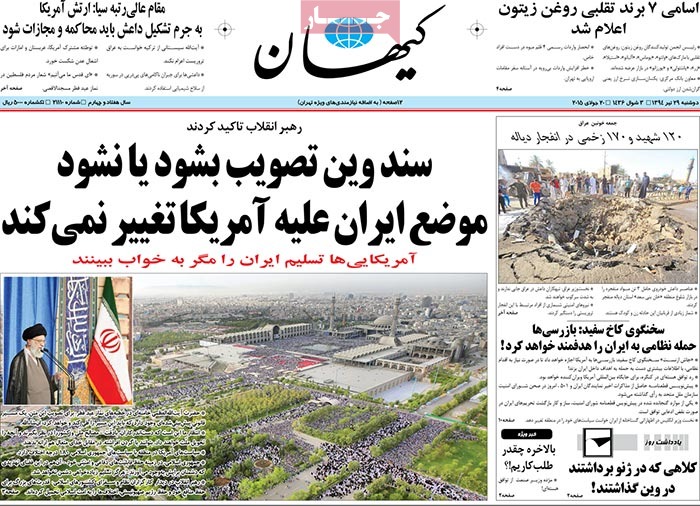 ---
Mardomsalari: The health minister has given the capital's hospitals two weeks to get their ER house in order.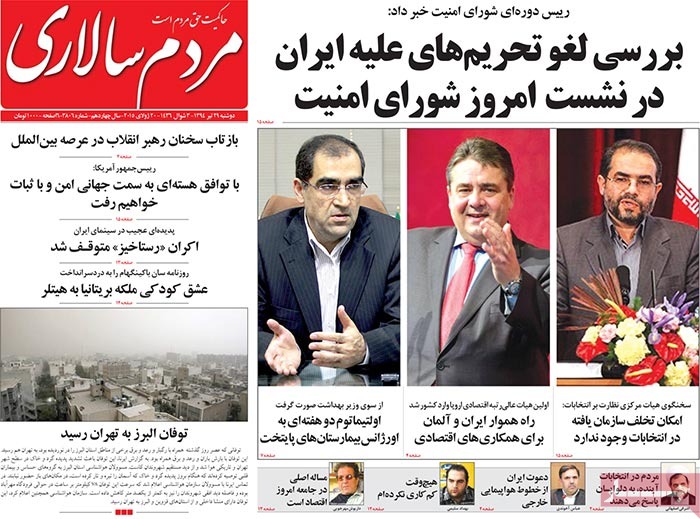 ---
Resalat: "The stage is not set for holding electronic elections," said the secretary of the Guardian Council.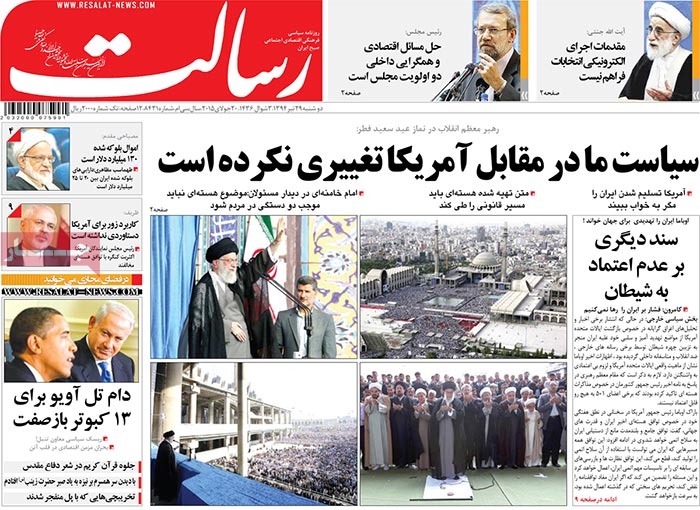 ---
Rooyesh-e Mellat: In a threatening message, IS has said that it will soon make its presence in Saudi Arabia official.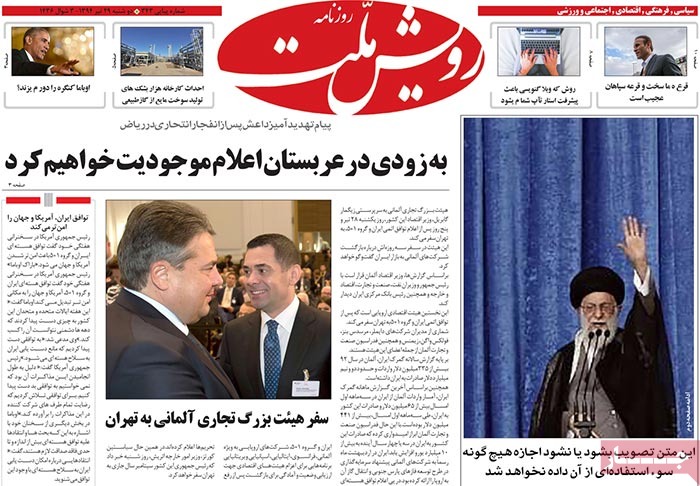 ---
Roozan: "The breakthrough in nuclear talks is not limited to one group," said President Rouhani.