The comments of the Supreme Leader at a meeting with university students and continued nuclear talks between Iran and P5+1 dominated the front pages of Iranian newspapers on Sunday.
Ettela'at: "Artists and cultured people need to promote morality in society," President Rouhani said at a meeting with artists and cultural figures.
He further said that his administration has skillfully interacted with the world for 22 months.
"In case nuclear talks fail to produce a breakthrough, the way we have interacted with six world powers would prove to the world that the Iranians are open to reason," the president said.
---
Aftab-e Yazd: "In case allegations [of fraud] against Hamid Baghaei, [a vice-president for executive affairs under Ahmadinejad] are substantiated, Ahmadinejad must be tried too," said Nader Ghazipour, an MP representing Orumiyeh in parliament.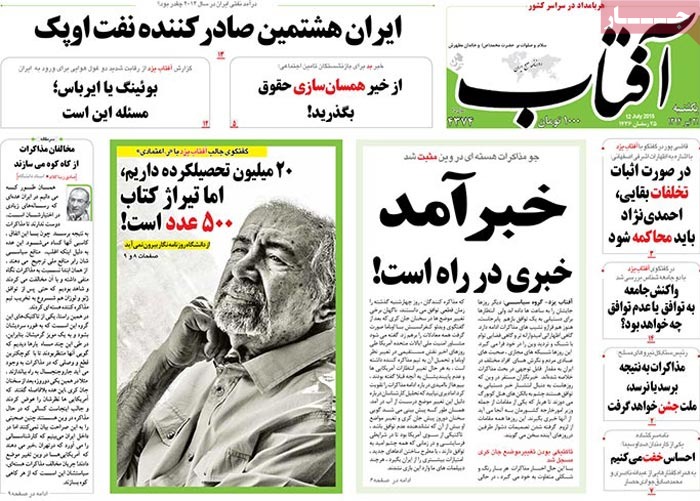 ---
Arman-e Emrooz: "Women account for one third of all individuals who sleep rough on the streets," said Shahindokht Molaverdi, vice-president for women and family affairs.
Arman-e Emrooz: Major terrorist attack averted.
The commander of the Border Guard Unit of the Iranian law enforcement force has said that terrorists were bent on planting bombs in three southern towns and cities.
---
Asrar: Boeing and Airbus are involved in rivalry over Iran's $20 billion market.
Asrar: Ayatollah Akbar Hashemi Rafsanjani has described the Iranian negotiators as warriors on the diplomatic front.
Asrar: Mohammad Reza Bahonar, a principlist MP, has said that Iran seeks to reach understanding with the rest of the world.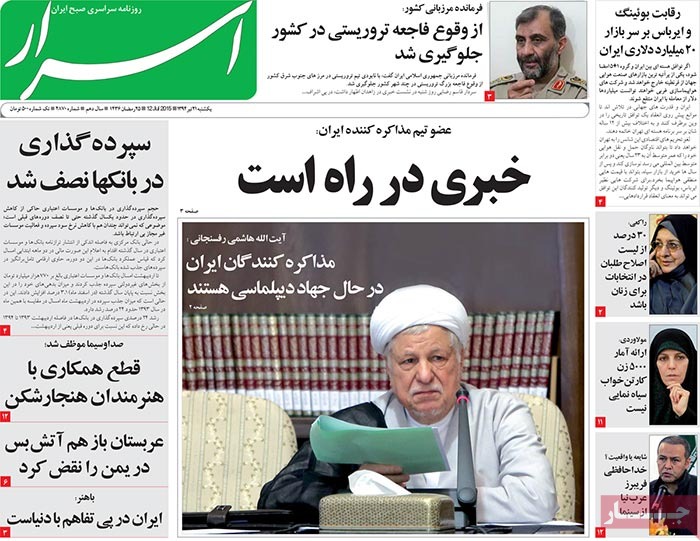 ---
Ebtekar: "Talks have produced results," said the secretary of the Expediency Council.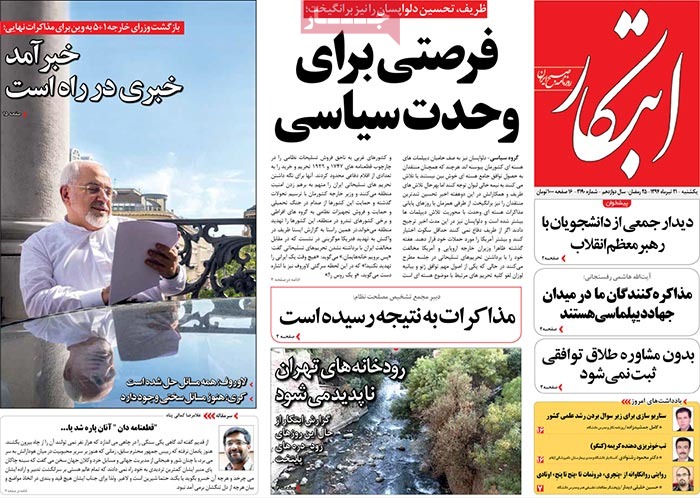 ---
Emtiaz: Up to 1,500 ambulances are on the verge of being declared worn-out.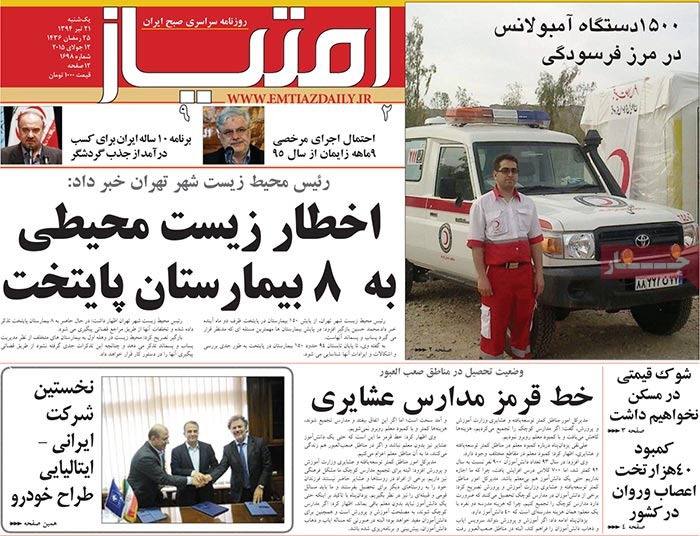 ---
Etemad: The interior minister has said that profiteers, and not Imam Khomeini Relief Committee, have imported luxury cars.
Etemad: The case involving the missing Iranian oil derrick has been referred to parliament.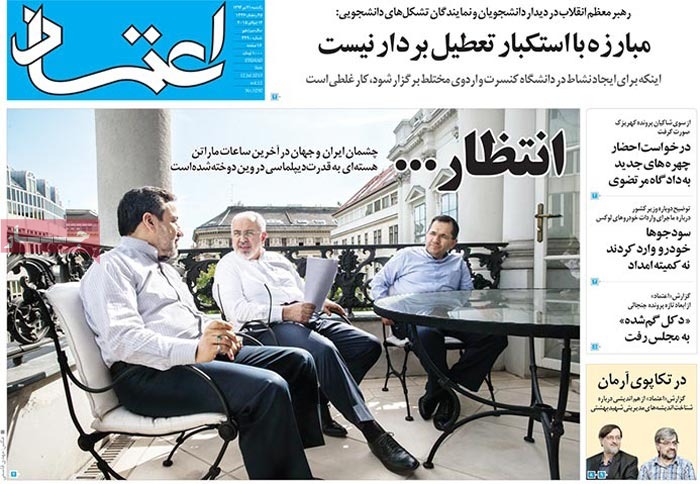 ---
Ghanoon: Police commanders [past and present] are likely to be summoned to court in Saeed Mortazavi's case if Ruholamini [the father of a young man who died in Kahrizak] files a new complaint.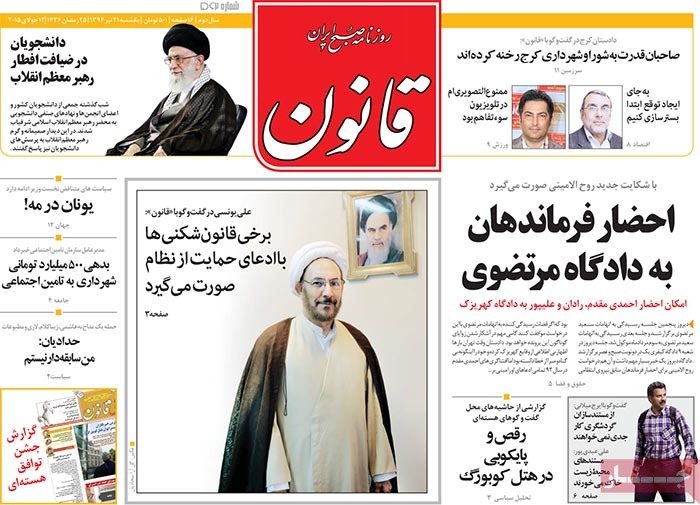 ---
Jamejam: "The fight against arrogant powers [a reference to the US and its Western allies] is endless," said the Supreme Leader at a meeting with university students.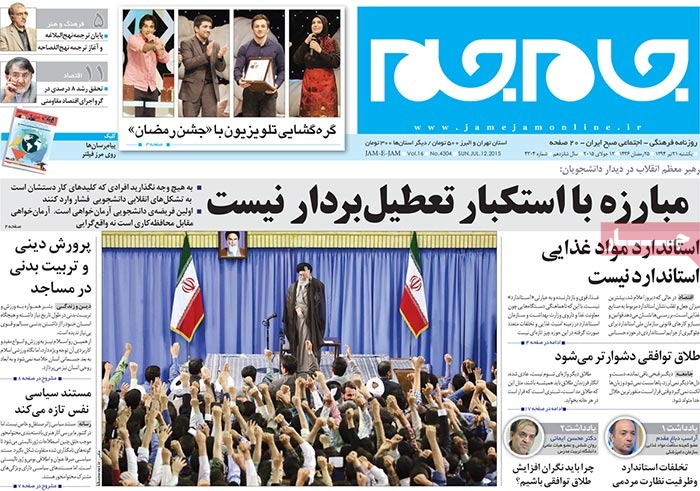 ---
Payam-e Zaman: Iran is on course to becoming the world's first producer of natural gas in five years.
Payam-e Zaman: "All world powers favor a deal with Iran," said Secretary of the Expediency Council Mohsen Rezaei.