Newspapers today widely covered the visit of Iranian special envoy Ali Akbar Velayati to Moscow, where he was supposed to meet with Russian President Vladimir Putin to convey messages from Iran's Leader Ayatollah Seyyed Ali Khamenei and President Hassan Rouhani.
The rift between the US and Europe, particularly the impact of US President Donald Trump's recent stances on the NATO summit, also received great coverage.
Also a top story was the widespread criticisms of the Islamic Republic of Iran Broadcasting (IRIB) for airing confessions of a teenage girl named 'Maedeh Hojabri' who had been arrested for posting clips of her dances on her Instagram account.
The above issues, as well as many more, are highlighted in the following headlines and top stories:
Abrar:
1- Hariri: No One in Lebanon Can Remove Other Parties
2- Russia DM: Iran Playing Key Role in Syria Stability
3- American Lobby Groups Trying to Increase Pressure on Iran in Regional Visit
4- Pompeo Calls on Arab Countries to Counter Iran in Meeting with Abu Dhabi Emir
---
Afkar:
1- If Saudi Arabia Thinks Iran Is Its Enemy, It'd Better Directly Fight It
2- Rift among Oil Coalition against Iran
3- Velayati Says His Strategic Mission in Russia Not Affected by Netanyahu's Visit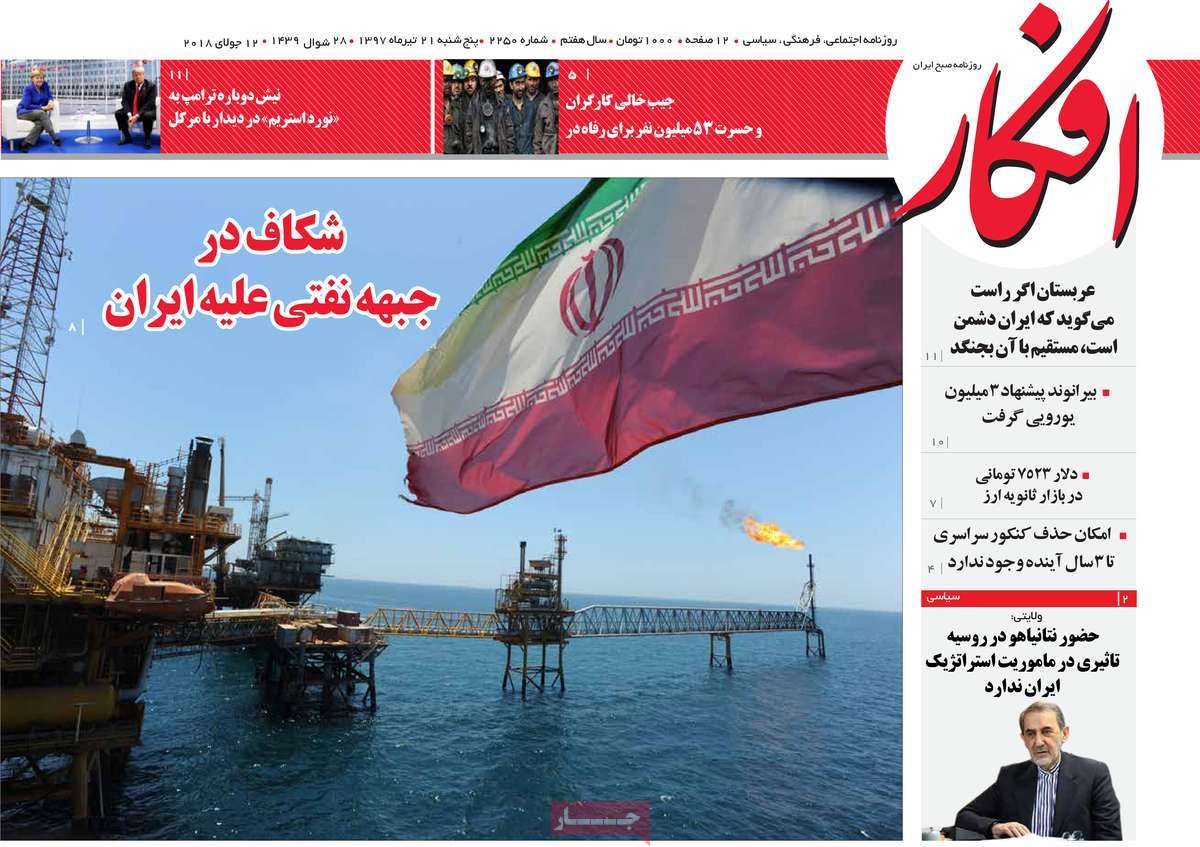 ---
Aftab-e Yazd:
1- Trump Blackmailing NATO
2- Doomed Tanker: At Least 11 People Killed after Fuel Tanker Hit Bus in Sanandaj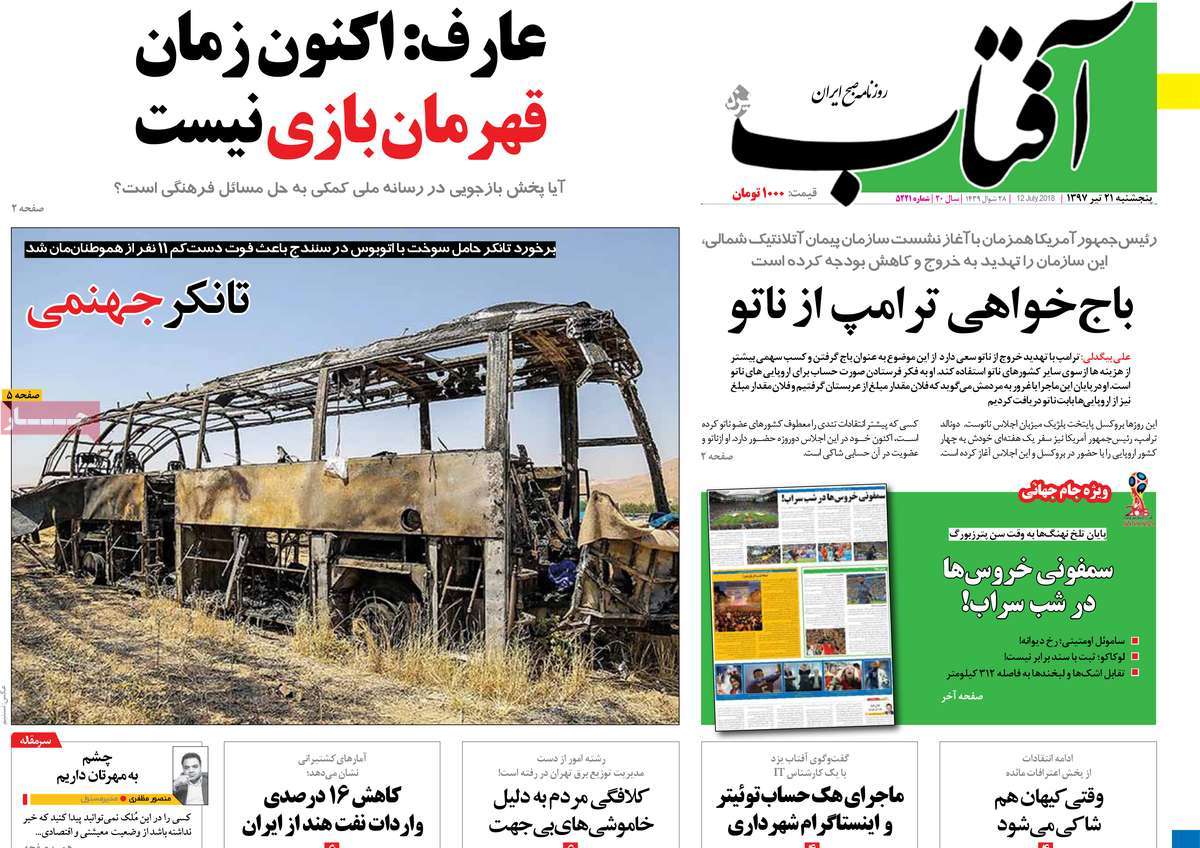 ---
Amin:
1- Conspiracy against Iran in Secret Anti-Tehran Meeting Held in Riyadh
2- Russia Knows Iran's Red Lines
3- Speculations about Big Deal between Putin, Trump
---
Arman-e Emrooz:
1- Lawsuits Filed against State TV [after Airing Confessions of Teenage Dancer]
2- Iran Mourning Sanandaj Accident: 11 Killed, 9 Wounded in Tragic Crash
3- Government Must Start Reshuffling Cabinet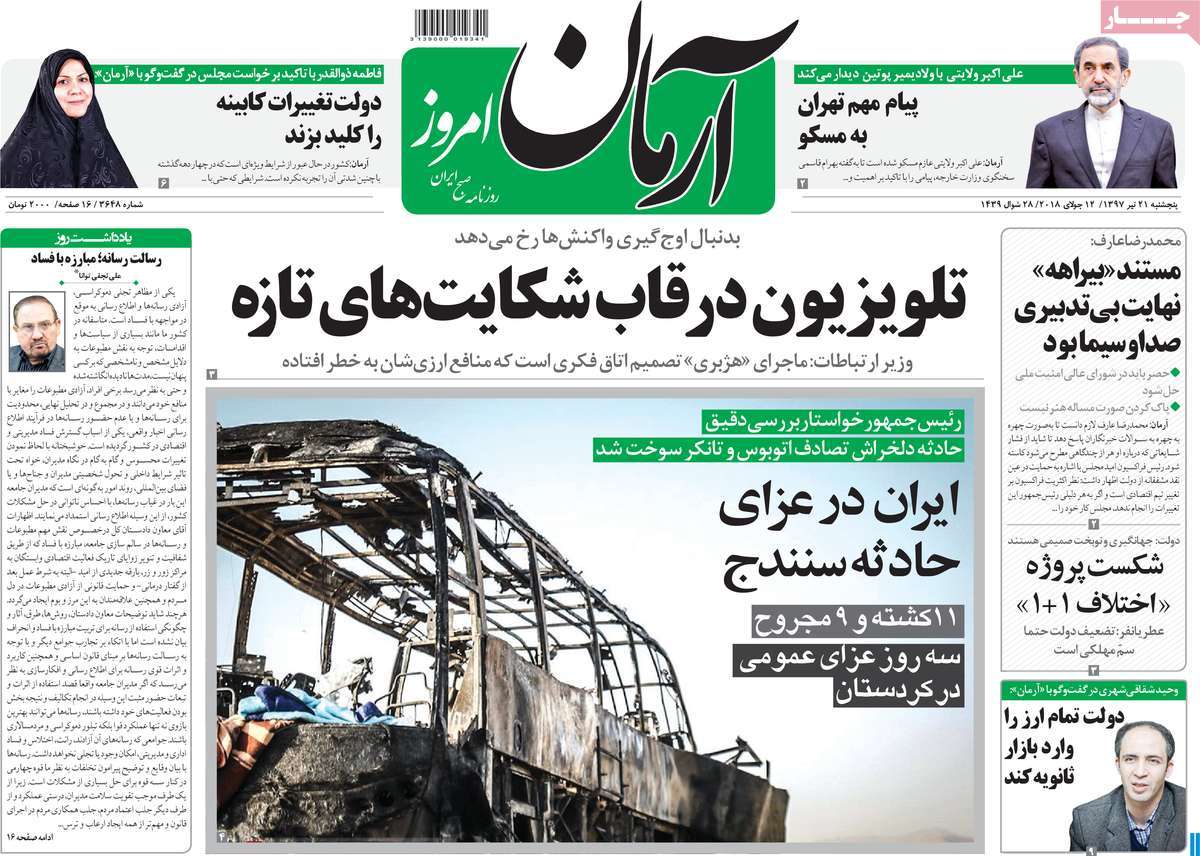 ---
Ebtekar:
1- It's Time for Trump to Play with Card of NATO
2- People Dying in Roads of Death
3- Aref: Corruption in Iran No Longer Embarrassing
---
Etemad:
1- Another Attack on Allies in NATO
2- IRIB's Move [to Air Confessions of Teenage Dancer] Was Totally Imprudent: MP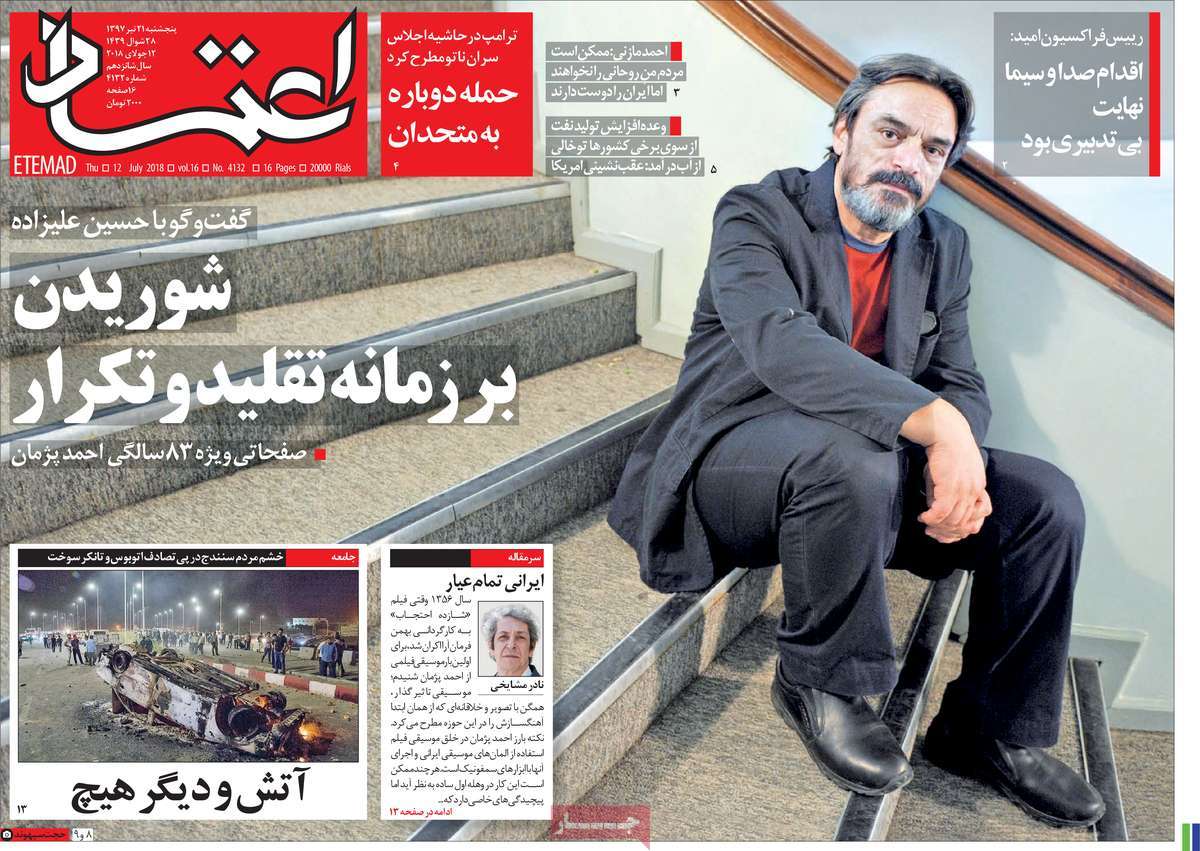 ---
Ettela'at:
1- Iranian Population to Reach 100 Million in Three Decades
2- US Congress Strongly Protests against Saudi Crimes in Yemen
3- Bodies of 60 Iranians Martyred in 1980 Iraq War Repatriated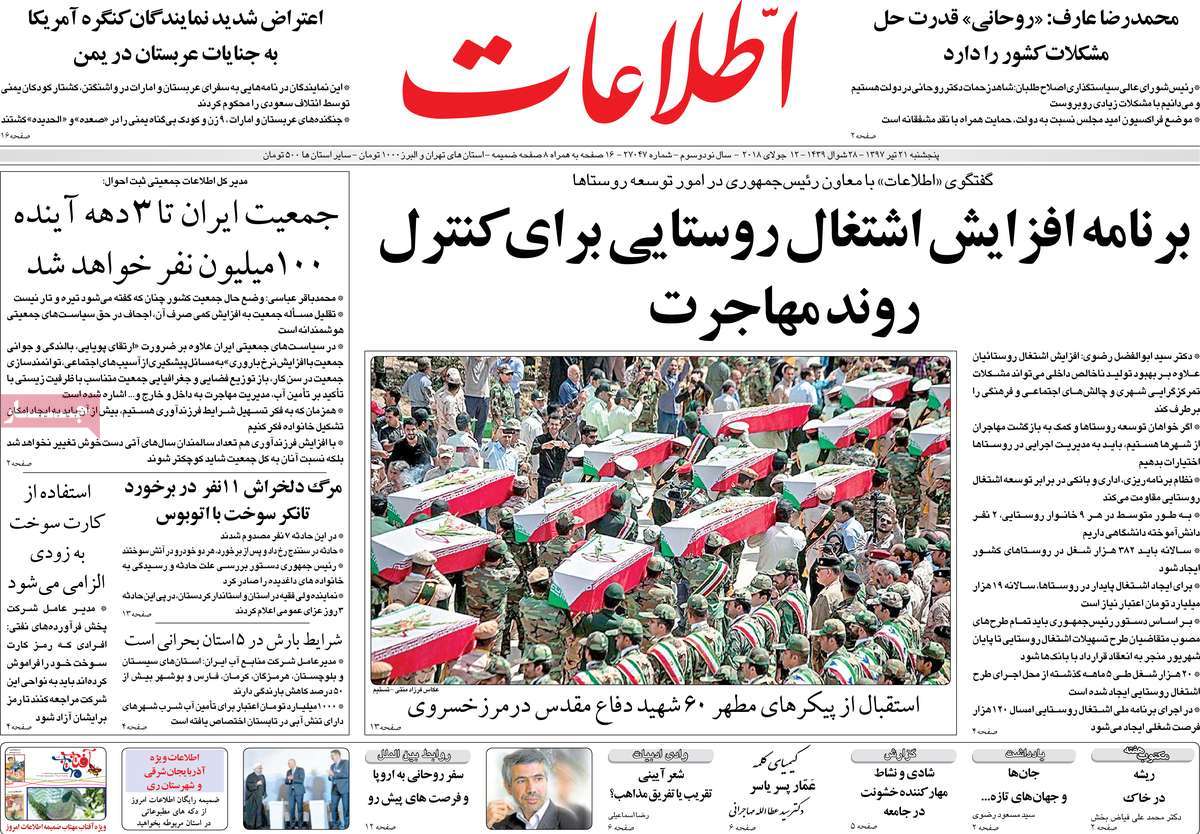 ---
Hosban:
1- Velayati: No One Cares about Netanyahu's Groundless Remarks
2- Health Ministry: Rising Dollar Rates Create Opportunity for Promotion of Medical Tourism
---
Iran:
1- Missions of Rouhani's Special Envoys
Members of Cabinet Delivering President's Messages to Other World Leaders
2- US Dollar Rate Goes Down in Iran Market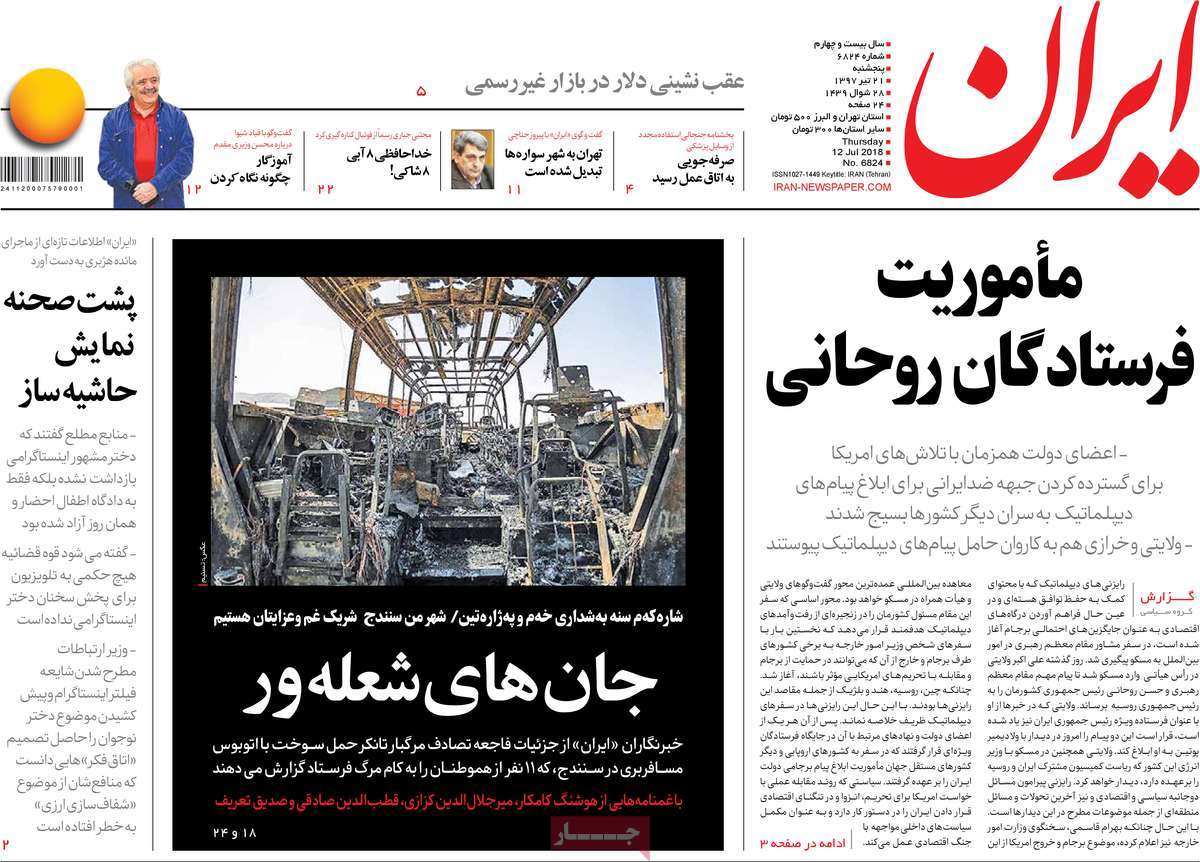 ---
Javan:
1- Tehran's Considerations Regarding Putin-Trump Meeting
---
Jomhouri Eslami:
1- Europeans Know US No Longer Reliable: CNN
2- Oil Prices Down after US Backs Off from Stopping Iran's Oil Exports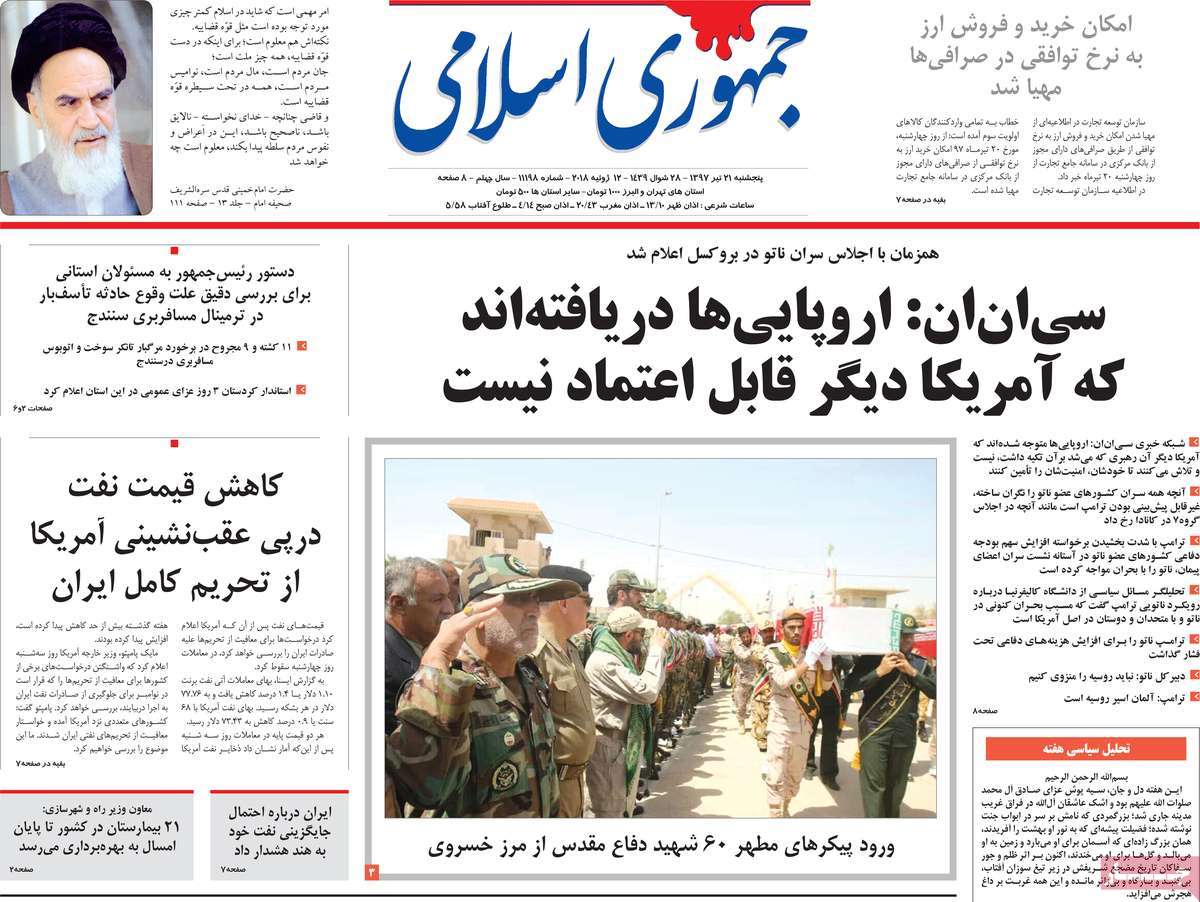 ---
Ka'enat:
1- Pompeo against General Qassem Soleimani
---
Kayhan:
1- Iran Defies US, Europe by Sending Special Envoy to Moscow, Beijing
Iran to Change Direction of It Economic Relations
2- Former CIA Official: US Pressures on Iranian People to Backfire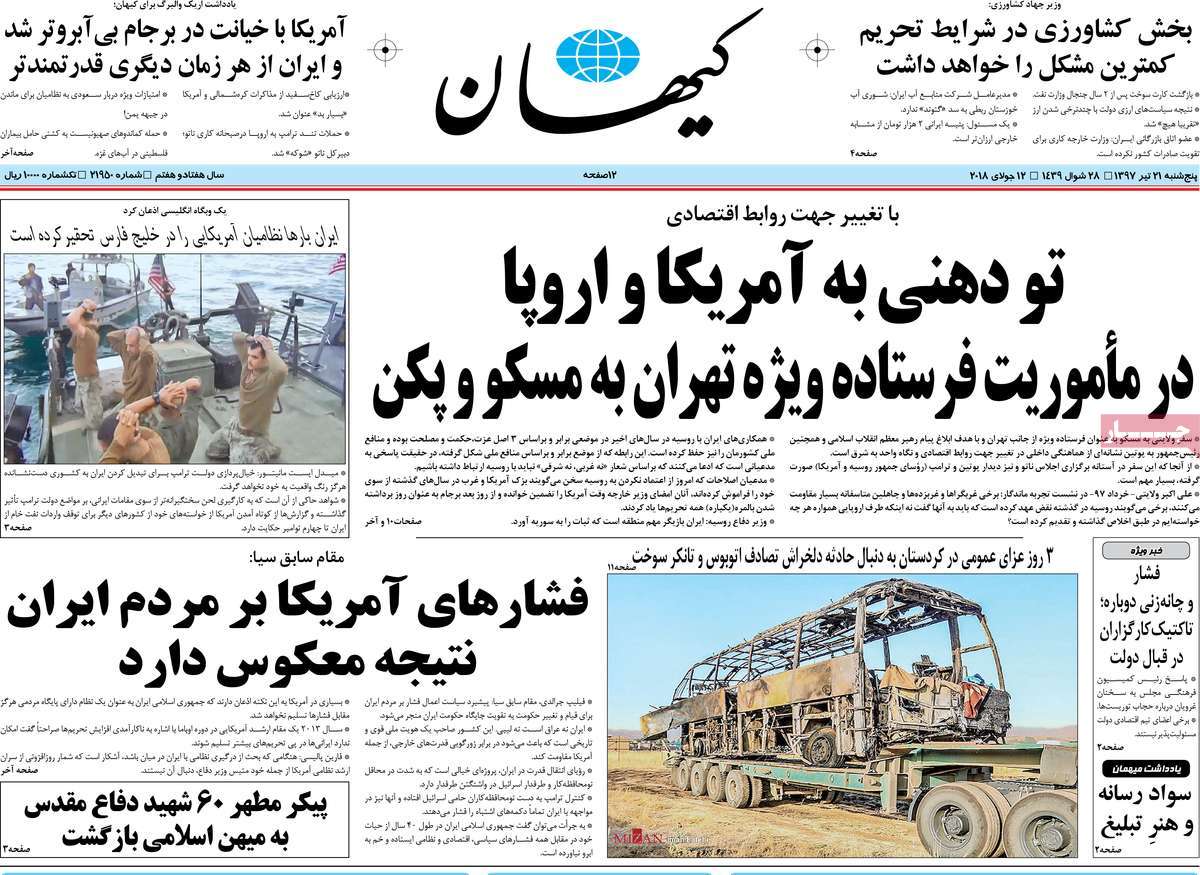 ---
Khorasan:
1- New Security Coalition in the East
Moscow Says Iran, Russia, China, Pakistan to Hold Meeting on Fight against ISIS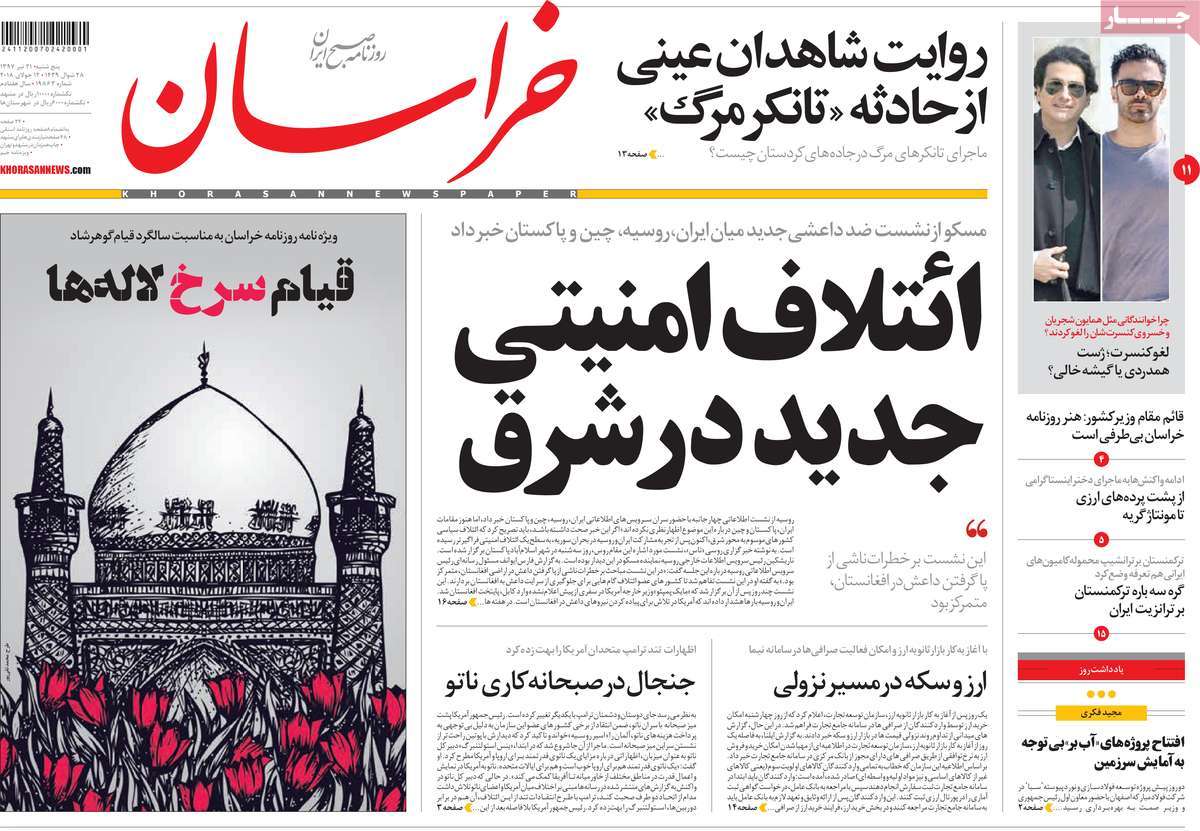 ---
Payam-e Ma:
1- IRIB Managers to Be Summoned to Parliament [for Airing Teenage Dancer's Confessions]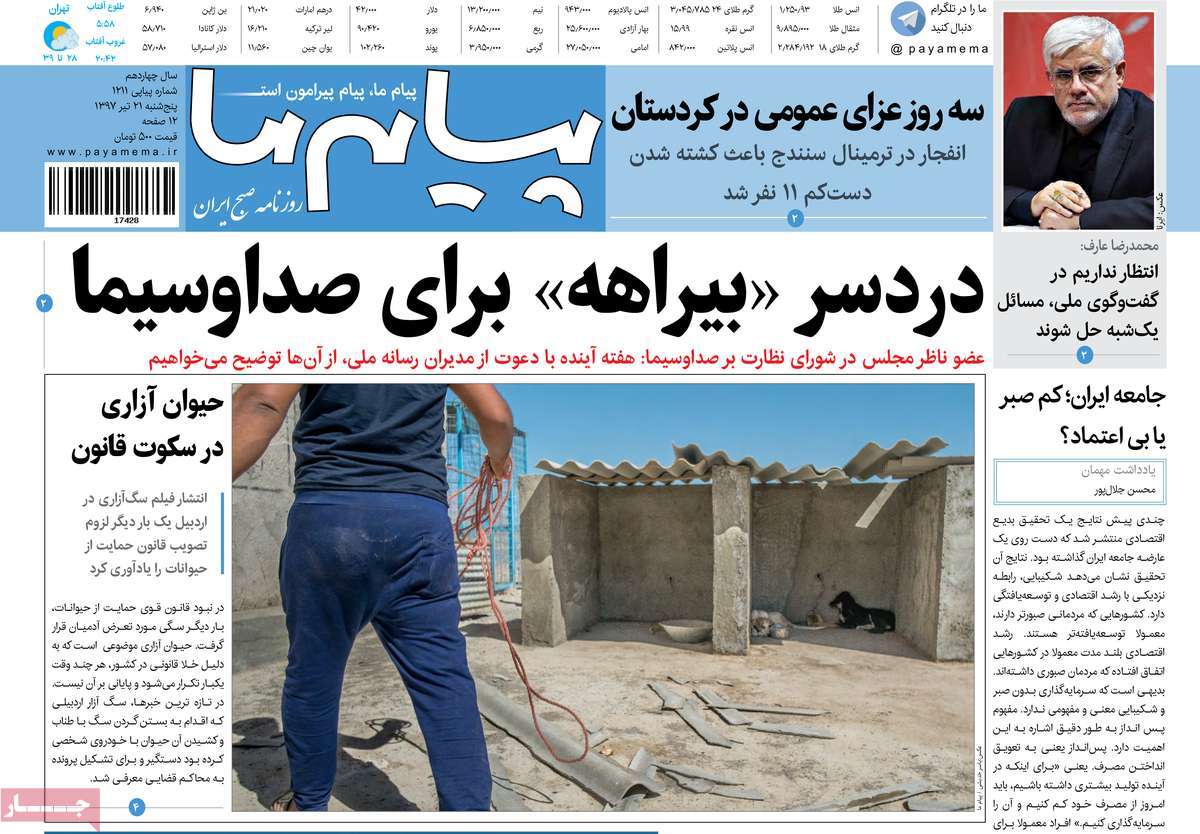 ---
Sazandegi:
1- Price of Whistle-Blowing
ICT Minister: Issue of Teenage Dancer Raised by Those Whose Interests Threatened after Forex Transparency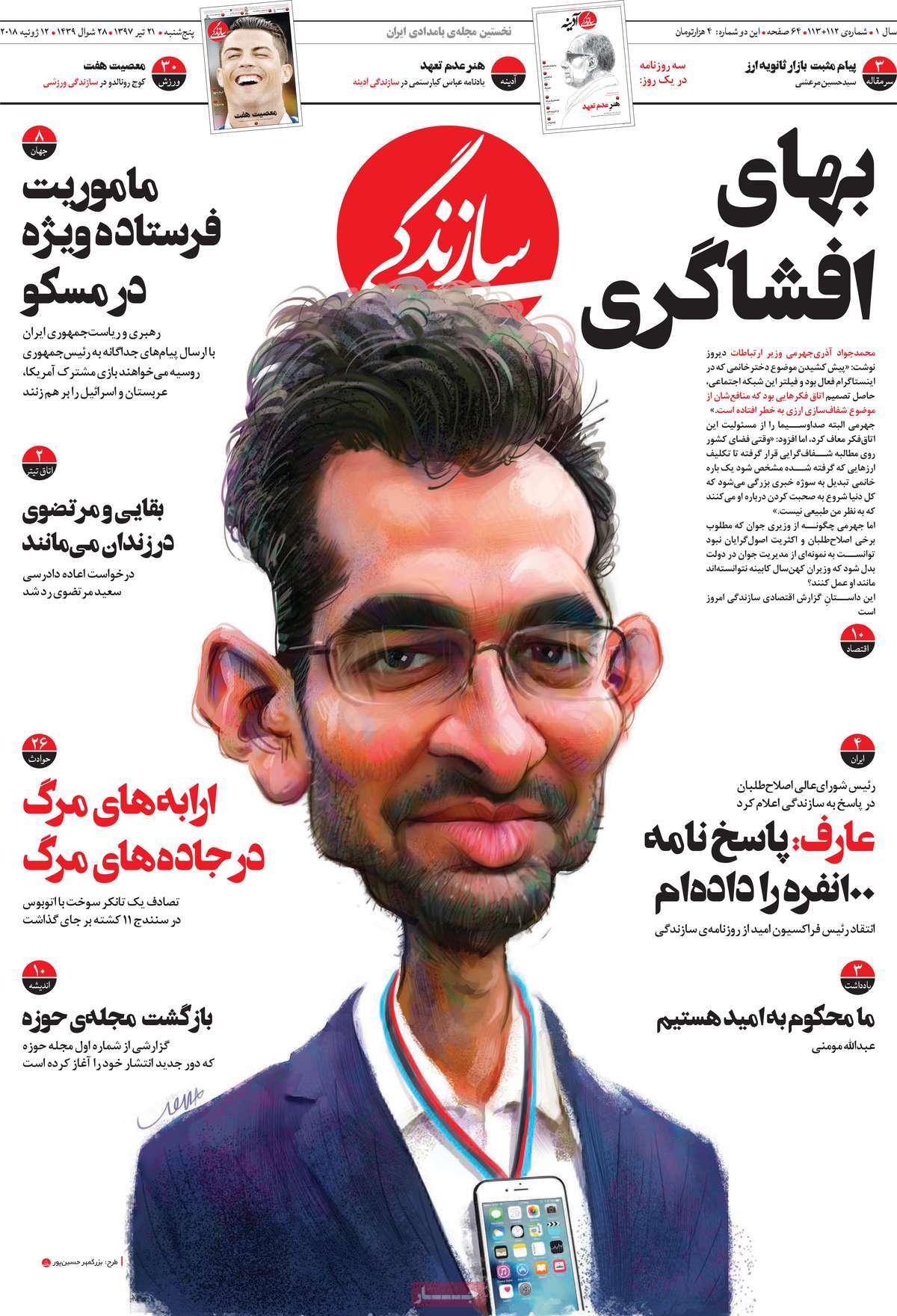 ---
Shargh:
1- Gap in the Front Line: NATO Meeting Overshadowed by Trump-EU Tension