Several papers today covered the important visit of Ali Akbar Velayati, a top aide to the Leader of Iran's Islamic Revolution, to the Russian capital of Moscow to deliver messages from Ayatollah Khamenei and President Rouhani to Russia's Vladimir Putin.
Also a top story today was the latest developments in the United Kingdom, especially the problems of Prime Minister Theresa May, whose government has been widely affected by the recent resignations.
The above issues, as well as many more, are highlighted in the following headlines and top stories:
19 Dey:
1- First VP: We Won't Let Them Rob People's Pockets
2- Freedom Prerequisite of Fight against Corruption: Activist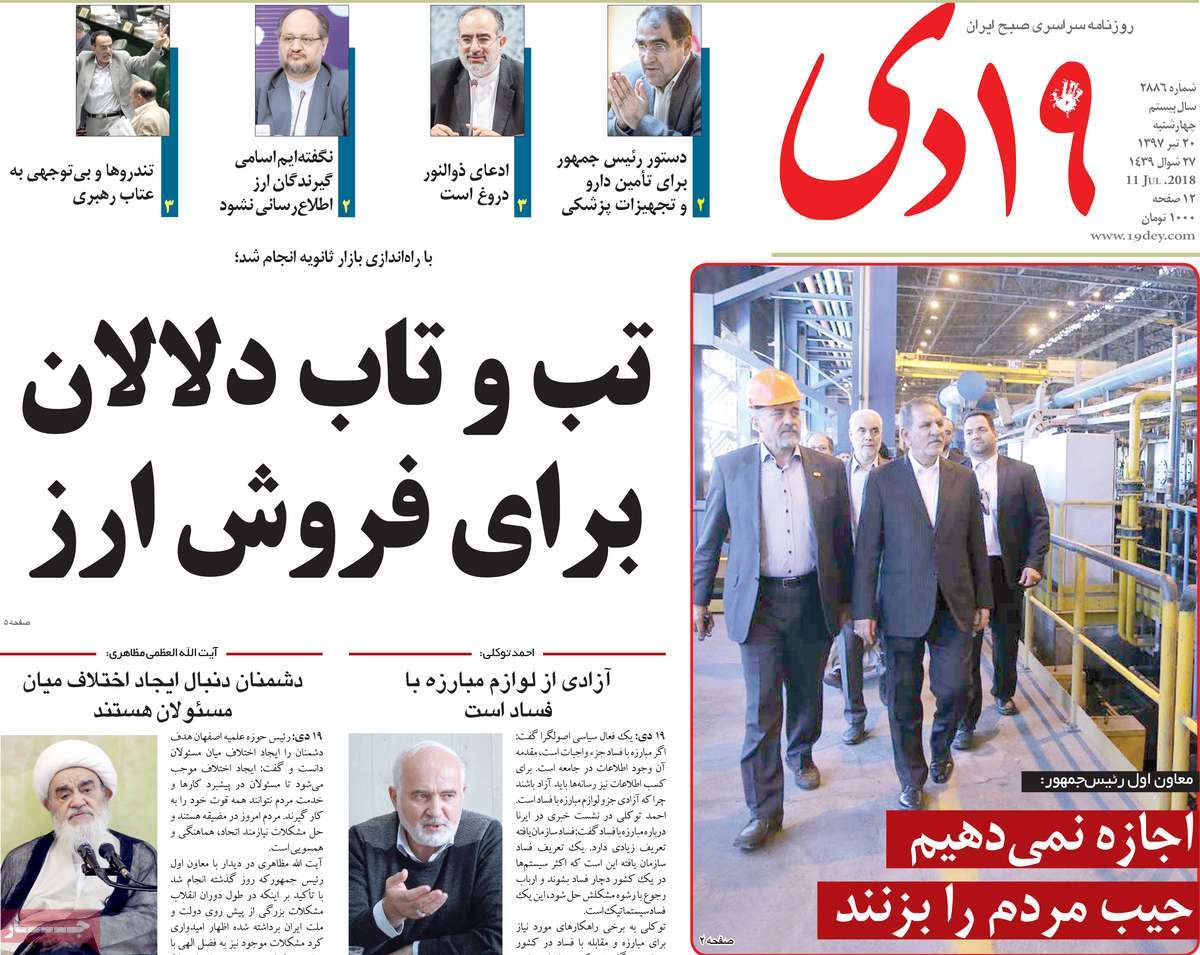 ---
Afkar:
1- Iran Playing Stabilizing Role in Mideast: Ex-FM
---
Arman-e Emrooz:
1- Women Equal with Men
A Report on Parliament's Motion to Equalize Men, Women's Blood Money
2- Secondary Forex Market to Cut Hands of Middlemen
---
Asrar:
1- It's Time for Europe's Practical Action to Save JCPOA: Diplomat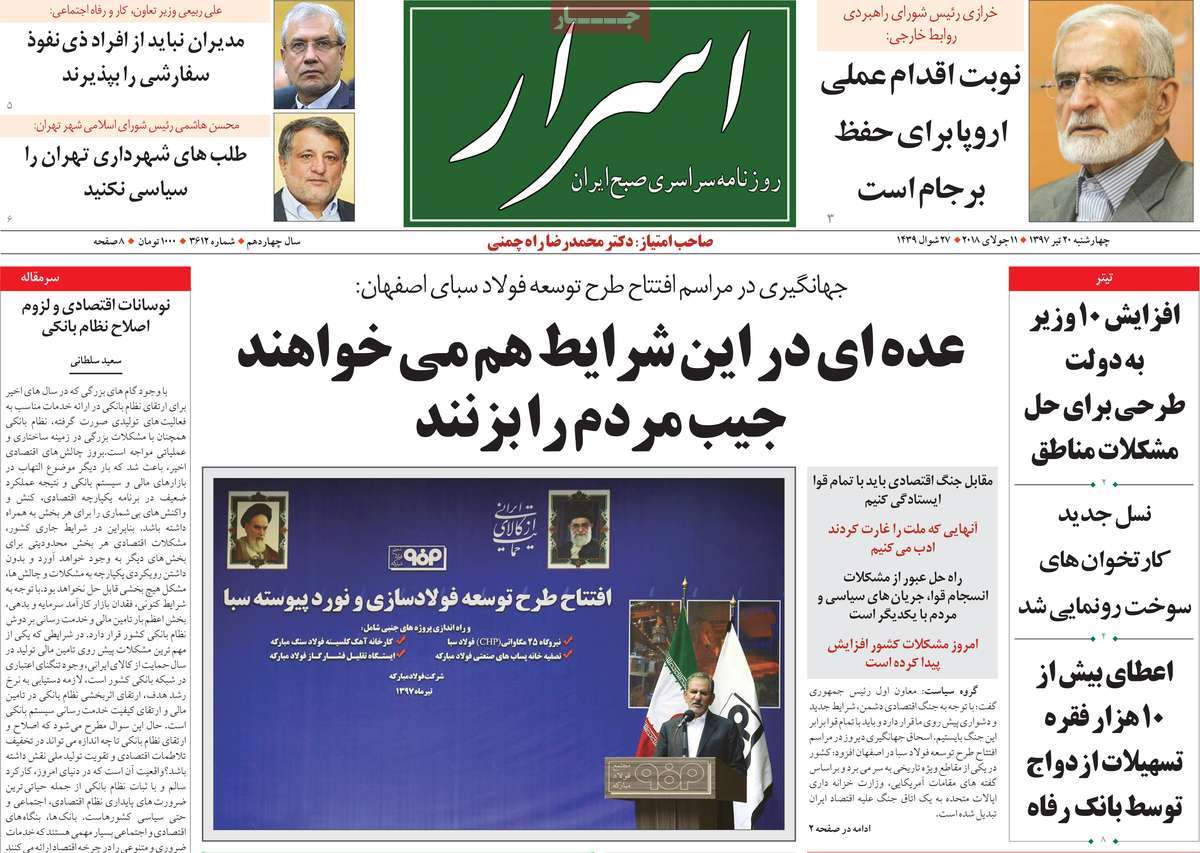 ---
Etemad:
1- Mission in Moscow: Velayati to Deliver Leader, President's Messages to Putin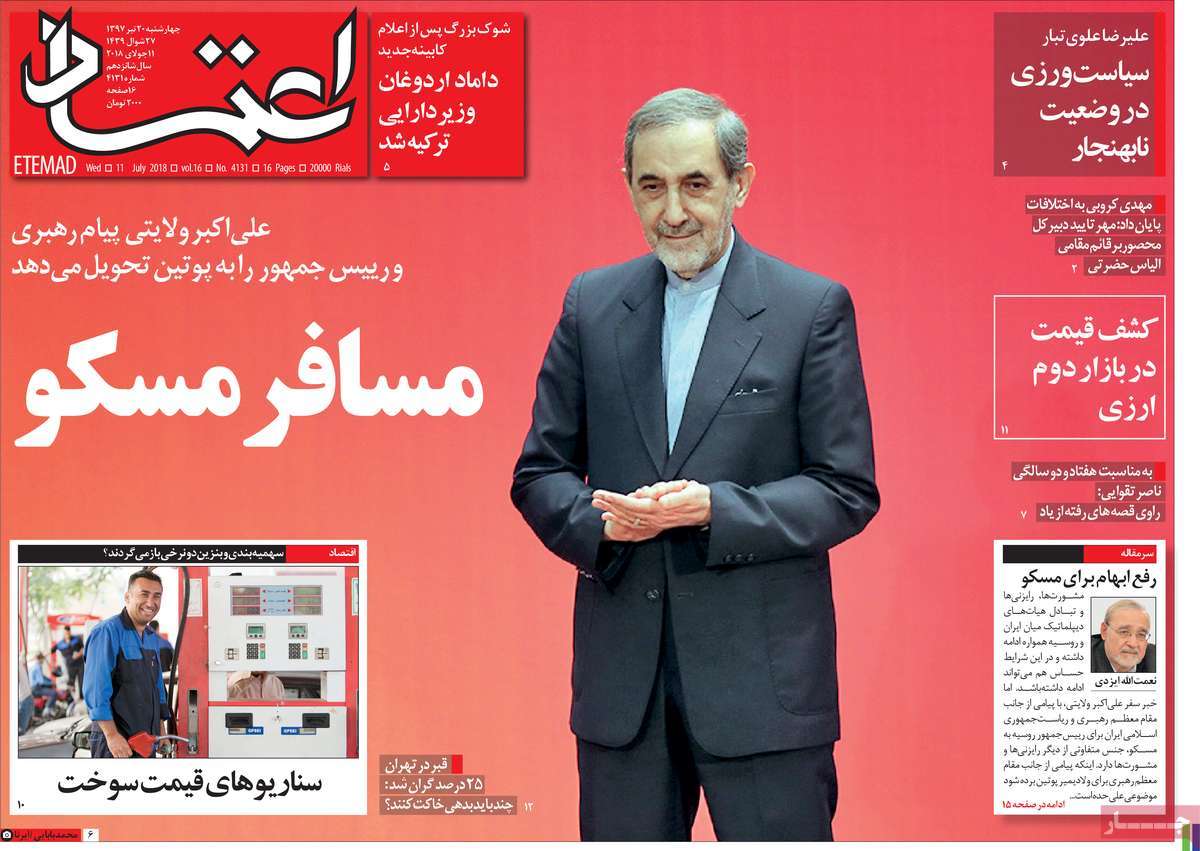 ---
Ettela'at:
1- Government to Overcome Crisis: First VP
2- Zionist Regime: Failure of Bin Salman's Policies to Endanger Our Interests
---
Ghanoon:
1- Early Victims of Brexit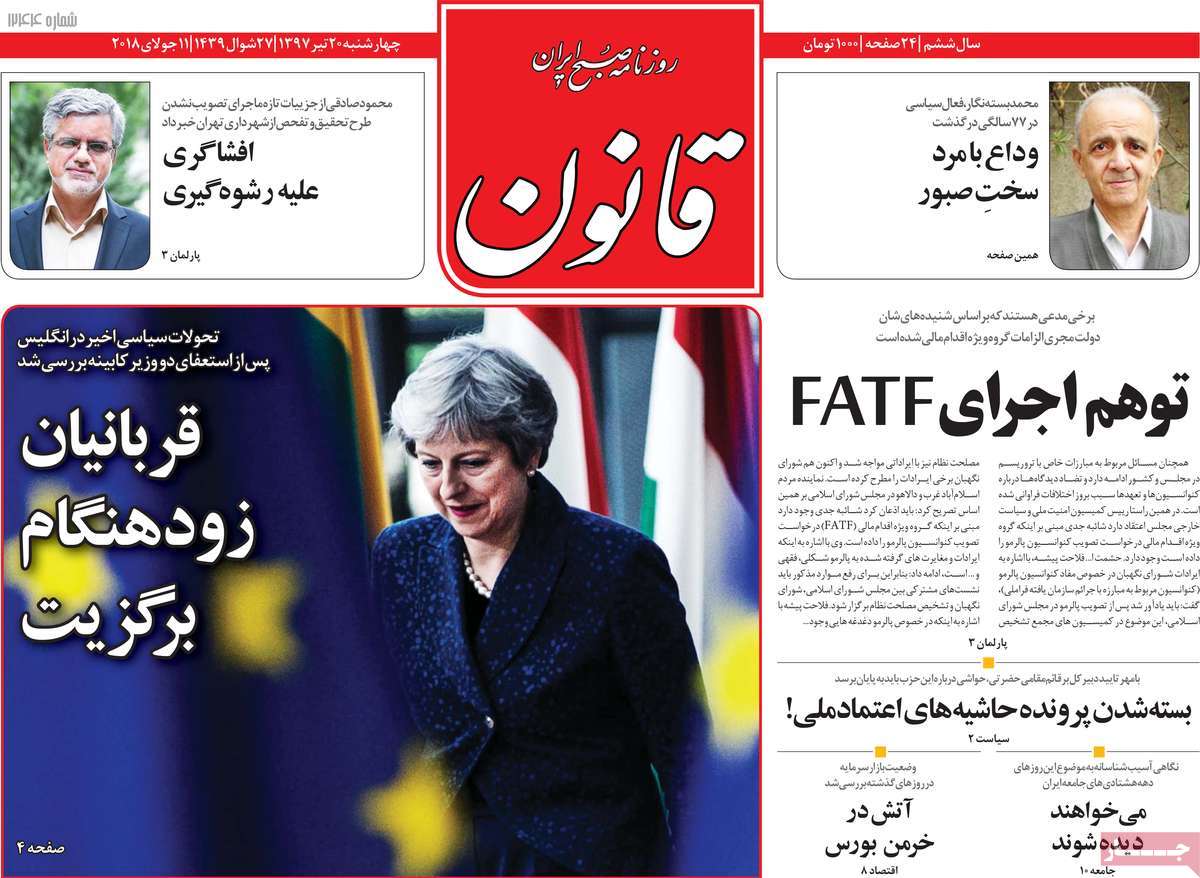 ---
Hemayat:
1- Pompeo Asks for Saudi Arabia, UAE's Help
2- China, Germany Sign €20 Billion Deal to Counter US' Trade War
3- Peace, Compromise Reached in over 700,000 Judicial Cases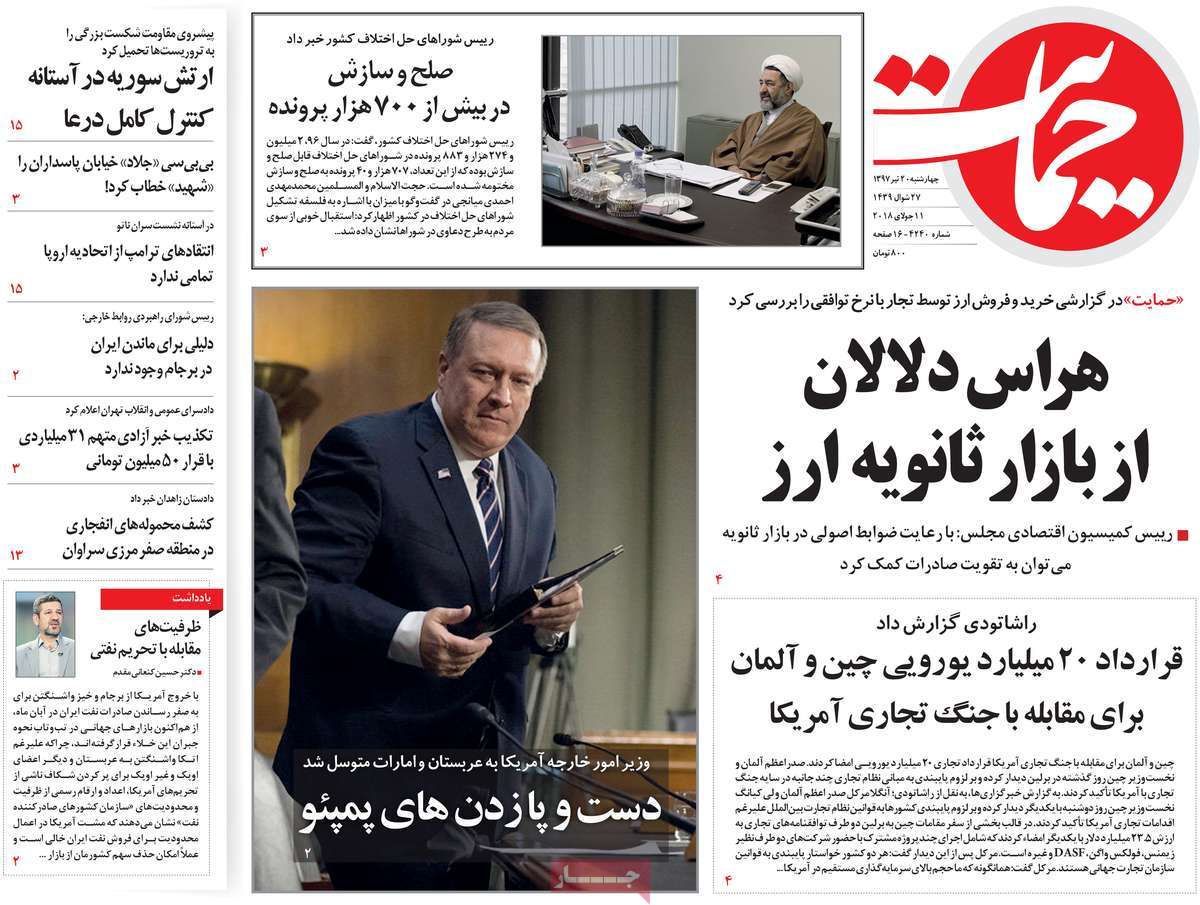 ---
Jame Jam:
1- Scenario of Trading Oil for Goods
A Review of Europe's Recent Offer to Iran
2- Extremely Close to Israel: A Report on Strategic Importance of Syria's T-4 Airbase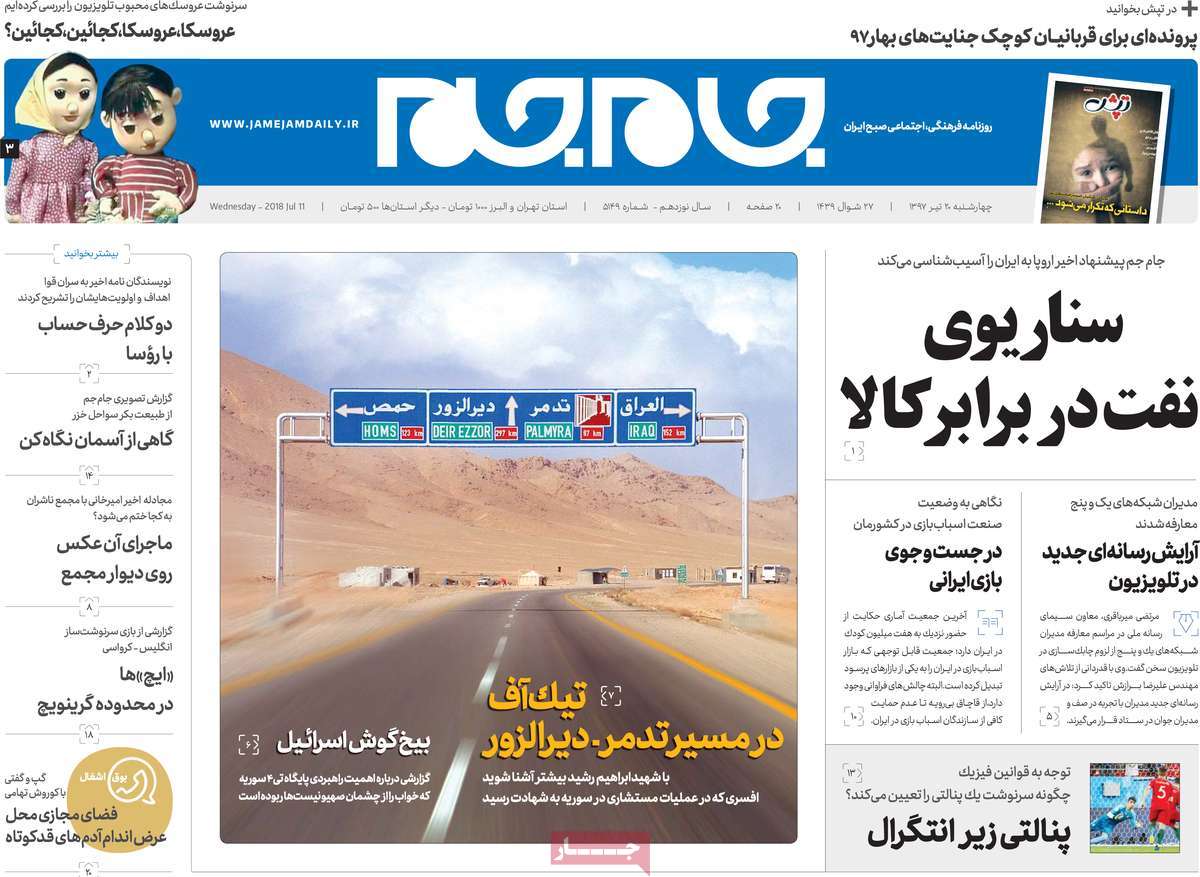 ---
Javan:
1- UAE's Total Defeat in Hudaydah Port
2- Test for Europe in Post-JCPOA Era: Will Germany Let Iran Return Its 300 Million Euros?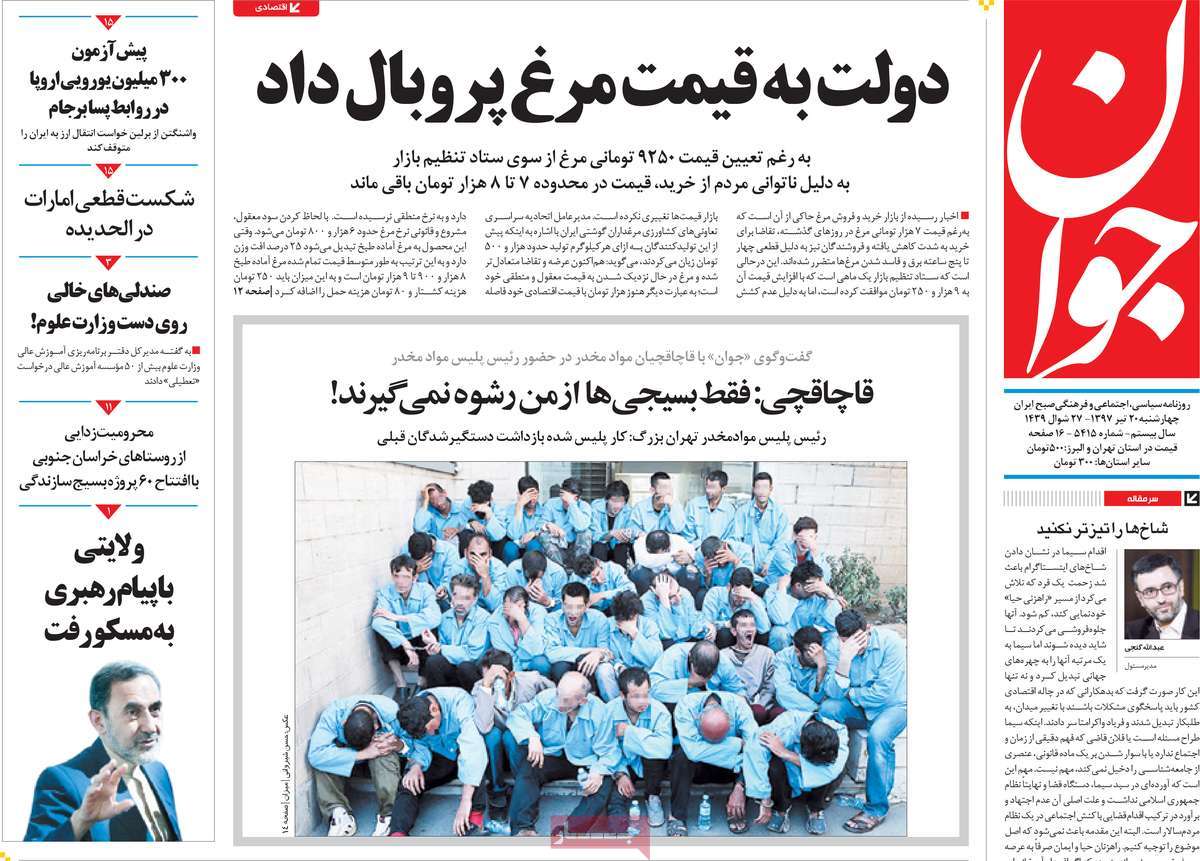 ---
Jomhour:
1- Ukraine in Return for Syria: Israel, Saudi Arabia, UAE's Offer to Trump
2- Warning about Cessation of Pharmaceutical Production in Iran
---
Jomhouri Eslami:
1- Bodies of 250 Saudi, Emirati Forces Transferred to Two Hospitals South of Yemen
2- Us Backs Off from Full Ban of Iran's Oil Exports
Pompeo: We'll Consider Waiver Requests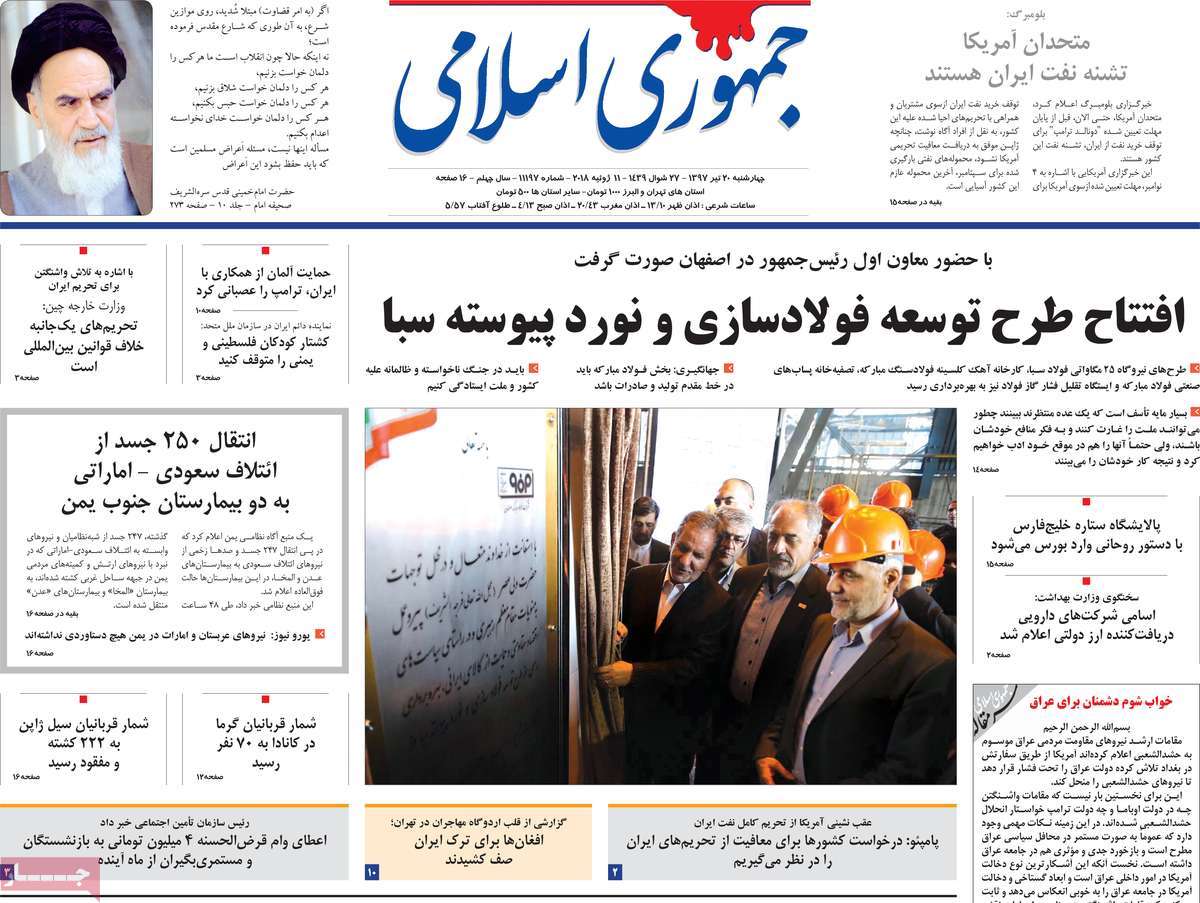 ---
Kayhan:
1- Poor, Innocent People of Yemen Did All They Could to Help Defend Hudaydah Port
2- MPs: Foreign Ministry Must Reciprocate Netherlands' Hostile Move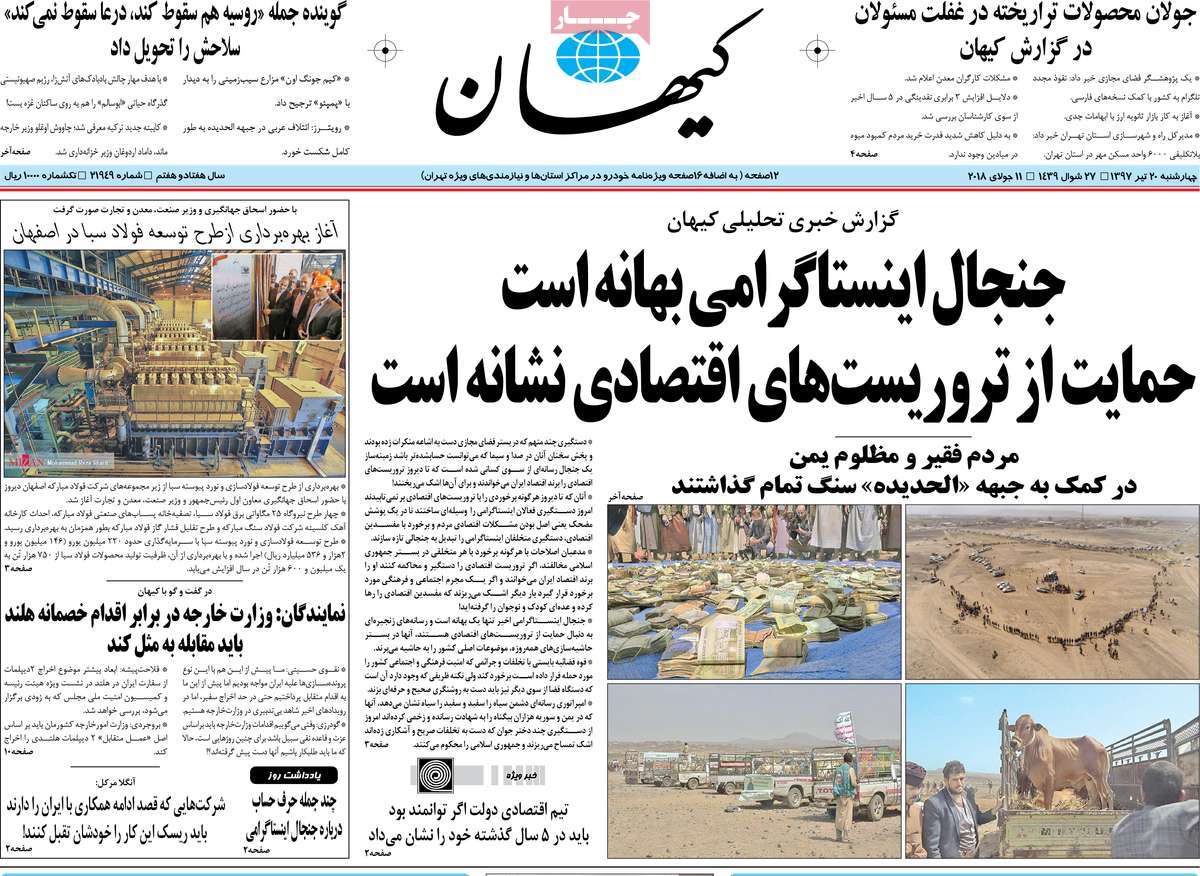 ---
Khorasan:
1- UK Government Weakened by Resignations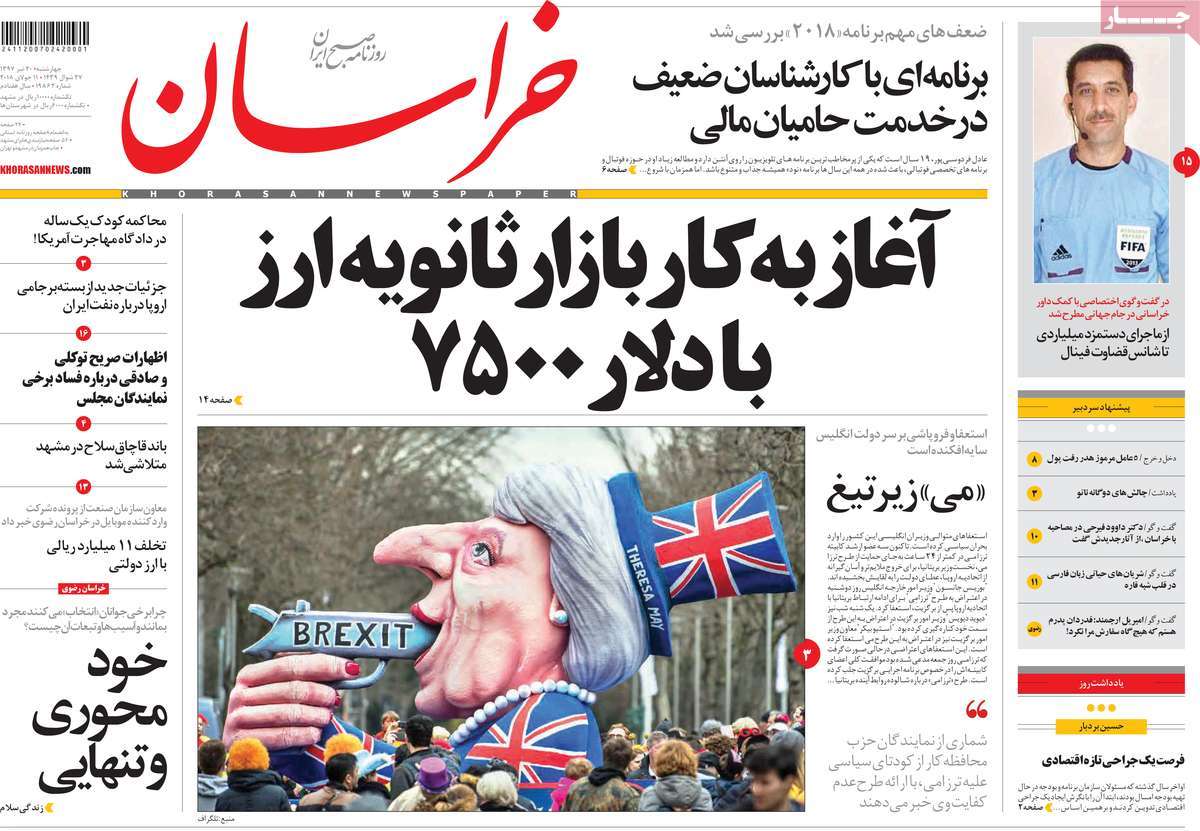 ---
Rooydad-e Emrooz:
1- First VP: Iran to Target US' Chamber of War by Increasing Its Exports
2- Brand of Isfahan Unveiled
3- Iran to Close Strait of Hormuz If Its Oil Exports Stopped: Parliament Vice-Speaker
---
Siasat-e Rooz:
1- Germany Deals Final Blow on Westophiles in Iran
Another Report on Germany's Move to Block Part of Iran's Assets
2- Will Russian Model Be Repeated in Iran?
---
Sobh-e Now:
1- Frustrated: May's Policies Lead to Cabinet Reshuffle, Taking Her to Brink of Resignation