All papers today covered the remarks made by the Leader of Iran's Islamic Revolution Ayatollah Seyyed Ali Khamenei about the enemy plots to cause rifts among the Iranian nation and the Islamic Establishment.
The top story, however, was the ICT Ministry's move to release the names of those mobile phone importers who received foreign currencies with official rates, and the Trade and Industry Minister's protest against the move.
The water crisis in the south-western Iranian province Khuzestan also received great coverage today.
The above issues, as well as many more, are highlighted in the following headlines and top stories:
19 Dey:
1- Larijani: Iran Need Spirit of Forgiveness
2- Iran Leader: We'll Reinforce Bonds with People
---
Abrar:
1- Rouhani's Aide: Central Bank to Blame for Forex Crisis
It's Not Possible to Control Prices with Political Pressure
2- Iran First VP: I Think Mr President Will Make Changes to Cabinet!
3- Moscow: JCPOA a Wonderful but Fragile Agreement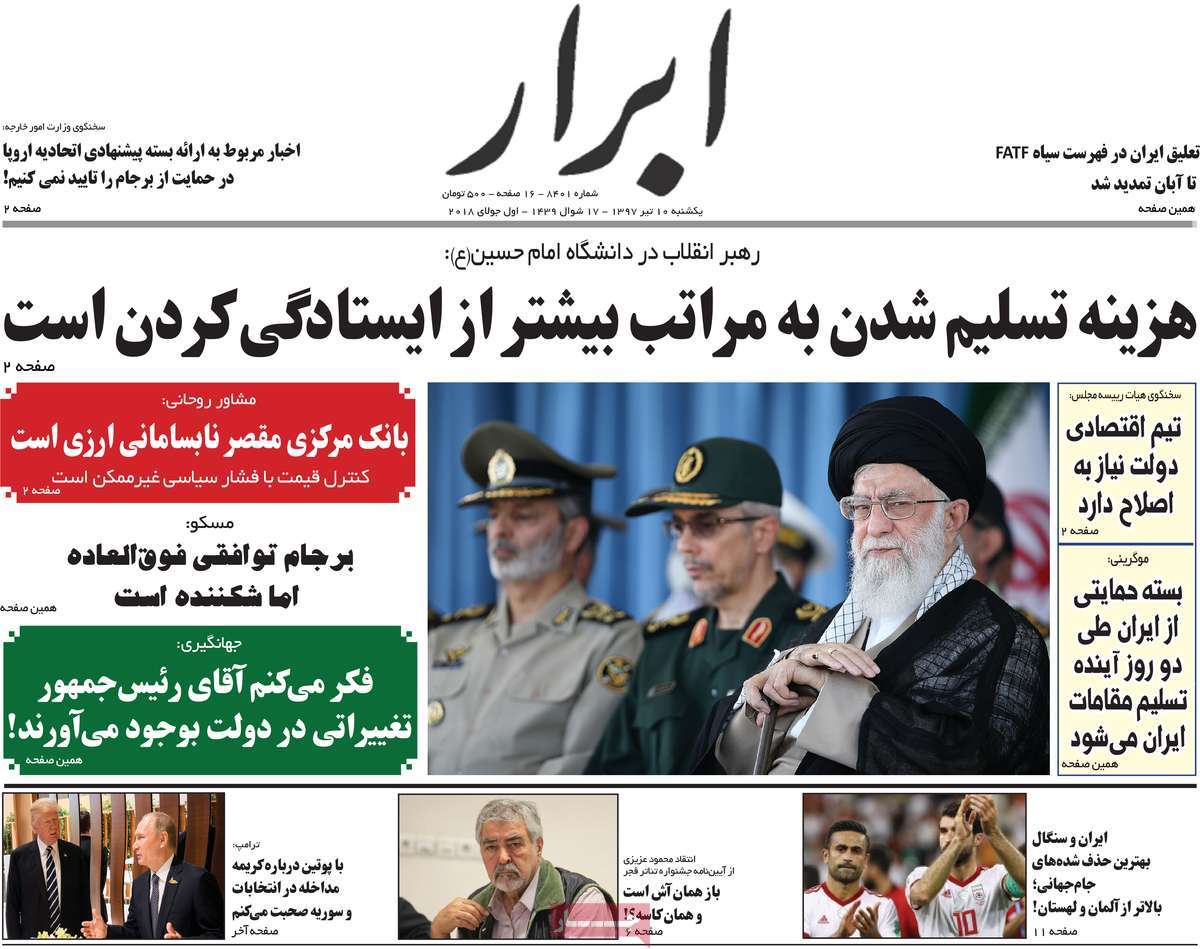 ---
Afkar:
1- Qassemi: EU Has Yet to Offer JCPOA Package to Iran
---
Aftab-e Yazd:
1- Trump's Deceit: US President Trying to Make France Exit EU
---
Arman-e Emrooz:
1- Central Bank Urged to Release Names of Those Who Received Official-Rate Forex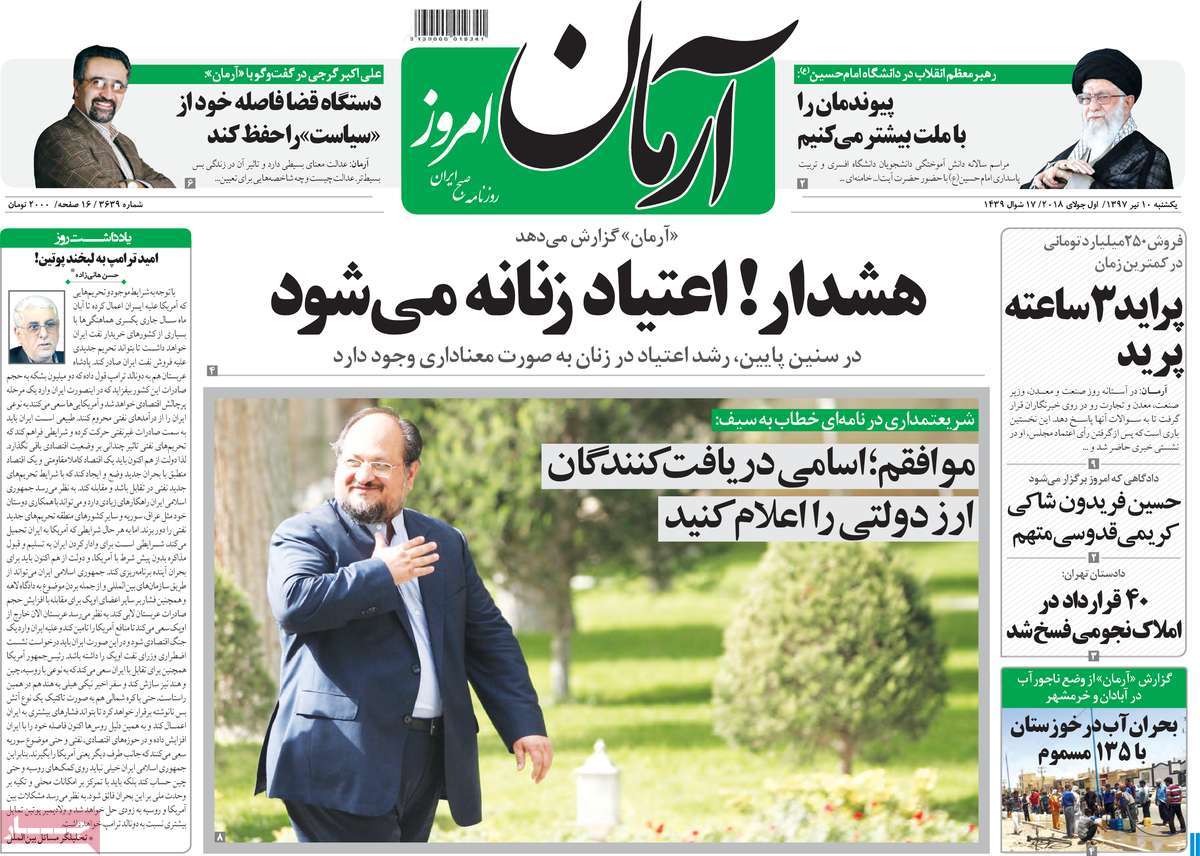 ---
Asrar:
1- MP: Profiteers Played Major Role in Bazaar Unrest
---
Bahar:
1- Trade Minister Criticizes ICT Minister for Releasing Names of Those Receiving Official-Rate Forex
Azari Jahromi's Move Led to Chaos in Mobile Phone Market
---
Ebtekar:
1- Rouhani's Important Agenda in European Visit
Qassemi Explains Why Rouhani's Visit to Switzerland, Austria Matters
---
Etemad:
1- Iran Leader: Being Crushed by Enemies Result of Giving in to Their Demands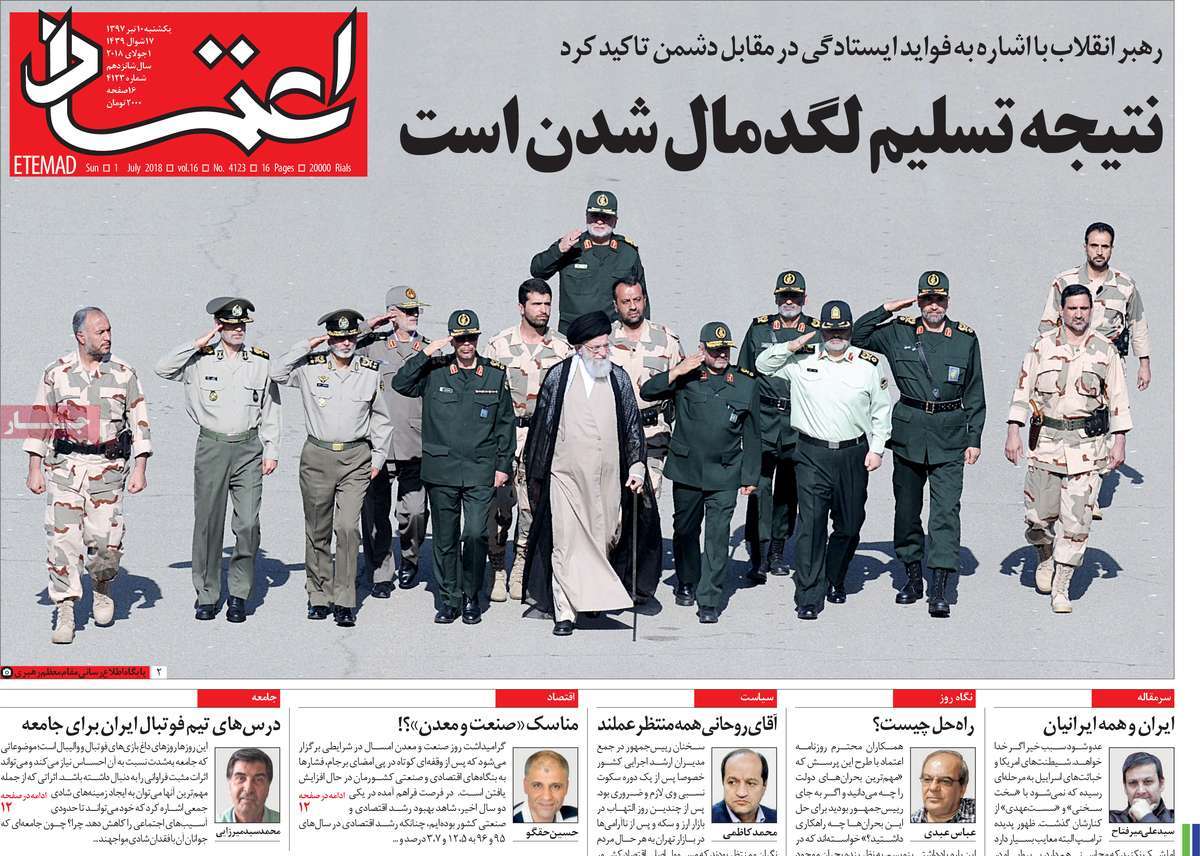 ---
Ettela'at:
1- Ankara: We'll Never Turn Our Back on Iran Because of US
2- 7,500 Former Drug Addicts Get Jobs
---
Ghanoon:
1- ICT Minister: People Don't Tolerate Corruption
Pretexts for Not Releasing Names of Those Receiving Official-Rate Currencies Unacceptable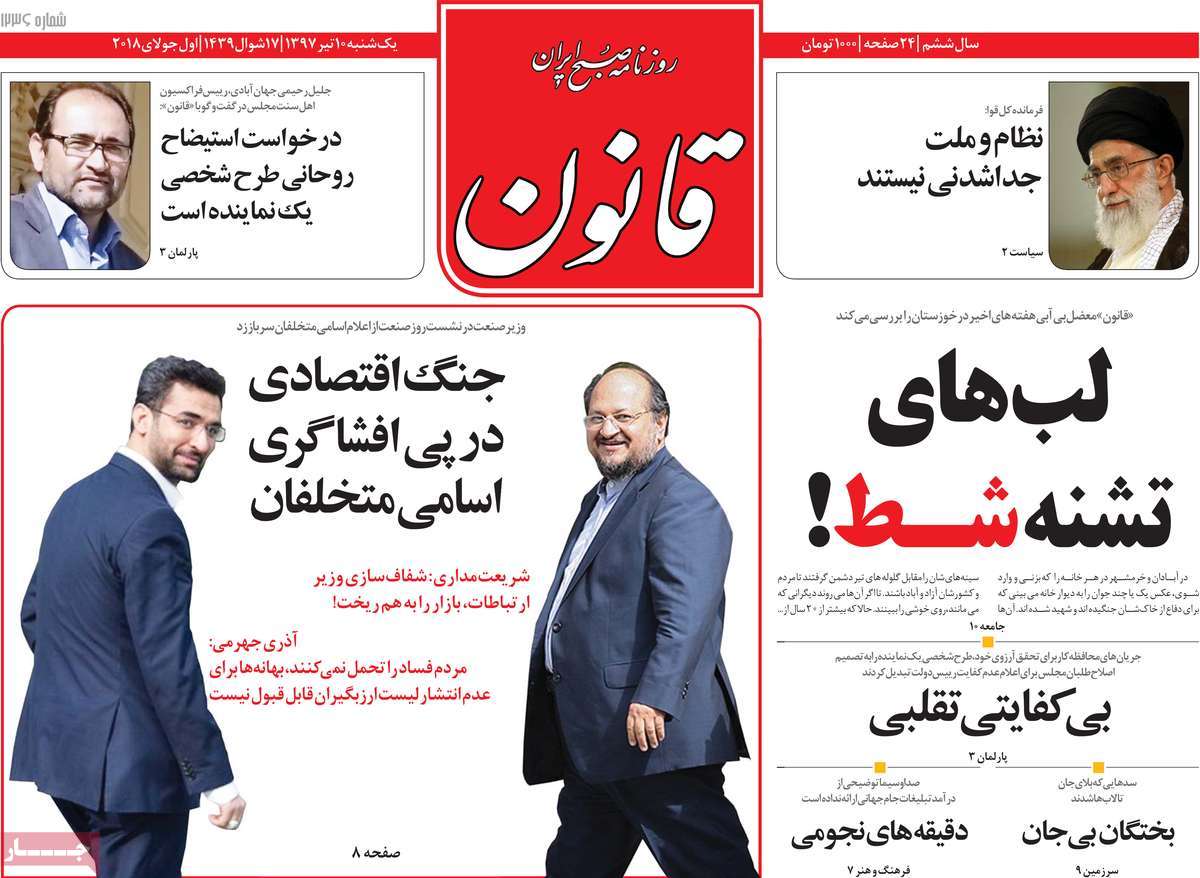 ---
Iran:
1- Government Seriously Pursuing Transparency
List of Those Receiving Official-Rate Forex to Be Released after Rouhani's Order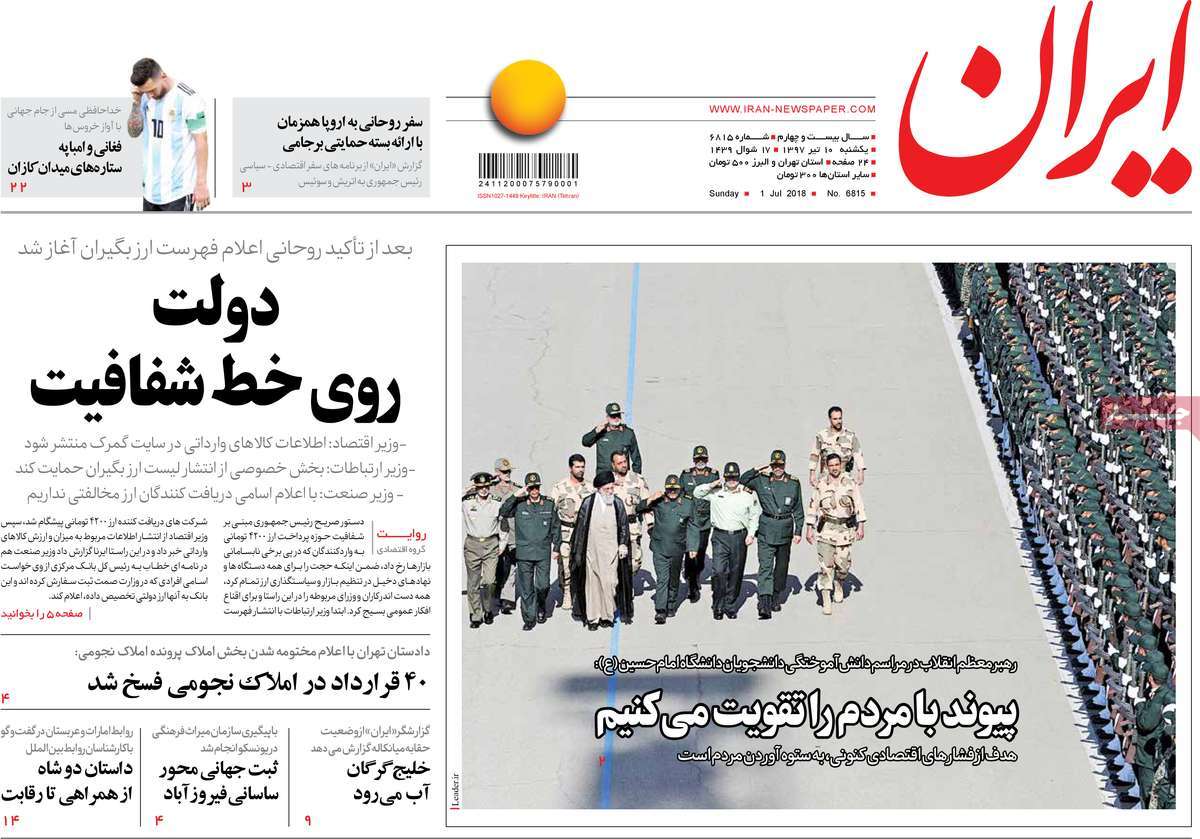 ---
Jame Jam:
1- Iran Leader: Submission Costlier than Resistance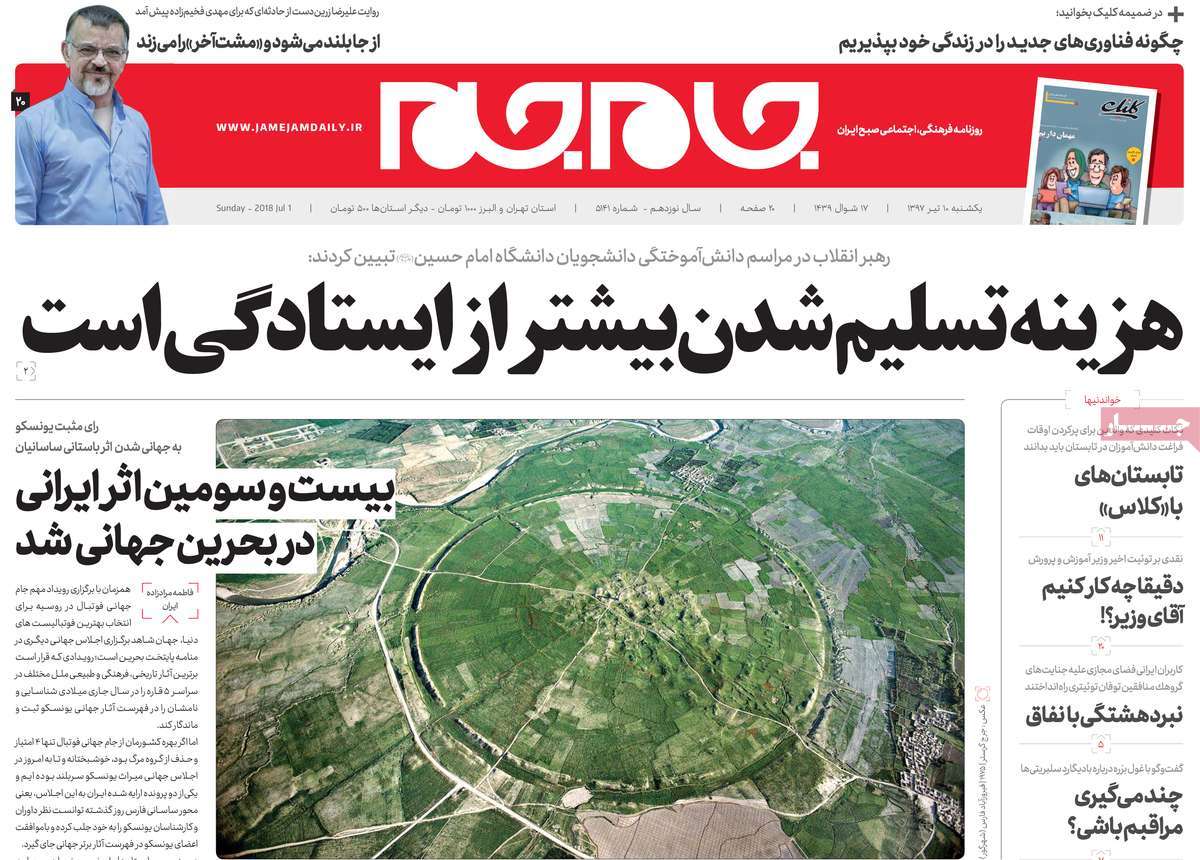 ---
Javan:
1- People, Islamic Establishment Cannot Be Separated: Iran Leader
---
Jomhouri Eslami:
1- Nasrallah Calls for Formation of National Unity Government in Lebanon
2- FATF Extends Suspension of Counter-Measures against Iran until October
---
Kayhan:
1- Leader: No Exaggeration in Iran's Power; It's All Reality
2- Total Caused Damages and Left Iran, IRGC Construction Base Finished Its Project
A Report on Fates of Two Contracts with Iranian, Foreign Firms
3- MP: Video Clip Allegedly Showing Transfer of Iran's Water to Iraq Fake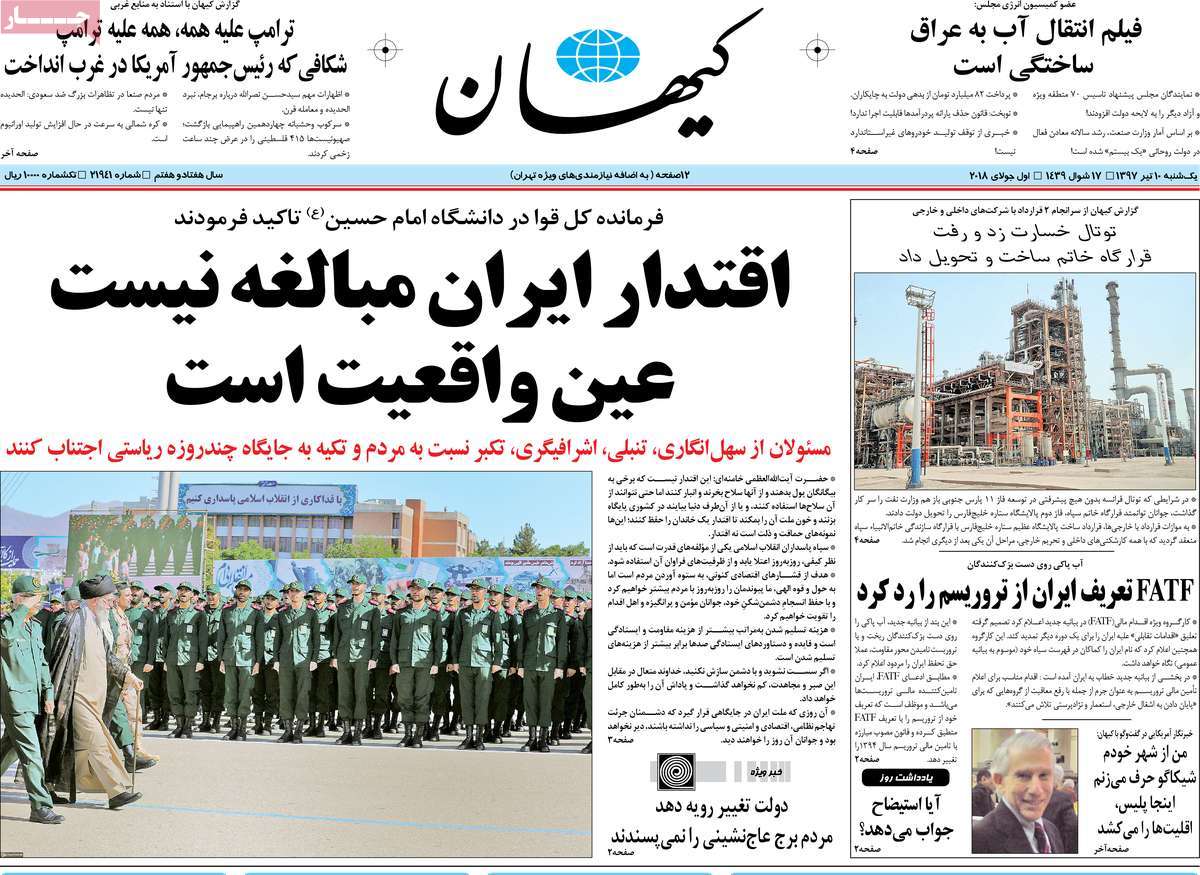 ---
Khorasan:
1- Does Iran Transfer Its Water to Kuwait?
Some Taking Advantage of Khuzestan Residents' Dissatisfaction with Water Quality
---
Rah-e Mardom:
1- ICT Minister Calls on Other Ministers to Release Names of Those Receiving Official-Rate Currencies
---
Resalat:
1- Iran Leader: Officials Must Avoid Laziness, Aristocracy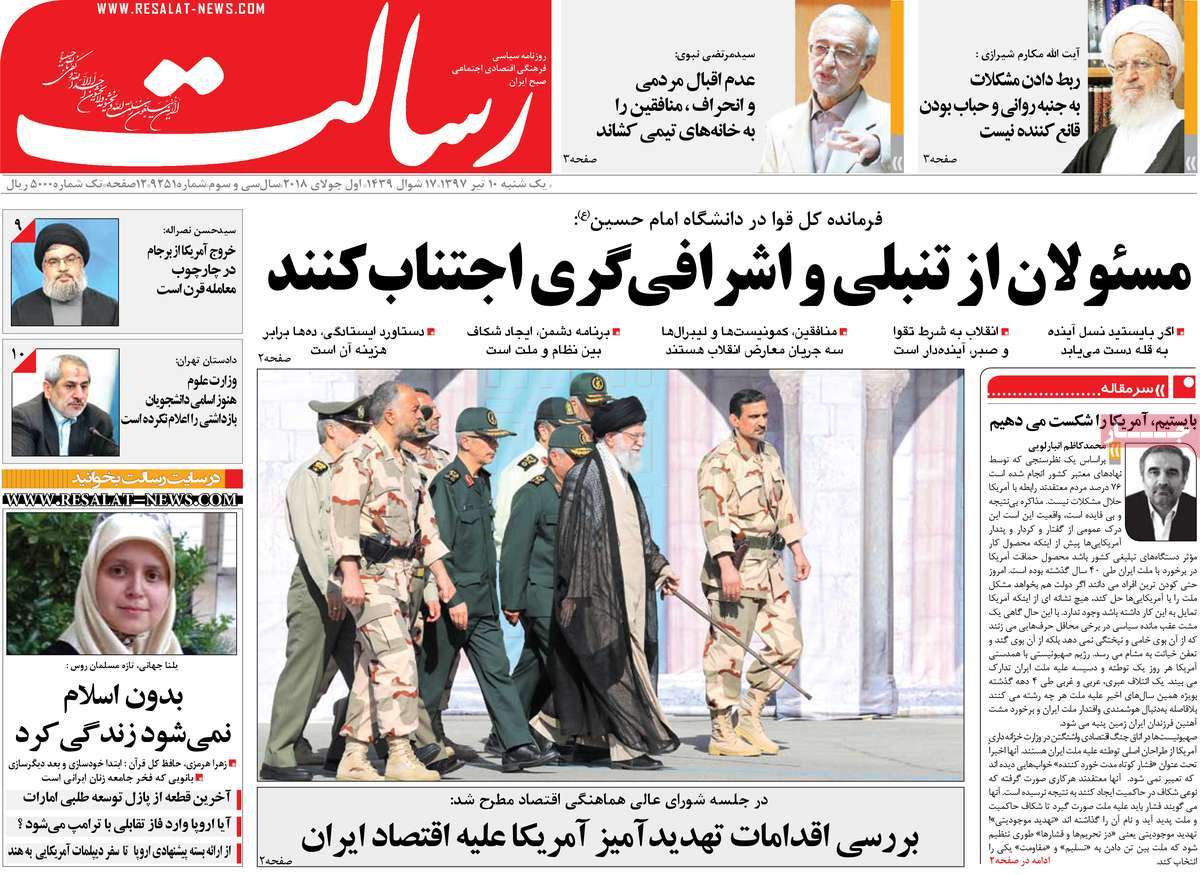 ---
Rooyesh-e Mellat:
1- IRGC Lieutenant Commander: Pakistan Smart to Choose Not to Join Anti-Yemen Coalition
---
Sayeh:
1- Industry Minister: VAT Root Cause of High Production Costs in Iran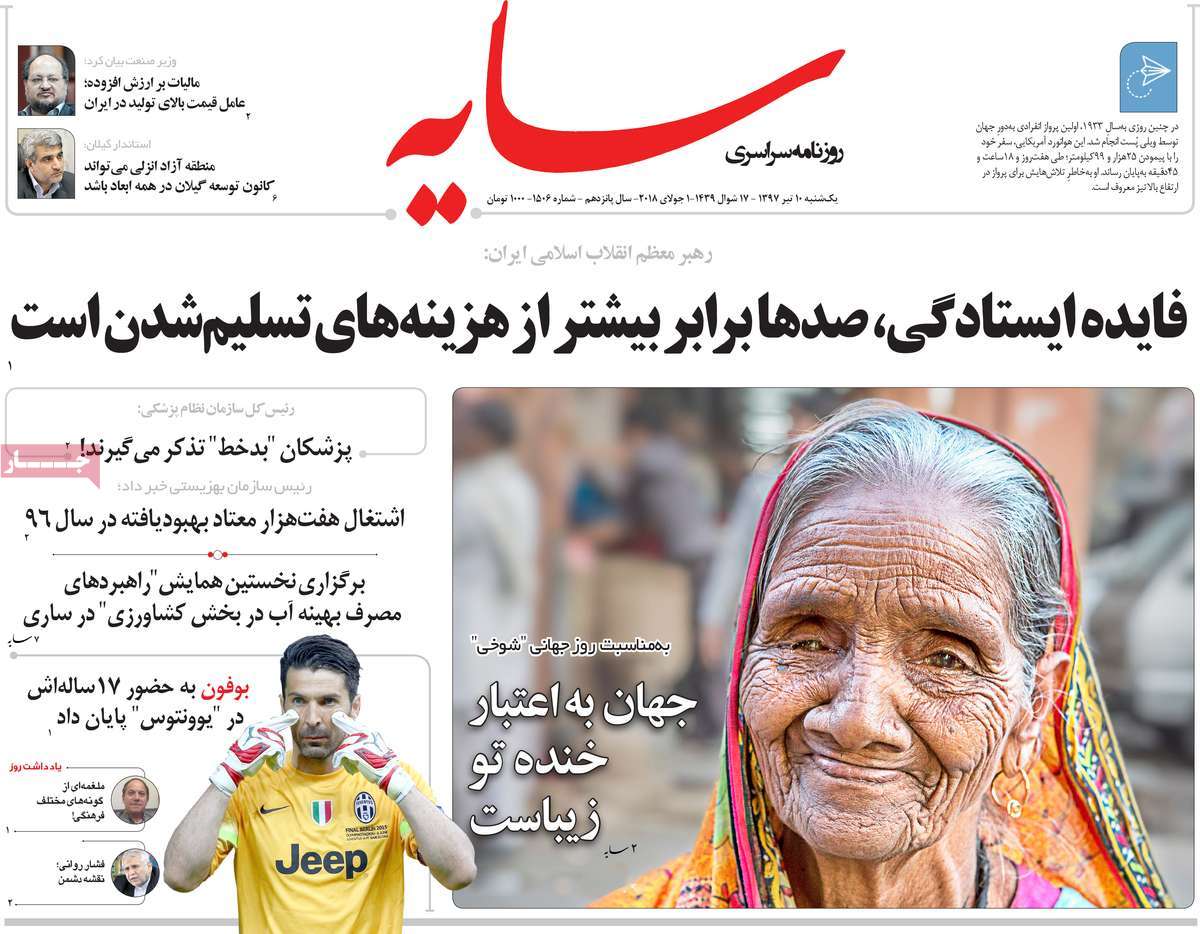 ---
Seda-ye Eslahat:
1- Iran Leader: Don't Compromise with Enemies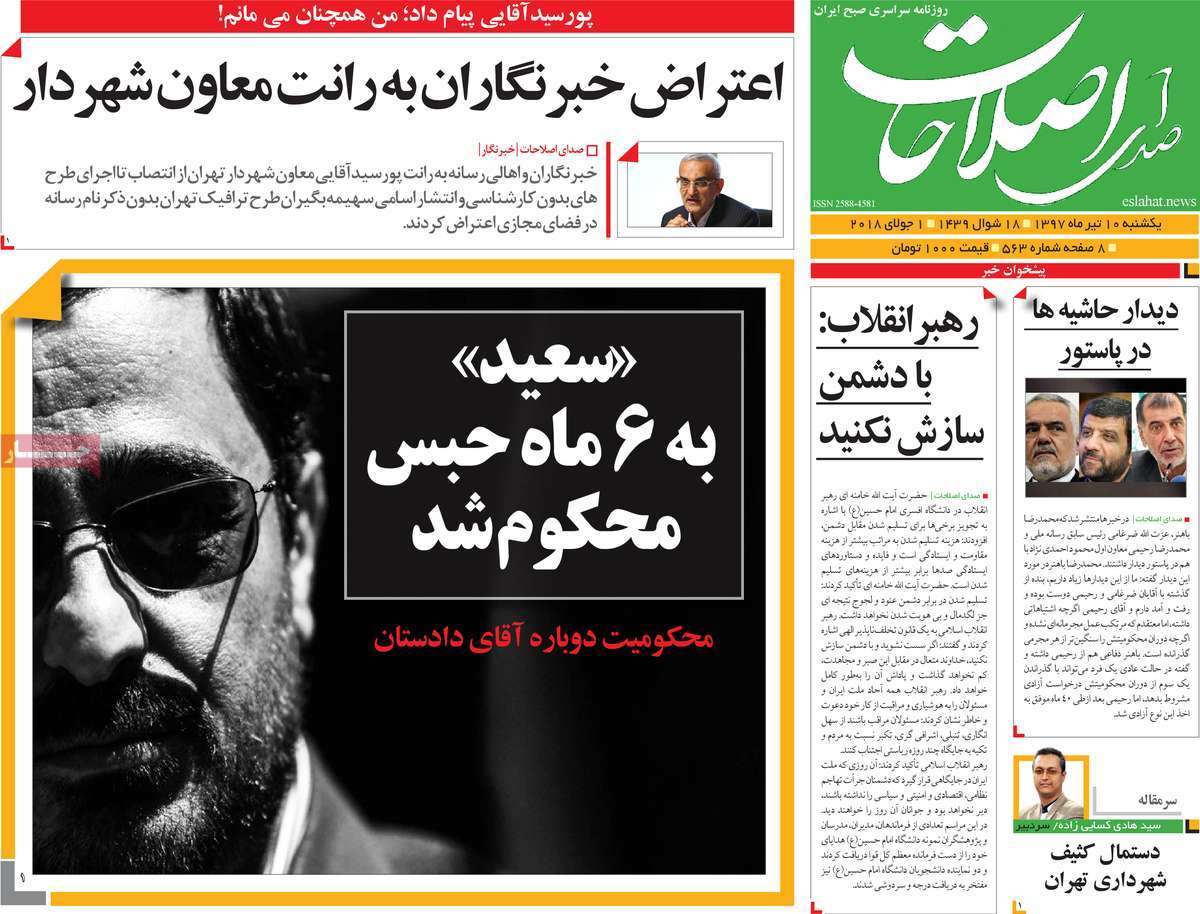 ---
Shakhe-ye Sabz:
1- Obama to Democrats: Your Concerns about Trump Right; US Being Isolated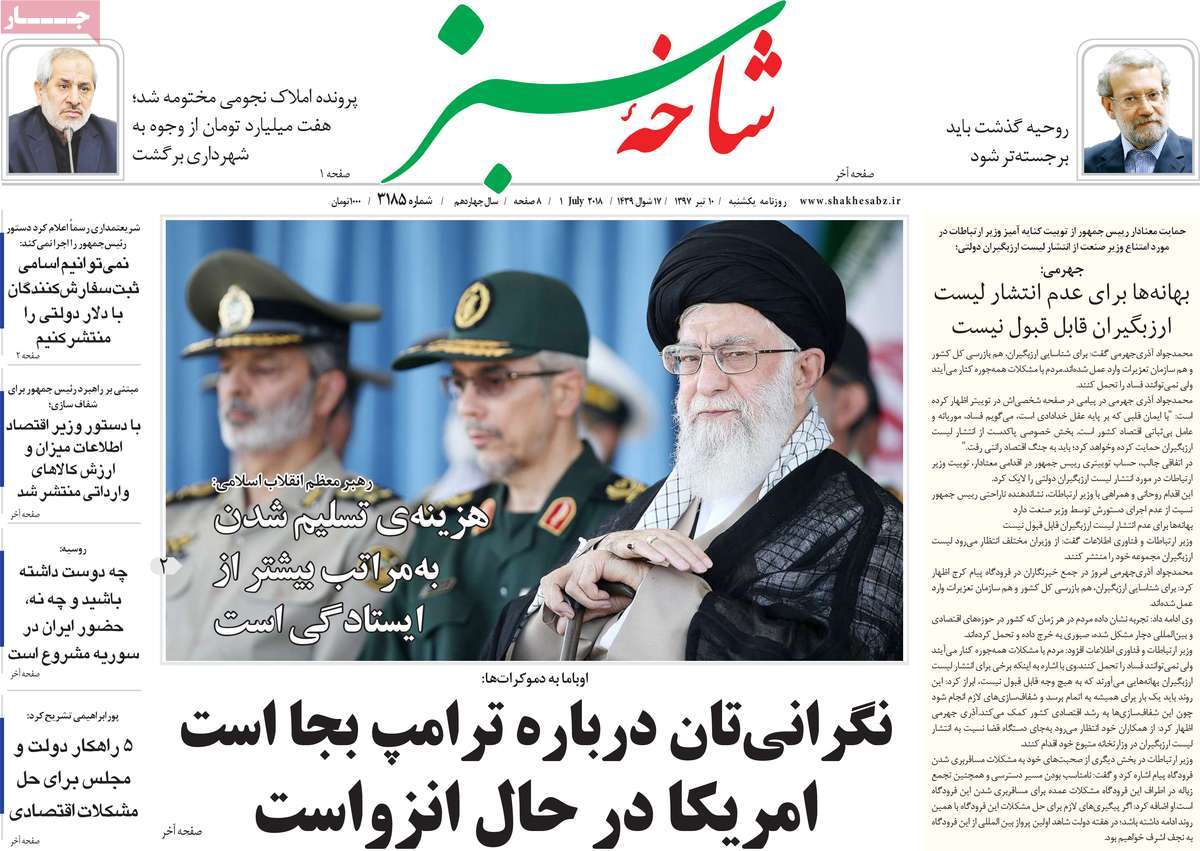 ---
Shargh:
1- A Review of Mobile Phone Importers Receiving Official-Rate Currencies
€33 Million Received by Six People
---
Vatan-e Emrooz:
1- Iran Leader: Islamic Republic Nothing Separate from Iranian Nation
2- Trump: King Salman Agreed to Increase KSA's Oil Output by 2 Million bpd