Newspapers today covered the funeral ceremony held for the firefighters killed in the recent tragic collapse of Plasco building in Tehran. Thousands of people attended the ceremony to bid farewell to their heroes.
The French Foreign Minister's visit to Tehran amid the European country's military drills in Persian Gulf, reportedly to exercise countering Iran, was also widely covered today.
Another top story was the beginning of the ten-day celebrations of 1979 Islamic Revolution's anniversary, and President Hassan Rouhani's remarks in praise of Imam Khomeini, the late founder of the Islamic Republic.
US President Donald Trump's visa ban and Iran's reactions to the restrictions also received great coverage today.
The above issues, as well as many more, are highlighted in the following headlines:
Abrar:
1- National Heroes Escorted to Flight Station
2- FM: We Don't Have Any Plan to Talk to Trump's Team
3- Nechervan Barzani: ISIS Result of Iraq's Incorrect Policies
---
Abrar-e Eqtesadi:
1- Iran Once Again Gives Gas Ultimatum to India
2- Russia in Talks with Iran for Development of 2 Oilfields
3- Italian Banks' Cooperation with Iranian Businesses
4- Germany Breaks Records in Export of Products to Iran
---
Afkar:
1- Bodies of Firefighters Laid to Rest after Funeral Service
2- Senate's Plan to Annul Trump's Order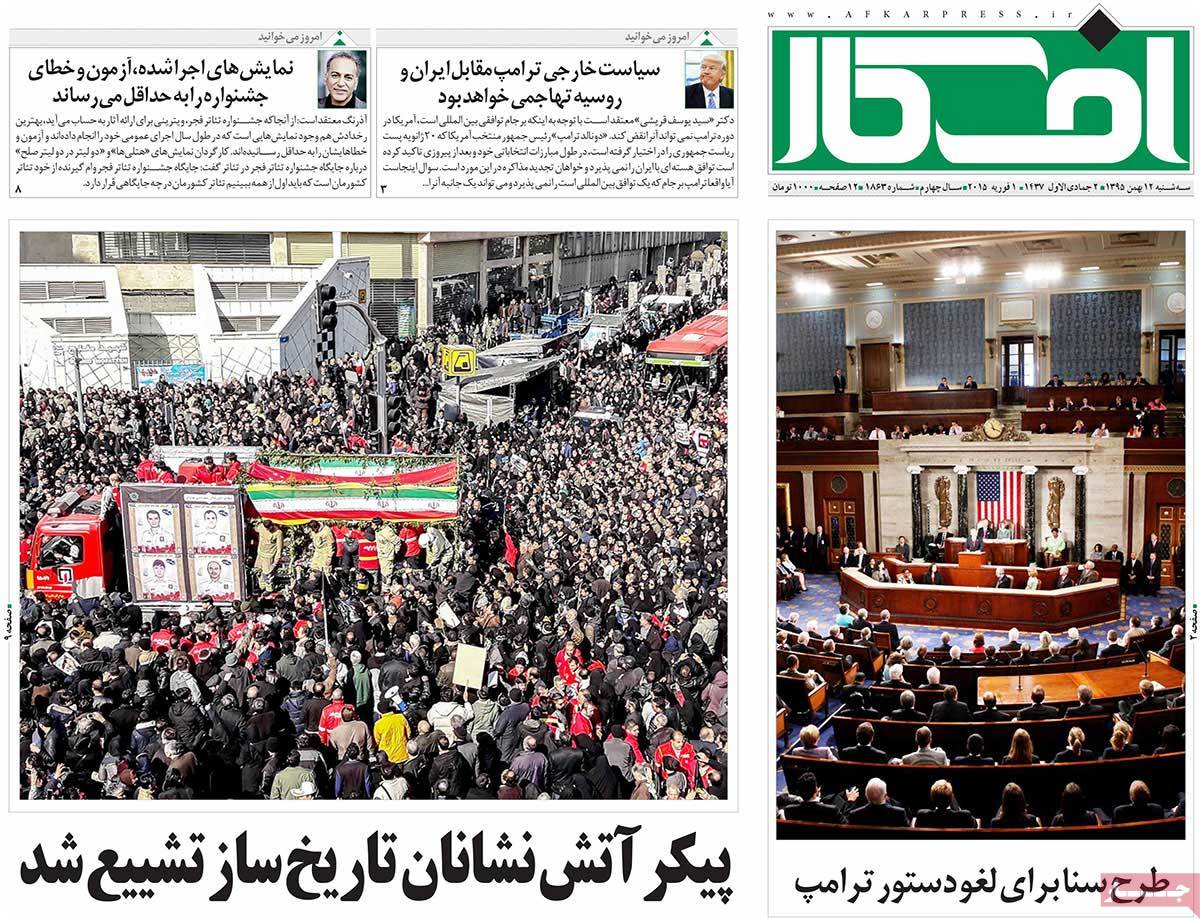 ---
Aftab-e Yazd:
1- Defenders of Iranian People Escorted: A Report on Funeral Ceremony Held for Plasco Firemen
2- Trump's Opportunity for Rouhani: What Are Benefits of US President's Radical Moves for Iran?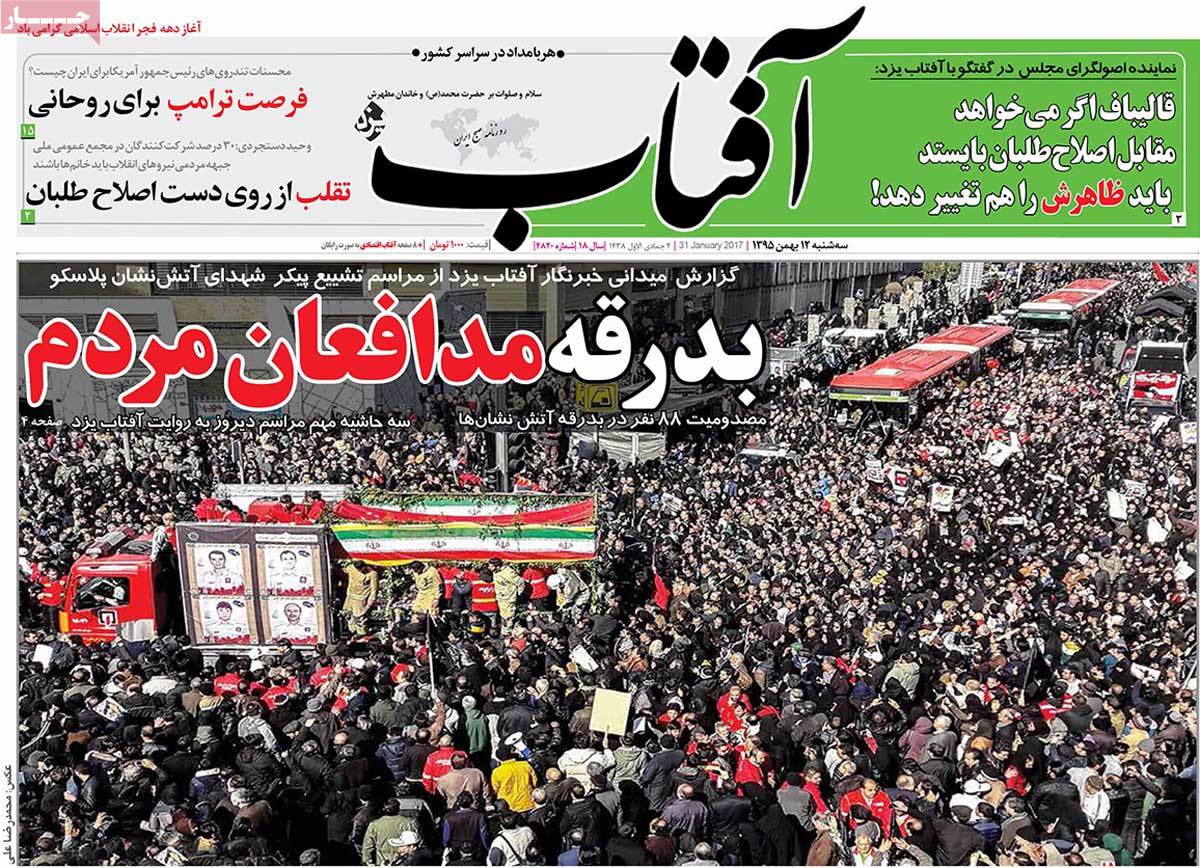 ---
Arman-e Emrooz:
1- Glorious Farewell to Martyred Firefighters
2- Trump Backs Off: We'll Restart Issuing Visa after 90 Days
3- Rouhani's Influence on Iran's Politics More than What Expected: Analyst
---
Ebtekar:
1- Moving from Excitement to Moderation: Cabinet Renews Its Allegiance to Imam Khomeini
2- Rouhani: People Will Create another Epic in May Presidential Votes
3- 515 Years of Tehran-Moscow Ties: Iran and Russia to Hold Conference on Their Historical Ties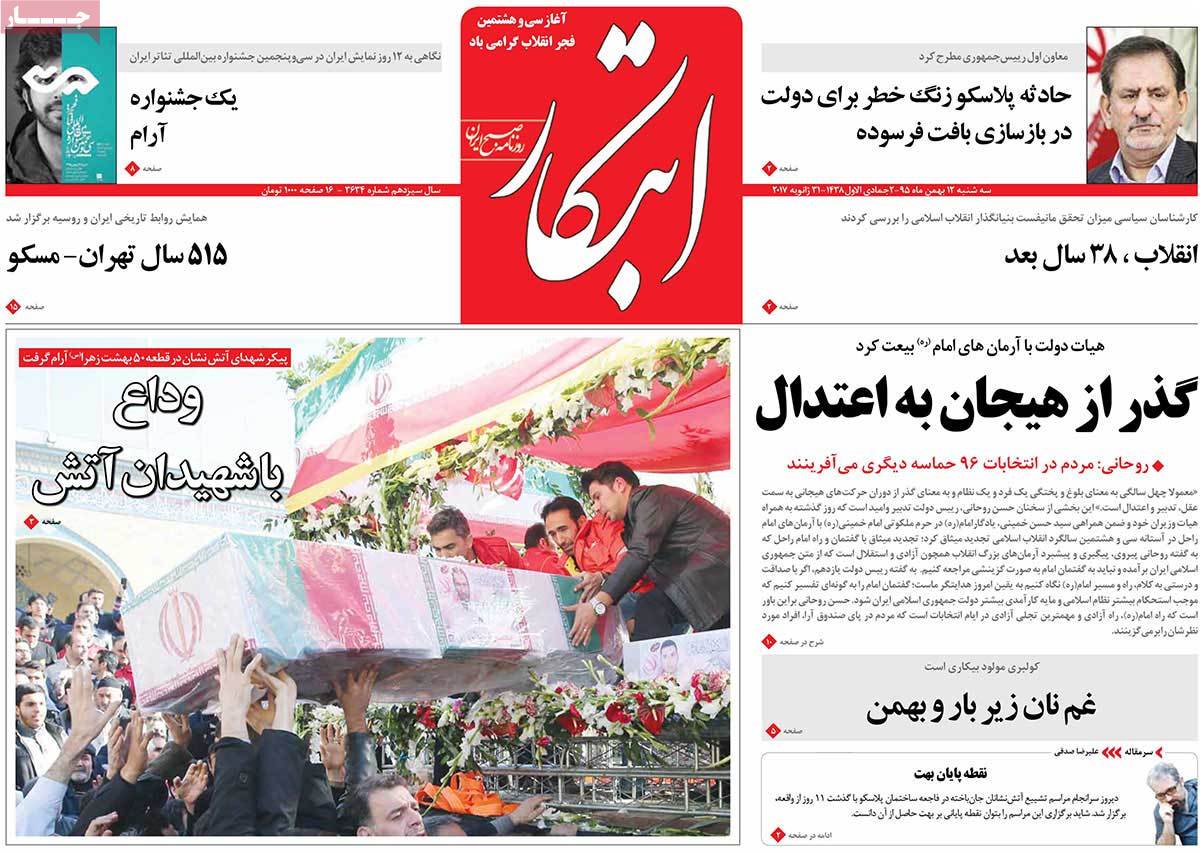 ---
Etemad:
1- Rouhani in Imam Khomeini's Mausoleum: We're neither Xenophobe, neither Xenophile
2- First Anniversary of Iran's 1979 Revolution without Ayatollah Rafsanjani
---
Ettela'at:
1- President: Imam Khomeini's Discourse Shows Future Path to Us
2- Trump Orders US Army to Be Prepared for World War
---
Haft-e Sobh:
1- End of Honeymoon with Apple: Iranian Apps Gradually Removed from Apple Store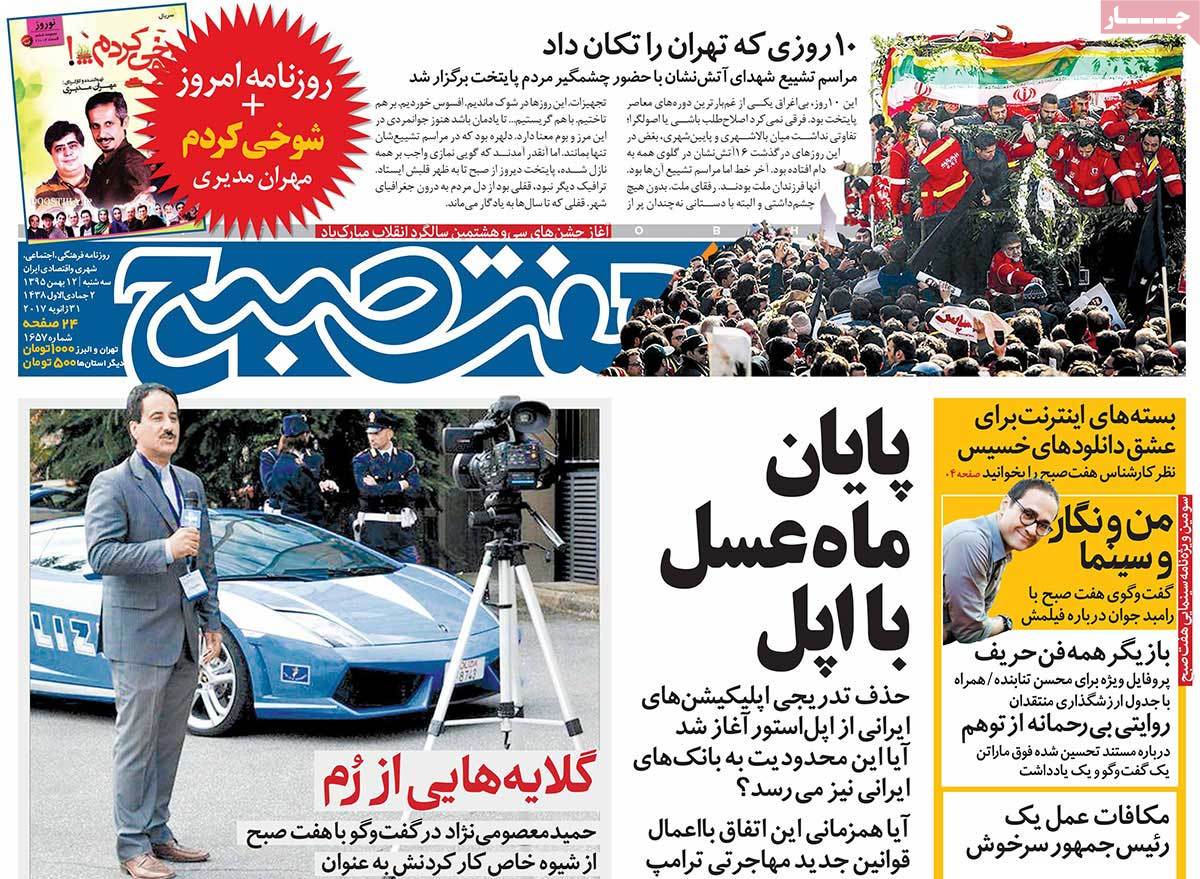 ---
Hosban:
1- Rouhani on Verge of Islamic Revolution's Anniversary: We'll Use Interaction with the World to Secure National Interests
---
Iran:
1- Rouhani: Imam Khomeini Is Symbol of Honour and Resolve for All Iranians
2- Heroes Escorted on Shoulders of Tehran
3- Culture Minister Appreciates Iranian Artists for Boycotting Oscars Ceremony: Dignity of Iranian Cinema Is Higher than US President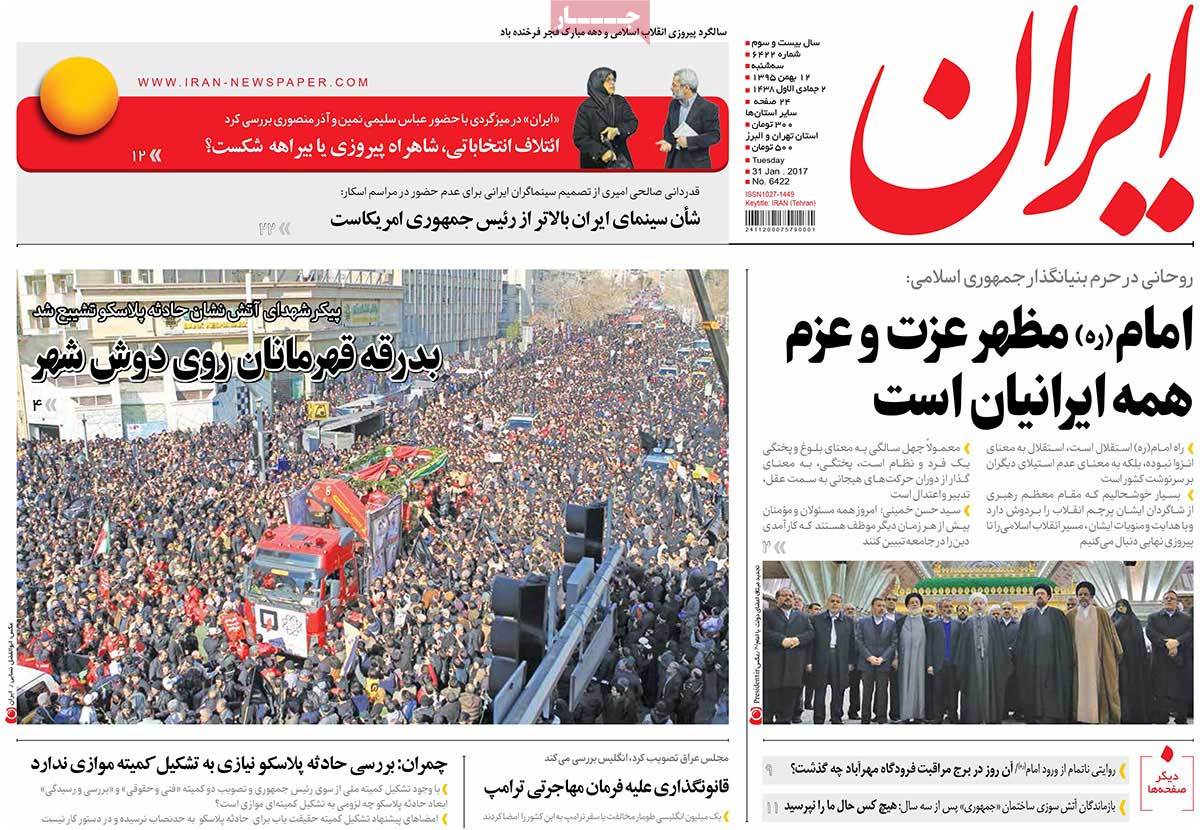 ---
Javan:
1- US State Dept.: Americans Are to Blame for Terrorist Attacks, Not Immigrants
2- People Escorted the Martyrs of Service to Heaven
---
Jomhouri Eslami:
1- Rouhani: Under Current Circumstances, We Need Imam Khomeini's Path and Discourse
2- First VP: We'll Reciprocate Trump's Visa Ban by Restricting American Citizens
3- Famous American Psychoanalyst: Trump Suffers from Psychosis
4- Bahraini Regime Backs Off in Dealing with Supporters of Sheikh Isa Qassim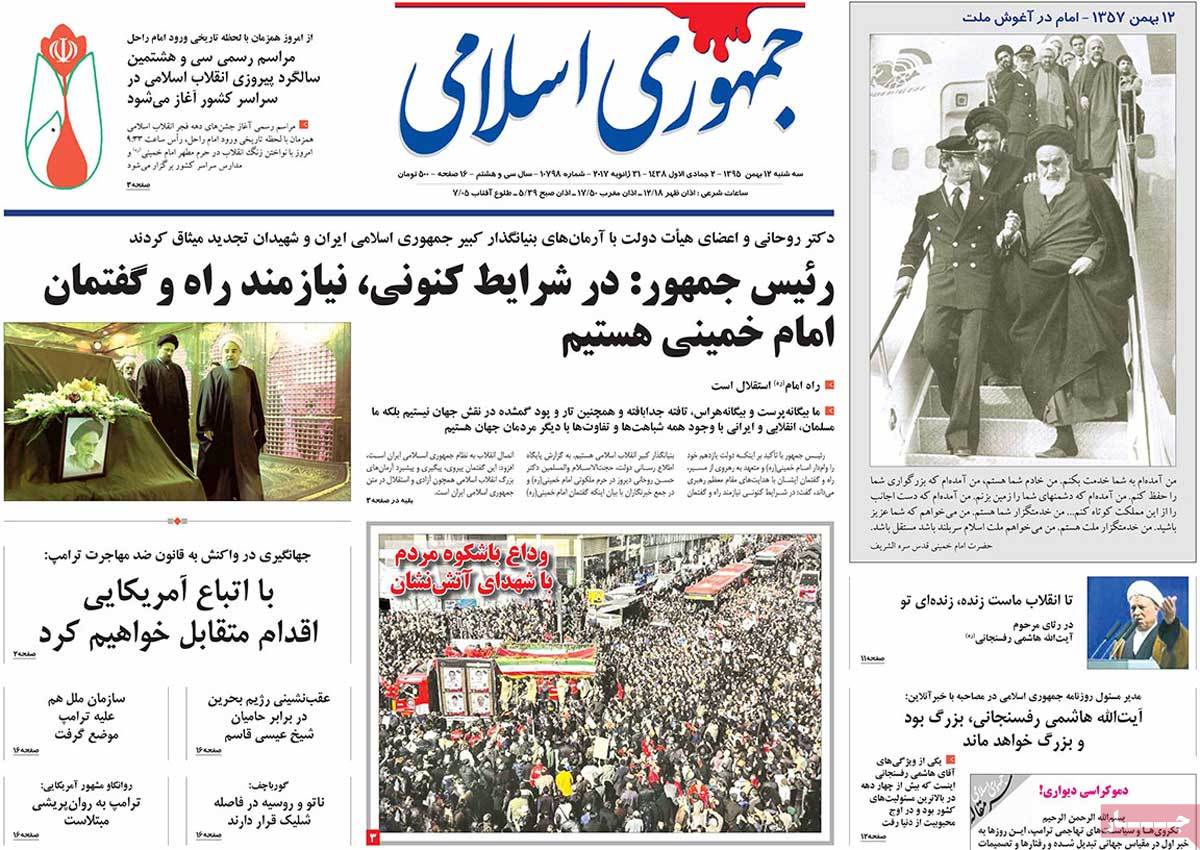 ---
Ka'enat:
1- Attack against Trump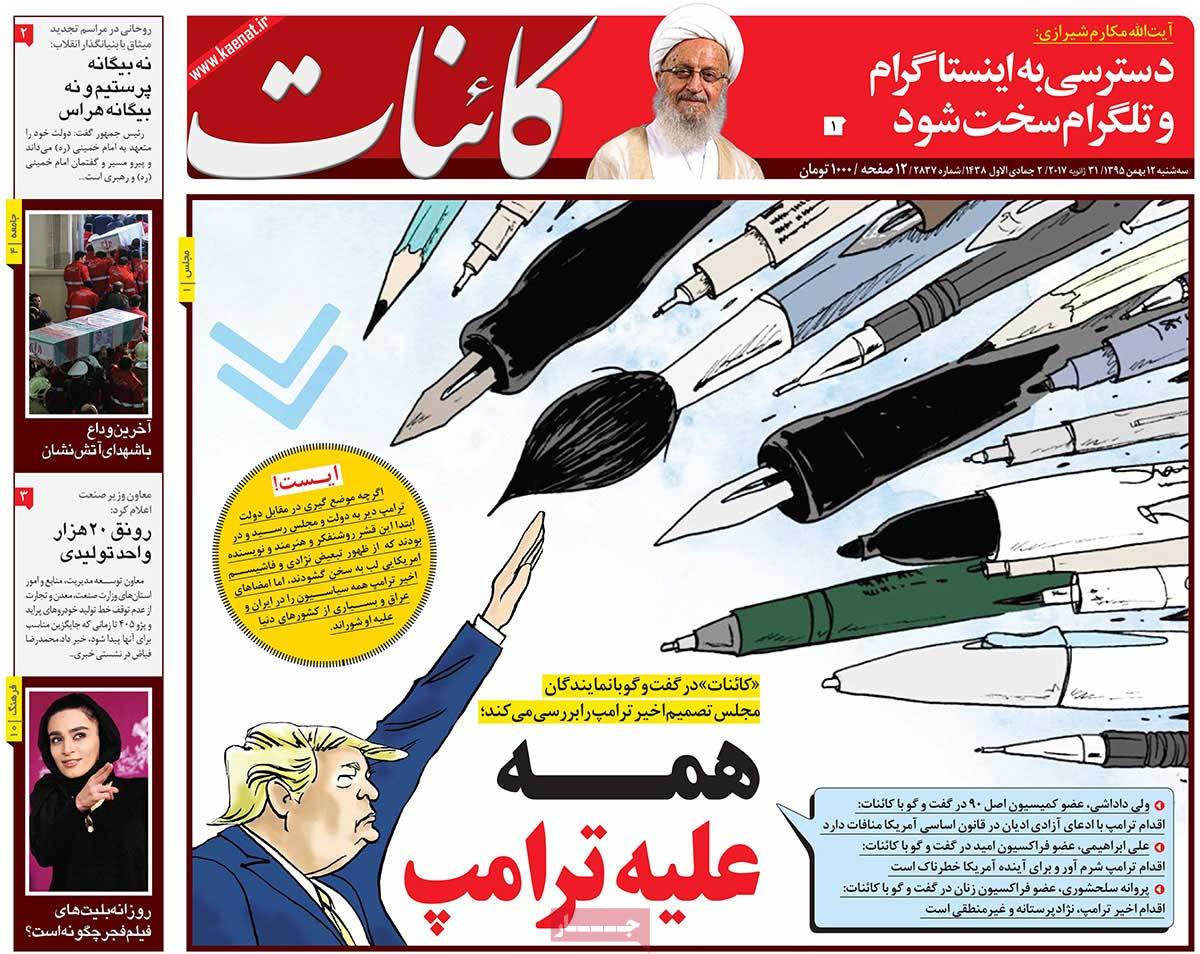 ---
Kayhan:
1- Trump's All-Out Support for Nuclear Deal in Phone Conservation with Saudi King
2- American Official: Trump Personally Issued Permission for US Attack on Yemen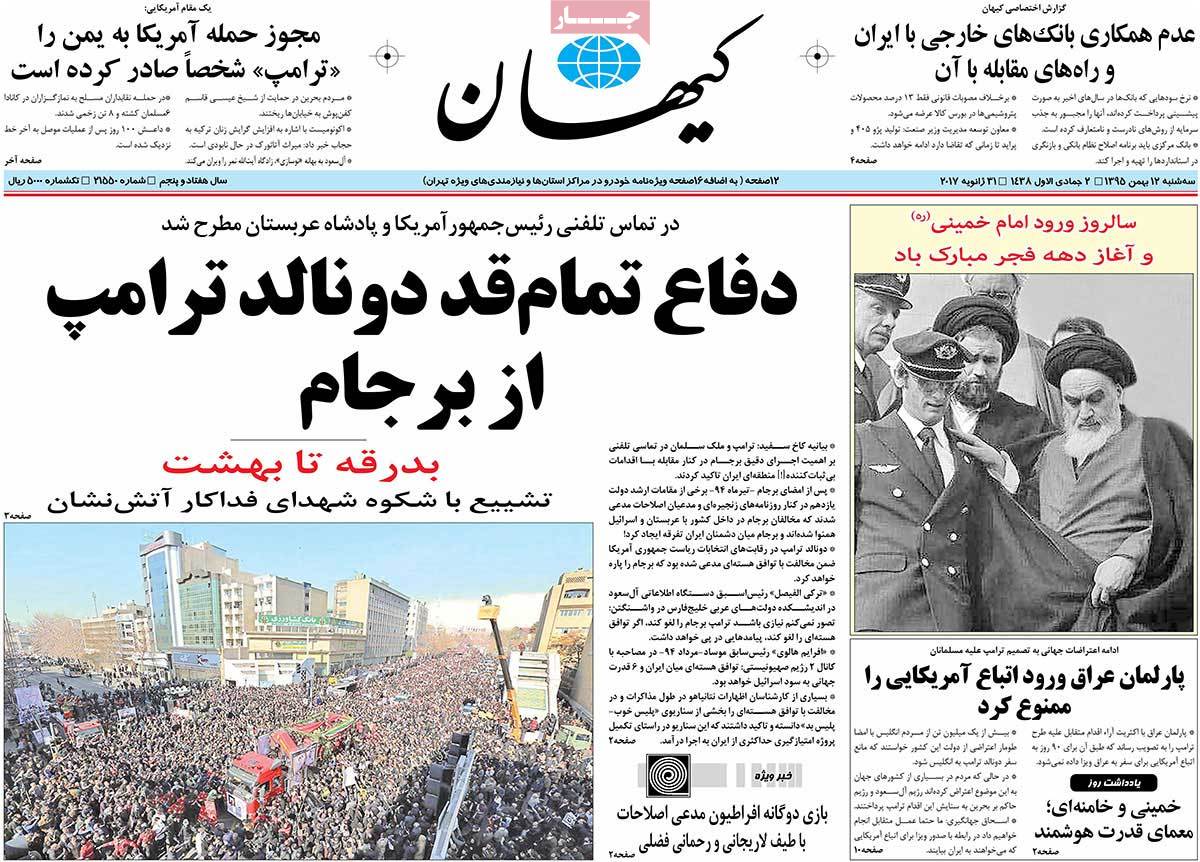 ---
Rah-e Mardom:
1- Playing with Fire, Next Plan on Trump's Agenda: A Report on US President's Impact on Oil Market
---
Rooyesh-e Mellat:
1- Iranian Navy's Reaction to US and Britain's Wargames in Persian Gulf: No One Dares to Enter Iran's Territorial Waters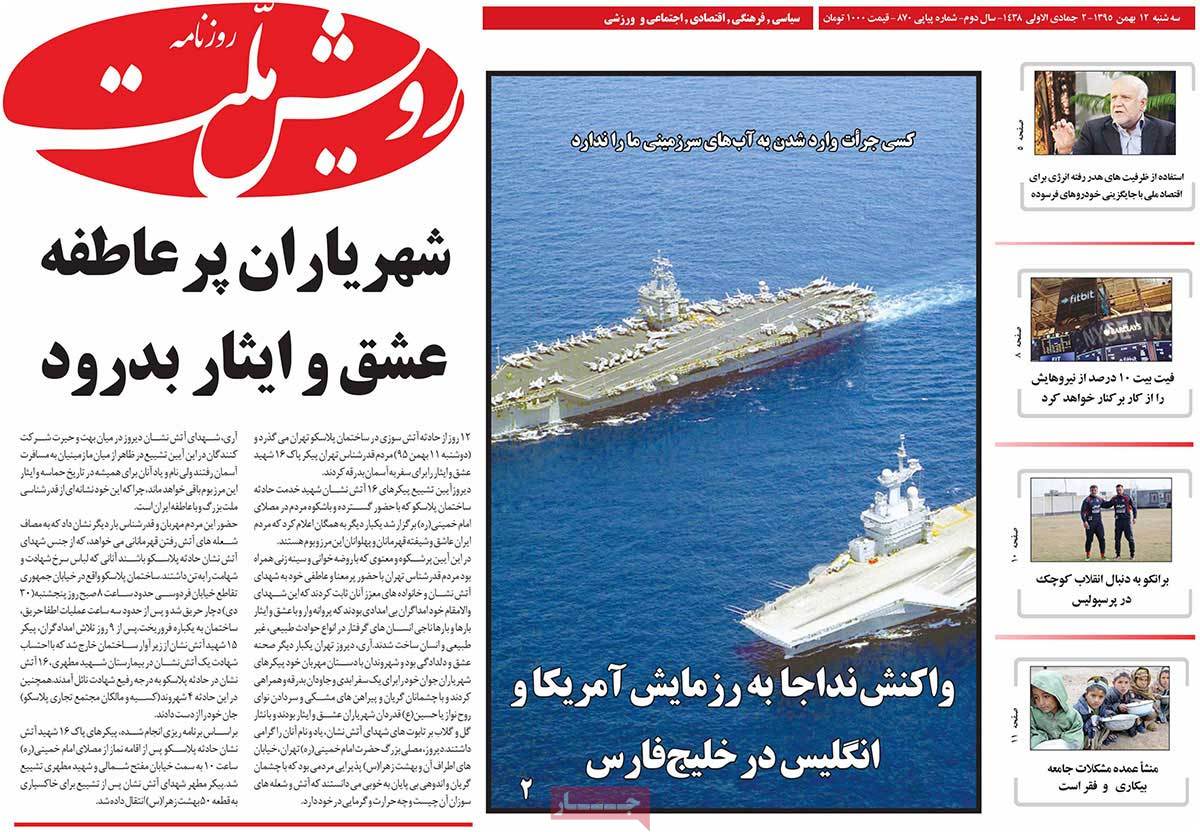 ---
Sayeh:
1- Martyred Firemen's Bodies Escorted by Glorious Presence of Iranian Nation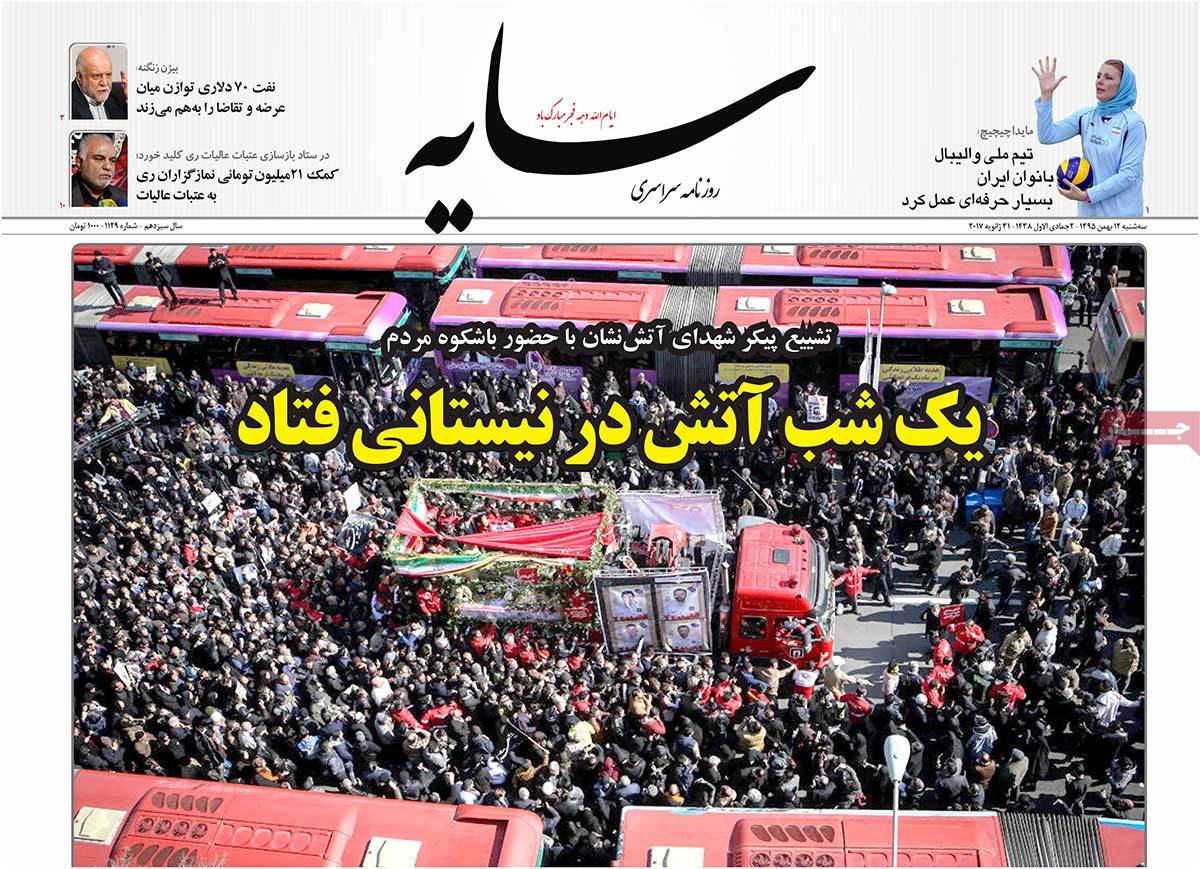 ---
Sepid:
1- A Report for Trump to Remember: These Iranian Doctors Have Saved Lives of Thousands of Americans
---
Setareh Sobh:
1- Election Is Manifestation of Freedom in Iran: President Rouhani
2- Revolution with Ayatollah Hashemi Rafsanjani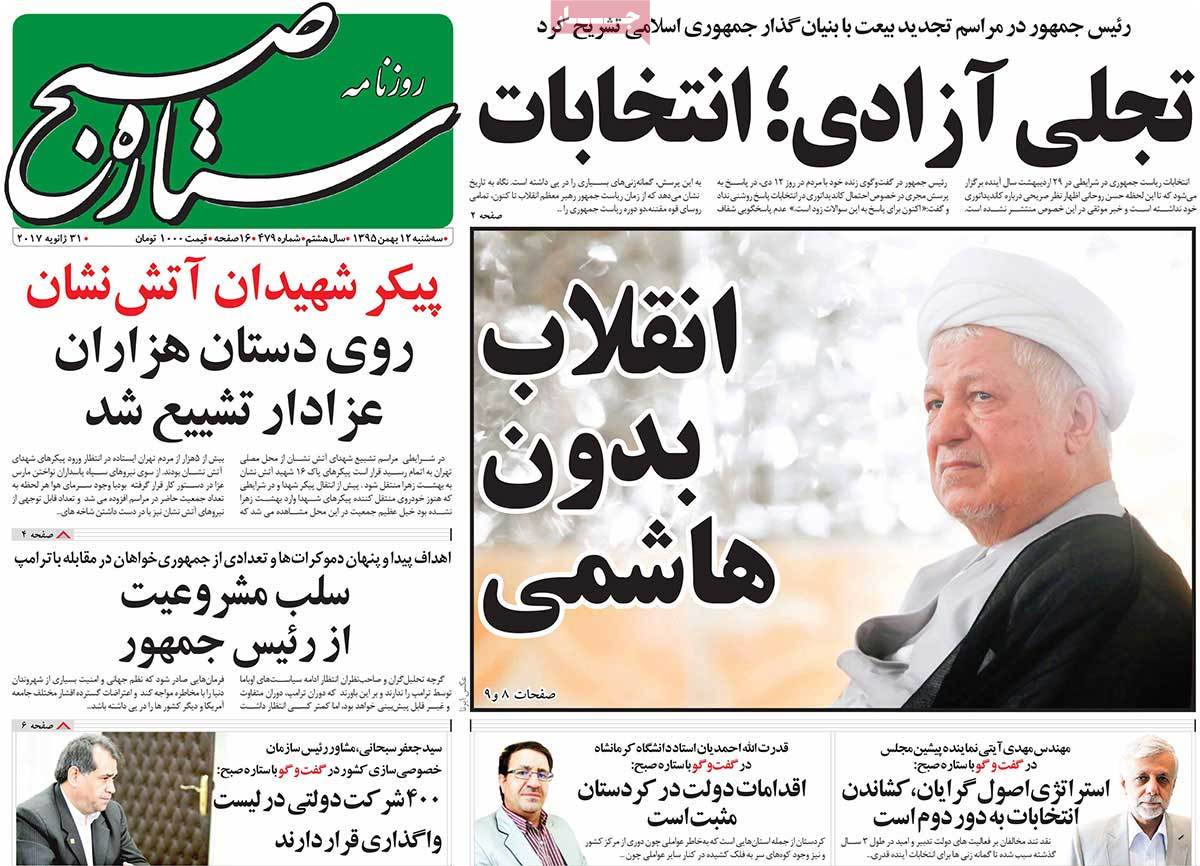 ---
Shahrvand:
1- Bodies of Firefighters on Tehran's Shoulders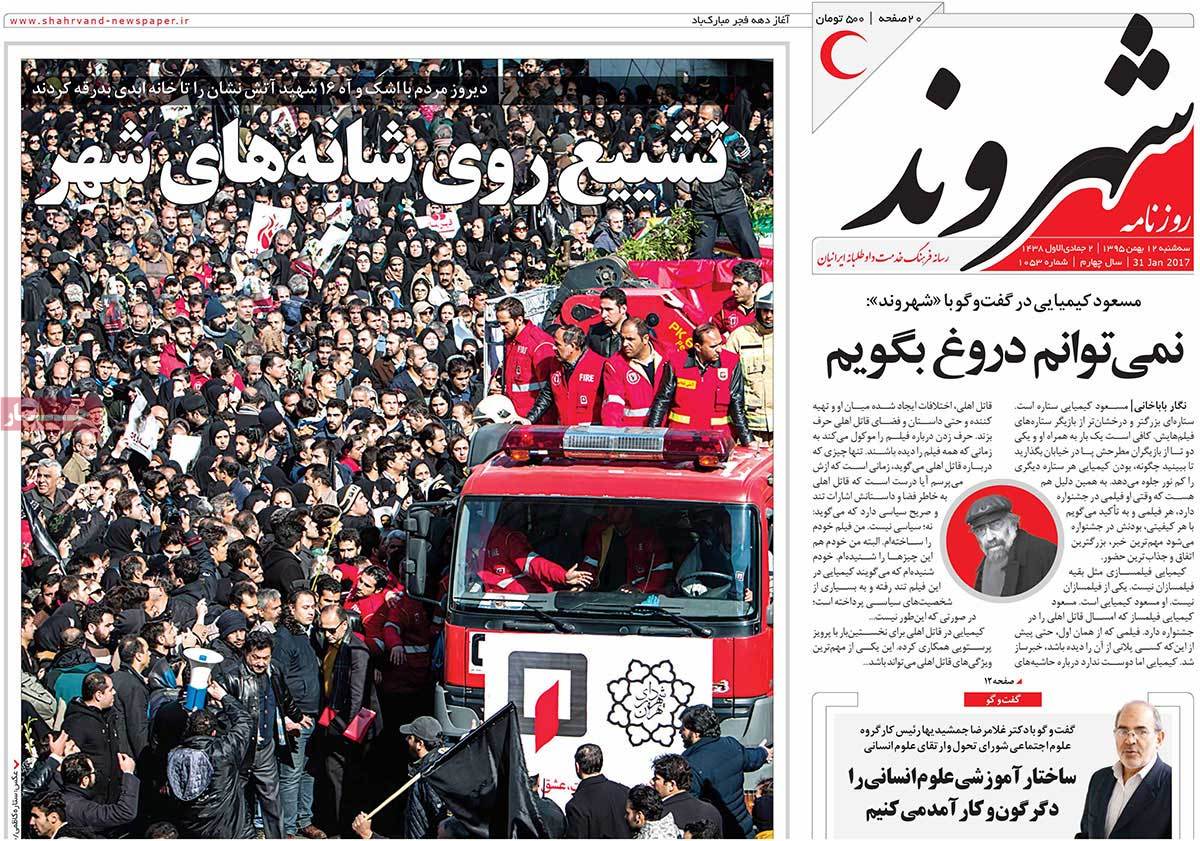 ---
Shargh:
1- Judiciary Chief to Trump: Are You Taking Revenge from Muslims for Creation of ISIS?
---
Shorou:
1- Rouhani: Imam Khomeini's Way Is the Way of Independence, Not that of Isolation
2- Trump Breaks Records in Decreased Popularity: The Hated President
3- Pope: Trump Is Not a Christian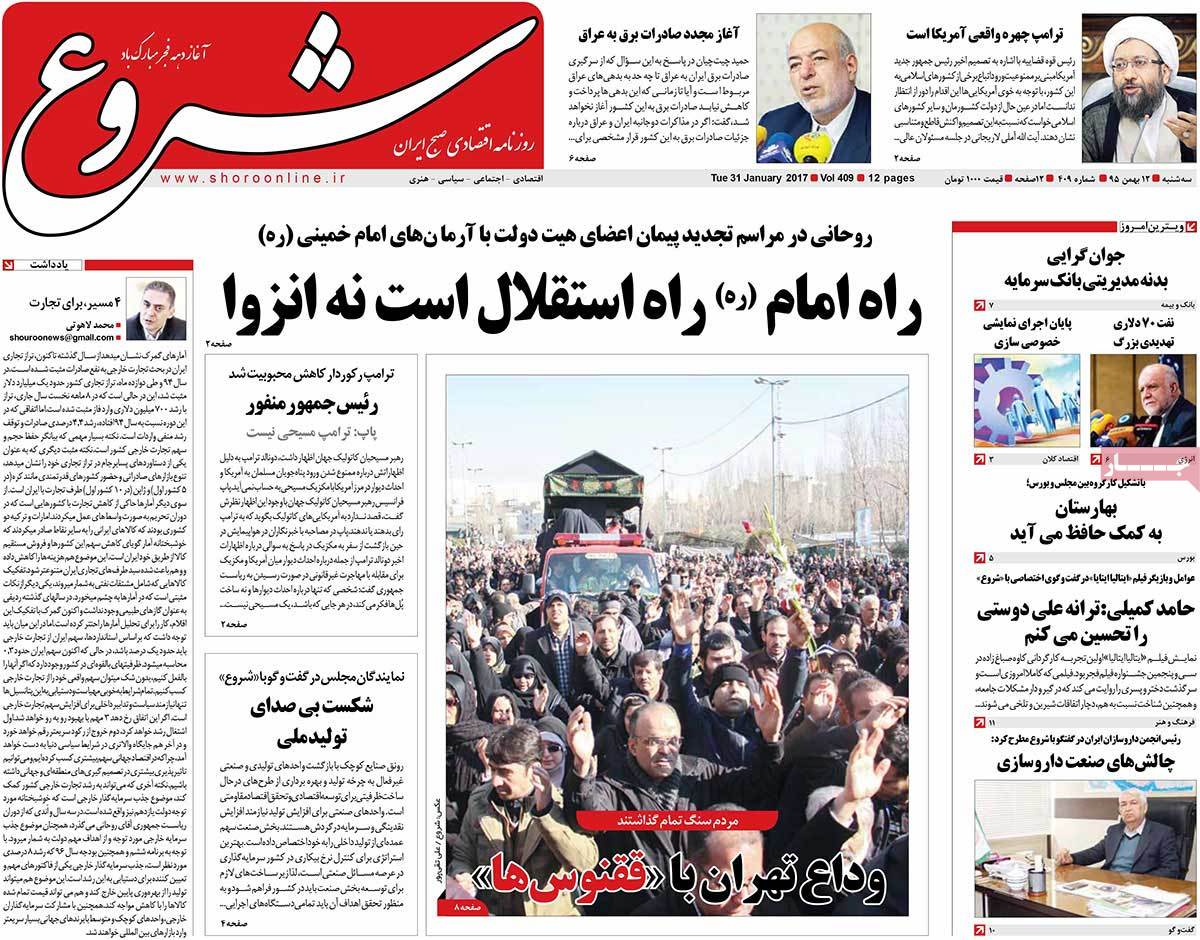 ---
Sobh-e Now:
1- Millions of People Bid Farewell to Selfless Men: Goodbye
2- As Zarif Welcomes French FM Ayrault, France Holds Wargames against Iran; Paris Trade Delegation in Tehran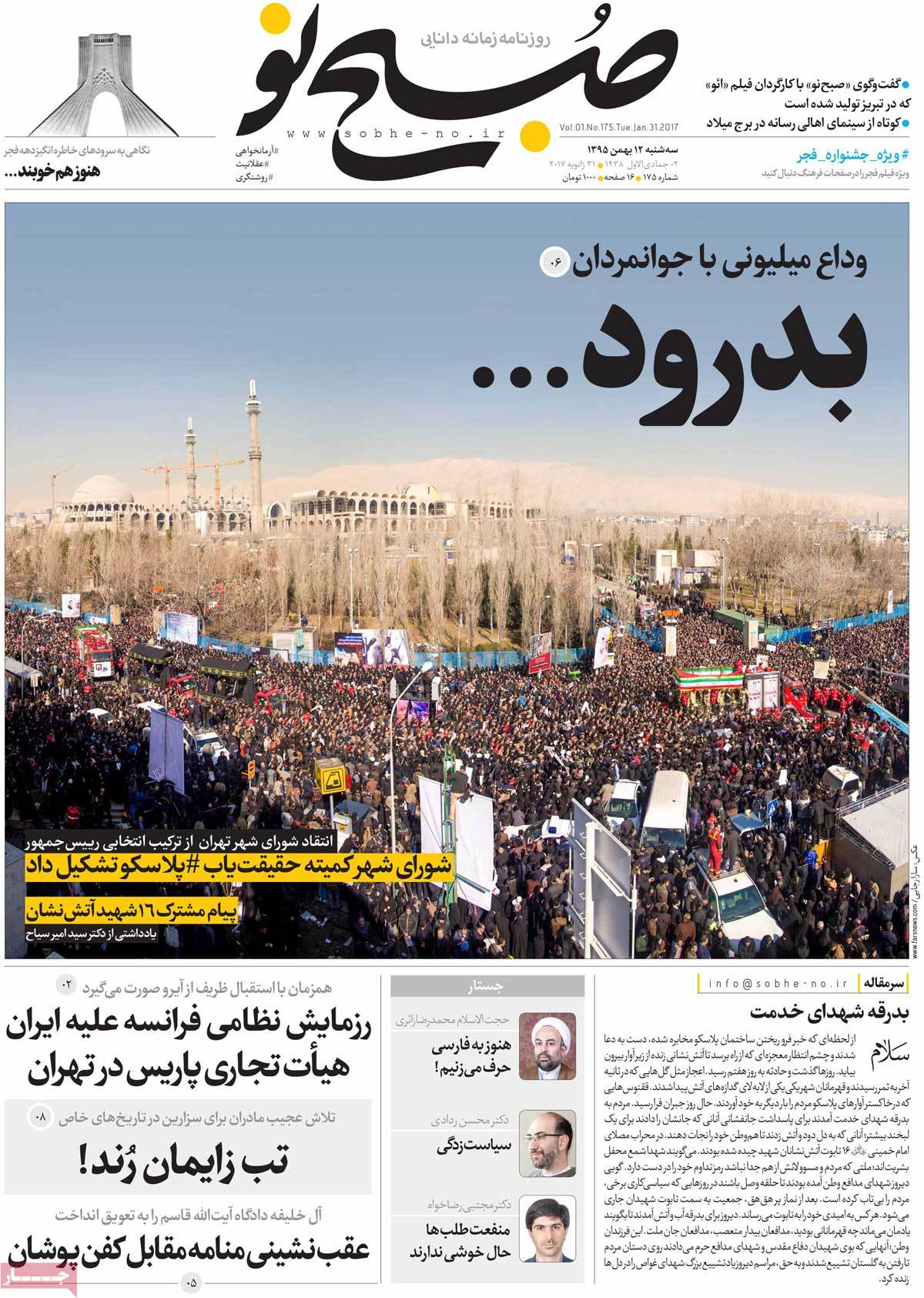 ---
Vaghaye Ettefaghieh:
1- People Escort Their Heroes to Heaven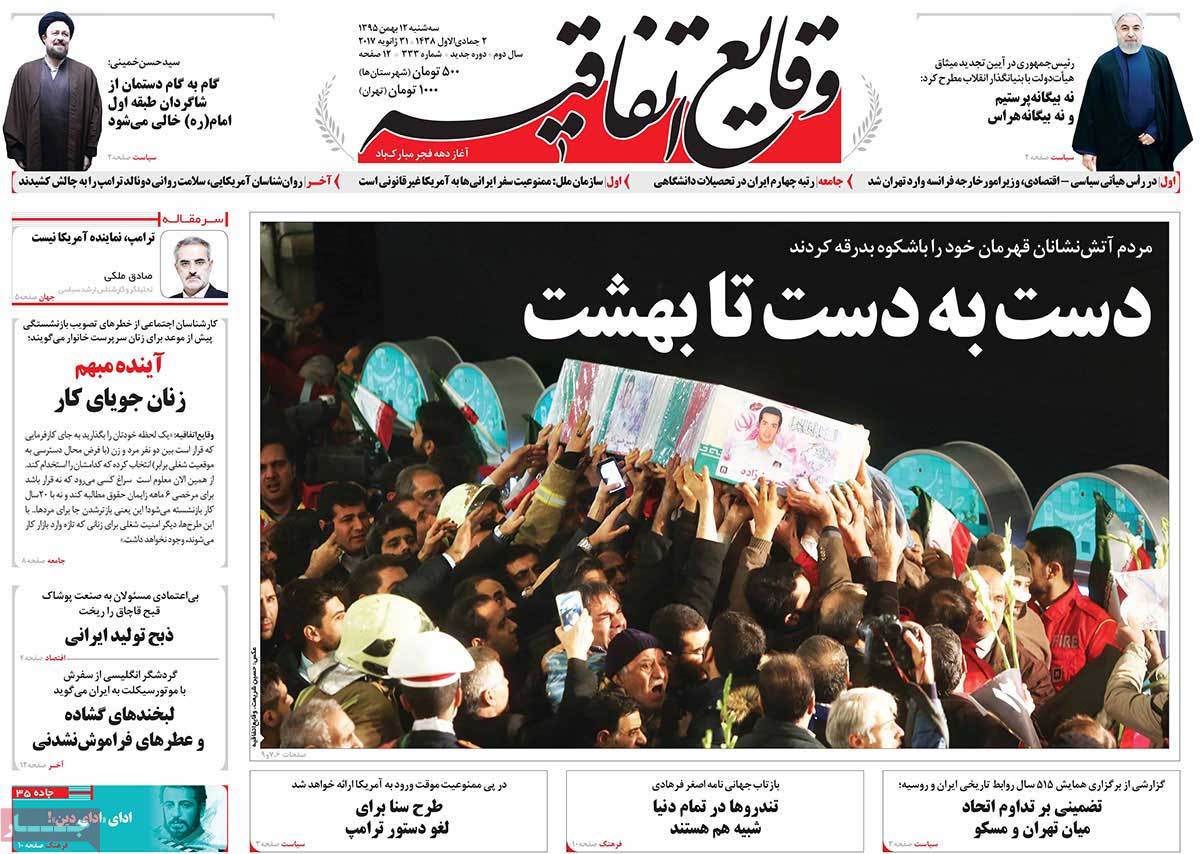 ---
Vatan-e Emrooz:
1- Romantic Escort: Glorious Presence of Numerous People to Commemorate Their Firefighters
2- US in Course of Chaos