Newspapers today covered a message released by Ayatollah Khamenei, the Leader of Iran's Islamic Revolution, in praise of selfless firefighters killed in the recent tragic collapse of Plasco Building in Tehran. They also covered the funeral ceremony slated to be held on Monday morning in Tehran.
The visa restrictions introduced by US President Donald Trump and the global protests against the racist decision also received great coverage.
A top story today was the decision made by Asghar Farhadi, the acclaimed Iranian filmmaker whose film has been nominated for Best Foreign Language film Oscar this year, to boycott the upcoming Academy Awards ceremony in protest at Trump's visa ban, which includes Iranian citizens.
The above issues, as well as many more, are highlighted in the following headlines:
Afkar:
1- Parliament Speaker: US Government Suffers from Fear of Itself
2- Swiss Envoy to Tehran Summoned to Foreign Ministry over Trump's Visa Ban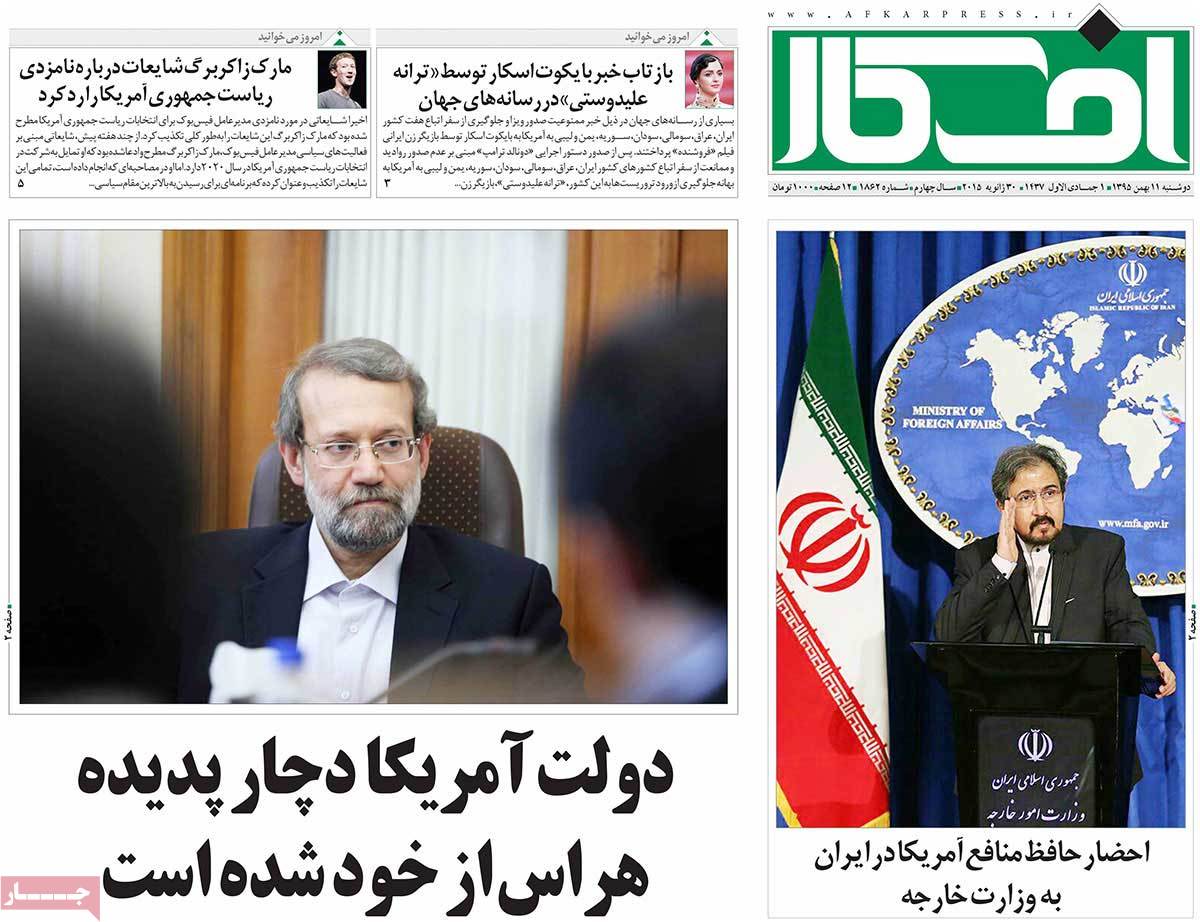 ---
Aftab-e Yazd:
1- From Qazipour [conservative Iranian MP] to Zuckerberg against Trump's Decision!
2- Asghar Farhadi: I Won't Attend Oscars Ceremony
3- Government's Biggest Pain Is the Words It Uses: Vice-Speaker of Iran's Parliament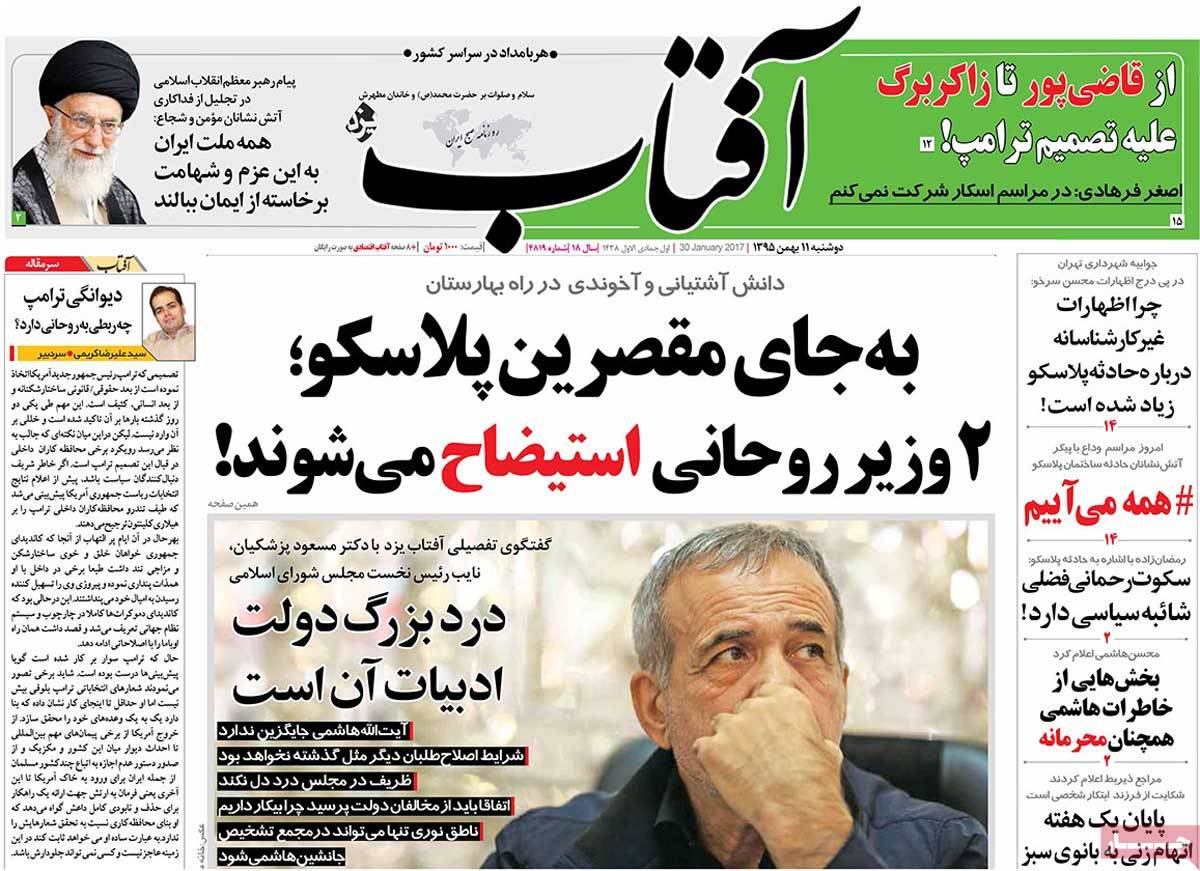 ---
Amin:
1- Massive Protests against Trump's Executive Order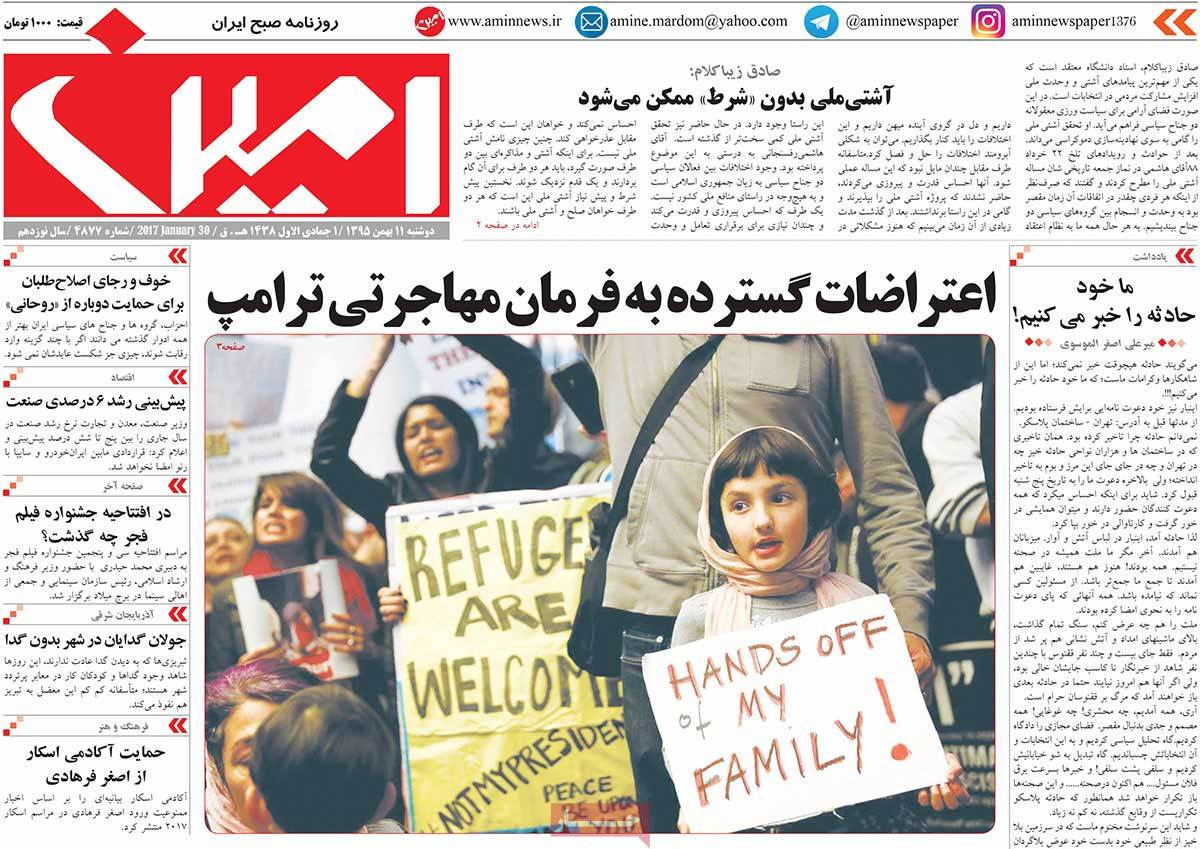 ---
Arman-e Emrooz:
1- Leader's Message in Praise of Firefighters' Sacrifice: These Martyrs Will Never Be Forgotten
2- Rouhani in a Big Test. He Has a Role beyond a President in May Presidential Elections: Politician
3- US Outraged by Trump; Swiss Envoy Summoned to Iran's Foreign Ministry over US Muslim Ban
---
Bahar:
1- Trump's Bubble Getting Bigger: US President's Big Steps to Fulfil Campaign Promises
---
Ebtekar:
1- Once upon a Time America: World Reacts to Trump's Visa Ban for Citizens of 7 Muslim States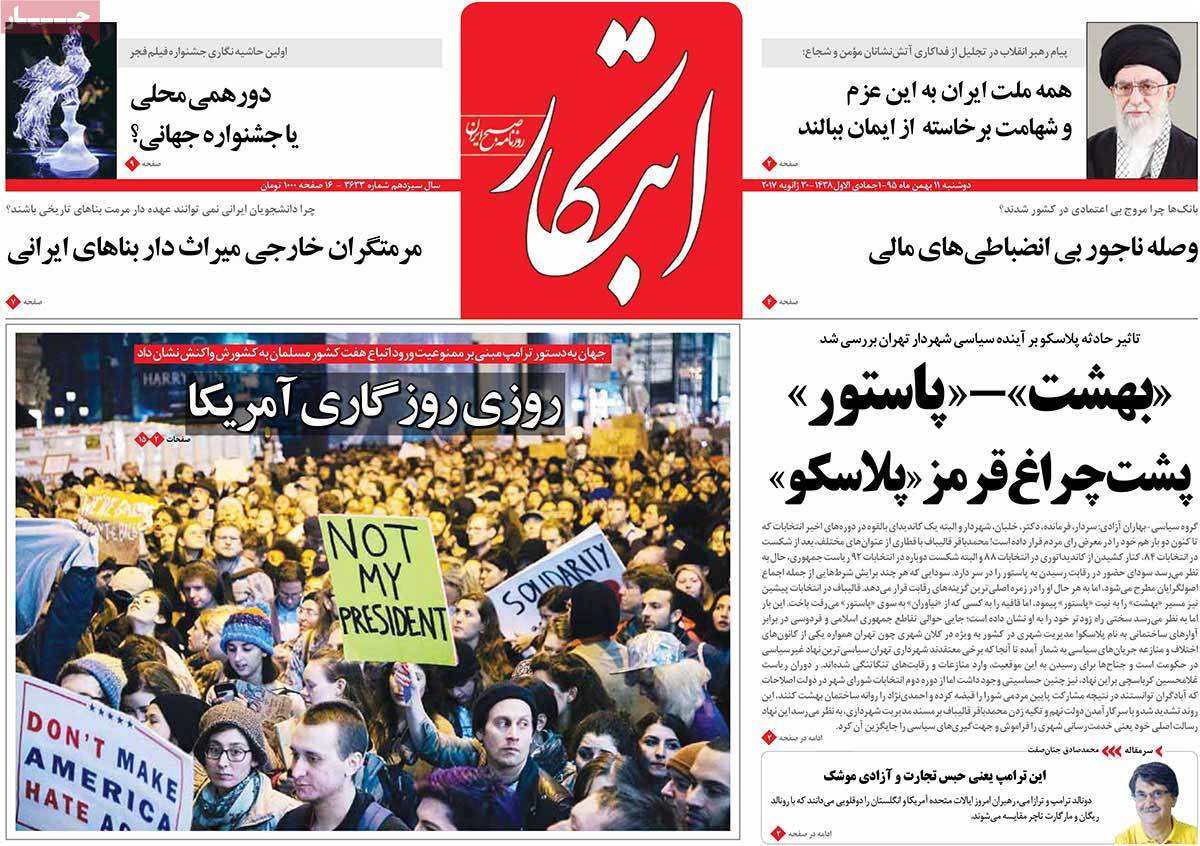 ---
Etemad:
1- What Will Happen to Confidential Memoirs of Ayatollah Rafsanjani? His Son Says Their Release Can Be Negotiated with Senior Figures of Establishment
2- Asghar Farhadi in Protest at Trump's Visa Ban: I'm No Exception, I Won't Come to US
3- Parliament Speaker's Reaction to Iranian Actress's Move to Boycott Oscars Ceremony: Our Artist's Position Was Symbol of National Pride
4- US vs. US: American Airports Turn to Hubs for People's Massive Protests against Visa Ban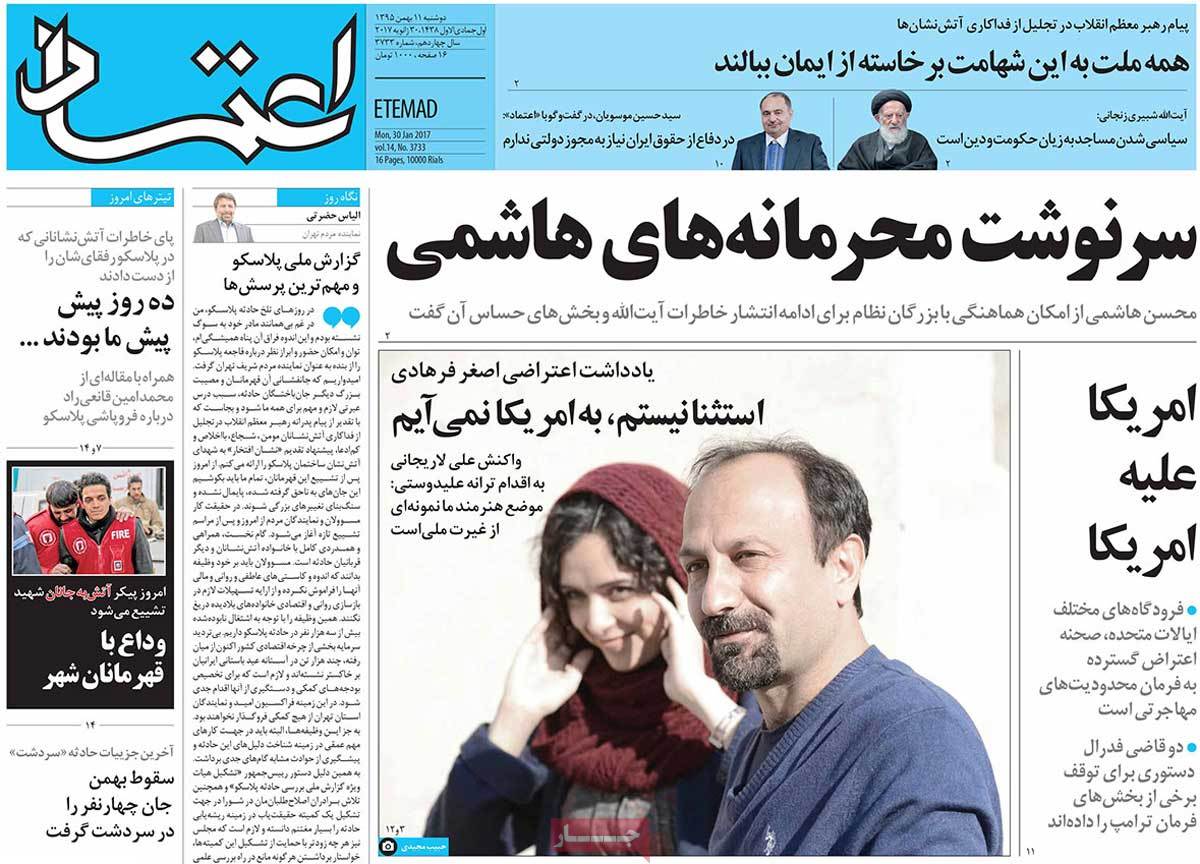 ---
Ettela'at:
1- Brave Firefighters Reminiscent of Those Who Sacrificed Their Lives during Iran-Iraq War in 1980s: Leader
2- Iran Officially Protests at Trump's Racist Decision
3- Islamic Inter-Parliamentary Union (IIPU): Quds Is Muslim Community's Spiritual Capital
---
Haft-e Sobh:
1- 25 Documented Stories about Trump's Decision: Sahar's Old Parents Arrested, Google's Support for Sanaz, Fate of National Team's Defender, and Rudy Giuliani
2- Taraneh Alidousti Makes It Difficult for Asghar Farhadi [to decide about his travel to US for Oscars ceremony]: Iranian Director Expected to Make Most Difficult Decision of His Life
---
Iran:
1- Farhadi Withdraws from Attending Oscars Ceremony: I Thereby Express My Disgust over Unfair Conditions Imposed on Iranians and Citizens of 6 Other Countries for Entering US
2- Academy Awards: We're Seriously Troubled by Possible Ban on Farhadi's Entry to US as Supporter of Filmmakers and Human Rights
3- Fact-Finding Committee Formed for Plasco Incident
4- Hollande: I Warned Trump and Asked Him to Respect Nuclear Deal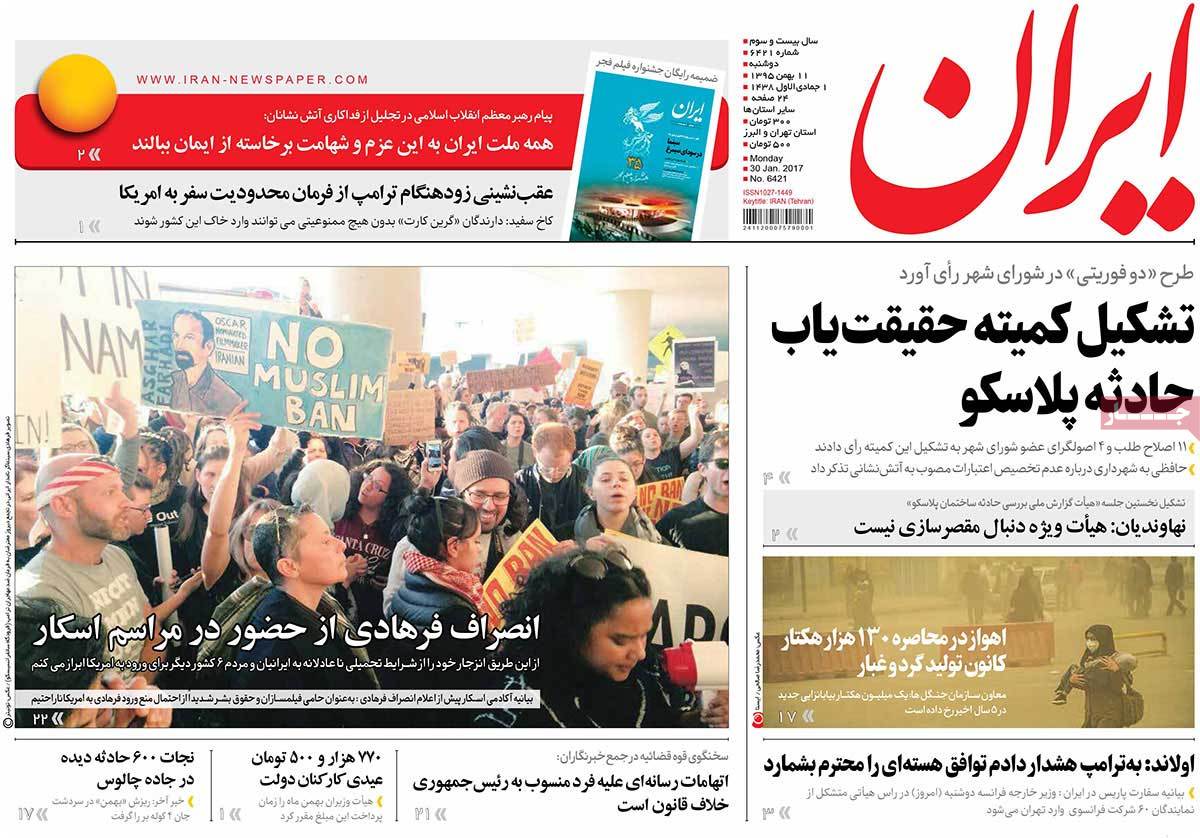 ---
Jame Jam:
1- Iran's Leader Urges People to Remember Selfless and Devoted Heroes and Learn Lessons from Their Sacrifice
2- Trump's Islamophobia: Wave of Criticisms against US President's Policies Continues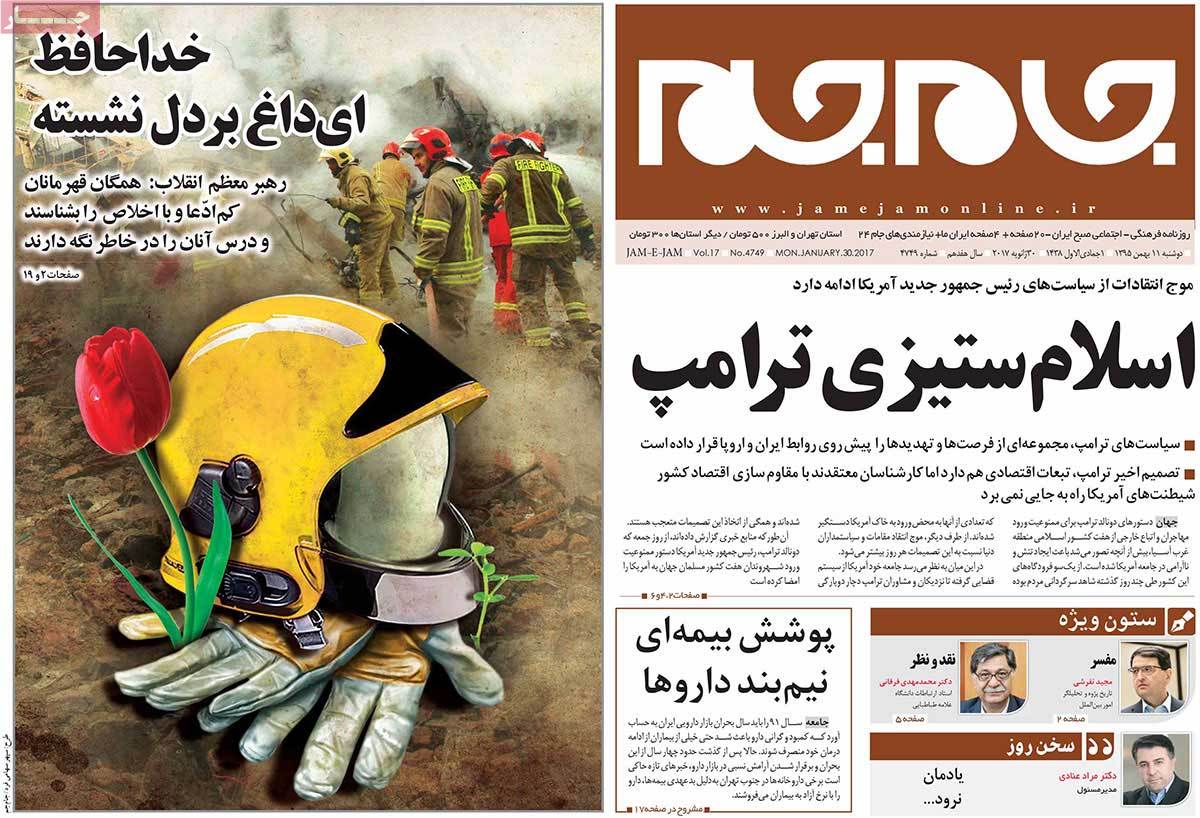 ---
Javan:
1- Int'l Community against American Democracy
2- Zarif: We Saw How US Is Friend of Iranian People!
3- Trump's Reaction to US Media Protests: Let This FAKE News and Failing New York Times Fold!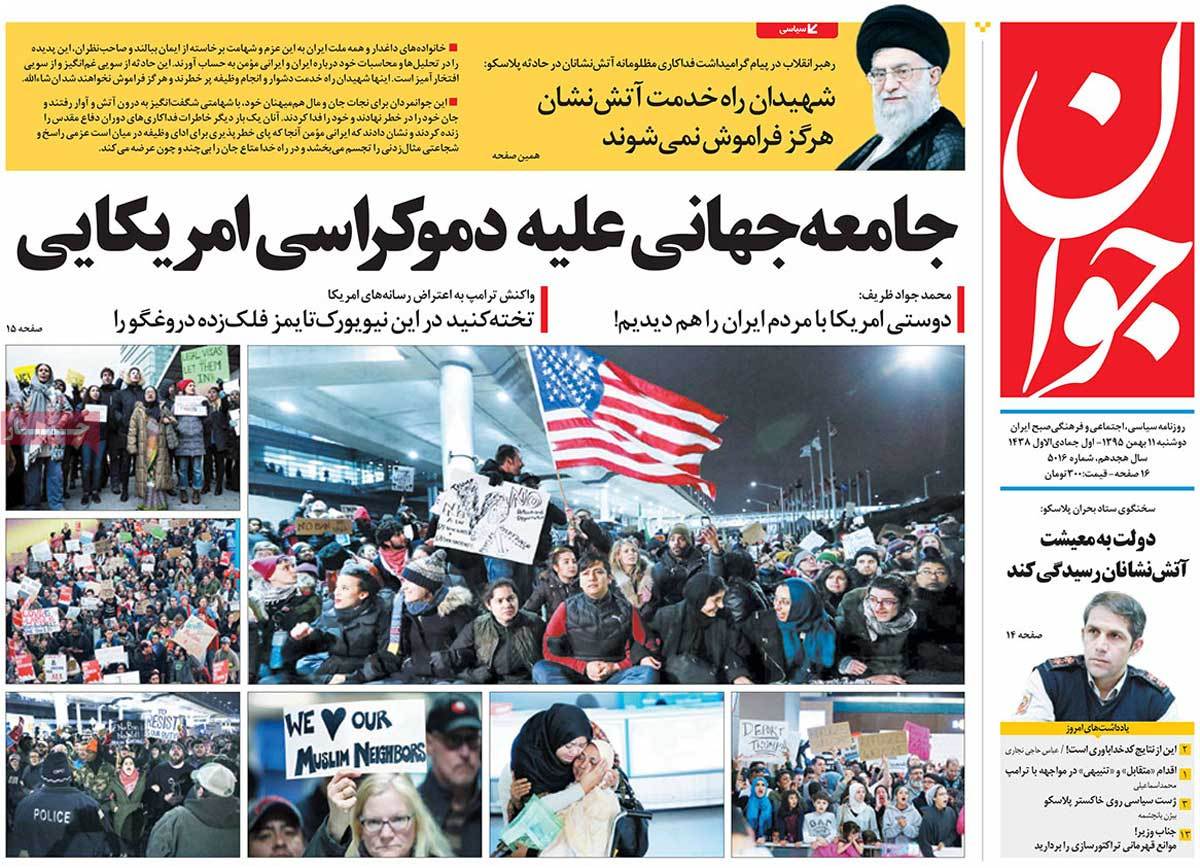 ---
Jomhouri Eslami:
1- Trump's Policies Unites the World against US
2- Seminary Students and Teachers Hold Protest Rally to Condemn Bahraini Regime's Suppression of Revolutionaries and Insults to Sheikh Isa Qassim
3- Europe Defends Iran Nuclear Deal against Trump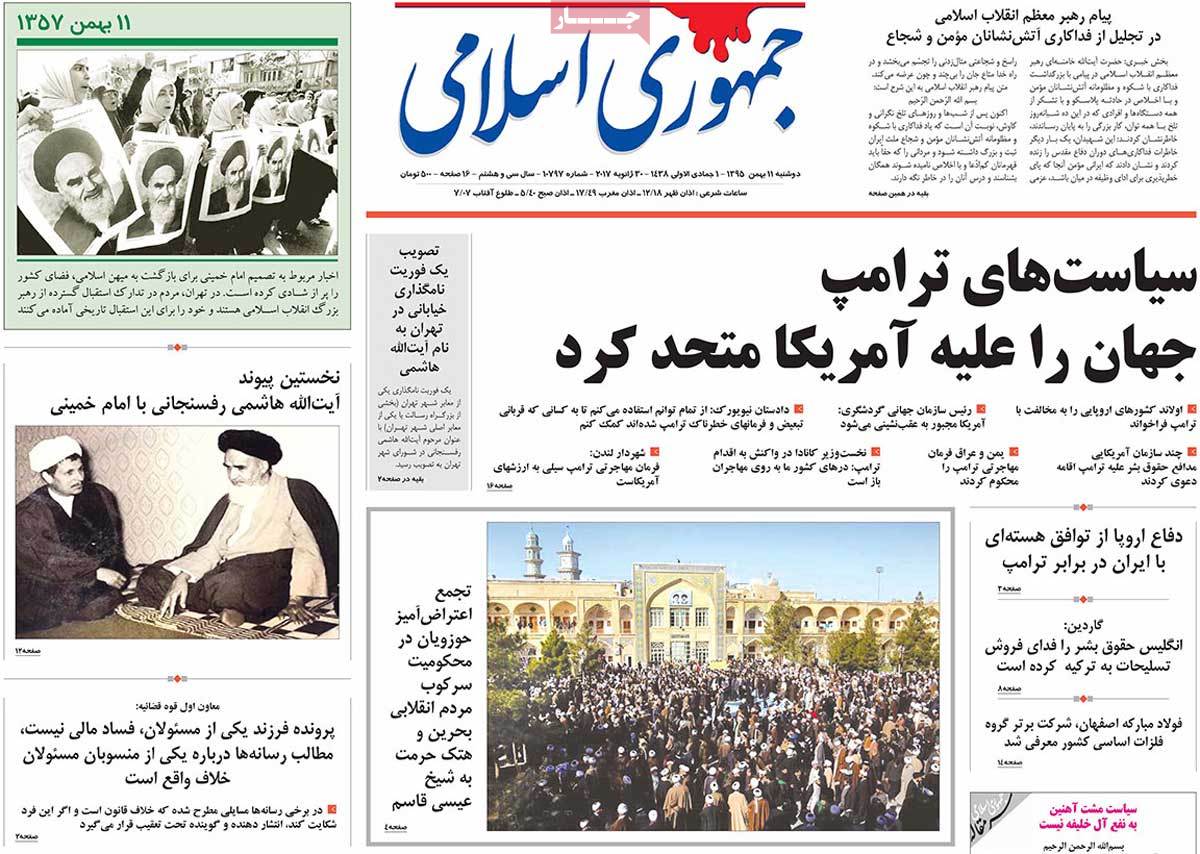 ---
Kayhan:
1- Least Expectation from the Government: Ban Entry of US Citizens to Iran
2- US and Saudi Arabia Competing with Each Other in Slaughtering People in Yemen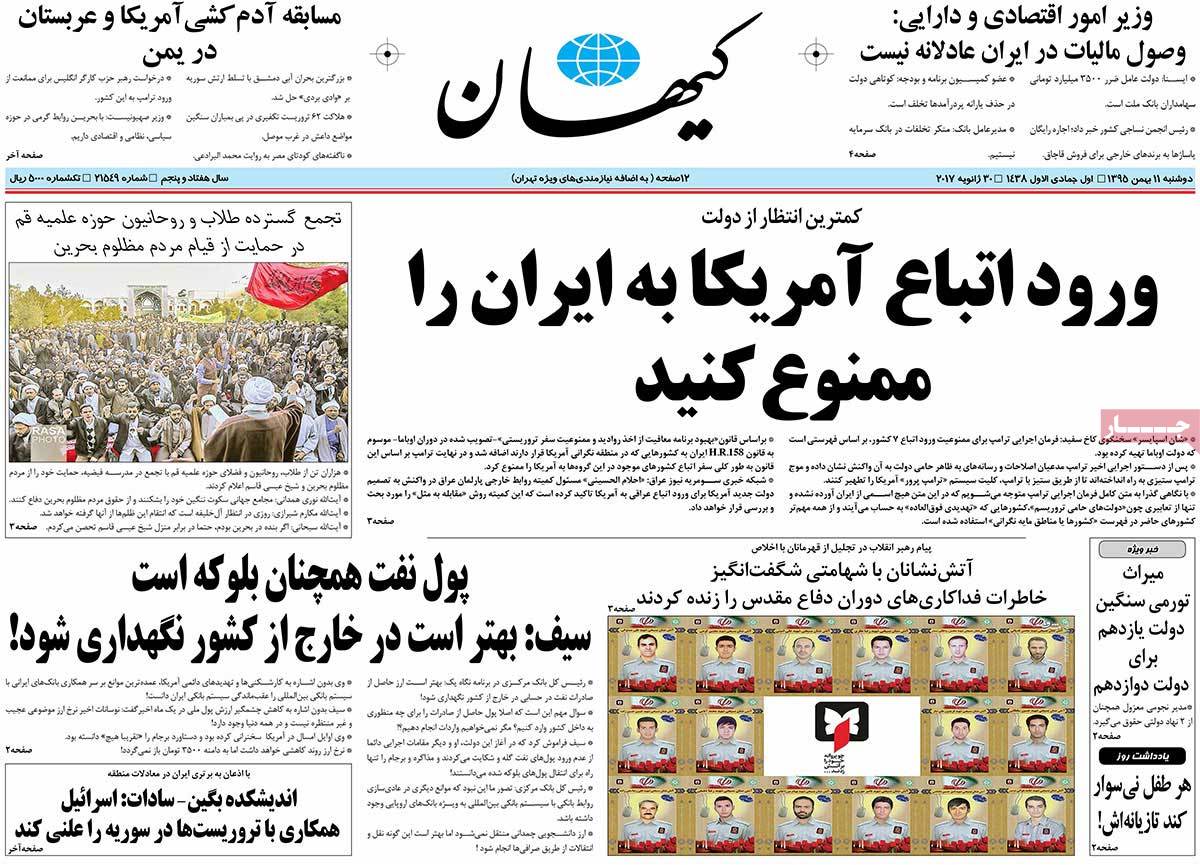 ---
Khorasan:
1- Those Killed While Serving People Won't Be Forgotten: Iran's Leader
2- Tension in Airports and Global Protests against Trump's Immigration Order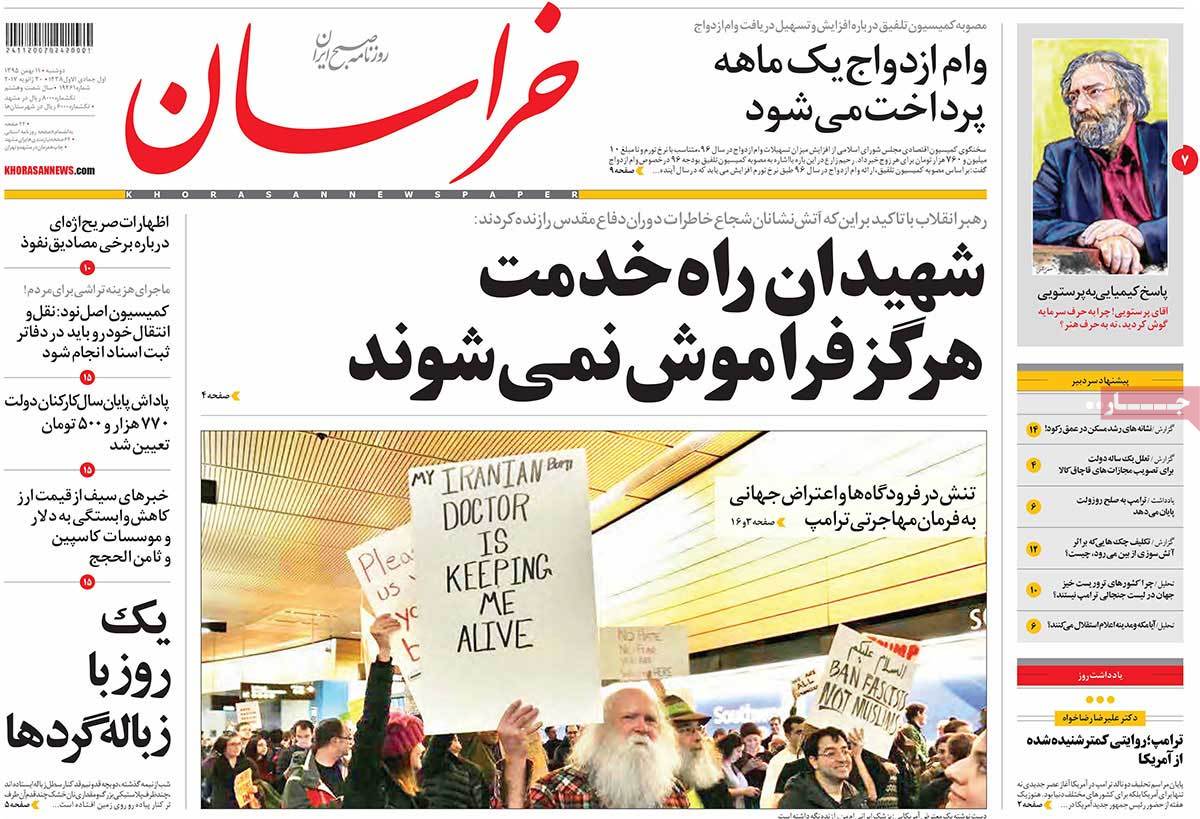 ---
Resalat:
1- Funeral Service for Heavenly Firefighters
2- California's Independence Begins: Trump, the Messenger of US Disintegration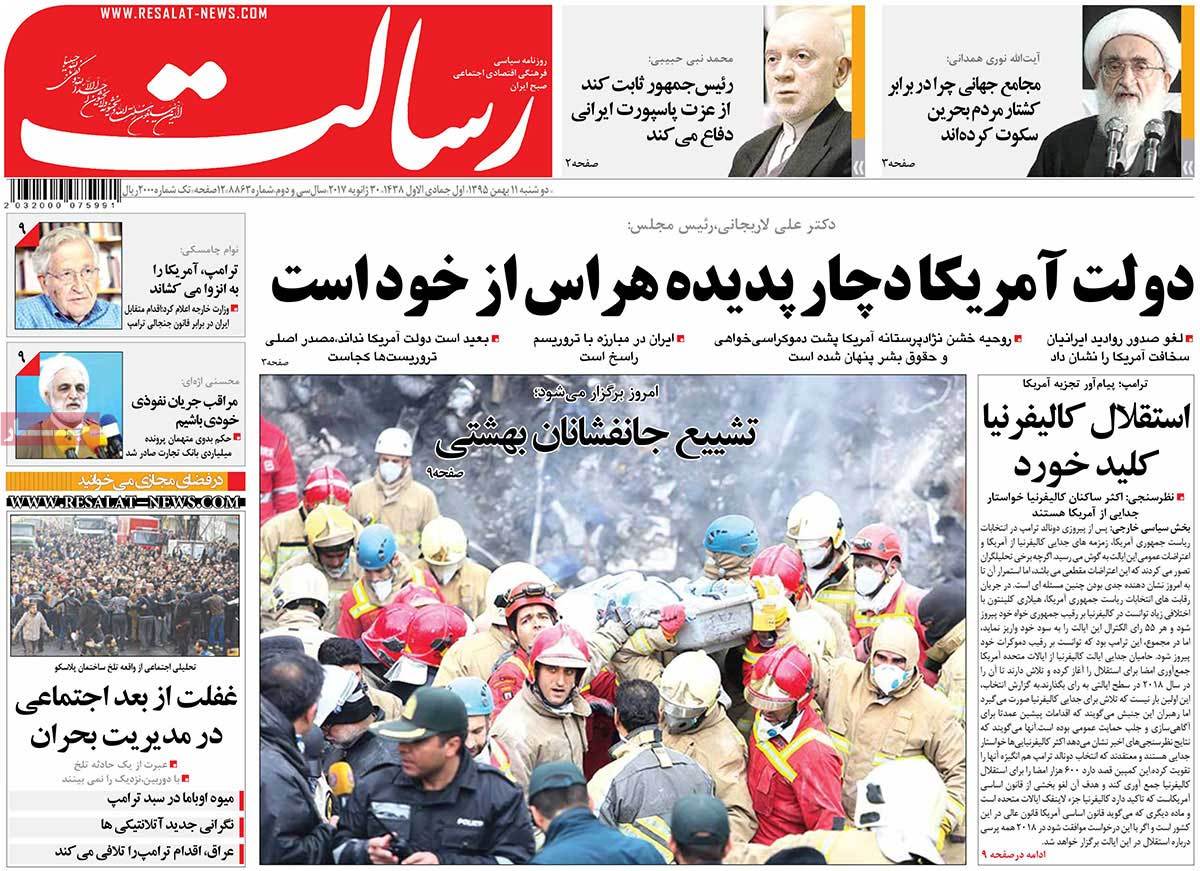 ---
Shahrvand:
1- One Village of Help: Rescue Workers and People in a Village in Iran's Western City of Sardasht Save 6 People Entrapped under Avalanche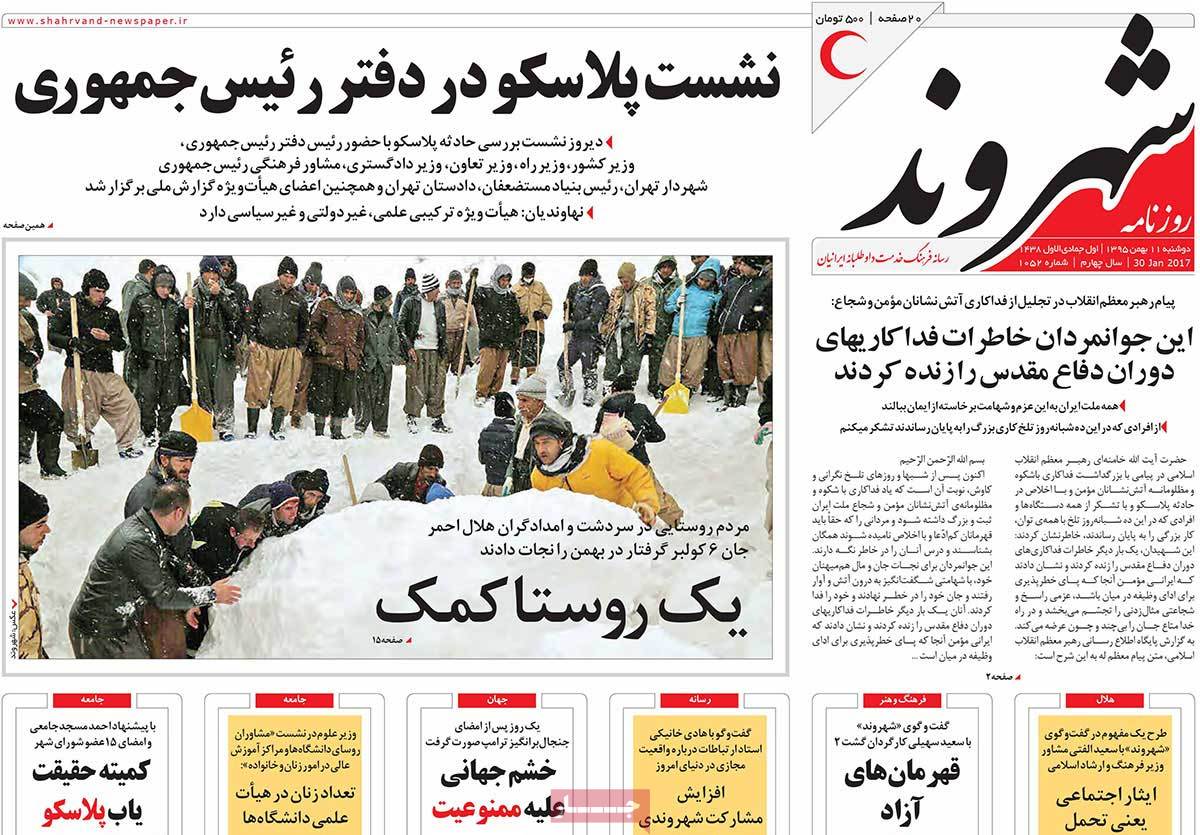 ---
Shargh:
1- Asghar Farhadi Withdraws from Academy Awards
2- Larijani Praises Taraneh Alidousti
3- French FM to Visit Iran