Newspapers on Tuesday covered the remarks made by the Leader of Iran's Islamic Revolution, Ayatollah Seyyed Ali Khamenei, in a meeting with a group of top Iranian students.
The Foreign Ministry Spokesman Bahram Qassemi's weekly press conference was also widely covered, and his remarks about various issues were highlighted in today's papers.
The ongoing gas dispute between Iran and Turkmenistan, and the air pollution in Tehran were among other top stories today.
The above issues, as well as many more, are highlighted in the following headlines:
Abrar:
1- Rouhani: All We Wanted from JCPOA Has Been Realized Except in Banking Sector
2- Gas Dispute between Iran and Turkmenistan Is Not Political: Foreign Ministry Spokesman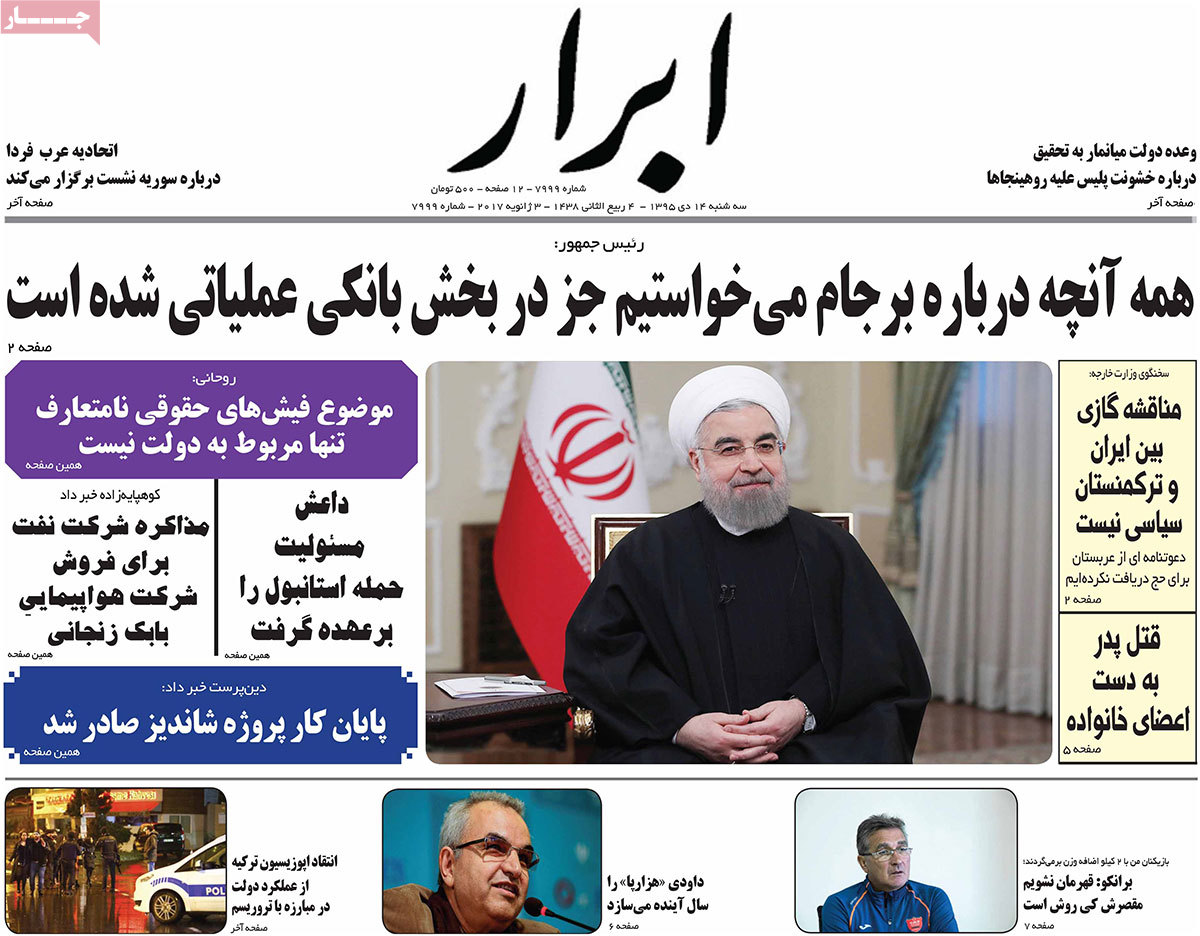 ---
Asrar:
1- Mogherini: EU's Priority in 2017 Is to Maintain Nuclear Deal with Iran
2- We Have No Plan to Send Hajj Pilgrims to Saudi Arabia: Foreign Ministry
---
Ebtekar:
1- Iran's Leader: Resistance Economy Is a Tested Method in the World
2- Reformism Preparing for Upcoming Elections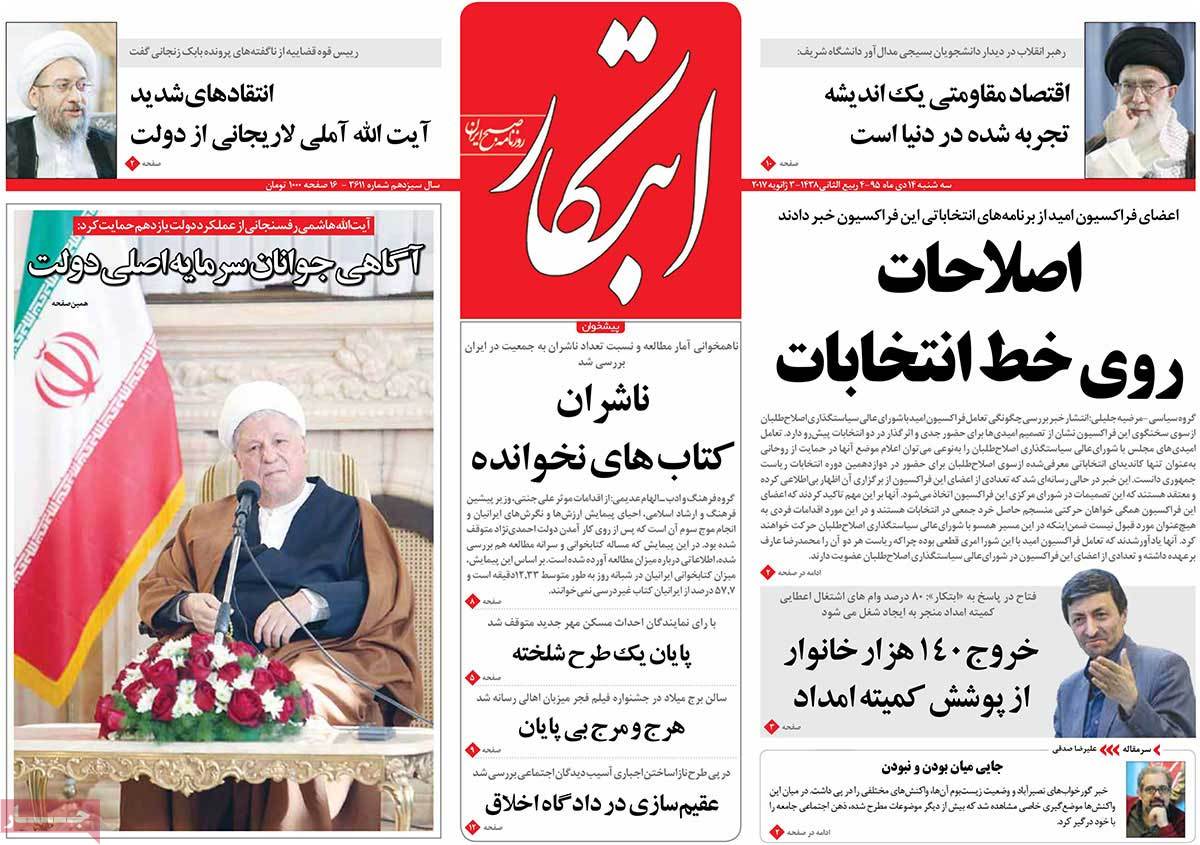 ---
Etemad:
1- 30 Conservatives Are Preparing Themselves for Upcoming Elections: Senior Conservative Bahonar Talks about Rouhani's Rivals Preparing for Presidential Votes
2- ISIS Makes Monday in Baghdad Bloody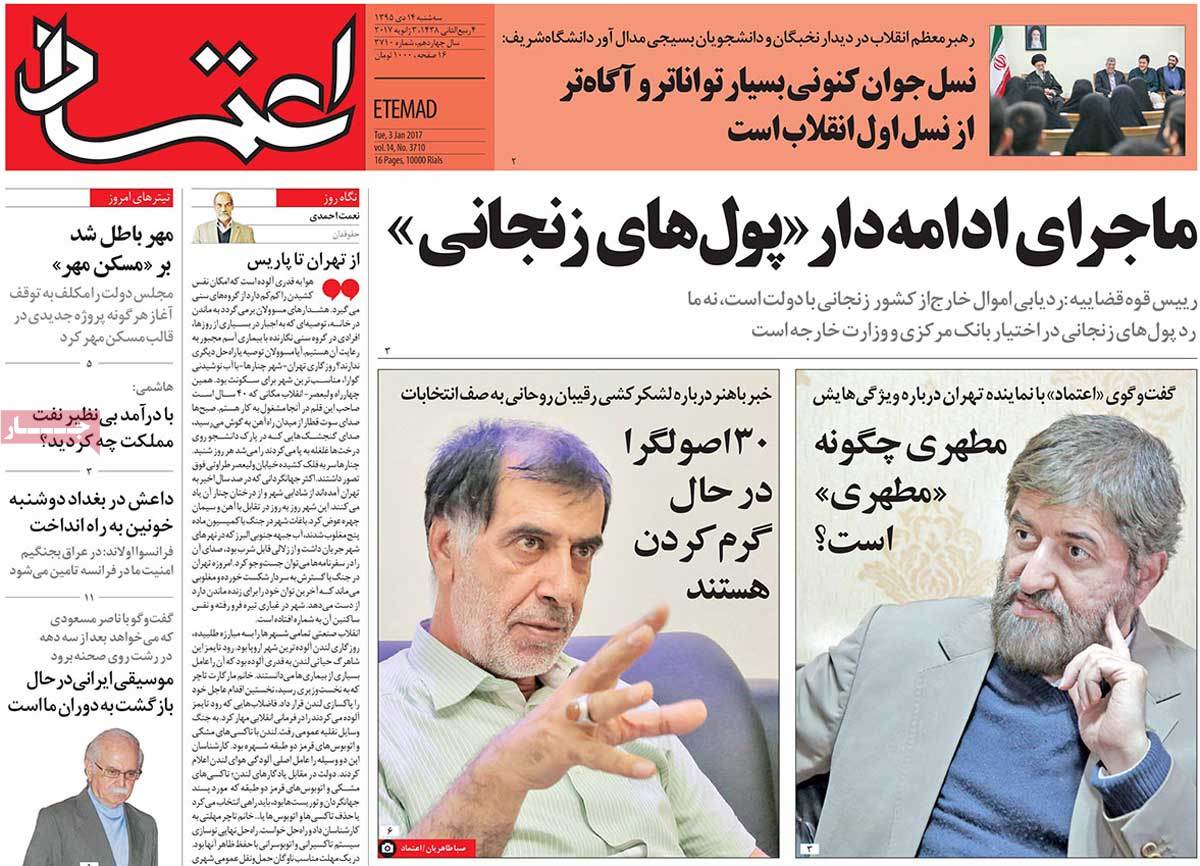 ---
Ettela'at:
1- Iran's Leader: Lack of Spirituality Is Root Cause of Corruption and Dissolution of Families in West
2- Russian and Turkish Jet Fighters Launch Joint Airstrikes on ISIS Positions in Northern Syria
3- Over $2 Billion Facilities Allocated to Development of Villages
4- Followers of All Divine Religions Are Protected by Iran's Establishment: Judiciary Chief
---
Haft-e Sobh:
1- Ban on Import of Foreign Cars Shocked Iran's Car Market on Monday Morning, but the Ban Was Lifted at End of the Day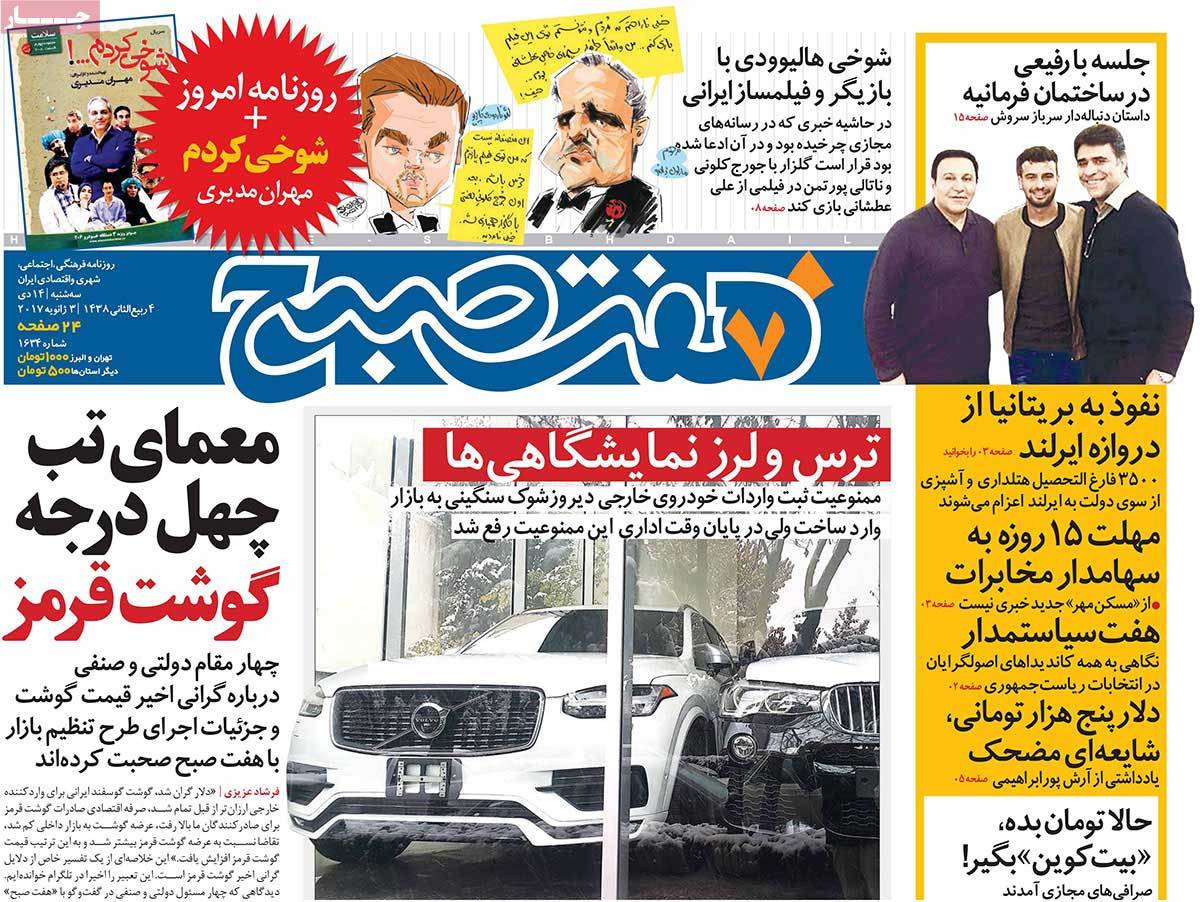 ---
Iran:
1- Iran's Scientific Progress Should Move forward Faster: Leader
2- Taking a Hard Line Will Force Artists to Work Underground: Culture Minister
3- Ayatollah Jannati: Danger of Cyberspace Is More than Narcotics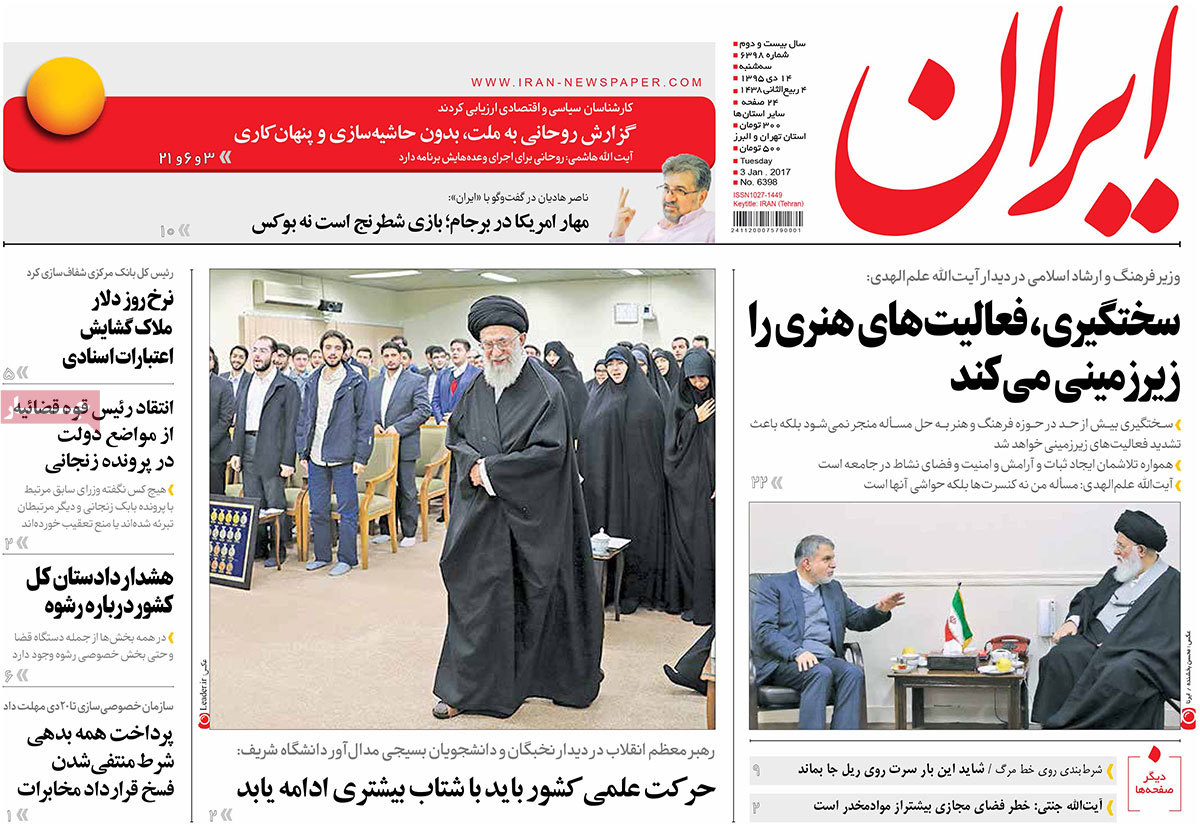 ---
Jame Jam:
1- Iran's Leader Underline Extensive Support for Revolutionary Young Muslims
2- Laws and Regulations Take a Harder Line on Drivers Who Has Newly Received Licence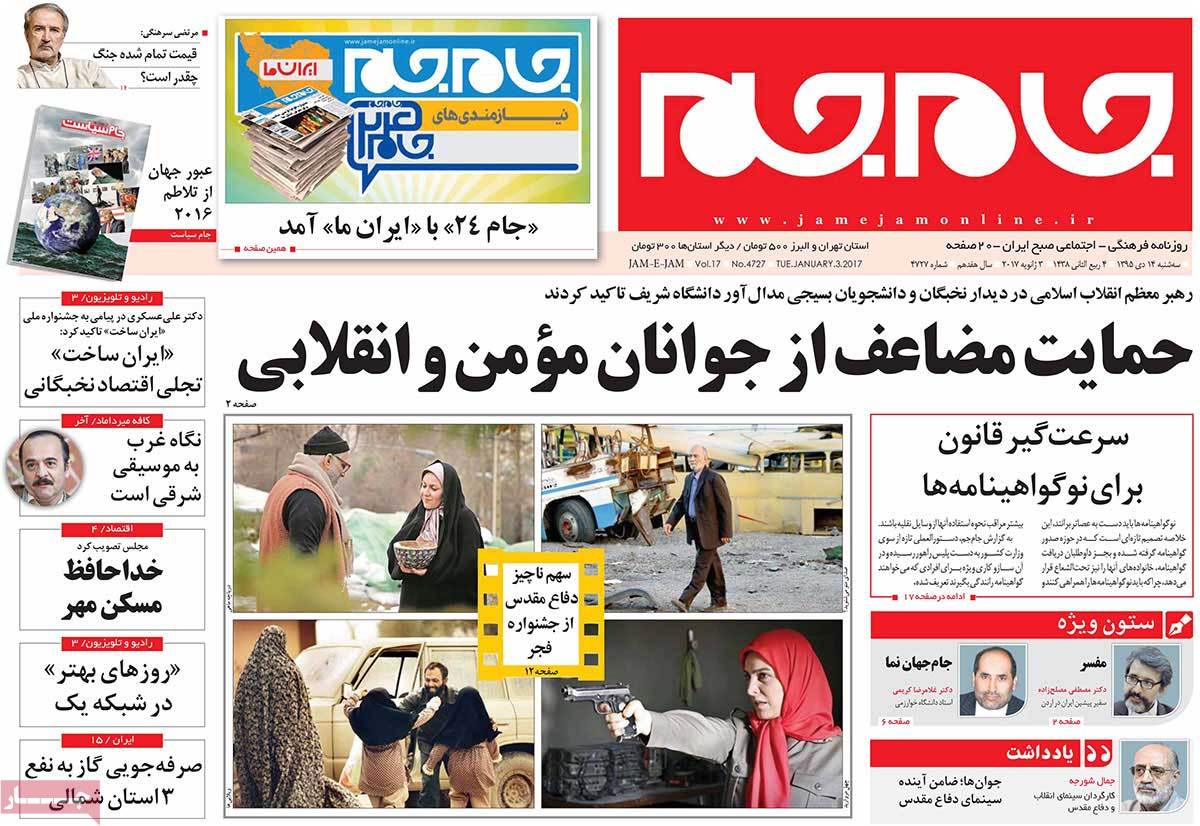 ---
Javan:
1- Iran's Leader: US Scientific and Industrial Advancements within Past 150 Years Were Achieved Thanks to Adoption of Resistance Economy
2- Obama Selling JCPOA in Last Days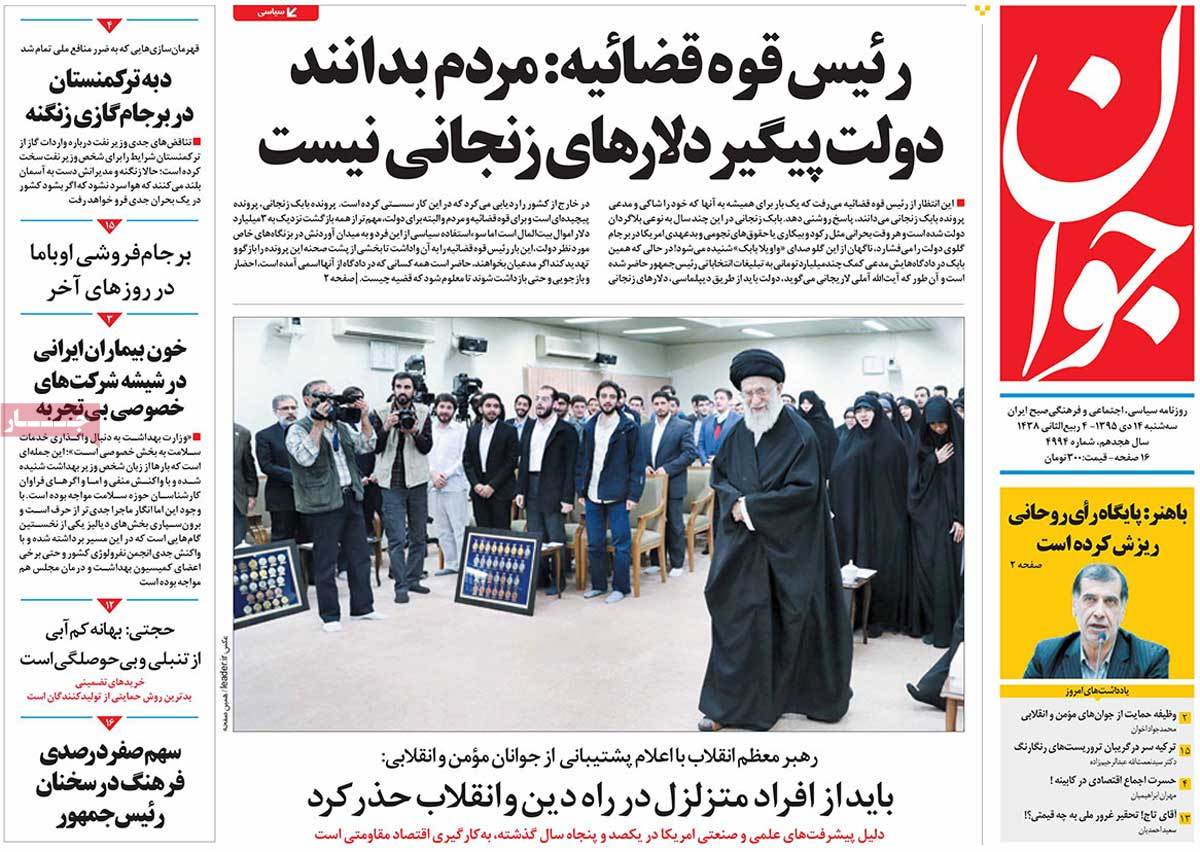 ---
Jomhouri Eslami:
1- World Bank's Report about 64% Decrease in Iran's Foreign Debts Compared with the Time Iran Was Not under Sanctions
2- A Breeze on Monday Saved People of Tehran and Temporarily Ended Air Pollution. We All Should Try for Clean Air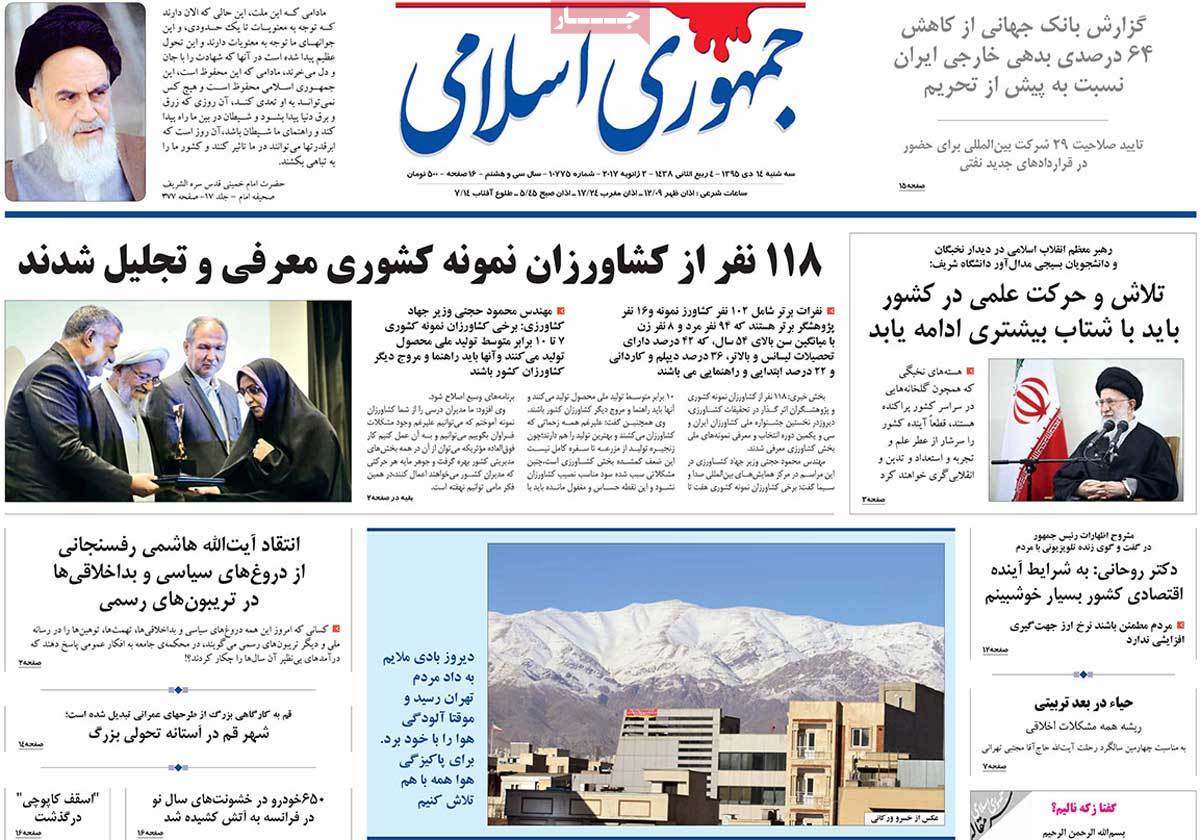 ---
Kayhan:
1- Statistics Won't Feed People: A Field Report of People's Comments about Statesmen's Remarks
2- France in Chaos: Protesters Set Fire on 650 Cars
3- National Interest: All US Rulers Have Been Arrogant and Had Illusions; White House Needs Major Clean-Up
4- Government Not Doing Enough to Track Babak Zanjani's Assets: Judiciary Chief
---
Shahrvand:
1- Rescue in Emergency Conditions: Compensating for Budget Deficit through Rescue Workers' Sacrifice
---
Siasat-e Rooz:
1- Reuters' Claims Are Nonsense, We Won't Let Syria's Disintegration Happen: Iran's Foreign Ministry
2- 7,000 Palestinians Kept in Israeli Prisons