Newspapers today covered the global outrage over the US visa restrictions against citizens of seven Muslim states including Iran introduced by US President Donald Trump.
They also widely covered the remarks made by Iran's President Hassan Rouhani at the 17th World Federation of Tourist Guide Associations (WFTGA) Convention in Tehran.
The beginning of 35th Fajr International Film Festival also received great coverage in today's newspapers.
The above issues, as well as many more, are highlighted in the following headlines:
19 Dey:
1- President Rouhani: We Can't Build Walls between Nations
2- Zarif: Communications Not Anymore Monopolized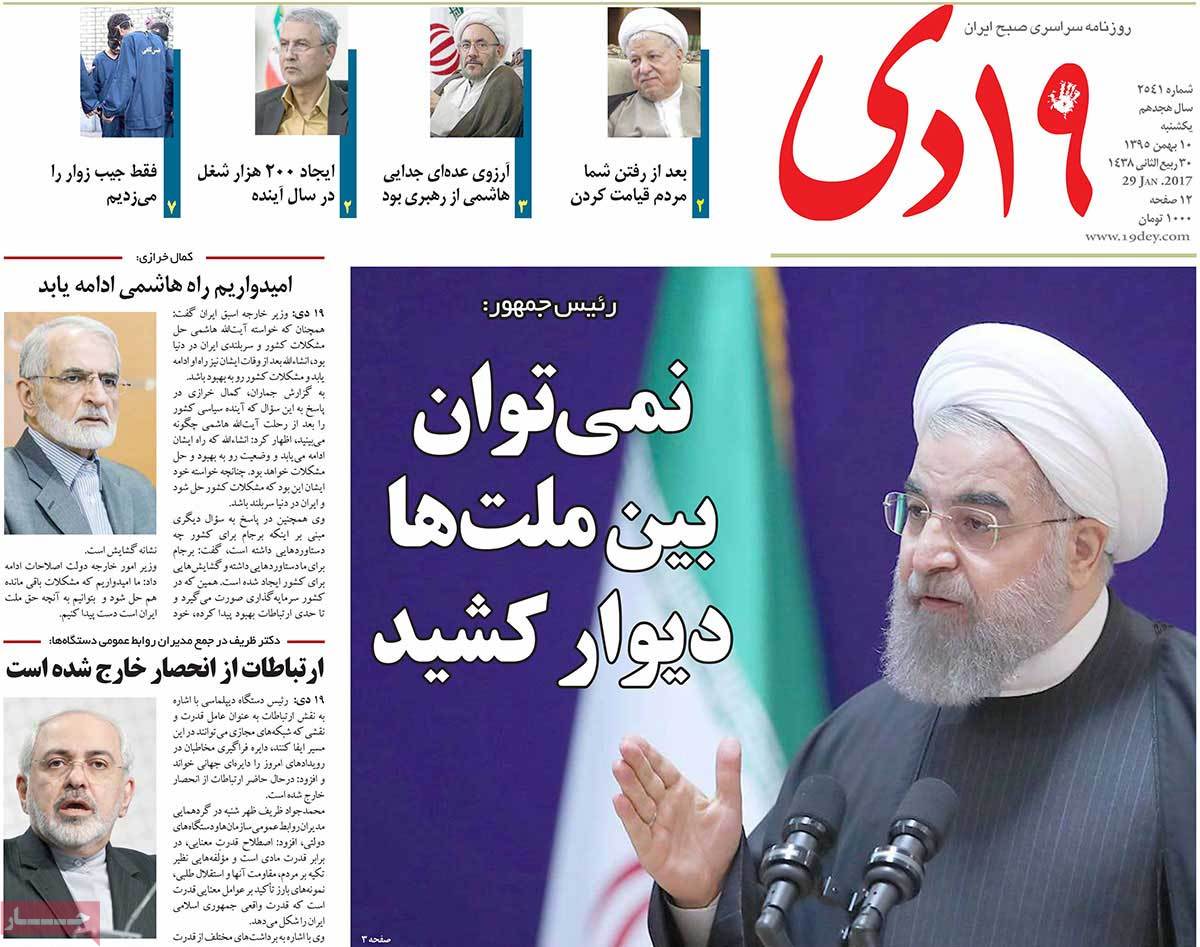 ---
Abrar:
1- Rouhani Orders Formation of Special National Board to Probe into Plasco Building Incident
2- Visas of 300 Iranians Cancelled after Trump's Ban
3- French FM Underlines Need for Commitment to Nuclear Deal
4- EU Extends Freezing of Assets Belonging to Ben Ali and 48 Other Tunisians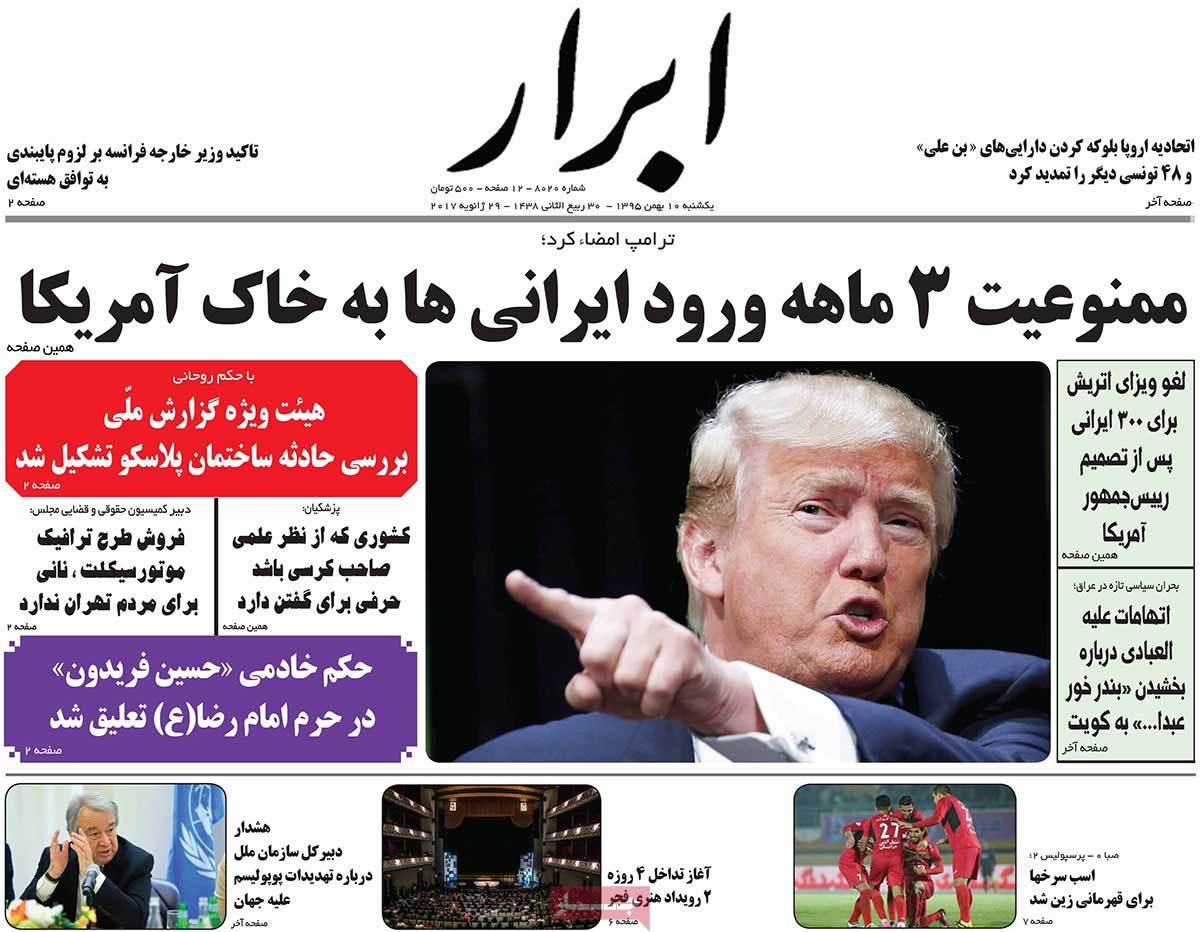 ---
Afkar:
1- Iran Injects UF6 Gas to IR8 Centrifuges
2- Senior MP: Terrorism Is a Pain Shared by Muslim World and International Community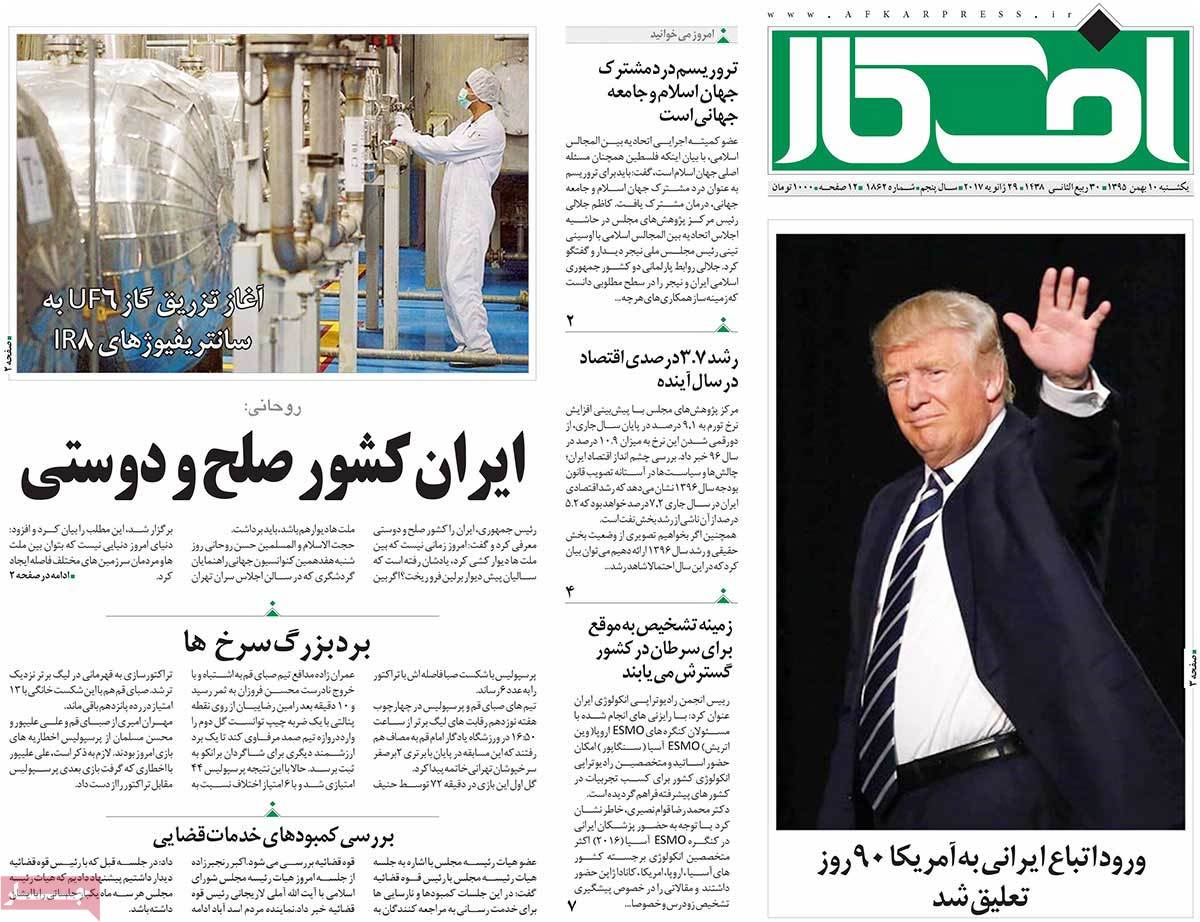 ---
Aftab-e Yazd:
1- Why Does No One Resign? While Debris Removal Operation Has Ended 10 Days after Plasco Incident, No Official Has Resigned or Even Apologized Yet
2- Trump's Storm Officially Begins: Citizens of 7 Muslim State Including Iran, Even Green Card Holders, Won't Be Able to Enter US for Four Months
3- Will Trump Explode Middle East? [Editorial]
4- IRGC General: If It Wasn't for Iran Leader's Prudence, Damascus and Baghdad Would Have Fallen
---
Arman-e Emrooz:
1- Entry to US Is Banned Even with Green Card: Iranian Green Card Holders Cannot Enter US
2- 1,300 Scientists Protest Trump's Visa Ban; US Visa under Trump's Rubble
3- Ayatollah Rafsanjani Wanted People to Be Satisfied: Wife
4- Avalanche Kills 2: Half of Iran Shut Down after Heavy Snow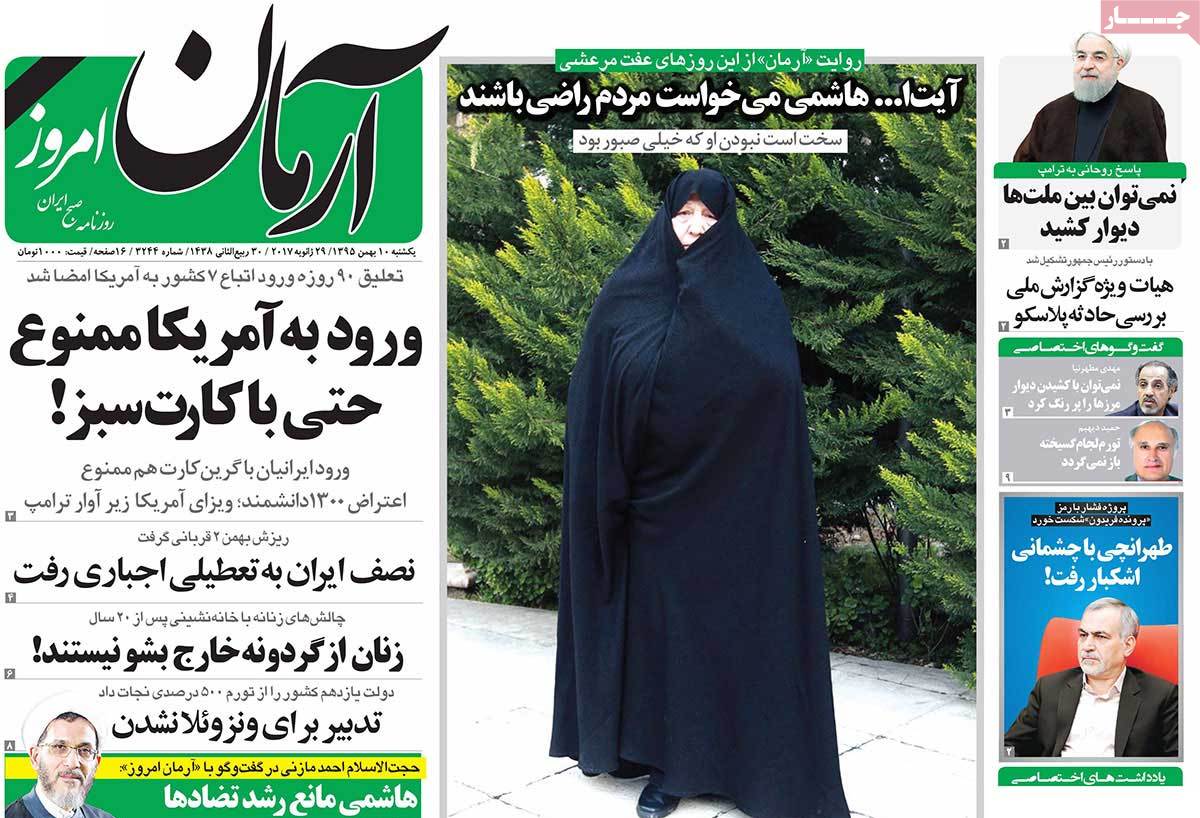 ---
Besharat-e Now:
1- Rouhani: JCPOA Opened Iran to Foreign Tourists
2- Iran's President: Today Is Not a Time for Building Walls between Nations. They've Forgotten Berlin Wall Collapse. Today No One Can Fight Globalisation
3- Turkmenistan Backs Off from Previous Stances in Gas Dispute with Iran: Official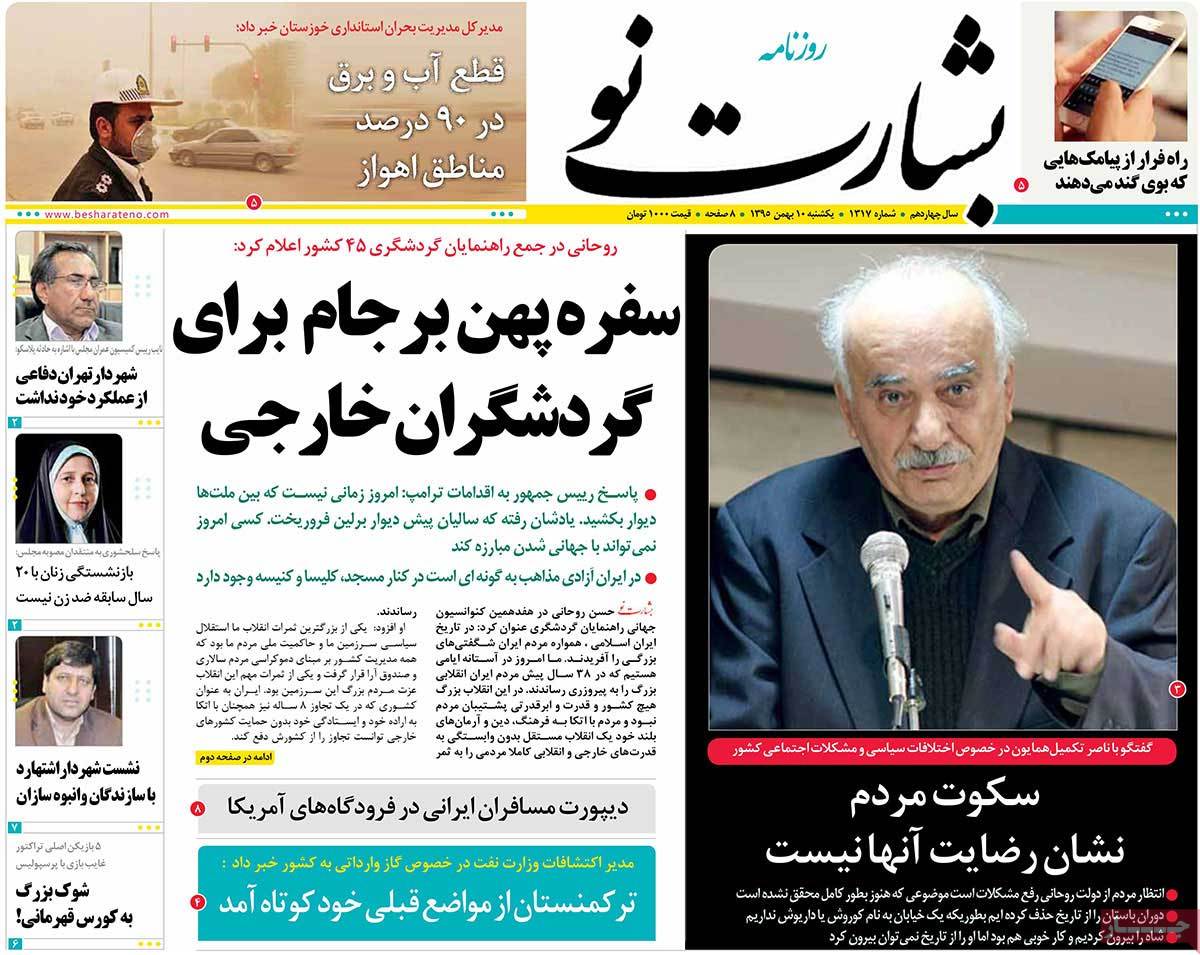 ---
Ebtekar:
1- Opening Ceremony of Fajr Int'l Film Festival Commemorates Martyred Firefighters
2- Afghan Secretary of Iran's Fajr Poetry Festival: Iran and Afghanistan's Persian Language Will Become Homogenous
---
Emtiaz:
1- 35th Edition of Fajr Int'l Film Festival Kicks Off
2- Guardian Says Asghar Farhadi Might Be Barred from Entering US for Oscars
3- Growing Trend of Cancer in Iran: 92,000 New Cases of Cancer Development in the Islamic Republic Each Year
---
Etemad:
1- US in Trump's Prison: Widespread Civil Reactions in the World to Trump's Visa Ban
2- Iran's Foreign Ministry Vows to Reciprocate US Visa Ban
3- President: We're Seeing Considerable Increase in Number of Tourists Arriving from European Countries in Iran
4- With a 7000-Year-Old Civilization, Iran Tries to Have Cultural Interaction with the World: Rouhani
---
Ettela'at:
1- President: Dialogue Is Shortest and Least Expensive Way to Resolve Conflicts among Governments
2- Steinmeier: West Is to Blame for Syria Crisis
3- International and Academic Bodies Raise Unprecedented Criticisms against US President
---
Haft-e Sobh:
1- Ugly Day of Airports: Wave of Deportation for Iranian Passengers in US; Even Green Card Holders Barred from Entering US
---
Hemayat:
1- US Visa Granted to Godfather of Terrorism: Gestures of Fight against Terrorist Attacks Fade Out after Trump's Executive Order
2- Independent: Why US President Didn't Ban Saudi Citizens from Entering US?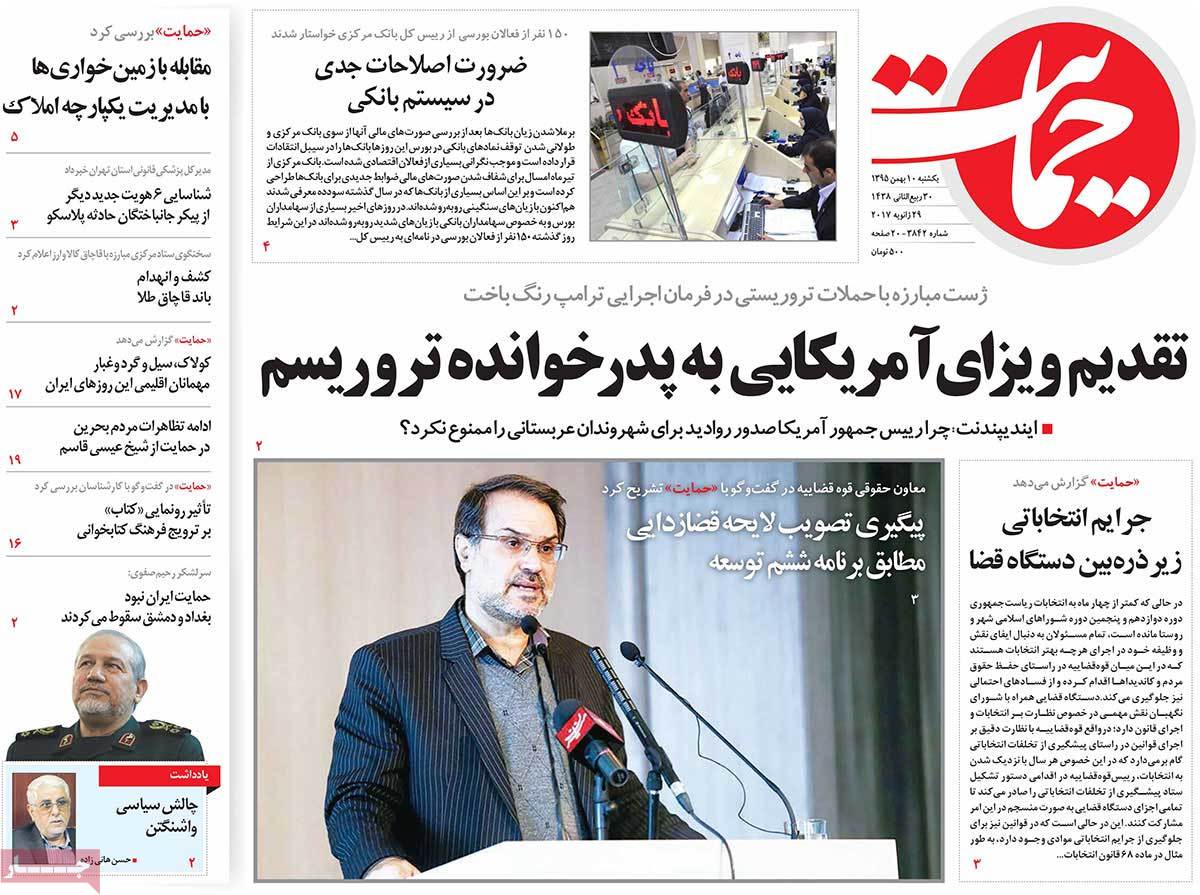 ---
Iran:
1- Culture Minister: Fajr Film Festival Gives Message of Hope and Happiness
2- President Tasks 10 Scientists and Experts to Prepare National Report about Plasco Tragedy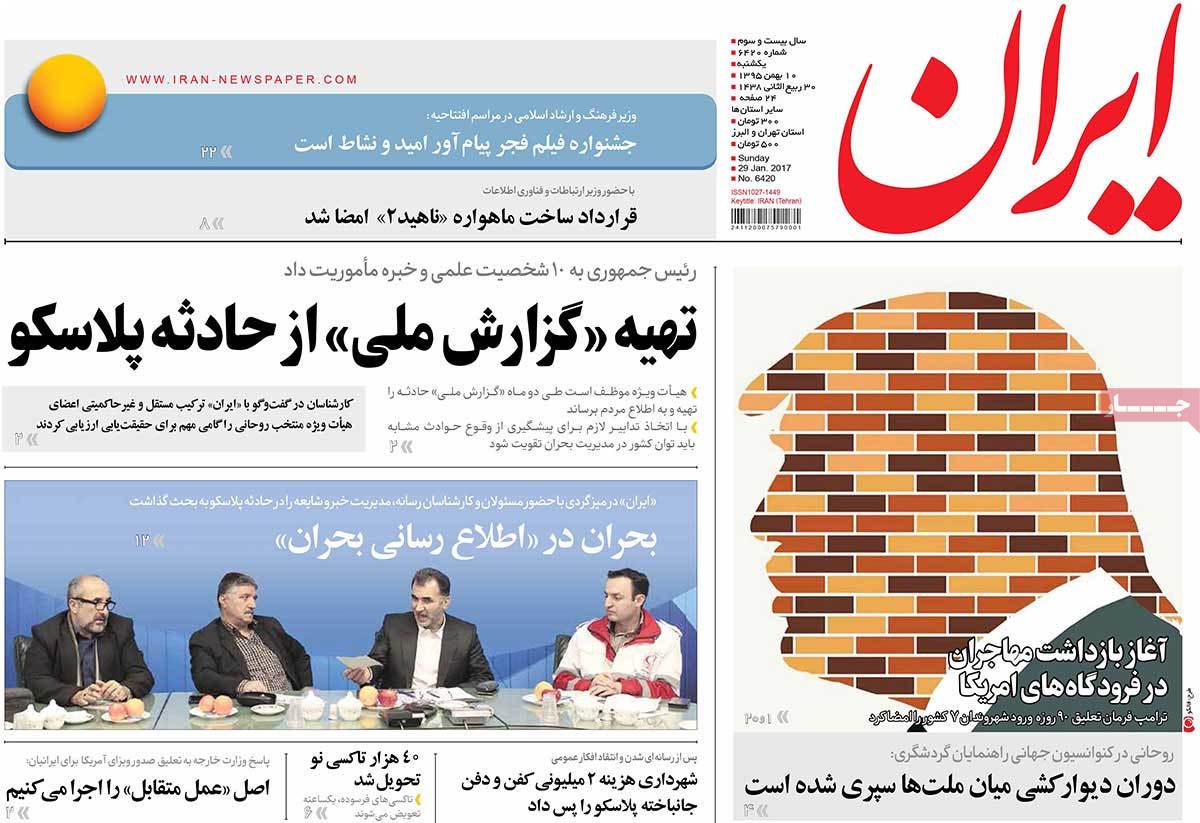 ---
Javan:
1- Racist Order
2- Injection of 'French Hope' into JCPOA: 100-Strong French Delegation Seeks to Enhance Iran's Moderates
---
Jomhouri Eslami:
1- World's Outrage over Trump's Anti-Migration Moves: Countries like Saudi Arabia with Direct Role in 9/11 Are Exempted from Visa Ban!
2- French and German Foreign Ministries Voice Opposition to Trump
3- Council on American–Islamic Relations to Sue Donald Trump
4- Iran's Foreign Ministry: US Government's Decision to Restrict Visas Is a Clear Insult to Muslim World and Iranian Nation
5- Bahraini Clerics: We'll Support Sheikh Isa Even If We Get Killed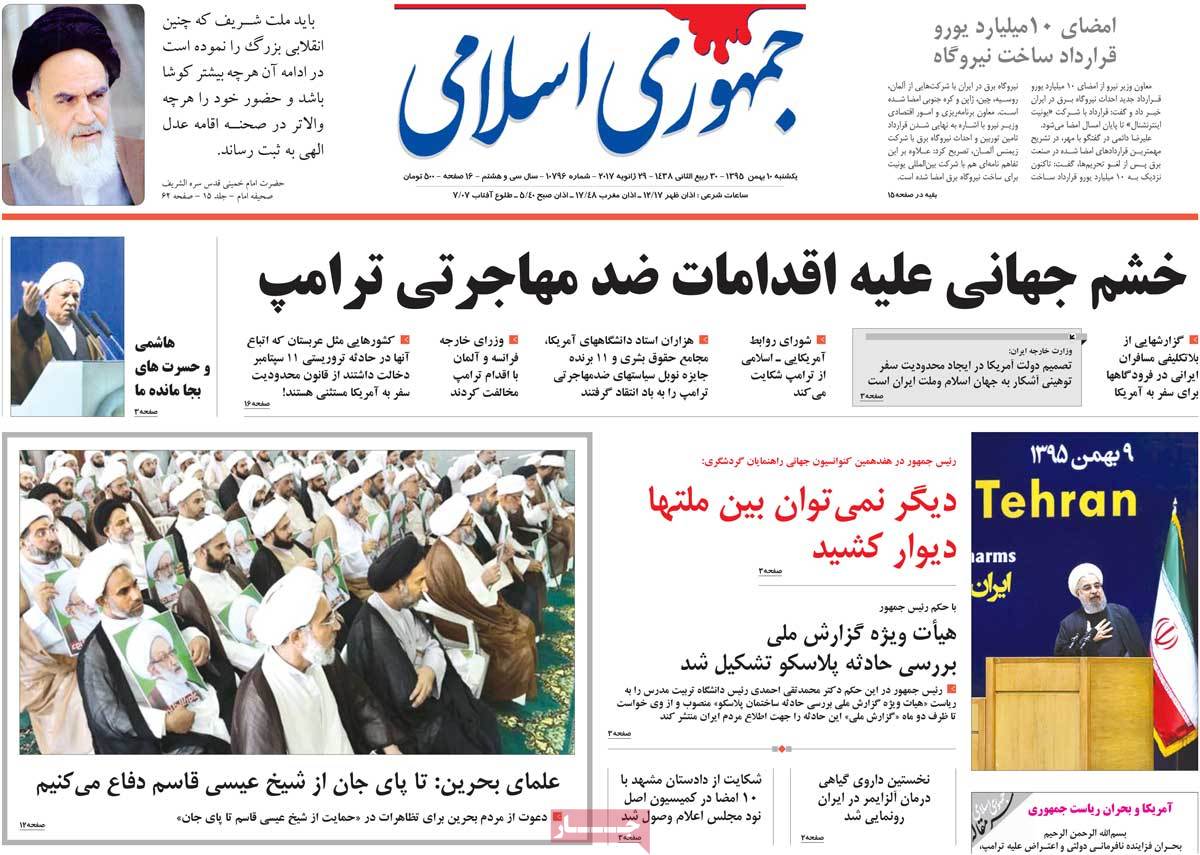 ---
Kayhan:
1- Rouhani: If It Wasn't for Iran's Help, Terrorists in Iraq and Syria Would Have Established Government
2- Trump's First Signature under Anti-Iran Document
3- Post-Trump Confusion: California Separationists Start Independence Campaign
---
Resalat:
1- President: Terrorism Is Declining in Middle East
2- World's First Herbal Medicine for Alzheimer's disease Unveiled by Iran's Health Minister
---
Shahrvand:
1- Trump's Wall Dragged to Iran: A Report on US President's Move to Close US Borders to 7 Muslim Countries
2- Baby Born from Embryo Frozen for 14 Years: Mother Is 42 and Father 47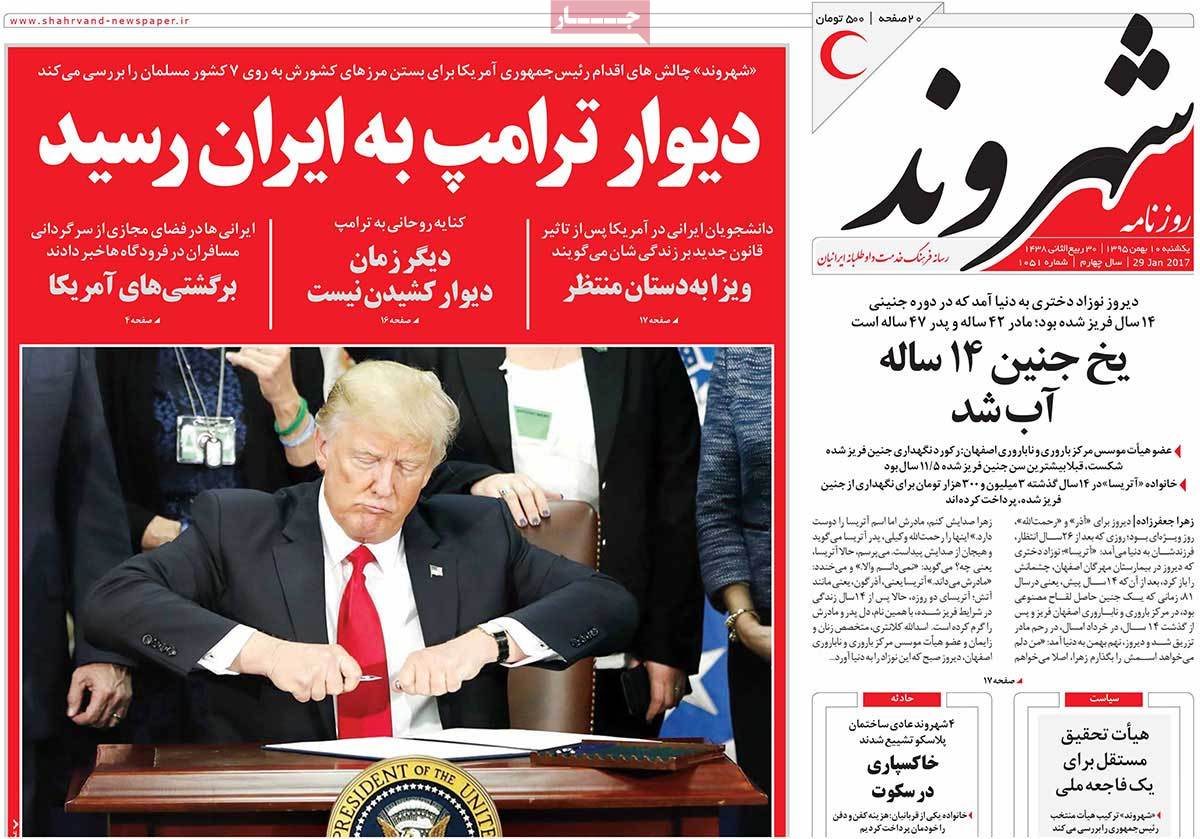 ---
Shargh:
1- President: Even If There's a Wall between Nations, It Must Be Lifted
2- Experts Discuss Efforts to Provoke Iran into JCPOA Violation
3- Former US Official Advises Iran Not to Show Rapid Reaction to Trump's Remarks
4- World Tourism Official: We'll Defeat Those Who Try to Isolate Others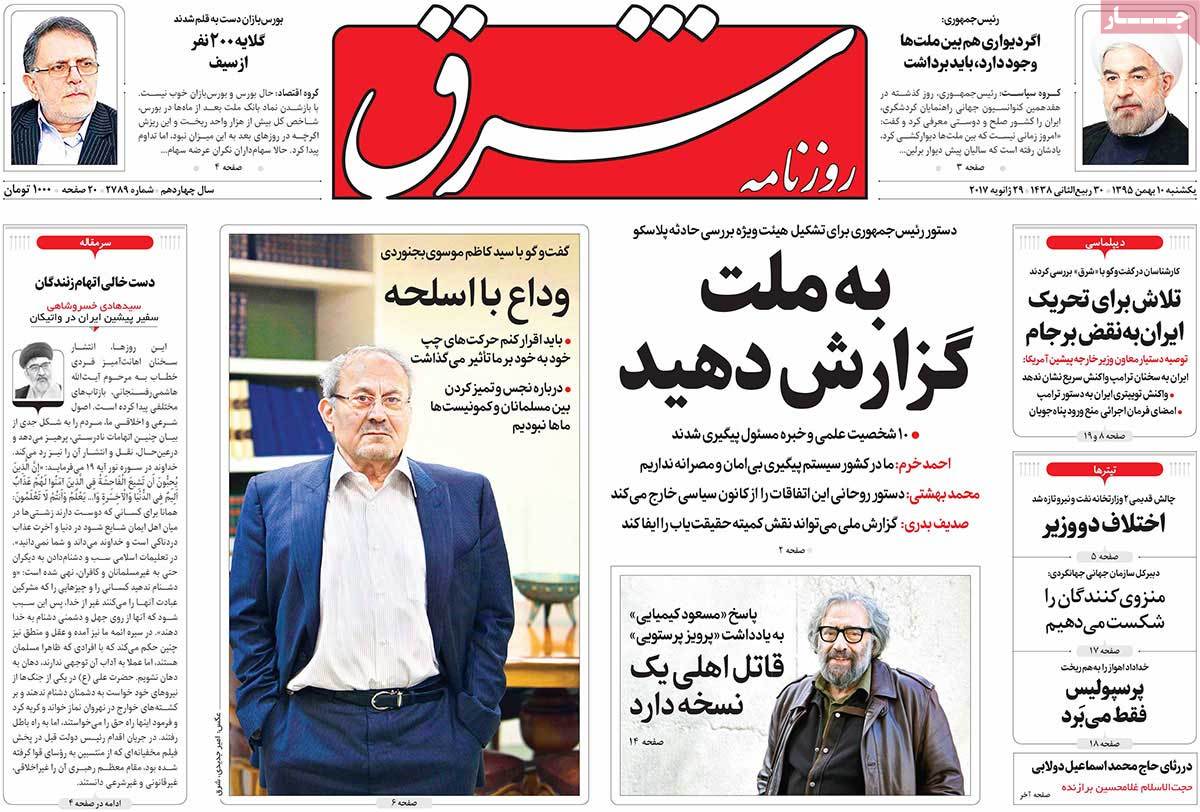 ---
Vaghaye Ettefaghieh:
1- Building Walls in Washington, Peace in Tehran
2- Iran Foreign Ministry: US Targeting People