IFP has taken a look at the front pages of Iranian newspapers on Wednesday and picked headlines from 24 them. IFP has simply translated the headlines and does not vouch for their accuracy.
Newspapers today continued covering the deadly collapse of Plasco Building in central Tehran and the ongoing operation to recover the bodies from the rubble.
Iranian Foreign Minister Mohammad Javad Zarif's remarks about nuclear deal between Tehran and world powers also received great coverage. In a meeting with members of Iran's Chamber of Commerce, Zarif stressed that he is not ashamed of nuclear deal, and he's actually proud of it.
The conclusion of Syria peace talks in the Kazakh capital of Astana was also a top story today.
The above issues, as well as many more, are highlighted in the following headlines:
19 Dey:
1- Zarif: I'm Proud of Nuclear Deal
2- Government Spokesman: Iran's Economy Stands at World's Eighteenth Rank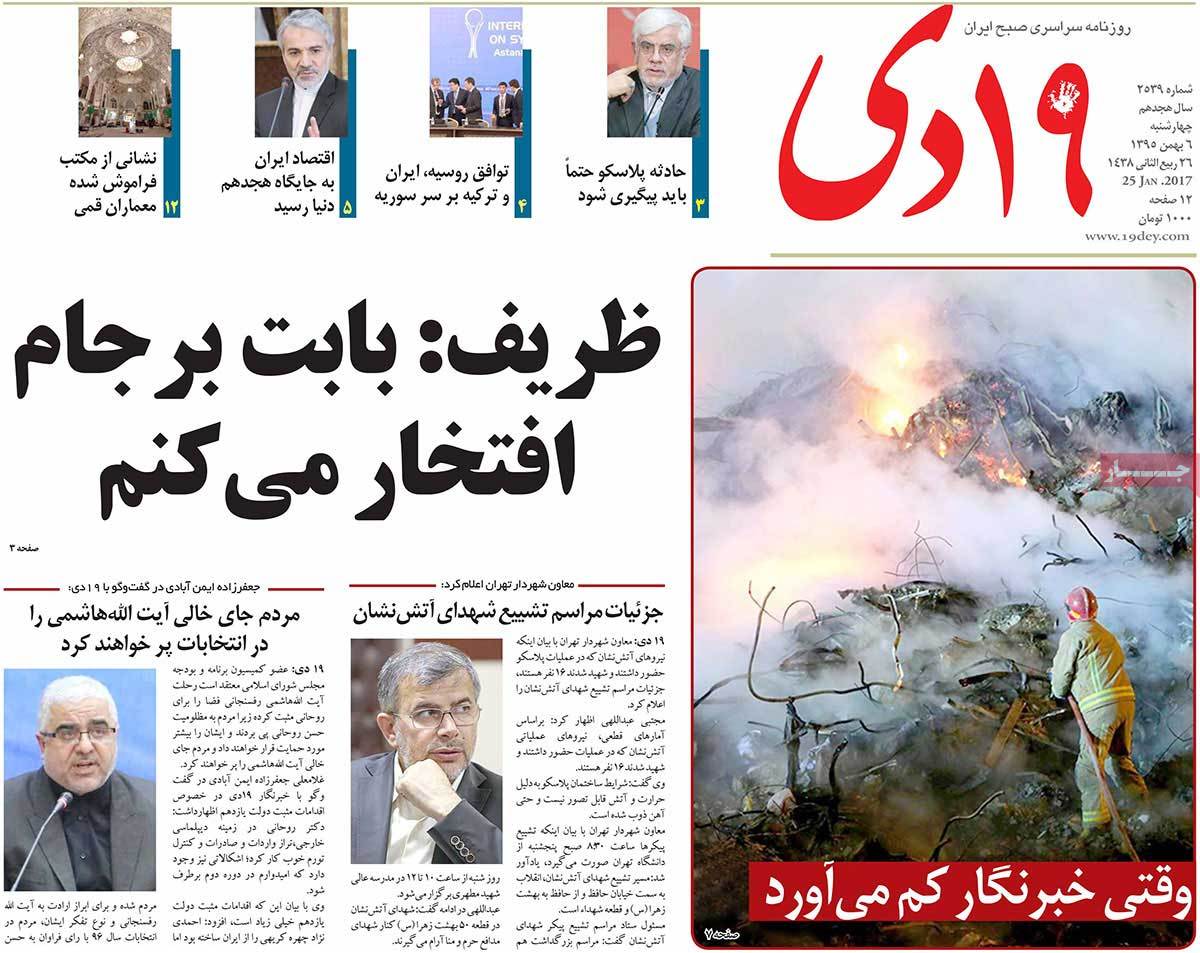 ---
Abrar:
1- Steinmeier: Astana Talks Should Not Consign Humanitarian Disaster in Syria to Oblivion
2- ISIS Expelling West Mosul Residents; Iraqi Forces' Operation to Clear Tikrit-Mosul Road
---
Abrar-e Eqtesadi:
1- Germany Offers to Make $12 Billion Investment in Iran's Petchem Industry
2- Brazil to Sell Airplane to Iran
3- Iran-Oman Trade Value Exceeds $1 Billion
4- Central Bank Governor: One-Digit Inflation Rate Can Be Realized by March
---
Aftab-e Yazd:
1- Iran's Leader: All Firefighters Killed in Plasco Tragedy Are Martyrs
2- Saudi King's Late Condolences on Ayatollah Hashemi's Death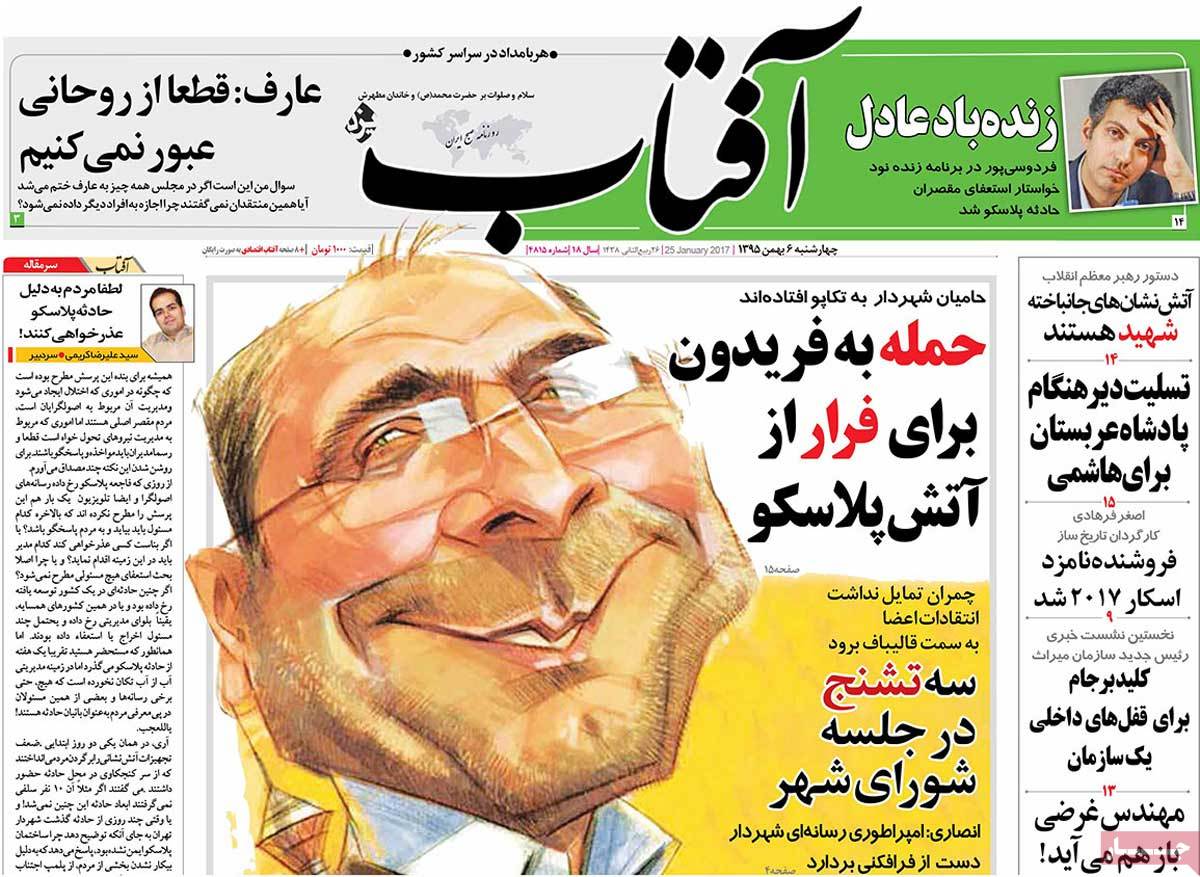 ---
Arman-e Emrooz:
1- Government Spokesman: Plasco Incident Was Not Unexpected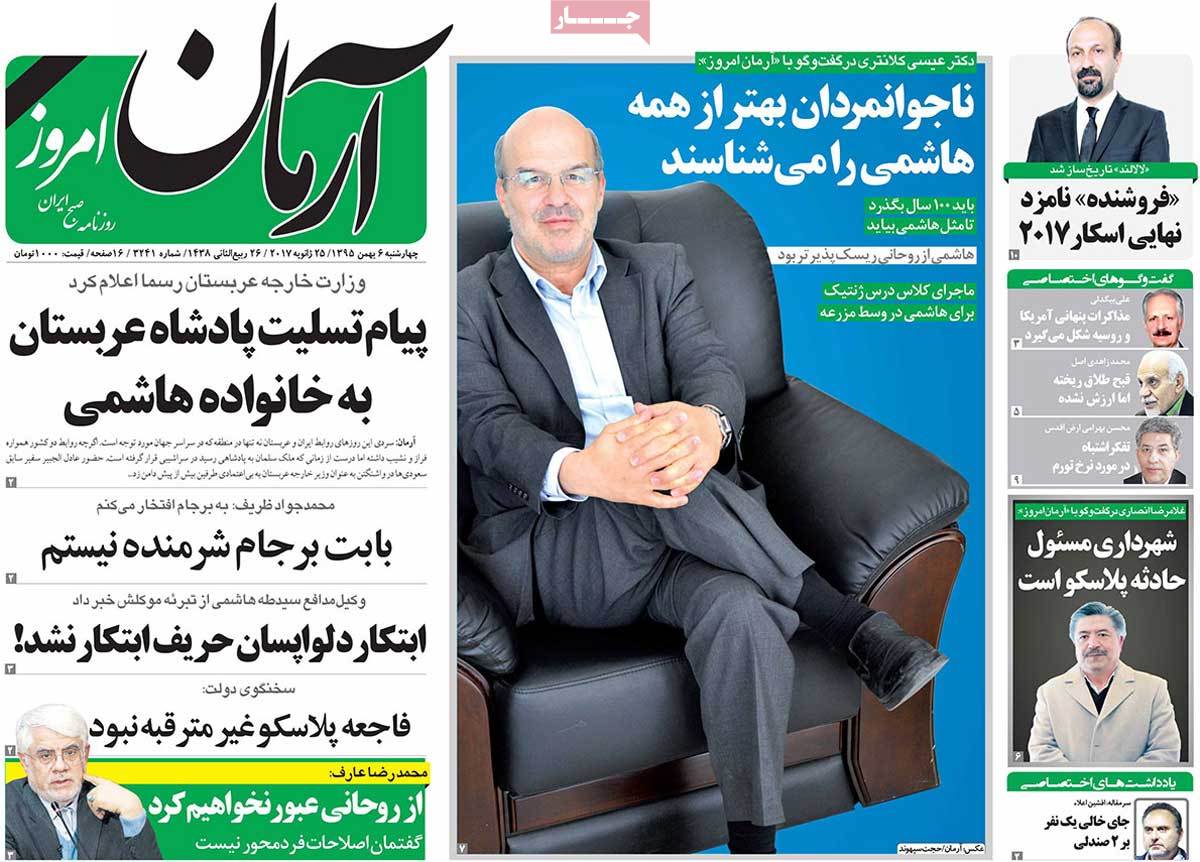 ---
Asr-e Rasaneh:
1- Time of Iran's Visa Increased from 15 Days to 90 Days: Official
2- 3 Iranian Trade Centres Established in Europe
---
Emtiaz:
1- 540 Degrees Celsius Recorded under Rubble of Plasco Building, Which Is Still Burning
2- Anti-Narcotic Official: 16 to 21 Percent of Difficult Job Workers Are Addicted to Drugs
---
Etemad:
1- Europe in JCPOA Is Independent of US
2- 300 Houses Destroyed in Sistan and Balouchestan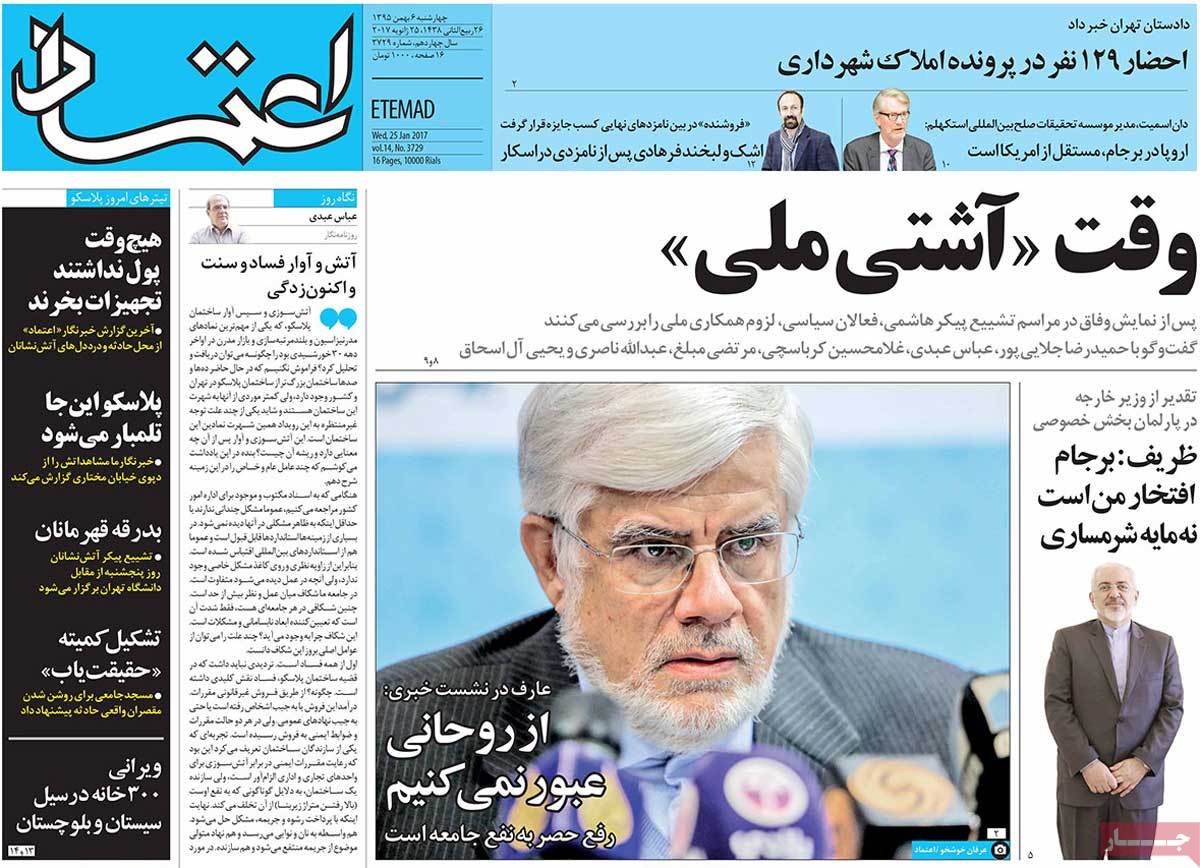 ---
Ettela'at:
1- Iran's Foreign Minister Responds to Private Sector's Concerns over Sanctions Snapback: Enemies Trying to Prevent Other Countries from Trusting Iran
2- Trump Signs Executive Order to Withdraw US from Trans-Pacific Partnership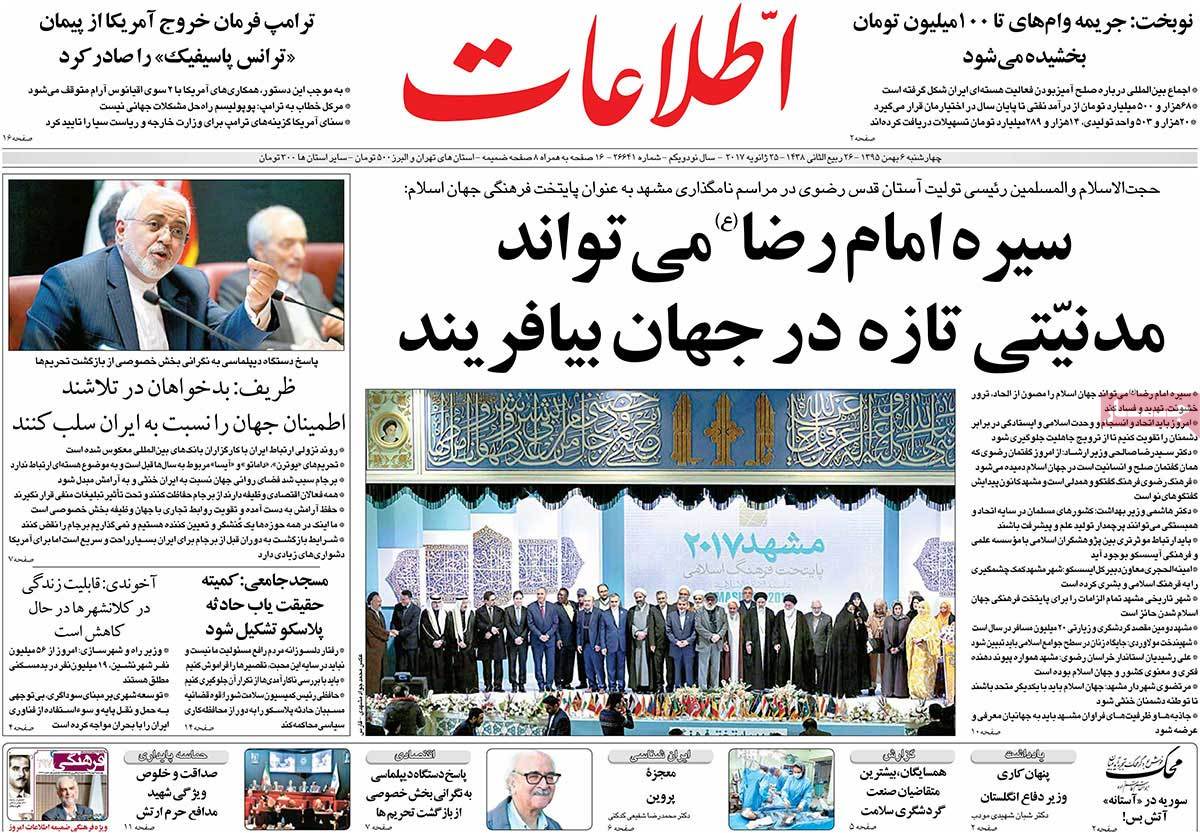 ---
Haft-e Sobh:
1- A Devastating Photo: Story of a Woman Who Comes to Plasco Building Rubble Every Night to Find Her Missing Husband
2- Farhadi to Go to Los Angeles: 'The Salesman' Nominated for Best Foreign Language Film Academy Award; It Seems Iranian Filmmaker Has a Good Chance to Win His Second Oscar
---
Hamshahri:
1- Thursday, 8 am: Rendezvous with City Heroes [Funeral due to be held for firefighters]
2- Firefighting Department's Budget This Year over 4 Times Higher than Their 2012 Budget
3- 60% of Refugees in Iran Are Literate
---
Hemayat:
1- Iran's Nuclear Chief to Al Jazeera: US Has Failed to Fulfil Its JCPOA Commitments
2- Tehran Prosecutor: Judiciary Supports Bodies to Improve Safety of Buildings
3- Debris Removal under Snow: Number of Those Injured in Plasco Incident Increased to 204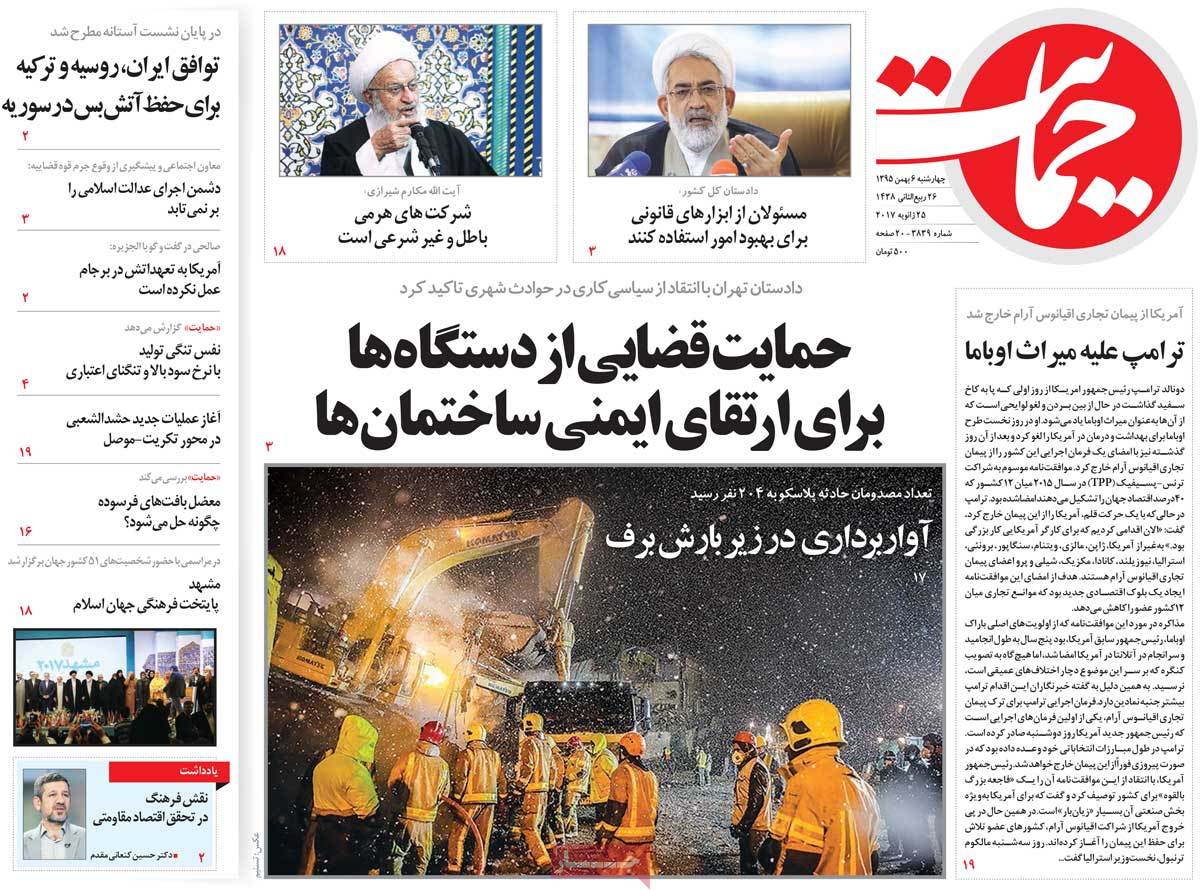 ---
Iran:
1- Private Sector's Parliament Warmly Welcomes Zarif; FM Said in Chamber of Commerce Meeting: I'm Proud of JCPOA, It Is the Reality of the World
2- Senior Reformist Aref: Reformists' Policy Is to Continue Supporting Rouhani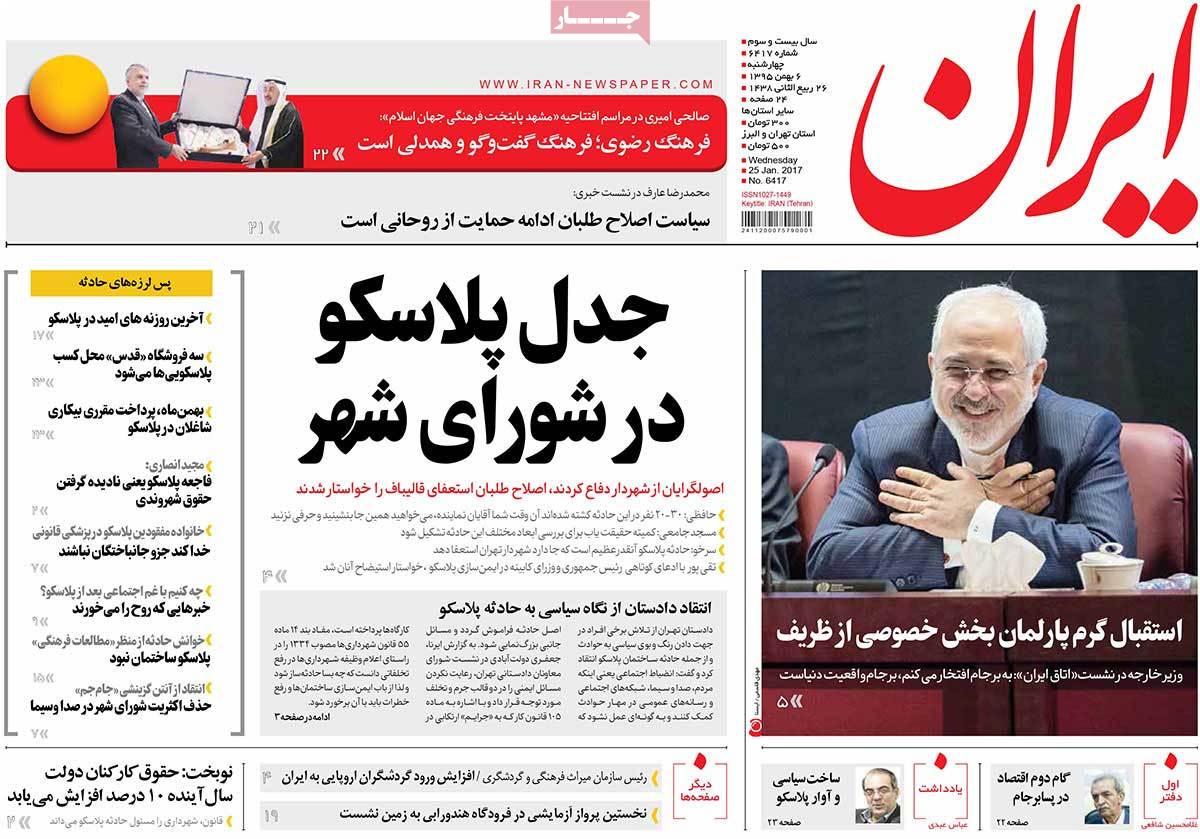 ---
Javan:
1- End of Kazakhstan Summit with Signatures of Iran, Russia, and Turkey on Concluding Joint Statement: Stabilisation of Ceasefire, the Achievement of Astana
2- Zarif Distinguishes JCPOA from Government's Performance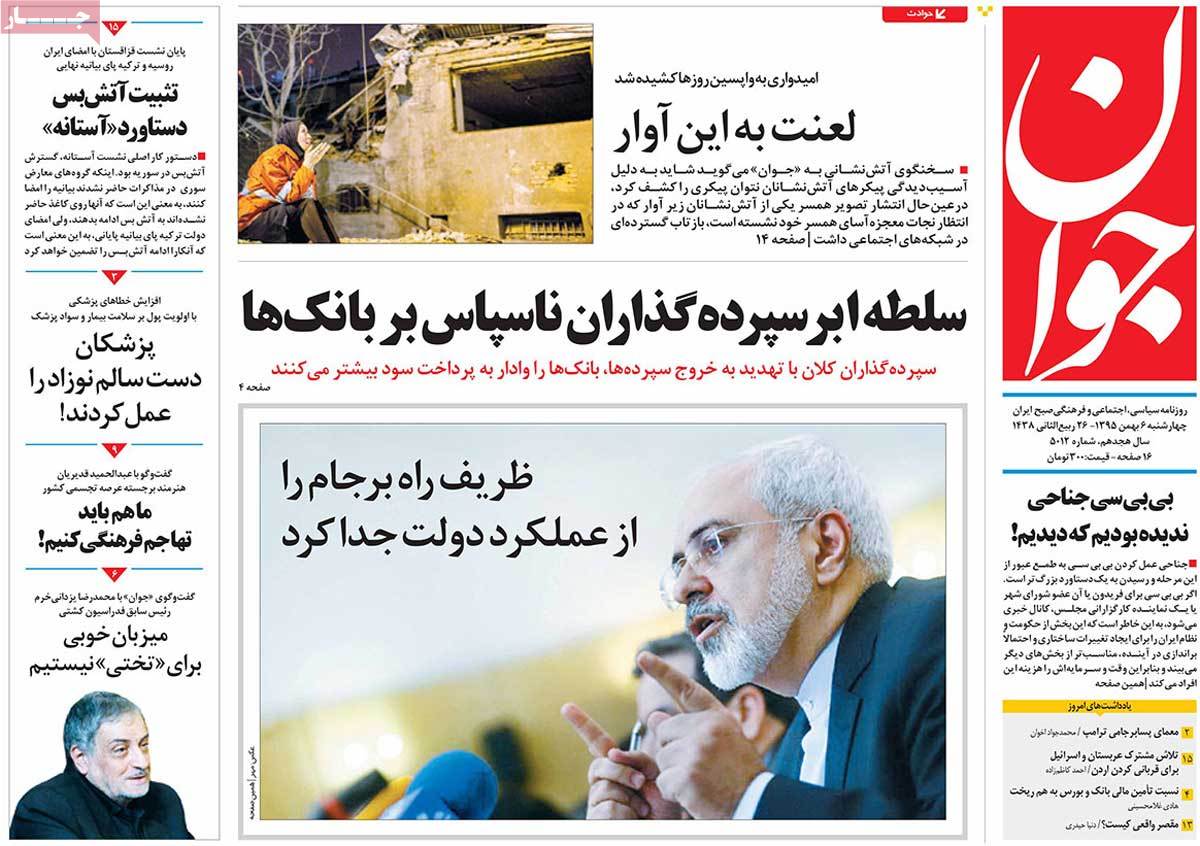 ---
Jomhouri Eslami:
1- US Decision to Sell $1 Billion of Weapons to Saudi Arabia and Kuwait
2- British Historian: Saudi Arabia Has Gone Crazy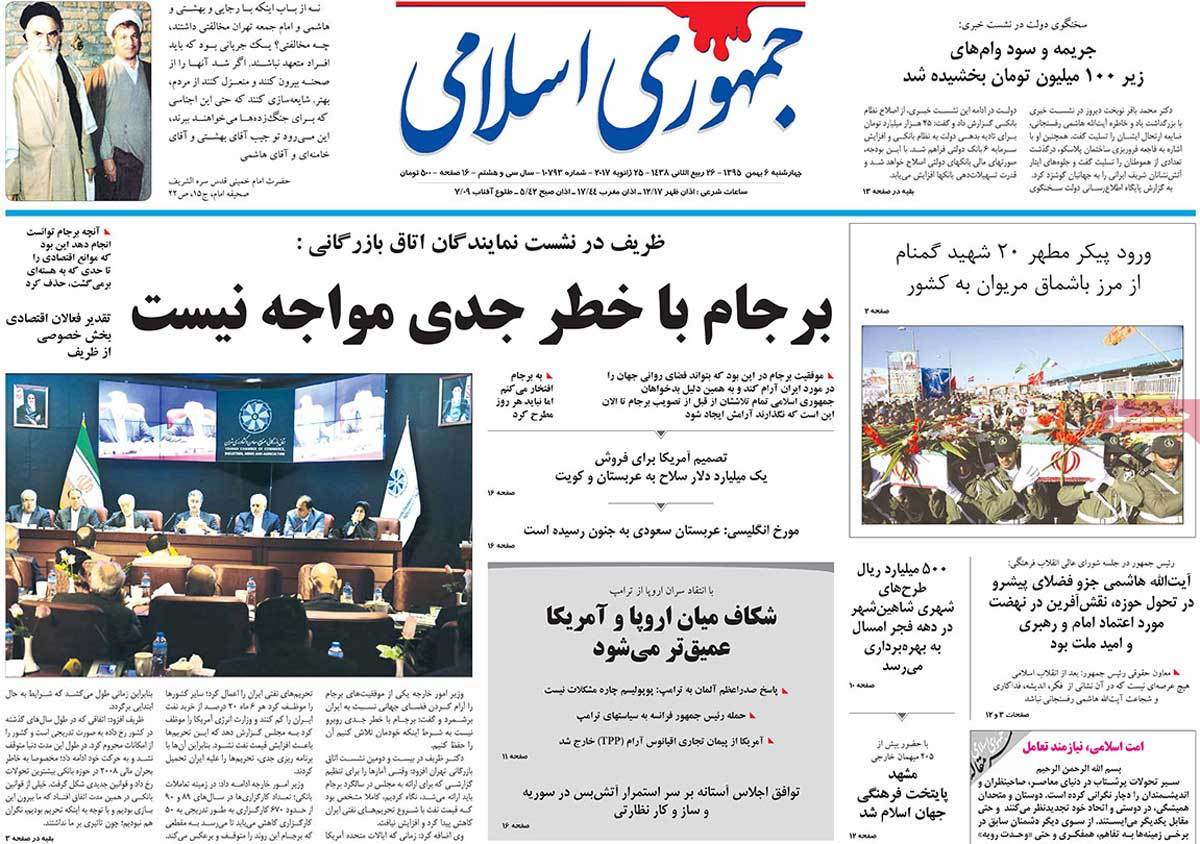 ---
Kayhan:
1- US vs US: Europe Worried about Its Godfather
2- Trump Will Intensify Anti-Iran Sanctions While Maintaining JCPOA
3- Eric Walberg's Article in Kayhan: Beginning of an Era When US Loses Its Credit; Washington Leaders Are Confused
---
Mardom Salari:
1- Deputy Oil Minister: Iran's Gas Dispute with Turkmenistan Referred to International Court of Arbitration
2- Solana: EU Should Take Responsibility of Maintaining Nuclear Deal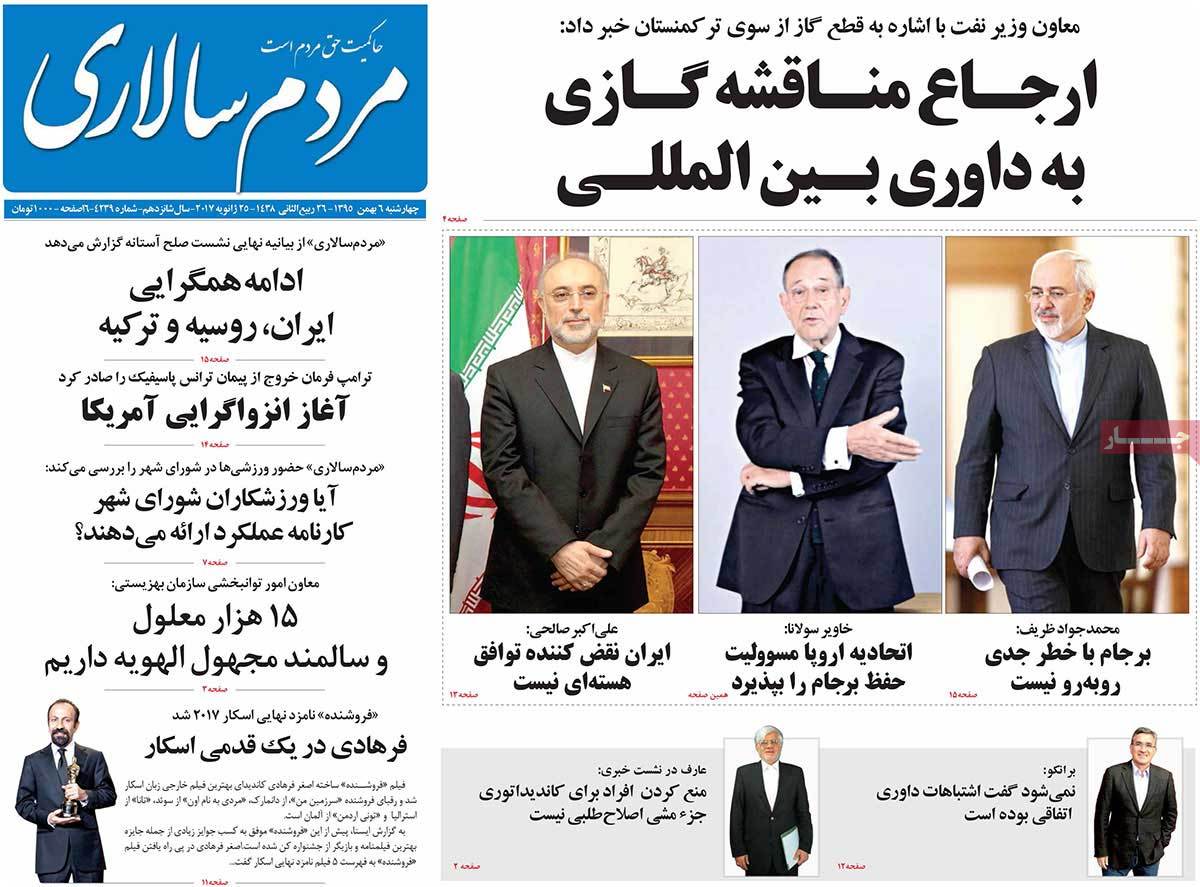 ---
Payam-e Zaman:
1- Zarif: JCPOA Is Not Threatened by Any Serious Danger; We Shouldn't Let JCPOA Be Influenced by Propaganda
2- Government Spokesman: World Not Accompanying US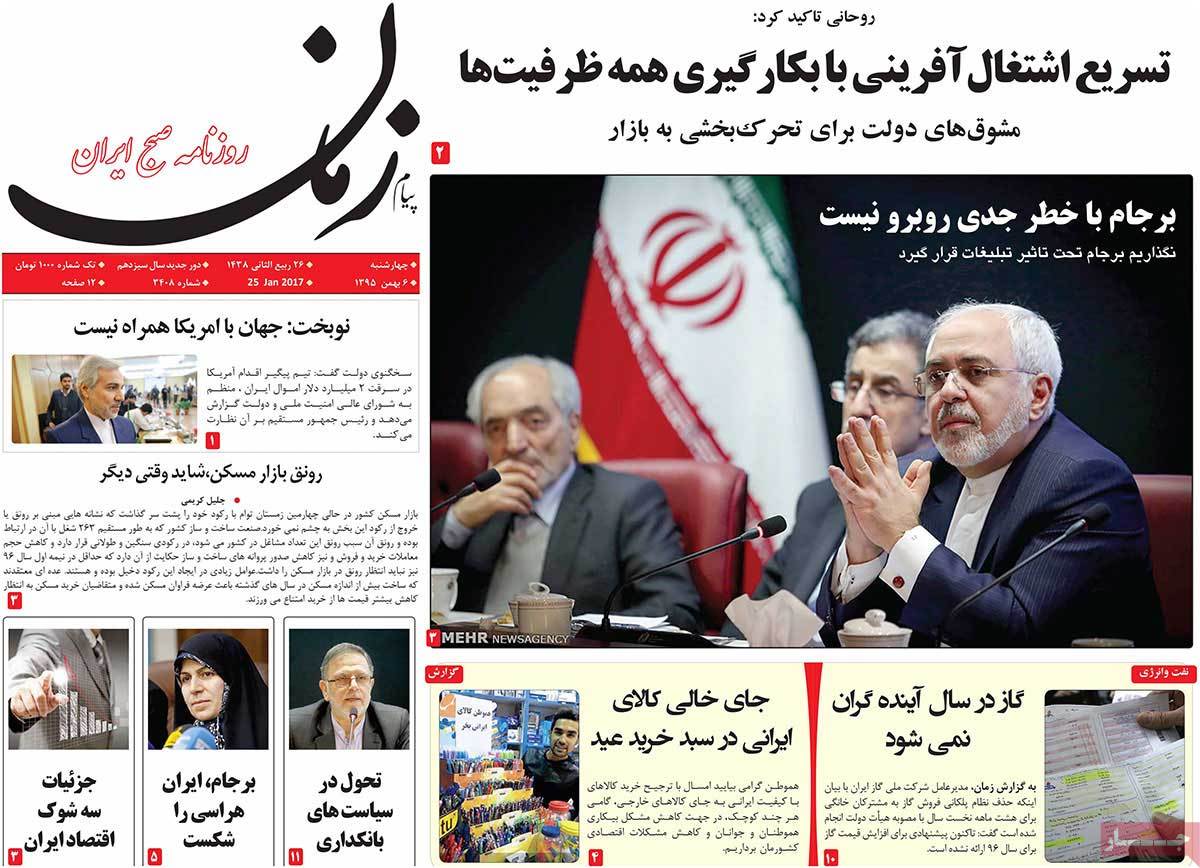 ---
Resalat:
1- Mashhad Becomes Capital of Islamic Culture in 2017
2- Sanders: Anti-Trump Demonstrations Have Just Begun
3- Main Message of Astana Talks: US Concern, Turkey's Confusion, and Saudi Arabia's Isolation
---
Shahrvand:
1- Council of Silence: City Council Holds Meeting on Topics other than Plasco Incident
2- Head of City Council: We've Talked about Plasco as Much as Needed, No Need for Further Talks
3- Reformist Member of City Council Strongly Criticizes the Council's Inattention to Such a Huge Disaster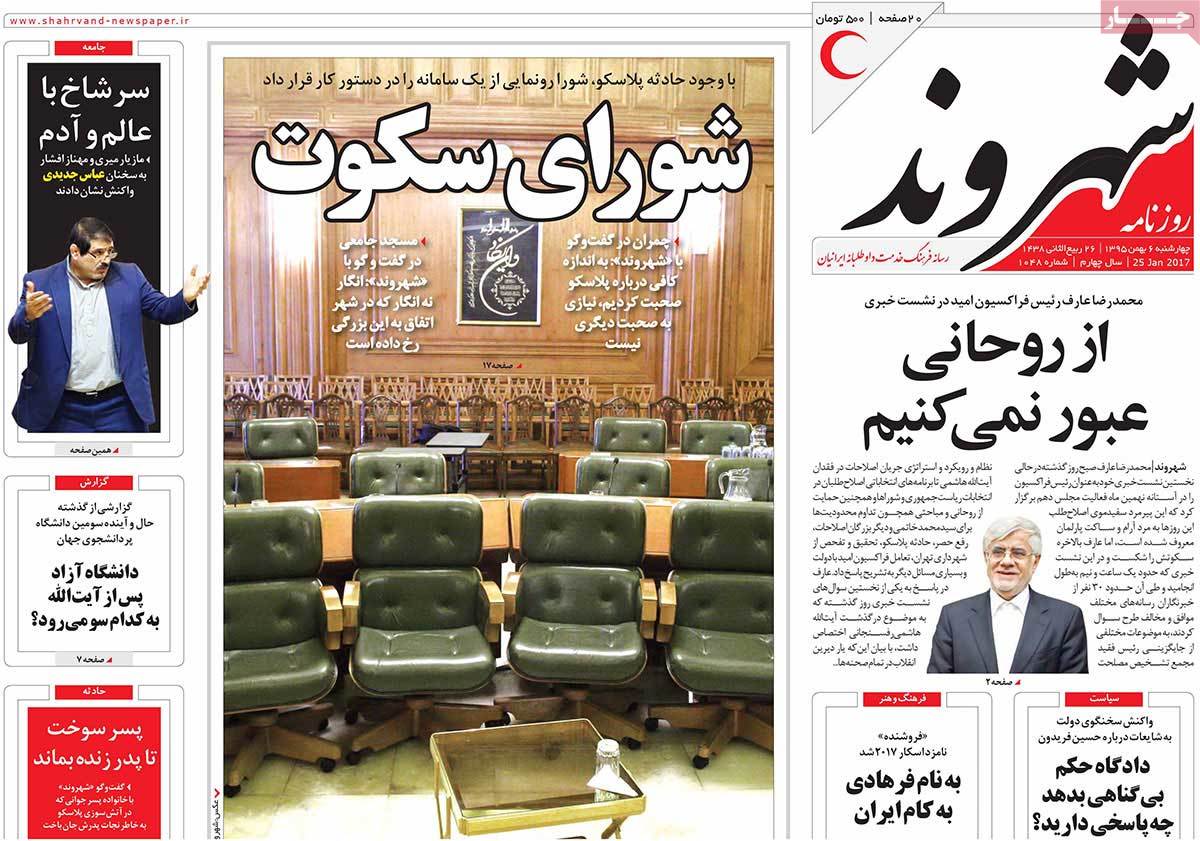 ---
Shargh:
1- Councillor Calls on Mayor of Tehran to Resign after the Municipality's Poor Management in Plasco Incident
2- Help! Iranian Fishermen Call for Help in a Video after Being Kept in Captivity by Somalian Pirates for 22 Months: 8 Iranian Sailors Are Still Alive, Being Imprisoned in Two Separate Groups of Four
---
Ta'adol:
1- Government Spokesman: Municipality Is Legally Blamed for Plasco Incident
---
Vaghaye Ettefaghieh:
1- Plasco Collapses, City Council Shakes: Fight in Tehran City Council over Civil Management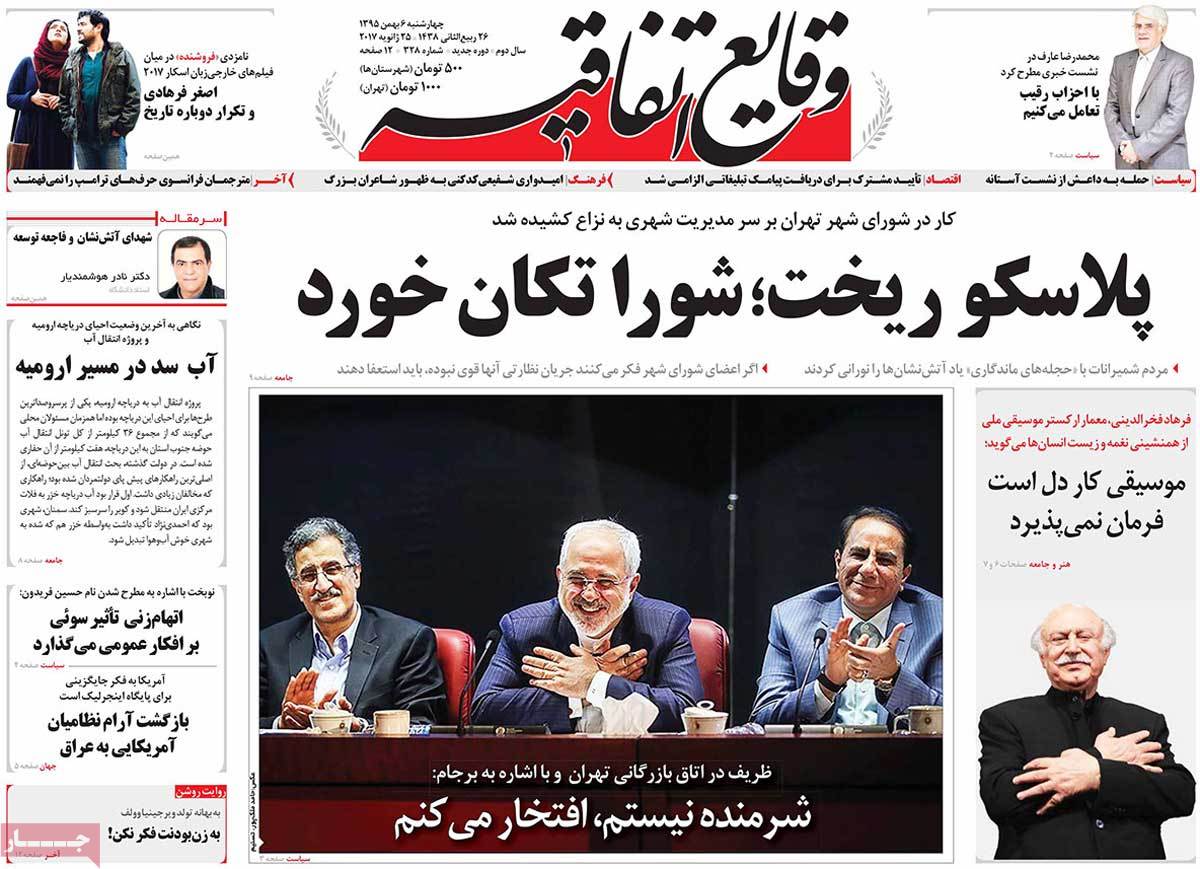 ---
Vatan-e Emrooz:
1- Bank Mellat's Shares Value Sharply Decreases in Tehran Stock Exchange Market: Considerable Decrease in Stock Index and Great Loss for Stateholders
2- Economic Growth Is Not Felt Because People Don't Have Income: Rouhani's Economic Advisor in Justification of Weird Statistics Declared by Government