The ongoing debris removal and rescue operations, and interviews with survivors of Plasco Building collapse remained a top story today.
Newspapers on Tuesday also covered the ongoing talks in Kazakh capital of Astana on ways to end the Syrian war.
New US President Donald Trump was also a key figure in Iranian newspaper front pages today, with several papers discussing his cabinet, views, and personality.
The above issues, as well as many more, are highlighted in the following headlines:
Abrar:
1- Kurdish Regional Government President Barzani: If [Iraq's ex-PM] Maliki Returns, We'll Declare Independence
2- Bloomberg: New Phase of Iran, Russia, and Turkey Efforts to End Syria War
---
Abrar-e Eqtesadi:
1- CIA: Iran's Foreign Exchange Reserves Increased to $135 Billion
2- Turkey Looking for Barter with Iran
3- IMF: Iran's Economy Will Exceed $1.5 Trillion in 2017
4- Deputy Oil Minister: Russia to Cooperate in Construction of Iran's Gas Pipeline
---
Afkar:
1- Foreign Ministry Spokesman: Zionists' Remarks Don't Deserve to Be Answered
2- No Message Exchanged between Iran and US: Iran's Foreign Ministry
3- Fire [in Plasco] Is Not Going to Be Extinguished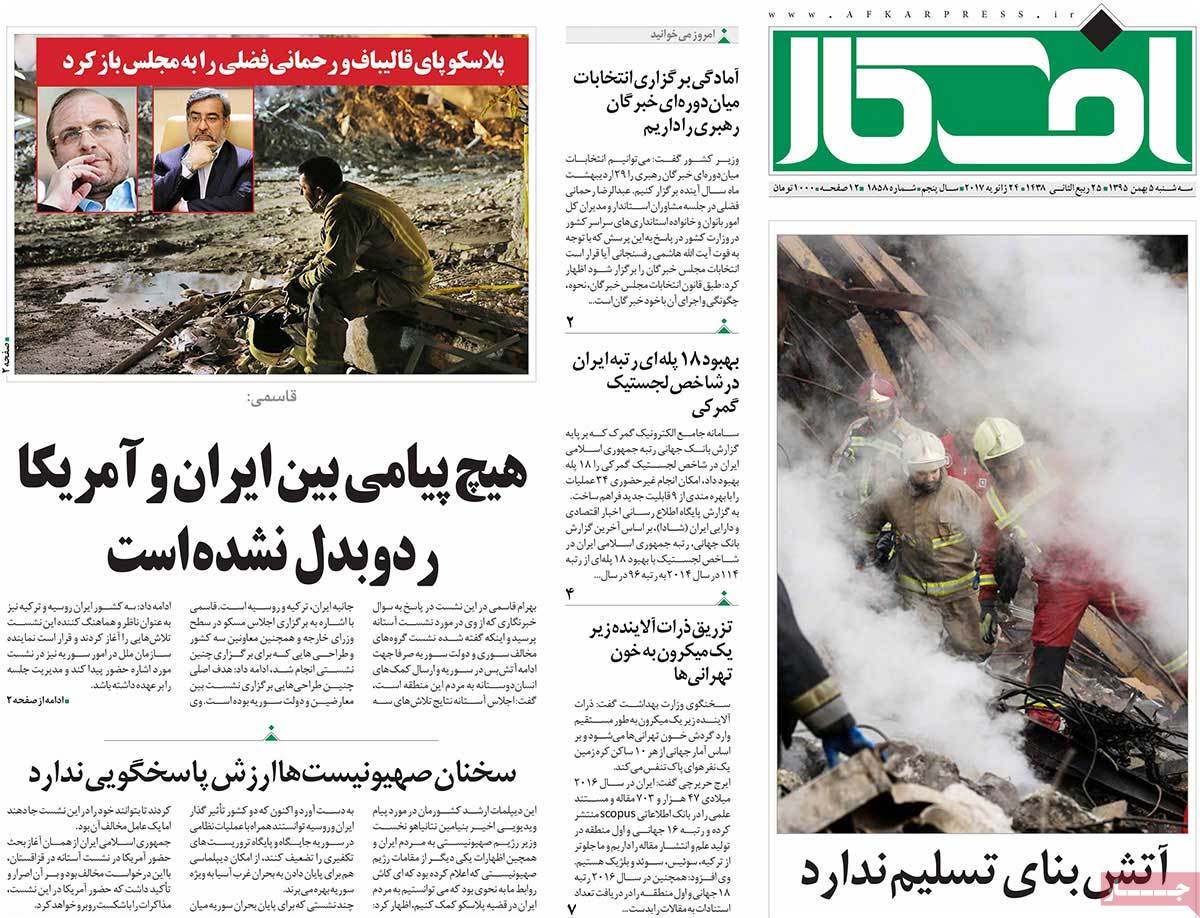 ---
Aftab-e Yazd:
1- Positive Atmosphere in Astana
2- Plasco Should Not Be Used as a Pretext to Attack Tehran's Identity; Real-Estate Flippers Looking for Destruction of Capital City's Old Buildings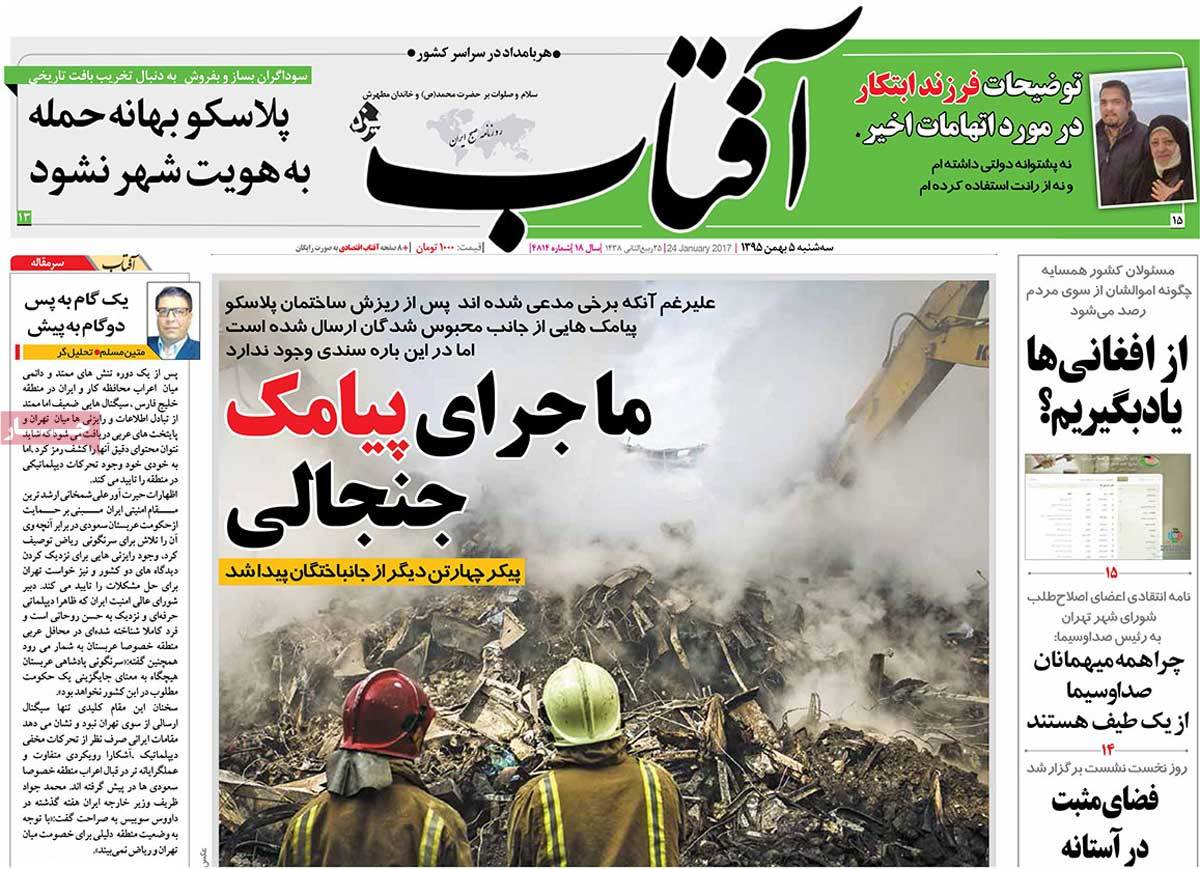 ---
Arman-e Emrooz:
1- Kuwait FM: Kuwait to Mediate between Iran and Saudi Arabia
2- "Continuation of Ceasefire" Agreed in Astana Summit
3- Asbestos and Cancer Danger in Plasco Area
---
Ebtekar:
1- Foreign Ministry Spokesman: We Won't Let JCPOA Case Be Opened Once Again
2- Female Presidency: Reformist Experts Discuss Women's Candidacy in Iran's Presidential Votes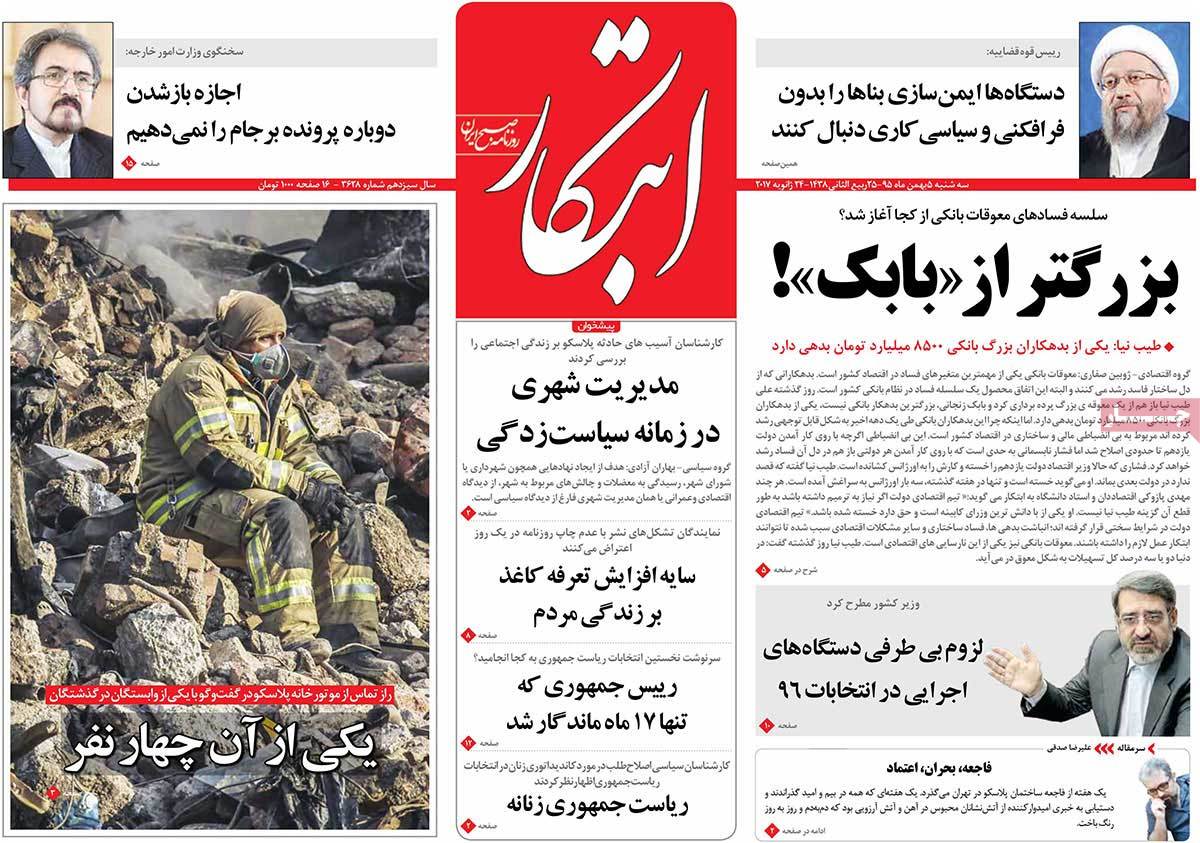 ---
Emtiaz:
1- 20 Killed in Car Accidents in 3 Days
2- Ninth Edition of Fajr Festival of Visual Arts Kicked Off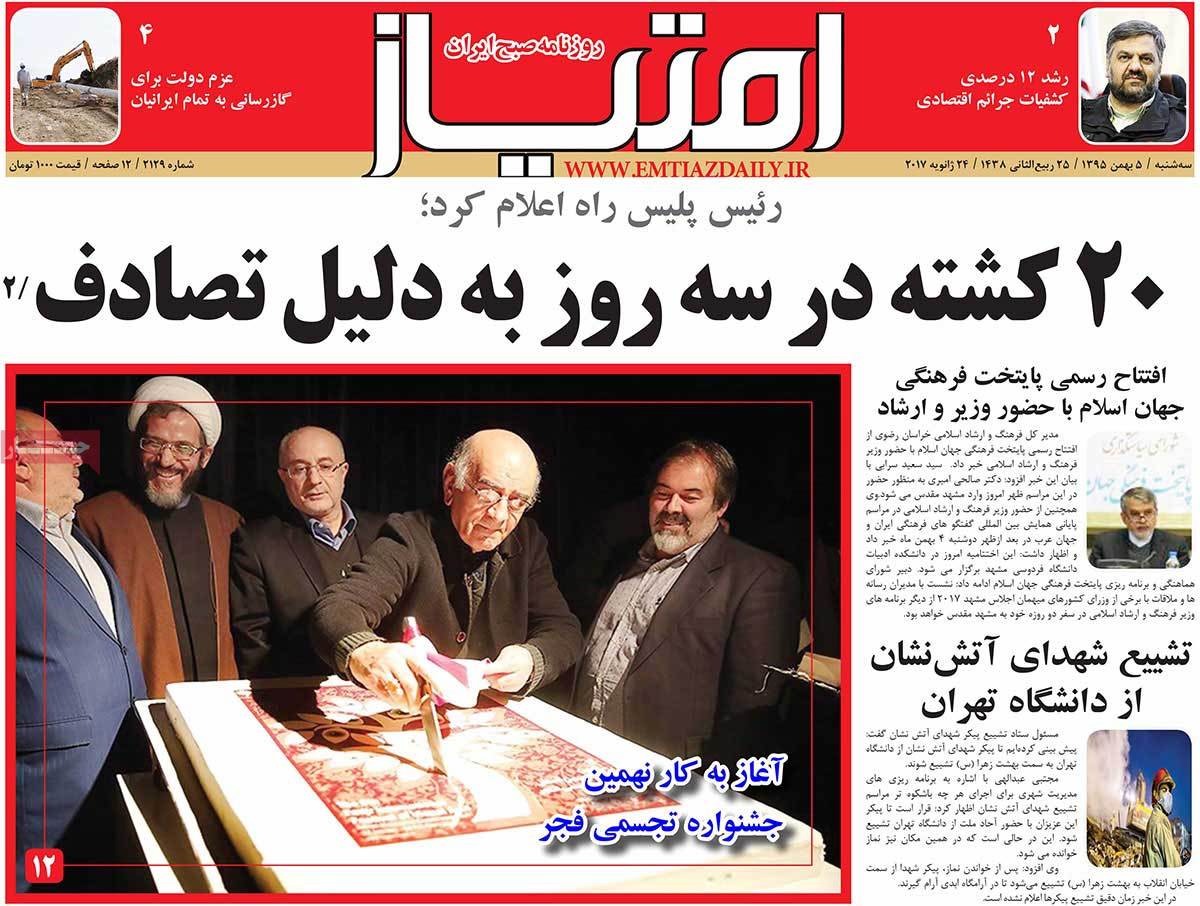 ---
Etemad:
1- War of Words in Astana: Expectations Decreased from First Syrian-Syrian Talks
2- Trump's Inauguration and Challenge of Democracy
3- Judiciary Chief Urges All Organizations to Immunise Buildings
---
Ettela'at:
1- President's Order for Immunisation of Tehran's Vulnerable Buildings
2- First VP: Makran Coasts [in southeastern Iran] to Become Biggest Development Hub in Region
3- Mashhad to Be Declared Today as Capital of Islamic Culture in 2017
4- Daily Mirror: Millions of Anti-Trump Americans Are on Verge of Immigration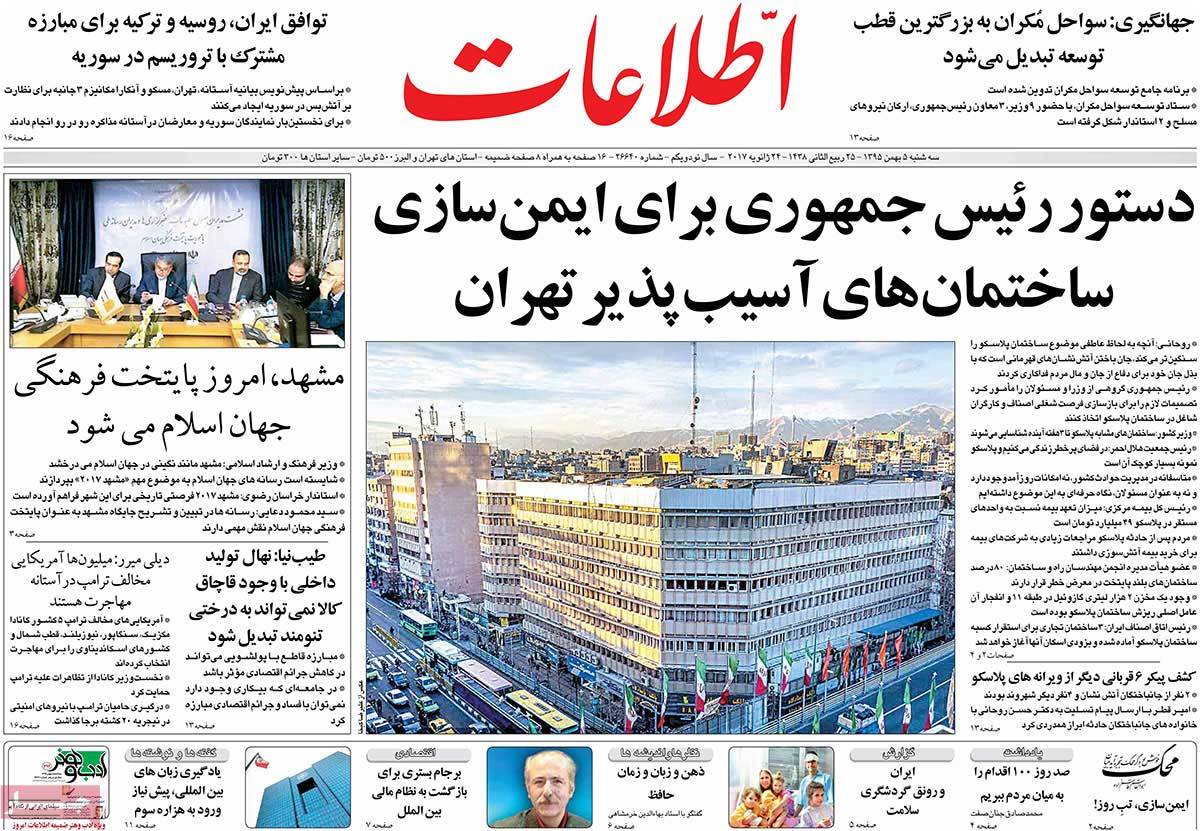 ---
Ghanoon:
1- Interview with a Firefighter Who Miraculously Survived Plasco Hell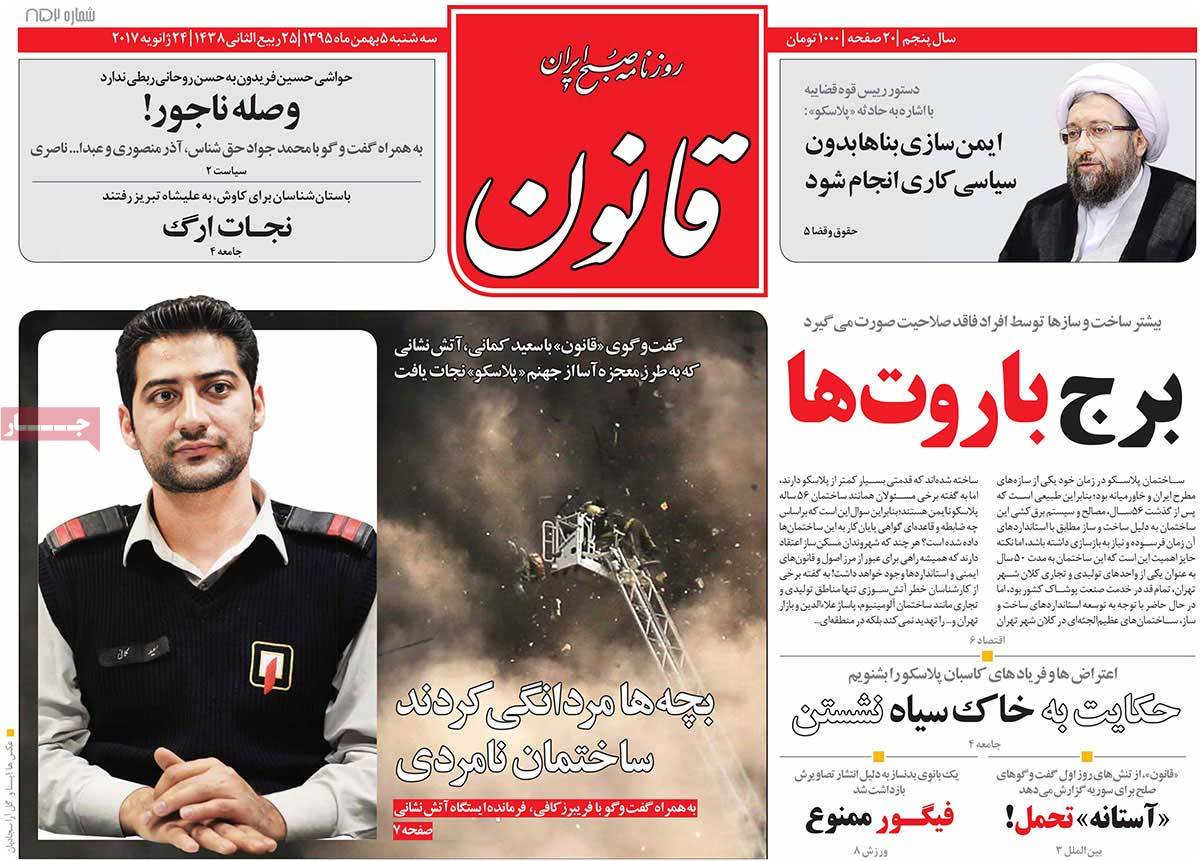 ---
Haft-e Sobh:
1- Secrets behind 4 Bodies Recovered from Plasco Basemen: Rumours about Text Messages Sent by Those Entrapped under the Rubble
---
Iran:
1- IMF 2016 Report: Iran Is the World's 18th Biggest Economy
2- 50% of Debris Removal Finished in Plasco Building
---
Jame Jam:
1- Warm Negotiations in the Cold Astana
2- Magic of Sport for All
---
Javan:
1- Syrian Dissidents Looking for Astana Deadlock
2- Trump's Shadow on Eifel Tower: Far-Rightists en Route to French Presidency
3- First Press Conference on Plasco Incident: Culprits behind Plasco Tragedy Will Be Prosecuted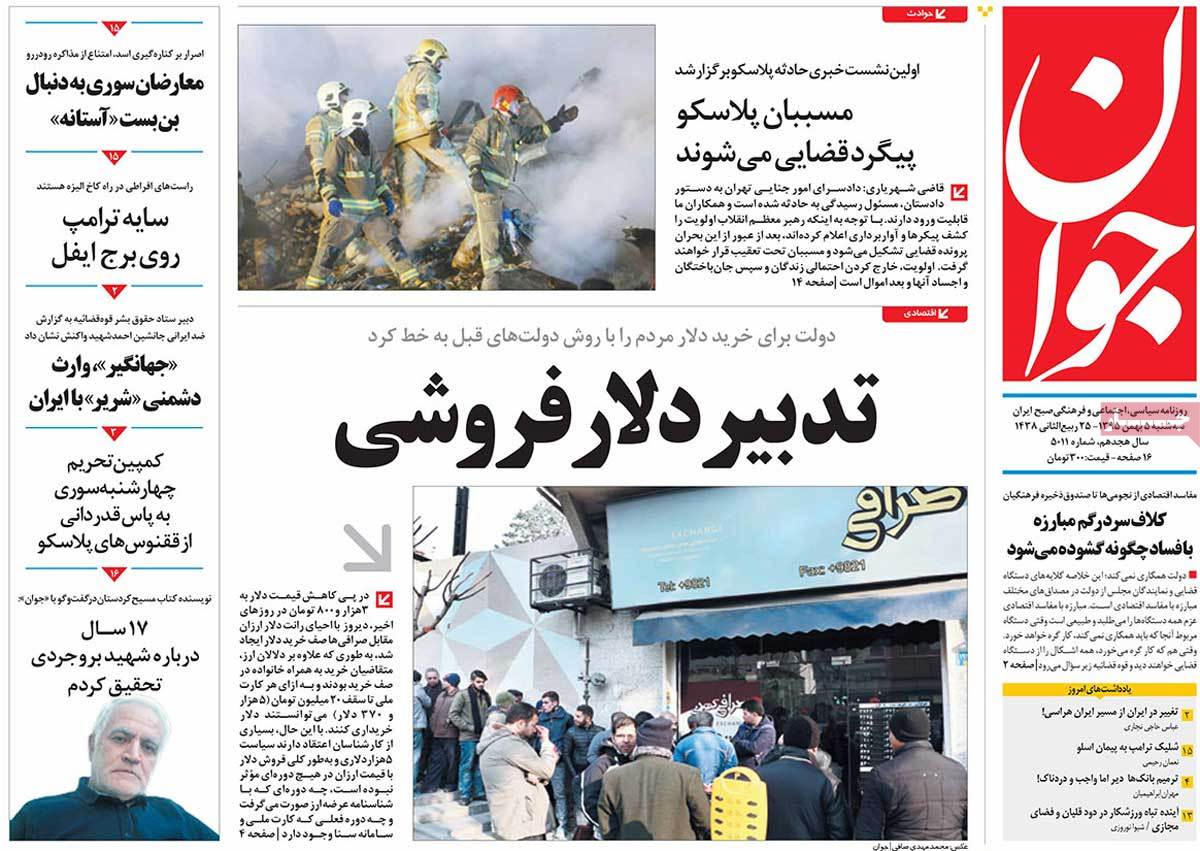 ---
Jomhouri Eslami:
1- MoU Signed for over $3 Billion Foreign Investment in Iran's Chabahar [in southeast]
2- US Role in Astana Talks Is Trivial
---
Ka'enat:
1- Different Aspects of Plasco Tragedy Discussed by MP: Tehran Extremely in Danger
2- Why Trump's Cabinet Is a Disaster in Foreign Policy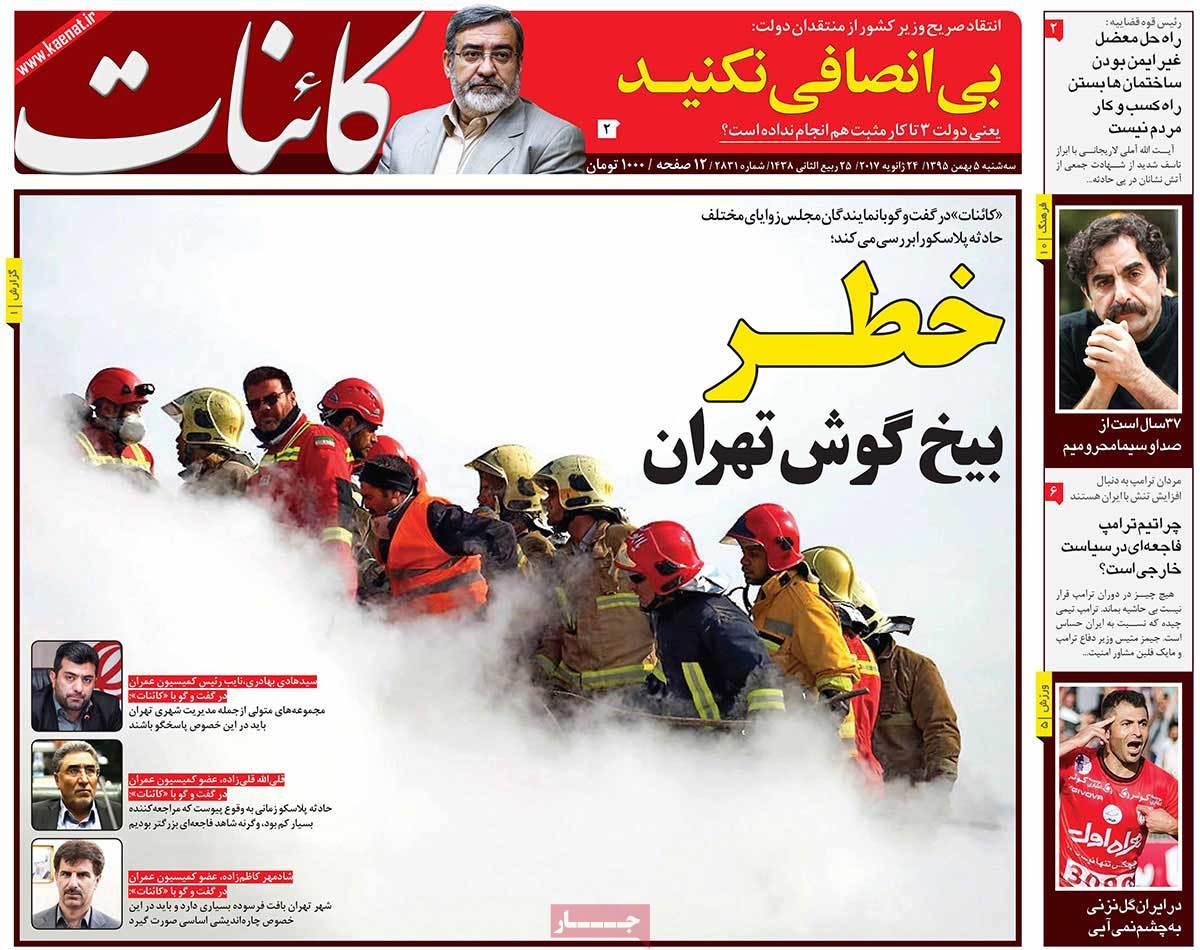 ---
Kayhan:
1- Life Returns to Eastern Mosul: Western Parts to Be Liberated Soon
2- Iran's Deputy FM: Illegal Transfer of Weapons and Financial Aid to Syrian Dissidents Should Be Controlled
3- Saudi Jet Fighters Bomb Yemen for 100 Times in 24 Hours
---
Nasl-e Farda:
1- Most Expensive Divorce in the World: Senators Propose Plan for Washington's Exit from UN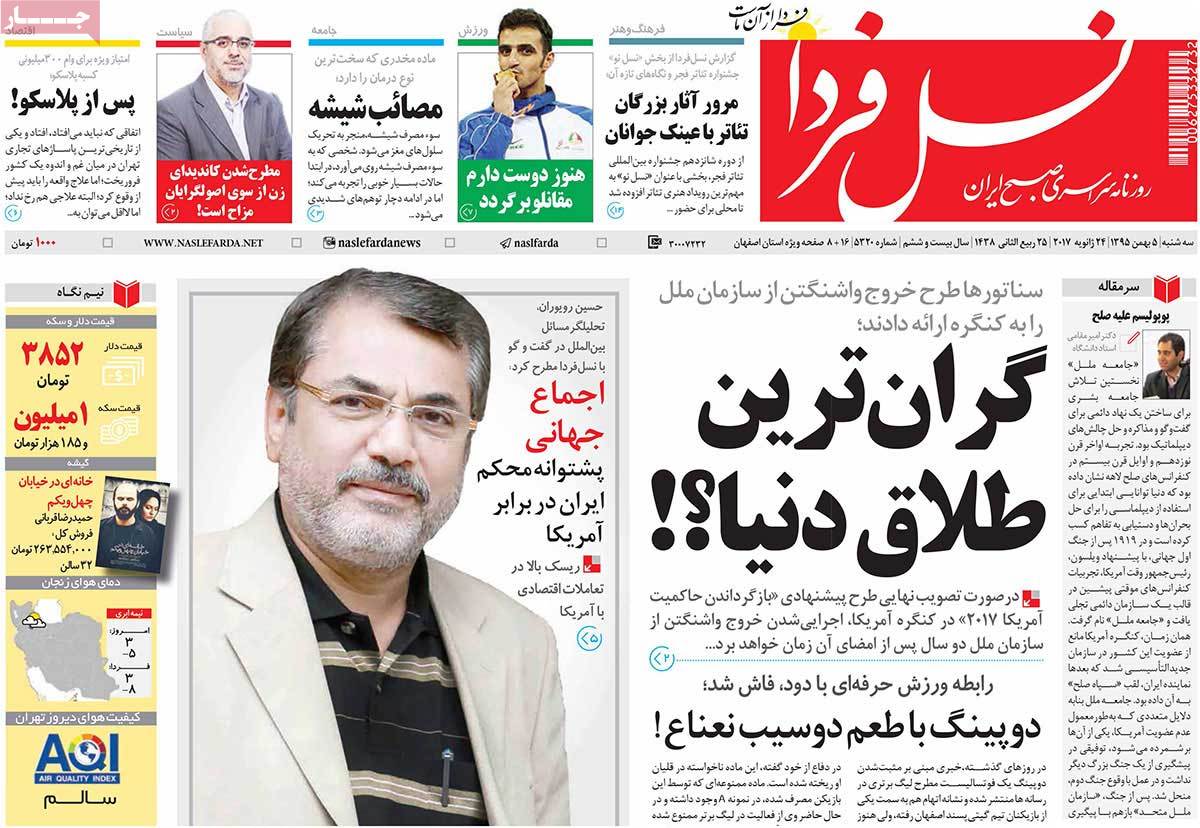 ---
Noavaran:
1- Old Rivalry and Forced Partnership: Trump's Self-Interested Isolationism Won't Include Russia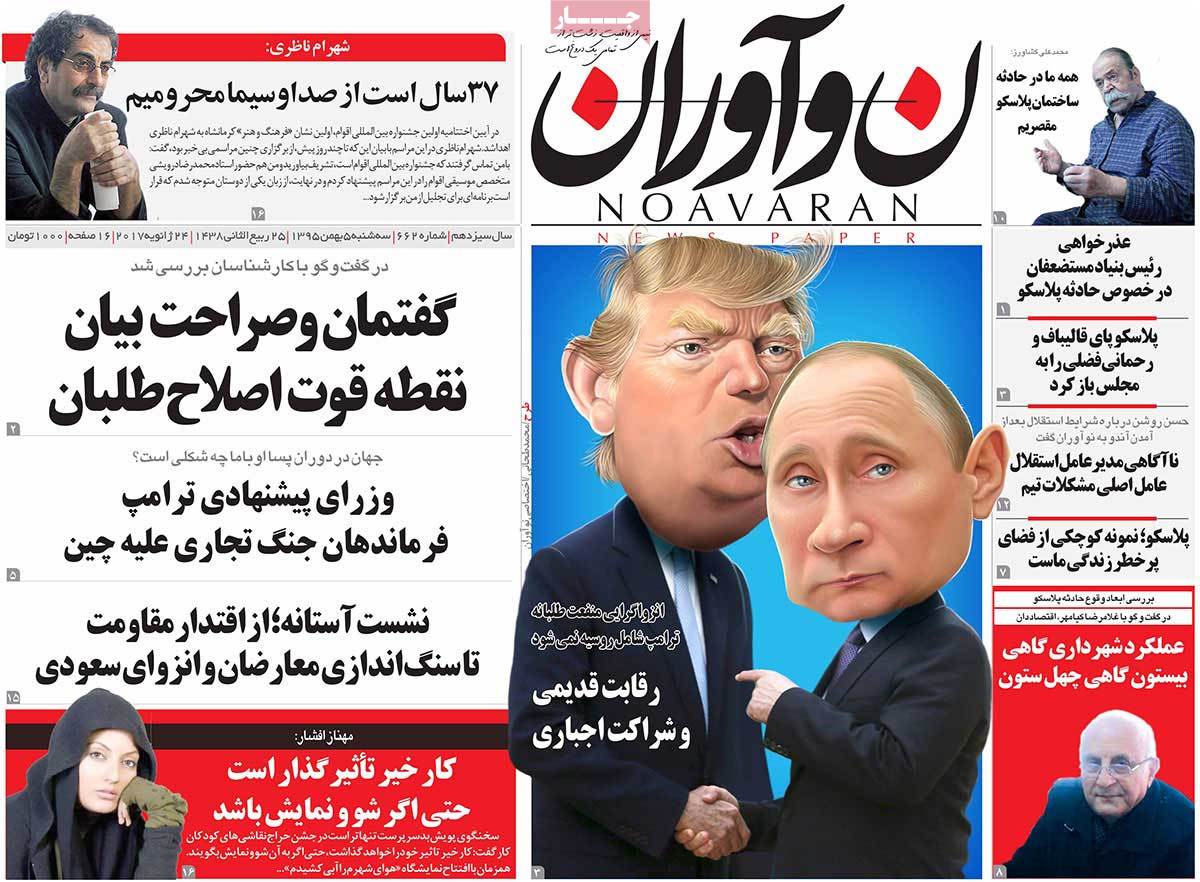 ---
Payam-e Zaman:
1- 35th Edition of Fajr Int'l Film Festival Unveils Its Poster Commemorating Legendary Filmmaker Ali Hatami
---
Resalat:
1- Ayatollah Makarem Shirazi: Don't Associate Iran's Fate with Nuclear Deal
2- Tehran Won't Tolerate West's Stonewalling in Syria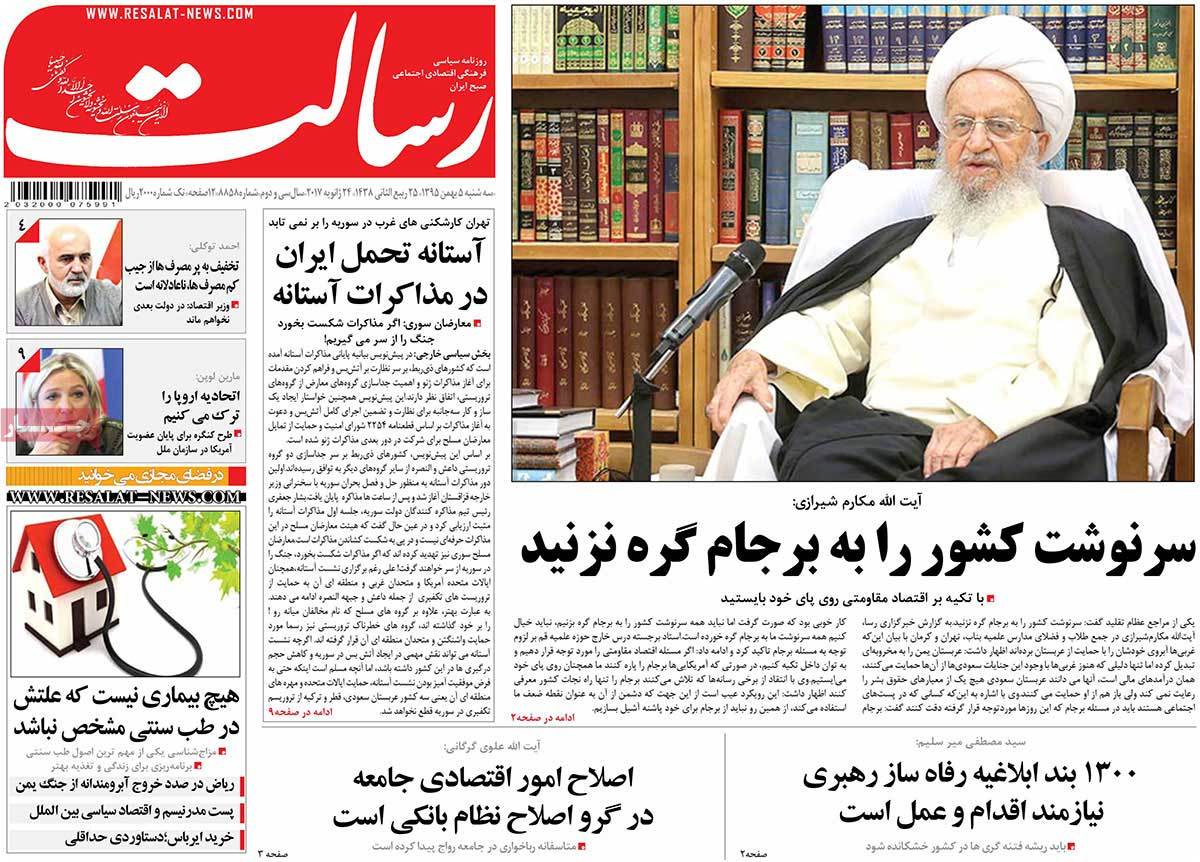 ---
Rooyesh-e Mellat:
1- Deputy FM: Iran's Suggest Is Leaving Acts of Violence
2- Dissident Groups Stonewalling in Astana Talks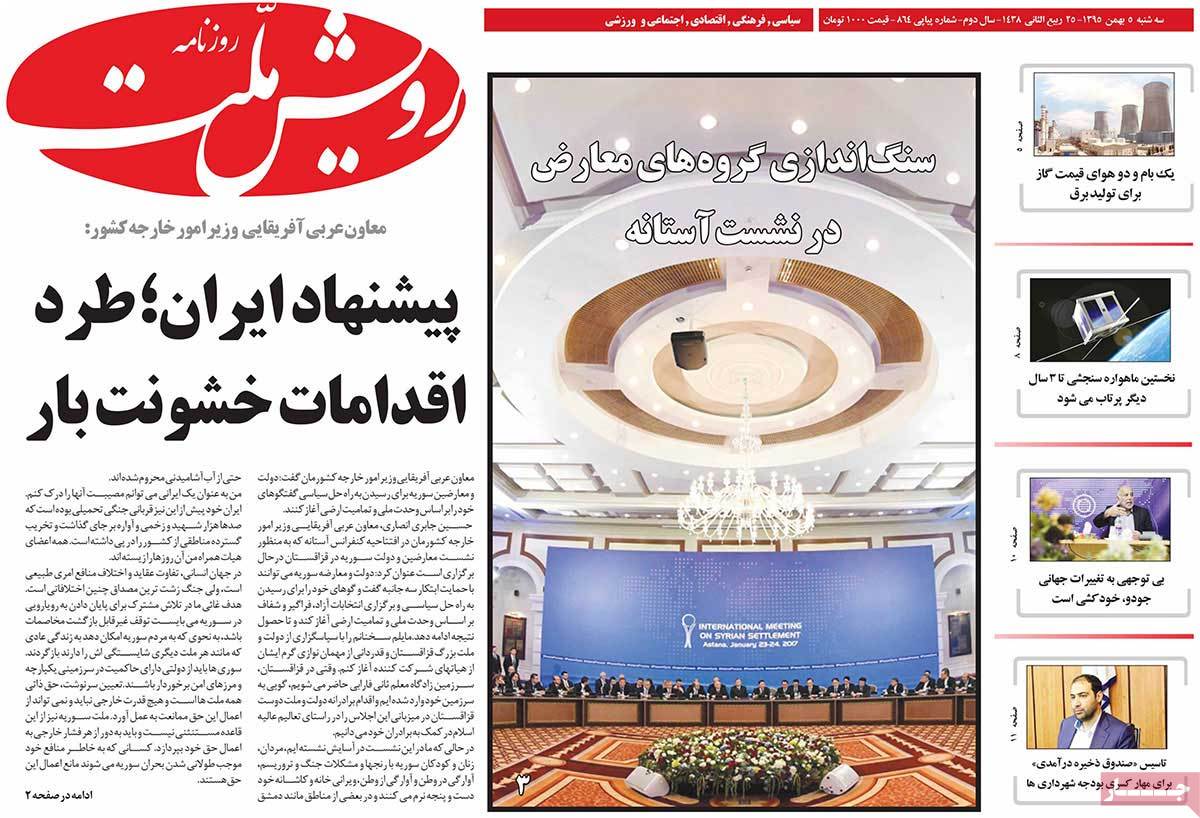 ---
Sepid:
1- Committing Suicide at Work: A Crisis Japanese Government and Nation Is Grapping with
---
Setareh Sobh:
1- Increase in Iran's Foreign Exchange and Gold Reserves in 2016
2- Trump's Senior Advisor Flynn Interrogated on Charge of Having Links with Russia
3- Analyst: Trump Doesn't Have Correct Understanding of Political Equations
---
Shahrvand:
1- Hospitals May Also Collapse: Average Age of Public Hospitals Is 27 Years in Iran and 35 Years in Tehran
2- Services and Betrayals of Citizen-Journalists: When Reporters Have New Rivals in Covering Crises
3- Psychological View of New US President: The Donald with Seven Faces
4- Two-Year-Old Baby's Left Hand Undergoes Surgery instead of His Right Hand: Doctor Apologizes
---
Shargh:
1- Plasco Building Still in Smoke
2- Trump and Netanyahu Hold Phone Conservation about Iran
3- Astana a Bridge to Geneva: Syria Peace Talks Go on
4- Analyst: Trump Will Start Work by Aggressive Diplomacy towards Iran
---
Shorou:
1- Jump in Iran's Economic Growth after Nuclear Deal: IMF