IFP has taken a look at the front pages of Iranian newspapers on Thursday, January 24, 2019, and picked headlines from 12 of them. IFP has simply translated the headlines and does not vouch for their accuracy.
The possibility of the cancellation of the anti-Iran conference in Poland scheduled for mid-February, which has been raised after some countries rejected invitations to attend the conference, caught considerable among Iranian media circles.
Another hot topic for Iranian newspapers was remarks by Leader of Islamic Revolution Ayatollah Seyyed Ali Khamenei that Iran's Scientific Progress must not be slowed down.
The above issues, as well as many more, are highlighted in the following headlines and top stories:
Abrar:
1- Polish President: We Have Taken No Decision on Iran's Presence in Warsaw Meeting
2- Iranian President: US Sanctions Failed to Realize Objectives
3- Presidential Chief of Staff: Leader Responds to Concerns of Four Cabinet Members on Not Joining FATF
4- US House of Representatives Approves Bill to Forbid Trump's Pull Out From NATO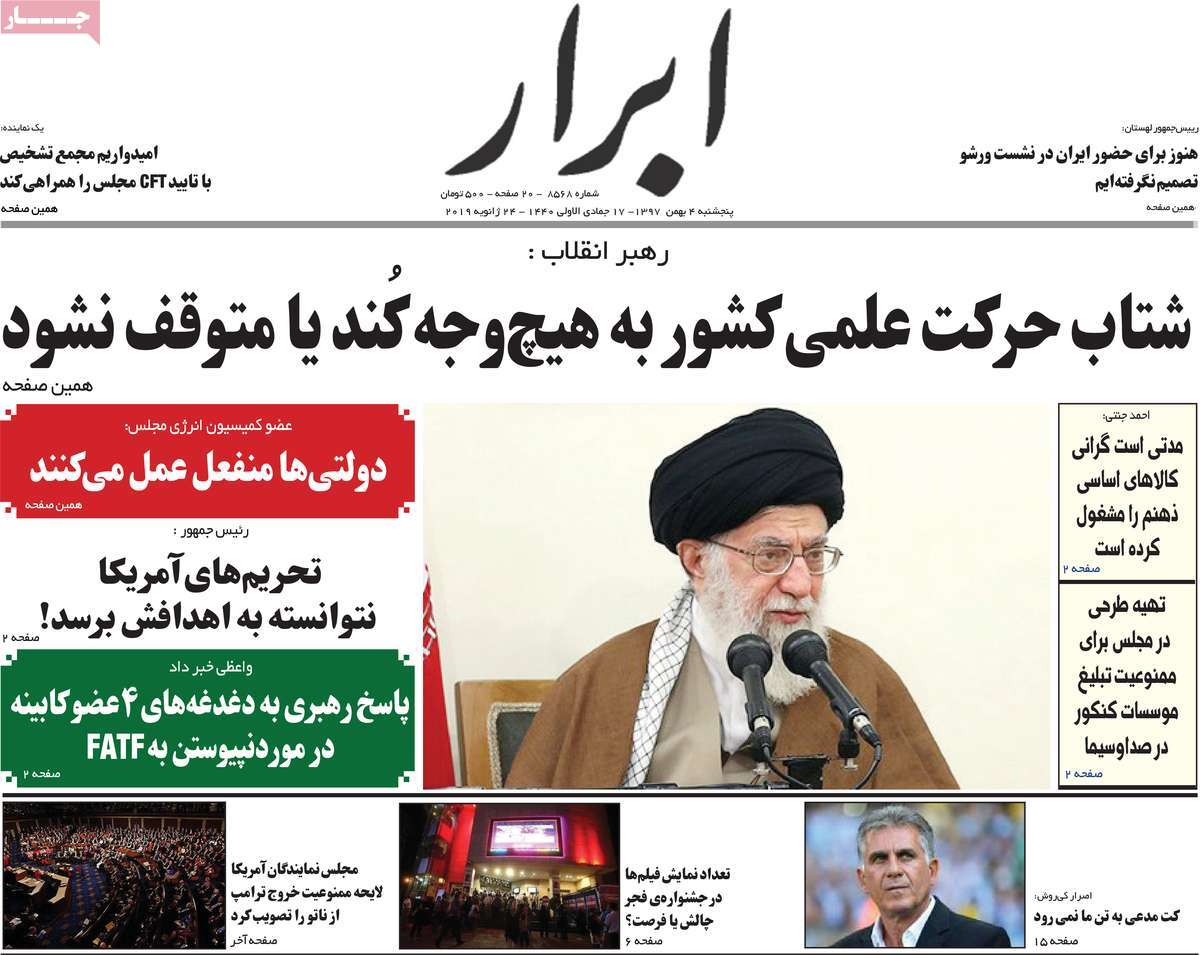 ---
Abrar-e Eghtesadi:
1- CBI Governor: Iran's Currency Policies Designed Regardless of SPV
2- Switzerland Finalizes Iran Financial Mechanism
3- Japanese Bought Another Two Million Barrels of Oil From Iran
---
Aftab-e Yazd:
1- Leader of Islamic Revolution: Iran's Scientific Progress Must not be Slowed Down
2- Poland Summit Likely to be Canceled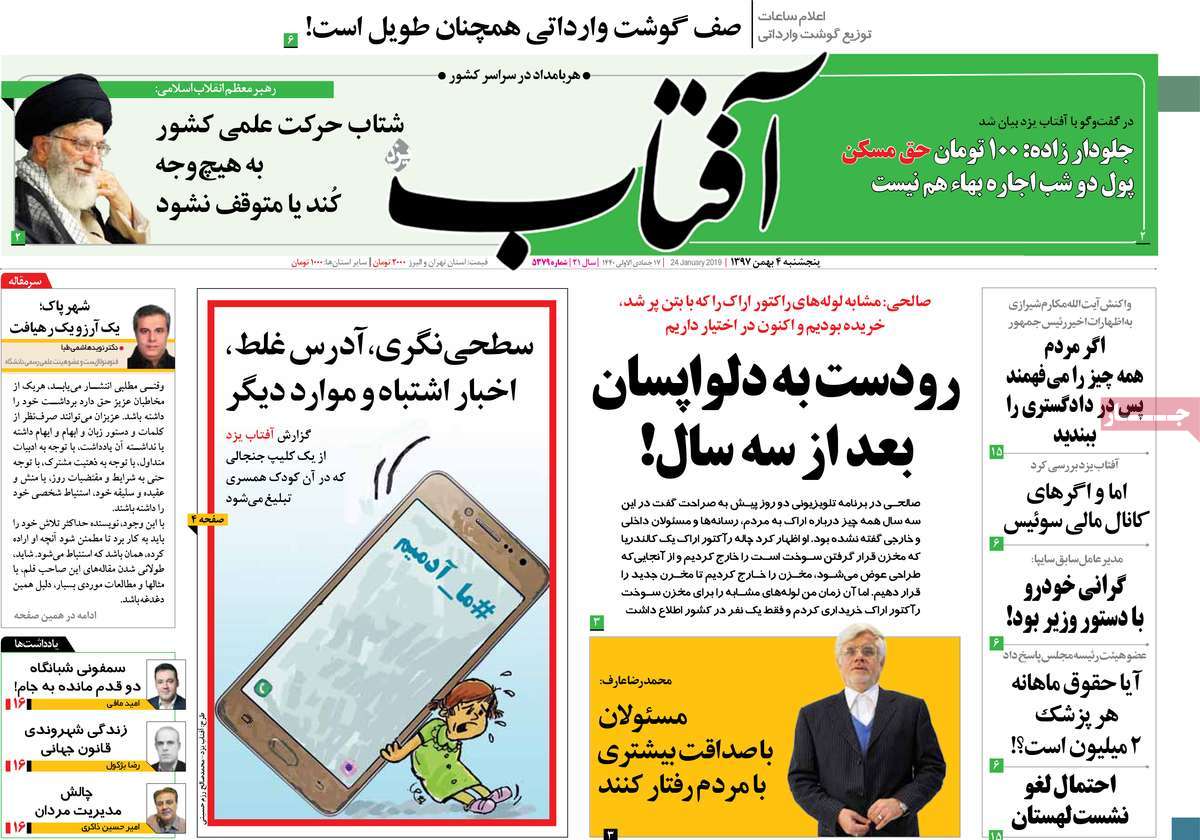 ---
Arman-e Emrouz:
1- Rouhani's Remarks [on internet and hijab] Have Been Misrepresented
2- Swiss Ready to Launch Financial Channel with Iran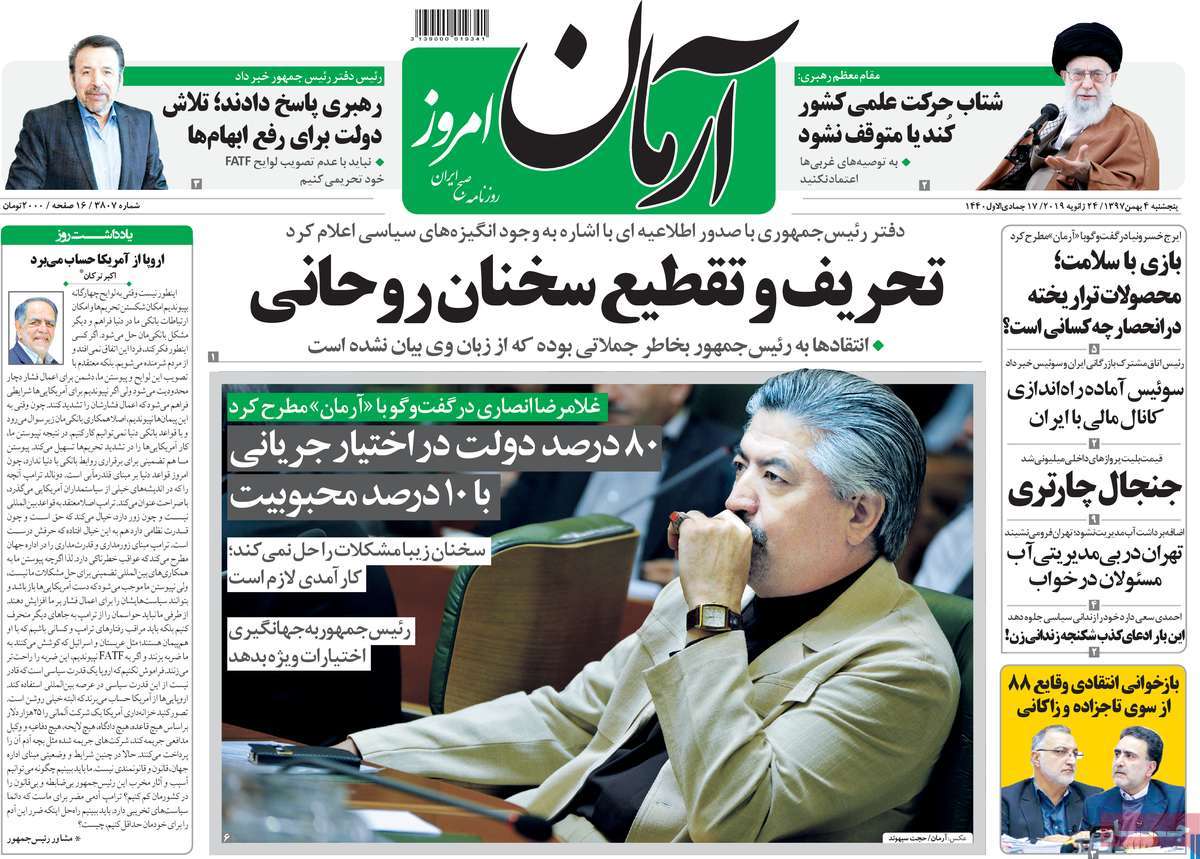 ---
Ebtekar:
1- Political Weighting in Washington / US Senate Intervenes to End Government Shut Down
2- President in Cabinet Meeting: We Should Foil US Plot by Approving Four Bills [Required for FATF Accession]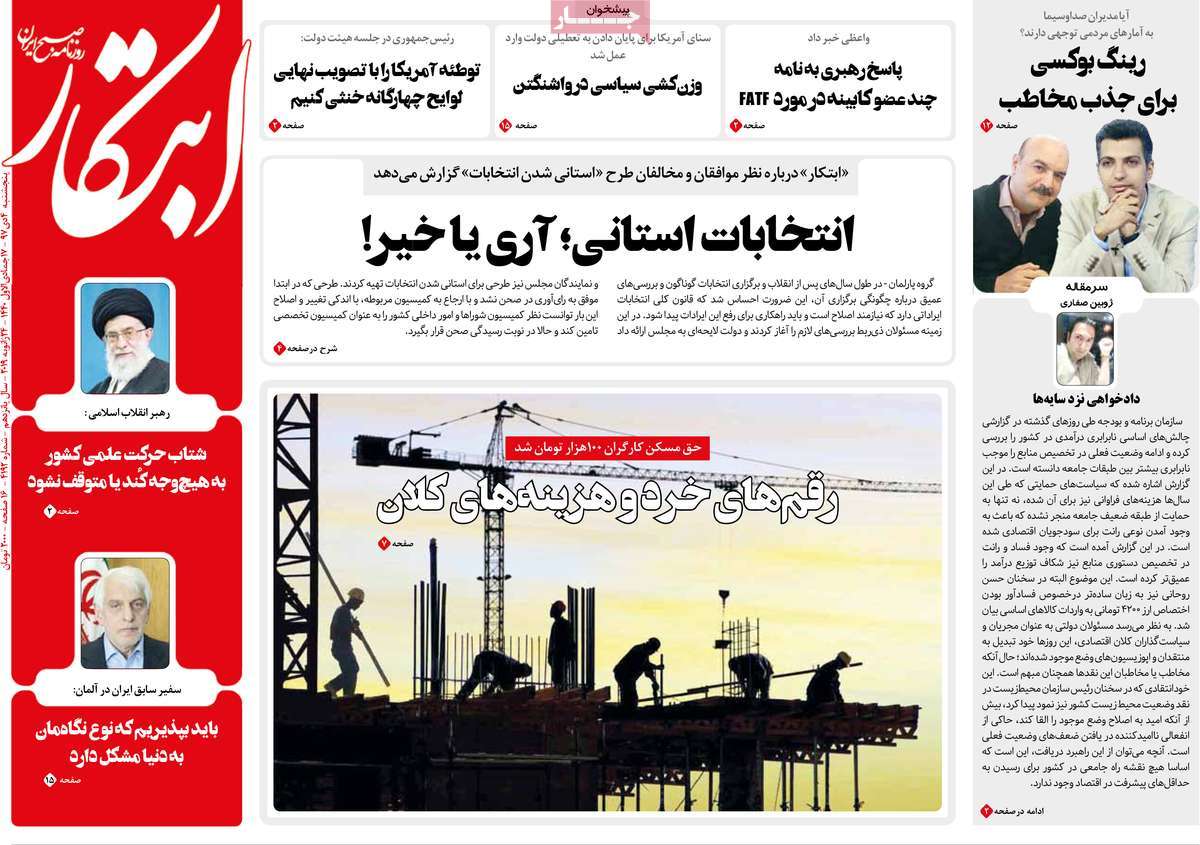 ---
Ettela'at:
1- New Oil Reserves Discovered in Mino Island
2- Communications Minister: Filtering Policies to be Reviewed
3- [IRGC Commander Major] General Soleimani Among Top Ten Thinkers in Defence Sector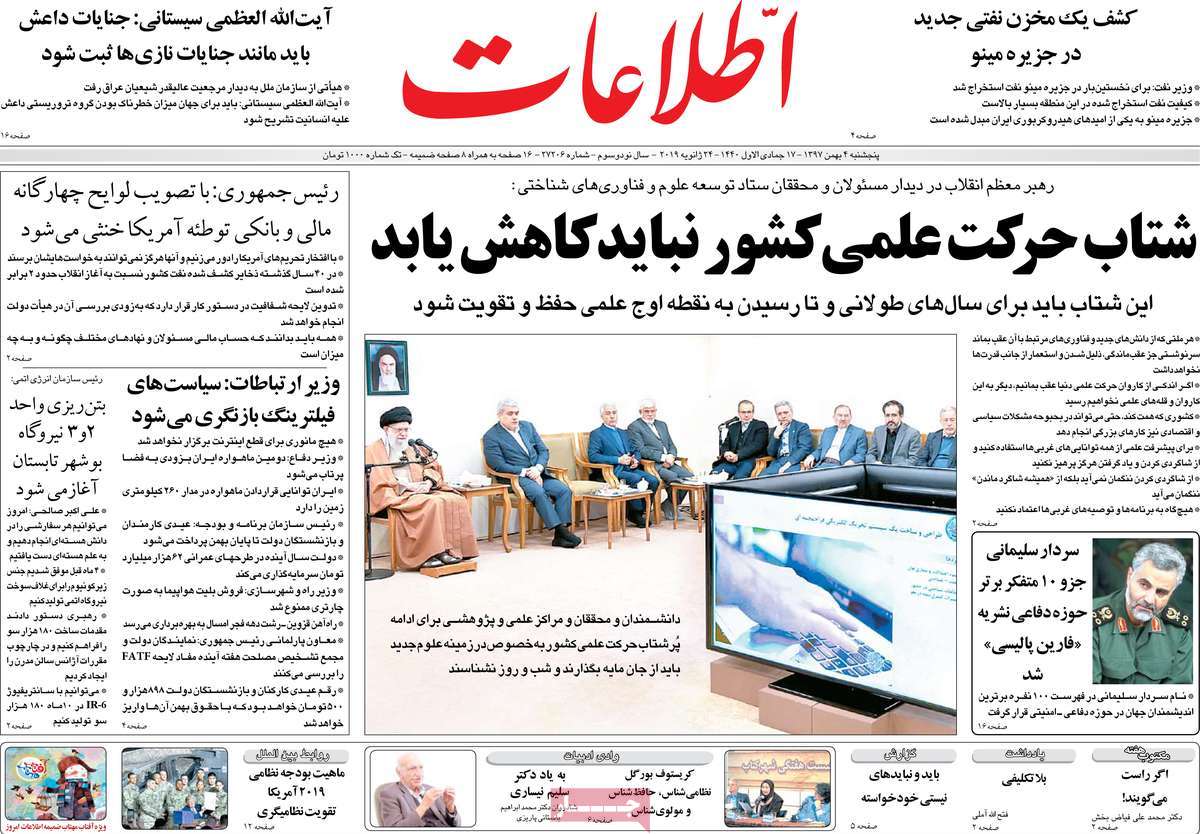 ---
Jam-e Jam:
1- Leader: Always be Sceptical on Western's Advice
---
Javan:
1- Iran's Leader: Failing to Obtain New Sciences Will Make One Inferior
2- Damascus: We Will Bombard Tel Aviv Airport Unless Israel is Stopped
3- Poland Summit Likely to be Cancelled Due to Global Boycott
---
Jomhouri Eslami:
1- New Oil Well Chain Discovered in Abadan
2- Vice President: Iran Will Side by Syrians in Reconstruction Era
3- Defence Minister: Second Iranian Satellite to be Launched Soon
4- Wall Street Journal Reports Poland Conference Likely to be Canceled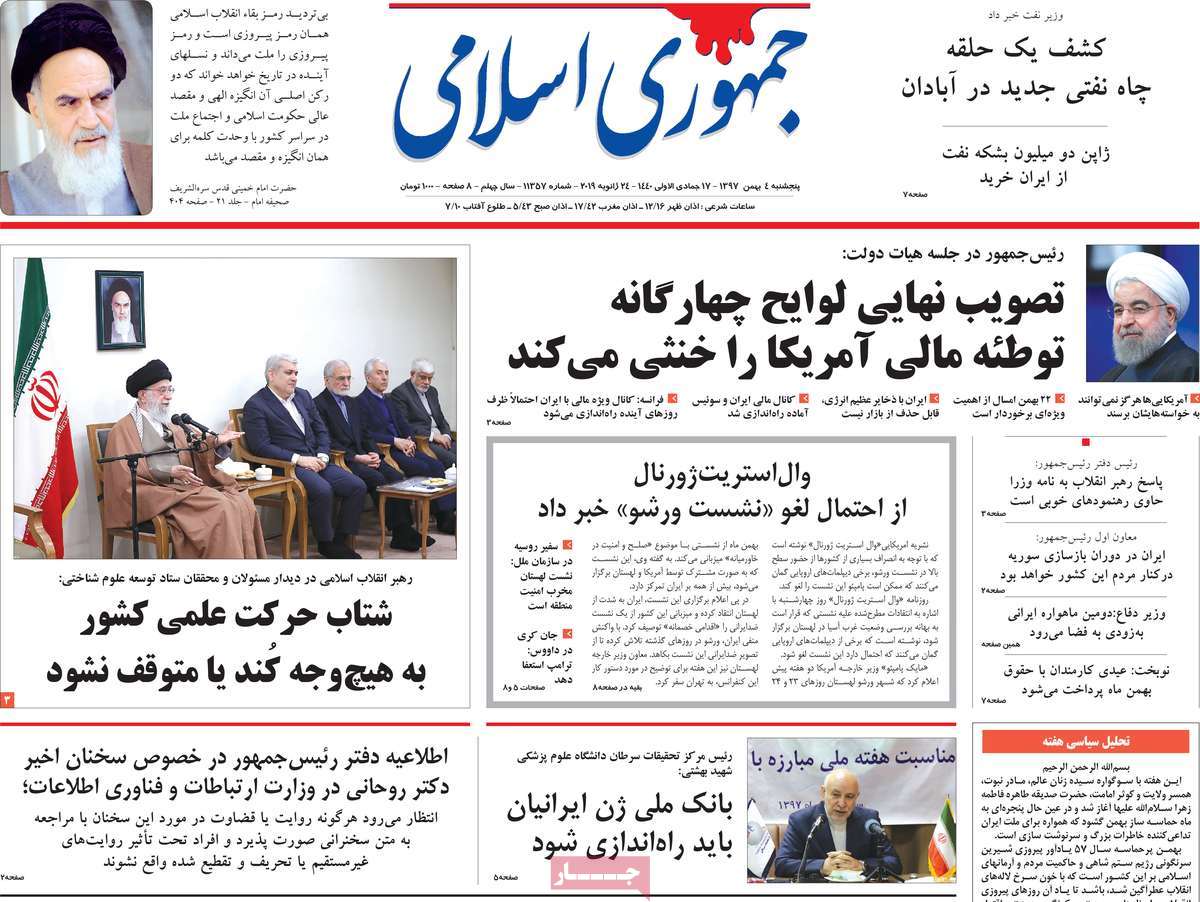 ---
Kayhan:
1- Another Defeat for US as Governments Reject Invitation to Poland Conference
2- Nigerian Women Rally in Support of [Press TV Anchor] Marzieh Hashemi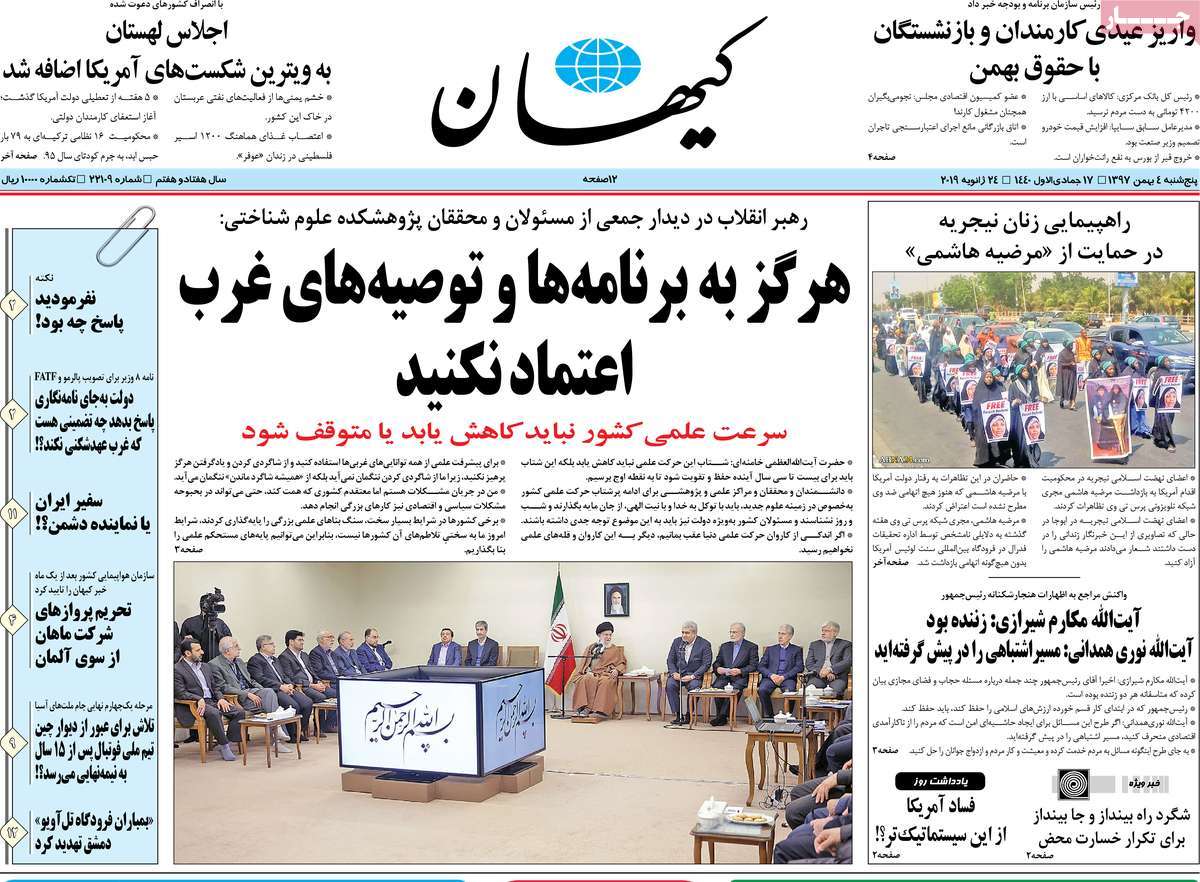 ---
Sazandegi:
1- Leader Issues Guidelines Following the Letter of Ministers [Regarding FATF]
2- Germany, France Unite Against Populism
3- Communication Minister Announced Internet Disconnection Drill Cancelled
---
Shargh:
1- Maraje' React to President's Speech [on Internet Freedom and Hijab]
2- Presidential Chief of Staff Explains About Letter of Ministers to Leader [on FATF]