Newspapers today highlighted the latest updates on the Thursday collapse of Plasco Building, including President Hassan Rouhani's visit to the site and his orders.
They also covered Iranian people's spontaneous moves to commemorate the firefighters killed in the tragic incident.
US President Donald Trump's inauguration and the massive anti-Trump rallies across the world also received great coverage.
The above issues, as well as many more, are highlighted in the following headlines:
19 Dey:
1- Rouhani: Plasco Building Collapse Was a Warning for Everyone
2- Parliament Speaker: Municipalities Should Improve Safety Conditions of Commercial Buildings
3- Prosecutor General: They Shouldn't Have Confined Themselves to Giving Warning; Municipalities Responsible for Immunization of Buildings
4- Deputy Labour Minister: 500,000 New Jobs to Be Created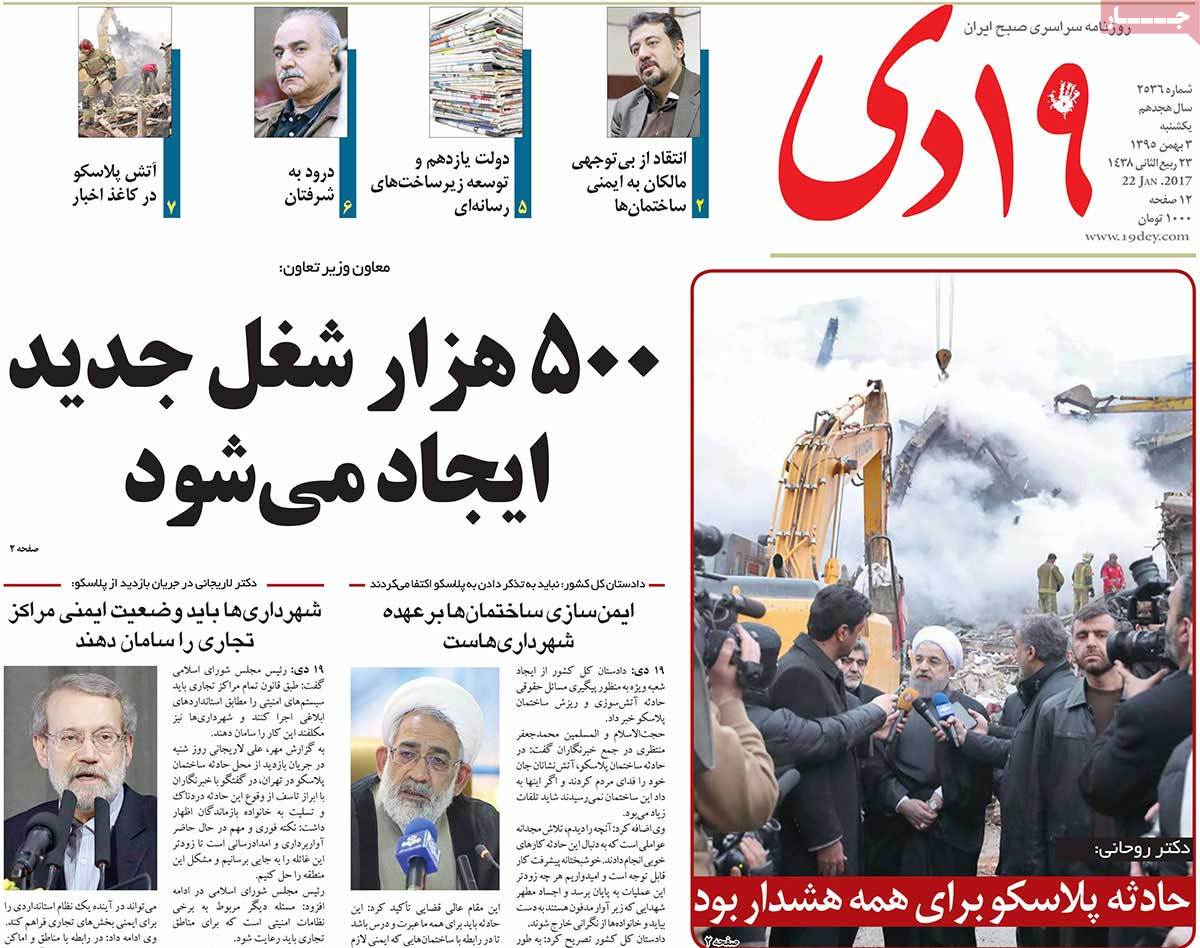 ---
Abrar:
1- City Council Champions! And Firefighting Heroes
2- Richard Murphy: Middle East Is Not Trump's Priority
3- Taiwan's Representative Attends Trump's Inauguration Ceremony despite China's Criticism
4- Debris Removal Operation to Take over a Week to Complete: Official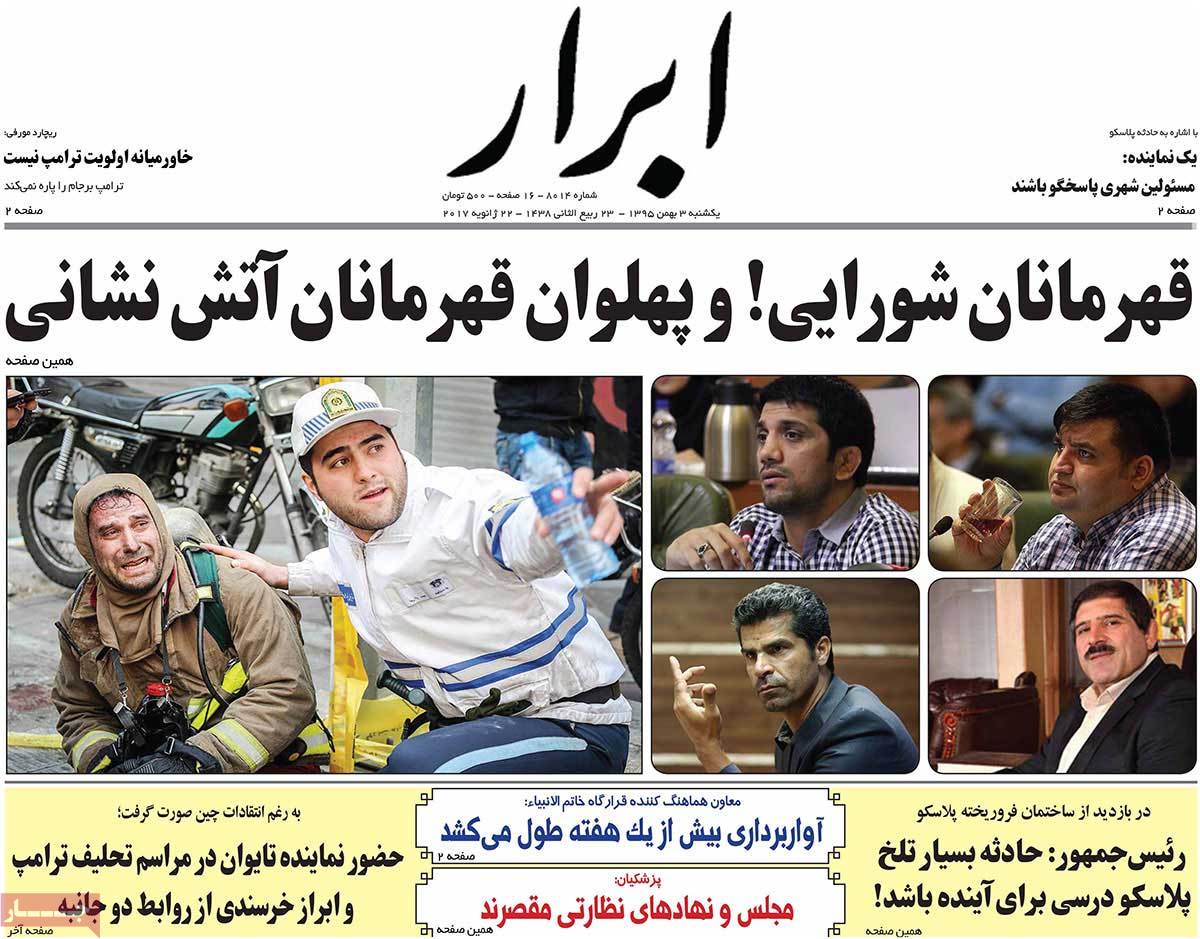 ---
Afarinesh:
1- President: We Should Bow before Sacrifices of Rescuers and Firefighters
2- Iranian Scientist's Invention Receives US Patent
---
Aftab-e Yazd:
1- Debris Removal Still Goes on and No Sign of Firefighters' Bodies Yet
2- Rouhani Visits Plasco Collapse Site to Alleviate Firefighters' Pains
3- Health Minister: Iraq Spending Three Times More than Iran on Health!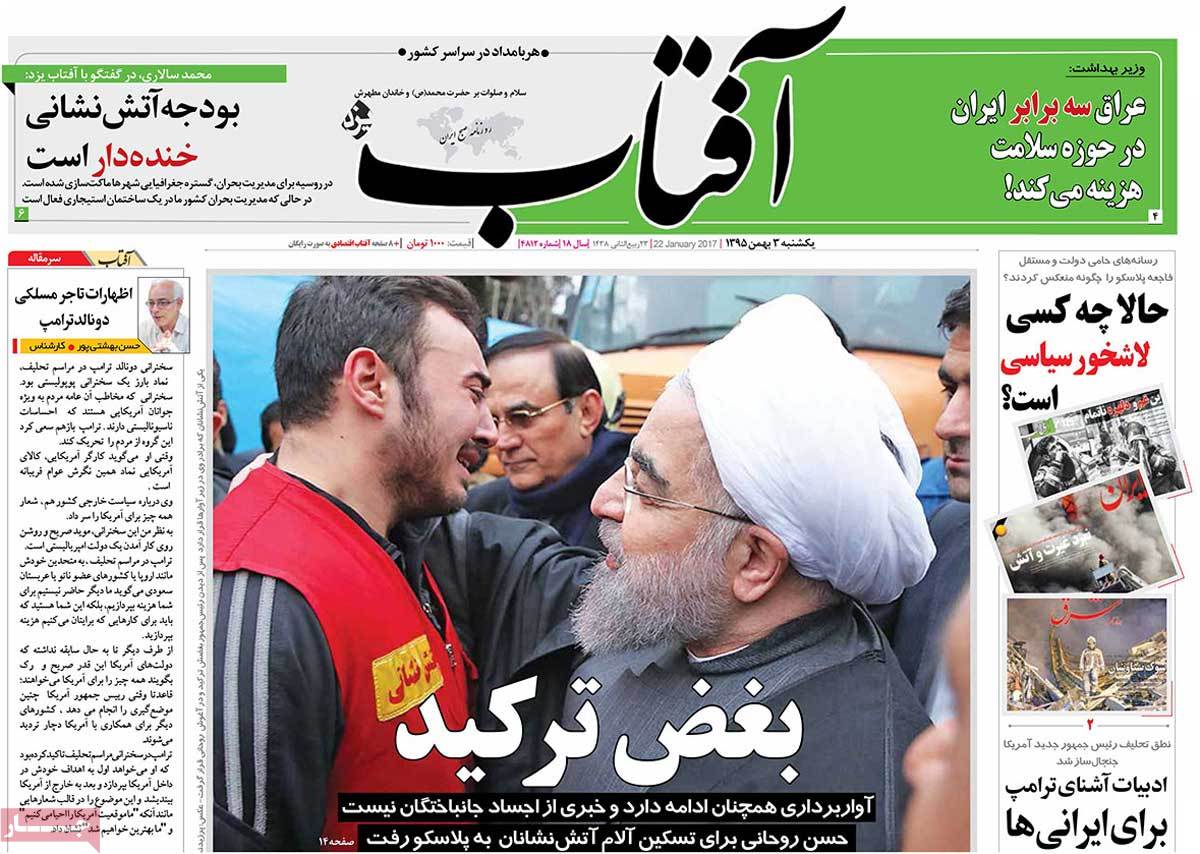 ---
Arman-e Emrooz:
1- Mr. Expediency's Seat: Coldest Meeting of Expediency Council after Ayatollah Rafsanjani's Demise
2- Deputy FM Jaberi Ansari: We'll Attend Astana Talks with Full Preparation
3- US Shadow on Syria Peace Talks in Kazakhstan
4- Iran's Ambassador to Kuwait: Iran's Stances Are Clear, We Don't Hide Anything
---
Emtiaz:
1- Intelligence Minister: Those Spreading Rumours Will Be Prosecuted; Plasco Building Collapse Is Not Suspicious
2- 59% Increase in Iran's Export of Handicrafts
3- Labour Minister Says Production Units Destroyed in Plasco Building Collapse Can Receive Low-Interest Loans
---
Etemad:
1- Man to Man War with Mountain of Rubble: 80 Hours after Beginning of Difficult Debris Removal Operation, People Are Worried and Waiting to Know about Fate of Firefighters and Other Missing Ones
2- Analyst: Obama Was Popular among Europeans and Disgraced among Middle Eastern People
---
Ettela'at:
1- President: Plasco Tragedy Should Be a Lesson for Future
2- Iran: No Foreign Player Can Decide for Syrian People
3- Senior Conservative Politician Haddad Adel: Islam Is Basis of Iran's Ties with Arab World
4- Moscow-Damascus Deal for Russia's 49-Year Presence in Syria
---
Ghanoon:
1- Rescuers without Shelters: A Report on Inadequate Attention Paid to Firefighters in Iran
2- We're Not Legally Obliged to Consider Firefighters as Martyrs: Martyrs Foundation; In Spite of All Difficulties, Firefighting Is Not a Hard and Harmful Job
3- Cheques Are Alive under the Rubble: A Report on Documents Found in Plasco Debris
---
Haft-e Sobh:
1- These People Are Fantastic: Those Who Raise Accusations against People Should Be Ashamed
2- Strange Case of Obama's TV: Former US President Uses an Economic TV Set in His New Home Which Is Also Found in Iran
---
Hemayat:
1- Prosecutor General: Special Court to Be Formed in Plasco Collapse Site
2- Mayor of Tehran: Temporary Place to Be Established for All Shop Owners of Plasco Building to Run Their Business
---
Iran:
1- National Assistance for Plasco Shop Owners: People, Government, and Syndicates Joining Hands to Help Those Who Incurred Damages in Plasco Collapse
2- Islamic Revolution Is Today Threatened by Ignorant and Radical People: Culture Minister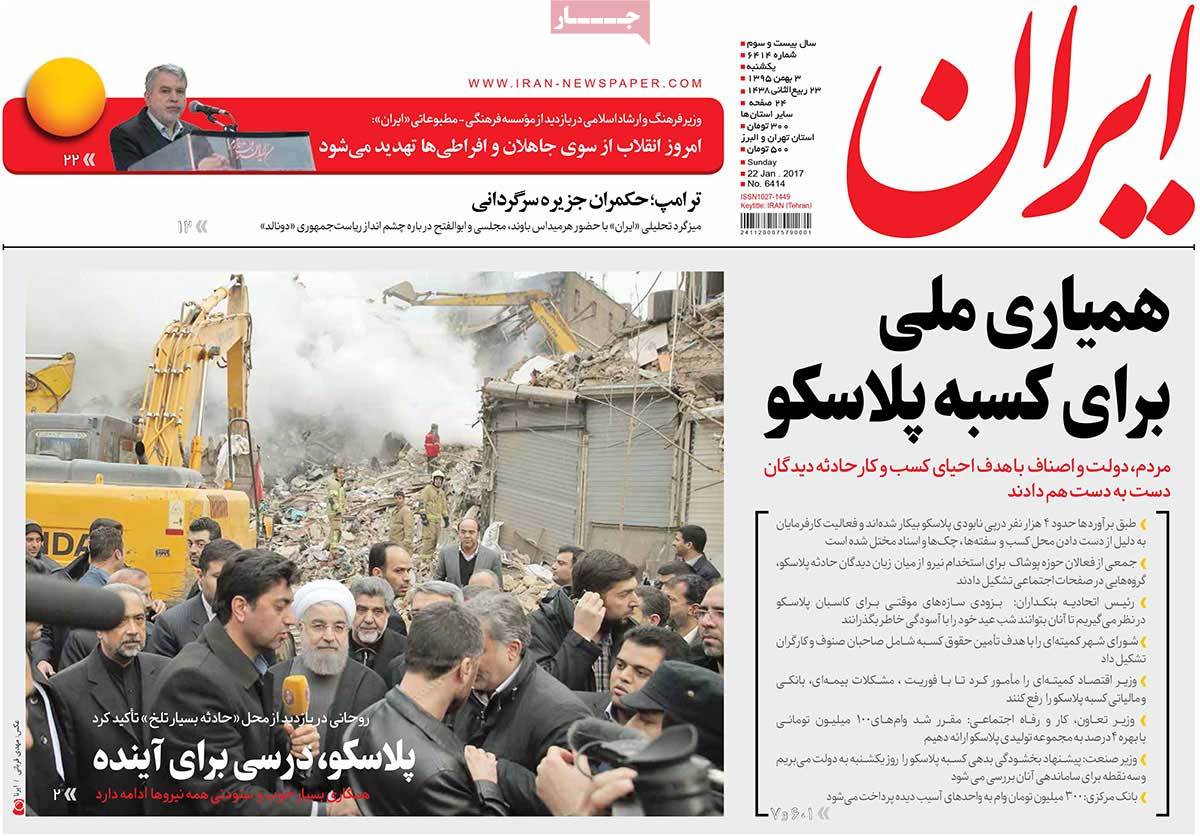 ---
Jame Jam:
1- Central Bank Governor: $78,000 Loans to Be Given to Shop Owners of Plasco
2- No to Trump: Increasing Protests after Inauguration of Trump
---
Javan:
1- Trump Started Work with Iranophobia; 60 Cities in the World Start Riots against Trump
2- Iran Removes US from Astana Talks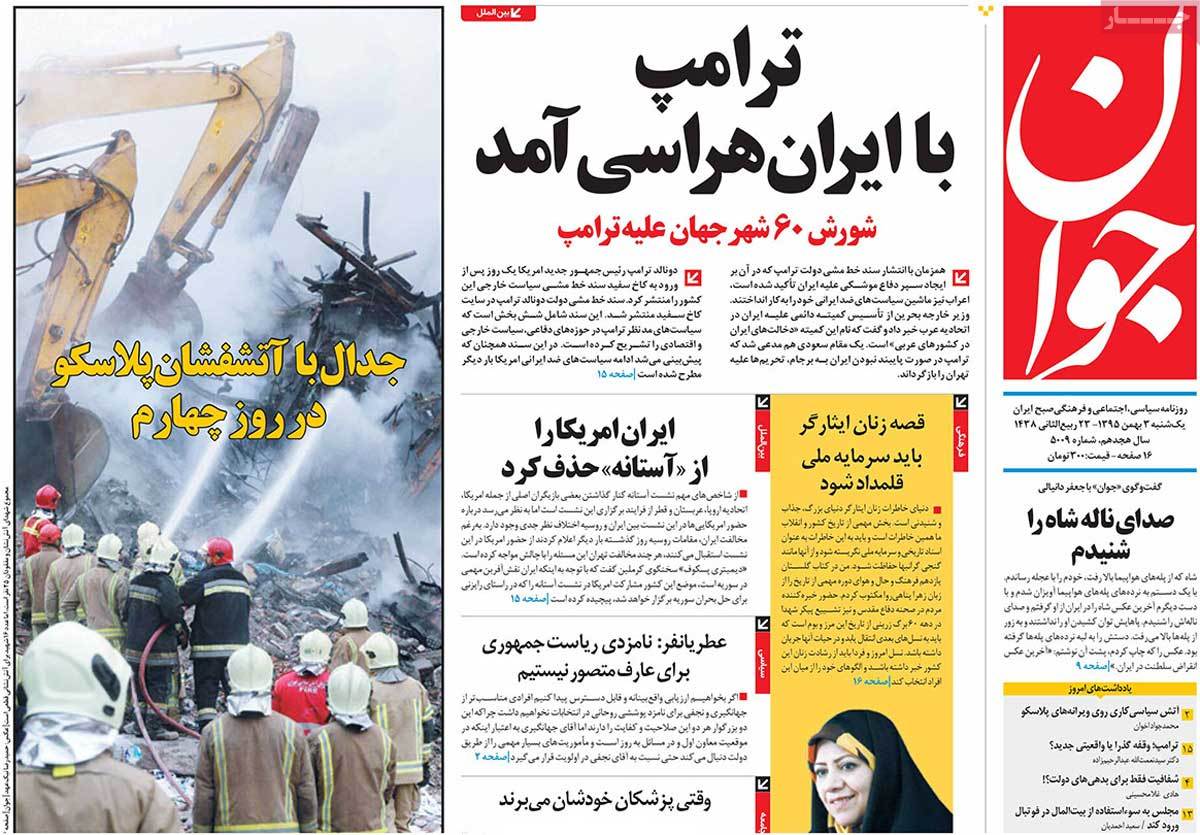 ---
Jomhouri Eslami:
1- President: We Need More Comprehensive Plan for Old Buildings
2- We'll Rebuild Plasco Building in Two Years: Building Owner
3- Export of Pharmaceuticals Tripled after JCPOA: Health Official
4- MP: Foreign Ministry's Fourth JCPOA Report Is Full of Moves Forward
5- Al-Aqsa Mosque Preacher: US Embassy Move to Quds Is Declaration of War against Muslims
6- Health Minister: Unfortunately We Are Gripped by Corruption in Iran
7- Anti-Trump Demonstrations in 635 Parts of the World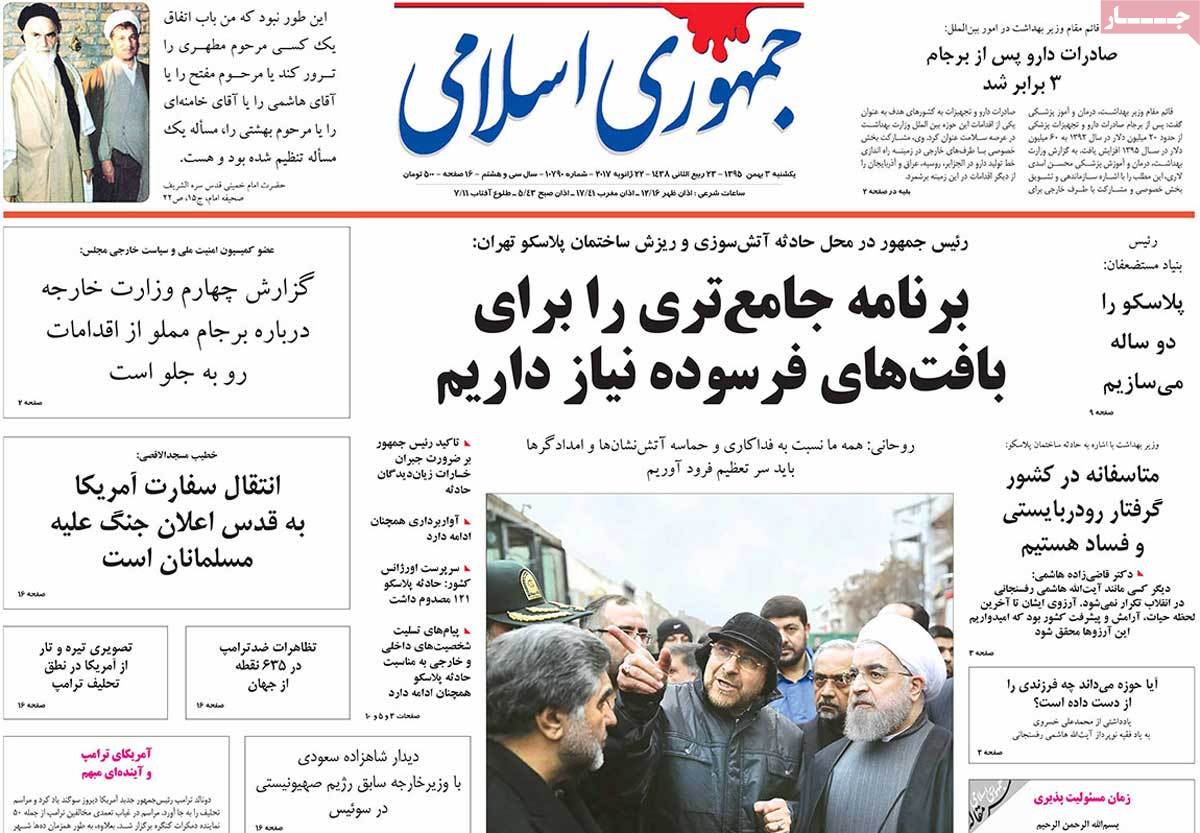 ---
Kayhan:
1- A Nation Praying for Selfless Firefighters: Fear and Hope in Heart of Tehran, Fight against Fire and Rubble Continues
2- Months after Controversial Election: Unrest and Chaos Not Leaving US Alone
---
Khorasan:
1- Plasco Shop Owners to Be Exempted from Paying Taxes
2- Fresh CIA Document Shows Details of US Support for Saddam Hussein in His War against Iran
---
Rah-e Mardom:
1- Human Factor Was Cause of Fire and Destruction of Plasco Building: Number of Injured People in Plasco Increases to 145
2- Identity of Victims Not Announced Yet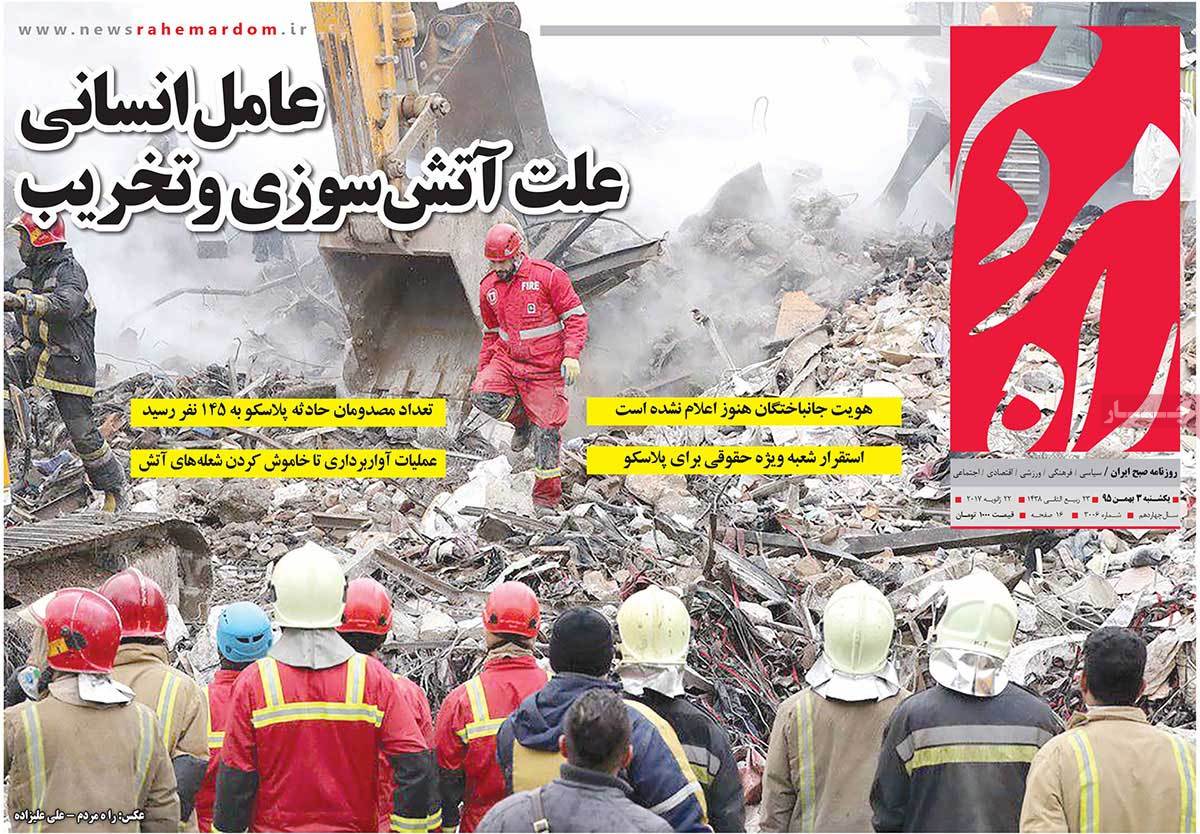 ---
Resalat:
1- Hard Days of State-Sponsors of Terrorism: US Does Not Deserve to Take Part in Astana Talks
2- Russia: Iran Does Not Welcome US Presence in Astana Meeting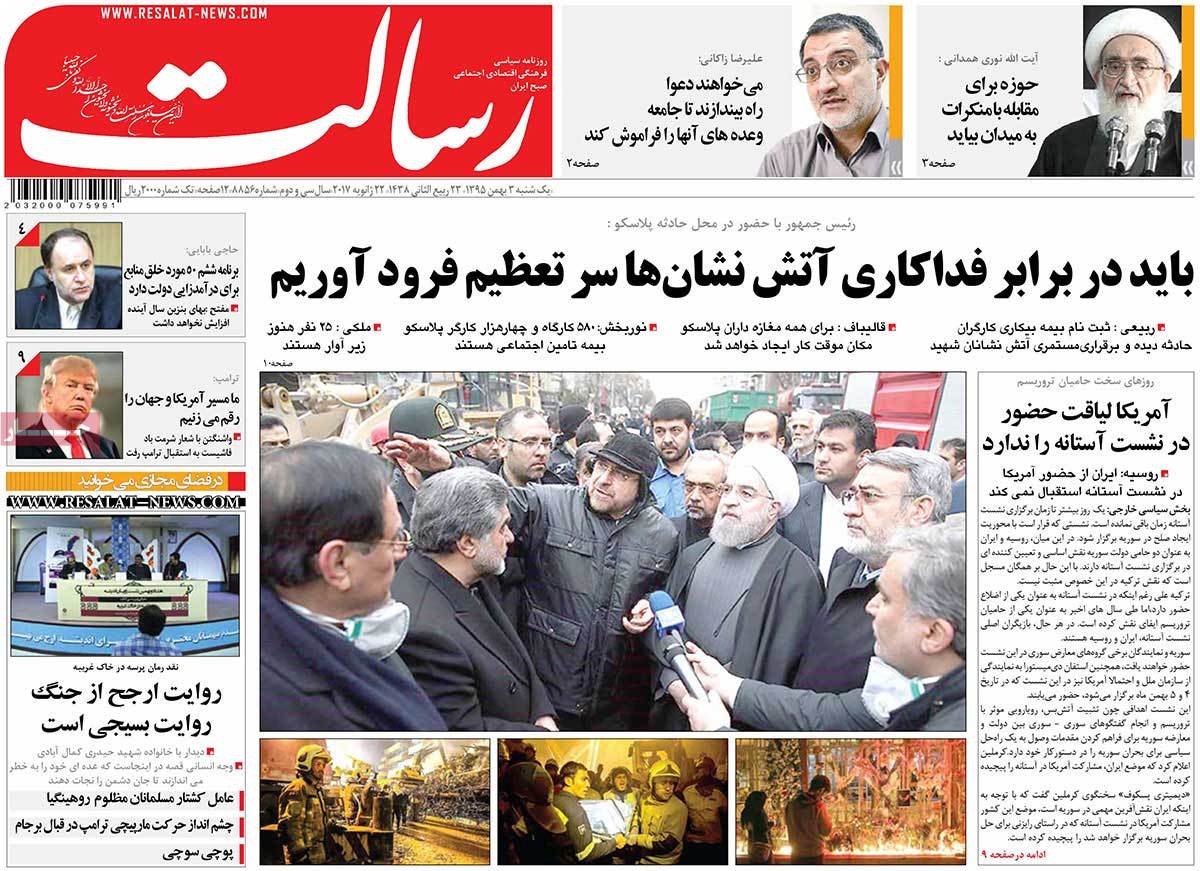 ---
Shahrvand:
1- Rouhani's Order:
Damages Should Be Compensated
Plans Should Be Made to Prevent Similar Dangers
Vulnerable Buildings Should Receive Special Attention
Conditions Should Return to Normality
Insurance Companies Should Compensate for Damages
Social Welfare Organisation Should Address Problems of Plasco Workers
2- Culture Minister: Government Doesn't Want Prescription-Based Medium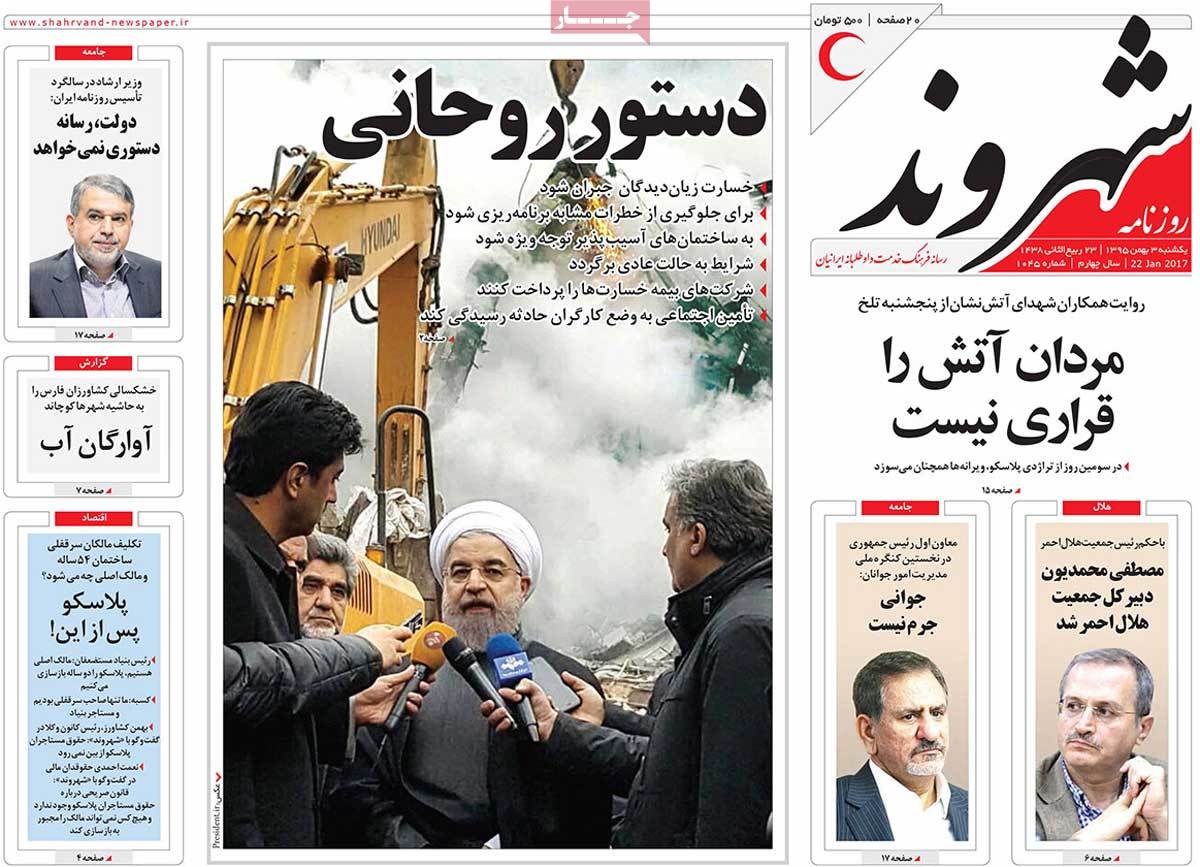 ---
Shargh:
1- Firefighters Say How Disaster Happened
2- Guardian Council Secretary Not Hospitalised: Ayatollah Jannati Is Fine
---
Vatan-e Emrooz:
1- Wreaths Laid for Selfless Firefighters: People Visited Fire Stations and Laid Wreaths to Commemorate Plasco Building Victims