Newspapers today covered President Hassan Rouhani's remarks during the Sunday night live televised interview.
They also highlighted the bloody beginning of New Year in Turkey, with the terrorist attack in Istanbul which killed at least 39.
The gas dispute between Iran and Turkmenistan, and the move by Turkmens to cut gas supplies to Iran also received great coverage.
The above issues, as well as many more, are highlighted in the following headlines:
Abrar:
1- Saudi Arabia Has Not Invited Iran for 2017 Hajj!
2- Official: Prostitutes and Homeless Junkies Should Be Persuaded to Be Sterilized
3- 39 Killed and 69 Wounded in Attack on Istanbul Night Club
4- MP: It Is Possible to Stop Gas Imports from Turkmenistan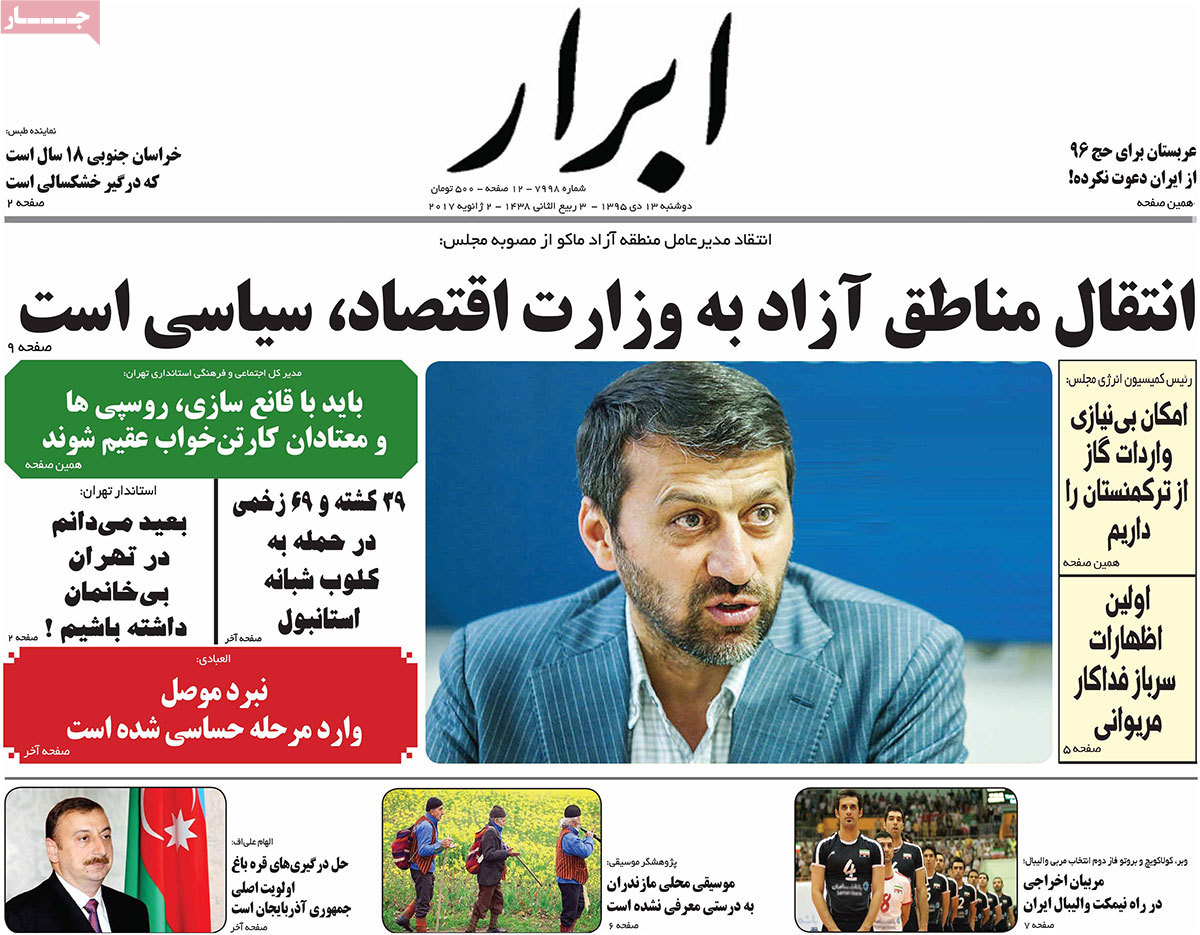 ---
Abrar-e Eqtesadi:
1- Stonewalling in Process of Transport Minister's Impeachment
2- Central Bank's New Conditions for Importers: Opening of LCs with Dollar Rates Less than Market Price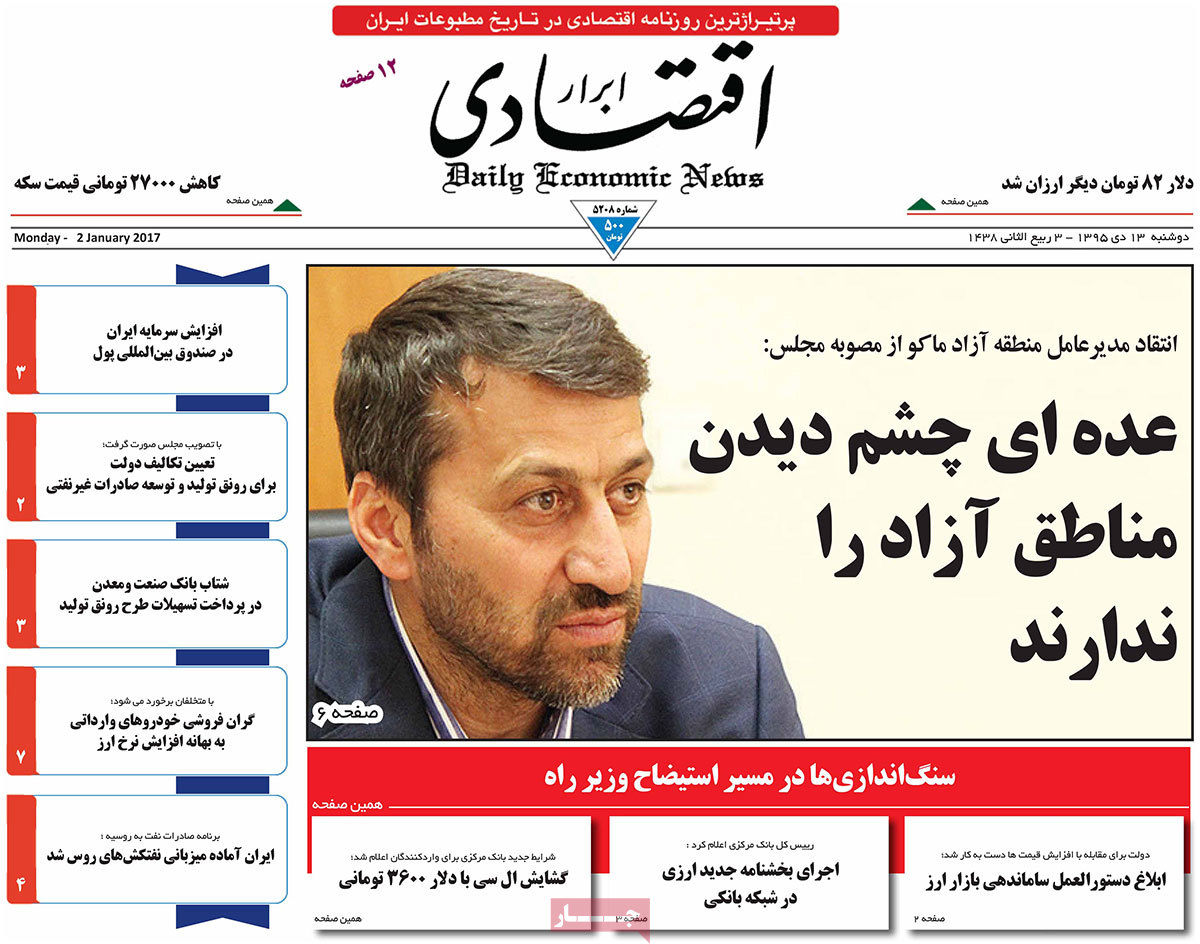 ---
Afkar:
1- Iran-Syria Ties Are Strategic
2- Disastrous Beginning of 2017 in Turkey
3- Culture Minister: Cinema Has an Effective Role in Decreasing Social Ills
4- Only One Vote Left to Return of Achaemenid Tablets to Iran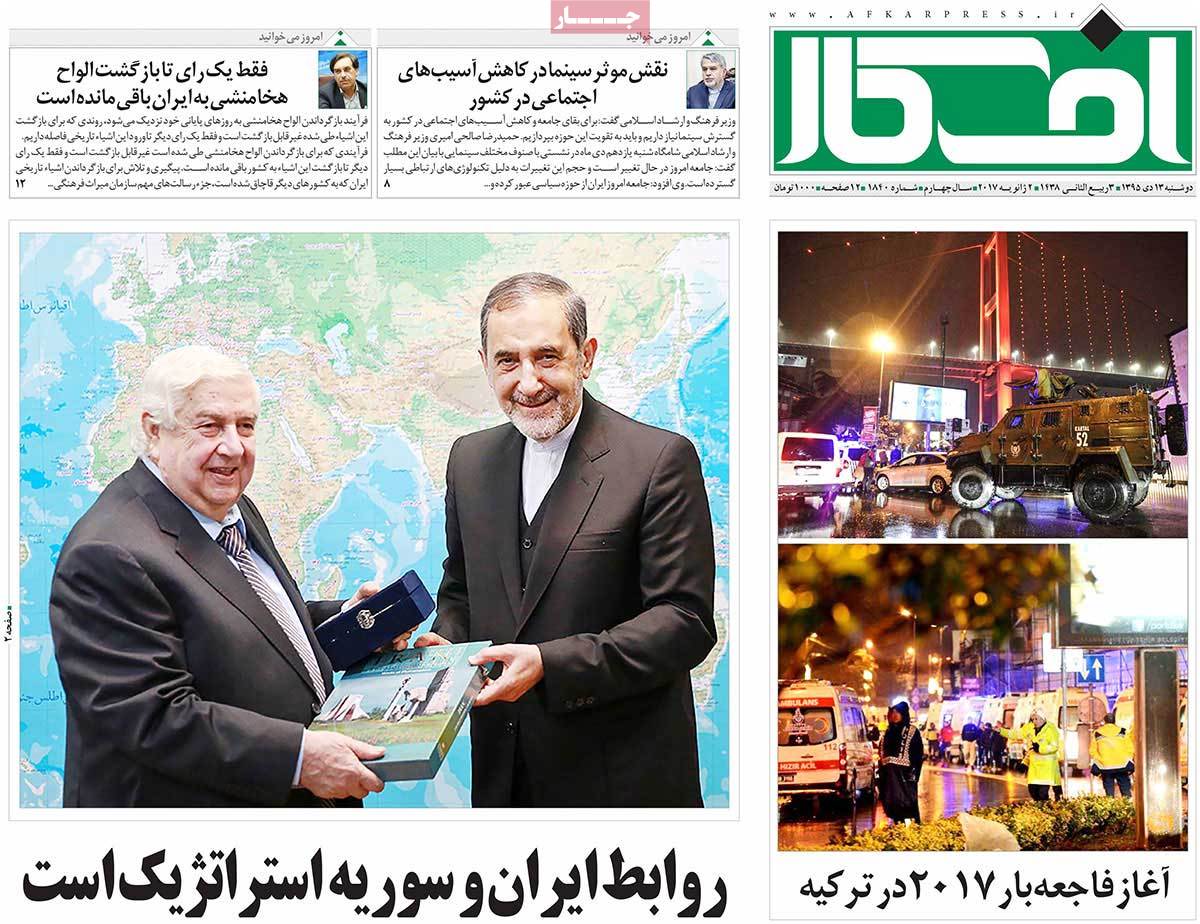 ---
Aftab-e Yazd:
1- President in TV Interview: If JCPOA Was Not Implemented, We Could Just Pay Wages of Civil Servants
2- Reformist Politician: If the Establishment Doesn't Want Rouhani, He Won't Run for Presidency
3- Erdogan or ISIS, Which One Is to Blame for Turkey's Insecurity Today? [Editorial]
---
Arman-e Emrooz:
1- Rouhani: Transparency Is People's Right; Everyone Is Free to Talk
2- Turkmenistan Stops Gas Export to Iran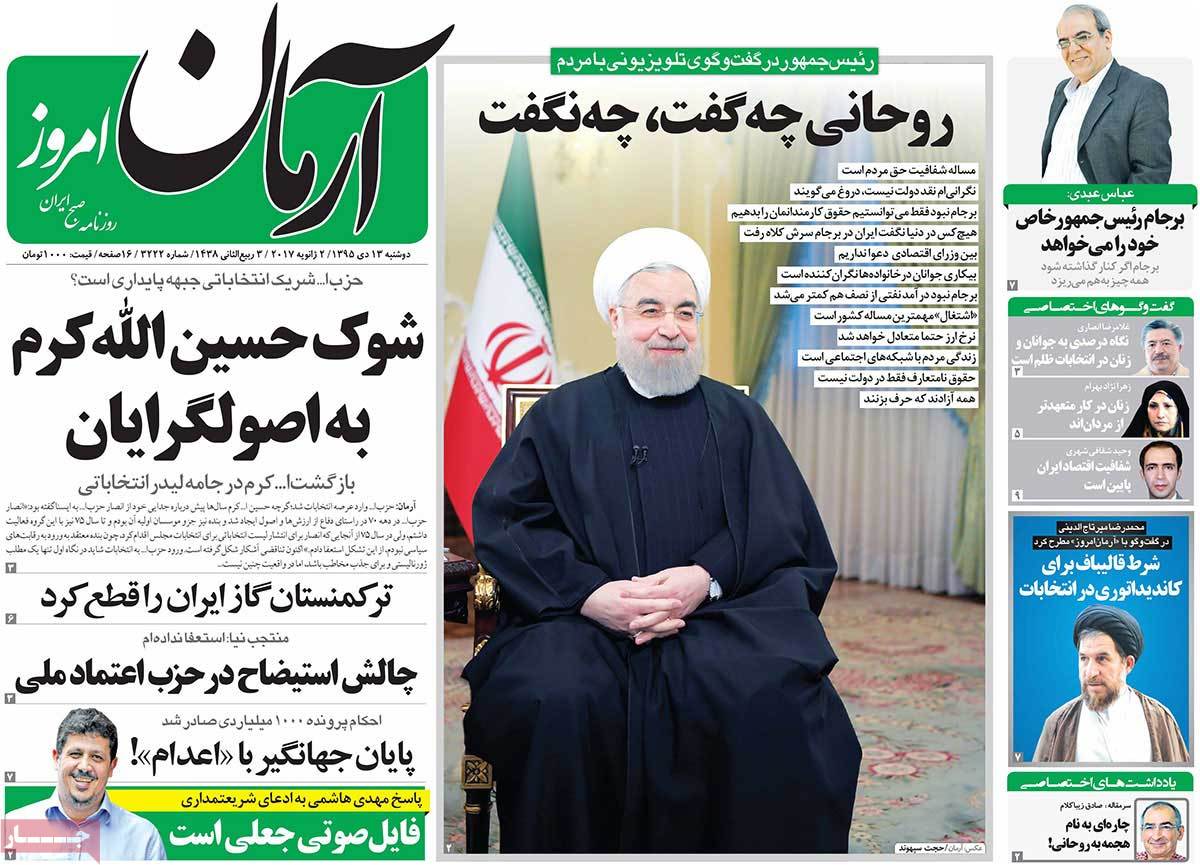 ---
Asrar:
1- Iran and US to Hold Session about JCPOA Next Monday
2- Executives with Dual Nationality Will Be Summoned to Court: Judiciary Official
3- Advisor to Iran's Leader Velayati: Dissidents Should Recognize Legitimate Government of Syria
4- Conservatives Have Unity Problem: Politician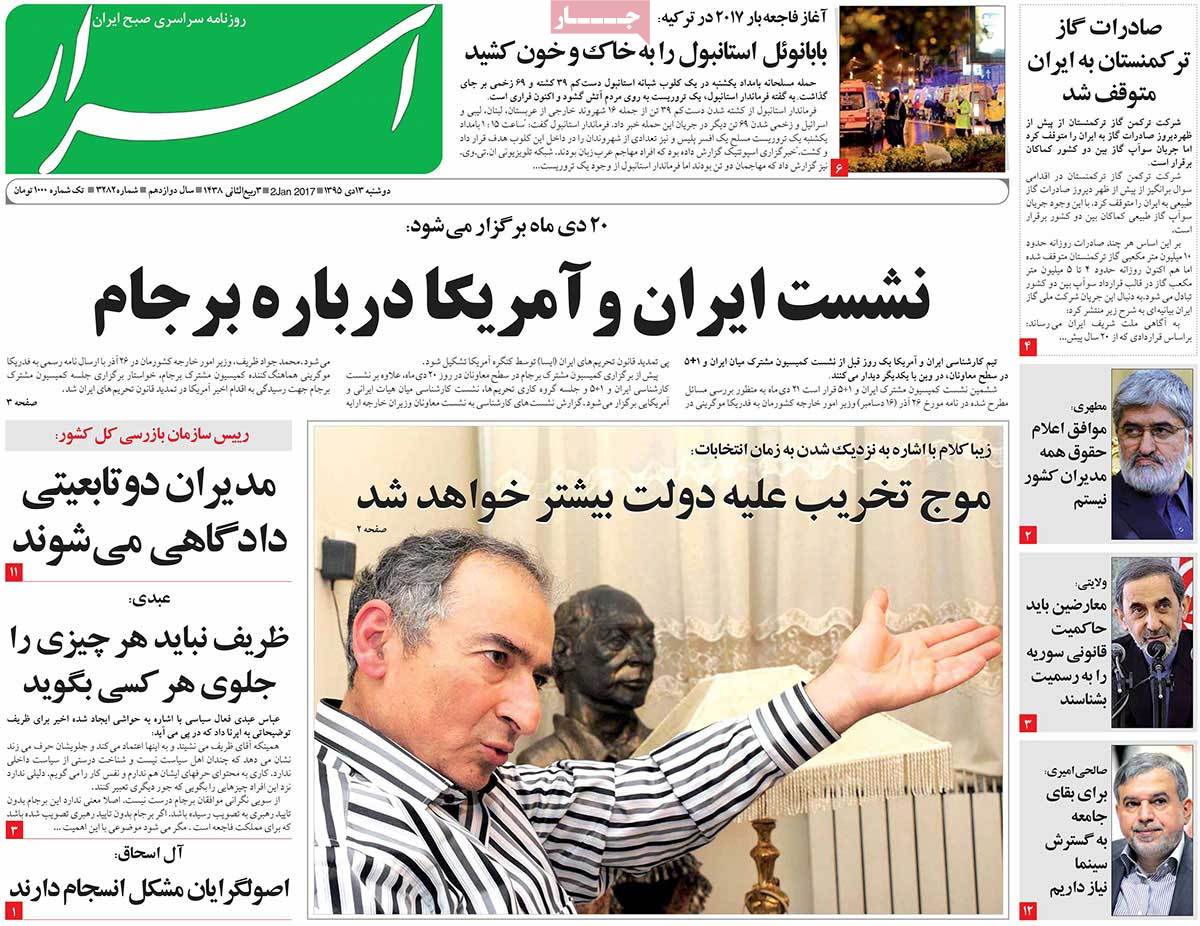 ---
Bahar:
1- Maroon Dies in Dust: Shadgan, Iran's City of Palm Trees, Will Have No Residents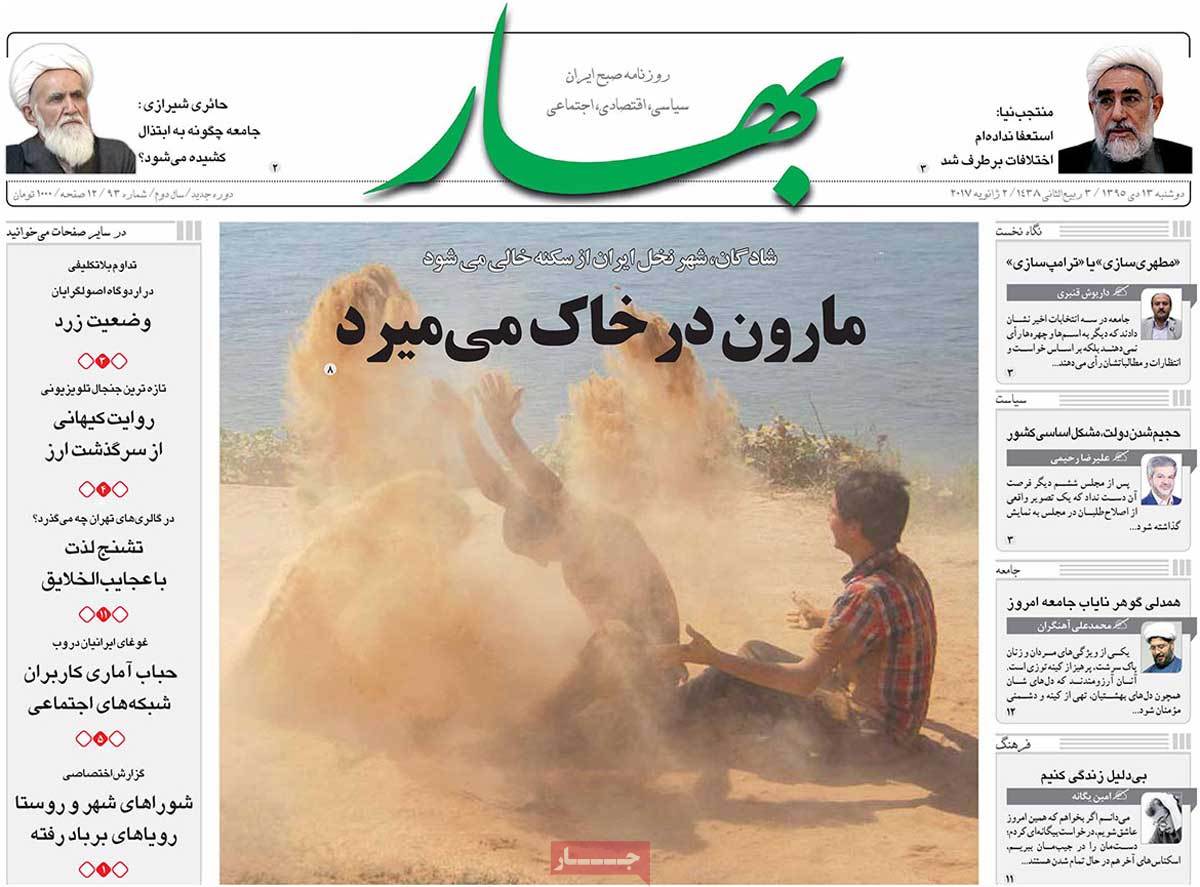 ---
Ebtekar:
1- President in Clash of Clans: Continued Reactions to Restrictions Imposed on Mobile Game Clash of Clans
2- Tehran Governor-General: 2017 Presidential Votes Will Be More Difficult than 2013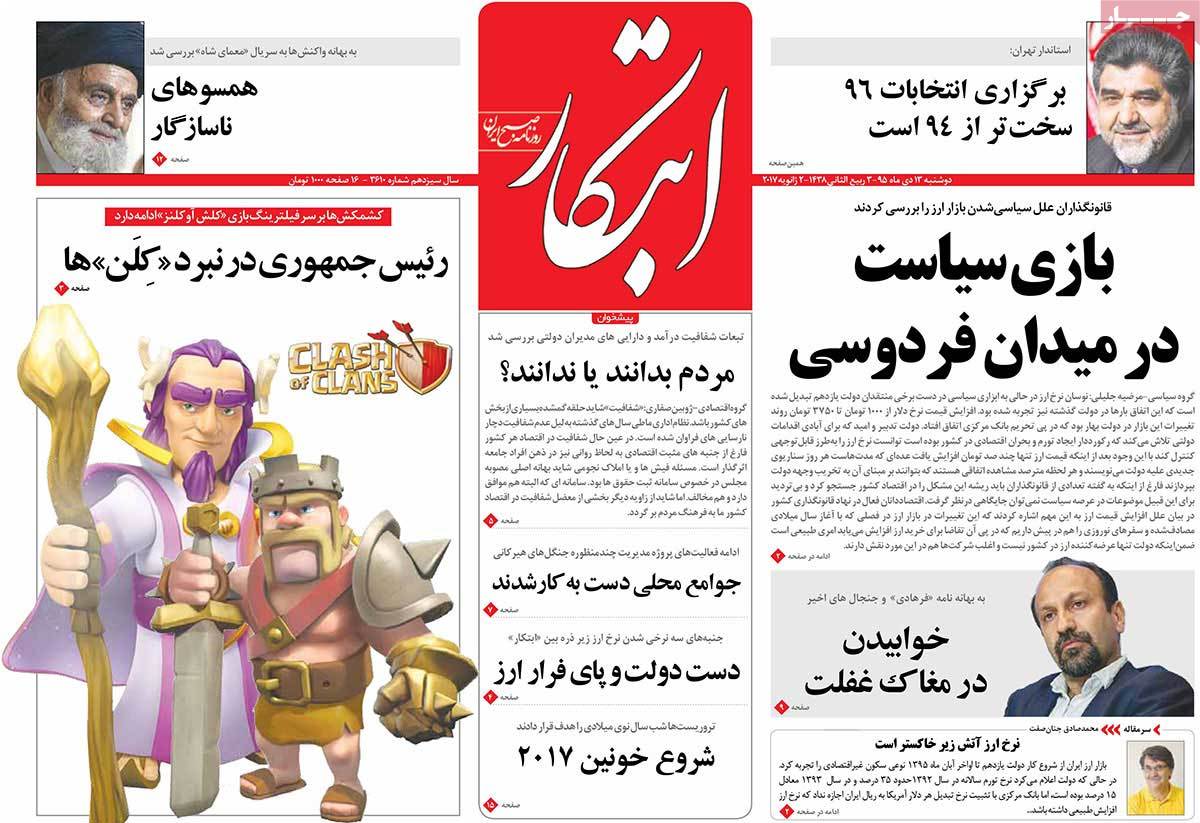 ---
Etemad:
1- Rouhani's Silence: In Live Televised Interview, President Rouhani Did Not Answer to a Question about Running for Next Year's Presidential Votes
2- New Year's Tragedy: Armed Men Open Fire on People Who Had Gathered in Istanbul to Celebrate Advent of 2017
3- Call for Decrease in Gas Consumption: Iran's Natural Gas Company Calls on People to Help Government Protect Iran's Rights in Fight against Turkmenistan's Excessive Demands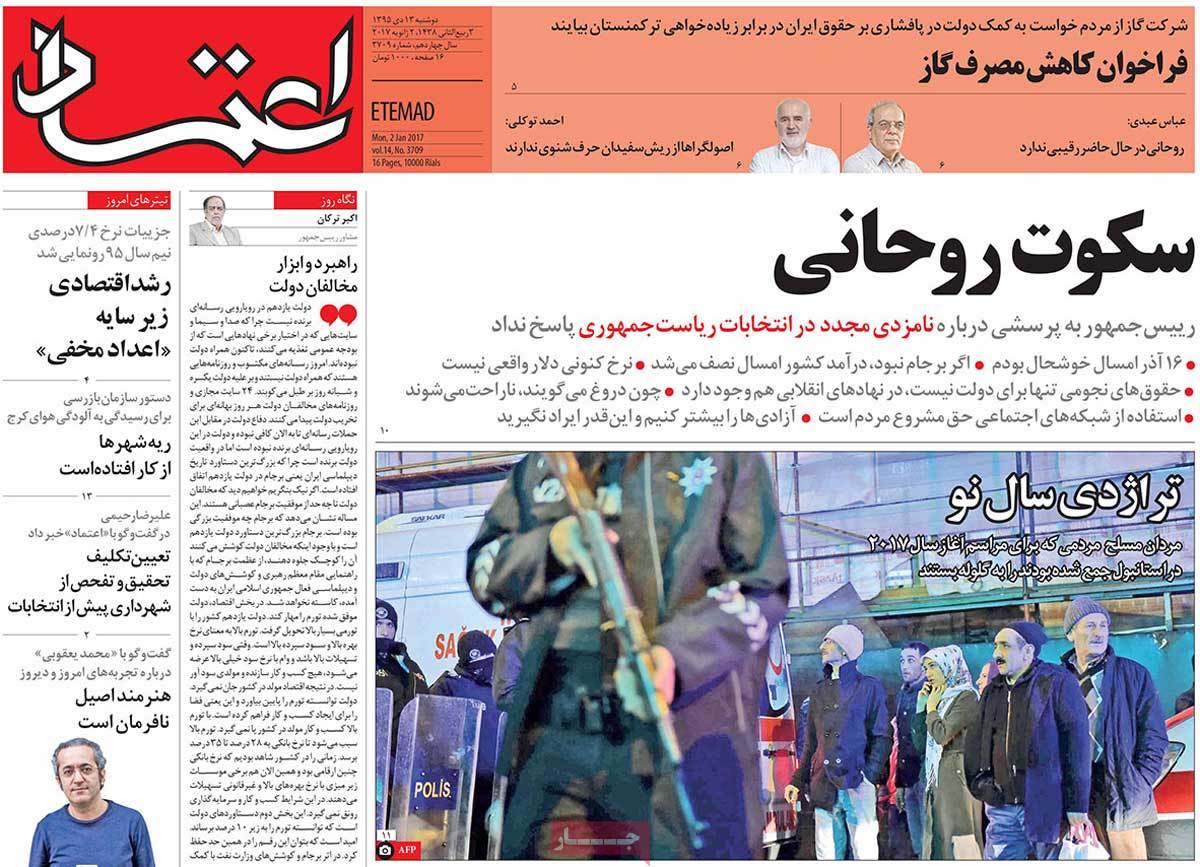 ---
Ettela'at:
1- President: This Year's Inflation Rate and that of Next Year Will Remain One-Digit; Unemployment Can Turn to a Very Big Problem for Our Society
2- Labour Minister: One Person Enters Market of Job Demand Every 14 Minutes
3- Tehran Has a 36-Centimetre Subsidence Each Year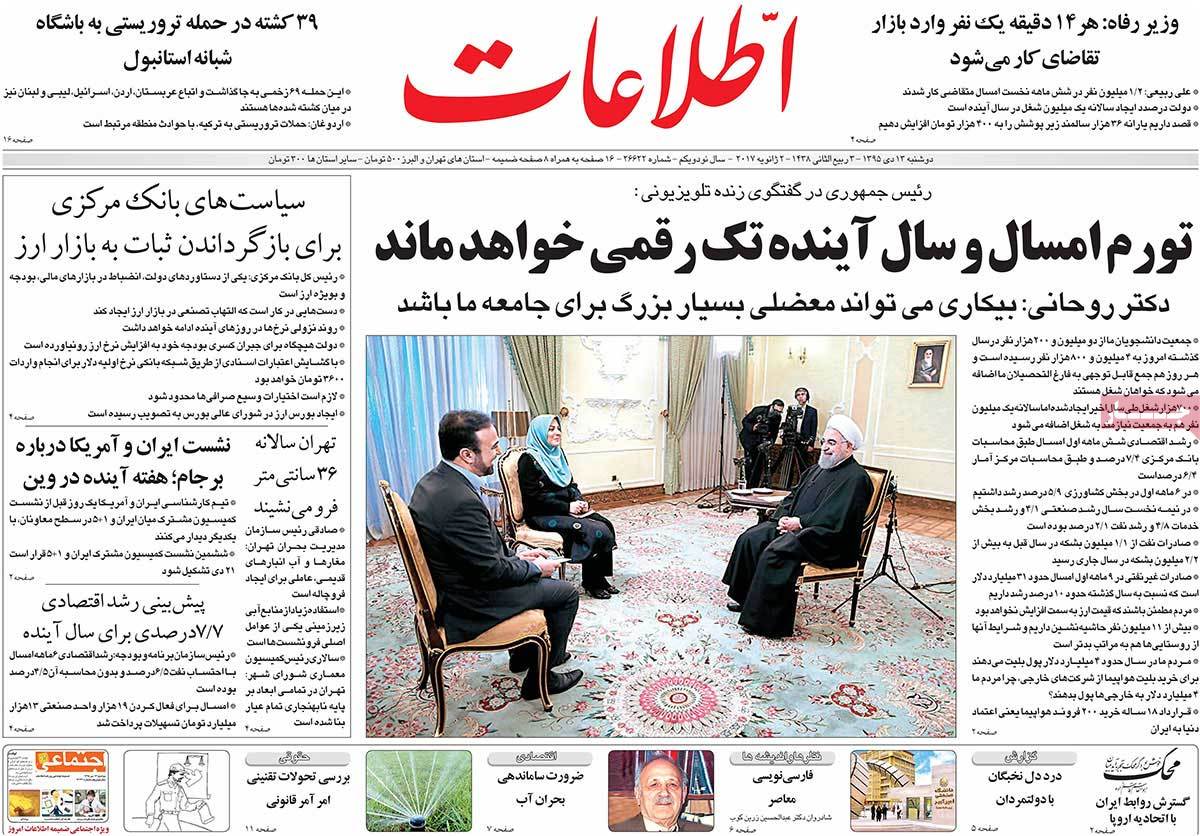 ---
Haft-e Sobh:
1- Bloody New Year Starts in Istanbul
---
Hemayat:
1- Violent January in Europe
2- Yemen's Ansarullah: We Will Extend the War into Saudi Arabia's Territory
---
Iran:
1- Rouhani: I'm Very Optimistic about Economic Future of Iran
---
Jame Jam:
1- Excessive Insistence on Assembly of French, Chinese, and Korean Cars in Iran Has Consigned National Car Production to Oblivion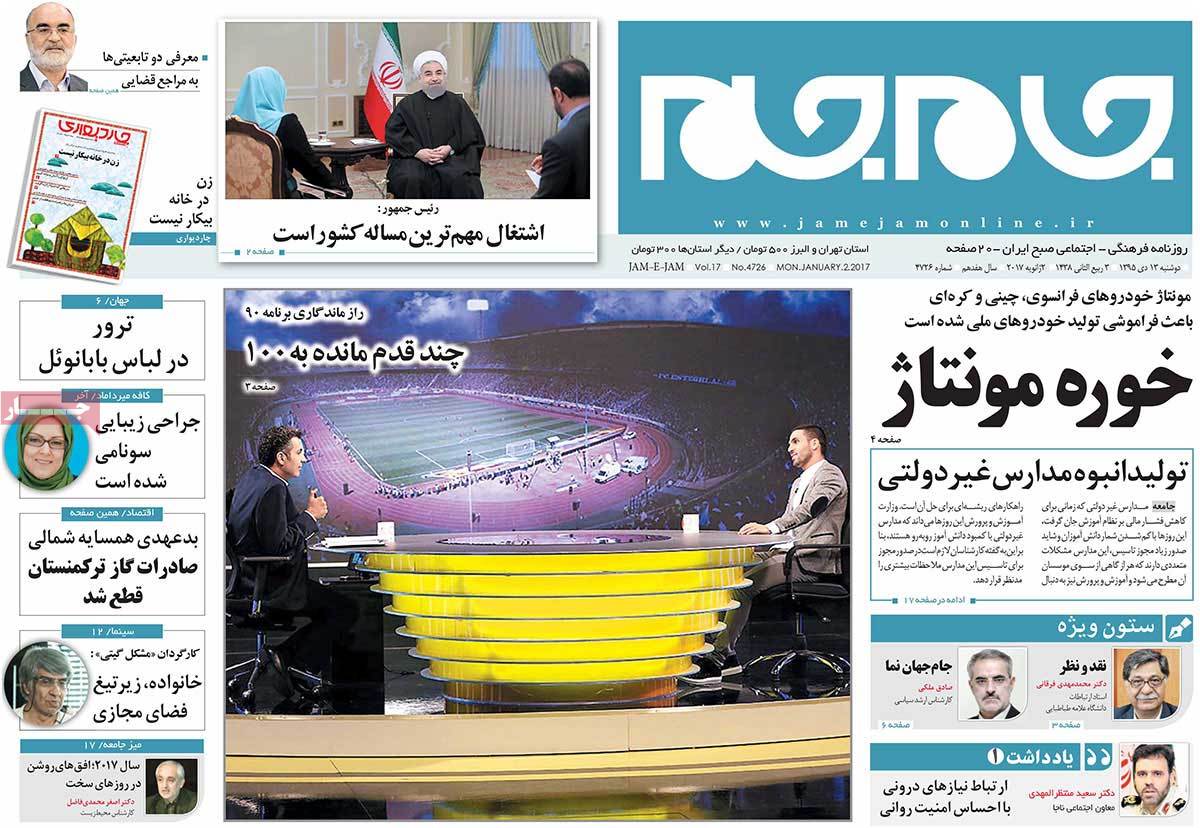 ---
Javan:
1- Fire on Turkey's Ceasefire in Syria
2- UNSC Supports Astana Summit on Syria: Resolution to Support Syria Truce Approved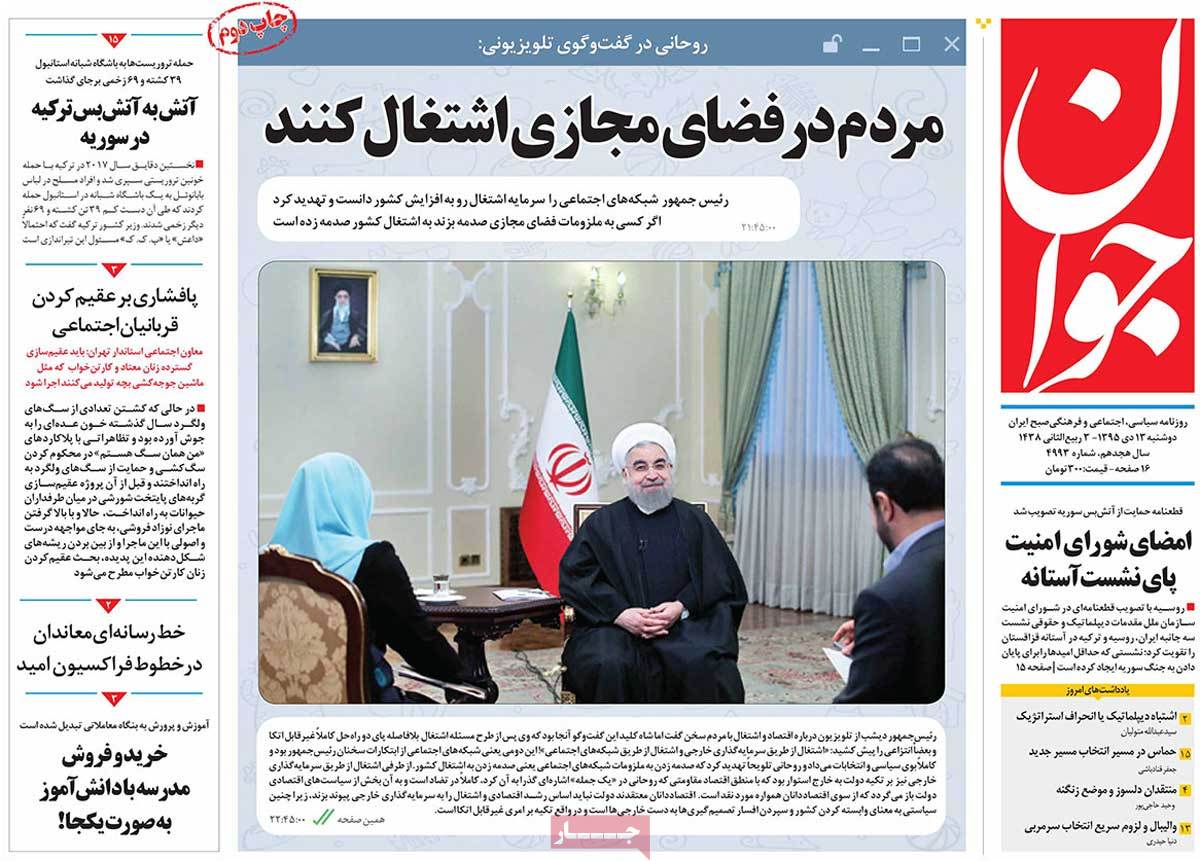 ---
Jomhouri Eslami:
1- Rouhani: Nationwide Effort to Create Job Opportunities in Iran Is Necessary
2- US admits to Saudis' Crimes in Yemen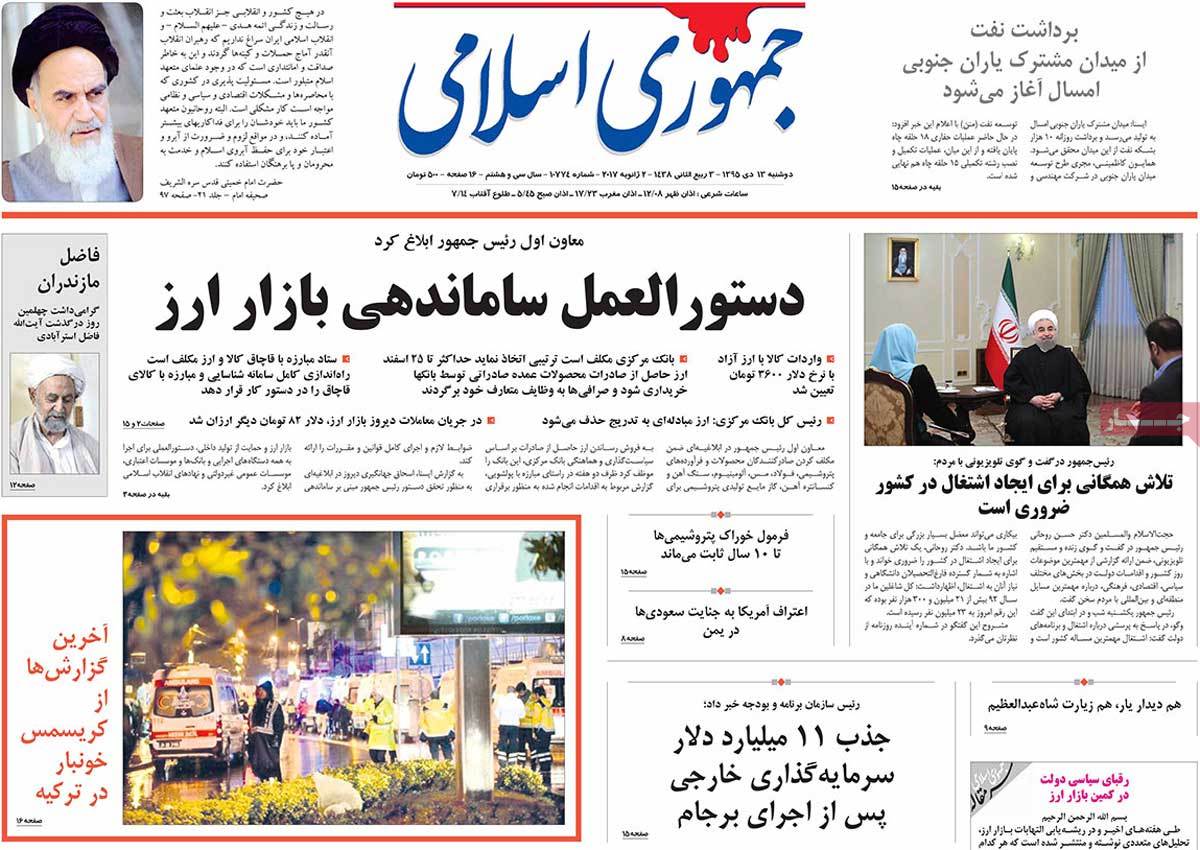 ---
Ka'enat:
1- New Constitution in Turkey: Goodbye Democracy
---
Kayhan:
1- Gradual Death of Shiites in al-Foua and Kefraya before Eyes of Those Who Claims to Be Advocates of Human Rights
2- Daily Mail Predicts Coup against Saudi King in 2017
3- 5 Months after Inauguration by Transport Minister, Ministry Denies Reports about Assignment of Railway's Catering to Austrian Company! [photos show the ceremony to assign an Austrian company the catering of Iranian trains]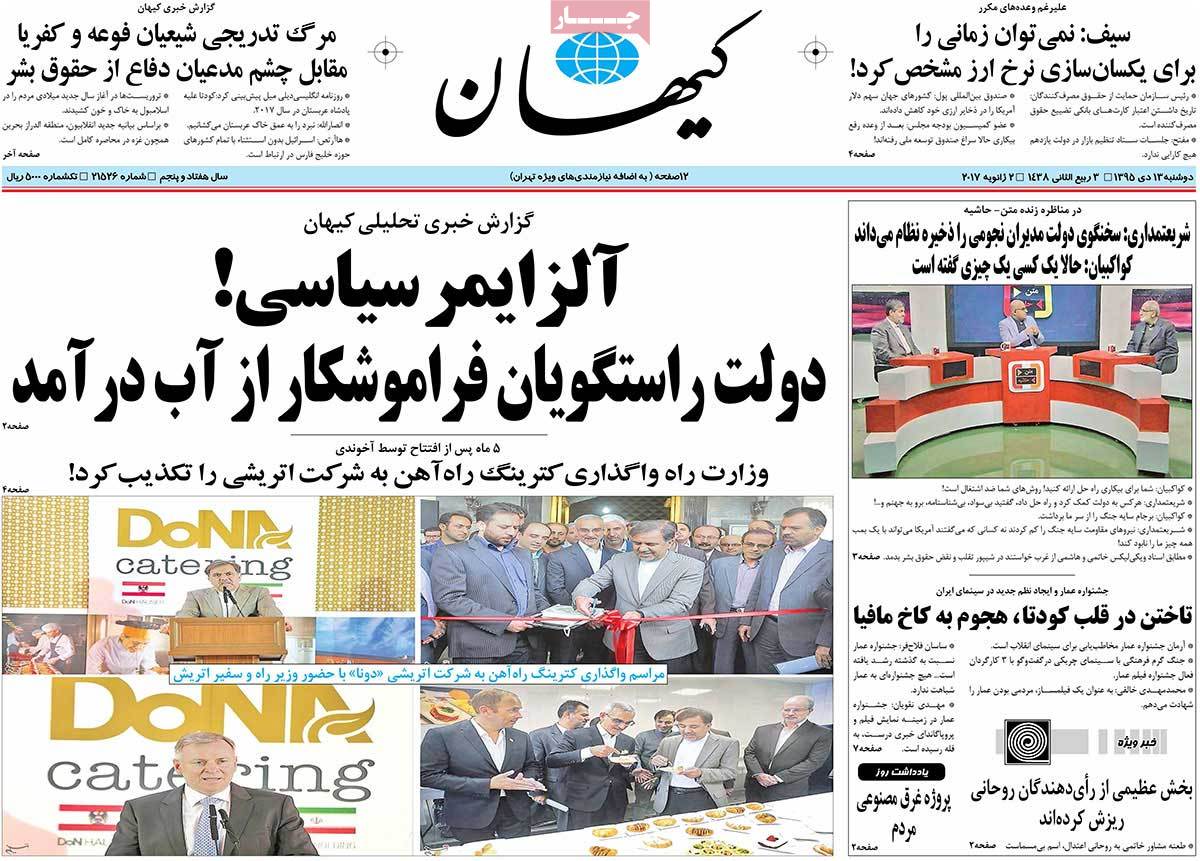 ---
Khorasan:
1- Rouhani Defends Nuclear Deal and Future of Iran's Economy in Live Televised Interview
2- Iran's Firm Response to Turkmenistan's Breach of Gas Deal: National Gas Company Says We'll Provide People with the Gas They Need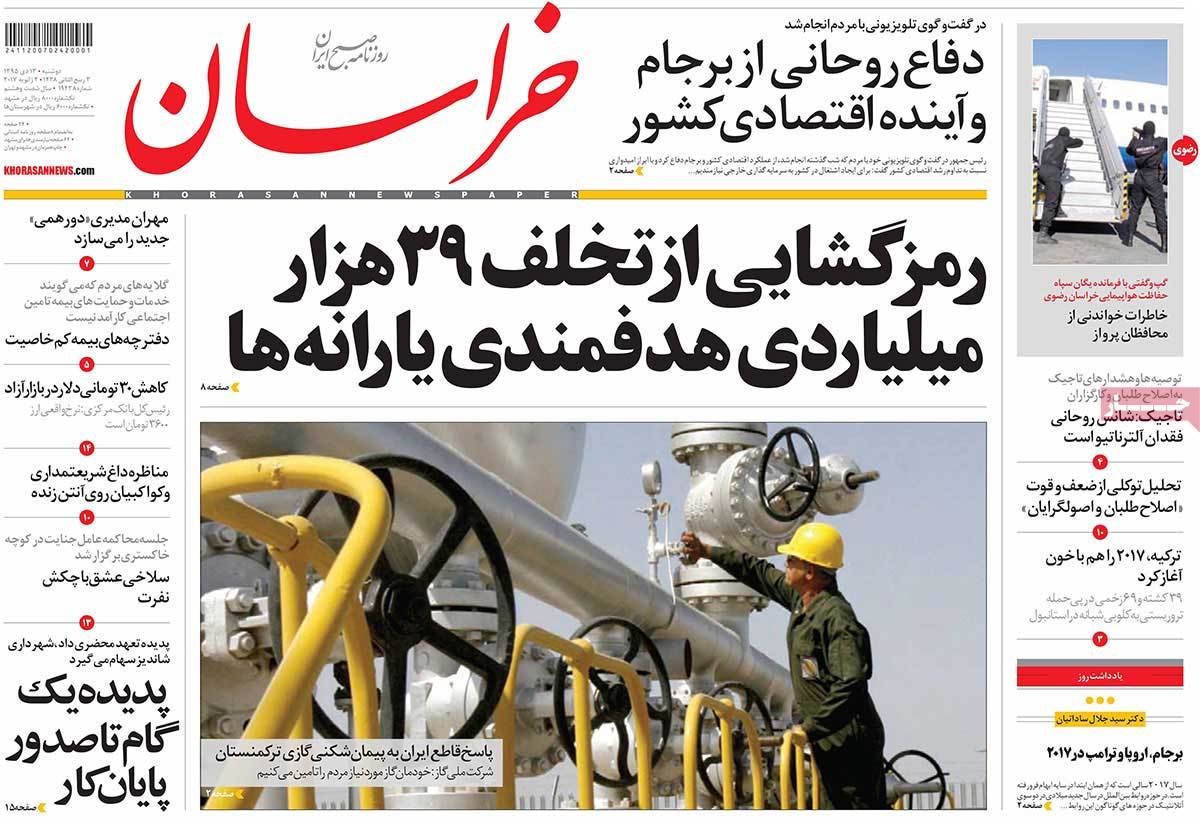 ---
Payam-e Zaman:
1- Velayati: Syria's Victory Is that of Iran
2- Iran to Host Russian Oil Tankers
3- Decreasing Trend of Marriage in Iran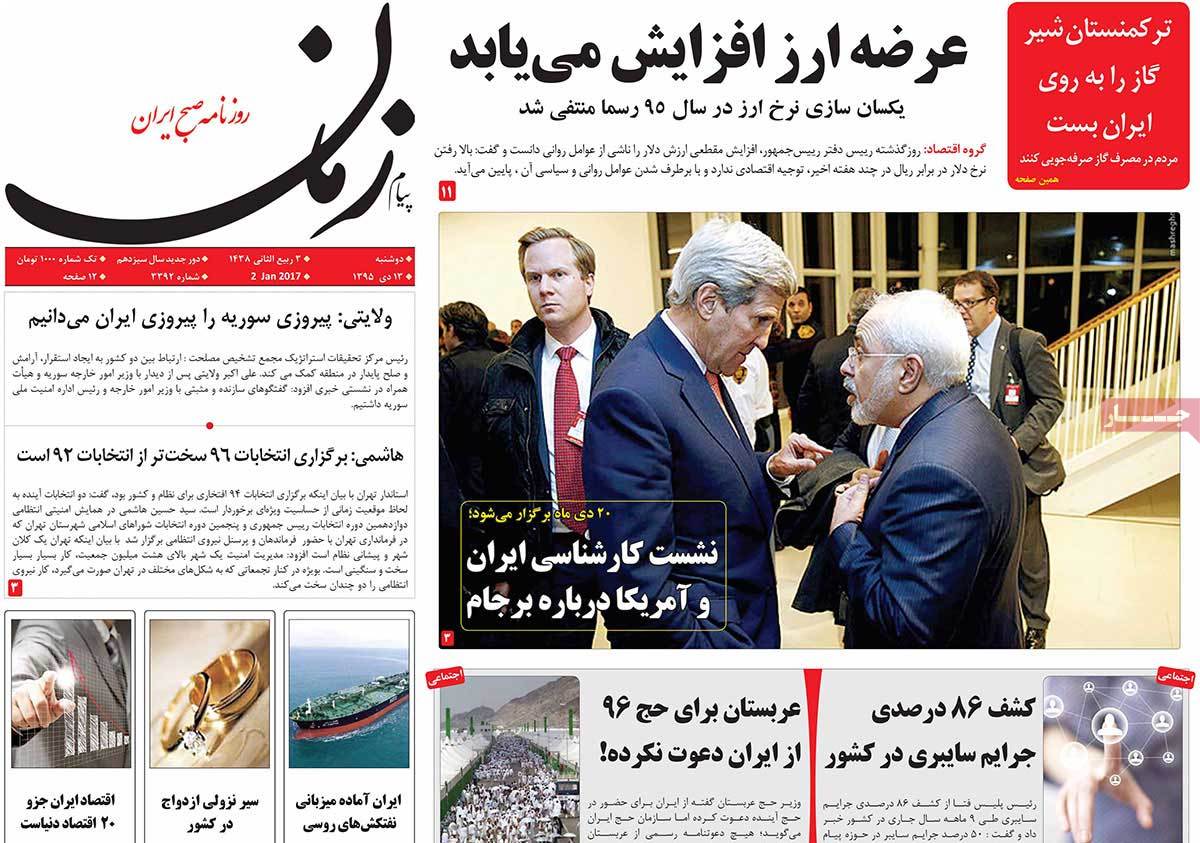 ---
Setareh Sobh:
1- National Predicts Iran's Perspective in 2017: JCPOA Will Remain
2- Editor-in-Chief of Conservative Newspaper Kayhan: Scrapping JCPOA Is the Only Wise Move that Can Be Made by This Crazy Man [Trump]
3- Reformist MP: Kayhan Newspaper Moves the Country towards Sanctions
---
Shahrvand:
1- End of Dollar Corruption: First VP Communicates Directive to Organize Foreign Exchange Market
2- President: We Should Stop Taking a Hard Line on People's Use of Social Media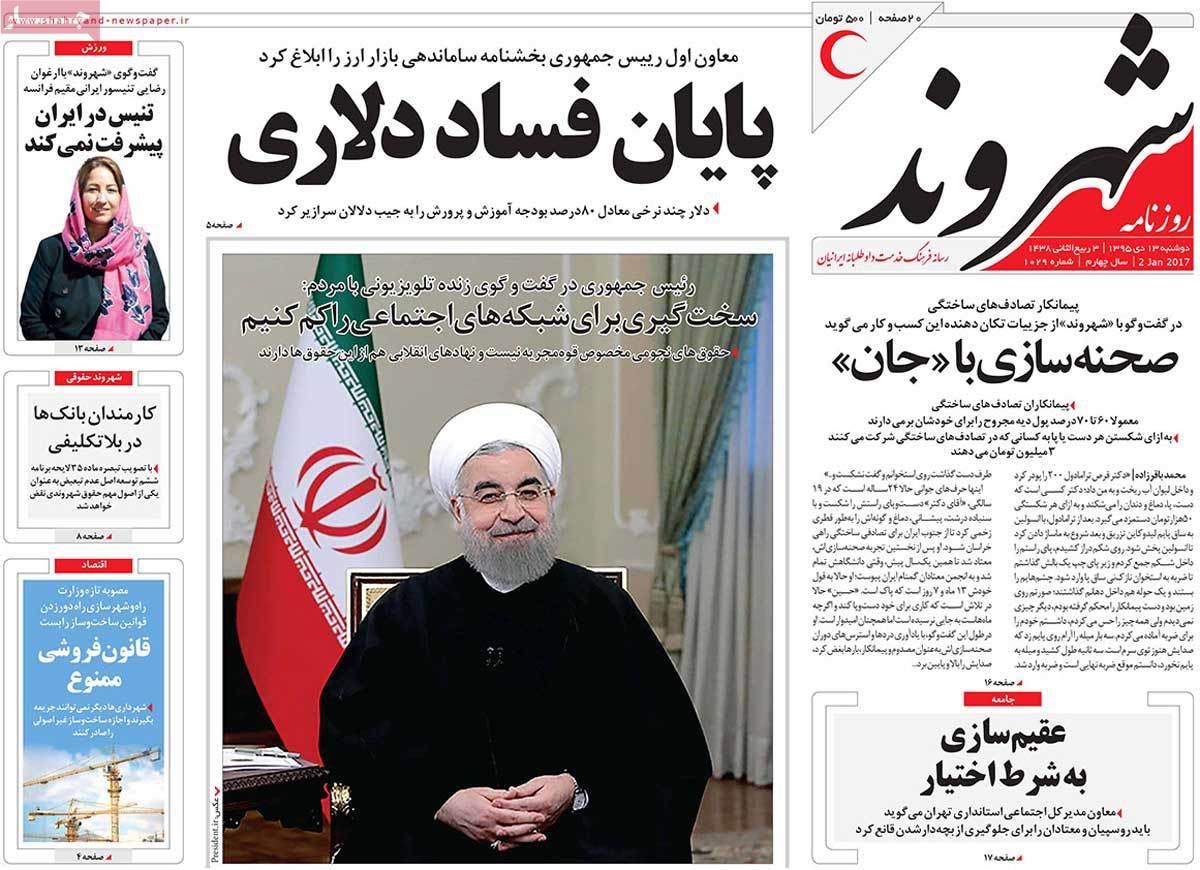 ---
Shargh:
1- Iran's Last Ambassador to Saudi Arabia: It Is Difficult to Melt the Ice, but It's Not Impossible
2- False Charges against Former Presidents [Editorial]