Newspapers today covered the remarks made by Iranian Foreign Minister Mohammad Javad Zarif on the sidelines of ongoing World Economic Forum summit in Davos, Switzerland.
Zarif talked about a variety of issues, including the consequences of US President-elect Donald Trump's possible move to scrap the nuclear deal with Tehran, as well as the open doors of Iran's economy for US businessmen.
President Hassan Rouhani's move to test-drive an electric car on the National Day of Clean Air also received great coverage.
The above issues, as well as many more, are highlighted in the following headlines:
Abrar:
1- $22 Billion of Iran's Frozen Assets Released
2- Zarif: We've Made No Contact with Incoming US Administration
3- US Ambassador to UN's Remarks against Russia, Iran, and North Korea in Her Last Hours of Service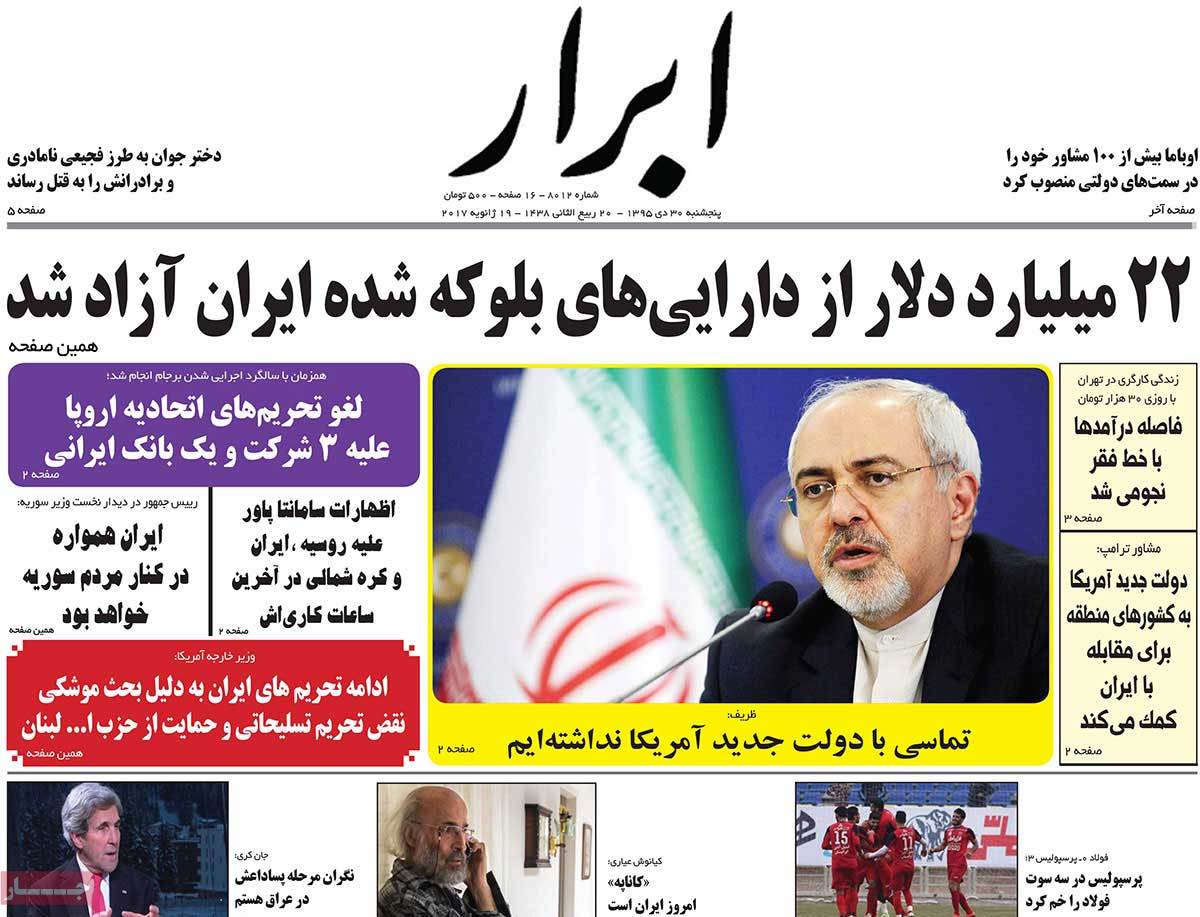 ---
Aftab-e Yazd:
1- A Woman Is President Rouhani's New Rival
2- Ayatollah Jannati: Presence of Such a Huge Crowd of People in Ayatollah Hashemi's Funeral Was Not Predicted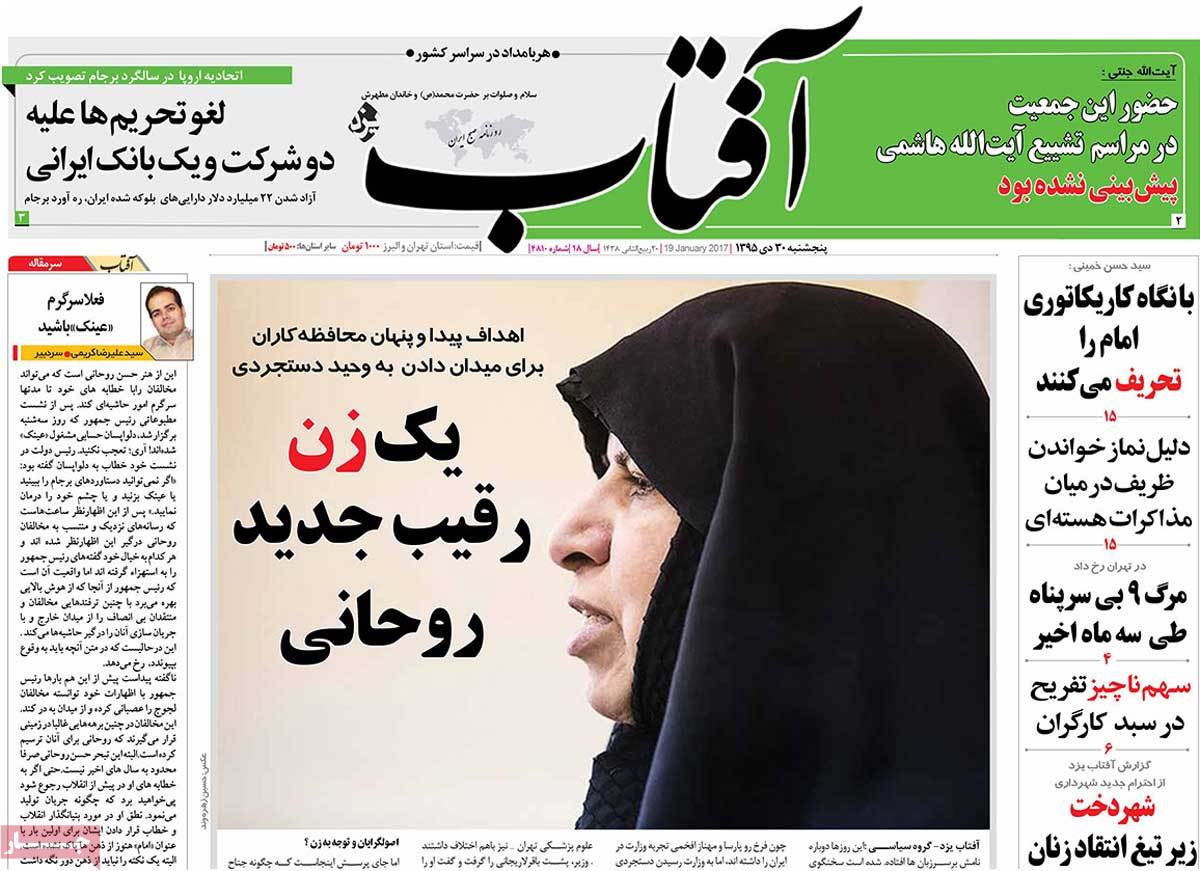 ---
Arman-e Emrooz:
1- We Should Pay Attention to People's Rights: Imam Khomeini's Grandson
2- Domino of Sanctions Removal: Sanctions against Two Iranian Firms and 1 Bank Lifted
3- 5,800 Citizens of Tehran Die of Air Pollution Each Year: Air Remained Polluted in National Day of Clean Air
---
Ebtekar:
1- Zarif: Iran's Economy Open to US
2- Cabinet Test-Drives Iranian Electric Cars
3- $9.9 Billion of Iran's Assets Released: Foreign Ministry Says in JCPOA Implementation Report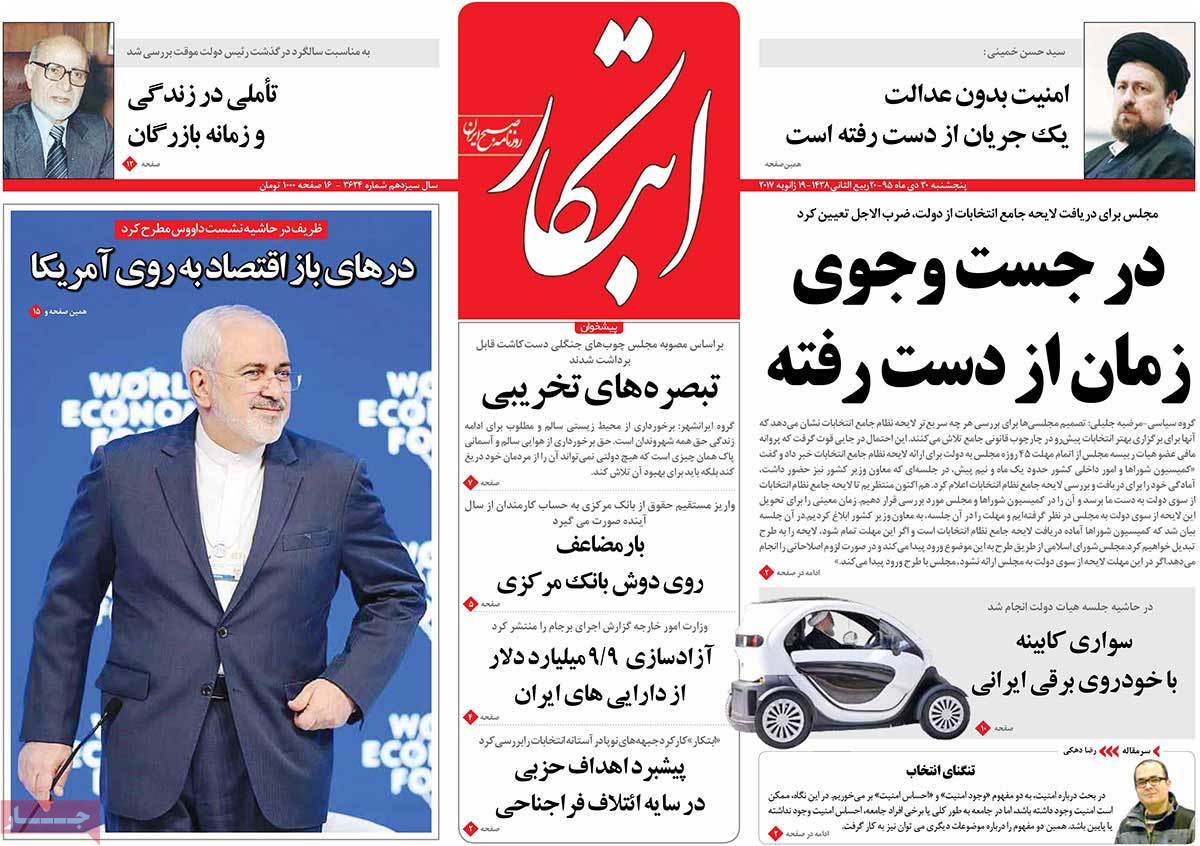 ---
Emtiaz:
1- Tehran in National Day of Clean Air
2- Hundreds of Thousands of Women on Verge of Retirement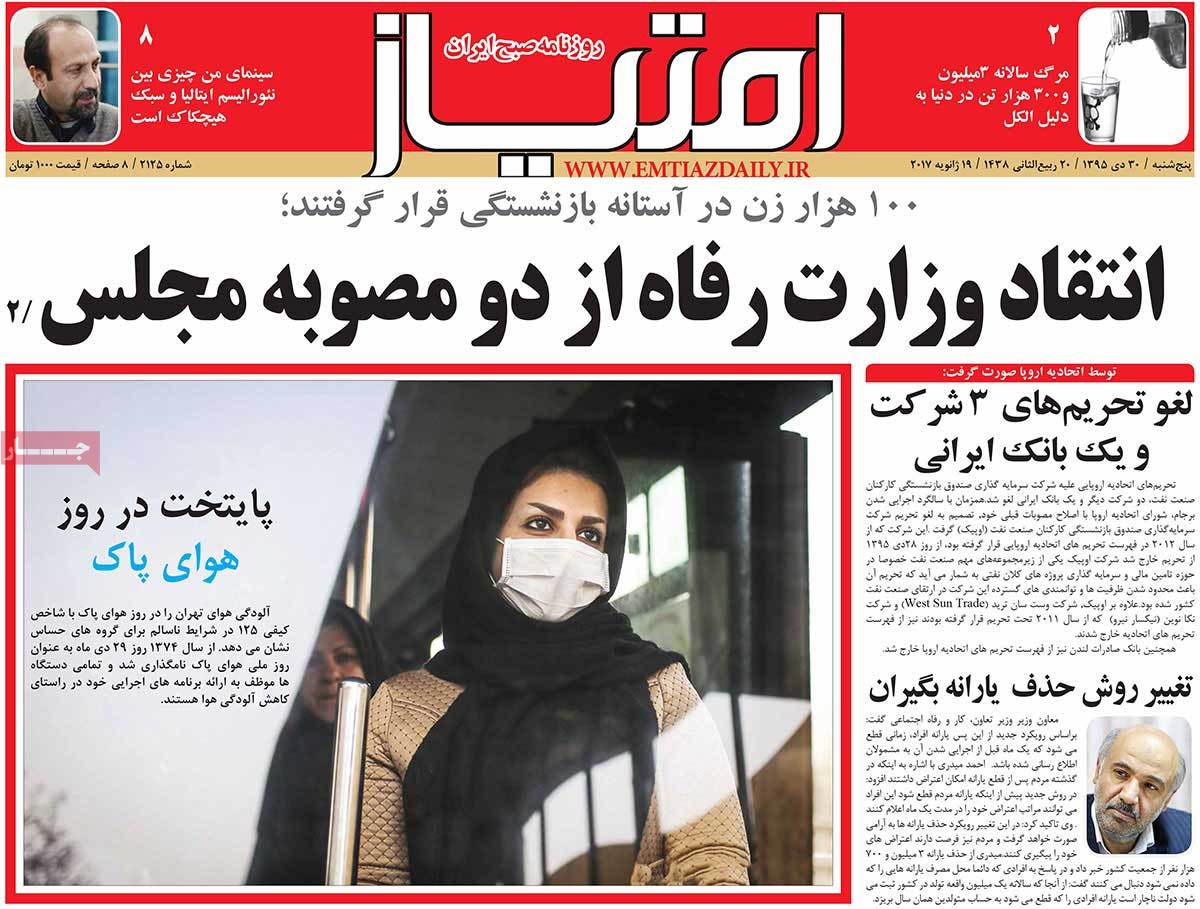 ---
Etemad:
1- Zarif's Regional-Nuclear Diplomacy in Davos
2- Iran's FM: It's Not the End of the World If Trump Scraps Nuclear Deal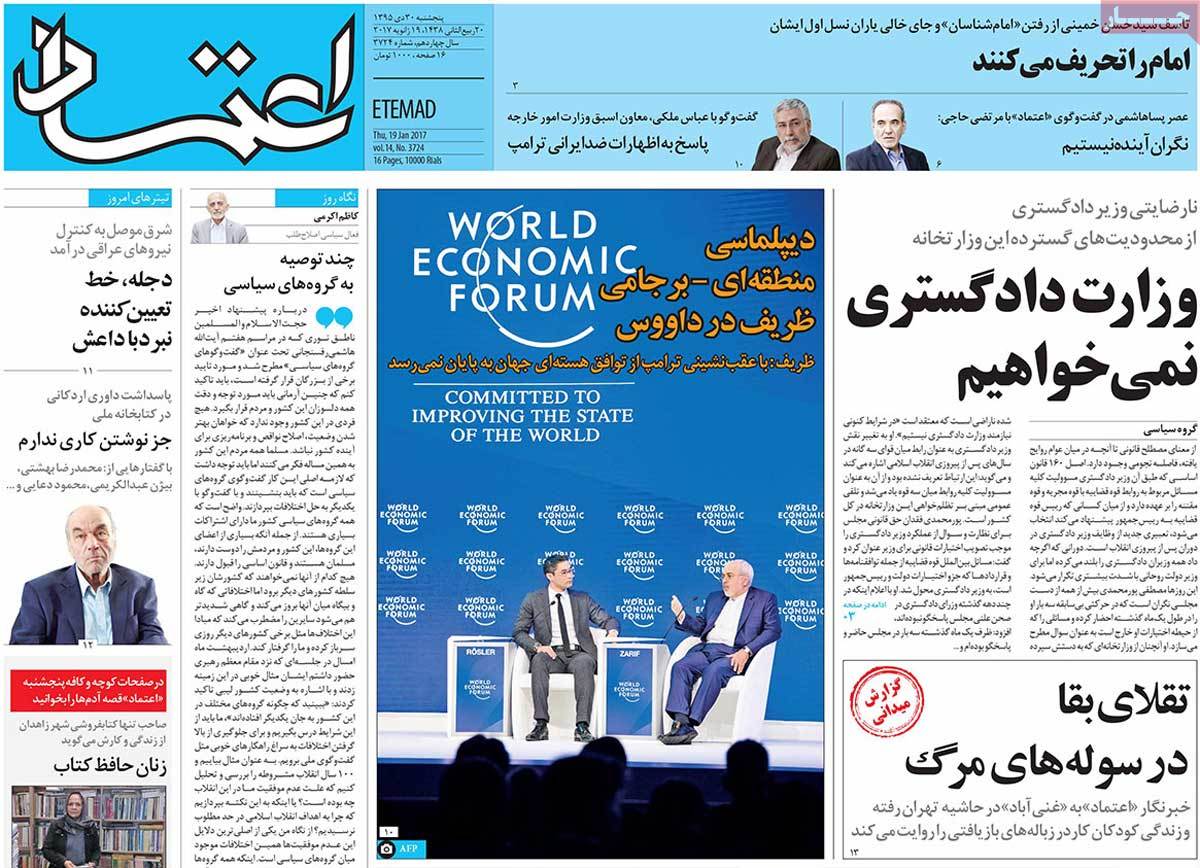 ---
Ettela'at:
1- Iran Will Always Stand by Syria: President in Meeting with Syrian PM
2- DM: JCPOA Is a National Issue
3- Vice-President for Women Affairs: Women's Parks to Be Established in 31 Provinces
---
Haft-e Sobh:
1- Photo with Hybrid Car Similar to French Ones: Government and Municipality's Last Blows to Save City from Air Pollution
2- New York Businessman's Era Begins: A Report on Beginning of Trump's Presidency and All His Political and Economic Ideas
---
Iran:
1- Iran-Saudi Cooperation for Resolving Regional Crisis: Zarif Proposes in Davos
2- Trump's Inauguration under Shadow of Threat and Sanction: Al Qaeda and ISIS Threaten to Launch Terrorist Attack on Ceremony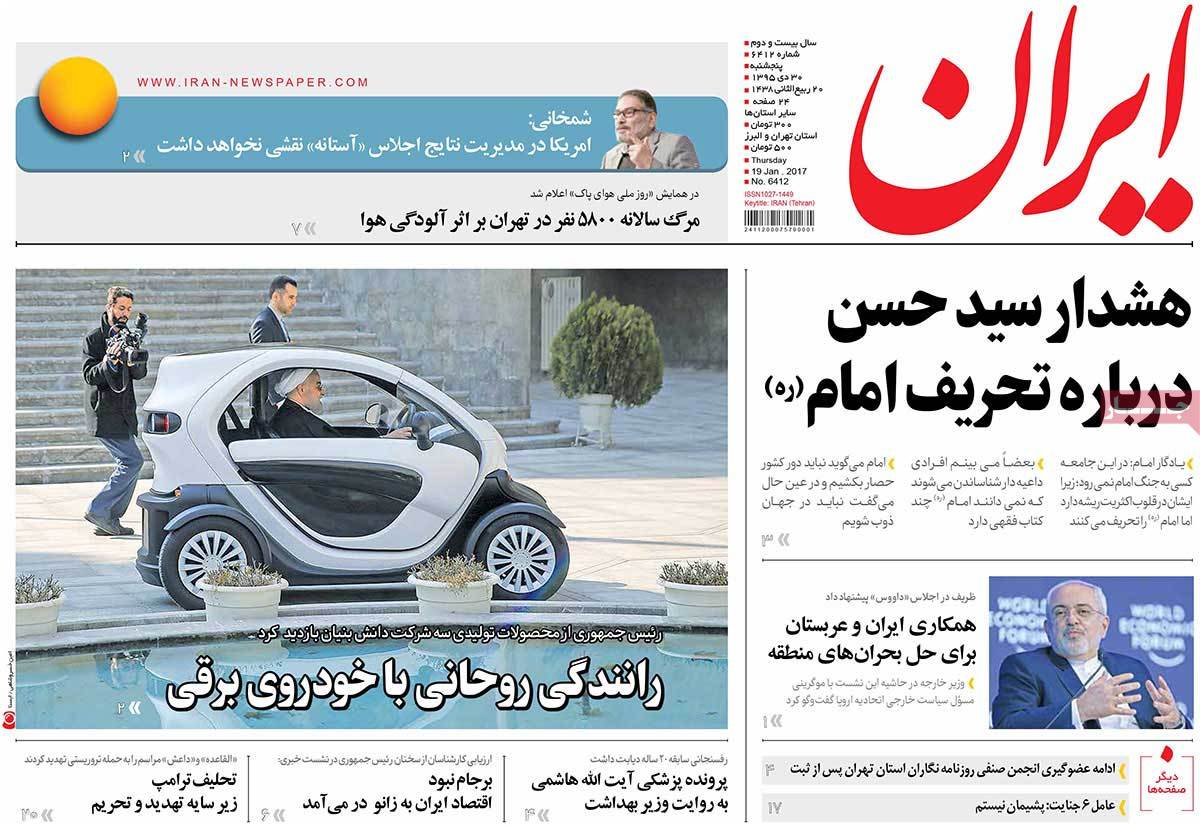 ---
Jame Jam:
1- Interactive TV, First Priority of IRIB: State TV Chief
---
Javan:
1- Populism with Electric Cars: Hybrid Cars Are Not Harmful, but Our Officials' Behaviours Are Very Harmful; Years Later, These Photos Will Be Archived, but Tehran's Streets Are Still Filled with Smoke
2- Trump Will Be Surprised If He Scraps Nuclear Deal: Zarif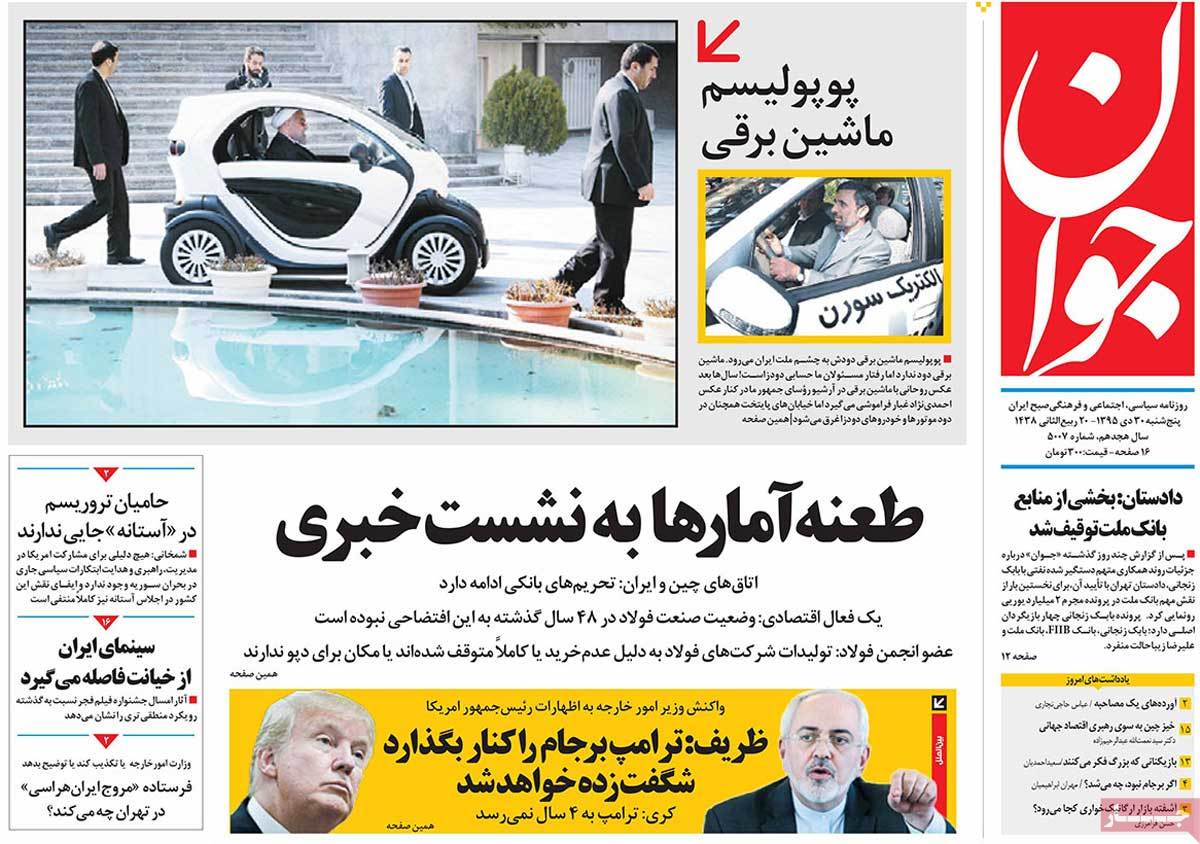 ---
Ka'enat:
1- Zarif in Davos Talks about Open Doors of Iran's Economy for US: Ties with US?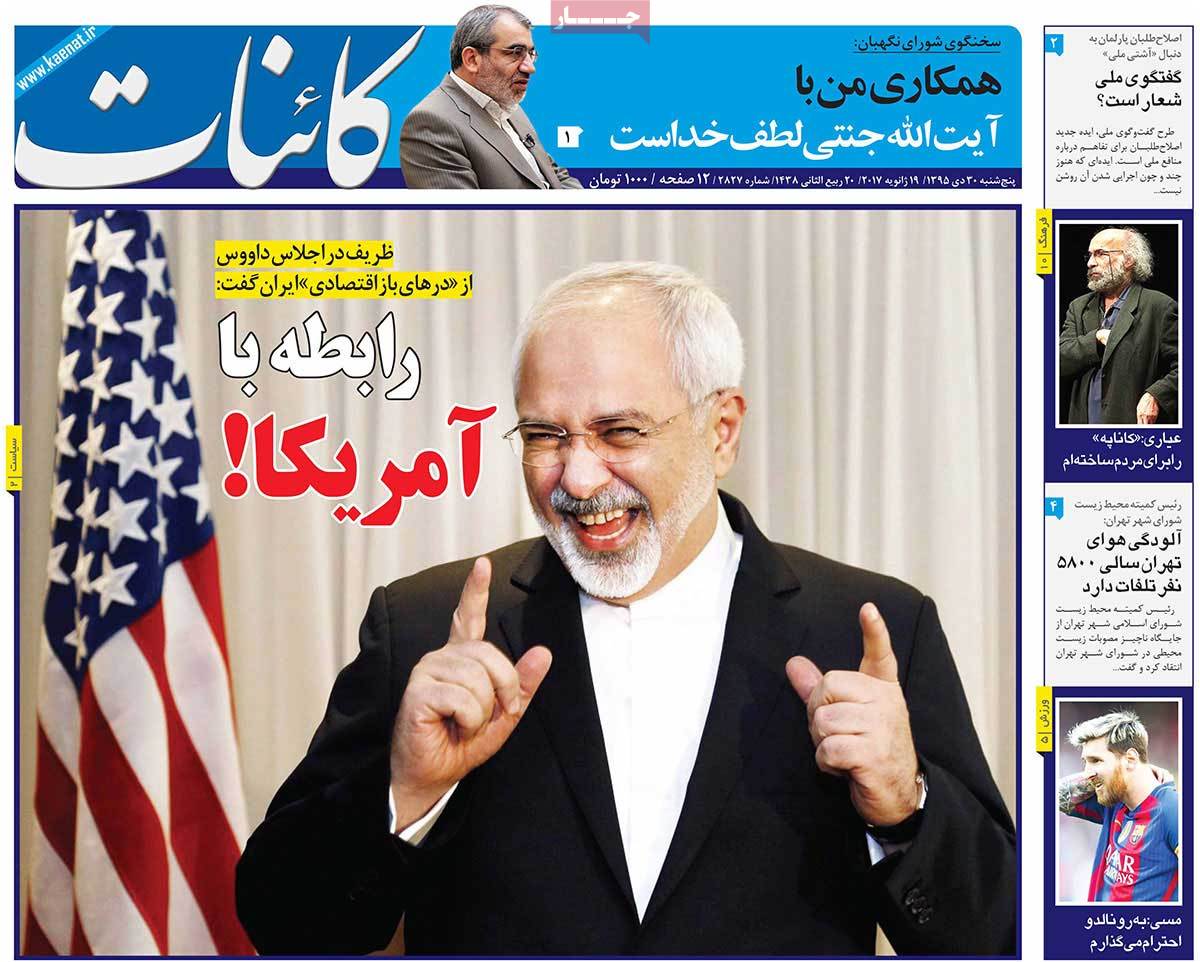 ---
Kayhan:
1- Look What Has Happened to US that Iran and Russia Should Invite It: McCain
2- White House Spokesman: Obama Has Not Given Any Guarantee for Future of JCPOA in Next Administration
---
Khorasan:
1- Zarif Warns US against Scrapping Nuclear Deal: We'll Surprise Trump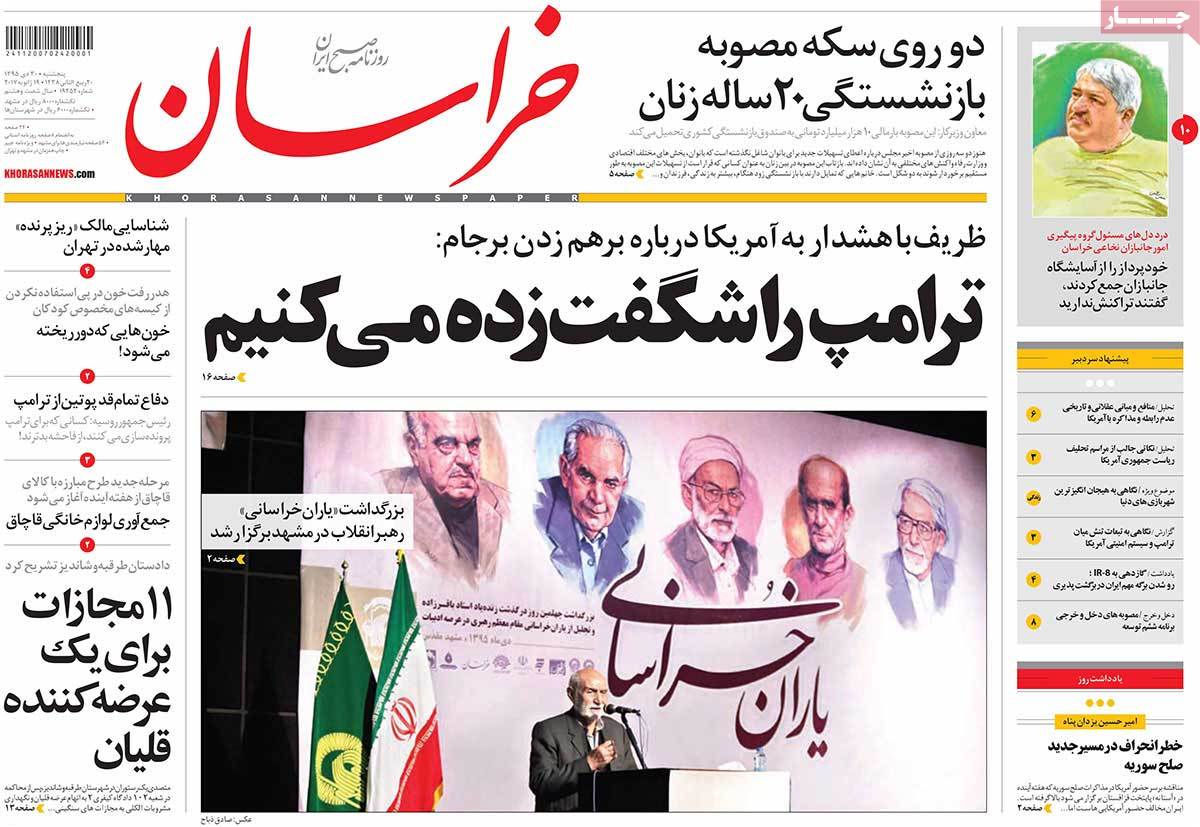 ---
Resalat:
1- Power Is the Only Option in Dealing with US Violation of Its Commitments: Former AEOI Official
2- Europe-US Conflict to Get More Serious: Trump Starts Playing with Fire