Newspapers on Tuesday covered the remarks made by US President-elect Donald Trump in a recent interview about Iran nuclear deal and a range of other topics.
The decision by an Egyptian court to prevent the government from giving two islands to Saudi Arabia also received great coverage today.
The first anniversary of nuclear deal implementation [January 16] and the discussion of its pros and cons was also a top story in today's front pages.
The above issues, as well as many more, are highlighted in the following headlines:
19 Dey:
1- Shamkhani: Iran Is Not Interested in Fall of Al Saud Regime
2- Trump: JCPOA Was a Stupid Agreement
---
Abrar:
1- Rouhani: Ayatollah Hashemi Was a Powerful Wing for Iran's Leader
2- Trench Being Dug around Iraqi City of Najaf to Prevent ISIS Entry
3- British Foreign Secretary Defends Continuation of Nuclear Deal
4- Ban Ki-moon's Popularity Rises for South Korean Presidency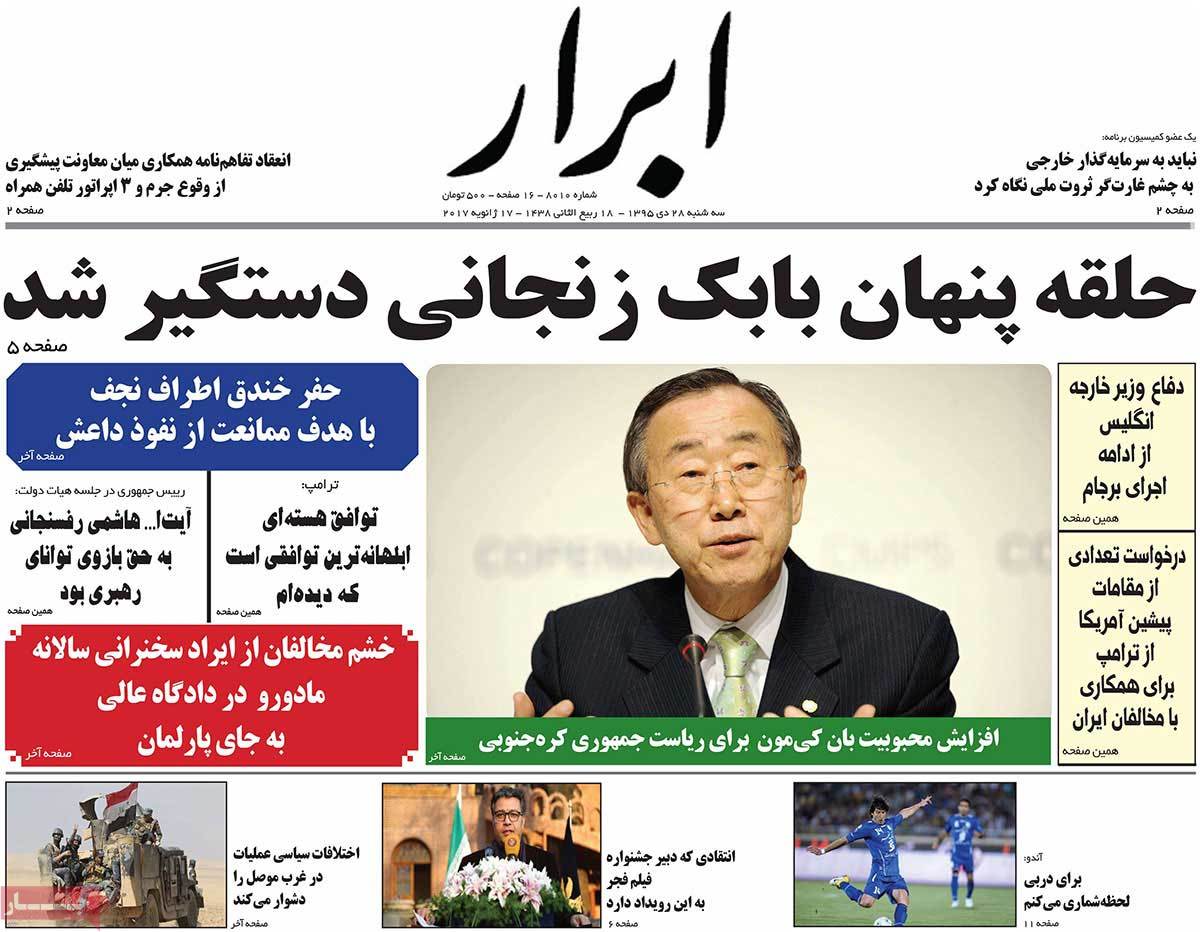 ---
Abrar-e Eqtesadi:
1- Shell-Total-Iran Triangle in Azadegan Oilfield
2- Switzerland Chooses Iran for Joint Venture
3- Iran Preparing to Conquer Iraq's IT Export Markets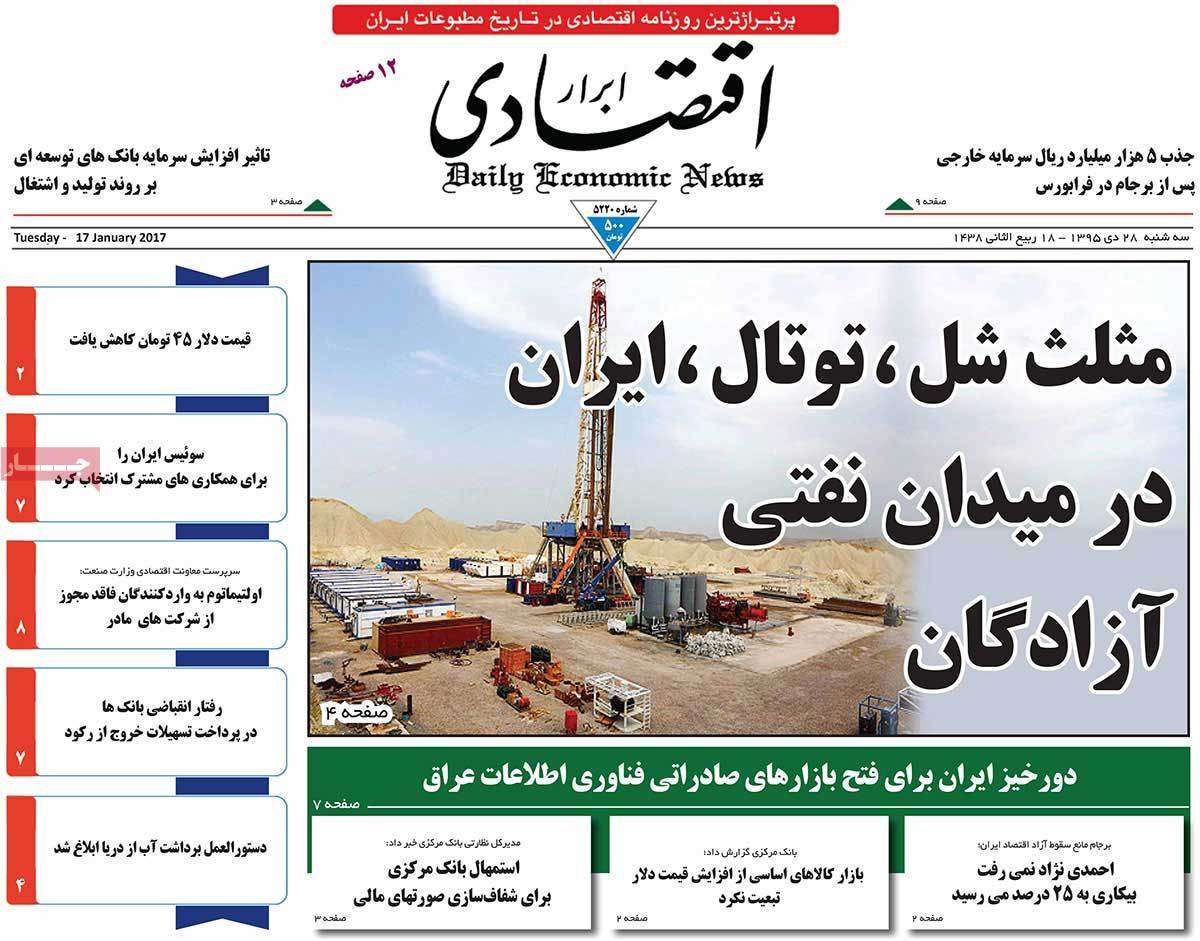 ---
Afkar:
1- Trump: Iraq War Was US Biggest Mistake
2- Development of Tehran-Beijing Ties with Faster Pace
---
Aftab-e Yazd:
1- First VP: Nuclear Deal Was an Exceptional Work
2- Newly-Born Baby Found in Trash Bin
---
Arman-e Emrooz:
1- Ayatollah Hashemi's Son: My Father Suffered from Seeing Iran's Problems Are Dealt with in Partisan View
2- Reformists Preparing for Assembly of Experts Election
3- 14 Uncontested Divorces Registered Every One Hour! Warning of Increase in Number of Such Divorces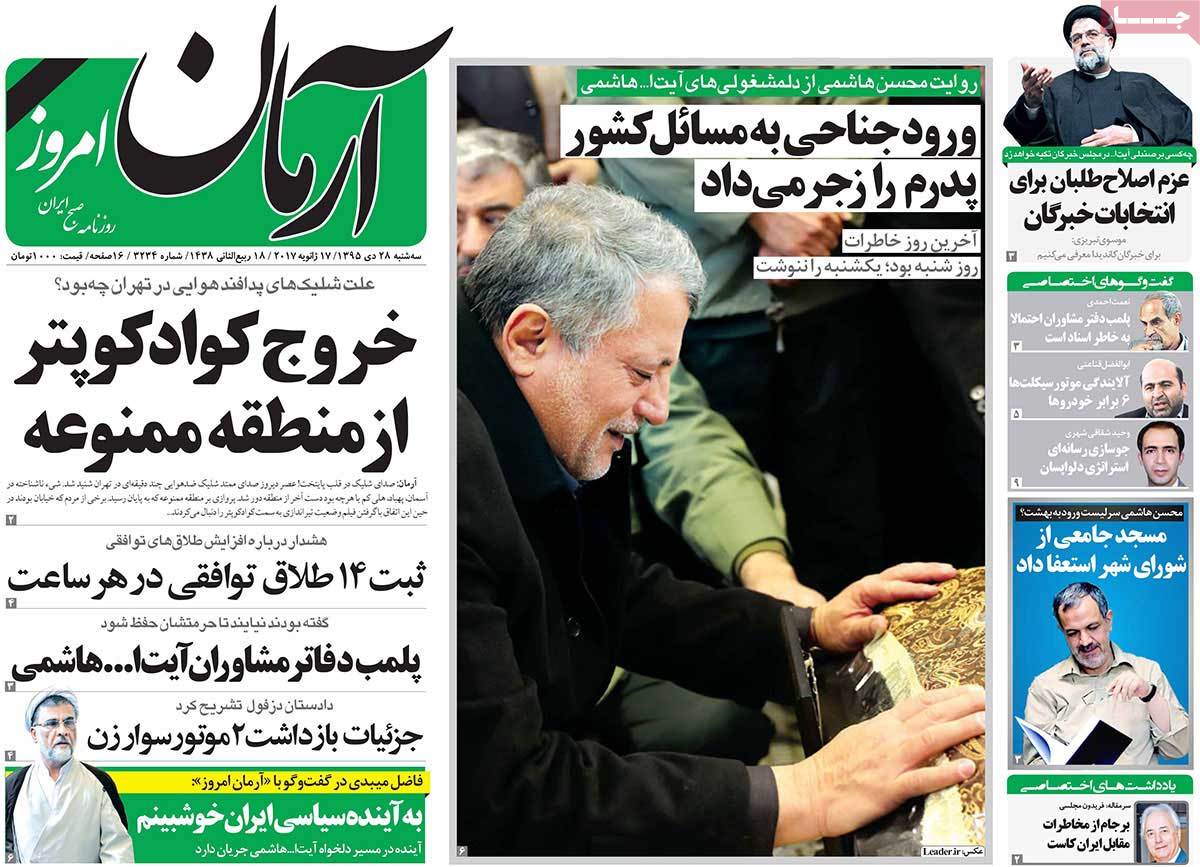 ---
Besharat-e Now:
1- Iran's Establishment Protects Nuclear Deal; Government and Establishment Underline Major Achievements of JCPOA in First Anniversary of Its Implementation
2- The Decision that Has Endangered Iran's Football: Men and Women Playing Together in Football 7-a-side!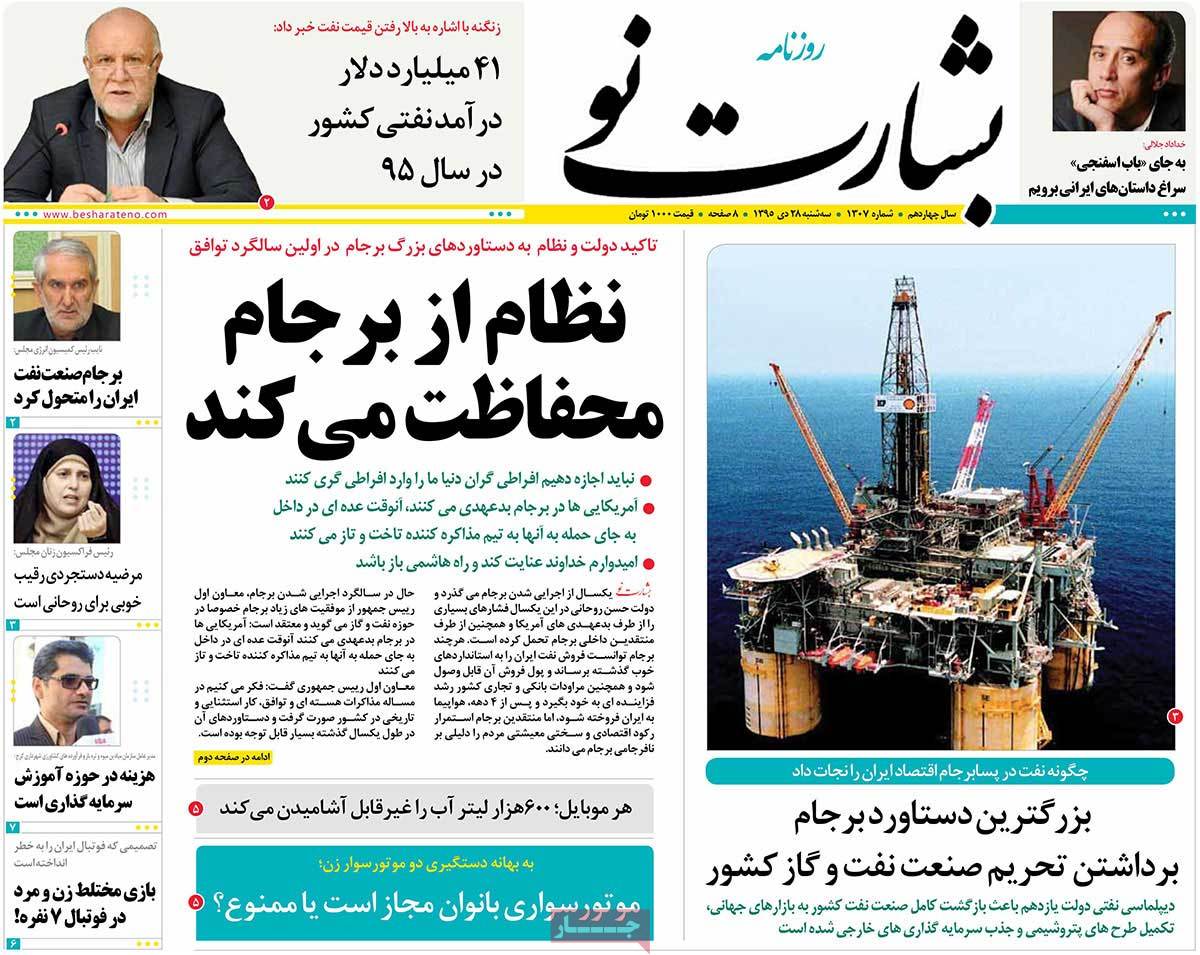 ---
Ebtekar:
1- Once Again a Quadcopter! Sound of Anti-Aircraft Shots Heard Once Again in Tehran
2- Saudi Arabia Alone in Middle East: Riyadh-Cairo Conflict Exacerbating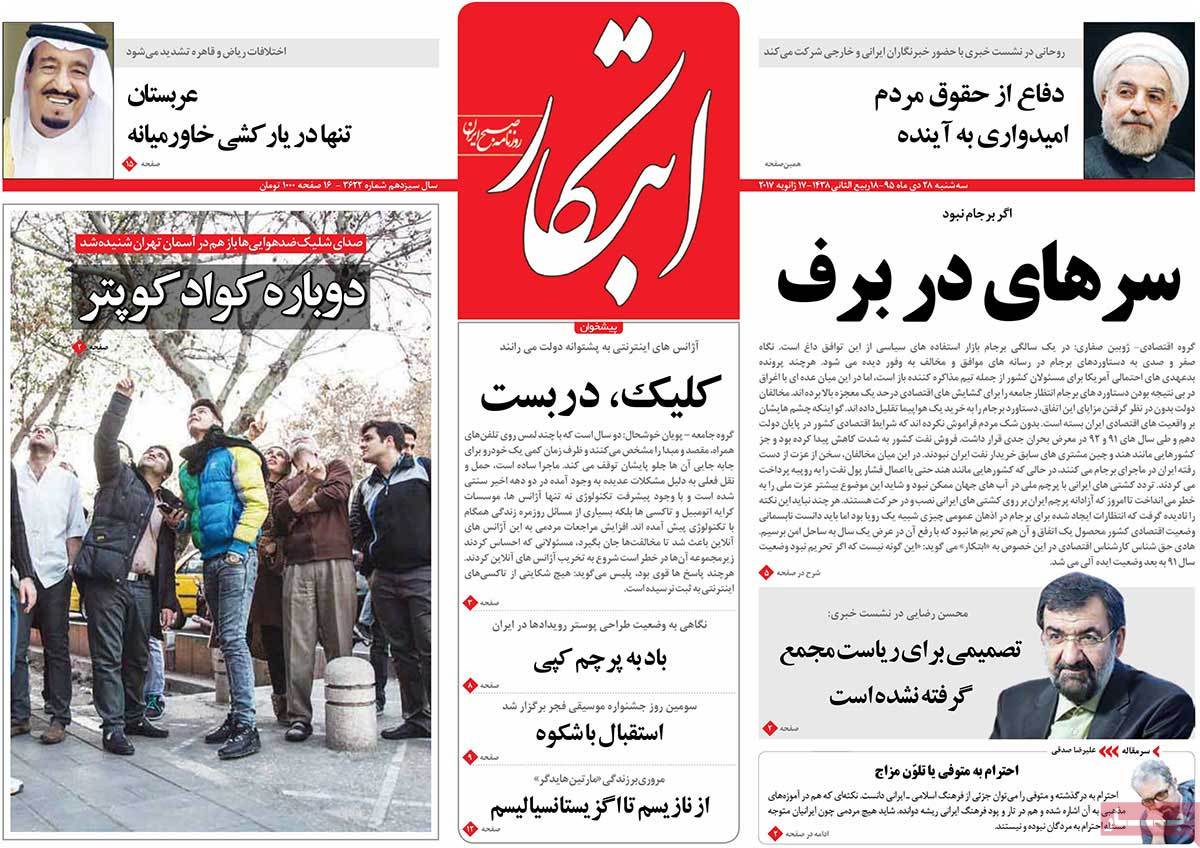 ---
Emtiaz:
1- First VP Hopes Women's Conditions Will Be Improved in 5 Years
2- People's Reaction to Anti-Aircraft's Shots in Tehran
---
Etemad:
1- Judiciary Chief: Media Propaganda Aimed at Disrupting Judicial Procedures
---
Ettela'at:
1- Iran's Oil Income to Be Increased to $41bn by March
2- Top Security Official Proposes Iran's 4-Part Solution to Syrian Crisis
3- Drinking Water Crisis in 520 Villages
---
Iran:
1- Sound of Music in Tehran's Ears: Int'l Fajr Music Festival Warmly Received by Iranian People
2- Interview with Iranian Woman in India Accused of Murder; Narges Kalbasi: I'm Worried about My Kids' Distress in India
3- Trump Criticizes Nuclear Deal without Threat
---
Javan:
1- Cry of War with the World: Trump Attacks Entire World in Interview with Pro-Israel Newspapers; I Don't Say What I'm Gonna Do with JCPOA
2- Egyptians Say No to Saudi Petrodollars; Egypt's Supreme Court Votes against Annexation of Two Islands to Saudi Arabia
---
Jomhouri Eslami:
1- First Anniversary of JCPOA Implementation: Government's Achievements and Economic and Political Openings
2- Paris Conference Underlines Need for Formation of Two States in Occupied Palestine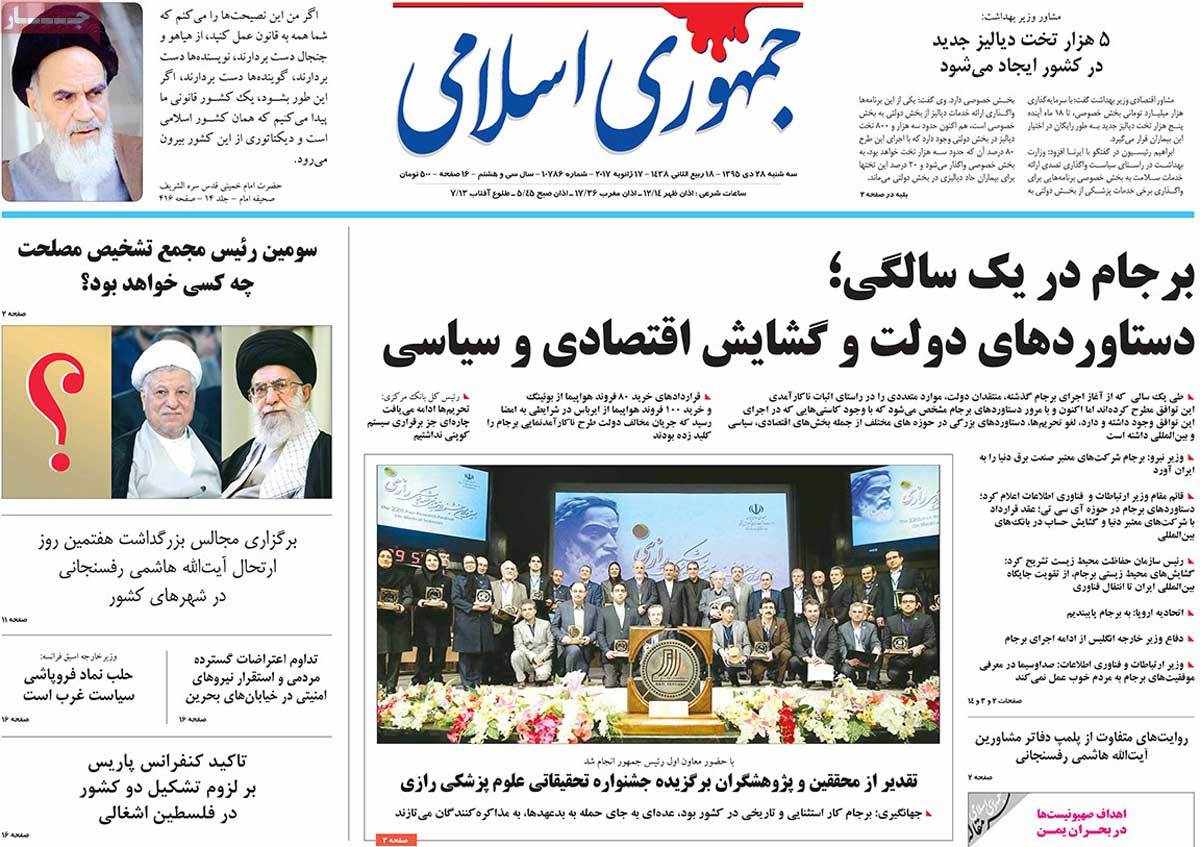 ---
Ka'enat:
1- SNSC Secretary: We're Standing by Assad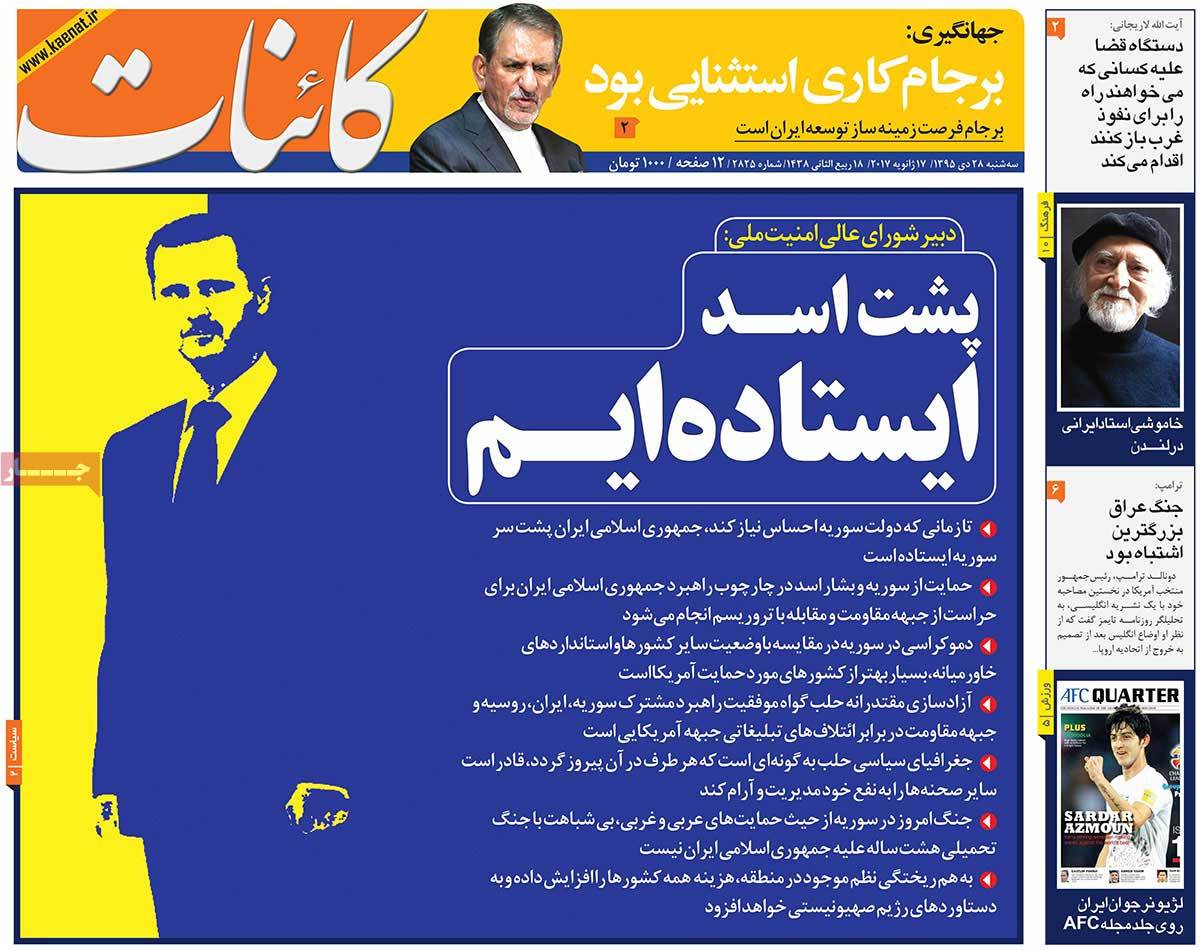 ---
Kayhan:
1- Sisi's Dagger at Al Saud's Back: Egyptian Court Takes Back Two Islands from Saudis
2- Spanish People Protest at Their King's Trip to Saudi Arabia: Don't Sell Arms to Murderer of Yemeni People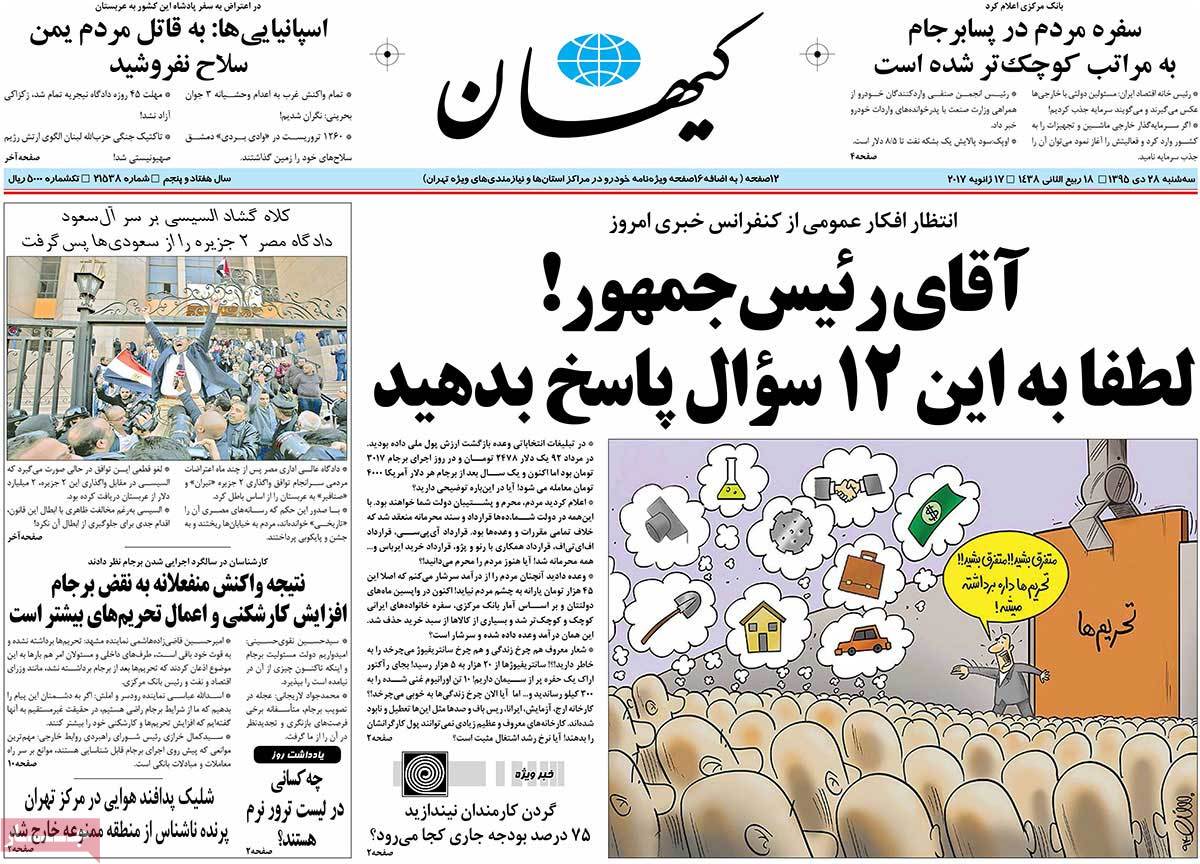 ---
Khorasan:
1- Smile of Peace at Security in Air: People's Calm Reaction to Anti-Aircraft Shots in Tehran
2- Oxfam's Report about Growing Increase of Inequality in World: Eight Individuals' Wealth Equal to that of 3.6 Billion People
---
Mardom Salari:
1- Nile Floods against Saudi Expansionism: Egyptian Court Annuls Decision to Give Two Islands to Saudi Arabia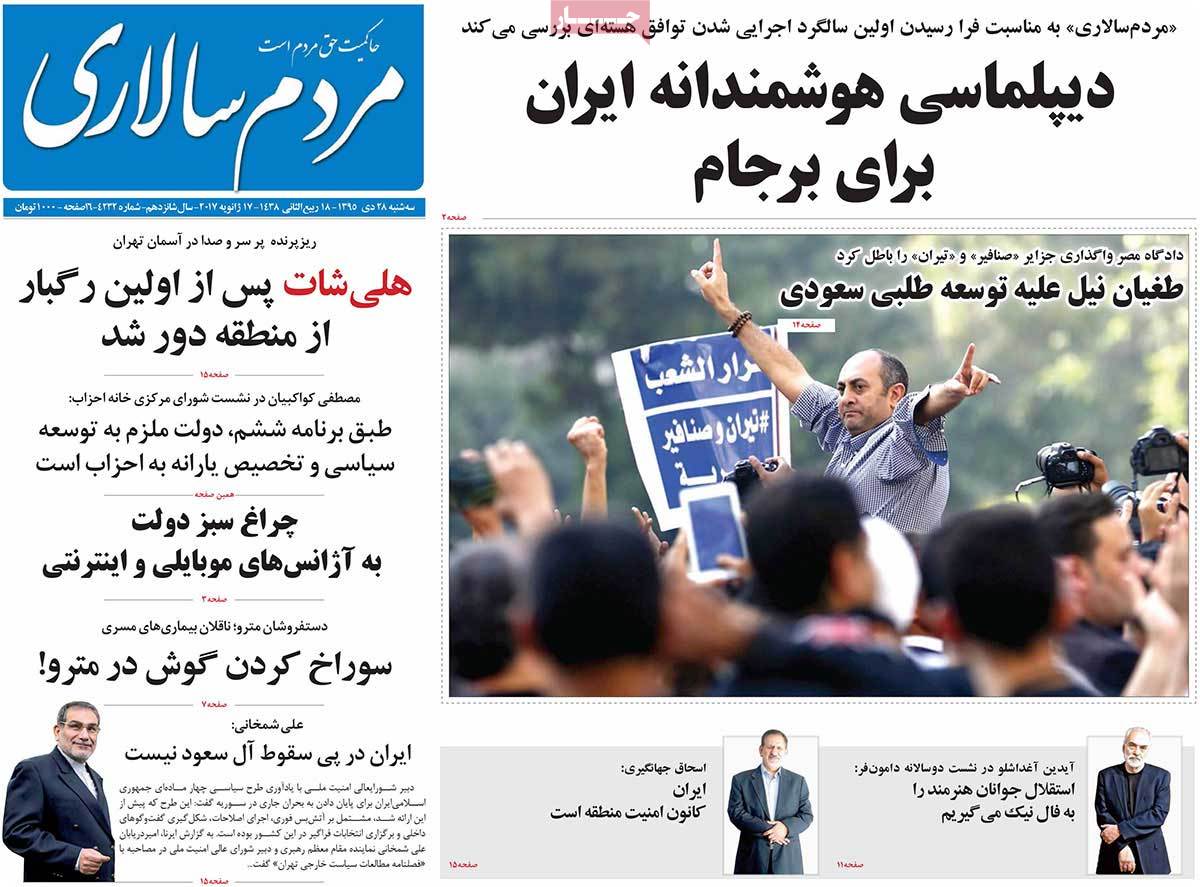 ---
Nasl-e Farda:
1- Spanish Cigarettes in Pockets of Iranian Girls: I Smoke, Therefore I Am
---
Shahrvand:
1- We're Not Foreign Nationals; Interview with Afghan Poet Mohammad-Kazem Kazemi Who Has Been Appointed to an Official Position for First Time as an Immigrant Living in Iran
---
Shargh:
1- Mogherini: Europe Sticking to Nuclear Deal
2- Iranian Analyst Mousavian: Hashemi Believed in East-West Balance
3- Politician: Hashemi's Loss Is Very Hard to Bear, but Reformism Won't Stop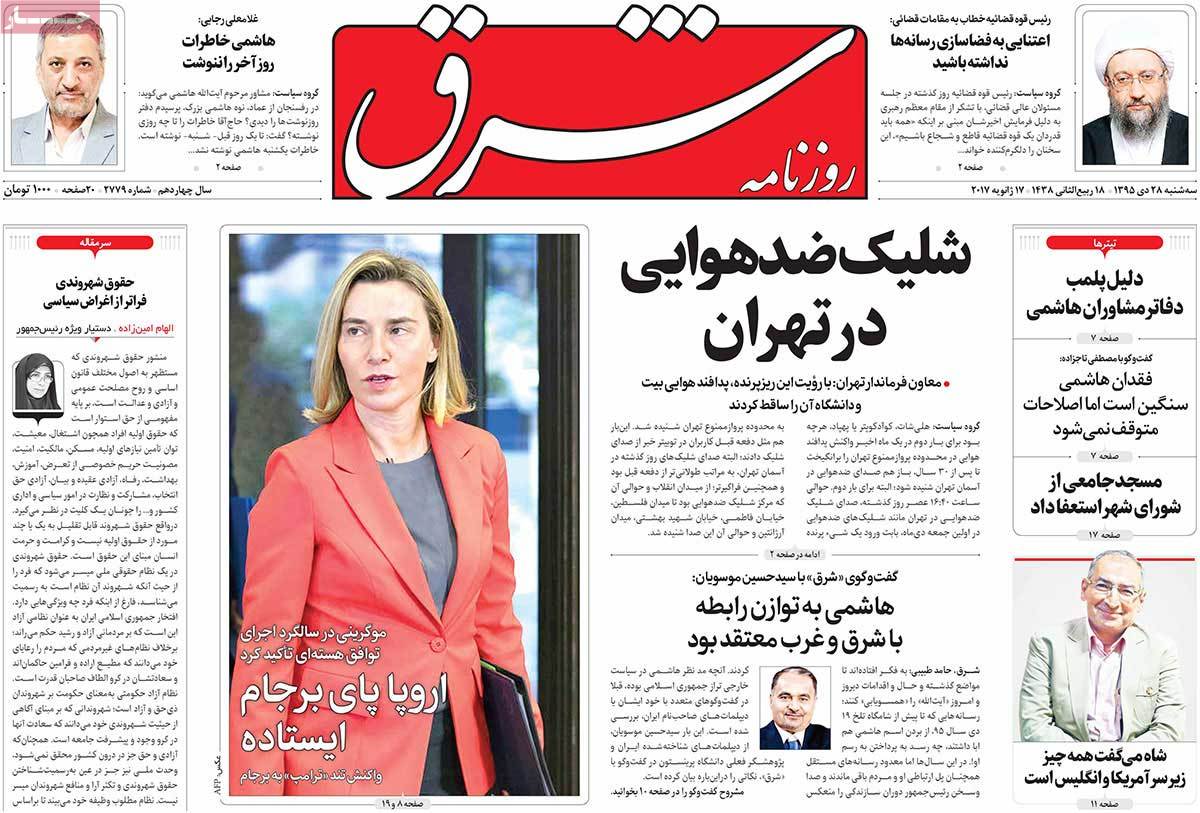 ---
Shorou:
1- Trump Says NATO Is Useless and JCPOA Is Stupid
---
Siasat-e Rooz:
1- Immediately Release Sheikh Zakzaky: Amnesty Int'l Calls for an  End to 13-Month Detention of Nigerian Muslims' Leader
---
Sobh-e Now:
1- Selfie with Security: Drones Trespass on Tehran's No-Fly Zone for Second Time in Past Month
---
Tejarat
1- Trump Attacks Everyone: NATO Described as Useless and JCPOA as Stupid; Trump Also Attacked Merkel
---
Vaghaye Ettefaghieh:
1- Former Iranian Ambassador to Mexico: Trump's Promise to Build Walls in Borders Will Benefit Mexico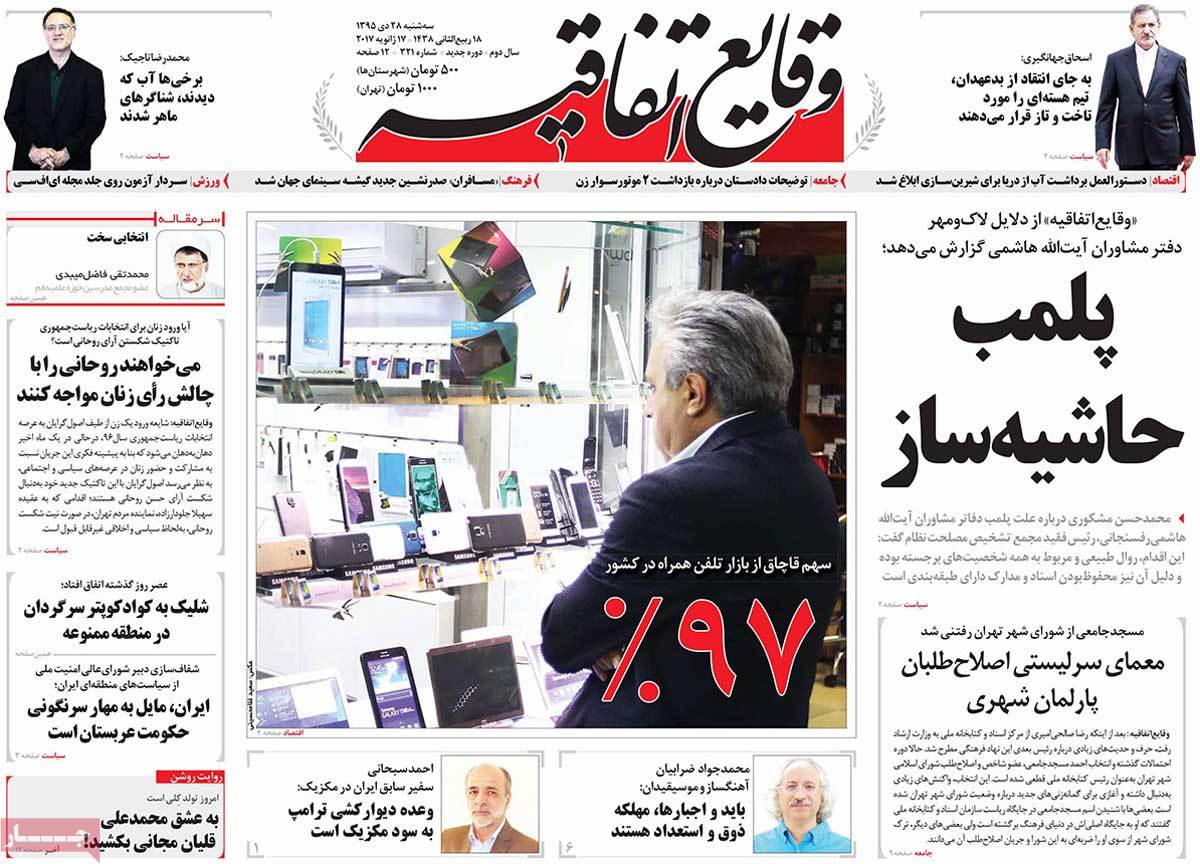 ---
Vatan-e Emrooz:
1- Watch Your Mouth! CIA Chief's Unprecedented War of Words with a US President; Trump Accuses CIA Chief of Releasing Fake Documents
2- Certain Offices in Expediency Council Sealed Based on a Normal Procedure