Newspapers today covered the remarks made by Ali Akbar Nateq Noori, a senior conservative politician and an old companion of Ayatollah Akbar Hashemi Rafsanjani, in a memorial service held for the late chairman of Iran's Expediency Council on the seventh day after his demise.
They also highlighted the press conference of Abbas Araqchi, the Iranian deputy foreign minister and a nuclear negotiator, on the first anniversary of JCPOA implementation.
The ongoing outrage in Bahrain caused by the Al Khalifa regime's execution of three young activists also received great coverage.
The above issues, as well as many more, are highlighted in the following headlines:
Abrar:
1- Parliament Allows Law Enforcement and Customs Office to Launch a System to Control Cars
2- Fugitive ISIS Leader Arrested in Russia
3- Turkish PM: We Share Our Food with Displaced People, but We Don't Share Our Territory
4- 130 Tons of Uranium Will Be Imported to Iran Soon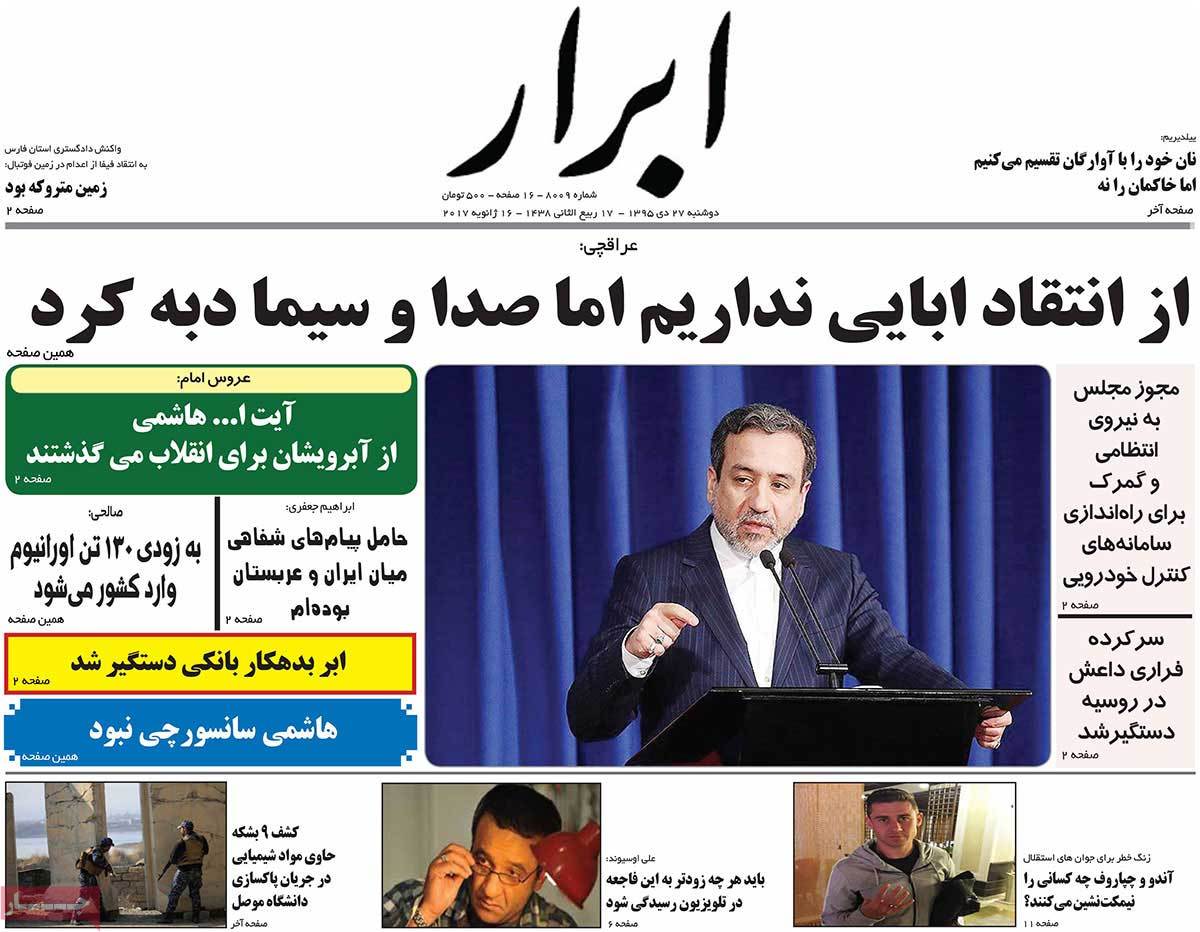 ---
Aftab-e Yazd:
1- Still Main Player in 2017 Presidential Votes: Although Ayatollah Hashemi Rafsanjani Has Passed Away, Political Observers Believe He Still Can Change Equations in Presidential Election
2- Iranian Students' Growing Interest in Receiving Ph.D. Degree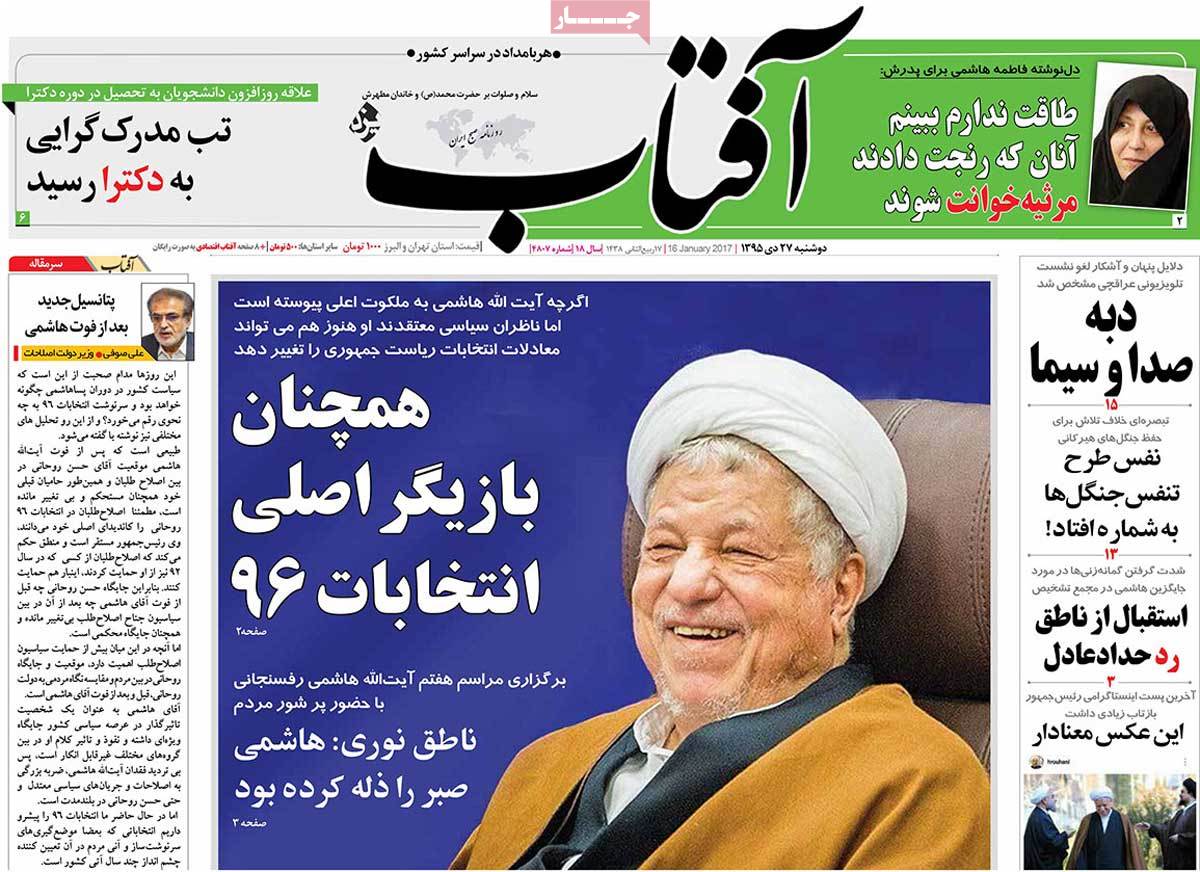 ---
Arman-e Emrooz:
1- Ayatollah Hashemi Rafsanjani Is Still Alive: People's Massive Participation in His Memorial Service on 7th Night after His Death
---
Ebtekar:
1- We Should Consider JCPOA as Result of Iranian Effort: Deputy FM Araqchi in First Anniversary of Nuclear Deal Implementation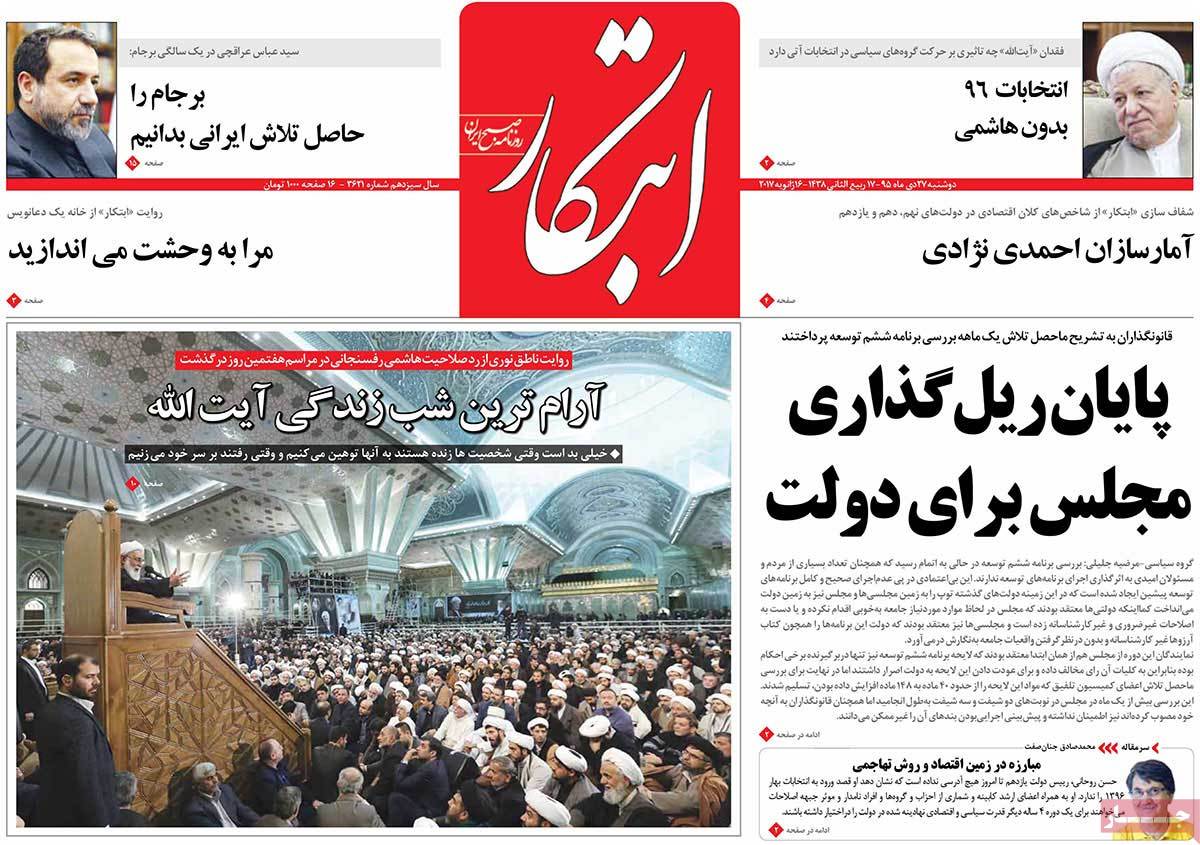 ---
Emtiaz:
1- Air Pollution Is Third Cause of Death in Iran: Official
2- US Prevented Certain Foreigner from Attending Iran's Int'l Fajr Theatre Festival
---
Etemad:
1- We Won't Negotiate with Trump: Iran's Nuclear Negotiator Araqchi
We Don't Have Any Political Negotiation neither with Current nor with Future US Administration
If They Scrap Nuclear Deal, We'll Set It on Fire
Those Who Scrap the Deal Should Face Its Consequences
---
Ettela'at:
1- Ayatollah Hashemi Rafsanjani Sought a Developed and Globally Powerful Iran: Senior Conservative Nateq Noori
2- 3 Shiite Dissidents Executed by Al Khalifa Regime: Islamic Resistance of Bahrain Calls for Popular Mobilisation
3- President: Iran Ready to Cooperate with Other Countries in Fight against Terror
4- Charter on Citizens' Rights, a Demand that Had Been Forgotten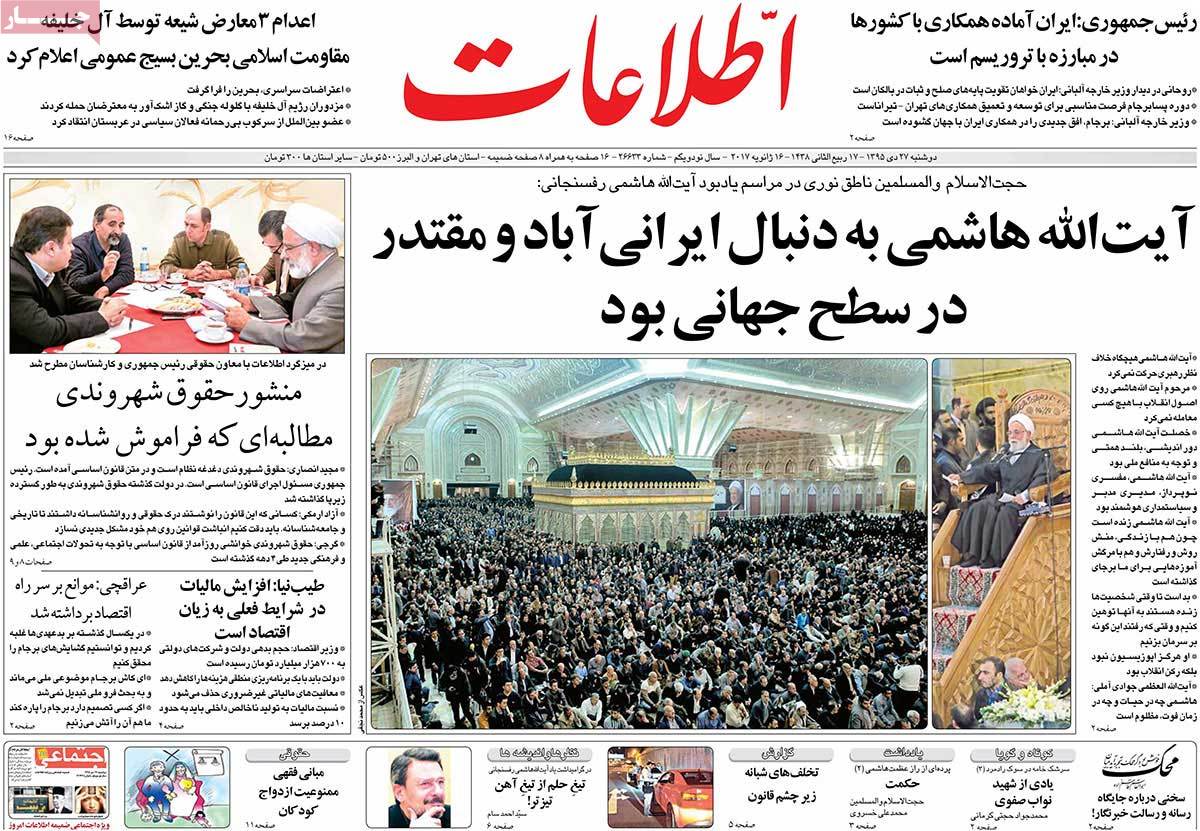 ---
Haft-e Sobh:
1- Fever of Saint-Exupéry's 'Little Prince' in Iran Making It Platitudinous: 15 Different Translations of the Book Have Been Published This Year, Increasing the Number of Farsi Translations to 73 in Past 60 Years!
2- Telegram Messaging App Serves as a Thermometer: Ranking of 15 Telegram Channels with Highest Number of Members in Iran Show How Much Iranian People Are Interested in News and Politics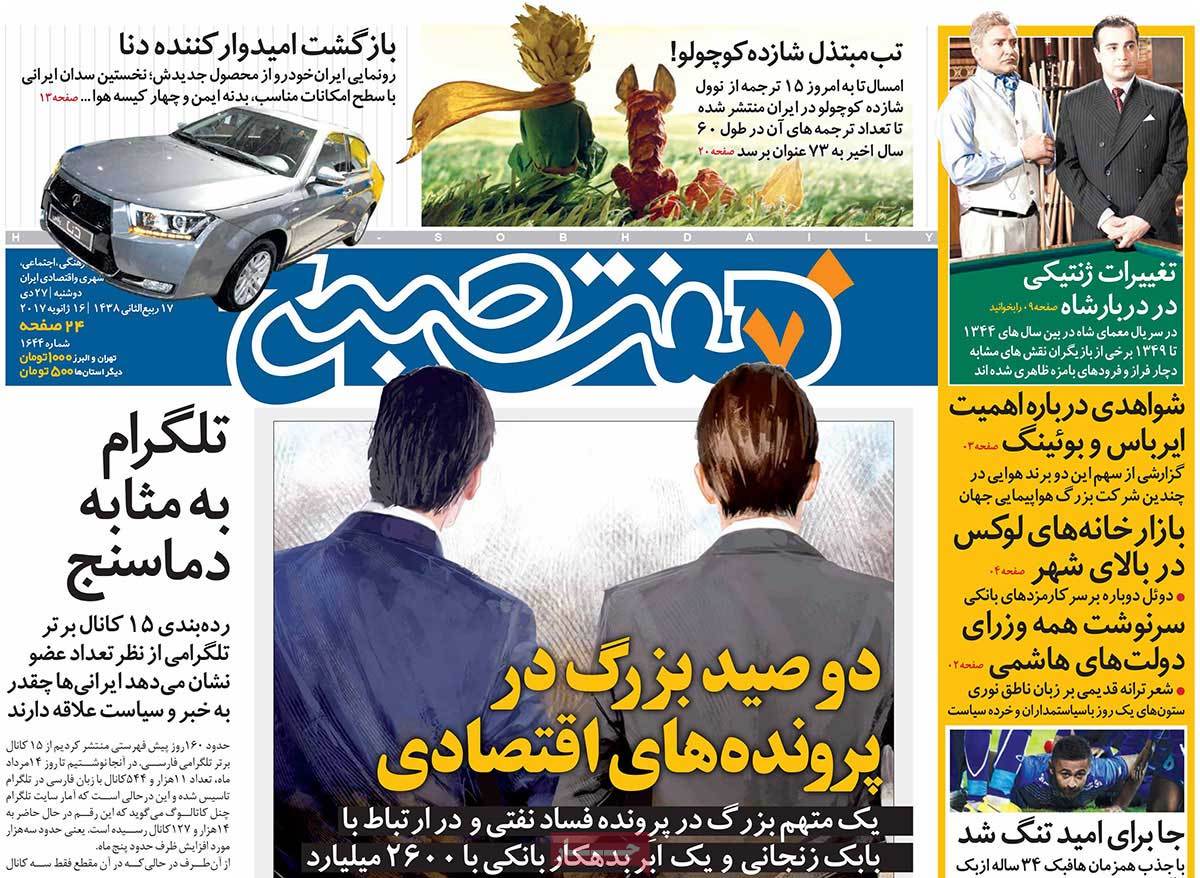 ---
Iran:
1- Argue with Each Other, but Don't Raise Accusations: Senior Conservative Nateq Noori's Advice to Reformists and Conservatives in Memorial Service for Ayatollah Rafsanjani
2- Deputy FM Urges JCPOA Critics Not to Lie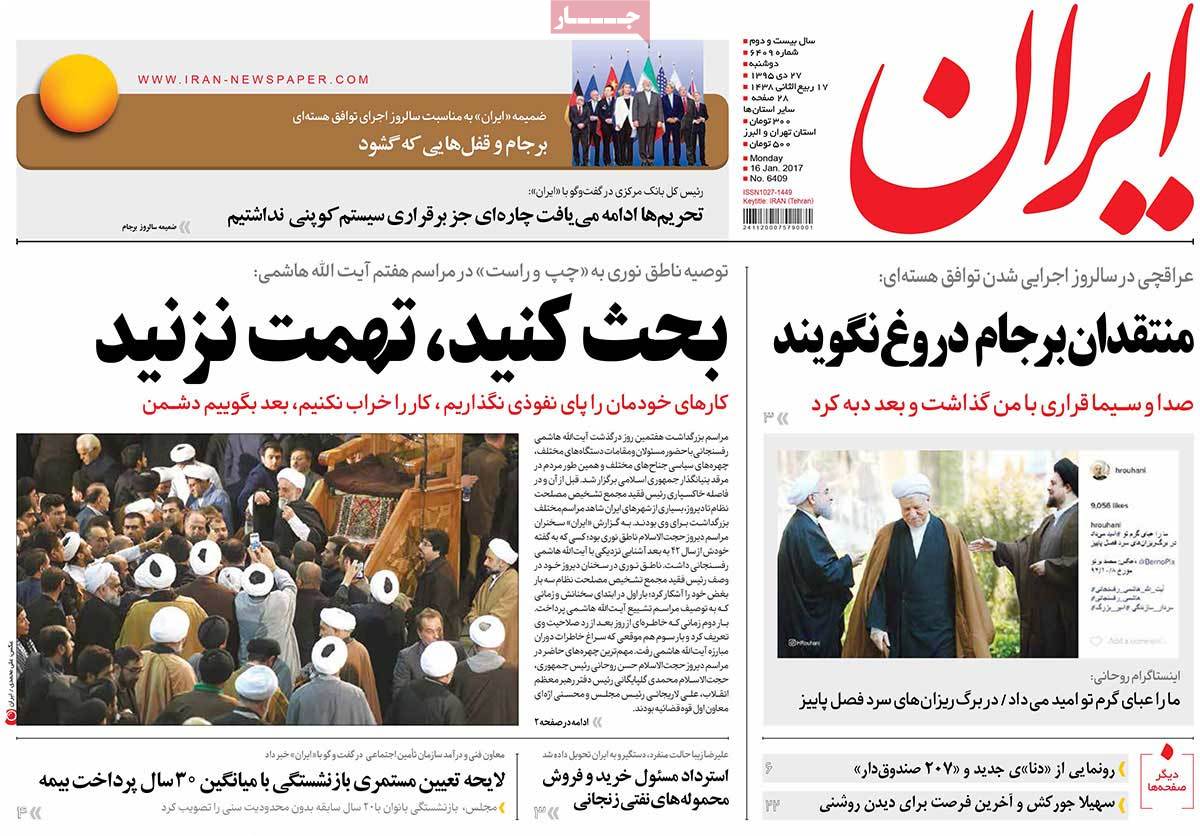 ---
Jame Jam:
1- Immediate Achievements and Promised Outcomes: A Review of JCPOA Implementation
Some Experts Believe the Other Side Has Failed to Fulfil Its Commitments
Past Year's JCPOA Experience Once Again Proved US Is Untrustworthy
2- Memorial Service on 7th Day after Ayatollah Rafsanjani's Demise
---
Javan:
1- Bahrain on Verge of Explosion
2- People's Presence in Ayatollah Rafsanjani's Funeral Changed Enemies' Equations: Nateq Noori
3- Deputy FM Araqchi Says Iran Will Set Fire on JCPOA If US Scrap Nuclear Deal
---
Kayhan:
1- JCPOA Achievements: Government Claims, People Don't See!
2- Deputy FM Araqchi: All Sanctions against Iran's Economy Removed after Nuclear Deal!
3- EP Member: Terrorist Attacks in Europe Result of Our Support for ISIS
4- Al Khalifa Executes 3 Young Bahrainis; Resistance Vows to Retaliate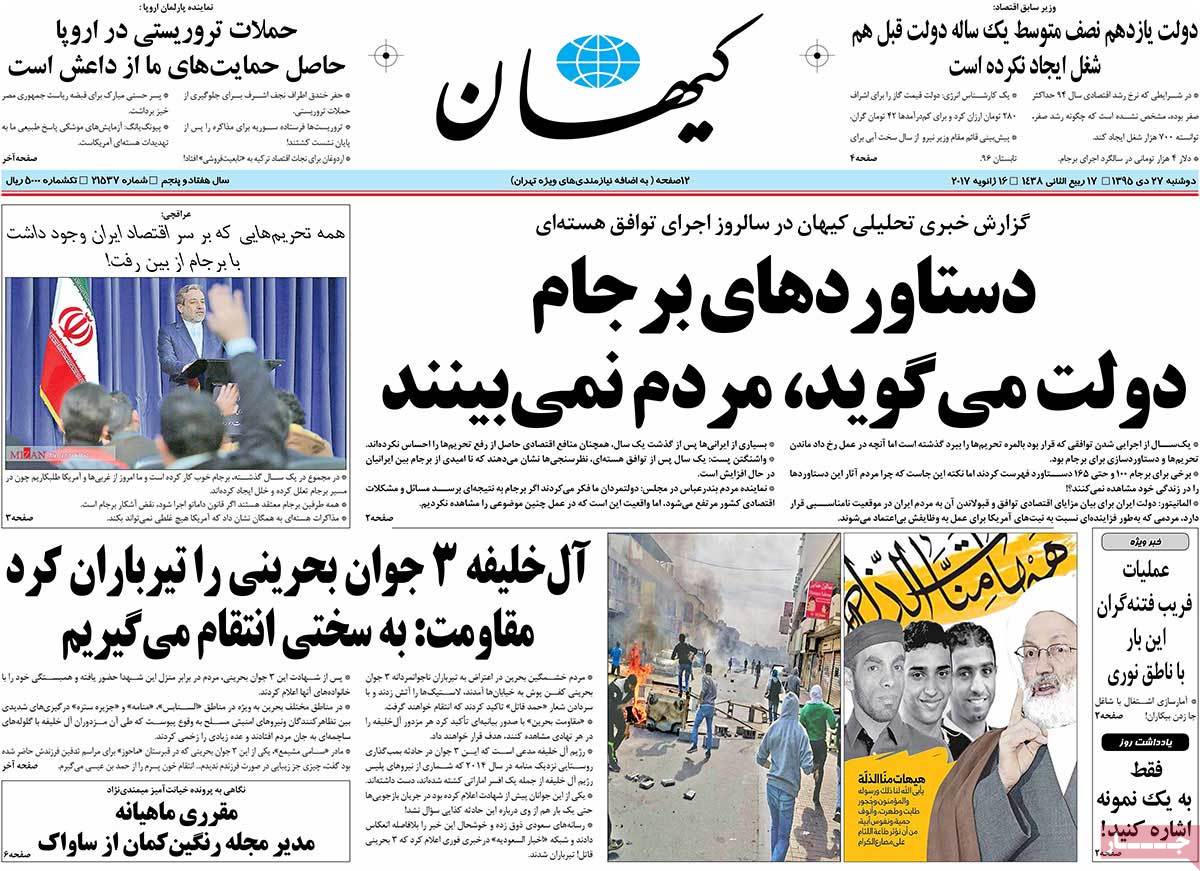 ---
Khorasan:
1- Women's Retirement Facilitated: Parliament Approves a Bill that Allows Female Workers to Retire with 20 Years of Service without Any Age Limit
2- Anger Demonstrations in Bahrain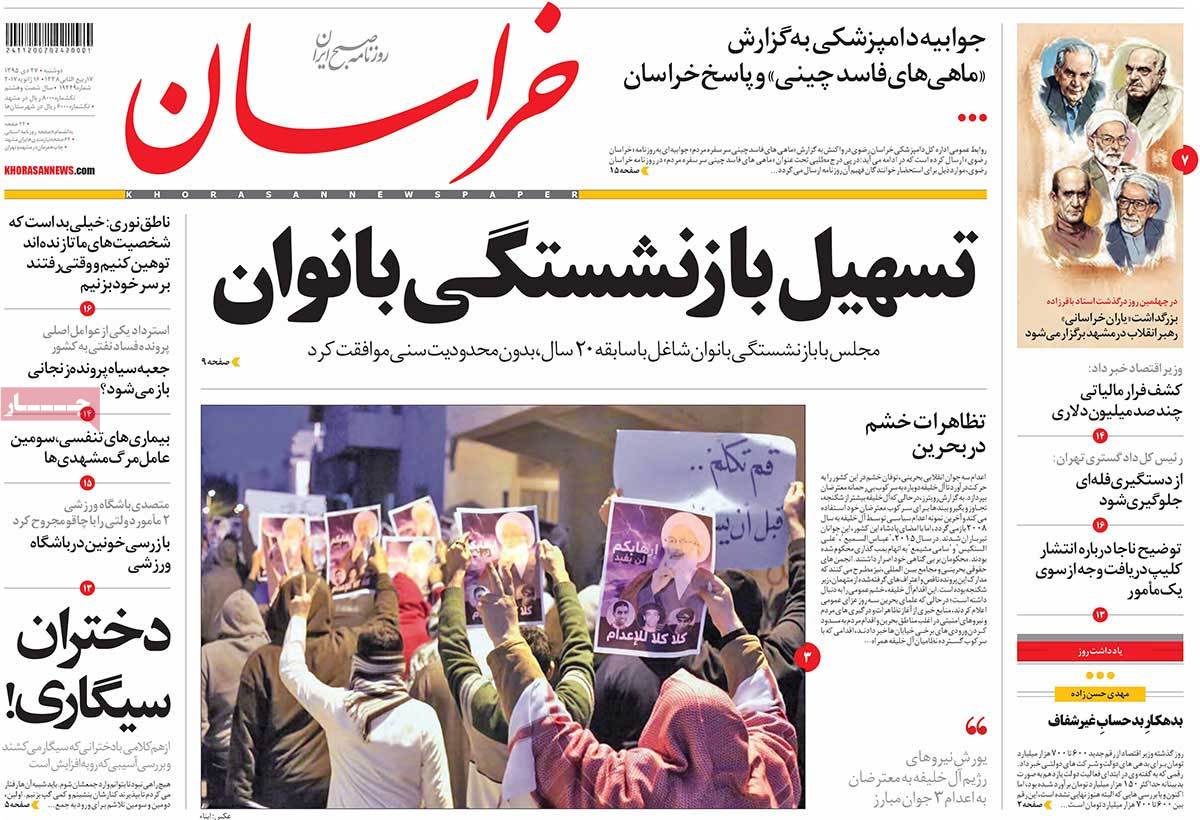 ---
Resalat:
1- Don't Let Corrupt People Become Role Models for Iranian Society: Ayatollah Javadi Amoli
2- Al Khalifa Executes Three Young Revolutionaries amid Massive Demonstrations of Anger in Bahrain
3- Trump's Nuclear Symphony: One Government and Two Signals
---
Rooyesh-e Mellat:
1- Tehran's Water Conditions Critical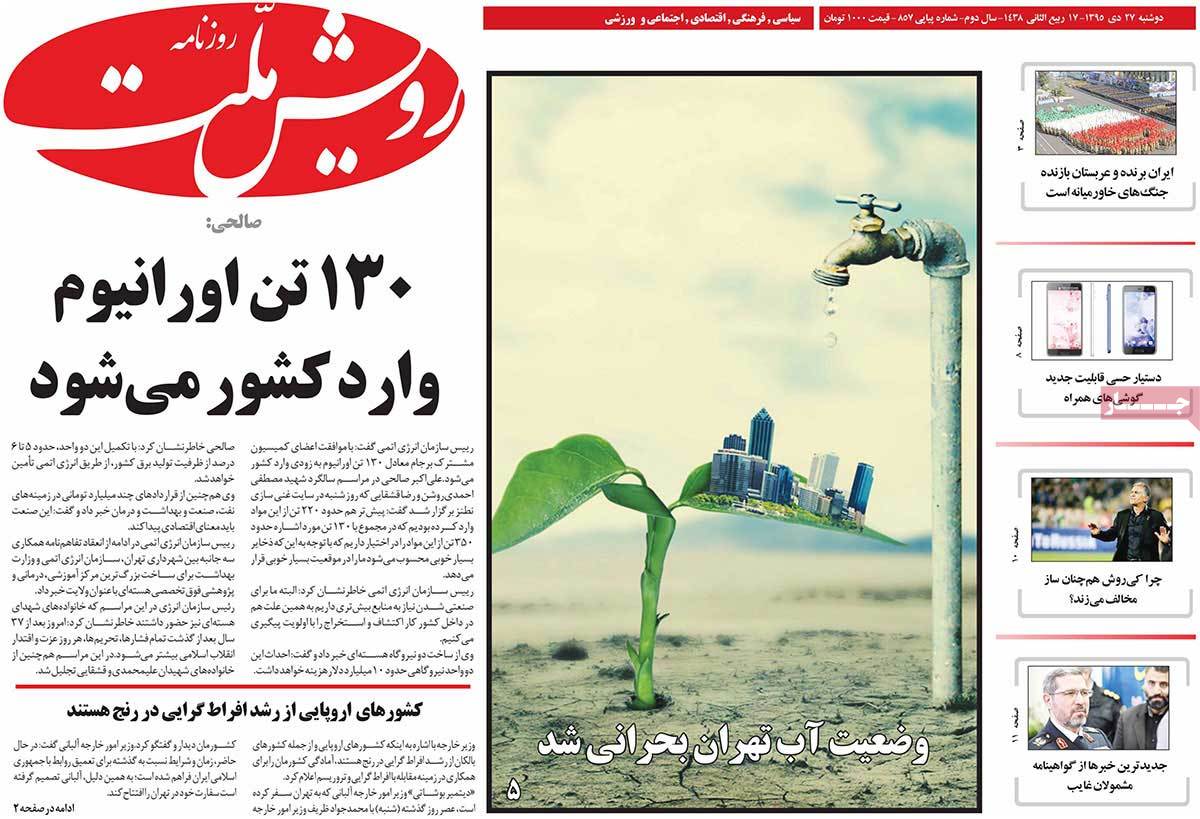 ---
Sayeh:
1- Iran Will Have No Forest in 30 Years: Trees in Need of Artificial Respiration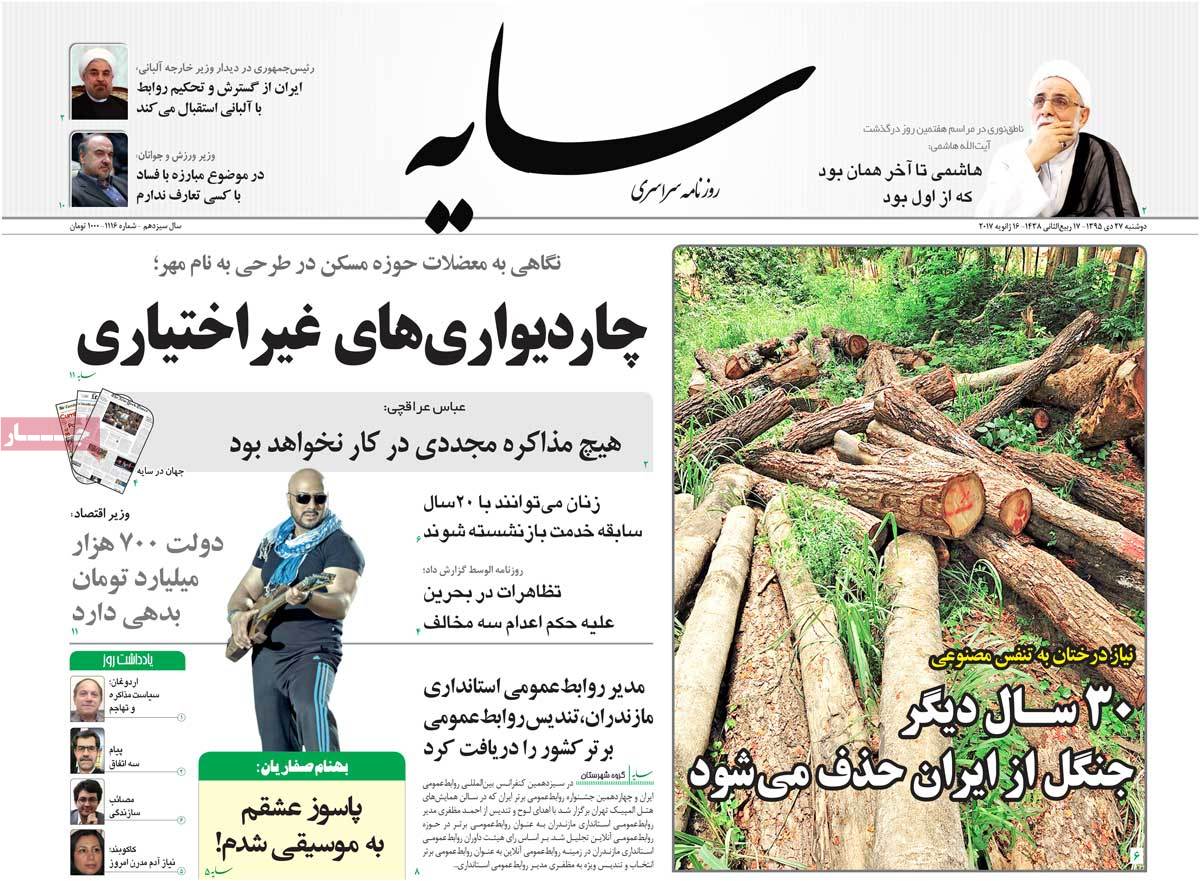 ---
Setareh Sobh:
1- Trump Accused of Secret Relations: A Report on Increasing Opposition to US President-Elect
---
Shargh:
1- Babak Zanjani's Accomplice Arrested by Interpol in Latin America
2- Ayatollah Hashemi Was Not an Opposition Figure, He Was Iran's Pillar: Nateq Noori
3- We Won't Have Any Re-Negotiation: Deputy FM